What is link search or link prospecting? 
Link search (or link prospecting) is one of the critical and first initiatives in the link acquisition process. Every link building tactic always start with finding links in a particular web place using free SEO tools and sorting those links in a spreadsheet based on the brand's link standards.
Additionally, a manual and careful evaluation of link targets, if they're suitable for your site/page, would greatly affect your content development given that you will be able to identify which type of content people are always linking to.
What Do You Consider When Finding Link Targets?
There are three important things that I think every SEO practitioner like you must be aware of when finding link targets for your link building campaigns.
Relevance. You should be looking at domain and page relevance. It's a plus to find both domain and the page where exactly you'll get a link specifically related to your site (e.g. a link from a snoring tips page in a snoring website linking to your snoring mouthpiece brand).
Authority and trust. Is the site getting enough organic traffic from search? Use Ahrefs or SEMRush to check the site's estimated search traffic.
The link target should match to the metrics used (have high PR/DA, relevant to their "linking from" page, etc).
Obtainability of the link (simply ask yourself: why would the site owner link to my page?)
Scalability. Tools will always help you speed up your link prospecting activity.
23 Tools and Websites You Can Use For Link Prospecting
In this post, I will share 23 link prospecting tools that are free to use and would help you collect tons of link targets from different web places where your competitors haven't obtain yet.
1. Linkbuildr
Linkbuildr is a new outstanding hand tool from From The Future. It helps semi-automate the process of content promotion for websites and blogs you mentioned in a post.
Here is what it looks like when you install the plugin in your WordPress.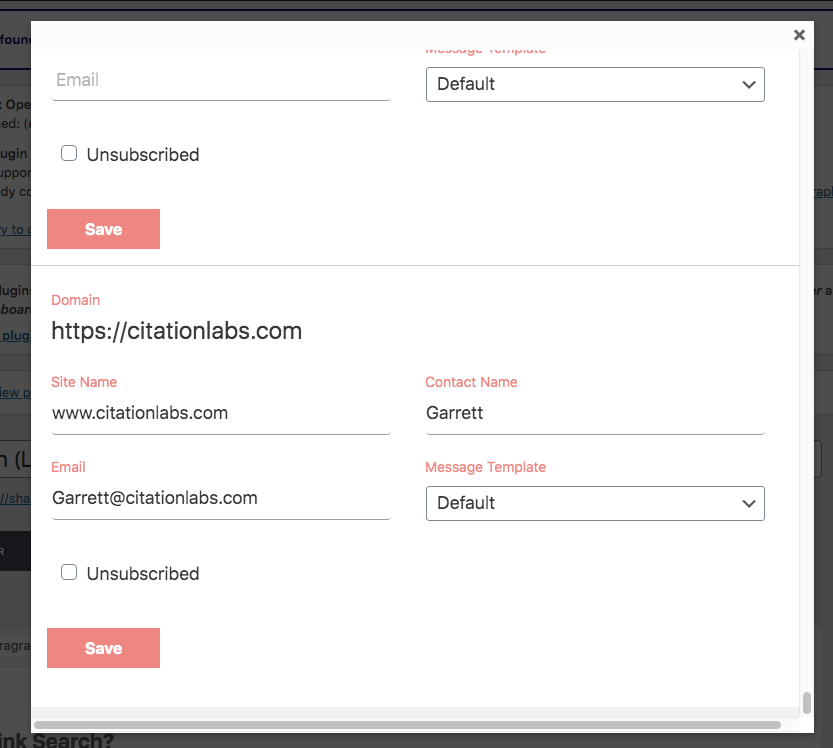 The tool will automatically scrape the entire post or page and see if there are any external links or references you mentioned in your content. It will then give you the list of those websites (like what you see in the picture above), and you can immediately send personalized emails without having to leave WordPress.
2. Citation Labs Link Prospector
Citation Labs Link Prospector is one of the SEO tools for large-scale link prospecting. If you are a link building agency (or any digital agencies like us) working with different link building SEO campaigns, this tool is for you.

What it does is it gives you the ability to scrape all the page results for different keywords you are targeting. You insert the search phrase (advanced search operator plus the keyword). Choose the type of link opportunity you're looking for (sponsorship, blogs, links/resource pages, etc..) and Citation Labs Link Prospector will then give you a list of link opportunities based on your inputs.
3. Ahrefs
You can't build links without Ahrefs. Ahrefs has many features for link discovery.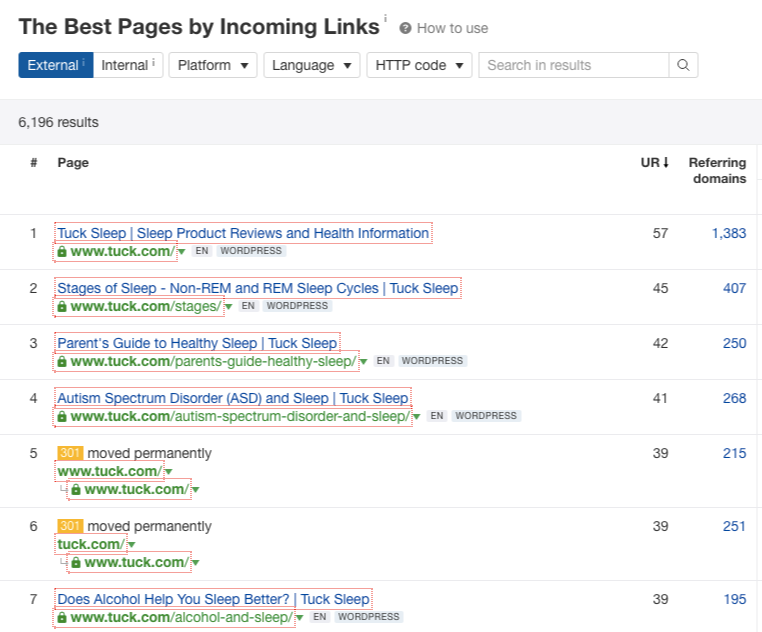 Here are a few things Ahrefs can help you with your link prospecting campaign:
Identifies any broken pages of any website with inbound links pointing to them (helps you with your broken link building campaigns).
Finds pages linking to similar content assets – which you can then reach out to and share your content piece.
Discovers any blog posts that target a keyword – you can then pitch these pages for link inclusion.
You can check out this comprehensive guide on using Ahrefs for backlink discovery and content promotion.
4. HARO
One of the best sources of links is journalists and news reporters. Often, they are looking for stories for their newest content, and if you can provide them the best suitable ones, you're likely to get mentions (and potentially links to your brand).
Help A Reporter Out (or HARO) is one of the best tools to find journalist requests or inquiries for stories or inputs on several topics.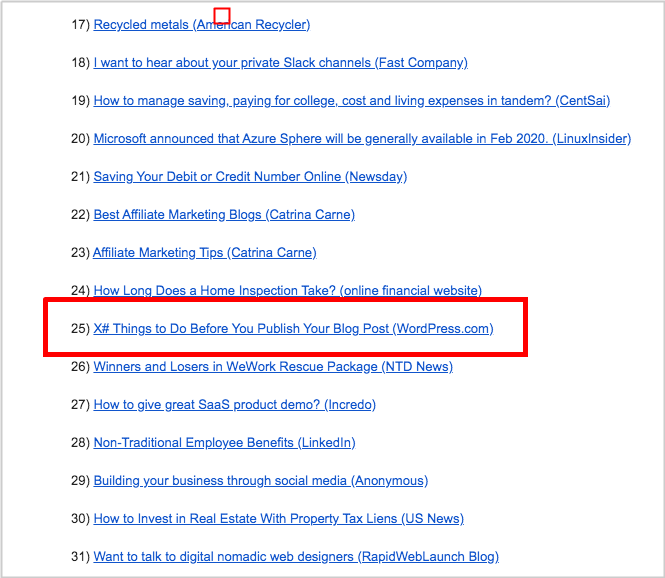 I have personally been using HARO to provide contributions to journalists, publishers, and bloggers looking for additional inputs or references for their own content works. By doing so, I get the reciprocal value in the form of mentions or links.
You can read this guide on how to use HARO to better maximize the power of this tool.
5. AllTop
Use the search functionality of Alltop to find websites that are related to your target keyword/topic.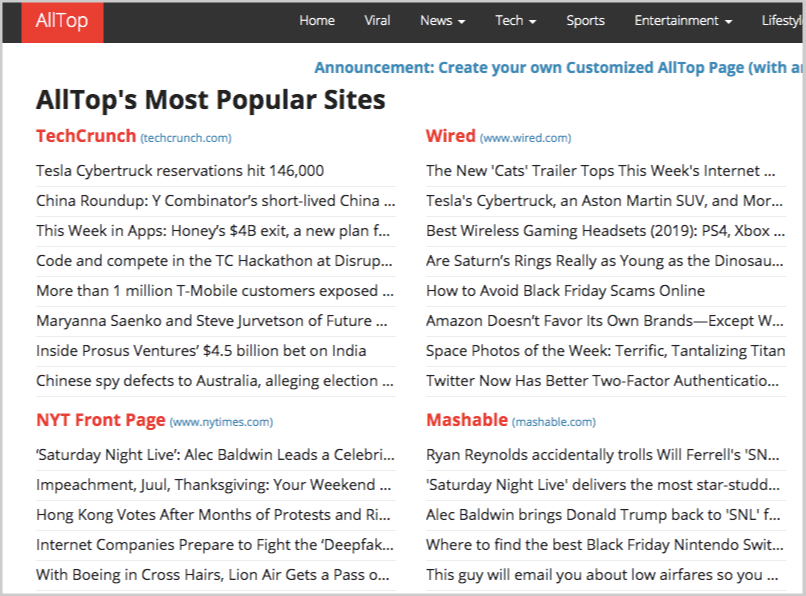 When you already have a list of sites in your spreadsheet, you can start building relationships with the site owners even before the start of your link building campaign. You can easily get a link/mention from bloggers in the future if you've built relationships with them beforehand.
As soon as you find websites that are related to your brand, add them to your favorite feed tools (e.g. Feedly) or use the manage feeds functionality of Alltop.
You can get emails from your blog feed tools about the updated posts of your target sites. In this case, you can be the first to comment on their blog posts.
Allot 3-5 minutes to put yourself in your prospect's radar through blog commenting, social and email outreach. This will make your link acquisition easier for the next months/years.
6. Flickr
Flickr collects thousands of albums/images that brands can use for their content pieces (because of the originality/creativity of the image, it would be a useful element to almost all types of content).
Type industry-related terms in the Flickr search bar and look for images that garnered hundreds/thousands of views.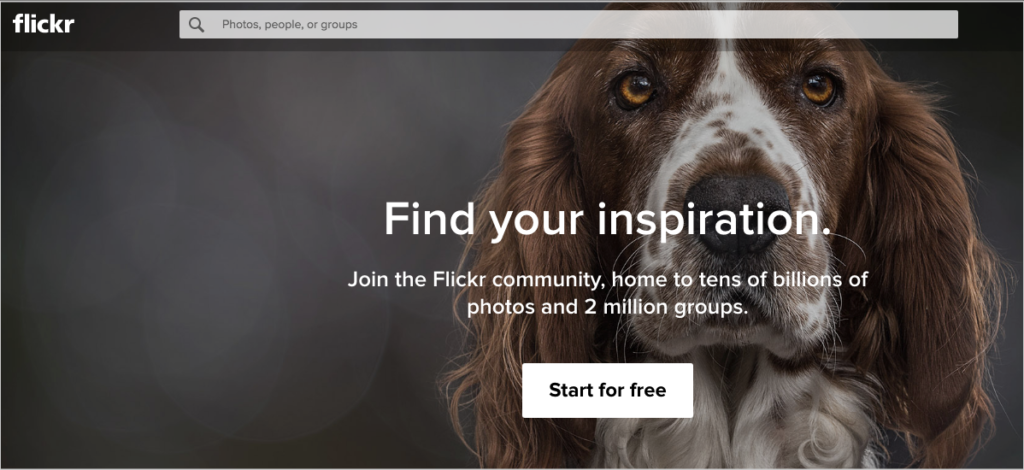 Do a reverse image search to find pages that embed those images (use the same instructions I mentioned above).
You can again use Ahrefs or any link research tools to find pages that linked to those images.
Tip: You can also use Flickr to find infographics in your niche that are not yet submitted to Visual.ly and other infographic submission sites. (A good opportunity to find link targets that are not yet reached out by your competitors).
7. Google Image Search
Use the Google image search to look for images that are ranking for your related keywords. Those images are ranking high on image search results because of their alt-tags used by webmasters to optimize them.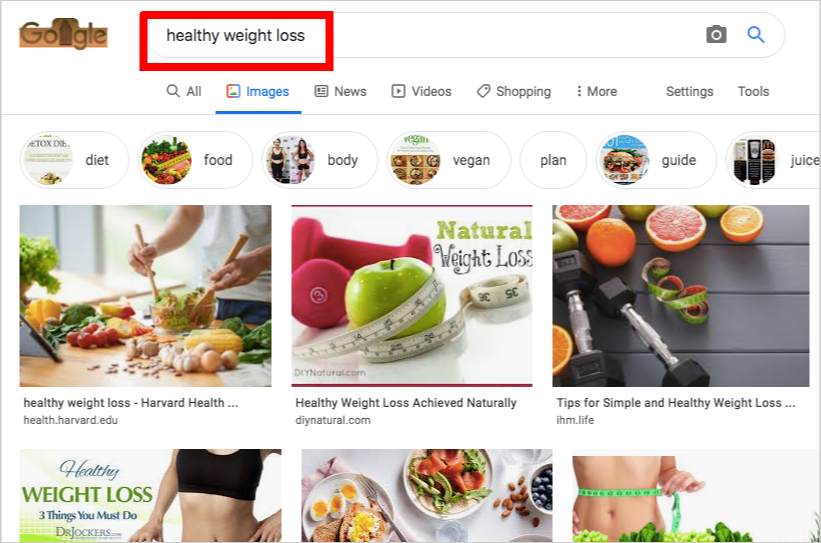 Given that the images are ranking for image search results, bloggers could easily find them when they're looking for visual content. Most of the time, they use those visuals for their content pieces. As such, you could use it as your own advantage by finding bloggers who used/linked to those images (use Ahrefs and Reverse Image Search).
In addition, images of your brand (event photos, your CEO's profile image, brand logo, etc..) would help you find more link opportunities.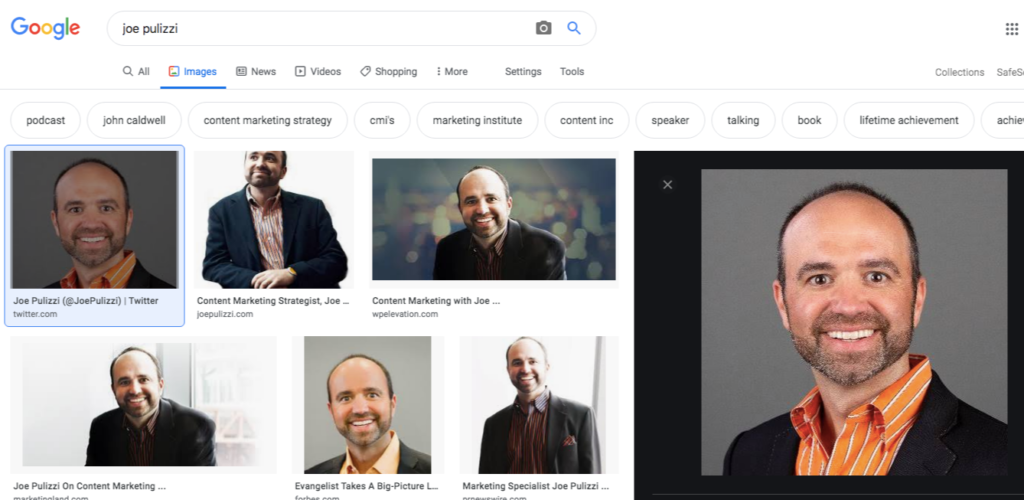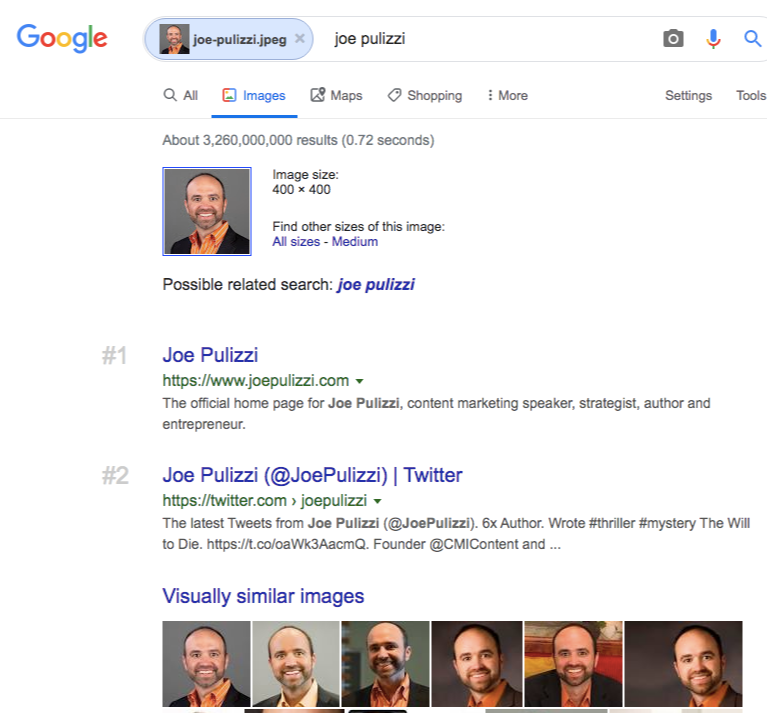 8. Similar Site Search
Similar Site Search is a free link prospecting tool to find similar websites of your brand (as the domain name implies).
There are several search queries that you can use to find more link prospects aside from the common search phrase (the site's URL).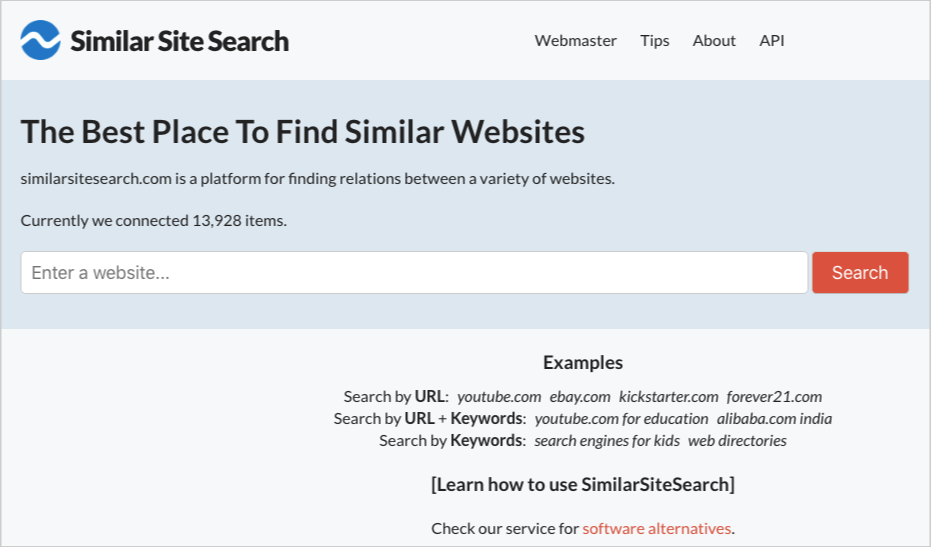 I'll use Kaiserthesage.com as my example:
Kaiserthesage.com marketing. This would give you sites that are similar to kaiserthesage.com and are related to the keyword, "marketing".
Kaiserthesage.com +marketing –seo. This would give you sites that are similar to kaiserthesage.com and related to marketing but must not include seo blogs. (This is a good opportunity to widen your reach as you are able to get in touch with bloggers from other niches).
Kaiserthesage.com (then filter the language by Italian). This would give you websites that are similar to kaiserthesage.com and use the Italian language.
Kaiserthesage.com (then filter the country by India). You'll get Indian blogs that are similar to kaiserthesage.com  (with .in as TLDs)
9. Twitter Advanced Search Queries
Twitter is not only a social tool to engage with your brand's customers/influencers but also you can find great linking opportunities when you know how to use it properly. Like search engines, Twitter has its own advanced search options to make your search task more efficient and effective.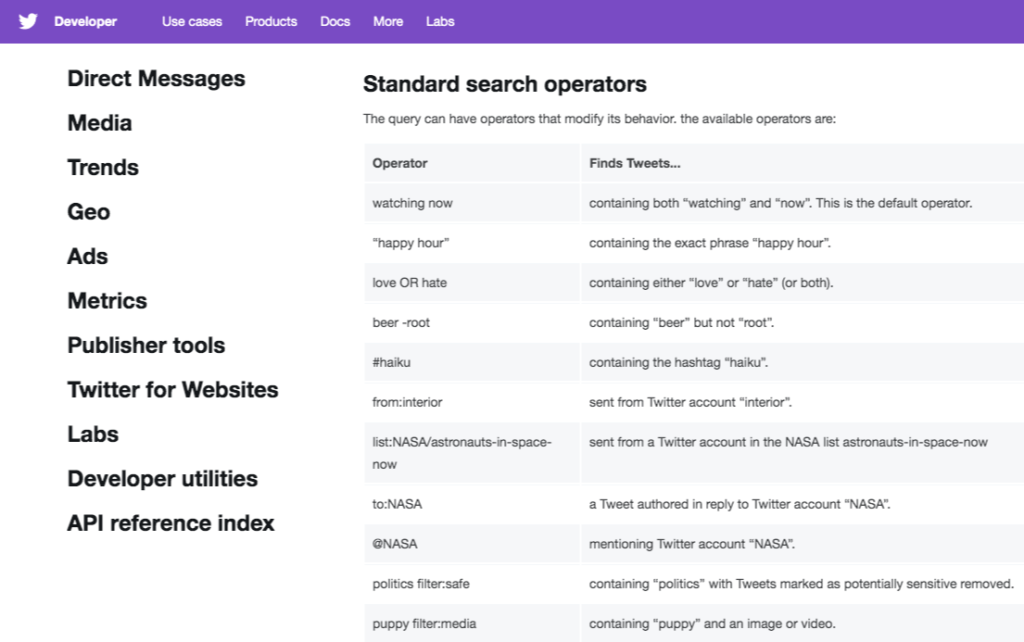 Here are some ways to obtain links using Twitter advanced search queries:
"guest post" + "keyword" + filter:link – use it to look for guest post opportunities that could not be seen in the search results (when you use "guest post by" "your keyword" or other Google advanced search queries).
to:influencer – track who's sending message(s) to your influencer. This would help you identify bloggers who are linking to your influencer's site. How would I know that? Bloggers would say in their status updates that they mentioned your influencer on their blogs.
@mashable –  track who's mentioning your influencer. You can use the same trick above.
near:texas "weight loss" – tweets/profiles near Texas city and are related to the keyword, weight loss either placed in the user's profile description or in their tweets.
Engage with the users you've found using this tactic by answering their questions or commenting on their tweets. Strong relationships with these localized users would result in lots of linking opportunities.
Weight loss? –  this search would result in questions that have the keyword, weight loss. Engage with the users by answering their questions (No need to explain how relationships work in link building).
since:2010-12-27 "weight loss"  – search for conversations that include the keyword, weight loss and get  interactions with the users (early dates would be more efficient for engagement than conversations dated from past years or months)
You can also check out this old post by Casey Henry (he listed tactics that are still effective in today's search).
10. Facebook Graph Search
Though Facebook is not good for SEOs who're asking for links/mentions right at the start of their conversation with their prospects (like cold emails), it could be used for setting up connections with the target linkers/influencers (who in the future could give the link/mention their looking for).
Use Facebook Graph Search to look for pages, groups, and people that are interested in your brand's offerings and content. Type your keyword (niche, brand name, city) in the search bar and get exactly what you want.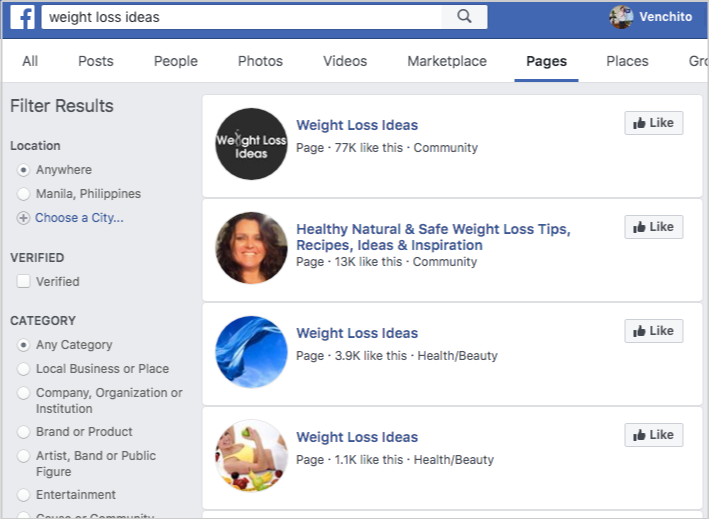 11. AllYouCanRead
If your brand's content strategy is focused more on publications (industry guides, magazines), then AllYouCanRead is for you. You can get an easy list of top magazines published for your niche/industry where you can contribute your content (if the magazine editor allows contributions from other content publishers).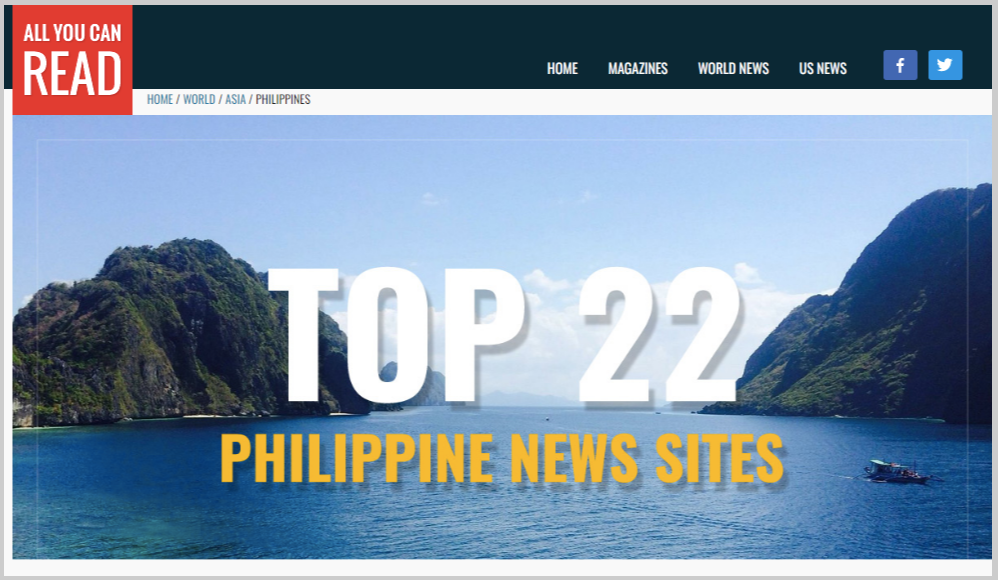 12. Wikipedia
Look for a page that discussed a topic in your industry (use the search bar of Wikipedia or this query: site:Wikipedia.com "your topic" to find pages that contain the keyword you're searching for.
Scroll down at the bottom of the page and check if the page has a list of resources/references (links to external sources). Visit each of those resources and track who shared/linked to them (use Ahrefs, Moz Link Explorer or your preferred tool for this part).
You could find great resources from that list which are mostly authoritative, credible and hosted on commercial sites (.edu, .org, etc..). Linking to these resources from your own content piece would really help you in your outreach campaigns. It will somehow increase your response rate when you reach out to the creators of those resource pages (I linked to you, please link to me – law of reciprocity).
You could also find outdated articles in Wikipedia and update them by adding more relevant insights that are timely and useful to Wikipedia readers. Find these outdated articles by using the query: site:Wikipedia.org "This article is outdated" "your keyword"

13. Quora
SurveyMonkey is a good place to receive referred traffic for your site and increase your personal branding as you are able to share your expertise by answering thoroughly to questions most people have. Some content publishers and digital marketers would start from identifying the most frequently asked questions by industry peers on Quora before starting to create their own piece. The likelihood of crafting a useful and targeted content is higher given that answers/solutions to questions/problems comprise the overall concept/theme of the content.
Answer questions that you know you could add the most value to. Link to your blog post only when it is necessary to add it to the discussion.
The more you answer industry-related questions, the more industry folks will follow you. Engage with them by sending a personal message right on Quora or stalking to their blogs and reaching out to them through email or social platforms.

14. Search Queries for the List Section of the Site
Bloggers always have a list section on their websites whether it's a resource page, blogroll section, partners or sponsorship page. Those pages/sections are a list of internal and/or external links and are considered gold mines for link building given that you can find industry-related pages where you can place your links.
For blogrolls: Use this query: "blogrolls" "your keyword" to find quality sites that have blogroll sections.
For partners: Use this query: "partners with" OR "in partnership with" OR "partners" "your keyword" to see pages that list down potential partners in your industry. (This is a good opportunity to find brands that you can connect with, especially if you're working in an eCommerce site).
For sponsors:  Use this query: "donate" OR "sponsor" OR "contribute" "your keyword" to get a list of websites that accept donations/sponsors from other brands. I suggest that you use your brand-related terms when you ask to place your link on the page (especially if you already targeted ranking keywords for your other link building tactics). This would give you more diversified anchor texts.
15. Board Reader
If you're tired of using the common query: inurl:forum "your keyword" to find niche-specific forums where you could participate in the discussions and engage with forum users, you may want to try SurveyMonkey.
The site allows you to search for discussions (e.g. forums) that are related to your industry. This would make your task of finding forums easier than the manual search for forums in Google.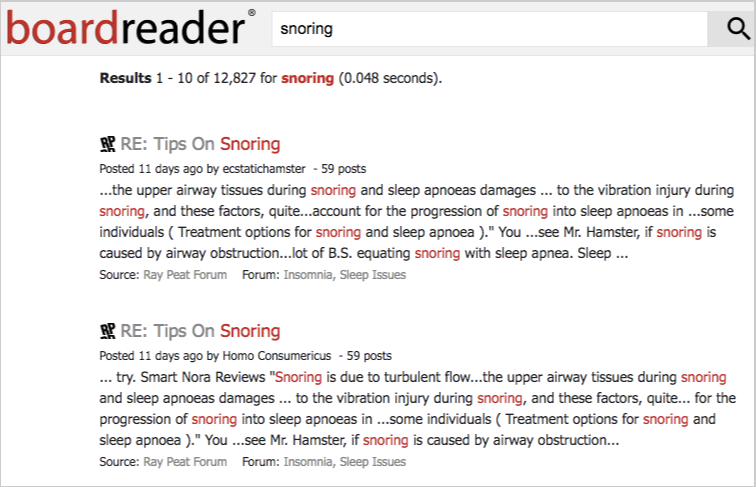 Here are two amazing things that Board Reader will do for you:
It provides you with results based on your preferences (through its advanced search option).
Gives you a visual graph of the posting activity of your chosen keyword. This would help you track how many people are using that keyword in your industry's discussions (like what Google Trends tool does for you).
Filter the results by language and time period which helps you to create a more solid and targeted list of discussion sites.
16. People Finder
The main purpose of this tactic is to identify which edu sites in your list have their own people finder tool – a tool that will help you get a list of current students from those particular colleges/institutions together with their student emails. It will make your outreach more effective if you send emails to students than to the owners of generic emails like [email protected] or [email protected]. The reason is that students are more active and responsive to email requests than those who have direct access to .edu sites.
It would be great if you already have a list of .edu sites (by doing a Google search: inurl:.edu "your country" OR "your city") and you will just have to determine whether or not those sites have a people finder tool.
How can you identify if the site has a people finder tool?
How can you find the student's email address?
Use this advanced search query: "people finder" site:schoolname.edu to determine if the site has its own people finder tool.

Visit the page and type in common nicknames in the search box of the tool. Get the list of his or her email address.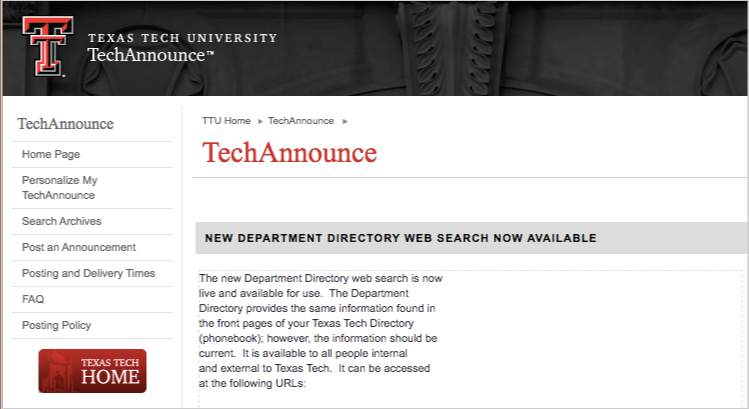 Some people finder tools would reveal the affiliations where the student belongs and also his/her personal blog, This will make your outreach more personalized if you include his/her affiliation and his/her personal blog in your pitch.  By addressing their current position in the organization, your email pitch could gain a positive response.
17. Industry Survey tools
By creating your own industry survey using tools like SurveyMonkey, you can get insights from your target audience (which composed of people you may or may not know) about the topic that you want to receive feedback.
The tool should not only be used for content marketing purposes but also for finding new link targets that you're not really targeting in the survey. Qualify all your link prospects in this phase using your brand's link standards (relevancy, user's blog, influence, etc..).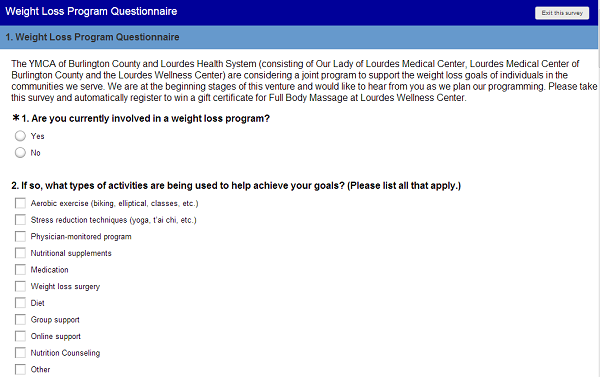 The more popular your survey is, the more link targets you can get from it.
18. WordPress.org Plugins Directory
What I discovered is that almost all WordPress sites from different niches use plugins to improve their sites' user experience. The reason is that plugins can add design elements, produces industry-specific tools (e.g. weight/height calculator) and allows smooth flow in their sites' customer journey.
For instance, when you search for the keyword, weight loss in WordPress plugins, you will see these results: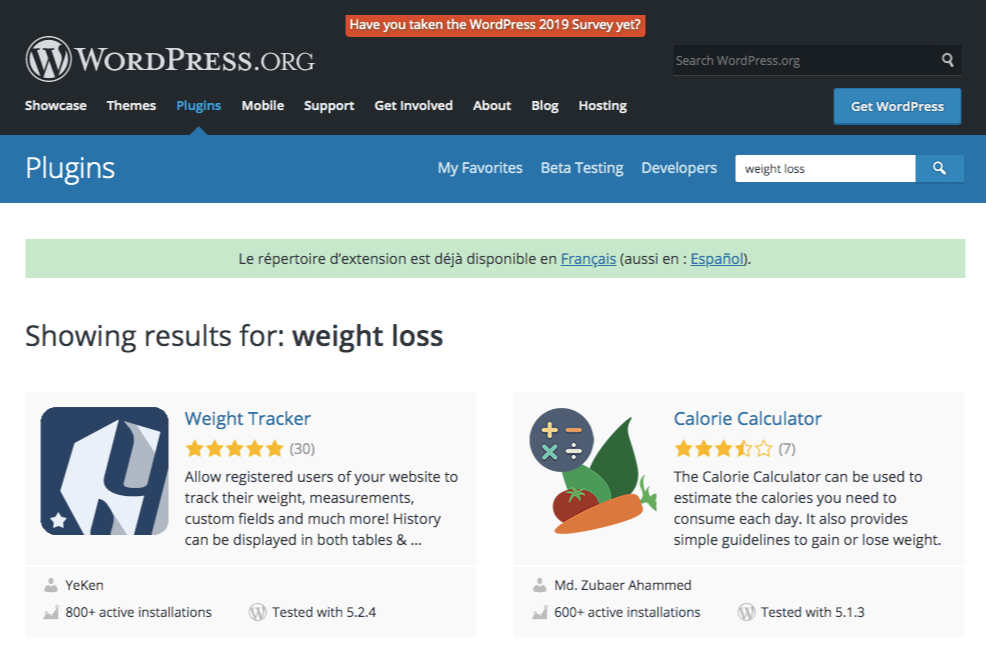 These are plugins that had been used by nutrition/health bloggers to better serve their target audience
By simply looking at each detail of those plugins, you could easily find link targets and add them to your list. Here are some ways to find more targets:
Identify the creator of the plugin and his website. Add those details in a spreadsheet.
Or author profile section..
Look for people who reviewed the plugin. Get them also on your list.
Before doing your outreach to those link targets, you have to create something that will get the link to you. An example would be to create an updated version of the plugin that you see and has some errors when you installed the plugin or based on the negative feedback/reviews you've seen on the plugin page. Using this as your angle when pitching to your link targets would increase your response rate seeing that you offer value to them (an updated useful plugin).
WordPress plugin pages sometimes link out to the donation pages of the plugin developer. People would donate if they find the plugin useful for them and this type of donation would encourage the developer to create more useful plugins targeted for a particular industry.
Aside from getting a donation link from the plugin developer's site, you could also set up a partnership with him.
If you could bribe/incentivize the plugin developer to create a brand-centric plugin that will be useful to your target audience, then it's a great opportunity to earn links for your brand and widen your reach to your community by providing an awesome resource.
19. Local Event Websites
Local events could possibly be the linkable asset of your brand both offline and online (if you know how to use them properly). Knowing that you can build new relationships with your customers or with other brands during and after a local event, your brand can promote its offerings through partnerships or collaborations with other companies/customers.
Eventbrite and Meetup are a few websites where you can find events that will be held near your brand. This would open doors for local linking opportunities seeing that the audience that you might connect with either by attending or even hosting the local event could link to your brand/site from their blogs.
Let's say I'm looking for a local event that will discuss technology, internet marketing or any related topics. And specifically, I want an event that targets students, faculty staff and personalities working in an educational institution.
By simply using Eventribe as my prospecting tool, I was able to visit this page.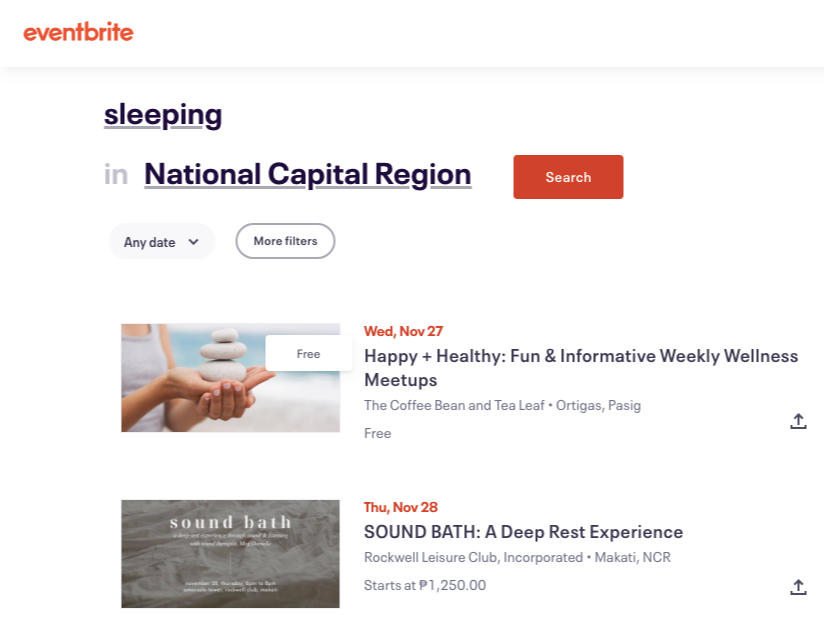 It is an IT-related event that will be held in our university. This is a good opportunity for me to connect with co-students who are interested in what I am doing today (online marketing and SEO).
Let's switch places..(you are now the person who's looking for local events)…
Just like what you are doing offline, a local events can make a way for you to easily reach out your local influencer through online outreach. Click on the "click the organizer" button at the bottom right of the page.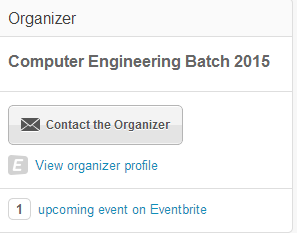 Get in touch with the local organizer. Speak about yourself and what you can offer to the event. Incentivize him by giving discounts on your products or offering a sponsorship program for the event.
Tip: Start to have an approachable personality every time you reach out to local personalities.
20. Footprints
There is a disadvantage of using simple searches in Google to find link targets for your campaign. When you search for phrases like "weight loss" "resources", you'll see hundreds/thousands of resource pages that list down various content pieces. This is a good linking opportunity for your brand but only to find out that all your competitors are already targeting those websites for link placement. This might actually affect your outreach response rates (as you need to stand out among the pitches from your competitors) to obtain positive responses from your link prospects.
Footprints would dig into pages/sites where your competitors may not have been targeting in their campaigns. In this case, you're not just running behind them but actually leaving them behind the race.
Let's have an example…
If you're finding local linking opportunities, you might be using this search query "local events" + "your industry". This would reveal different local events that you might want to participate for branding and promotion purposes. But as you go further searching, you would see footprint that almost all local event pages have it included.
Add this to your search query to find more local events that your competitors might not have been listing in their link prospecting spreadsheet.
Pro Tip: List down terms/phrases that you are repeatedly seeing in every page you're visiting. Add them to your search query to find specifically targeted pages.
21. Comment section on social media platforms
Social media platforms have their own comment sections that allow people to share their own experience about the subject matter and in turn, the brand can build its own community of like-minded people.
Youtube is one of the successful social media sites and I consider it a gold mine for finding link targets (especially for video content pieces).
By simply searching for a particular keyword, you can see a list of videos that are relevant to your chosen keyword. Each video has some comments that you need to watch out for link building opportunities (unless the video uploader restricts people to comment on the video).
Go into each comment and visit the user's Youtube profile. Click on the about section and visit the URL of the user's site.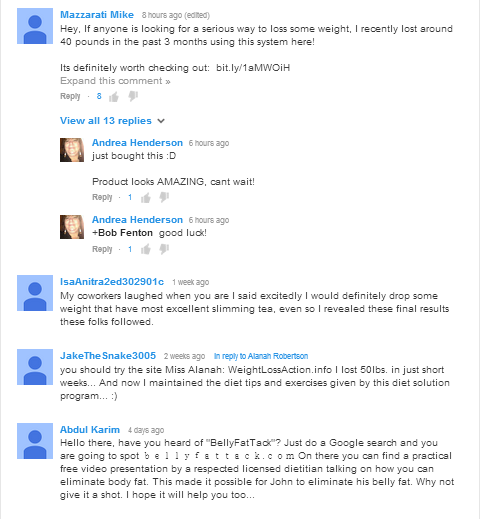 This is a time-consuming task but if you're into a massive video content strategy, this should be one of your methods to find linkers in your community (given that these people are interested to watch/link to your video content).
22. Zemanta
Zemanta could provide suggestions for your content piece which lessens your time finding related blog posts targeting your keyword. Though it's a great tool for content creation, you could also find link opportunities using Zemanta.
By simply visiting relevant content pieces, you could get a feel if the sites where content pieces are published can be considered good opportunities for link building.
23. Foursquare
Foursquare is a good place to see local brands near your city and what people are talking about in your industry. It's an opportunity to partner with other brands for a local event (e.g. SEO for food bloggers) where you can share your brand's offering to the local community and how important your brand's service/vision to them.
The Best Nearby functionality of Foursquare is an easy-to-use tool to see companies that can help you promote your brand even if those brands are outside your target industries.

Link Search Tactics To Prospect Thousands of Link Opportunities
Link search is a phase in a brand's link building campaign wherein most of the building efforts will highly depend on. This is where the success factors of link acquisition are noted, including:
Obtainability of links, considering the types of links being built (contextual/site-wide, local/international, homepage/deep link, etc..)
Standard or quality of content existed in various blogs/sites
When done right, link search will provide you thousands of link opportunities that your competitors may haven't search for.
Below is a list of 12 link search tactics that you can use to create a giant spreadsheet of link prospects that you can later on reach out for link acquisition.
1. Discover topical blogs
If most of your efforts revolve around building relationships with bloggers, then finding topical blogs is the best link search method for you.
Simply do a Google search ("industry" blog) for niches that are not directly connected to your brand but have a community of bloggers who might be interested to link to your page(s).
For instance, this link building blog is focused more on content marketing and link building topics than other internet marketing themes. But even though, I got high-quality links from related sub-niches such as CRO, blogging, web design, affiliate marketing, and student blogs.
If I would want to expand my link territory, then I can use the following search terms when prospecting for link opportunities, knowing that other niches might find my posts useful for them and probably link to my blog from their own content:
"CRO" OR "conversion rate optimization" intitle:blog
"Web design" intitle:blog OR "blog"
"affiliate marketing" intitle:blog OR "blog"
In this link search method, you have to find the relevancy point between these niches and your brand, i.e. when you do outreach, you must be confident that they're going to respond to your pitch because they are interested to what you offer.
2. Use list of lists posts
List posts are everywhere. And creating a list of these lists will give you hundreds of blogs that you can take advantage of for link building.
Searching for these list posts is easy. You can use the following search queries:
Top 10 "industry"
Top 50 "industry"
Best of "industry"
Ultimate list "industry"
If there are no list posts in your industry, then create one for your blog. You will have both a list of blogs/bloggers (that are potential linkers) and added-value content that you can use for your pitch (telling bloggers that they're one of your followers, as such, you included them in your latest content).
3. Leverage brand partners
Putting brand partners in a list of link targets, for some marketers, would only be applicable for big companies who already had an opportunity to engage with other local and niche brands in the past. Since they had a database of existing partners, there's a high chance to involve them in the company's link development campaign.
However, for small to medium-sized enterprises, there are still partners that they might consider for link acquisition such as the following groups of people:
Suppliers/manufacturers who are connected to the brand.
Local non-profit organizations where the brand had engaged in the past (i.e. sponsorships).
Local educational institutions with specific courses directly aligned with the company.
PR companies or news reporters who had just covered the brand for some good stories.
These groups of people can become your list of brand partners, wherein you can easily earn their trusts because of pre-existing relationships with these institutions.
For an eCommerce client, you won't go anywhere else finding those brand partners. Just look at their website, find a page that says, "List of suppliers/manufacturers". Start prospecting from there and add all potential link targets to your spreadsheet. However, if there are no existing pages like the example earlier, then simply do a Google search to find you brand partners.
4. Make use of market-centered keywords
One of the key ways to collect profitable link prospects in your database is to understand your market and what your target audience is really looking for online.
For instance, if you're working for a travel agency, you might consider industry phrases that'll identify your market needs, such as:
Travel list
Travel guide in 2015
Travel guide in [city/location]
Best places to see in [location]
A travel blog with pictures
As you can see, these are the exact phrases people are searching for online to find relevant resources or content about travel, "why" and "what" type of search terms (what is travel) is insignificant to the market needs since people are more likely interested with how's (map of going to specific location) and when's (dates/times of best attraction in the city).
5. Reverse engineer content contributors
Showcasing your brand's expertise through blogging (i.e. regular contribution to other related blogs) can drive traffic and referral visitors to your website. When using this approach, the common way to find prospects for guest blogs is adding the terms ("write for us" or "guest post") to search query, "industry".
Though you can already find a handful of blogs using that link search method, it won't guarantee that those blogs are of high quality and could provide value to your site (referral visitors and potential conversions).
One profitable approach to prospect for content contribution blogs is finding the best author/blogger in the industry or determining the most active content manager/marketer of your competitor.
Adding the name to the following search queries will end up having a bunch of blogs where the author had contributed his content to:
"[Name] is a content contributor for [Competitor Domain].com"
"[Name] is the author of"
"[Name] is the blogger at"
"[Name] is the owner of"
[Name] "author" OR "blogger" OR "marketer"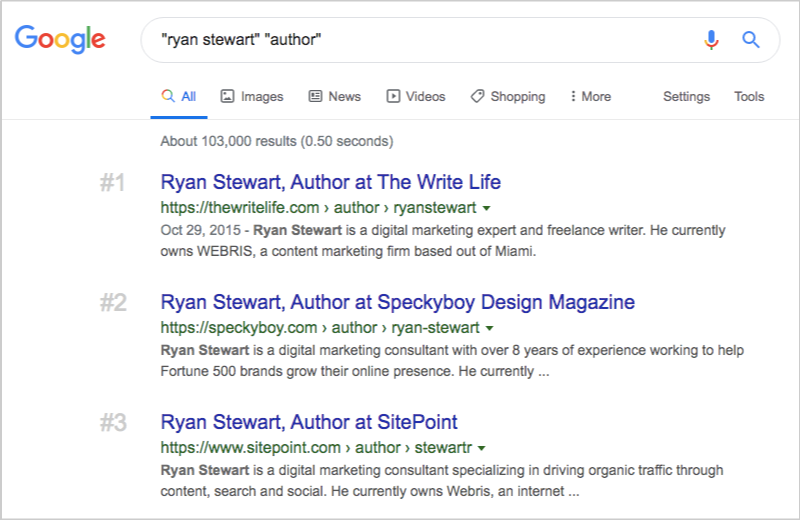 So if you're targeting 50 high-quality niche-specific blogs, then using that link search approach above could easily help you achieve your goal.
6. Apply footprint prospecting
Finding footprints of your competitors can quickly help you search for low hanging fruits in link building. However, to some extent, if it is done on a regular basis and this is the only approach you're executing, then you shouldn't expect a higher competitive advantage over your competitors (since obviously, you're just following what others had been doing in the past).
If you're still building your brand from scratch, you can use footprint prospecting to find bloggers that you can connect with through blog commenting. This traditional link building technique still works when used as a pre-engagement activity before actually pitching bloggers for link requests or other content-led outreach methods.
A quick search query ([keyword] "leave a*" "comment") could yield a good list of blogs where you can regularly check new posts and add useful and relevant insights in the comment section (to get into the radars of your target influencers).
You may also want to seek footprints of your competitors to find new link opportunities for your brand. Do Google searches for the following search strings:
[competitor] "interview"
[competitor] "news"
[competitor] "press"
[competitor] "author"
Then click "Search Tools" – Anytime – Past Month.
Here are a few things you can see in the search results:
Author updates in the blog posts (i.e. editing texts and/or adding internal or external links to improve the page's ranking potential).
Text-based and video interviews.
Webinars, podcasts and press releases of the brand associated with the author/owner.
Social profiles of the author or the company.
Don't just follow the brand and its existing authors/owners. You may also want to track the following brand elements and eventually track their future mentions in other blogs/sites.
Future staff members
Brand partnerships with relevant brands (supplier to manufacturer relationship)
Book names or other content assets published by the brand (i.e. whitepaper "author" OR "whitepaper" author).
Prominent interviewer always pops up in the search results when the search string ("competitor" OR "author" is used).
This link search method requires constant changes in search strings as it would need to adapt to updates happening in competitors' brands and industry.
7. Utilize customer defining keywords in link search
Customers when finding products or services in search are commonly using terms/phrases that define a target audience or their colleagues (fellow members) in the industry.
So gearing your link search towards what customers are defining their group members will help you discover highly qualified prospects instantly.
For example, if you own a running blog, you can use audience terms like:
Runner
Marathoner
Sprinter
Jogger
Trackman
You can add more customer-defined keywords to your list by going to Thesaurus and searching for available synonyms.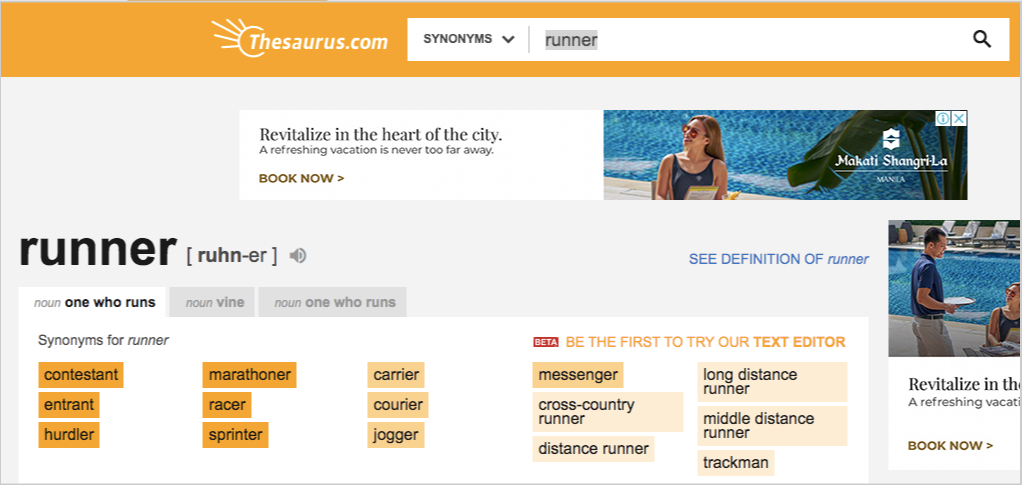 You can also try visiting glossary pages in your niche and looking for specific terms that define groups of audiences.
Instead of using the head industry keyword to prospect for link opportunities, you can use those customer-defining keywords to build a large link data. In our given example, you can have the following search strings:
Marathoner "blog"
Marathoner "resources"
Marathoner "guide"
Marathoner "links"
Changing the given customer-defined keyword to other industry audience groups (sprinter, trackman, jogger, etc..) will give you another hundred of opportunities that you can't find by simply using the head term (running) in link prospecting.
8. Discover industry thought leaders
This is pretty much the same with footprint prospecting wherein you use names of authors from your competitors' brands and add them to your advanced search operators to prospect for pages/sites where those authors had been mentioned.
Industry thought leaders do not only represent companies they're working for but media outlets, content sites, branded pages and communities where thought leaders participated and are credited for their works (by linking to their brands using names as anchor texts).
Take note of brands with attached multiple authors and personalities since partnering with them can help amplify your content assets to a larger audience list (considering the number of followers each of the authors has).
Consider Moz for example. The brand doesn't just have one thought leader (Rand Fishkin) but three or more authors that are active in the community but represents one same company (Cyrus Shepard, Dr. Pete, Jen Lopez, etc..).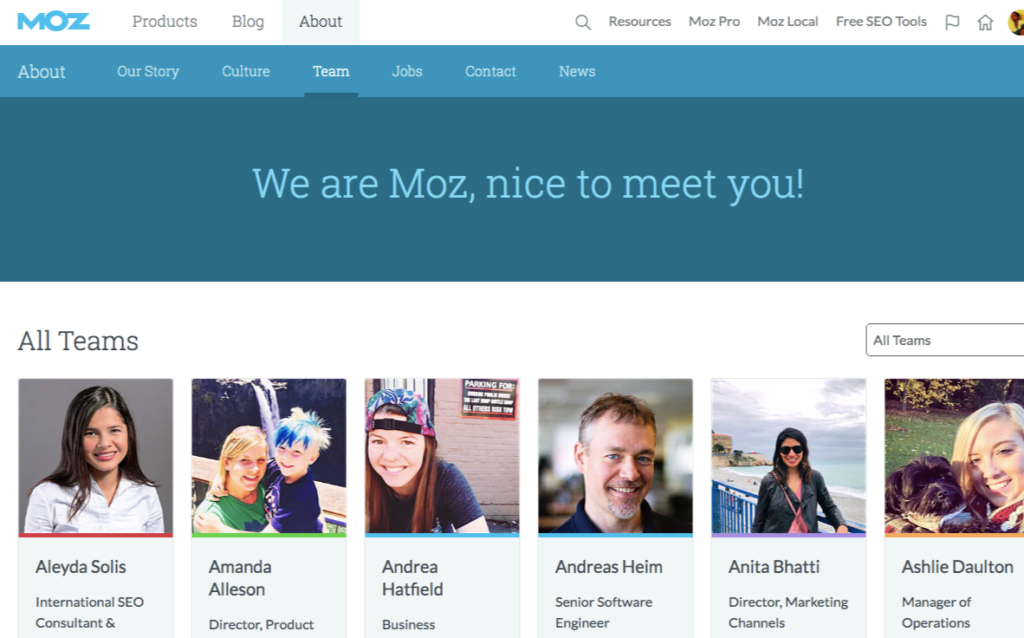 In this case, learning from what the thought leaders are working to build their own personal brands will best help your campaign to identify opportunities that will give good impressions for your company as well.
You may also try to determine what topics each industry leader is focusing on. Then try to invest in certain themes (one content theme at a time), then reach out to certain thought leaders who might be interested to consume and share your content.
With Moz, authors have their own themes when creating content:
Rand Fishkin – videos, webinars, and podcasts on advanced SEO and marketing topics (e.g. Whiteboard Friday).
Pete – data-based content with graphs/illustrations (e.g. Google Answer Boxes)
Cyrus Shepard – ultimate guides and curated content on advanced SEO topics (e.g. Advanced SEO Concepts)
Pro tip: Adding expertise phrases of authors to search strings (e.g. "guide" "Cyrus Shepard") would give you pages/sites where content assets of authors had been mentioned.
9. Maximize product and category keywords
One of the under-utilized approaches in searching for link targets is adding the brand's categories to search strings. This method will uncover hundreds of opportunities to target each and every type of product your brand is able to sell.
Start by talking to your clients on what types of products they are selling or simply go their website and look for brand categories.
In our earlier example, you can have these types of products:
Flat feet running shoes
High-arched feet running shoes
Neutral running shoes
Normal running shoes
Add your favorite keywords (reviews, forum, blogs) to categories (example above) to find loads of pages/websites that can potentially link to your content.
10. Use local-specific keywords
Making your search strings tailored to a local audience helps you discover and participate with local press outlets that have high chances of driving local traffic, resulting in an increase in sales.
Combine your favorite keywords (reviews, resources, blogs) and local areas (e.g. Brisbane) to find local pages or sites. You can also be specific with cities by adding region or state, as well as Zip Codes to prospect for easy link opportunities.
11. Be specific with resource page terms
Seeking for link opportunities especially resources/links pages requires creativity in brainstorming for new search strings. This is true for industries that don't have many pages for resources.
In this case, you need to understand what industry terms webmasters are using or targeting in their existing links to your site.
In running a niche, you can be as specific as possible when doing link search (to find resource pages).
Here is an example of using very specific search terms for resource pages:
intitle:resources OR inurl:resources "trail running"
intitle:resources OR inurl:resources "kids running"
intitle:resources OR inurl:resources "mountain running"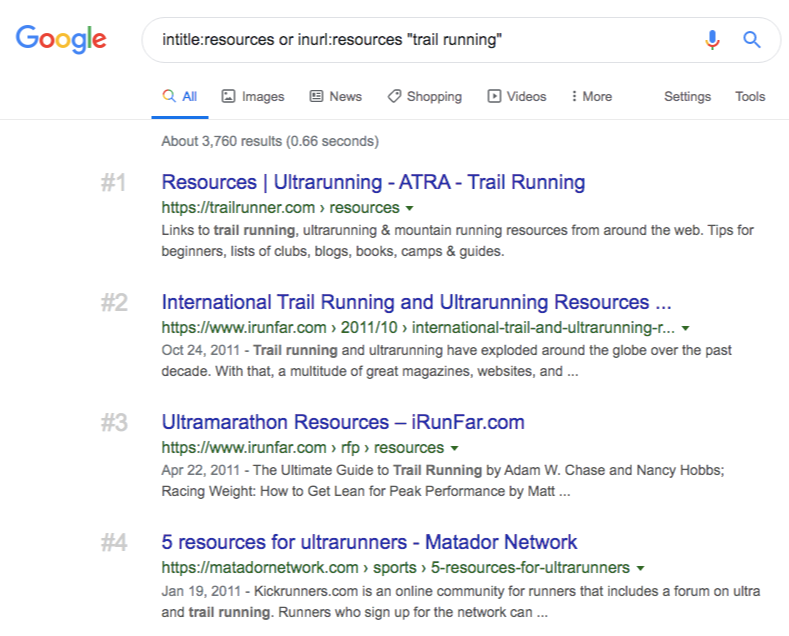 The more specific your search is, the easier for you to filter out irrelevant pages in search results and only qualify those sites that are high quality.
Pro tip: Always check out related verticals as you go looking for link prospects. This might uncover opportunities that could otherwise be undiscovered. In our example, adding these keywords "fitness resources" or "personal training" resources will help you build a large database of link targets.
How to Speed Up Your Link Prospecting Activity
In this section, I'd like to simplify the process by giving two important link prospecting elements:
Assets (Internal)
Opportunities (External)
Assets are webpages that you want to build links to and help them rank high on search results using different link acquisition methods. Whereas, opportunities are linking partners or sites where you want to place your link.
Below is an asset-opportunity relationship example to help you understand how this simple link prospecting process works:
Homepage = Directories, Profile Pages, Social Profiles, Partners/Membership Pages, Business Directories
Ebook = Ebook directories, product review blogs
Money = Sponsorship sites, grants pages, paid product reviews sites, events
Blog post = Guest posts, Round-ups
Team Members = Interviews, Unlinked Brand Mentions
You may notice that the more you understand the link value of your assets, the more you can create a list of linking opportunities targeting a specific content asset.
This can further amplify the reach of each of your asset since you're building a wide array of link building opportunities that are highly obtainable and relevant to your target page.
Keyword-based link prospecting
Ranking pages
This is the easiest way to get an initial list of link prospects since most of these pre-qualified link targets can come from your client's contact list or recommendations.
You can widen your list of link prospects by applying the following tips:
Search for highly related websites (which should not be your competitors in the space) by doing a Google search using your target keywords and related industry phrase/terms.

Get more linking targets from search results by discovering new niche-specific terms that are closely connected to your link prospecting queries (scan the meta titles/meta descriptions of other content pieces).

Find the synonyms of your industry phrases using Thesaurus, Google Docs, and Tilde (~). Use these link query suggestions to discover link targets that may not be targeted by your competitors.
Here's a video to explain how to apply this link prospecting method:
Link Prospecting [Ranking Pages] from Venchito Tampon on Vimeo.
Link building queries
Link building queries are essential to limit the number of pages that will show up in the search results for specific keywords/phrases. Prospecting using link queries are more efficient by combining useful advanced search queries in a single search.
For instance, you have a huge budget for paid link building tactics. You can build high quality backlinks to your homepage by finding sponsorship opportunities where you can donate money in exchange for links.
Using this query: inurl:sponsor OR donate OR partner OR grant + finance, you can find high-valued link targets that offer link placement in exchange for a certain amount of money (ranging from $5 to $50) and are related to finance niche. These are easy to acquired links using different link acquisition methods such as linker outreach with an incentive approach in the link outreach templates.
Here's a video to explain this method:
Link Prospecting Using Link Building Queries from Venchito Tampon on Vimeo.
Tools to Speed Up Your Link Prospecting Activity
Here are the link building tools that you can use to ease your link building searches for a specific link building strategy:
Link Clump
Notepad
Ctrl + W
Excel Files
How to Speed Up Your Link Prospecting Activity from Venchito Tampon on Vimeo.
Note: This is my first time to create video tutorials so forget about all the mistakes I've made in each video. 
As I've come across several resource prospecting campaigns, I always notice little things that make part of it more efficient. Efficient prospecting means producing a highly targeted output with less amount of consumed resources (labor, time and cost of tools).
That itself requires experience through observation. So, here are four advanced prospecting techniques that hopefully can improve the efficiency of your campaigns and help expand your list of link opportunities.
16 Advanced Link Prospecting Techniques For Increase Efficiency
Agility and efficiency are essential drivers of a successful link prospecting phase.
Setting a plan to never run of opportunities for link acquisition is important since this can improve the entire campaign's prospecting rate as well as increase the average number of link prospects collected per hour/day.
By focusing on link prospect growth, link builders can expect significant improvements in the overall link development campaign, in parts such as:
Enables to find new audiences targeted by newly added link opportunities, which can be useful in brainstorming future content assets relevant to these audiences.

Grows your current list of relationships with bloggers/webmasters/journalists (new connections can be derived by reaching out to an additional list of link opportunities). 

Increases deliverables (# of links delivered on a monthly basis) for clients, since on a given average conversion rate, one can expect more links by sending more outreach emails to added link opportunities in the original list.
There are many viable guides and how-tos in link prospecting from different SEO experts. Some techniques are learned simply through your own observations from campaigns that you have handled. We, at SharpRocket, incorporate those observations from our own personal experiences which helped us be more productive in building links.
1. Listing down link similarities
Most bloggers use the same terms in creating links for their pages. For example, in creating a resource page, the commonly used terms are domain.com/niche-resources; domain.com/resources.php; domain.com/links.html. Therefore, we can use google queries such as inurl:niche-resources or inurl:links.html. The search engine result will give us a list of resource pages according to the niche we are looking for.  Below are other search queries you can use to find additional prospects for your client which we personally use:
resources/links
resource-guide
useful-links
useful-resources
niche-resources
recommended-resources
Though not all search queries such as resources.php, links.html, or useful-links, provide resources that are relevant to the client's industry, it is advisable to add a distinction which is based on the client's niche to narrow down the results in the Search Engine Results Page (SERP), e.g. inurl:useful-links "niche". Google will then provide you results based on the keyword you used which is more applicable to your campaign.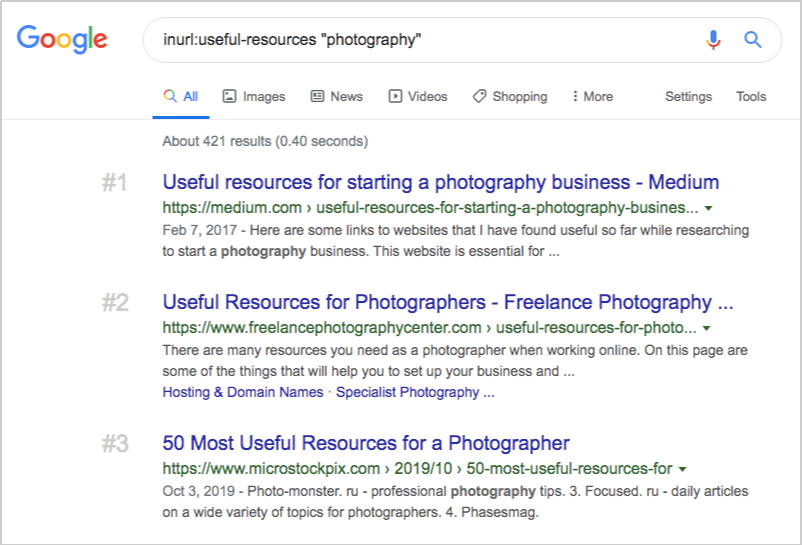 Pro Tip: Just be creative with the words you use along with being observant. If you have a hunch or an idea which you think can be helpful, it wouldn't hurt to try experimenting on it.  Who knows, you might even be able to discover other useful techniques you can use to further enhance your link building skills. Don't forget to check out the links on the resource page you found, for it may redirect you to a new prospect opportunity that you have not seen through the list that Google displayed.
2. Utilizing country domain extensions
As you may have noticed, some domains do not always end in .com, .org, or .edu, and other web addresses use different domain extensions depending on the country in which their website is being hosted (e.g. ".au" which is hosted in Australia or ".ca" which is hosted in Canada). By using these domain extensions you can narrow down the results based on your preferred country or target audience. You can use the advanced search operator "inurl" followed by the country domain extension that you want to focus on (e.g. inurl:.ca). You can also add a distinction to make the search query more precise. If you are looking for guides or resources you can use to enhance your skills in photography, you can use inurl:.ca/photography-resources. Google will then give you a list of photography resource pages with the country domain of Canada.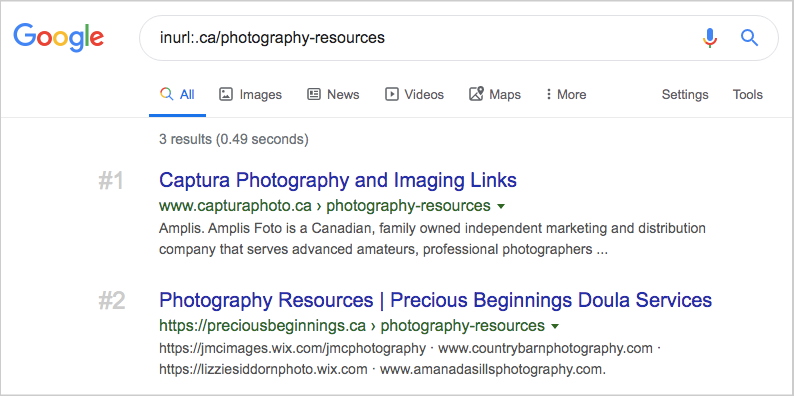 Pro Tip: You can use these techniques in any niche or industry you wish to do research on. However, if you don't have a specific country you would like to focus on, searching for link targets that end with .com first is most recommended because it is the most recognizable and highly used domain extension. You can then use the other country domain extension of your preference to gain new prospect opportunities.
You can visit this Webopedia guide for a complete list of countries and their domain extensions.
3. Identify company blogs through SERPs
By taking notice of the Search Engine Results Page (SERP), we can also pinpoint if the link is a company website or a personal blog. Though not all domain names and punctuation marks are 100% accurate, it can somehow lessen our time in checking each link just to see if it is a company website. Here are some examples:

The above query will display links that have the keywords "light" and "bulb" in the title of the article.  One result has the punctuation mark called pipe or vertical bar on the page title. It was followed by the domain name "1000Bulbs.com". Here, we can be quite sure that it is a company website because the page URL was also mentioned in the title.
Clicking the link will redirect you to the webpage.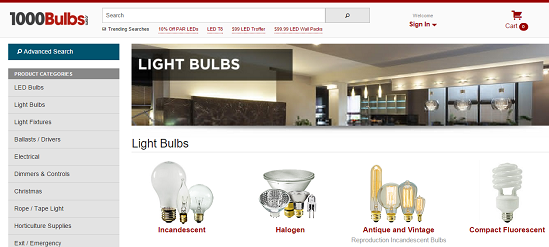 Another punctuation mark used in identifying a company website is hyphen or dash. As you can see, the domain name which is the brand name of the company is included in the page title after the hyphen. Most of the time, em dash or the long dash is used.
Lastly, the punctuation mark colon. The difference of this punctuation mark from the hyphen and vertical bar is that you can instantly notice it at the beginning of the page title. The brand name is cited first followed by the colon and page title of the article.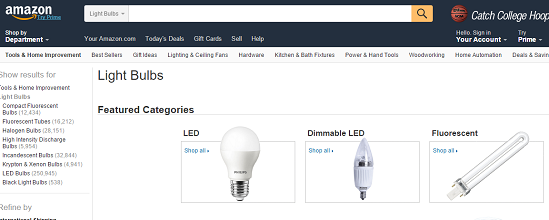 We can distinguish company websites through these punctuation marks located at the page title. Just a little note, not all sites that use a hyphen, vertical bar, and colon in the page title are companies. Some content creators tend to do that as well.
Observational learning is a must in link prospecting. It helps us maximize the use of Google queries and lessen our time in clicking unnecessary links. Simple terms, domain names, and symbols might have a deeper meaning. This is why we have to keep our eyes open and our minds sharp. Noticing terms you don't usually use but is mentioned in the client's industry can be used as keywords for broader research. Checking on how domain names are created by bloggers can give us a better chance of generating a higher number of results. We just have to be adamant about making observation a priority.  
4. Website categorization
When starting a new outreach campaign for a client, the first initiative is to scour new link opportunities on the web from scratch. While this is good if it's a new industry you're taking on, isn't it wise to go back first to your previous list of industry-relevant opportunities and check which ones could be reused for the new campaign?
Not only does it save time, but it also saves a lot of labor consumption prospecting for links.
Website categorization does help with this. By using tags, you'll be able to categorize prospects from a topical perspective.
What you need here is a defined hierarchy of topics, to begin with. For me, I recommend BOTW as a starting point, given that they have four or five deeper-level topics such as Pro-Choice Abortion (Society) and Eating Disorders (Fitness) which is extremely important if you've got clients from a very specific niche.

Make sure that your team agrees on certain topics to avoid any confusion when filtering your list. Having several but similar terms (i.e. I.T, Information Technology, and Technology) as your tags is trouble.
The next time you need automobile blogs, you can pull them off from a list within a few minutes.
5. Check descriptions in links to eye SEO'y content
Backlink research is the process of identifying current and potential competitors and getting pages/sites that linked to them for link opportunities.
SEOs normally identify these competitors through Google search by checking which pages are currently ranking for target keywords or creating a list of competitors' sites coming from clients themselves (as they already have ideas which brands to compete with).
While these two approaches are best practices to find your most relevant competitors, you may still miss out on some SEO'y content (as what Ross Hudgens coined it) that you should reverse engineer on (reverse engineer backlink profiles).
SEO'y content is pages or content pieces already linked out from a resource page you're trying to reach out to, that have earned tons of links from several linking root domains.
Looking for SEO'y content can expand your vertical prospecting, either from a horizontal or vertical perspective, as they aren't easily found through Google search or normal prospecting.
One way to identify these SEO'y content is to check discrepancies in the description of links. What I mean with discrepancies is that there are resource pages with full descriptions for each link and there are some with links with unusual descriptions.
I got this idea when I received a response from a webmaster putting a link to our client's page from their resource page.

If you skimmed the email above, you'll notice that there's nothing uncommon with the email, only does it implies that the webmaster is in a hurry not to include a description for our link – the reason she requested if we can create one for them.
Discrepancies in link descriptions—either the description is not complete or not in format with other link descriptions (see image below)—are signs that the resource page had recently given a link to an SEO'y content. TigerMobiles.com and US Dish links have Titles as their descriptions while other links have longer texts that describe what those pages are about. 
It means that these SEO'y content are actively pursuing relevant link opportunities (primarily resource pages) in the same manner that you do. If you could scour their existing links (some may have been recently just acquired), it will help you gain link targets that are receptive to content suggestions. Thus, giving you a higher link acquisition rate in your outreach campaign.
Clicking on SEO'y content links and assessing if they have relevant links you can potentially use as link opportunities is a great activity you can add to your link prospecting process. 
The best way I recommend to initially check if this SEO'y content has a good number of linking root domains is to run them through LinkMiner.
The tool checks all external links on the resource page and highlights how many domains are linking to a certain external page.
6. Use Linkclump to open document links simultaneously
In link prospecting, the more you spend time checking for unnecessary links, the more you waste time that should've been otherwise spent pursuing the right link opportunities.
What I've noticed with newbie link builders is that they often click on document links (pdfs, words/spreadsheets ready to download, etc..) that are consuming seconds (if not minutes of their time) which are all useless if your main targets are links or resource pages.
The recommended approach is to use a tool that'll automatically unclick these document links once you start qualifying your list of link targets.
For example, if you have a list of pages ready to be qualified for certain metrics (DA, relevance, obtainability), copy and paste them in an opened tab tool (e.g. URLOpener.com).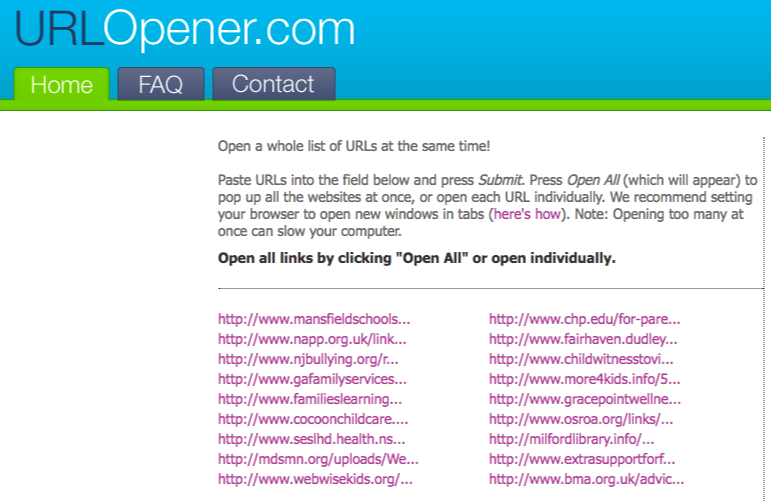 Then install Linkclump and use the filter option to add words that'll exclude links when it opens new tabs (pdf, doc, xls, etc..).
Once you right-click and drag external links from URLOpener, the action itself won't open document links as new tabs given that you excluded certain words in the tool's setting.

7. Utilize niche phrases to expand link list
If you are familiar with your industry, it's easy for you to know what phrases are commonly used as titles in resource pages. For example, in the transportation industry, you'll see a lot of "getting there" pages. These are phrases that are only specific and be applied to a certain vertical.
But one question that may arise here is, what if it's a new niche I'm taking on, how can I identify niche phrases I can use for expanding my prospecting approach?
The best way to do that is to collect the titles of your first set of resource pages (I'd recommend that you get 80 or 100 links pages from your list for optimal results).
Use Wordcloud to see common niche phrases.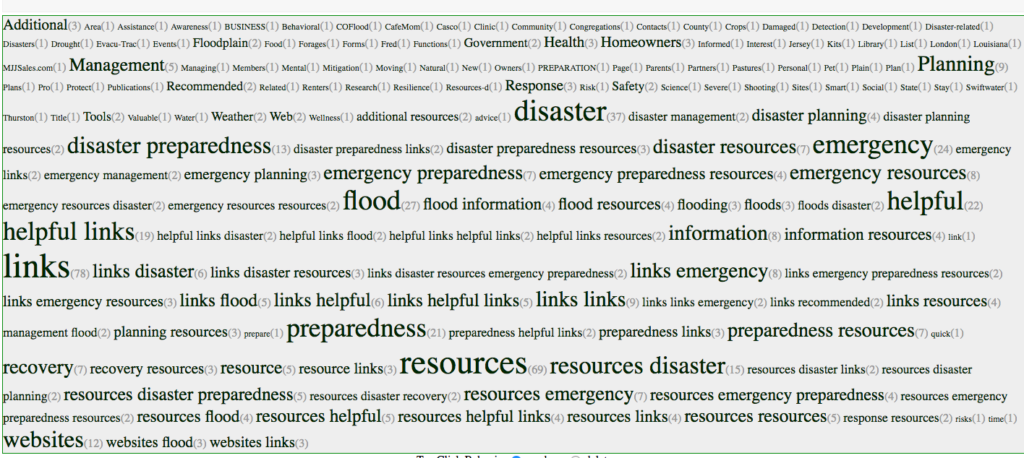 Ensure that you click phrases only and display frequencies checkbox. Phrases only feature does what you need from the tool – to give exact niche phrases while display frequency shows you the number of times a phrase appeared in the list.

If you are clever enough about using niche phrases, your list of link opportunities will expand.
Other Useful Resources:
8. Use better keywords in link search
Research is not "good research" until it is seasoned with all the right keywords. We cannot simply uncover prospects that are relevant as well as insightful if we do not employ the correct strategies. Having said that – keyword generation is, in my opinion, the heart of every campaign. After all, how can we ever expect to reach our audience without first wielding a well-thought-out string of words?
To help us navigate the waters of "keyword inception", let us first go back to its root. A keyword is commonly defined as a word or concept of awesome significance. For us to come up with a great blog roster, we need to make sure the phrases we use in research will coincide with those utilized by our target prospects.
Another, looser translation of the term is "password". Personally, I very much like the concept of decoding a password in relation to finding the most effective words to use for link prospecting. Not unlike our search queries, passwords unlock a bunch of possibilities.
As you probably understand, there are a lot of factors to consider when it comes to choosing your terms. In our industry, the most commonly used keywords are categorized under three types: generic, specific, and long tail.
Let's first take some time to understand these keyword types better before we go on.
A. Generic Keywords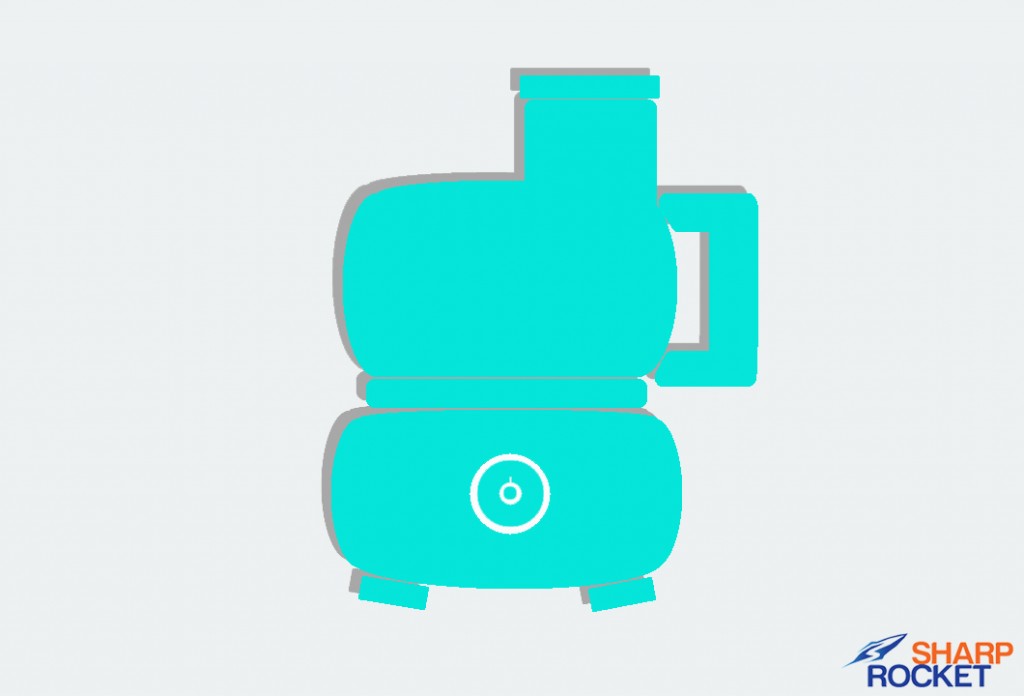 As the term suggests, "generic" keywords are unspecific and all-encompassing. You can expect to get thousands, even millions of results using this type of keywords. An example is using the words "food processor" in your search query.
B. Specific Keywords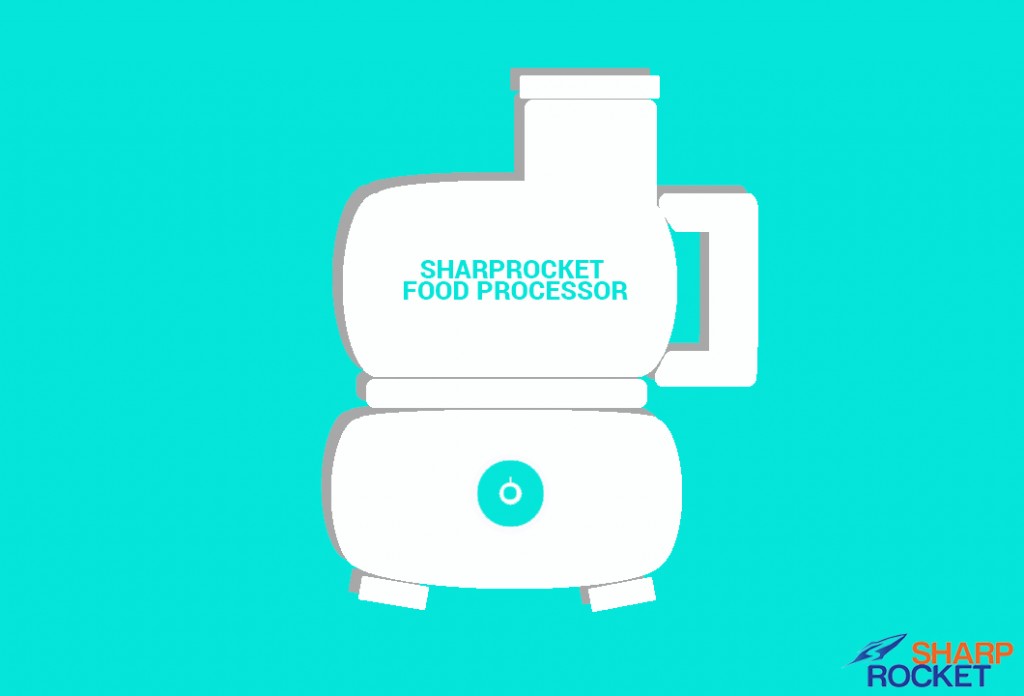 This type of keyword is obviously a lot more particular than the former. In relation with our previous example of "food processor", a specific example would be a branded version –  "SharpRocket Food Processor" 
C. Long-tail keywords
Lastly, long-tail keywords are the most common phrases or even a complete sentence typed into the search bar. Now, a perfect example for this would be "best way to operate a food processor". Basically, a set of four or more keywords is considered "long tail".
Going back to the main point of this article, how do we come up with the best possible keywords and/or keyword combinations for maximum results? Of course, this all leads back to a rather popular answer: common sense.
9. Use "topic" "guide" to search for content competitors
Reverse engineering has been a standard practice in link building – which is basically spying your competitors for link sources pointing to their pages.
However, that approach will leave you following the footprints of your competitors.
If you can be visible on websites they haven't acquired links from, it would be a better strategy to get ahead of them (or evenly outrank them!).
One initiative you can make is to look at other brands (not necessarily your direct competitors) that have published industry guides on similar topics.
We've found that using this search query, "GUIDE" "TOPIC" supplies a list of websites from other industries in SERPs that have topically-relevant content assets.
For example, a quick look for "veterans" "guide" can reveal this search result page.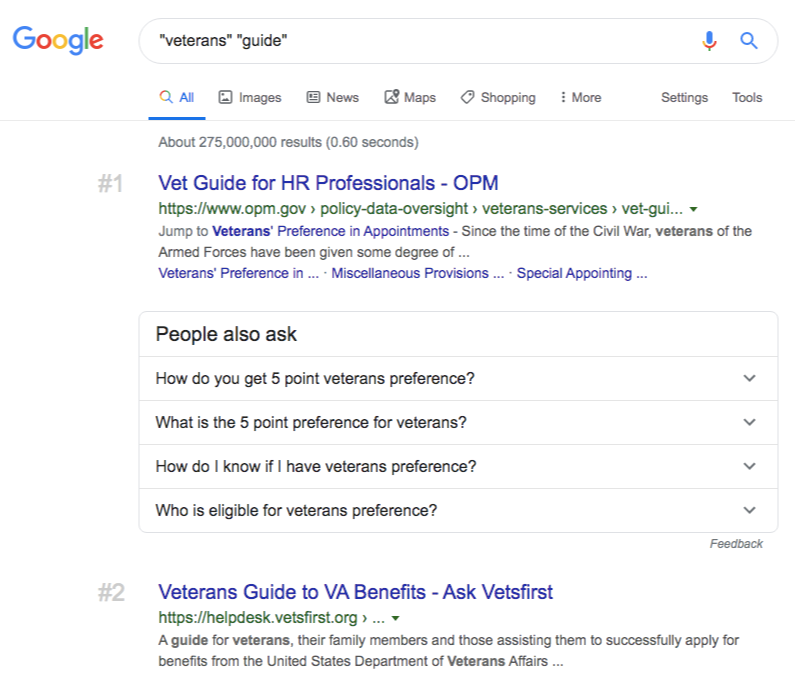 Your next step is to make a list of the people and sites/blogs who have linked to similar industry guides or have shared them via social media. You can extract these data using tools like Buzzsumo and Ahrefs.

It is best to list them down in a spreadsheet including each prospect's contact address.
Start reaching out to them. You'll have better chances of getting links given that they're interested in the subject of your content since they've linked to a similar industry guide in the past.
Embracing competitor opportunities
Not all links will be counted with the Google link command. Some pages that will be displayed on SERPs are not all-important or relevant to what you are looking for. Yet checking websites connected to your competitors will give you an idea of where to build your links. It will provide new ideas and broader networks to associate with. You just have to embrace every opportunity that comes your way to get links or a new set of keywords to use, even if these are from your competitor.
10. Keep track of websites with consistent linkable content production  
You will not always come across a brand that publishes a solid set of content assets while gets/attracts high-valued links to its pages.
If you have found a website that matches both of the above criteria, it's worthwhile to bookmark it and try to spy and assess its content strategy (both their content creation and promotion approaches).
In our broken link building campaigns, we've spotted on and have kept track of all the websites that have continuously been producing heavy linkable assets in different industries.
Regardless of whether or not it is directly competing with our client, we monitor those sites for new content ideas and future linking opportunities.
For example, Affordable Colleges had been on my personal radar because they have been targeting new markets (audiences) through the new content they published in their resource section.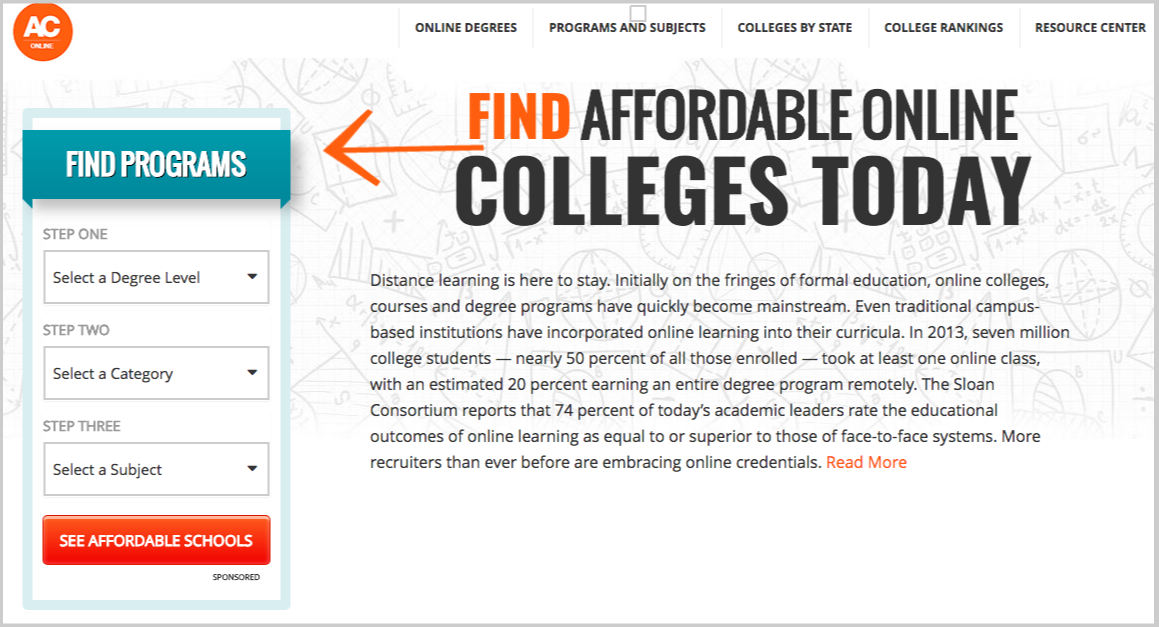 By using content analysis tools like Ahrefs, we can see the new industry guides they've invested heavily in content promotion (check Best by Links Growth feature).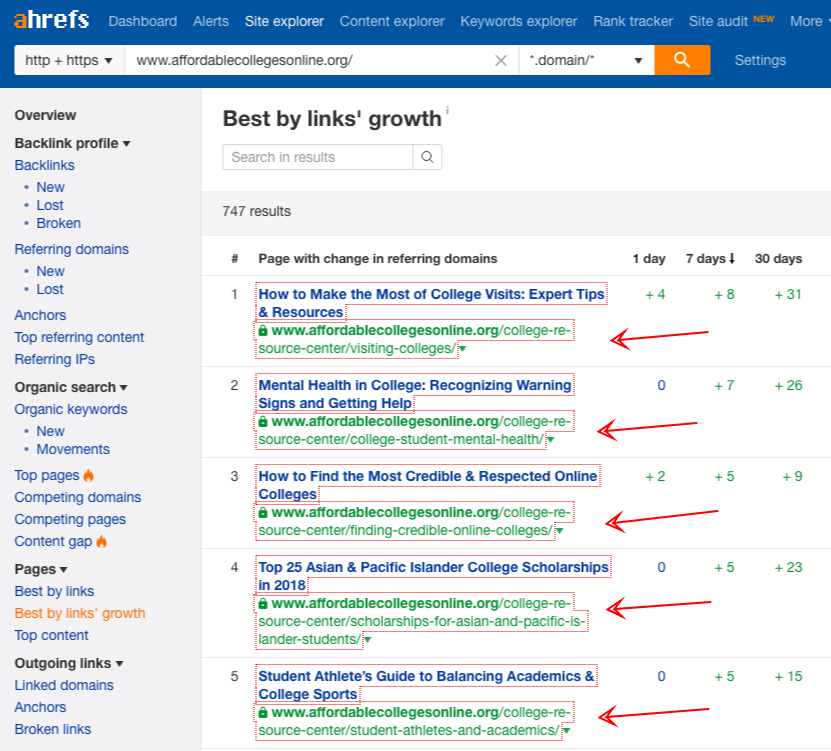 That approach can definitely expand opportunities for our future link development campaigns, given that we can tap into new markets that are not included in our initial list of linkable audiences, such as homeless students and multicultural & diversity groups.
11. Integrate dedicated .edu pages in your search queries 
Apparently, links from .edu pages are one type of links that can impact your pages' performance on search rankings and can really damage your industry's competition if you achieved success with it.
However, before getting results from any .edu link building strategies, you'll always start with .edu link prospecting – one that's hard to build when you're starting out.
One approach that you can use to scale .edu link prospecting is to target a specific type of .edu page in your search queries.
Those .edu websites normally have sections of information resources such as counseling, health & wellness, financial aid, community resources, and summer housing – which can be individually targeted in your search query depending on the subject of your page/site.
For instance, if you're in the mental health industry, one phrase you can include in search queries is "counseling" or "student health"  to come up with the following targeted search queries:
site:.edu "counseling" inurl:resources

site:.edu "student health" inurl:resources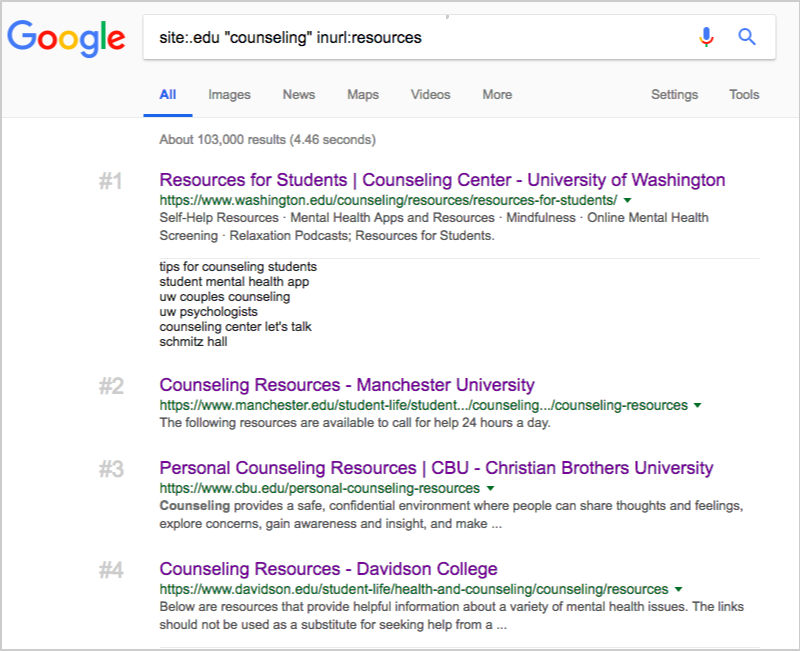 Here are more .edu pages for topical-relevant pages:
"summer housing" – apartment categories
"career & internship" – job sites, portals or resources
"general health & wellness" – health organizations or niche-specific resource guides (e.g. sexual health)
Moreover, finding targeted pages of .edu sites can also be helpful with the kind of link building strategy you're currently using.
For example, when pursuing for scholarship links, instead of using the common search queries like (site:.edu "scholarships" "industry/topic"), you can be more targeted with your search by using the phrase, "financial aids" – which is a .edu resource page for students seeking for financial help.

12. Start with libguides queries for .edu link prospects  
Another way to be proficient in high-authority link prospecting is to target libguides pages of .edu websites.
What exactly are libguides?
LibGuides are content management and information sharing system designed specifically for libraries. The platform allows for easy navigation through and instruction on core and relevant resources in a particular subject field, class, or assignment.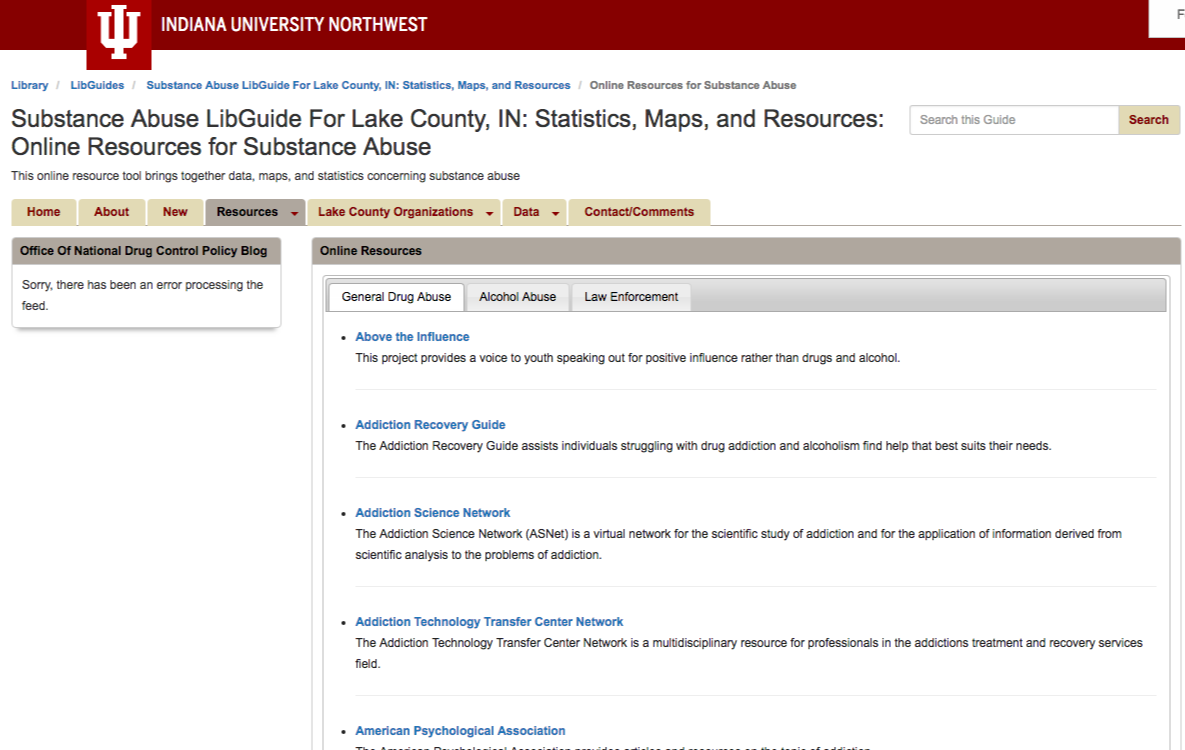 Libguides benefit students in many ways, such as:
It allows students to focus on the relevant and sift out the less relevant.

Visually demonstrates that there are great resources, in multiple formats, on even the most difficult topic. That reassurance builds the confidence of students who need to get started on their research.
You can see the other benefits of libguides to students here.
By definition and purpose, libguides are academic resource pages for students.
Given that they aren't updated that much, they usually contain broken links. Knowing that you can use broken link building as an approach to acquire links from these high-value pages.
Resource page link building (or content suggestion) can also work as long as you have a high-utility content piece worthy of being referenced to by these academic pages.
How do you find these libguides?
You can do a Google search for inurl:libguide site:.edu "TOPIC" – replace the word topic with the subject of your content or website.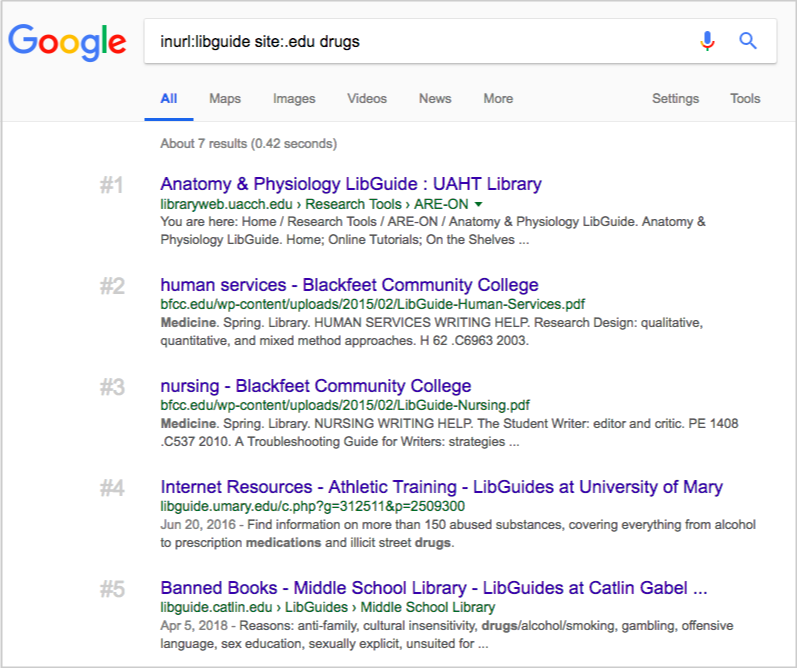 Before pitching to librarians (contact persons managing libguides) with content published on your site/client, it is best to have an idea on what sorts of content, information, and content types that they prefer using as references.
Make sure you create the most comprehensive guide on the topic (or at least can match up to the resources that they've already linked to). If it's necessary to improve your content, do so to increase your chances of getting links from them.
13. Save link targets of lower metrics 
When prospecting for link opportunities, It's easy to overlook pages with lower metrics (i.e. <DA40), given that at the beginning of the campaign, link metrics have been set to use as a quality benchmark for all target pages/sites moving forward.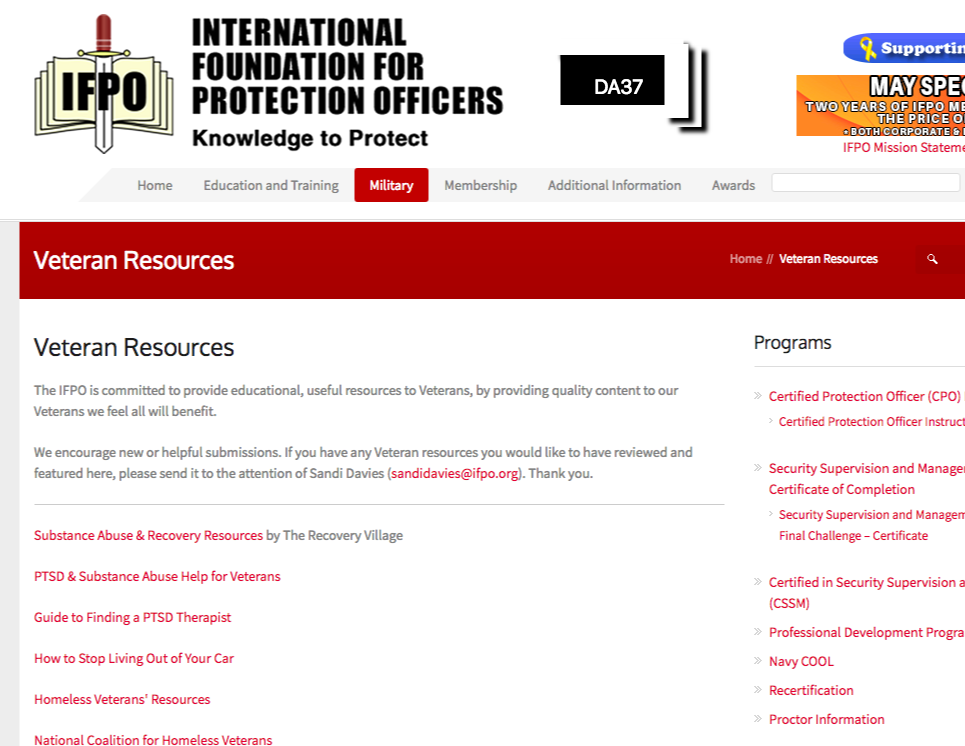 At SharpRocket, we've found that websites/blogs with lower metrics can be highly useful for future campaigns. Some less authoritative websites can increase their organic traffic and earn/build links over time, which will eventually improve their entire domain authority.
Capitalize future equities of those neglected websites by making a separate list or spreadsheet to include them.
This is an approach not to run of our link prospects as you can return to your list over and over again, and find new ones that have improved its domain authority (or have passed to your benchmark metrics).
14. Exchange contacts with active guest bloggers 
Building relationships with industry bloggers is vital not only when pitching them to become a guest contributor for their publications, but also in expanding your own list of link opportunities.
One approach that you can maximize in this situation is to pass on your contacts with them. Share your own lists of blogs that you have pursued content contributions.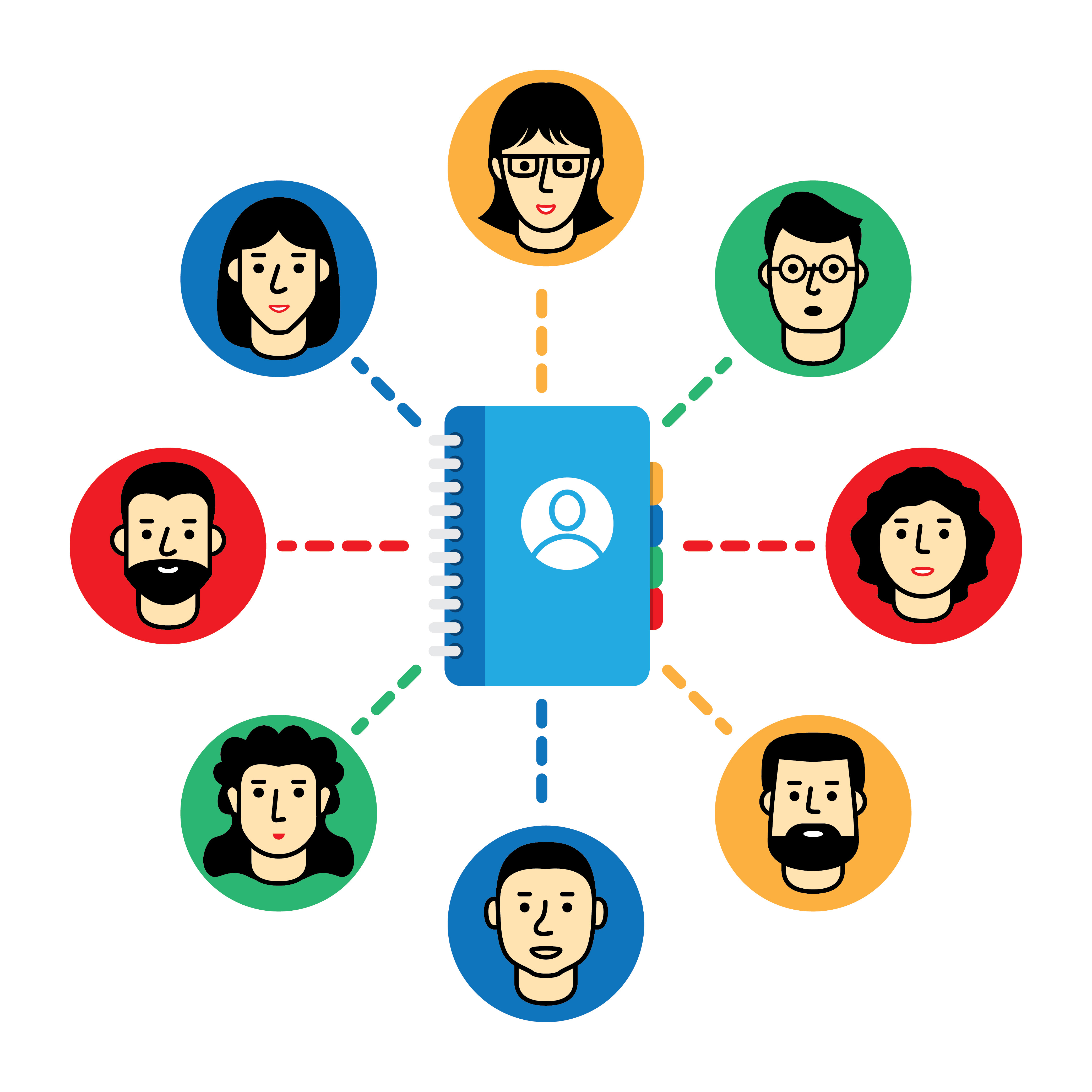 It's a mutual benefit so you'll expect to get a fair share of lists from these active bloggers, too. It's worthwhile to do so given that their shared blogs have high response rates when you start emailing them.
15. Reverse engineer broken pages for more link opportunities 
A huge number of broken links on the web is the main backbone of broken link building.
Finding defunct links on a resource page and showing them to webmasters is one way to initiate conversations and eventually acquire links by suggesting link replacements (wherein one of the links is a link to the client's content piece).
The process ultimately starts with prospecting for relevant resource pages.
One prospecting methodology besides doing a Google search for common resource page queries – inurl:resources "topic;; inurl:links "topic" is finding other resource pages that are linking to broken links.
Start this process by finding broken URLs, which can be defunct links you've initially corrected in your first set of prospects (resource pages).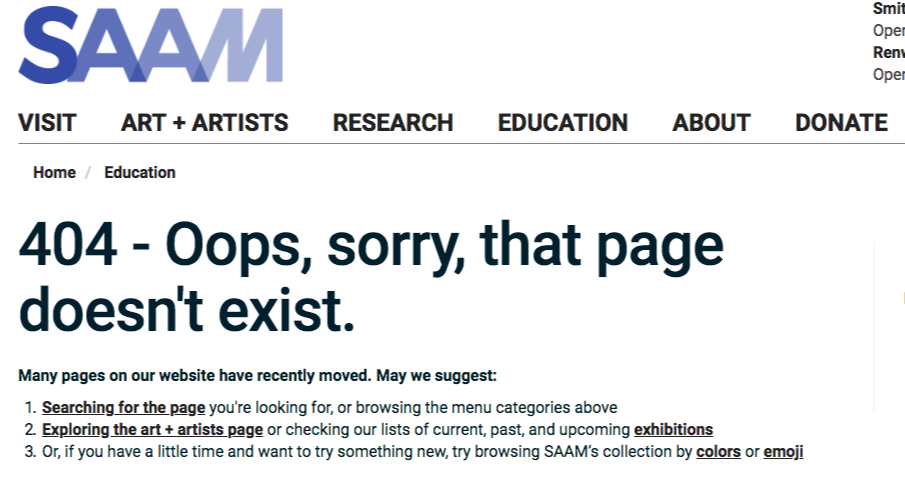 Check for any other websites linking to those broken URLs using any link tracking tools like Ahrefs.

Create a spreadsheet to collect all websites linking to broken pages.
If you've found 20 broken links and have checked that there are around 300 total pages linking to them, your initial list has now grown to an additional 300 prospects.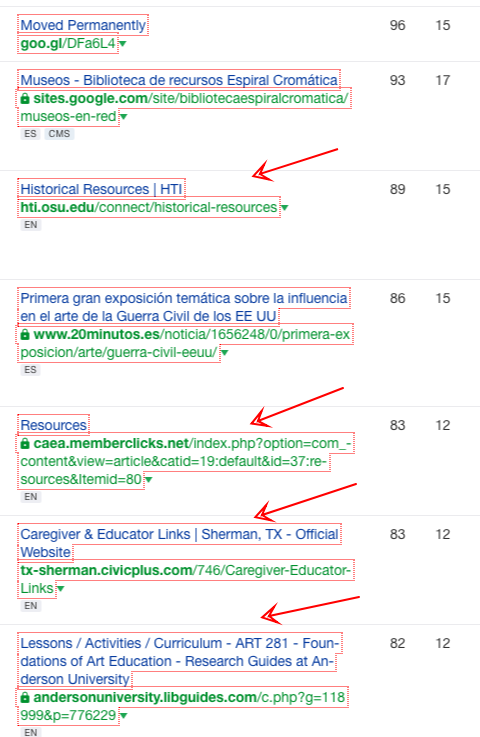 Of course, you have to quality these additional link targets by relevance, authority, and obtainability.
But overall, the said link prospecting (reverse engineering) methodology gives you room for more link opportunities.
16. Create new lists for non-intended audiences 
One common mistake I've seen link builders do when prospecting link opportunities, specifically for resource pages, is ignoring current pages on their tabs as soon as they quickly find that these pages do not pass certain links' standards (e.g. irrelevant to their intended audience).
This tip is almost similar to the above prospecting principle (save prospects of lower metrics).
However, what I'd like to highlight in this last prospecting tip is saving prospects of different intended audiences. 
When you've landed on a page and found out that it's not relevant to your audience-targeting, you basically ignore it and move on to your next link prospect.
What I personally see a lot of value in seeking for more link opportunities (and for content generation, in general) is creating a new tab/list of other pages that don't fit to my current intended audience.
For example, when I'm looking for parenting-targeted resource pages and have come across pages that are targeted to non-intended audiences like LGBTQ, mental health enthusiasts, persons suffering from trauma, stress, and attempting suicide – I make new lists to collect them all.
This can somehow make it easier to find new audiences to target for future content assets.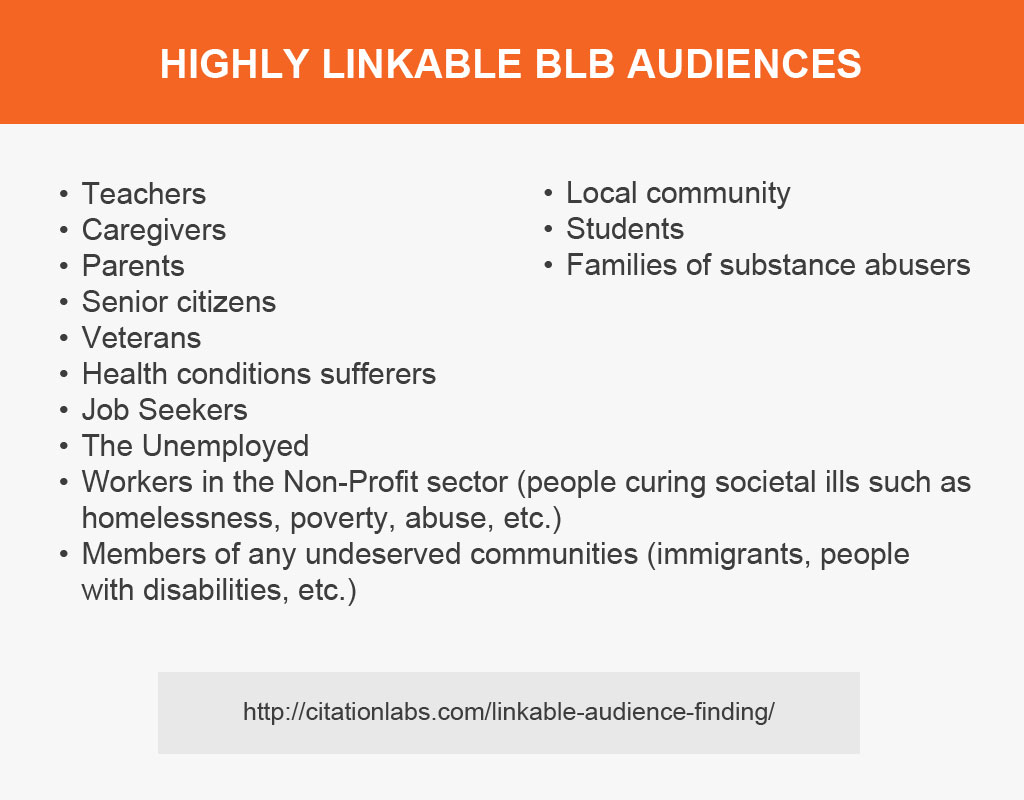 If you're just starting in audience-first link building campaigns, you can start off with Garrett French's 601 Audience spreadsheet and basic linkable audiences as a base – and add more on to it along the way.
17. Utilize the advanced search operator "links"
"Links:" search operator points out web pages that are linked to the domain you used. SERPs will, however, give you random results from its internal links and even web ranking review that's why we have to be selective.
HOW TO USE GOOGLE COMMAND "LINKS:"
1. Target a specific competitor link you want to use. For example, you are looking for a resource page and saw erickimphotography.com as one of your competitors. Go to Google search box and key in the search operator + the domain name of the competitor.

Note: Make sure that there is no space after the colon.
2. Choose a url in the search engine results page that  you think can be a possible prospect.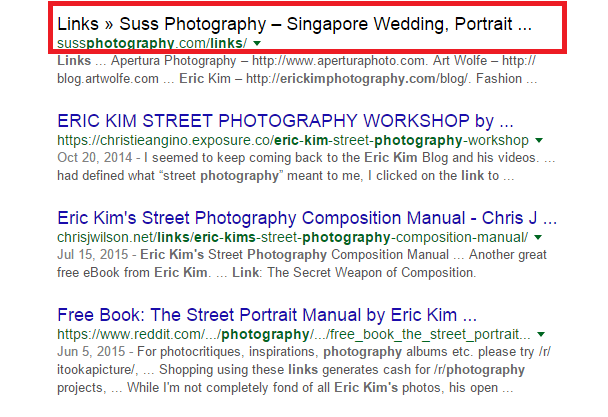 3. Use the "site:" command and type the keyword you are looking for, only if needed.  In our example,  we need not to use the search operator "site:" since we are looking for a resource page and sussphotography.com's resource page already appeared on the SERP. Therefore, we can possibly link our website to this blog, too.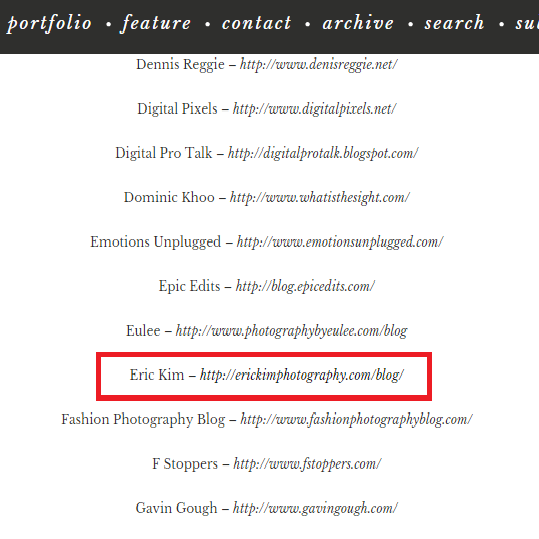 We can also use competitor links in generating keywords and phrases for our Google queries. Visiting related blog posts on their websites  can somehow give us fresh ideas.
Three C's to remember in creating keywords for link prospecting
When we do research, we sometimes tend to write words based on how we formulated it in our mind and fail to simplify terms then find ourselves easily falling into the same thinking pattern. Before we jump to the tips link builders can apply to find new niches to tap or keywords to use, below are things to consider when typing in the keywords you will use for blog research:
1. CONCISENESS
We can use words that are short and to the point as a substitute for lengthy words without changing its meaning.
Wordy: Newly Developed or Most Common
Concise: Trending or Popular
2. CONCRETENESS
Choose words which form a sharp and clean meaning to eliminate confusion as to what you are really looking for.
General: My first Investment
Concrete: My First  Car Investment (stocks, bonds,house,equipment, bags etc)
3. CLARITY
Choose precise, concrete and familiar words.
Familiar words: coupon
Pretentious Words: statement of due interest
Advantages and Disadvantages of Using the Search Operator "links"
Pros:
Since your competitors are already linking to those websites, there is a great chance that the site or blog post is relevant to your industry.

Websites shown in the search engine results page will give you other niches to tap as you visit them.

Usage of "links:" operator is easy and convenient unlike when you are using backlink checker tools.
Cons:
There is a chance that you can't find a related topic connected to your industry to link from 

because your competitor already beat you to it.

In checking for competitor links, you just tend to follow the blueprint instead of standing out. Being number one sometimes requires looking for other websites that are competitor-link-free!

Not all websites linking to your competitor are based on their preference. There are times where a blogger links to another blogger or a company just because they know the person who owns it.
18. Unleash keyword creativity
Lateral thinking is a technique that uses an uncommon approach to solve problems or to stir up fresh ideas. Yes, being concise is one smart thing for us to generate keywords for our research. However, in developing link building tactics, one must dare to think outside the box to be able to come up with new niches to tap or keywords to use.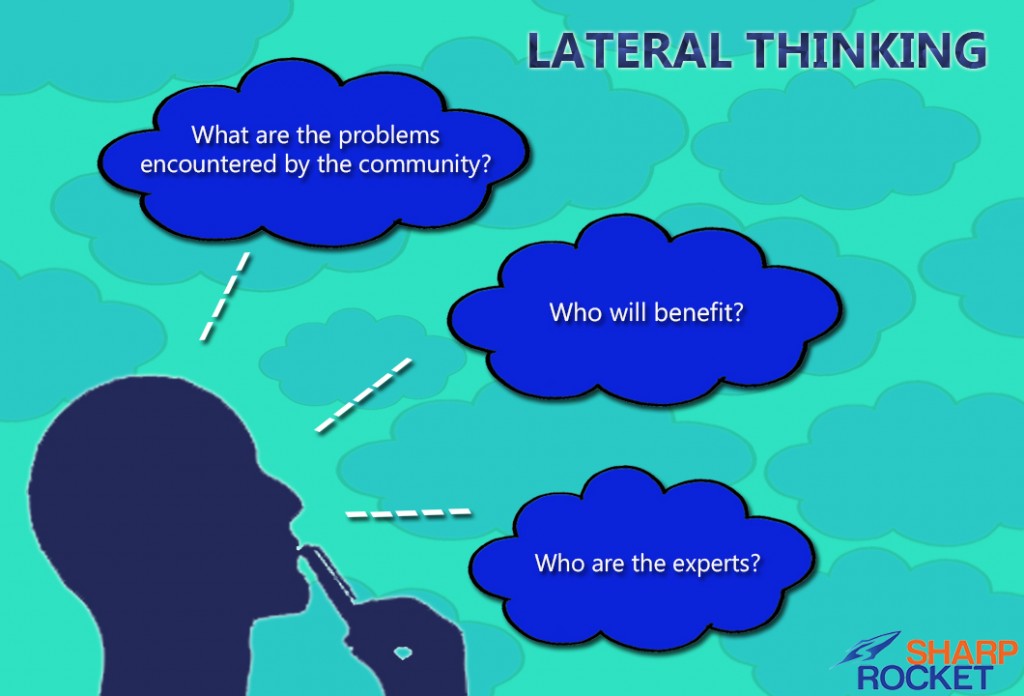 1. Who will benefit?
Ask yourself who would be interested in the products and services  you or your client has to offer then list them down. We may review the possible prospects according to their age, gender, and needs. Think of other potential customers and readers. Let's say you're selling skincare products and you want to advertise these, you automatically look for beauty bloggers. Aside from the obvious people who might benefit in what you have to offer, try going beyond, like mommy blogs, health blogs, and senior blogs.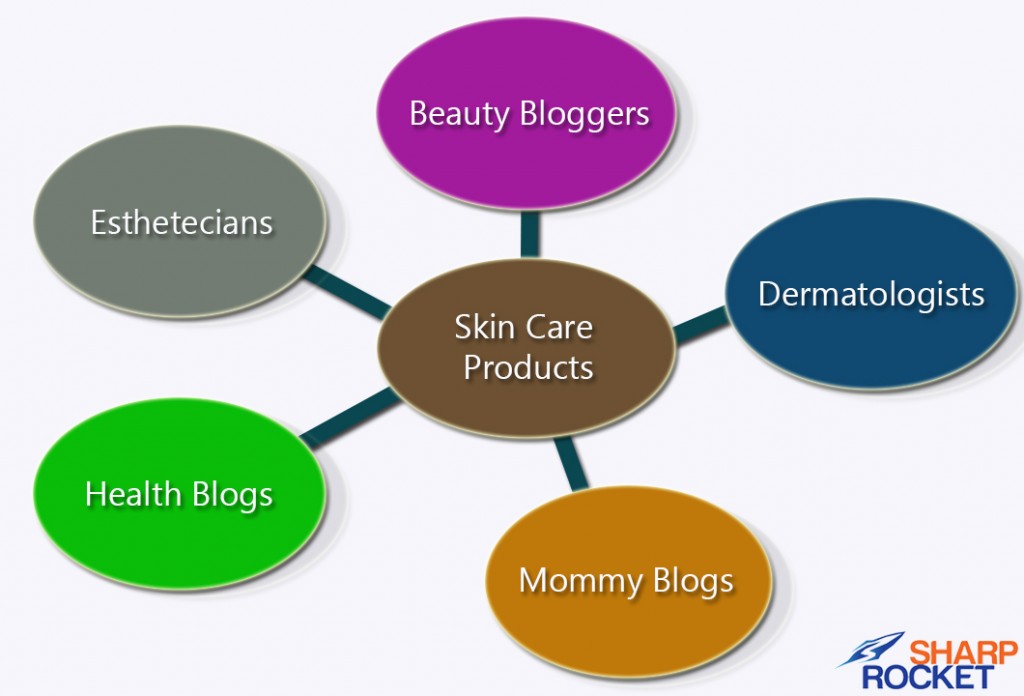 2. Who are the experts?
You may also consider people who are experts on your particular topic. In our example, we may choose to search for dermatologists and estheticians  who specialize in skincare.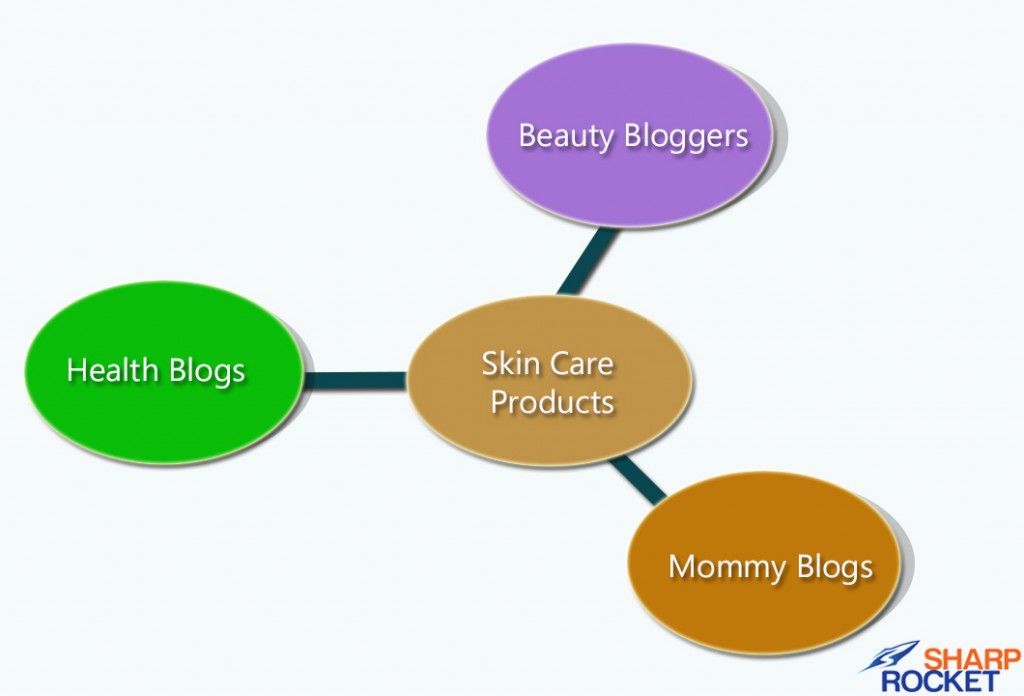 3. What are the problems encountered by a niche?
There are times when you finally used up all the tricks up your sleeve and caught yourself at a loss for thinking new keywords to use. You can then try searching for the problems encountered by a certain niche. There are many terms or jargons associated with skin problems that only those knowledgeable in that field or those that already experienced it knows of.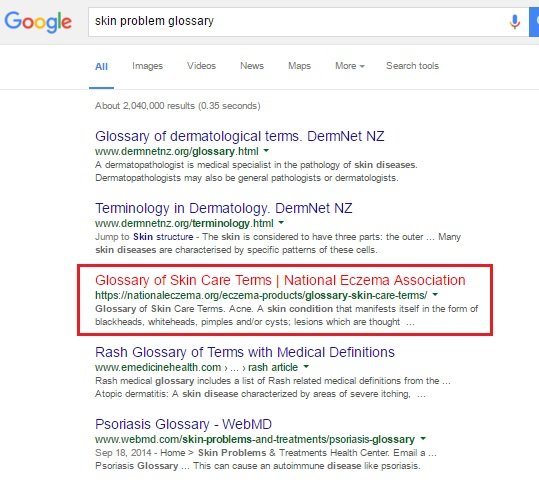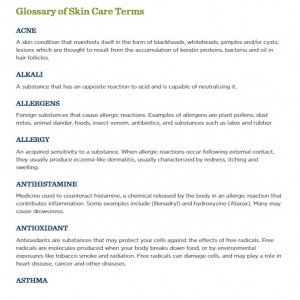 Website: https://nationaleczema.org/eczema-products/glossary-skin-care-terms/
Tools to help you come up with better keywords in link search 
A. Thesaurus
The most obvious way to come up with a fresh set of keywords is by making use of the thesaurus. This tool has, no doubt, been introduced to all of us way before we started messing around with computers. Simply put, it gives you a little index of words in groups of synonyms and related concepts.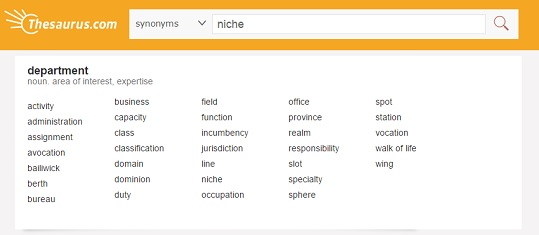 B. Industry glossary 
The Glossary of Industry Terms is a comprehensive list of words and expressions used by experts or trade specialists that may be difficult for others to comprehend. When you're targeting bloggers who write specifically about your client's niche, the most useful thing you could do is to familiarize yourself with their jargon first so as to come up with accurate results.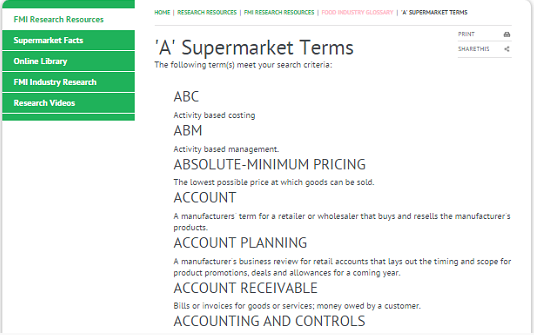 C. Blog post titles and URLs
Sometimes the greatest things in life are right in front of you. The same holds true for keyword generation. The best ones may just be under your nose. Pay attention to how bloggers construct their post titles and what words appear in their respective URLs. This might come in handy when you want to target articles that tackle the same topics or have roughly the same content. Using the same keywords but coming at it from different angles might just make the biggest difference to your research.
Case in Point: Instead of just using "online shopping" as your keywords, consider a different perspective – "pros and cons of online shopping", "advantages of online shopping", etc.
Sample Search Queries:
allintitle:pros and cons of online shopping

inurl:pros-and-cons-of-online-shopping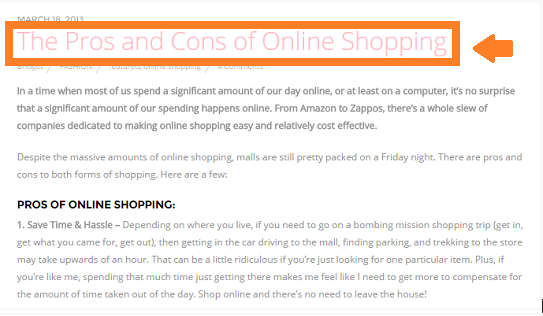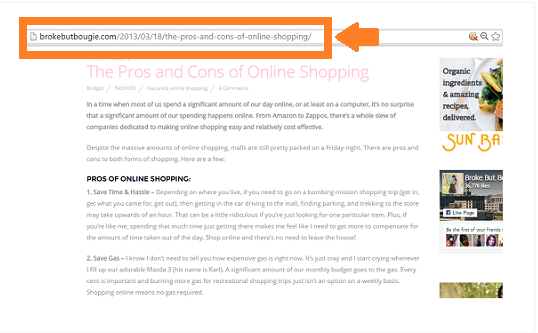 D. Wh and H Question Words
Since we're on the subject of words, it's also advisable to scrutinize the kind of language content writers commonly use. Some bloggers endeavor to answer the biggest questions about their niche with their posts. Incorporating the Wh (who, what, when, where, why) and H (how) question words in your queries will help you discover who those bloggers happen to be.
Getting links from these kinds of pages can be quite advantageous as a lot of potential customers tend to look for these types of informative articles before actually coming to a decision. Having your product or service presented to readers immediately as a suggestion can drive valuable traffic to your website.
Example: "What can you do with a food processor?"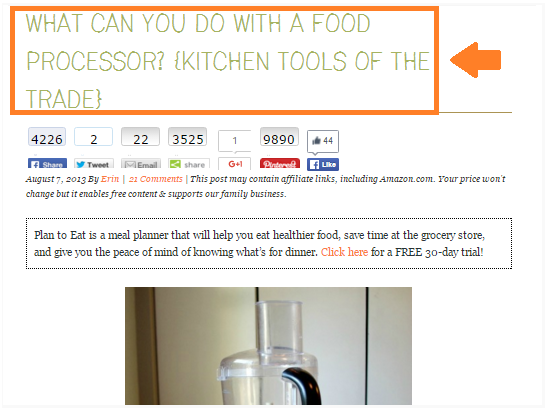 E. Be open to search suggestions
What's easy is not necessarily wrong. For other possible keywords, simply check other Google searches related to your query. A list of phrases can be found below the Search Engine Results Page (SERP) whenever you do a Google search. Though not all of these can be helpful all the time, we do stumble upon a few golden nuggets every once in a while.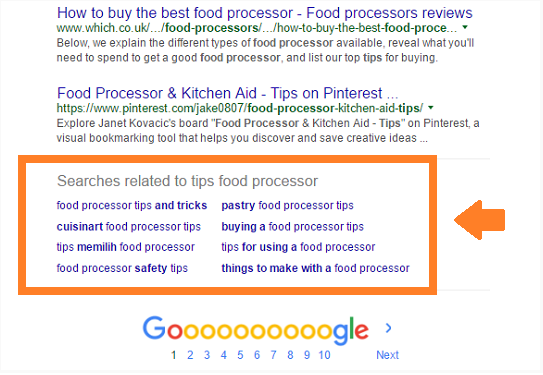 F. Think outside the box
Don't restrict yourself to just one set of keywords. If you find you've exhausted all concepts directly related to your client's niche, try looking at the bigger picture. Don't always work from the outside going in. Try the opposite.
If your client specializes in leather belts, don't get stuck on keywords like "buckles", "straps", and "tongues". Instead, visualize the belt as a little island in the middle of the ocean. The ocean symbolizes what niche encompasses your client's (e.g fashion). Look for possibilities outside of what has been handed to you.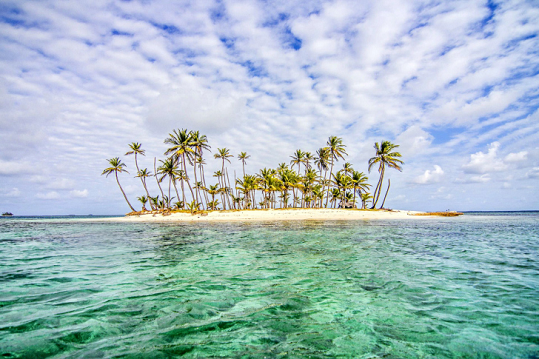 G. Finding opportunities in mistakes
Ever notice how people choose to dwell on another person's faults rather than his successes? Well, the same thinking can be used for our benefit when it comes to blog prospecting. Articles that focus on mistakes, misconceptions, or myths that people believe about certain issues or topics may sound totally negative, but can present real possibilities for building links.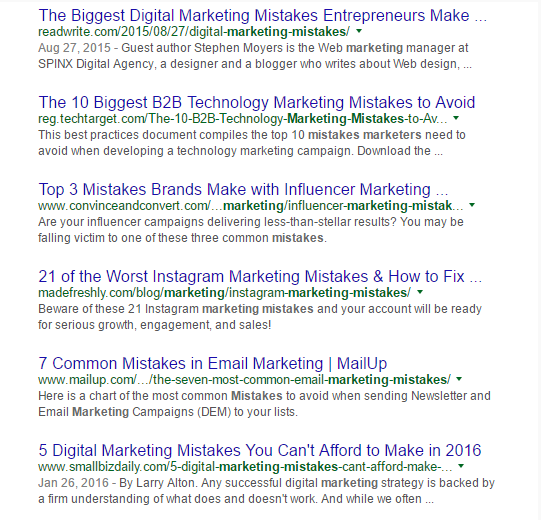 H. LSI graph / LSI keyword generator
The Latent Semantic Indexing (LSI) Keyword Generator is a tool that comes up with a list of terms and phrases related to your current keyword in a matter of seconds.
"In a nutshell, they are keywords that are semantically linked to your main keyword. In practical terms, Google has confirmed that by using more LSI keywords, your page will typically rank better."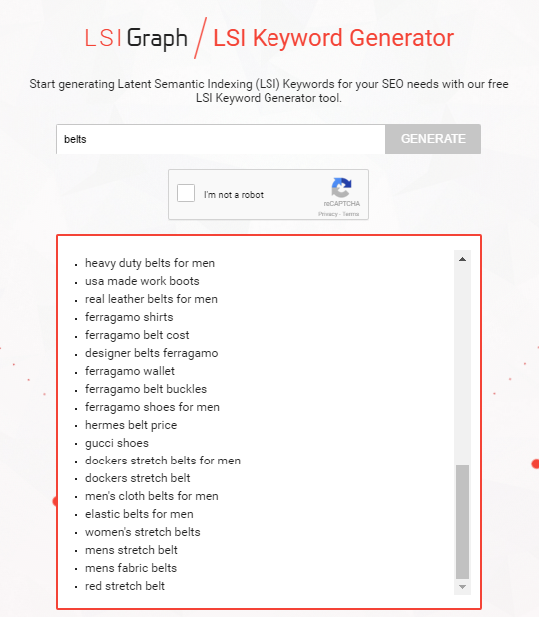 I. Keyword Planner
Keyword Planner is a Google  AdWords tool that can be used by new and experienced marketers for free. According to Google itself, "Keyword Planner is like a workshop for building new Search Network campaigns or expanding existing ones. You can search for keyword and ad group ideas, get historical statistics, see how a list of keywords might perform, and even create a new keyword list by multiplying several lists of keywords together."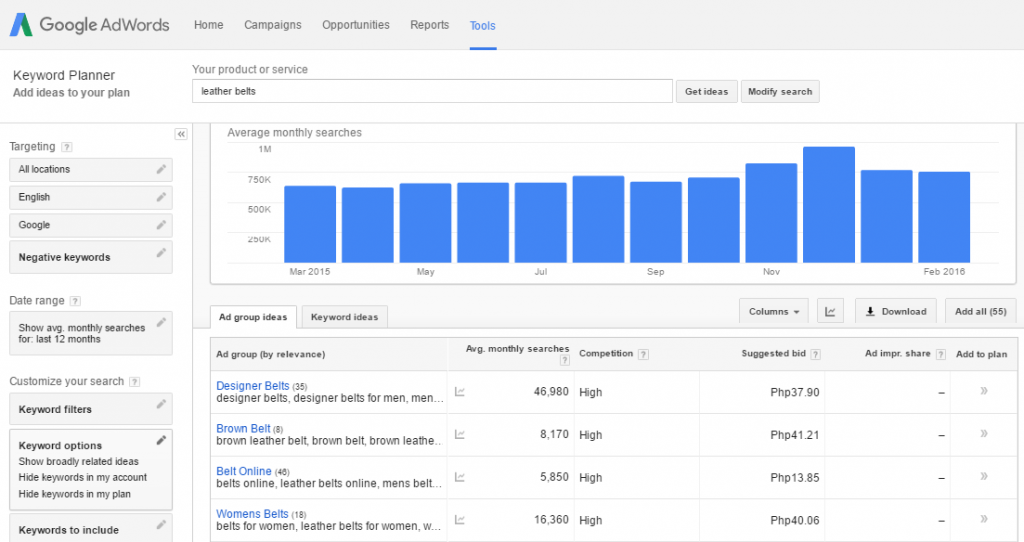 Liked this post? Subscribe to our newsletter and follow me on Twitter @venchito14.
How our LINK BUILDING AGENCY builds 250 links/mo consistently using Predictable Link Building Methodology™…
Using a SIMPLE and PROVEN system

Using a SCALABLE strategy
No private blog networks
No creepy outreach emails
SHOW ME THE FULL LINK BUILDING STRATEGY