Who are linkeratis?
Linkeratis are web users who have the capacity to link to a certain website (the destination page) from a domain/page (the linking source) where they have an access to.
Linkeratis (coined by Rand Fishkin), also known as linkers, genuinely link to a content in two ways:
Active – they constantly search for new references/resources to include in their resource page.

Passive – they wait for other people's suggestions of recently published linkable assets that might serve as additional citations for their content works.
In this post, I'll be sharing actionable tips on how you can identify and find active and passive linkeratis (linkers) as well as how you can approach them effectively to build or earn links (with a few given examples).
How to Find Linkeratis
1. Leverage Link Neighborhood
In scaling link prospecting, it should be a vital part of your process to constantly look for untapped sources of link opportunities regardless of the difficulty and depth level of the niche you're working in.
Given that if you take serious efforts to dig into new link sources, it would help speed up your collection of high-quality link targets in your industry – reducing the time you have to spend in finding hundreds of link opportunities.
One way to scale link prospecting is by leveraging link neighborhoods.
Link neighbourhoods are surrounding external links on a given page where your primary link target has been found.
For example, in this resource page that I've prospected for a broken link building campaign for a finance client, I've seen that there is a Payment Processing section that includes SaAs payment gateway/processing tools (Stripe, Braintree, Square and NMI).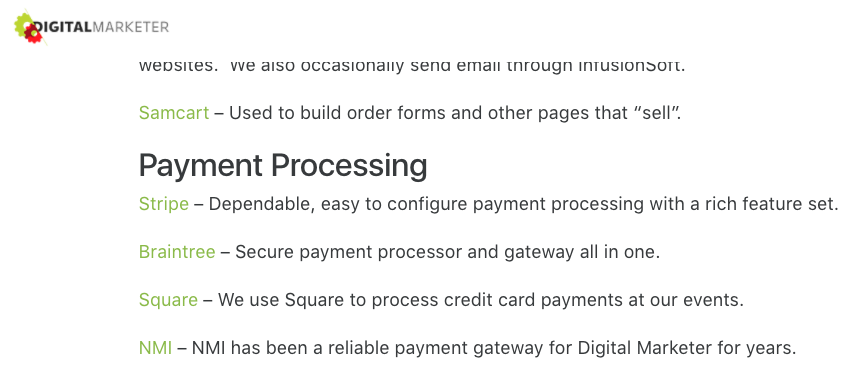 While these websites are non-competitors of my client from content and direct product competition perspectives, there might be relevant opportunities if I start reverse engineering their inbound links.
I chose Stripe, a SaAs online payment platform among the tools listed as it has a Domain Authority (DA) of 84.

It is best to check the website's Domain Authority or Page Authority to quickly assess and sense if there are possible linking pages before spending time to reverse engineer all of them for any pointing links, because checking low-DA sites for links may not reveal a handful of opportunities, in most cases.
Also, I do consider industry tools and products to reverse engineer on, as they normally can acquire links from resource pages given their utility as the context for linking (i.e. Resources for Entrepreneurs).
Checking all links pointing to Stripe, we were able to gather 25~ qualified resources pages that are potential outreach prospects.
With 3 to 5~ conversion rate in our broken link building service, we are able to acquire resource backlinks, including this link from a resource page (which is exactly a page linking to Stripe).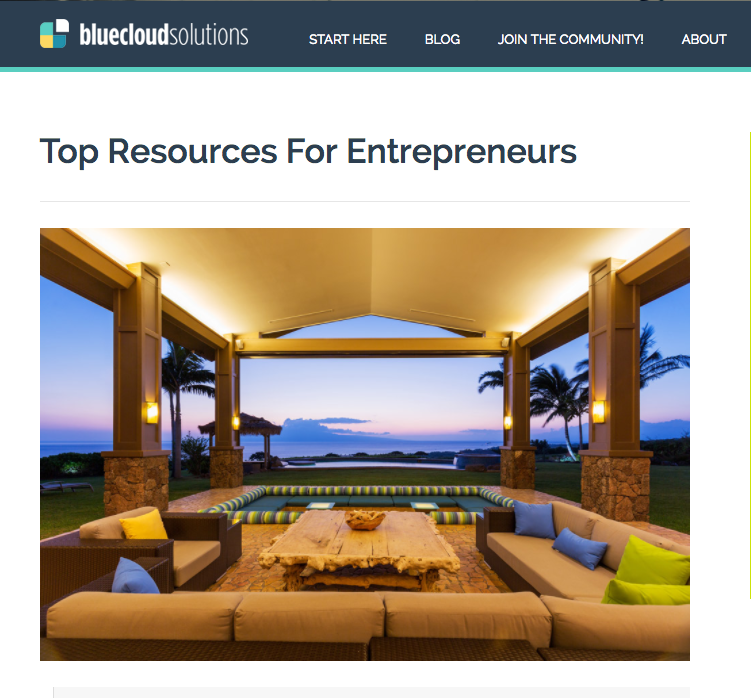 In addition, if you want more efficiently, you can also assess the page's number of potential linking pages. The best tool to use is LinkMiner chrome extension. It has an option to quickly see the page's number of linking root domains (LRDs).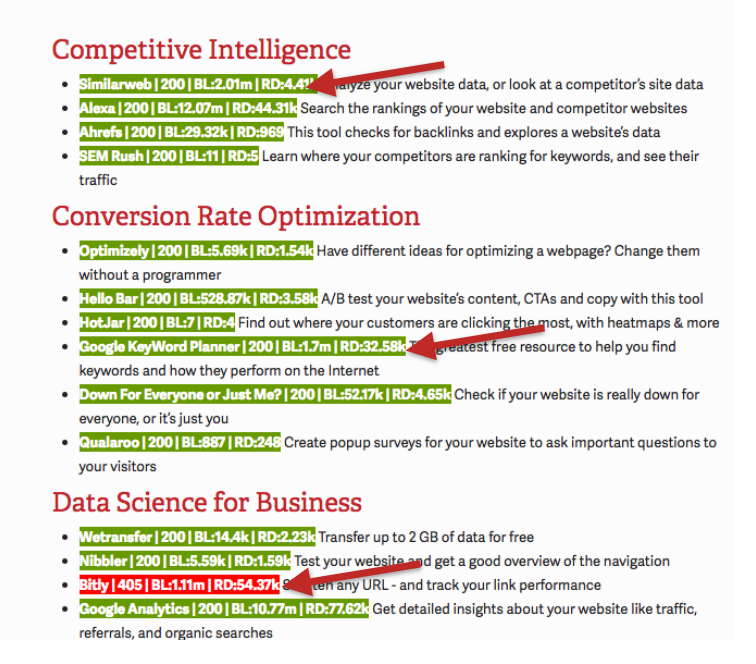 Although the data is based on Ahrefs API that you have to setup if you're a subscriber of the tool, that little change that you'll add to your link prospecting process is highly worth of your time.
2. Tap Exclusive Linkable Markets
Linkable markets can be separated into two divisions: inclusive and exclusive.
Inclusive markets are more receptive to outreach emails than exclusive markets, as they're less often being pitched by bloggers and outside publishers (on average, they may only receive ~10 emails a day). These are low to mid-tier bloggers who aren't yet at the pedestal of their industries, but already have a good number of blog audience and social following.
Meanwhile, exclusive markets constantly receive an estimate of ~100 outreach emails a day (even more to some publishers) that (the act of pitching) unintentionally pushes them to only respond to quality emails. 
Examples of exclusive linkable markets are news writers, journalists and high-tier bloggers.
While there are a lot of opportunities in the inclusive linkable market to capitalize on, it's also essential to spend time tapping the exclusive linkable market since this is where most authority links may come from.
To get responses and conversion links from pitching these exclusive markets, you may need to have pre-existing connections with them, or have an interesting story that can capture their attention to cover your brand on their websites.
But there's one great tool that can help you out in securing link placements from exclusive linkable markets – that is HelpAReporterOut (HARO).
HARO is an email service that benefits both brands and journalists – by providing journalists with sources for upcoming stories and by giving brands branding opportunities for their stories to get covered on relevant high-tier industry blogs and top news sites. 
Lately, I've been spending 20 minutes a day to answer queries from publishers and journalists that are all coming from HARO"s daily emails.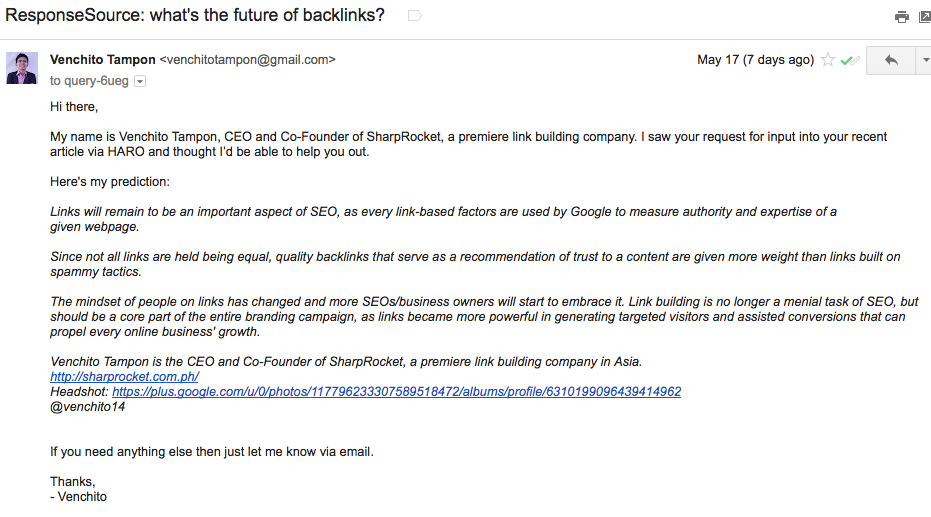 In answering press requests, it's imperative to only pick topics that you're knowledgeable about and/or passionate about like in my case, I only answer queries related to office productivity, link building, time management and teen addiction.
To get you started with the process, I highly recommend that you check out this post by Matthew Barby for insights on how to semi-automate picking relevant HARO press queries and answering them effectively.
For HARO requests you're not familiar with, you can forward it to your client or hire an expert writer from Upwork (got this tip from Christian Sculthorp) who are knowledgeable on that certain topic of your brand.

This will ensure that you'll get a higher positive rate from publishers who're likely to include your citation/story in their content.
3. Target Big Interest Areas in the Blogosphere
The blogosphere has evolved throughout the years in terms of the number of online enthusiasts from different industries who are building their personal and corporate brands.
Outside of the tech world (where huge blogs are stunning in numbers), there are indoor and outdoor enthusiasts alike travelers, foodies and DIYers who are capable of linking to external recommended resources.
Creating content assets that will serve these big interest areas can give you higher chances of building as well as earning links from the linking enthusiasts.
For a plumbing client for example, you can produce an instructographic targeted to DIYers that shows how to fix a simple plumbing stuff at home.
Brainstorming a little further can give you ideas that it can well serve homeowners in your city. This may be unwise from a conversion perspective (as to who would buy from the market if you teach them DIY guides), but for link acquisition purposes, this is highly practical to target if you consider both quantity and quality.
Moreover, the impact of social shares and natural links garnered from a link bait content can translate to more linking opportunities not only from direct linking enthusiasts but from other industry markets that can generate new leads for the business.
John Doherty, for instance, is a search marketing specialist (founder of Credo) has tapped big interest areas such as travel and productivity, since these topics aligns to his interests and passion.
Having that mindset of tapping big interest areas, he was able to acquire editorial links from top-tier sites using HARO.
Here's a video that explains his process.
If the industry you're in is too boring from a content marketing and link building perspective, try to come outside of your market and check if there are peripheral interest areas that are close to your niche.
4. Generate Content Ideas from Niche-specific Podcasts
In this age of the web, pretty much everyone is consuming information whether through video or audio, not just entertainment content on a regular basis.
The idea that time is a valuable asset allows people to consume content while acting on other things (i.e. while driving) to make every second/minute productive.
Podcasting for example, is becoming mainstream, as everyone in every specific niche is starting to build their own personal brands to capture as many audio listeners as possible who might be potential customers or clients in the near future.
If you're stuck with what content topics/themes to create for a specific industry, checking or listening to the latest industry podcast series, where those so much valuable information in store can be extremely helpful in generating niche-specific content ideas for your brand.
For example, this Inside the Mind of Teens and Tweens podcast (searched from Podcast Addict) has 118 podcast episodes (current number of items in Itunes) that are educational in nature with targeted audience composed of teachers, parents and counselors.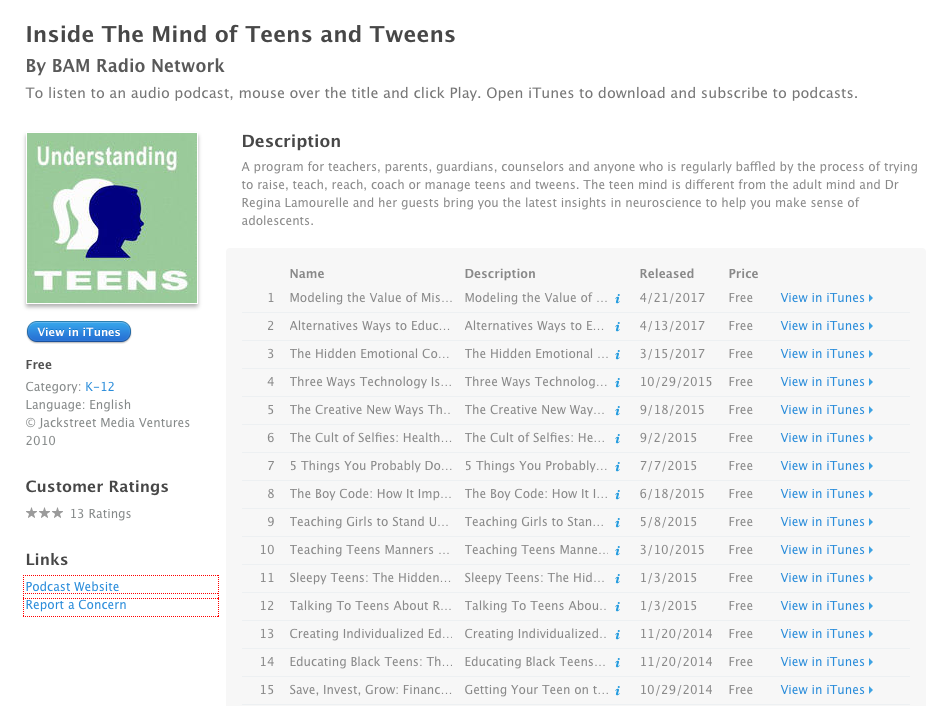 If you're in the neuroscience space, you can generate some content topics here that can be brainstormed and picked for a linkable content asset.
You can research in-depth if there's linkability in keywords found on these episode topics to ensure if there'd enough linking sites to market your content to.
Grab and check some and assess if there are considerable linkable markets by checking each ranking page's unique referring domains.
For instance, the "sexual health" keyword (derived from one of the episodes above) has hundreds of linking opportunities to most of the ranking pages for that search term.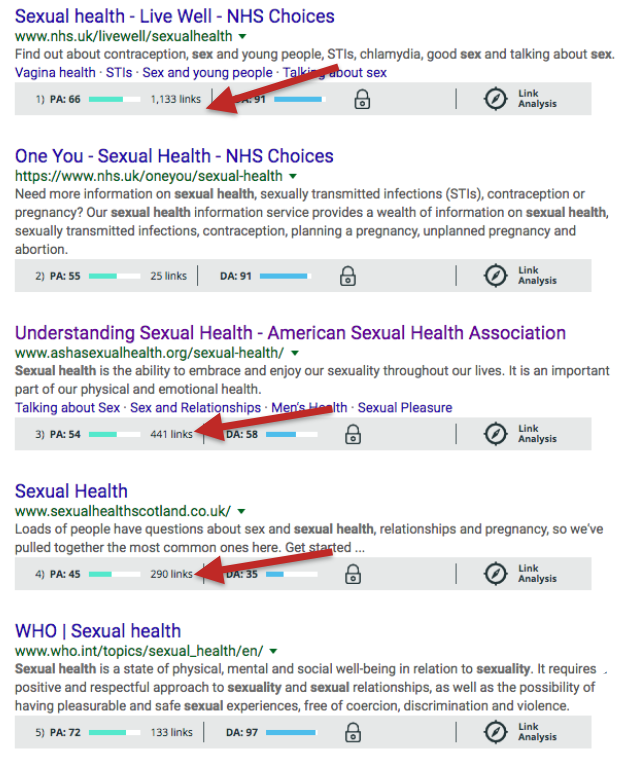 If you're taking linkable content creation campaigns for clients, that approach is a good practice to take on to semi-automate content brainstorming process for their websites.
How to Pursue Linkeratis
The next step after completing your initial list of link prospects is to strategize how you will approach them. It's vital to know how they behave as linkers to customize your pitch way better so you can stand out among all the pitches they've been receiving multiple times a day.
Here are some actionable ways to improve your outreach pitches 5% better to see greater link acquisition results:
1. Identify Who Handles and Controls Pages
If you are doing large-scale link outreach campaigns, you probably have stumbled across many websites where the webmaster doesn't have the authority/decision to update the page. Some of which are only capable of fixing errors on any page of the entire website but they have to put in another person in the email conversation to decide whether or not your link can be included in their resource page.
Linkeratis in most .edu websites are ones the who strictly decides which resources to include in their pages – that means that it's not a guarantee that you'll acquire a link unless they've seen your content piece as a valuable reference for their audience.
Asking the person up-front (like saying "Can you forward this to the right contact person?") if you're not sure whether the email you're pitching to will respond is a subtle tactic to consider when doing initial pitch.
Emails such as services@domainname.edu may connect you to a career service representative or admission department staff of an .edu site but not to the tech/admin person who handles the resource page you want to get a link from.
Meanwhile, if you receive responses that let you forward your resource suggestions to a certain person, it is best to create another message with a subject line where you got his email.
For example, I've received this response from a .gov agency staff that I pitched which she (the person I emailed with) includes an email of the right person to contact to.
Below is an example of a little addition to the common approach of forwarding the email but it's one effective way to let link granters (the ones who update resource pages  know where you actually got their emails.

By doing so, we've acquired a .gov (DA89) link (not bad for a quick content suggestion email).

Knowing the value proposition of your content up-front is an important step to better position your email in front of your potential link targets.
But more than just sharing your content's value proposition to your outreach prospects, it's also imperative to define your shared mission with them. 
For example, this resource page in the small business sectors covers different recommended tools and resources that obviously, acts as a source of information for startup entrepreneurs.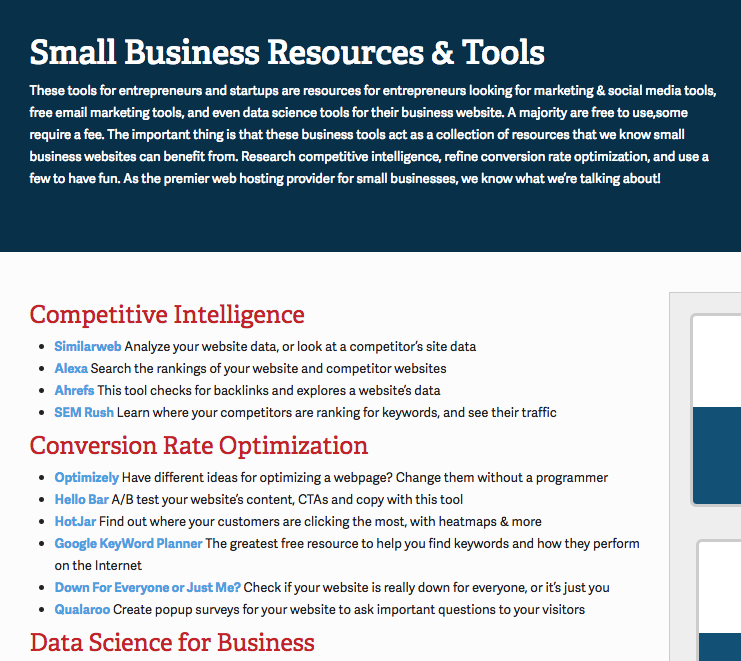 Besides checking the relevance fit of our content's client to their resource page, it's our own way of simply adding how the content that can best help their audience within the same context of their mission.

These simple addition texts to your email can really help position your content's utility to the audience (being targeted by the resource page) and thus, increases the likelihood of getting a contextual link.
For industry blogs, it's a good idea to compliment their recent article or website only if it's authentic to say that their blog is well-designed, for example, or if they have said great insights for a particular topic in their latest blog post.
Saying compliments for the sake of getting responses and links is way less effective than making outreach emails plain and straightforward as possible.
C. Include Outright Content Suggestion in Link Outreach
Little tweaks in an outreach template can make or break the success of an outreach campaign. Far more if these small changes are predicated to actions made by the linkeratis themselves. 
For example, you may have come across resource pages that mention their willingness to accept content suggestions for their links pages outright or to email them for any defunct links that visitors see in order for webmasters to fix them by simply removing these links and replacing with new relevant and/or updated resources.

If you remind them in your outreach pitches that those links were actually stated in their resource page (and they let you tell them to do so), they'll more likely be positive to your pitch.
While it's not a guarantee to acquire a link then, it's a differentiator to several link request emails they are receiving to get a link from that specific page.
D. Drive Curiosity with Refined Outreach Process
With the inbox flood industry bloggers and publishers are experiencing on a daily basis, outreach pitches need to be refined over time to land more coverage from target blogs/sites.
Quality assurance on email templates for any contextual errors and adding/changing tags for personalisation can close the gap between good and great outreach pitches.
But besides these basics (must-have) of outreach, learning the psychology of conversations to secure positive responses can tremendously bring better link results.
SiegeMedia's outreach team, for example, was able to increase outreach placement rates by 63% by refining their outreach process – which was inspired by Brian Dean's outreach strategy on providing custom intros for guestographics.
The refined outreach method of SiegeMedia looks like this:
1. A pitch is sent to the recipient, explaining in 100 words or less what the piece of content is and why we thought they'd be interested. This pitch does not include the link to view, rather says if they're interested to let us know and we'll forward along.

2. If response is positive, we then forward them the link to the content. In addition, we offer to write a custom intro to support the post if needed.

3. If there's no response after forwarding the link, we follow up with the blogger if they've gone silent after 3-7 business days.
It's one way to seek for new outreach tactics but it's a better way to keep and improve older techniques that can also be applicable not just to one specific content asset (infographics for example) but also to other content formats that might obtain the same or even better results.
Further Reading: The Definitive Guide to Blogger Outreach
If you liked this post, you can follow me on Twitter @venchito14.