What is relevant content?
Relevant content is your offer to your audience. Something of value must be brought to the table before they begin to take an interest in what you want and need. Reciprocation matters today more than ever in content marketing. 
The basic question to ask yourself when making an offer is, "who is my target audience?"
Generally, if you don't know your audience, it wouldn't be possible to know and meet their needs with your content. It is as simple as that.
Relevant content marketing is meeting the minds of two parties. Tied that to link building, it is a meeting between your value proposition and the needs of your linkers.
Building high-quality links require that your content is relevant to your target audience. Your audience — linkers are looking for a piece (reference, citation, content type, etc..) they can link to.
Relevant content isn't only pertaining to your newly published 'definitive guide' or your latest round-up from top experts in your industry. It is more than a produced piece.
There are many factors to make this "meeting of the minds" successful. That includes a proper understanding of some methodologies.
Basic Methodologies in Relevant Content Marketing
Have some frameworks in mind when planning your content marketing campaign. Doing so gives you an advantage as to what kind of output you can expect from your campaign.
Audience Targeting
In targeting your audience, one activity you need to know is persona development.
In traditional marketing, a persona is described as a semi-fictional representation of an ideal customer based on market research and/or real data about your existing customers.
You develop a persona not only in preparing your outreach initiative but also in creating relevant content for linkers.
To have a basic understanding of how personal development works, you can check out these two useful guides:
I discussed linkable audiences in many of my blog posts before. On this broken link building guide for example, I always say that by targeting a specific linkable audience for resource guides, you are placing your content on a good spot for links.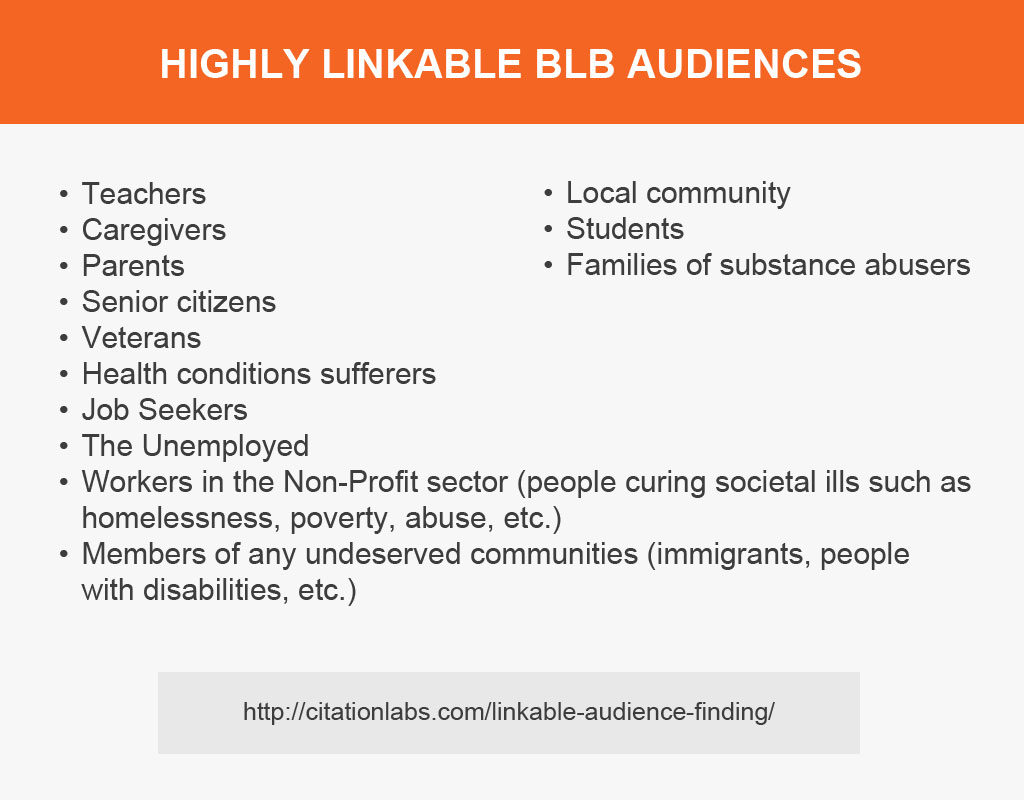 With the above linkable audiences, you can start creating a persona.  This persona helps you craft better quality in content and therefore, increases the likelihood of improving its linkability factor.
Linkable audiences are connected to the linkability of your content. Content's linkability depends on its utility to targeted content consumers. More so, with the type and size of the audience, the content caters to.
A more niche smaller fraction of audience directly being targeted by your content speaks of better quality in results than content focused on a large volume of scattered audience.
Developing a persona gives you an advantage in pursuing links. You know what to prospect, what metrics to use to qualify your link opportunities, and how to better craft your email copy.
Authority Building
Content helps build authority in your space. If you're starting out, the best way to gain momentum is to produce web assets that showcase your expertise through information and stories.
There are two key mindsets in building authority through content marketing: be the first or be the best.
Be the first
In an industry where there is high competition because of the mass production of content, you can't just publish one and hope that you build a huge following.
By being the first in content, you find untapped opportunities others don't seek. Either find a new angle on those topic opportunities or look for new keywords to create content around it.
You can use Ahrefs to discover emerging keywords and sort ones related to your niche.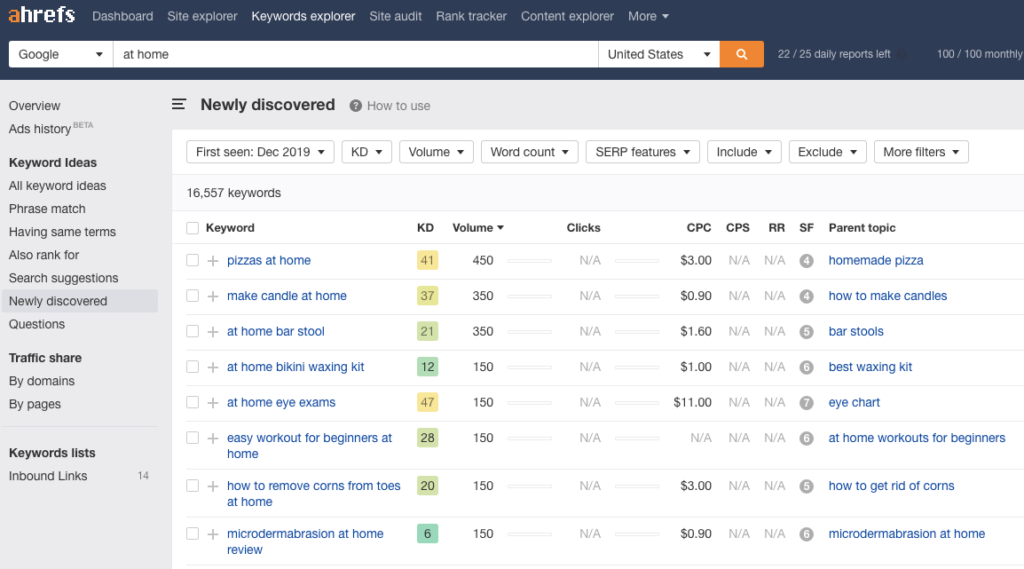 You may also look for frequently asked questions using the Question filter of Ahrefs' Keyword Explorer.
Be the best
Start producing a more comprehensive version than other similar content assets.
You can add other content formats to fulfill others' needs for learning. These formats might include, but not limited to video, audio, 3d versions, or images. The idea is to capture more audience by offering more ways and opportunities to consume your content.
Curate better by making insights from industry experts flow smoothly within the content. Put in first sections with information not expected by your readers ("unexpected hooks"). By adding this element to your content, you're likely to expect more engagement of your readers to your page.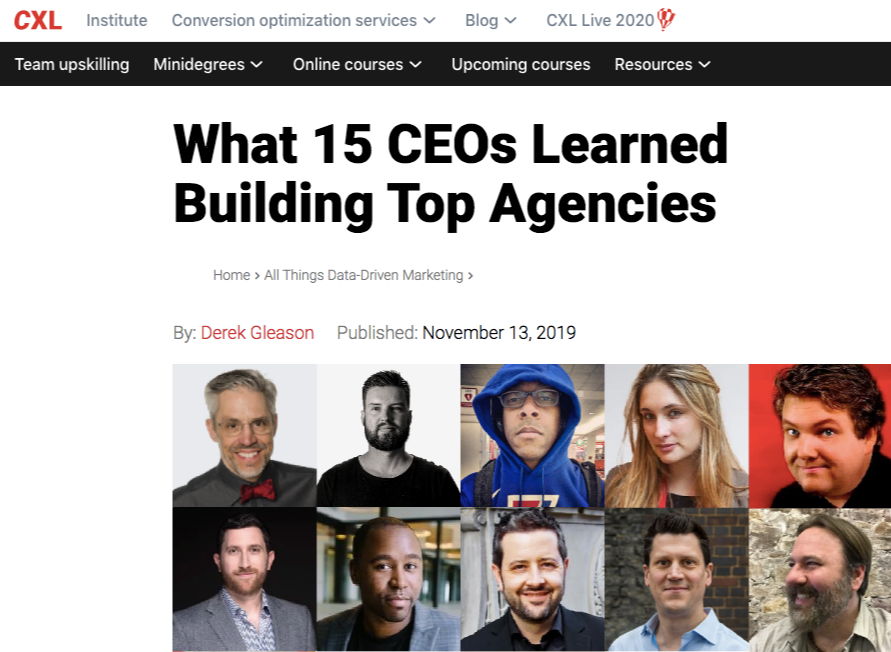 Aside from collation, make sure you have something important to say in your content. A data-driven piece, thoughts experts take on your topic, and new methodologies and principles can help increase the credibility of your content.
And lastly to be the best in relevant content marketing — be authentic. Your readers know if you're true to your words. Particularly in industries where practitioners are heavily perceived as true sources of content, it's important to have well-planned research on the subject.
What makes content marketing more relevant isn't only targeting the right audience and starting to build your authority through content production, but also have all these things properly distributed to good places.
Appropriation of Channels of Distribution
Content creation is just half of the battle. You need to distribute what you published.
There are many means to promote your content assets. But a great way to start is always anchored to what you are currently capable of.
You can use your social profiles lo build strong networks with your followers and like-minded people in your industry. For example, you can learn how to use Twitter effectively to create Tweetstorms that can attract an audience and clicks to links of your content pieces.
For Reddit, you may engage deeply in subreddits where your target audiences are in play. You don't just spam subreddits with your links. You first understand the rules and appropriately promote your content whenever it fits. Here is a good guide to help you with Reddit marketing.
Another content promotion channel is HARO. Answer queries and provides stories to journalists, publishers, and other content creators for topics you have expertise in. See if the platform fits your resources and discover how to use HARO on a regular basis.
Look for channels that are potential recurring sources for traffic. Start getting your articles published in major publications — best to pursue sites relevant to your industry.
Lastly, let's talk about outreach. Here are some outreach methods you can start using to promote your relevant content:
Influencer outreach –

create more brand awareness

by collaborating with influencers for a piece of content or distribution of your web assets.
Targeted outreach for tool reviews – if your web-based tool is niche-specific to a certain audience, start getting

blog links

from content sites.
Manual outreach – initiate an outreach campaign to build the first set of authority links needed to rank your piece of content. Once links start to help improving content's rankability, your content can lead to some

attraction marketing

assets of your brand.
What Brings Them Value
Generally, relevance is subjective. And it is only your readers, your consumers or whatever type of audience you are looking to serve will determine how useful your content is to them.
Always bring value to relevant content marketing. Start with a value-driven mindset when planning, when creating, and when promoting your content assets.
How our LINK BUILDING AGENCY builds 250 links/mo consistently using Predictable Link Building Methodology™…
Using a SIMPLE and PROVEN system

Using a SCALABLE strategy
No private blog networks
No creepy outreach emails
SHOW ME THE FULL LINK BUILDING STRATEGY