In the Post-Pigeon era, local links have become more valuable as signals for search engines to assess a site's local relevance in the organic search results.
In fact, the recent Local Search Ranking Factor study by Moz proves that the two most important local ranking factors are on-site signals and local links.
There are in fact hundreds of articles that share about the different local link building strategies you can use to play in the local scene this 2017 (and beyond).
But regardless of which local link building tactic you use today, there are a few considerations to take while executing each phase in a local link building campaign:
Prospecting: The volume of local link prospects isn't huge enough compared to target sites of large-scale link building campaigns, so putting a lower threshold on metrics like Moz' DA is necessary to collect a higher volume of local link opportunities.
Qualification: Quality can't be determined solely by Moz' DA or other link metrics- the referral traffic that local pages can generate should be considered (local professional organization pages for example, that are less DA30 are frequently visited by local users and therefore can refer the most engaged traffic to the site.
Outreach: The more localized in context your approach is, the likelihood of increasing responses and link conversions for local outreach campaigns is higher.
With these things in consideration, you can now start implementing a local link building campaign with the right fundamentals in mind.
Below are seven (7) local link building activities that you can immediately use right now which can certainly help impact your business goals:
1. UTILIZE JOBS PORTAL FOR QUICK LINK WINS
When building links for our clients, one of the first few questions we ask is, "what's the existing content asset in the client's website we can use as USP for linker outreach?".
This question breaks the "content mental block" that is often experienced when strategizing what link acquisition tactics that require content to create in order to acquire high-quality links.
Interestingly, we've discovered that there are existing under-utilized pages published on client's sites that we can use to show/provide to publishers and content creators to get them link to the client's page.
A great example of this content is "jobs portal".
A "jobs portal" is a directory/curation of all job positions available in a local area.
Your brand can even curate available positions available for a specific industry  (e.g. "tech startup jobs in New York").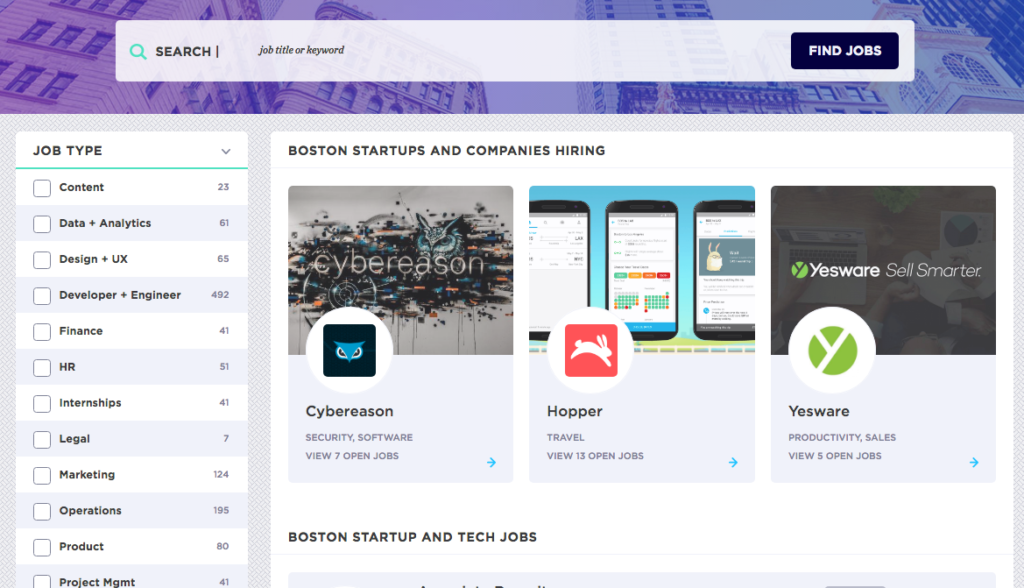 For some local brands that I've audited, jobs portal is inherently the first few pages published on their sites which serve as a content hub for their local partners like local professional organizations who are looking for new hires for their teams.
Jobs portal caters specifically to the "job seekers" linkable market which has a lucrative number of links pages.
Link prospecting for this strategy is pretty much the same with how you'll normally do it for a resource page link building or broken link building strategy, but the difference is just that you are only looking for a local linkable market – "jobs links/resources pages in Boston" for example.
You can start prospecting using Google search with any of the following search queries to collect your initial set of local link opportunities:
"job search" "resources" "CITY"
employment" inurl:resources "CITY"
"job hunting" resources "CITY"
inurl:careers "CITY"
Expand your list by reverse engineering other local job portals or other local job board sites.
By checking which pages link to local-relevant job board sites on this page, I was able to collect a few more tens of local links pages.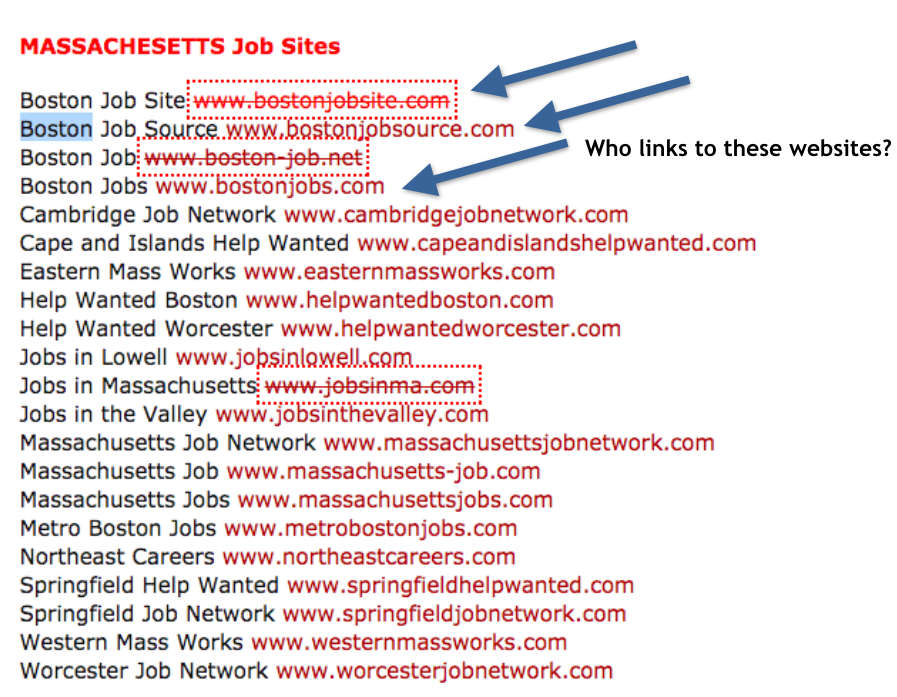 Once you have generated your list of prospects along with their contact details, you can then start engaging them through your outreach campaign.
Spend a few extra minutes to check if there are broken links on a prospect page.
If all links are working, simply request to be included as an additional resource on their links page.
I've found it helpful to add subtle changes to email copies to emphasize the local relevance of the jobs portal or any other local content pieces I'm building links to. I usually add lines for:
The best section on the resource page to add the client's local content
Who is the target audience of the content?
A few recommendations for the content that serves as a social proof

With proper execution, we were able to acquire links:


2. CREATE LOCALIZED VISUAL DATA
Visual data link building (infographic-based link building) is getting more saturated, as more brands try to pick up on it. But with the right audience targeting along with accurate data and impressive design, visual data can still prove its effectiveness in getting high-value links especially if it's been massively promoted through different content distribution channels.
One way to get started with this approach is to find a local piece of content created by other publishers who had an extensive research on a particular subject matter and transform it into a visual asset.
To give you an example, recently we've been looking for a piece of content that we could well turn into an infographic.
By searching for available public data on different trusted sites, we've found a research study on teen dating, abuse & bullying with respondents based in  New York, New Jersey and Pennsylvania.

Side note: here are a few public data sites you can source information from for your visual assets:
We've checked if the public data is still relevant in the current year, as we want to get the most recent study as much as possible (the latest we consider is 2016).
One way that helped us assess the relevance and credibility of a public data piece is by looking at the version history section. For example, the research study we considered was initially published in 2012 but it has been updated for 2016 (indicated in the version history section).
Then we strategize how the public data content can be turned into an infographic without cursing the target audience with knowledge.
Given that the research study has two sections: teen dating & abuse and teen bullying, we've decided to choose teen dating & abuse and keep the latter for future content references.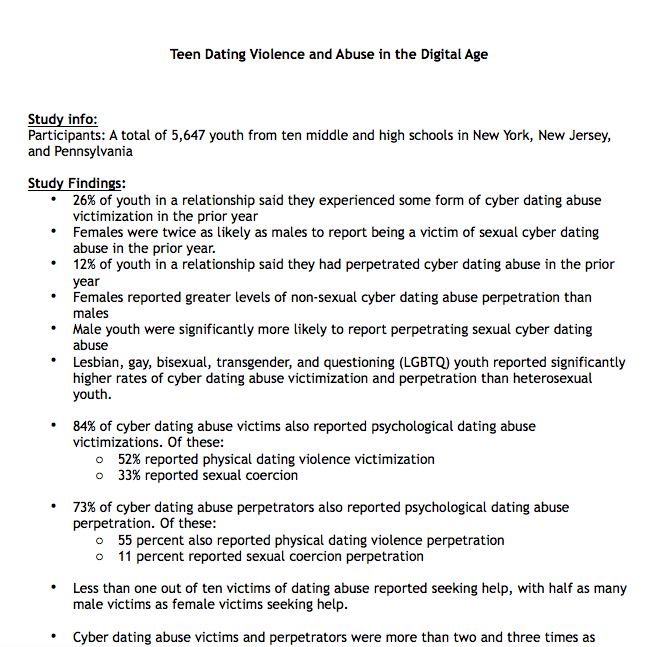 The hardest part of visual data link building is content creation.
As an agency, there are two ways to attack this: outsource to a freelancer or hire an in-house graphic designer.
We chose the latter simply because it's time and cost-efficient.
Produced the visual data (partial image below):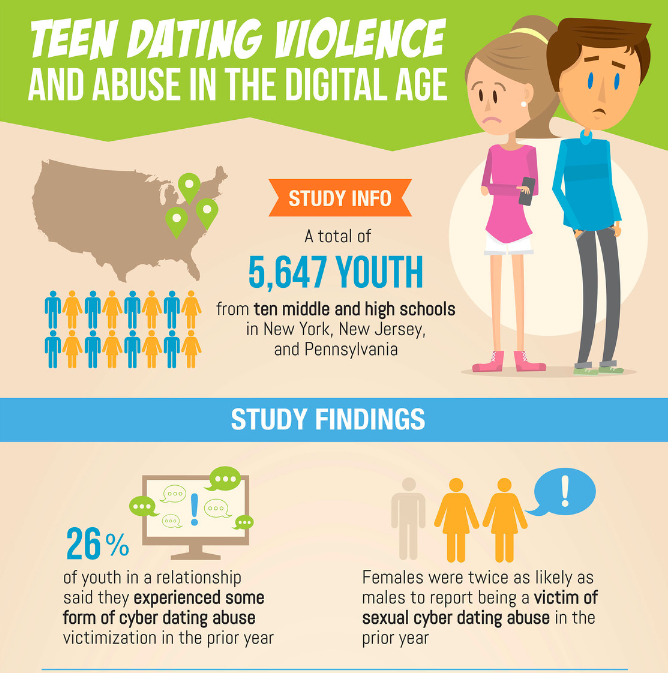 Then we've spent most of our hours looking for potential link partners or content publishers who'll be interested in the content piece we produced.
We begin prospecting using the following local-centric queries in Google search:
You can also use Reverse Image Search or Tineye to find and track any local-based infographics for local bloggers and publishers who distributed these pieces on their blogs.
If in case you've been running out of prospects, you can tap other industries and look for local publishers who still cater to targeted audience of your content.
In our case, we tapped local legal publishers with injury/sexual harassment category on their sections.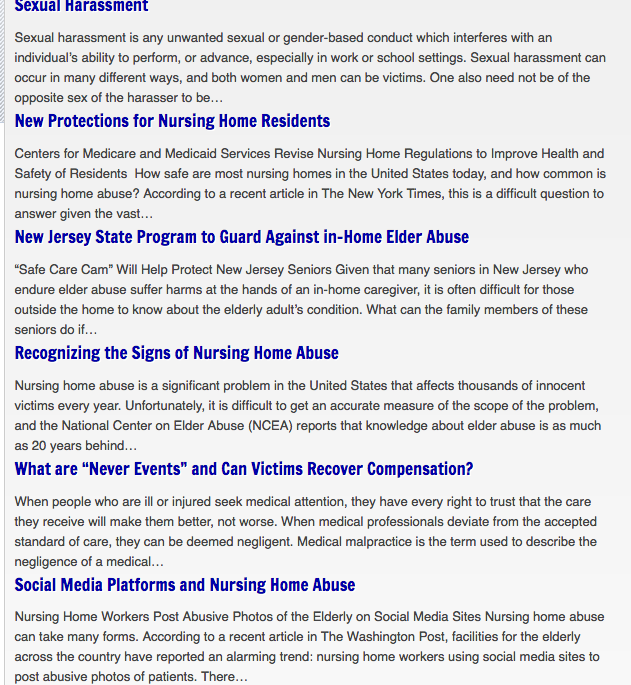 As for the outreach, make it easier for your local prospects to know the interesting fact on your visual data. It is best to state some numbers and your target audience to build the context relevance and credibility of your content piece.

You can test the two-blogger outreach process to initially capture your prospects' interests then eventually sending the link pointing to your visual data (or attaching it in your email conversation) if they've positively respond to your initial pitch.
3. REALIZE OPPORTUNITY IN "NEW TO AN AREA" PAGES
For local link building, what I've found to be most quantitative (high amount) in links/resource pages are those that cater to audiences who are relocating/living to a new area or city.
Typically, these are pages that provides lists of resources/references that a person who's new to an area would definitely find.
Here are some examples of local "new to an area" topics:
Quality schools in [City] or finding the right schools
Local laws in [City]
Tourist information, local attractions or things to do in [City]
How to get here
Volunteer listings in [City]
Moving and relocation in [City]
internet & cable
my neighbourhood
If you are marketing a brick and mortar business, a local attraction, a local professional organization, or a utility company (i.e. internet cable), it's best to get your initial set of links from this type of resource pages.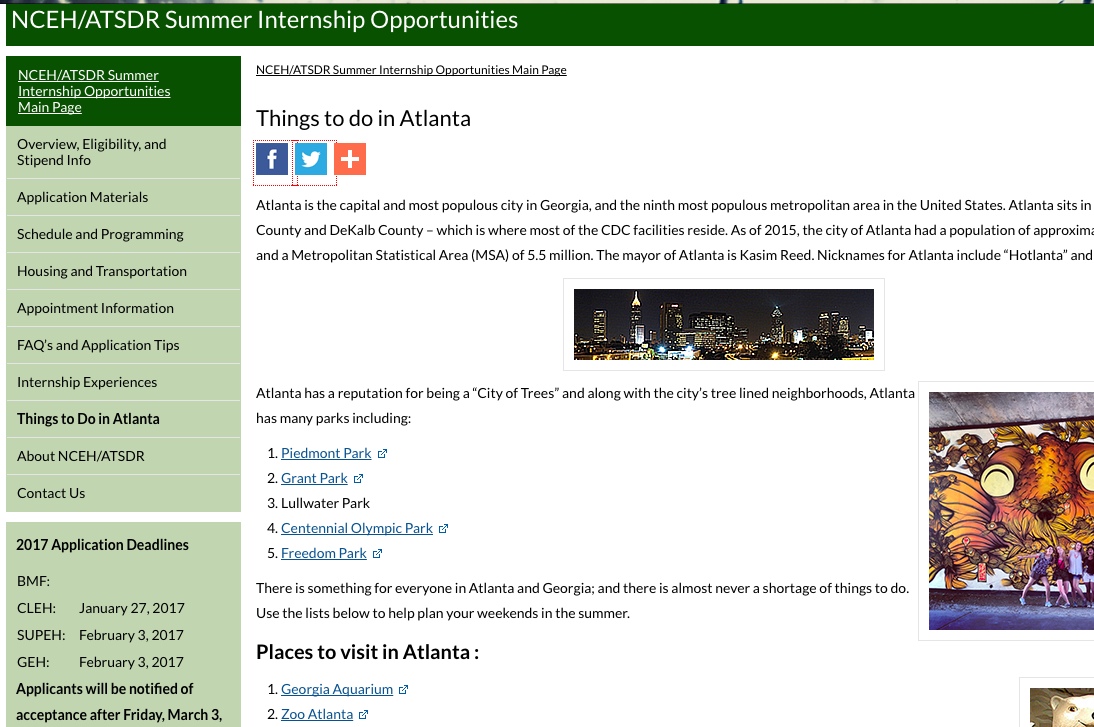 You can start prospecting by using "page-level" qualifier queries (which I highly recommend if you're looking for "new to an area" topical pages) through Google search.
If you're prospecting for "things to do in [City]" pages, here are the following search queries that you can use:
inurl:"things to do" [City]
intitle:"things to do" [City]
inurl:links activities in [City]
An above approach is an alternate option to the basic link prospecting queries for resource page link building (i.e. using inurl:resources OR inurl:links "keyword").  It expands your search for link opportunities that don't necessarily have the title tag or URL qualifiers (intitle and inurl).
The next step is to reach out to webmasters of these links pages and offer your website to be included as an additional resource on the page.
I've found it helpful to prepare short lines/description to be added to the links page along with your link. It can help take away webmasters' burden of thinking what texts to add, that describes your brand/website (e.g. best description of your local attraction).

If you've executed properly, you'll definitely get a link.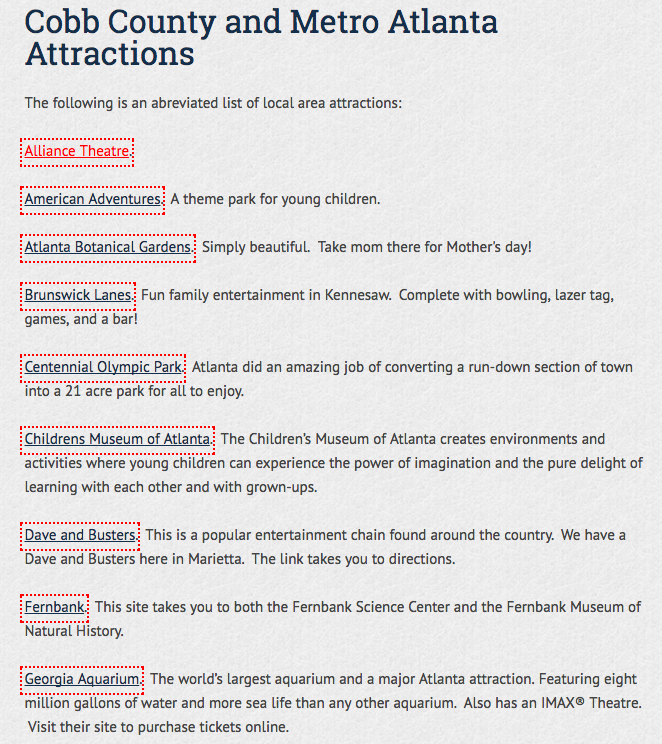 4. GET RESOURCE LINKS FROM SUMMER/OFF-CAMPUS HOUSING [CITY] PAGES
Summer housing/off-campus housing pages are resource lists of available housing options for both students and interns in a local area.
This type of webpages can positively generate exposure to brands they're linking out to as well as provide possible leads for brands' services since the purpose of the page is focused on recommending rental offerings currently available in the area.
The closest vertical that can benefit from generating high-quality links from summer housing [city] pages, obviously, is real estate, particularly local apartments brands, housing and rental services companies.
National brands with apartment rentals in different cities can also take advantage of this link acquisition technique by acquiring links from summer housing resource pages available in cities they cater offerings to. The more cities they're marketing to, the better they could take advantage of this local link building tactic.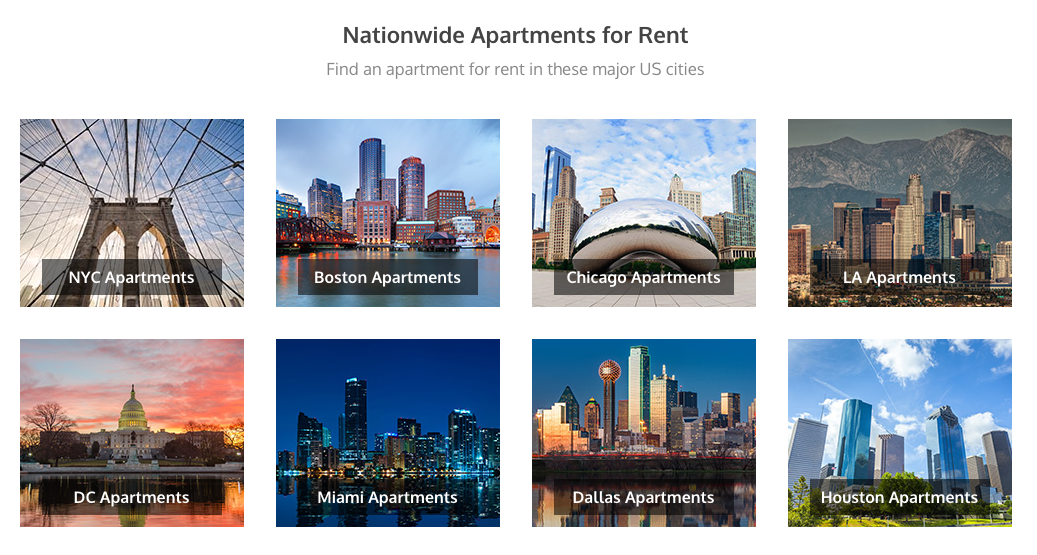 You can start this link approach by creating a list of targeted link prospects from Google search results – using any of the following search terms:
"Off-campus" housing [city] "resources"
"Student housing" [city] "resources"
"Internship housing" [city] "resources"
Populate your list by checking broken domains for any inbound links from summer housing pages. A simple plug to your favorite link checker tool can help quickly assess the number of unique referring domains pointing to these dead websites.
For example, this extinct site that is used to be an apartment rental site has a 75+ unique referring domains that includes solid .edu sites links pages. A quick look on it can reveal tens of potential summer housing pages that can be added to a link list.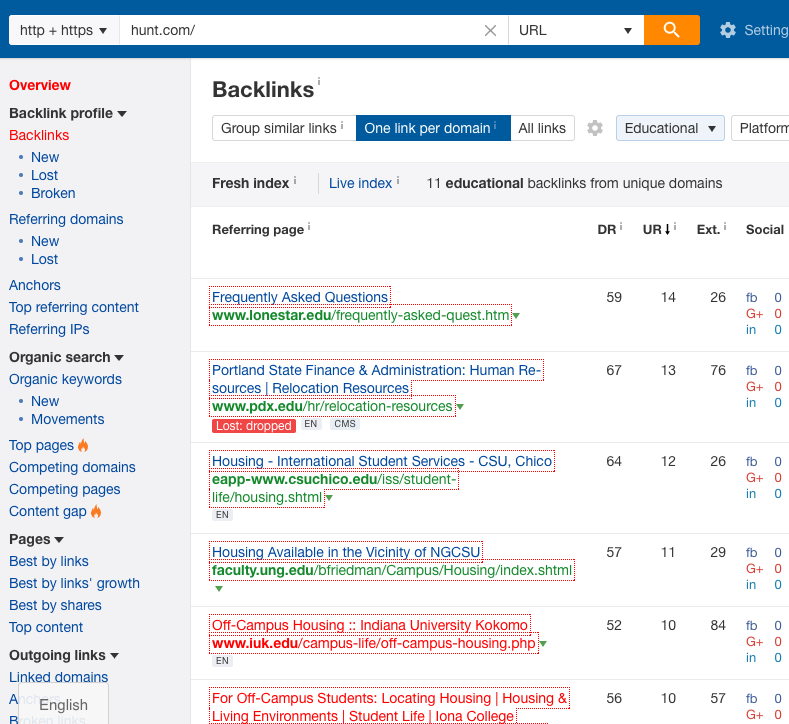 Then craft email copies you can use for your local outreach that are straightforward and easy to personalize.
Finally, acquire the link: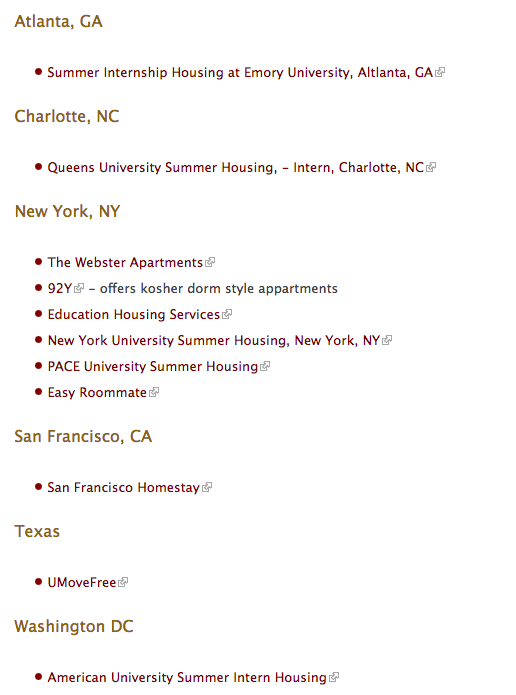 5. SERVE FSQ WITH LOCAL CONTENT 
Creating content that's really hard to do and that is better than its competitors is definitely one of the best ways, not just to stand out as an authority publisher in the industry but also to acquire high-quality in-content links from other content publishers on the web.
In addition to that, making sure that the content piece has well-served its audience by providing their needs through the useful information found on the page can increase the chances of building as well as earning backlinks from highly relevant sites.
For local content creation, here are topics that are frequently searched (FSQ or frequently search queries) by local audience and linked to by local publishers:
Street occupancy and moving permits
[city] neighborhoods
Helpful moving tips or things to do before you move
Resources for landlords & tenants
Homeowner resources
Voter registration
Address change
The main key to succeed in creating local content is to be succinct while being so much helpful in providing the details that the local audience needs.
Coming up with a guide that sums up all of the items mentioned above for people who're looking for direct information is an extremely useful content asset that has high chances of earning links from local content creators.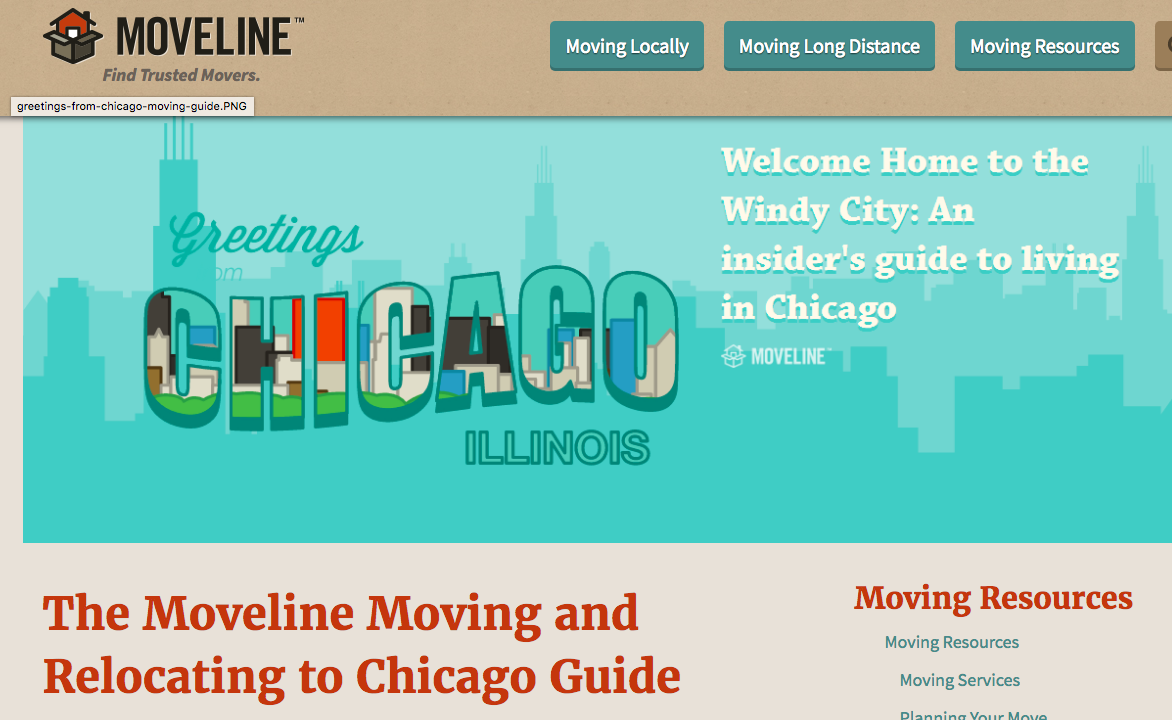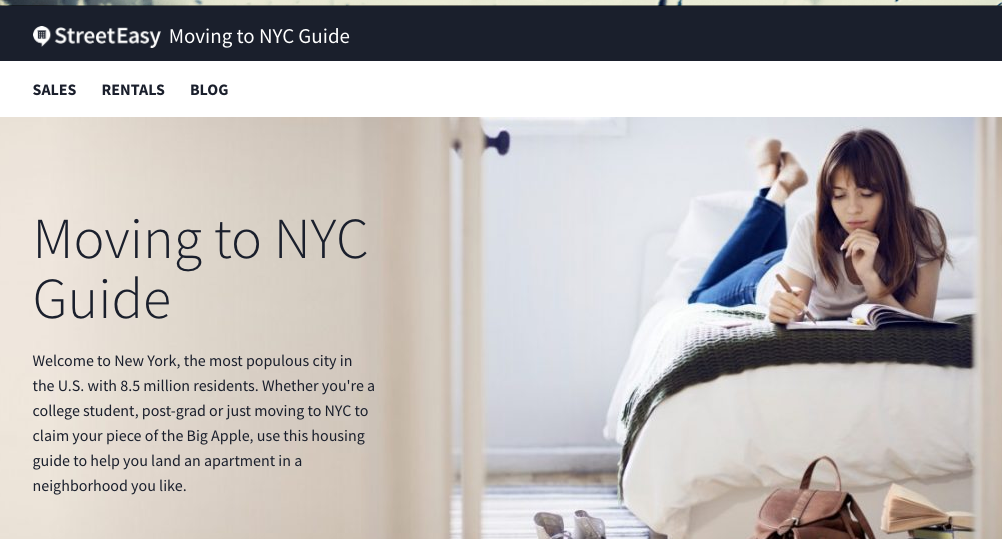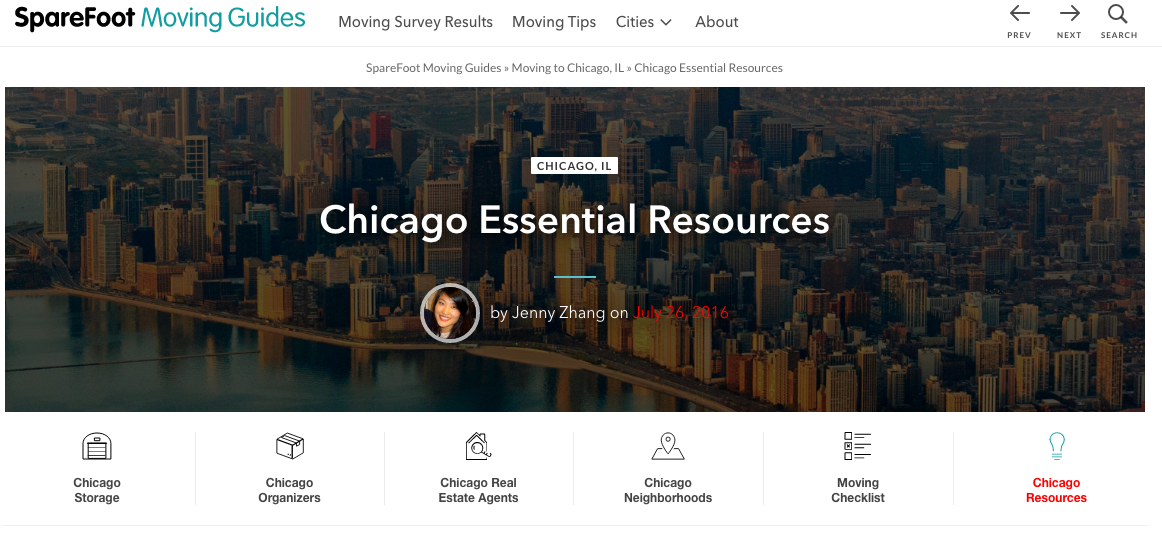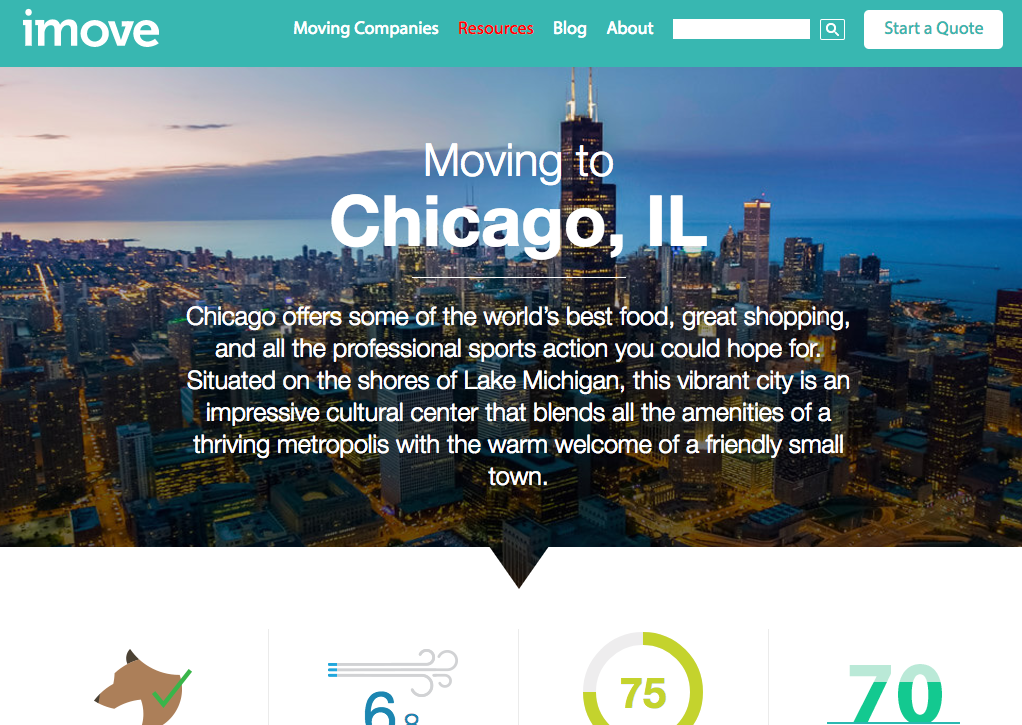 6. SEED ANSWERS TO LONG TAIL ONLINE DISCUSSIONS
Conversation marketing is a highly effective brand building tool for local business owners, marketers and/or those who're in agency that market local clients – who don't have a huge budget to spend to build a strong brand presence online.
While it's certainly time-consuming, the amount of effort put into value-added conversations can invaluably bring momentum and exponential growth of links as well as drive referral traffic and potential leads for the business.
One of the best ways to start this approach is by joining online communities where your local target audience are participating and looking for direct information.
For example, if you're promoting a local attraction site, answering questions on StreetAdvisor can be an initial jump to your conversation marketing efforts.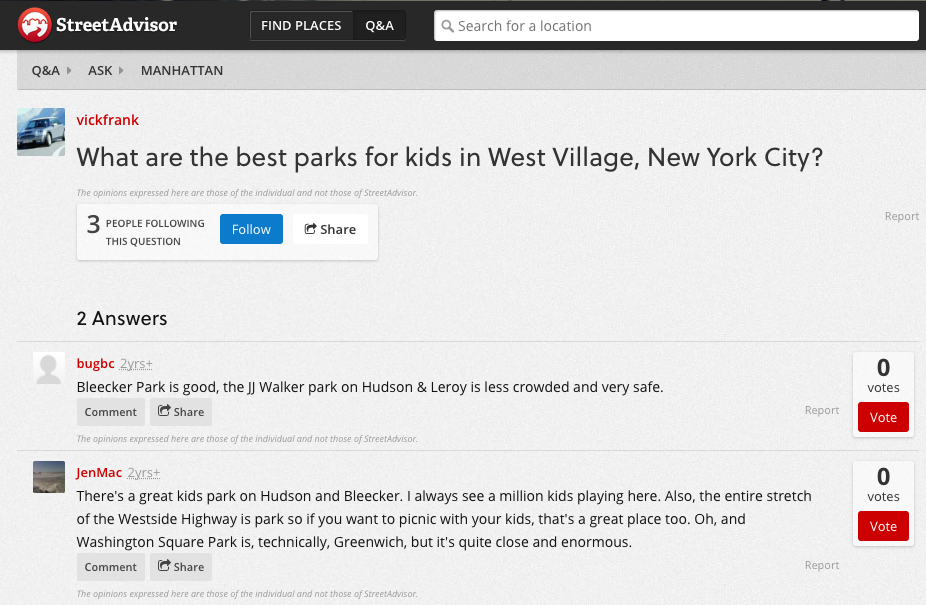 Below are some ways that you can do to leverage and scale conversation marketing for your local business:
Do Google searches for direct questions that people are seeking to find local businesses and/or attractions (e.g. best [product/service] in [city/area]) and spot on local and niche-specific forums that are currently ranking in the first two or three pages in search results  – these online pages still receive a few tens/hundred of organic traffic and may bring valuable traffic to your website.
Choose an in-house team member who has a strong knowledge on the product/service you're offering and let him/her spend 20 to 30 minutes daily, participating in local online discussions.
You can check out this post by Jason Acidre to learn more on how to use conversation marketing effectively for your local brand.
7. LEVERAGE REDDIT FOR LOCAL PROMOTION
Reddit is a community news aggregator site that has its own ranking algorithm to decide which referring link deserves to be placed on the front page for a specific subreddit.
If you're launching a local content that contains a compelling story/data and design-driven images, such as infographics, then Reddit is definitely a place that you can utilize to put more eyeballs on your content (increasing the amount of traffic you're getting).
You can start by identifying specific subreddits that are relevant to your local brand. Do a Google search for site:reddit.com "keyword" OR "city," manually check each subreddit and see if they cater to the audience with the same demographics you're targeting.
Create a list relevant subreddits along with their current number of subscribers and online users (photo credit: Siegemedia).

It is best to take a few minutes checking referring links placed on the front page of each subreddit to assess content types (images/videos/data) that best resonate the subreddit audience. You can add a column for Notes or Remarks in your spreadsheet to mark content formats/types.
Once you have the Reddit data to base your content upon, you can now produce niche-specific content pieces that are context fit to those local subreddits.
You may want to check out this comprehensive post on creating content by building traffic source backward from Reddit.
The next step is to customize social buttons on your content by adding a Reddit button, for example, to make it easier for Reddit users to upvote your content.
Another approach that you can make to increase the likelihood of ranking your story on the front Reddit pages is by reaching out to like-minded individuals in your industry or sharing your subreddit link in an online group of marketers to get more upvotes for your client's content piece.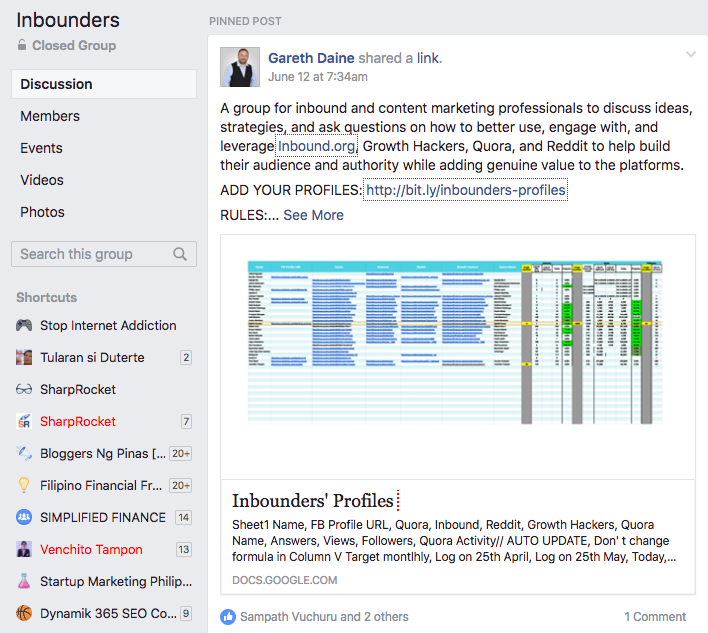 If you liked this post, subscribe to our newsletter and follow me on @venchito14.
Need help with your link building campaigns? Check out our link building services here.