Want to maintain your site's rankings with new link building strategies?
Awesome. This list includes 9 link building strategies that you probably haven't tried before (if you're a beginner).
Plus, new ways to attack old link building strategies like guest blogging (for intermediate and advanced SEOs).
With more than 10 years in the SEO industry, our team at SharpRocket has managed to secure 10000+ links across different industries for different sizes and types of websites.
Now, if you're ready to see these actionable strategies that are worth trying in 2023, let's get started.
Curate Industry Statistics
Curate, not create. This means you simply get all the available statistics online, write your key insights and publish them.
Easy to do.
But why industry statistics?
Publishers are looking for reliable, credible references for their content. They want to serve their readers well by giving up-to-date information on the topic they're writing about.
So when they want to cite resources, they do a Google search and find what's applicable from the top ranking pages. Then they link to the page from their content.
Where do you start?
First, you have to find what people are searching for. What topics do they typically want to make as references for their blog posts? You start topical research.
One of the best ways to discover topics for statistics is by reverse engineering top publications in your space.
For example, Healthline is an authority site in the health and medical niche.
So if I want to see what statistics they published, I'd go to Ahrefs, enter their domain and check "Best by links' growth".
Search for "statistics", and there you'll see many statistics content.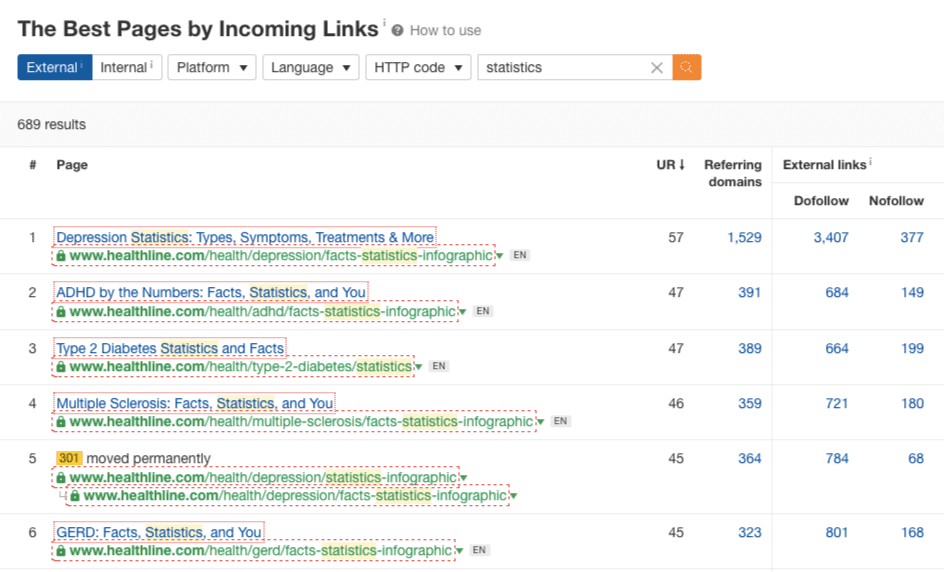 Another topical research strategy is to discover questions your potential customers might be asking in your industry.
For example, most aspiring entrepreneurs would like to know "how many startups fail in the first year of business?". They do so out of fear of failing.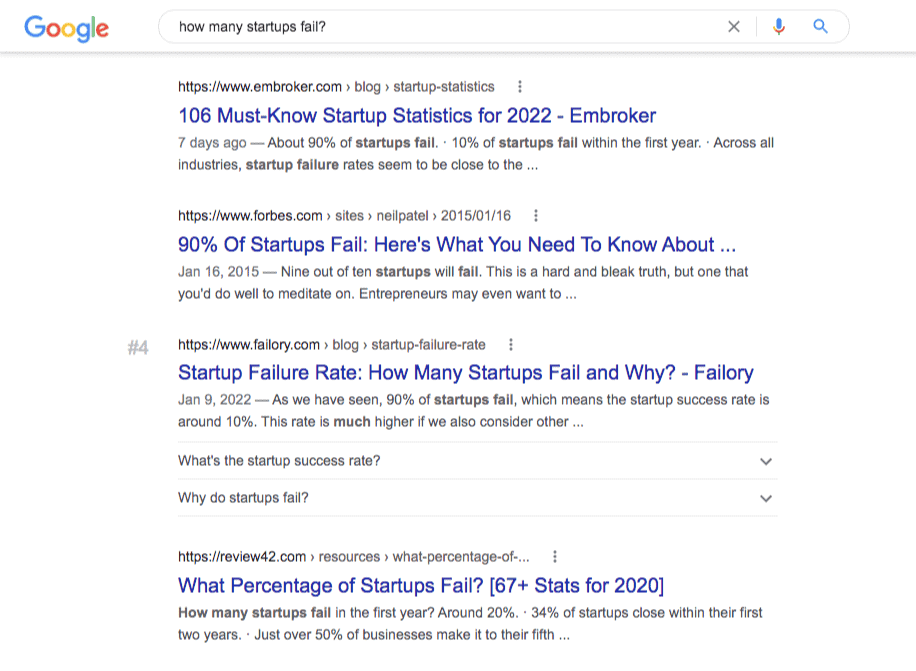 What would they see when they search for it?
A lot of statistics posts. That's where the demand to satisfy a search user's intent, plus link opportunities from content creators who might link to it from their articles.
Now, wear a beginner's hat.
Brainstorm questions people might ask when they want to know more of a thing in your industry or are venturing into a job or career.
After topical research, the next step is:
Curate.
Find information from available public data sites you can source out. The most popular ones are Statista and Data.gov.
Compile them.
And include the essential part of statistics posts:
Key insights.
This part is what makes your content unique, given that it's based on statistics you've gathered and its relevance to your readers.
Put "key insights" at the top section of your statistics post.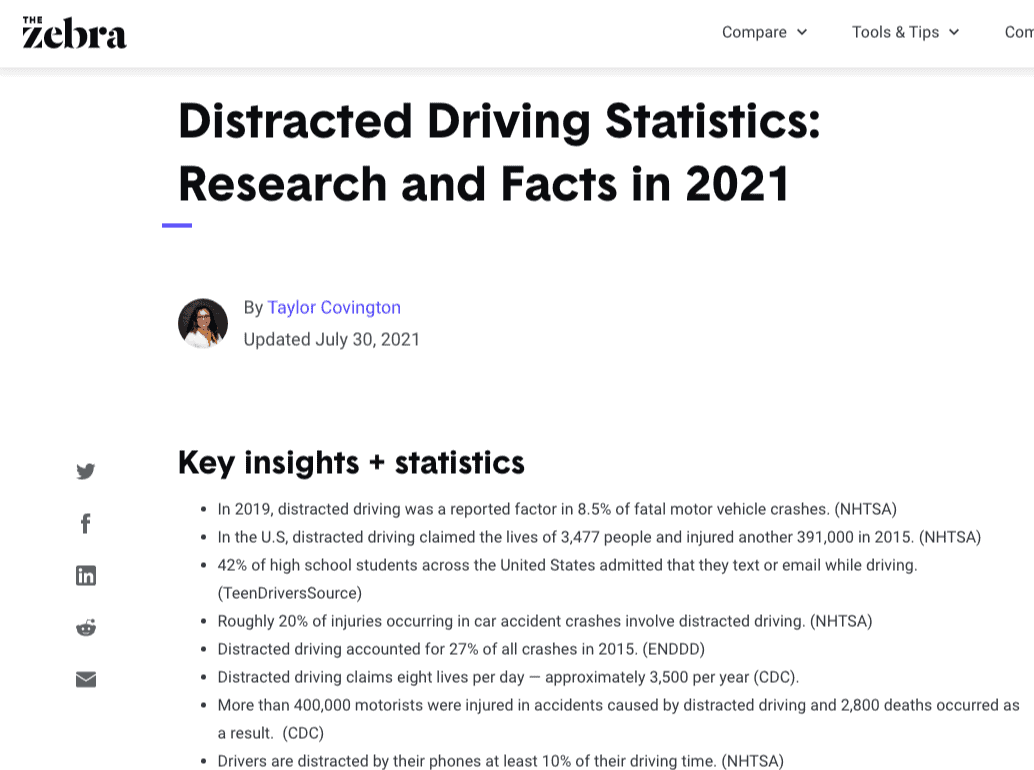 Best Examples of Statistics Posts
Here are some examples of statistics posts to inspire you to start your own:
Like any other content, you'll have to promote your statistics page. Start by identifying target people who will amplify your linkable asset. These are publishers and bloggers looking for references to add to their blog posts.
Start blogger outreach strategy by finding their email addresses.
Reach out to them and share your content.
As your statistics pick up new links, you'll start seeing its ranking go up. You'll experience your content attracting new inbound links when it increases visibility.
Use Citable Content Formats
Link attraction is an old-school strategy of getting high-quality backlinks without continuous manual outreach efforts.
Instead of you reaching out to people, content creators voluntarily link to your content, as they find it comprehensive and informative for their readers.
LInk attraction involves publishing citable content formats.
Without content, it's almost impossible for publishers to link to you. After all, to which page would they be linking?
Unlike the popular skyscraper technique, citable content formats don't have to be long-form.
This content strategy focuses on micro pieces that easily rank for quick answers.
Some search queries aren't supposedly answered with long-form content. Instead, you'll find several micro-content pieces that are sufficient to answer quick questions.
FAQs are the most common citable content format.
When people ask direct questions, they want quick answers. So now, when your page appears in the featured snippet, you're likely one of the content other publishers would link from their articles.
One good example of this strategy well played out is adding FAQs at the end of an article or landing page.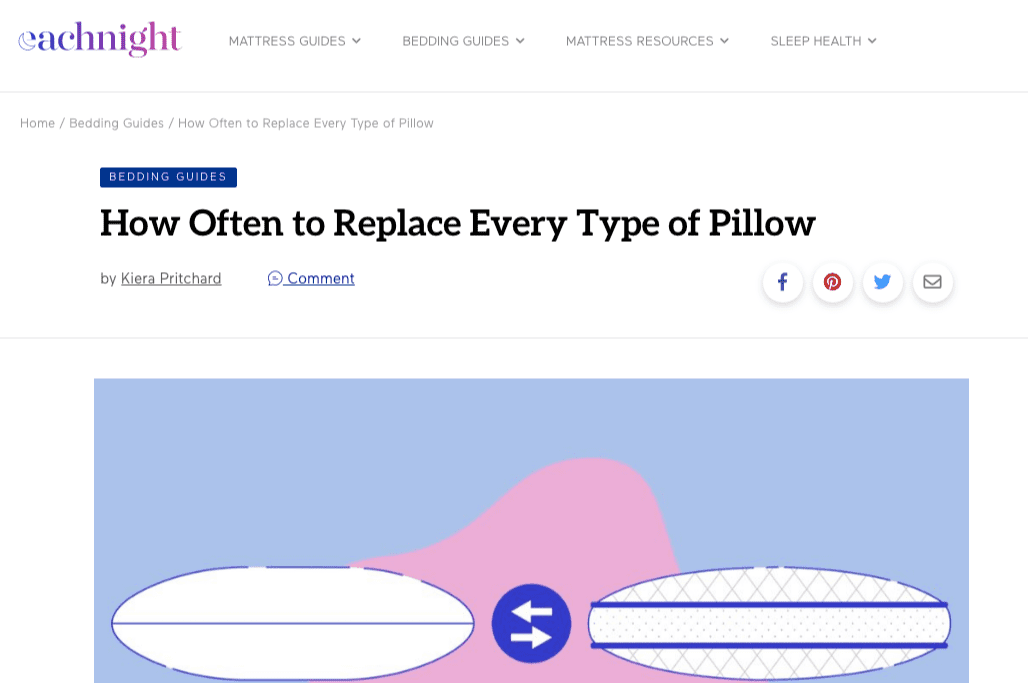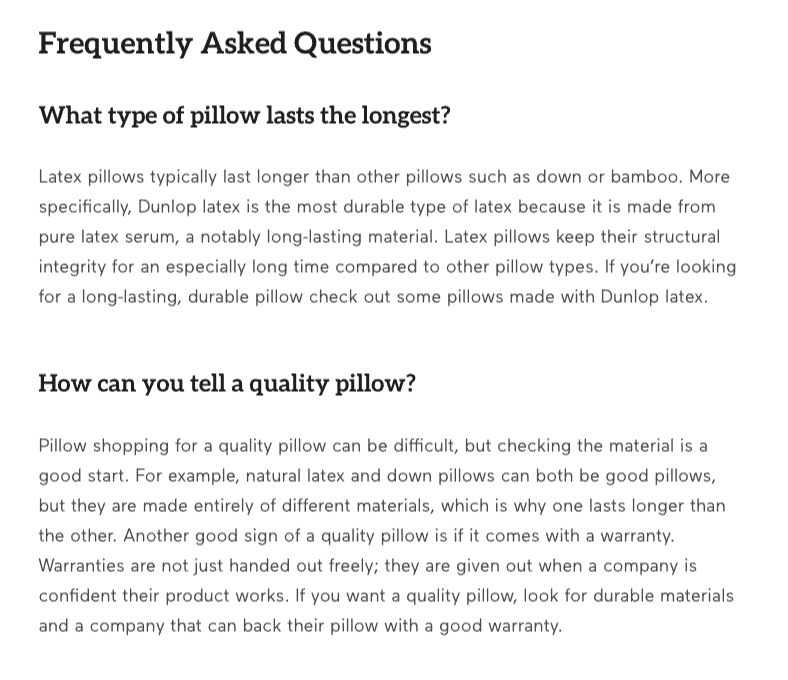 The benefit of doing so is it helps your page to rank for quick questions.
Another citable content format to consider is finishing articles with a glossary.
If you're in an industry where almost every blog post has technical jargon and might need some explanation for readers to consume your content well.
A glossary is a good addition towards the end of your article.
It is easy to get more relevant keywords on a page as it expands its word count (if that's necessary).
Want to discover more citable elements?
Aside from FAQs and Glossary, there are other citable elements you may want to consider.
PDFs.
When people want to consume and use information conveniently, they download pdfs. So try to think (or research) for subjects that may need an additional PDF format.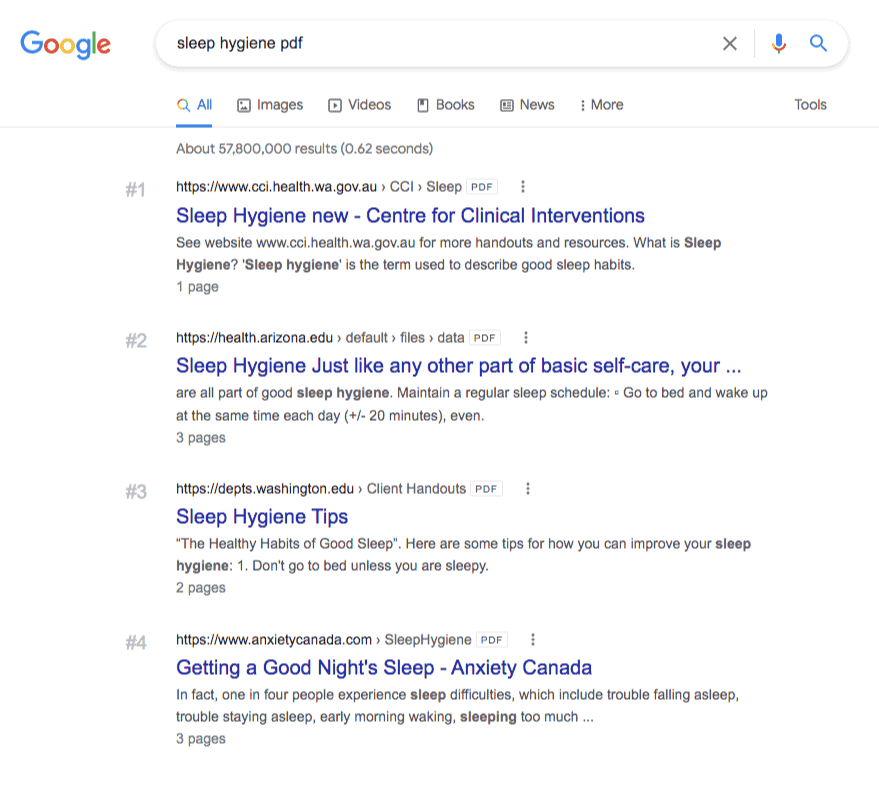 Questionnaire
With PDF content formats, there are questionnaires. This content format benefits educators when creating their quizzes (for school classes) or giving them to participants during workshops.
It is a great way to steal some ranking spots while gaining new links from publishers who include it in their articles.
Here are more citable content formats to consider for your next content.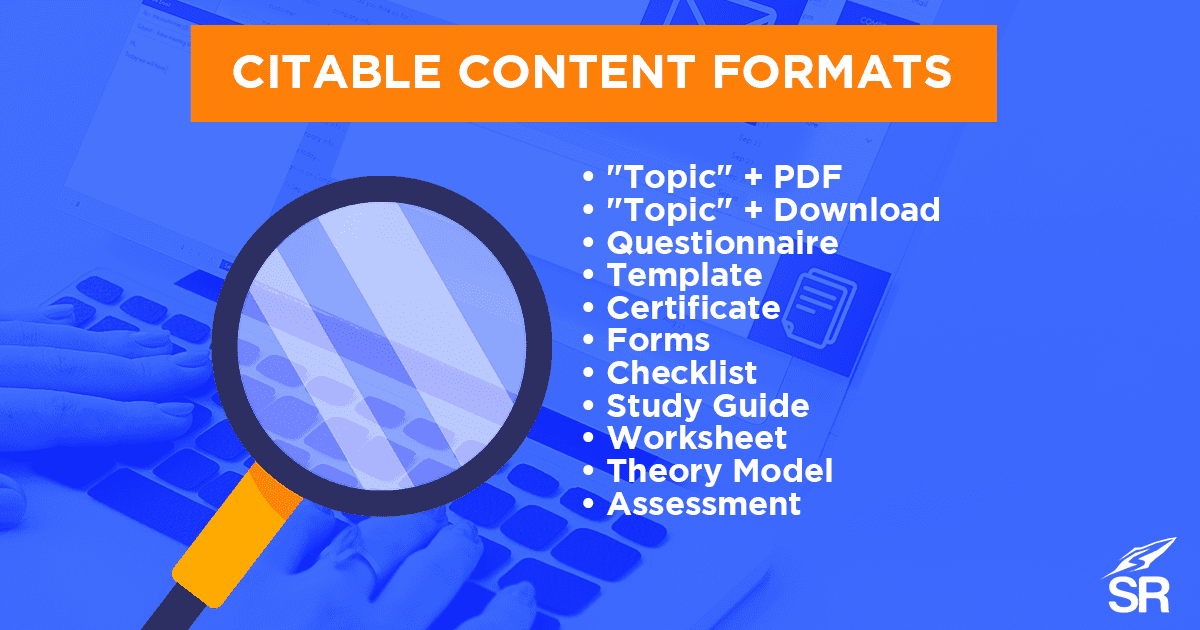 Content Partnerships
Relationships are the backbone of link building.
It is much easier to scale backlinks if the person you reach out to knows you.
Much simpler if they find and see value from your content or brand.
Content partnerships work this way.
You use web assets as leverage to get the attention of potential linkers.
If you're familiar with link exchange, you'll find this content partnership to be of a similar strategy.
Link exchange is directly linking between two relevant websites—one links to a relevant article of another website, and vice versa.
In content partnerships, you use other websites (two or more) when linking to your potential linker.
In other words, content partnership is link exchange at scale.
Instead of your website linking to your potential linker, you use your other content sites to link to them.
Why this link building strategy works so well?
First, you leverage the power of your authority site.
Websites with high traffic are not attracted smaller blogs. They look for new dofollow backlinks from a site with similar or higher authority.
So if you use the power of your authority site to get a link for your smaller niche site, you'll have chances to earn links in email outreach.
The second reason why content partnerships work in 2023 is:
Some bloggers are not a fan of reciprocal link exchange.
They don't see it as a viable strategy, as they see it as harmful for their site's traffic. While that's not true, especially if you execute it properly — only reaching out to relevant blogs (and not from random websites).
A better strategy than direct link exchange is content partnerships.
Here is a good email outreach template that you can use: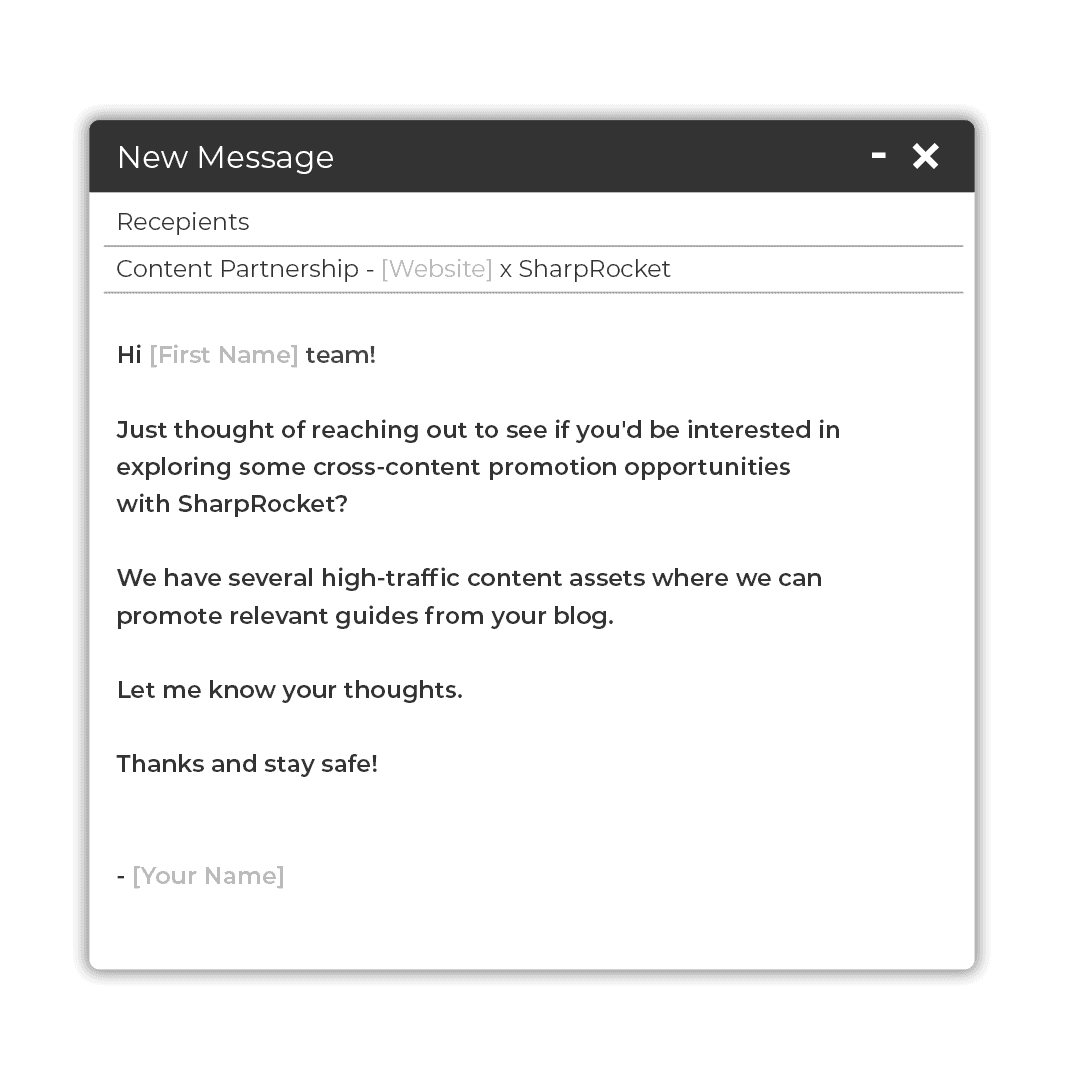 Targeted Guest Blogging
Guest blogging is still an effective link building strategy in 2023.
Reason?
Guest posts can bring targeted traffic to your website.
Plus, contextual links from guest posts boost the ranking power of pages being linked to.
While there are guest blogging campaigns that flopped in results, a few successful guest posting campaigns sustain their success.
Two factors make these guest blogging campaigns successful:
Precision and intention.
When guest blogging has precision, it only finds the right targeted audience.
Audience who cares about what you have to say. Audience who are likely to bring in new traffic to your brand.
And when you reach out to these people with the right intention (second factor), they'll respond to your email pitch because it shows that you care for readers.
Let's go with some practical tips.
Use audience research as one of your main strategies to find guest blogging opportunities.
Instead of utilizing search modifiers such as "write for us" or "guest post" plus industry keywords, you begin with discovering and learning about your audience groups.
Sparktoro does help in this process.
For example, if I'm searching for keto diet enthusiasts, I could simply enter the keyphrase to the search bar.
The tool will provide all the information I need, including social accounts keto diet people follow most, and more importantly, for guest blogging purposes:
Websites they visit most.
I could go straight and use them as a list of target publications for guest blogging.
Or dig deeper a bit.
In Sparktoro, you'll see "Hidden Gems".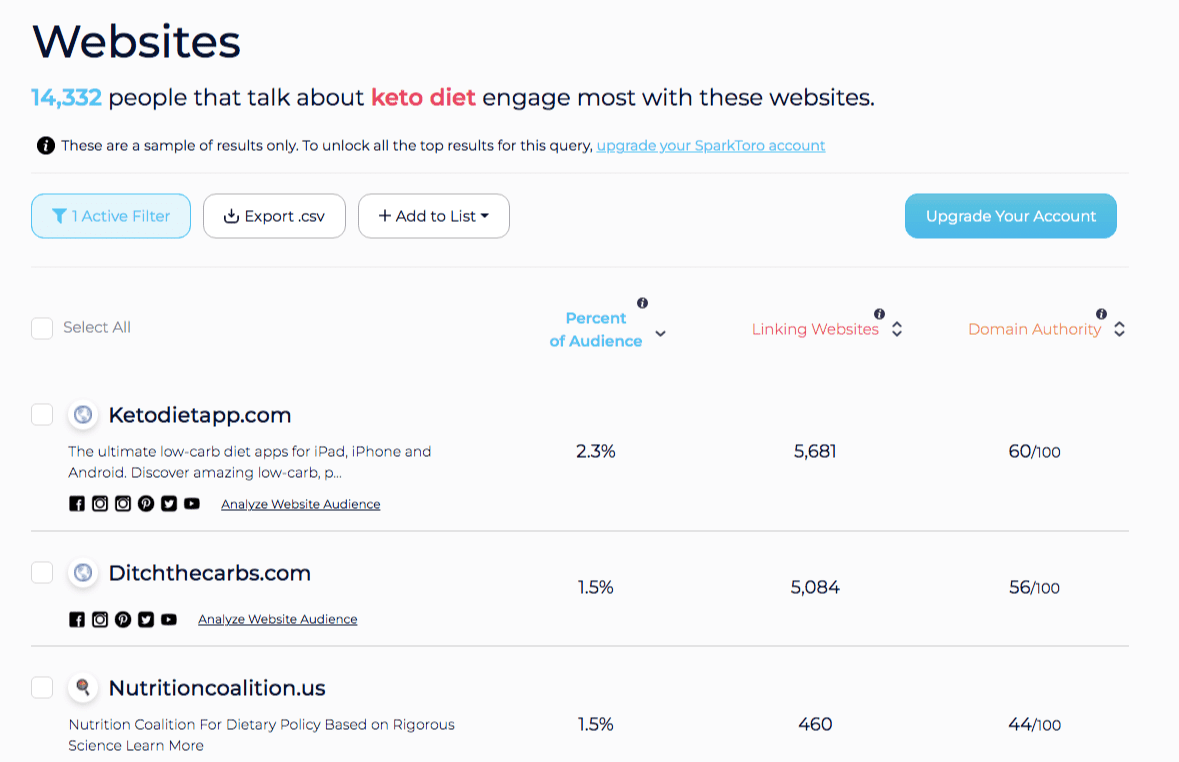 These websites have less overall traffic but high relative engagement among this audience.
Gold!
This is precised guest blogging. These are publications you'd want to distribute content.
Another way to find guest post opportunities is by using Ahrefs' Content Explorer.
Head over to the search bar and type in a broad or niche keyword.
You can filter the results based on Domain Rating (DR).
Scroll down and click "Websites". This reveals the top 100 websites based on your input keywords.
Export the results and consider them part of your list of publications to pitch.
Besides Ahrefs' Content Explorer, you can't ignore its Link Explorer feature.
Through this feature, you can find competitors' backlinks — that may include publications they've placed content for distribution.
It is best to check websites that drive the most traffic to your competitors.
If you could get guest posts placed on these publications, it would help drive some more traffic to your blog.
Interested in starting a guest blogging campaign? Learn about our guest post service.
Publish Surveys
Surveys content can pick up new links every week.
It works because journalists want to cover stories.
And if you give them exclusivity to interesting information, they won't hesitate to feature your surveys.
Now, how can you publish surveys?
You can use Google Consumer Surveys to collect answers to questions. You can filter participants by demographics (age, location, gender, etc..).
Make sure questions are tied to your brand's topics.
The key to successful linkable surveys is to make headlines attention-grabbing.
This is what provokes journalists and publishers.
https://www.thezebra.com/resources/home/dangers-of-sharing-passwords/
Once you publish the survey, create a media list that includes industry and local journalists who might want to cover your story.
This may require some digital PR, but you can go pitch mid-tier bloggers and have them feature your surveys on their articles if you're starting.
This way, you'll have social proof you can use for the next round of pitching, now for authoritative websites.
Broken Link Building
Broken link building, mostly known as BLB, recommends a link replacement to a webmaster with a broken link on their website.
This is most effective because it adds value by replacing defunct resources with new ones (including your content) that are more useful and helpful to website readers.
To this at scale, you can use Ahrefs' Content Explorer.
Type in keywords like "resources" or "links" along with your topic and use the search filter "Title".
Now, the tool provides you with relevant resource pages.
Reach out to them, tell them about errors and provide appropriate link replacements.
Here is an email template you can use for broken link building: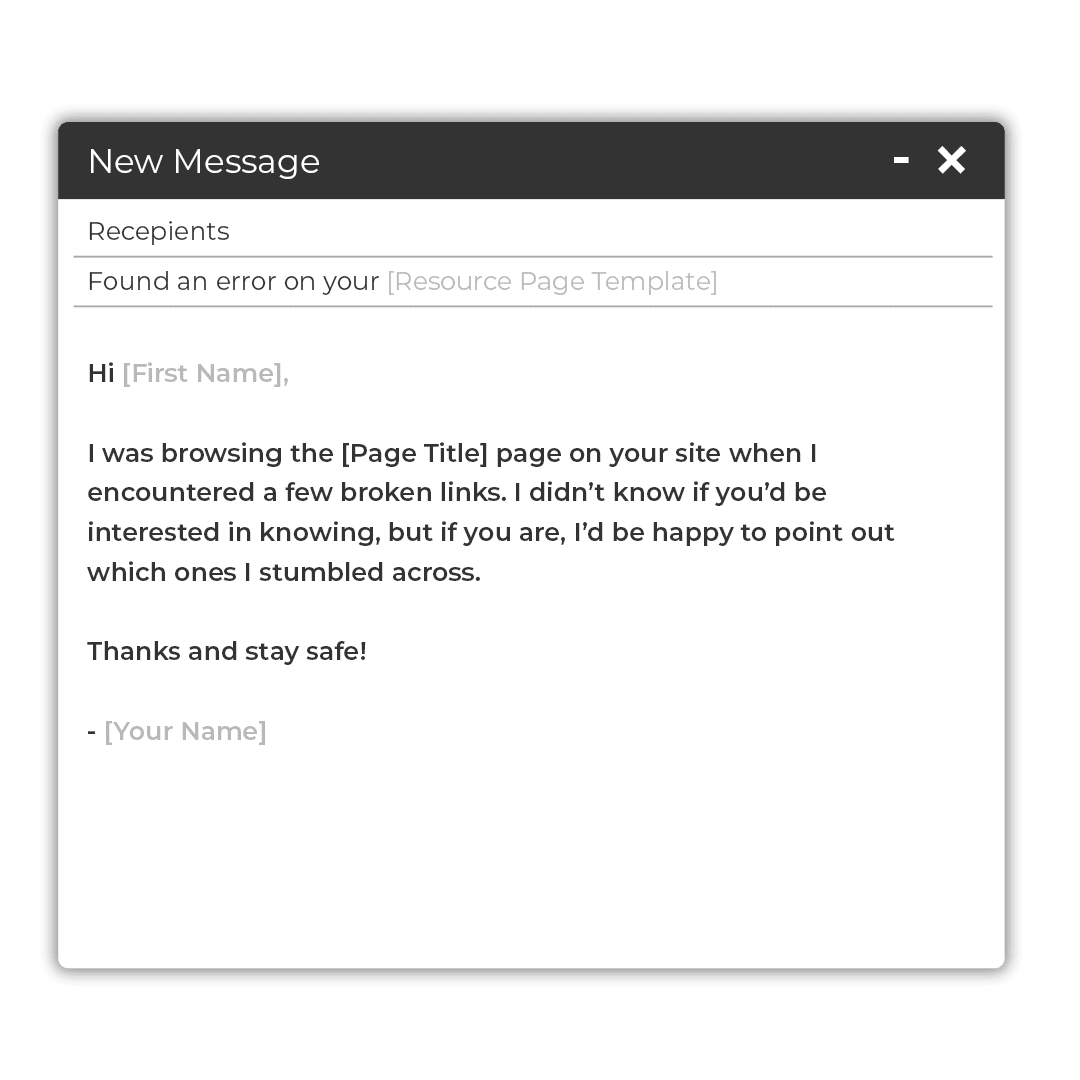 For step by step process, you can check out our entire broken link building guide.
And, an email template for resource page link building: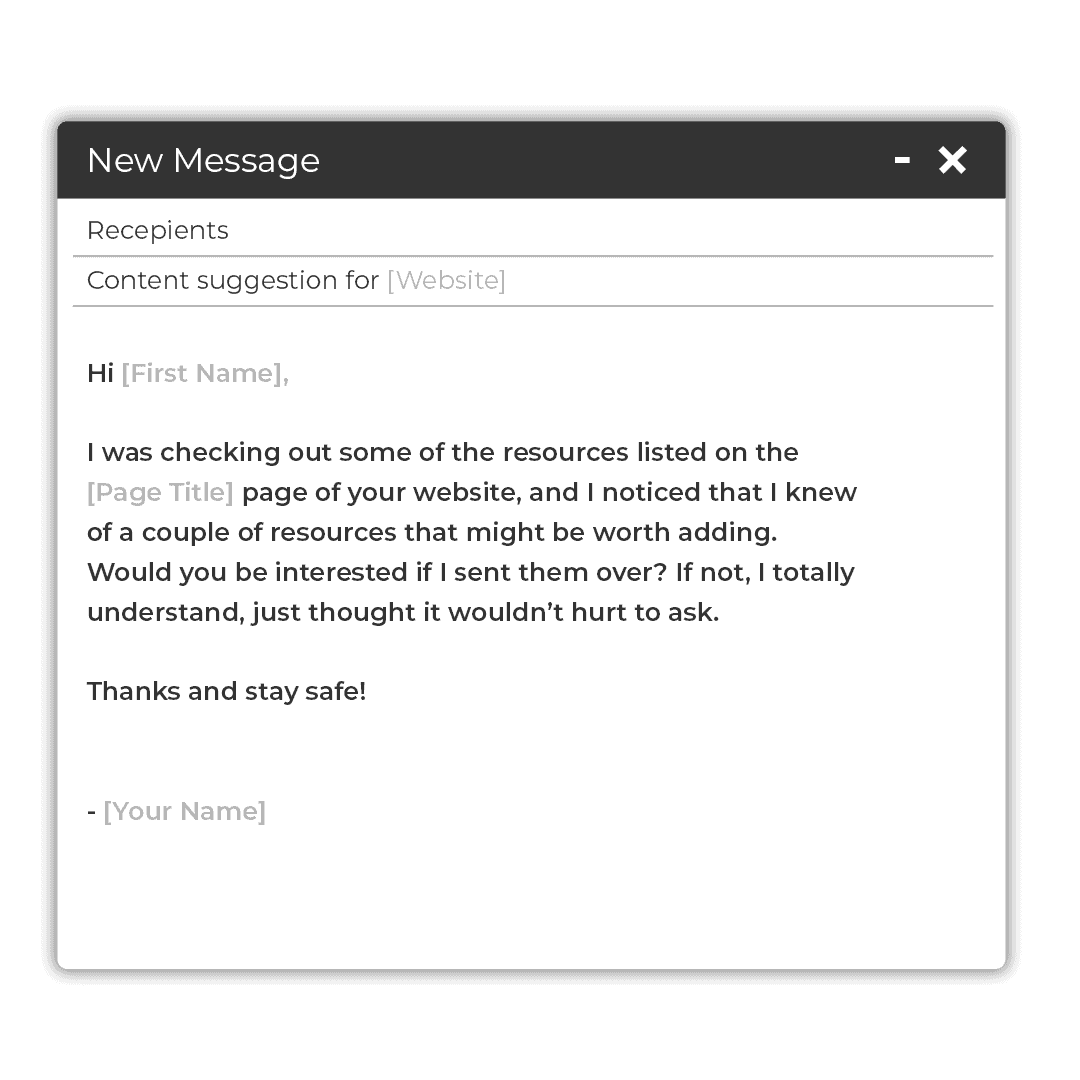 Link Reclamation
People mention products and services. And when they do, sometimes, they forget about linking to appropriate sources.
This is where link reclamation comes into play.
Link reclamation is the process of reclaiming lost links or unlinked brand mentions of your site.
Generally, link reclamation has the highest link placement rate among link building strategies.
Reason?
They've known about your brand or even used your content.
Link reclamation is mostly used for large-scale enterprise brands where they get mentioned on different web places almost daily.
However, you can use it for smaller sites and, if done correctly, can help add more targeted links to your important pages.
There are two ways to do with link reclamation:
First, identify lost inbound links to your site and reclaim them through outreach.
It may be so simple, but you have first to know the reason why the publisher in the first place removed it.
If they've found a more useful alternative resource to replace yours, it's not worthy of your time to reclaim a link — unless you recently updated your content piece.
Second, find unlinked mentions of your products or content. If they've mentioned you, it's easy to reclaim these future links with a simple ask. Familiarity takes place.
For two link reclamation methods, here are email templates you can use: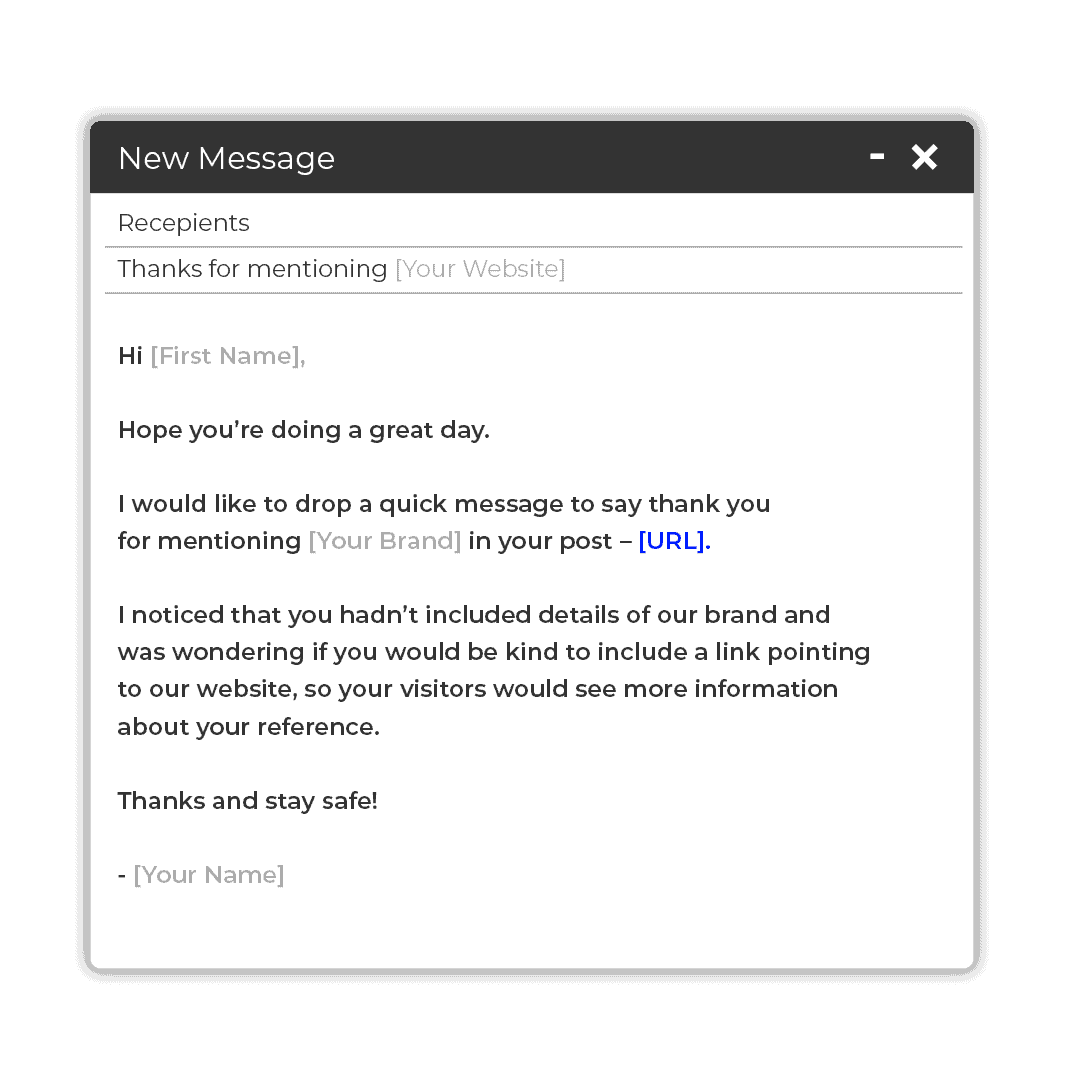 Infographics
Infographics are useful visual assets to increase brand awareness, get links, and improve rankings for the site's key terms.
Link building through infographics is still effective — if executed properly.
Forget about farm sites and infographic submission sites that don't add much value and traction to your content. Go and look for real targeted blogs to include your infographics.
The more careful your execution is the better results in terms of links you'll get out of it.
Now, what makes infographics successful these days?
One effective strategy is by using infographics as complementary to your main informative content asset. This solidifies the entire content instead of a stand-alone full infographic page.
For example, you can add infographics to the data studies page to emphasize essential data points.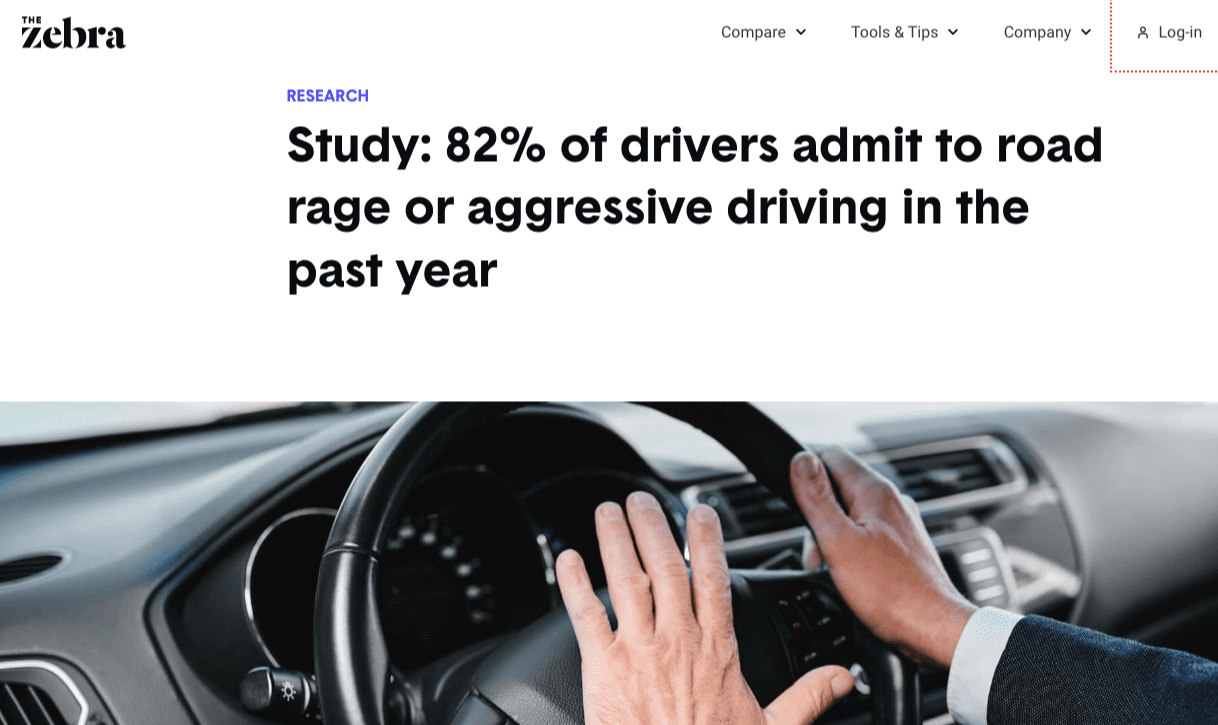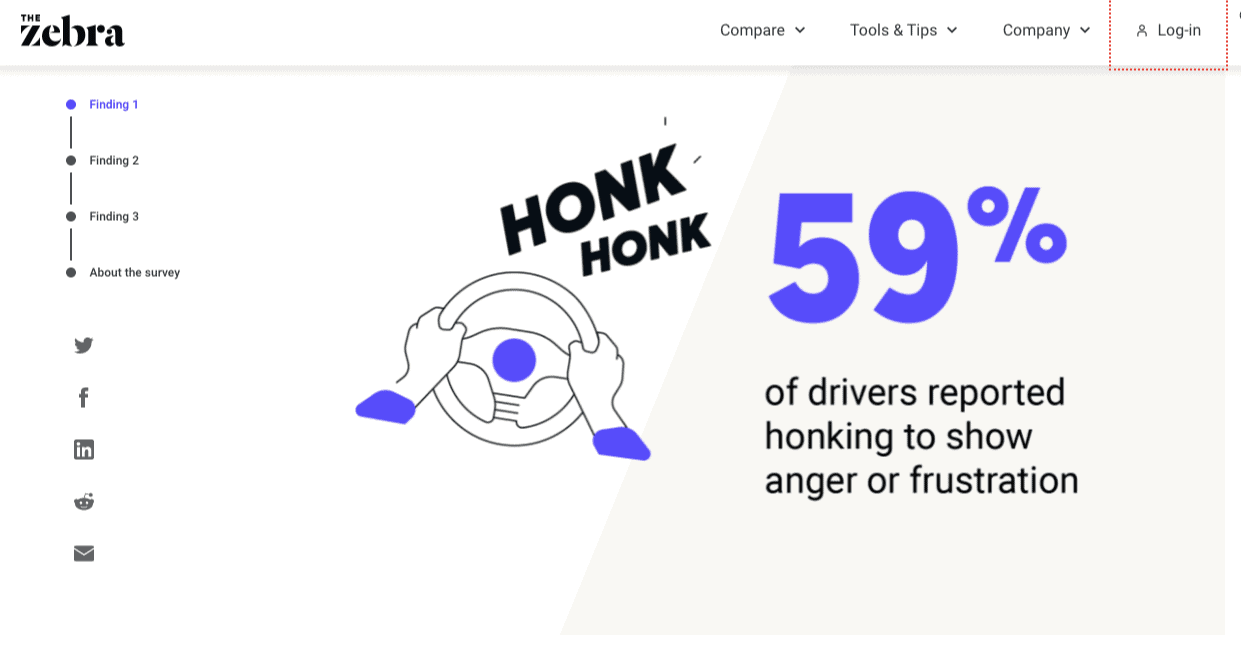 For content promotion, you reach out to bloggers and share the infographics with custom intros' contextually written for the blog.
Offer to write a custom intro of the infographic. Even helping them insert embed code to their blog posts makes it easier for them to publish your visual asset.
It is best to give bloggers a sneak peek of the infographic by including the actual image of some of its sections. The email becomes more appealing and adds differentiation to your email pitch.
Here is an email template you can use for guestographics:

Replicate and Test Strategies That Work For Other Industries
Here is one way to discover new link building strategies:
Do not reinvent the wheel.
Look at other industries and marketers and see what they have done well.
By simply understanding how other websites solve problems, you'll find inspiration and original ideas for your content marketing and link building campaigns.
For example, if you want to test new link building strategies for a personal injury website, check other cities.
Grab their domains and discover how they recently acquired links.
Use Ahrefs to check the site's top linking pages.
Or make deductions as to the types of new backlinks they acquire: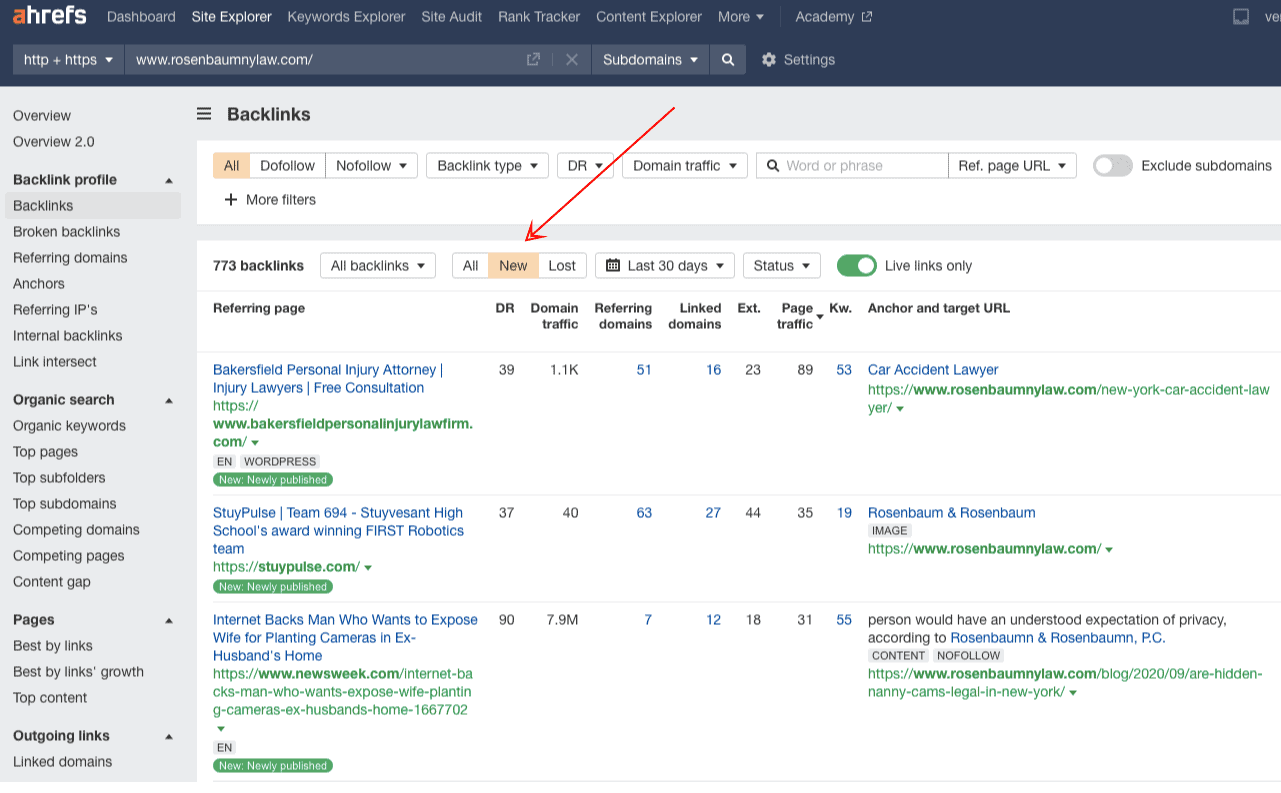 Another example is when you're trying to build links to money pages.
You can go to competitive markets like finance and analyze how they get money page backlinks.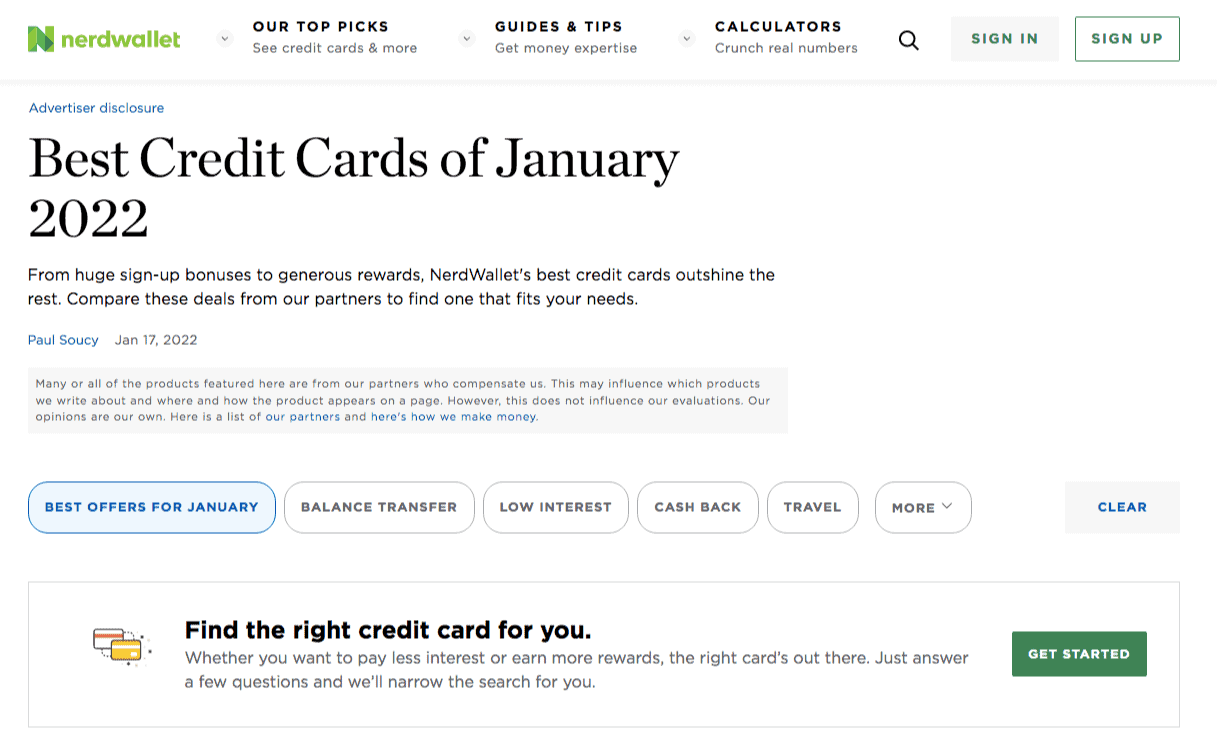 When you replicate the best strategies that work for other markets and test them for your site, you serve users.
And helps you build links your competitors can't easily copy.
Go and try.
Improve Your Link Building Strategy
There is no one size fits all strategy.
The only way to know if it works for your brand is to test it yourself.
Make a case study of the best link building strategies that are effective for your website.
If it works well, improve it more.
That's how you become better at link building in 2023.
How our LINK BUILDING AGENCY builds 250 links/mo consistently using Predictable Link Building Methodology™…
Using a SIMPLE and PROVEN system

Using a SCALABLE strategy
No private blog networks
No creepy outreach emails
SHOW ME THE FULL LINK BUILDING STRATEGY