What is reverse engineering?
Reverse engineering (on link building terms) is the process of checking what a certain website has created or acquired from other pages outside their web properties (i.e. from another non-owned website).
This approach has been a standard practice in the search marketing space often executed at the initial phase of the link development campaign to get an idea of the types of links acquired by other websites (i.e. competitors).
Reverse engineering starts by identifying who your competitors are. Some link developers fail to get results from the process because they dive in right away to exporting backlink reports to any webpages ranking for their target industry keywords.
Identify the right competitors to ensure that you'll derive quality insights and reports from your reverse engineering activity.
Types of Competitors to Reverse Engineer On
1. Generic Competitors
These are competitors who directly compete with your products or services.
For agencies, it is best to initiate asking your clients who their competitors are, before or at the start of working on their link building campaigns.
In most cases, their competitors are the ones they are competing with for industry head terms (check their head term on the meta title on the site's homepage).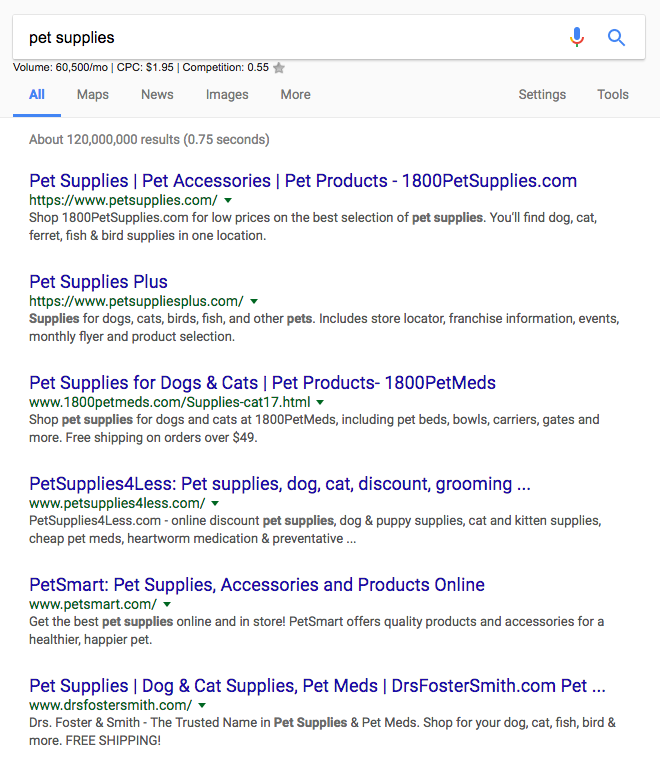 When using Ahrefs, it is best to use the domain level feature to only look at all of the links to a competitor's domain.
There's also an option to remove links pointing to subdomains (e.g. blog.domain.com) but this would filter out some relevant link opportunities, so I recommend you choose the "domains with subdomains" level.
2. Category Competitors
These are pages competing for secondary keyword terms (categories). For example, if you're selling incontinence products, these are your category competitors who are competing for the industry term "incontinence supplies":
Category competitors also include sub-pages of big content assets, such as www.domain.com/guides or www.domain.com/glosary  with linking chapters or definitions beneath.
Use Prefix level feature of Ahrefs site explorer to see all links pointing to a certain section/category of a competitor's site (for example, www.domain.com/productcategory).
Maximize the aforementioned link building tool by identifying generic and category competitors with their "Competing Domains" or "Competing pages' features. It shows sites or pages ranking for similar keywords to your domain.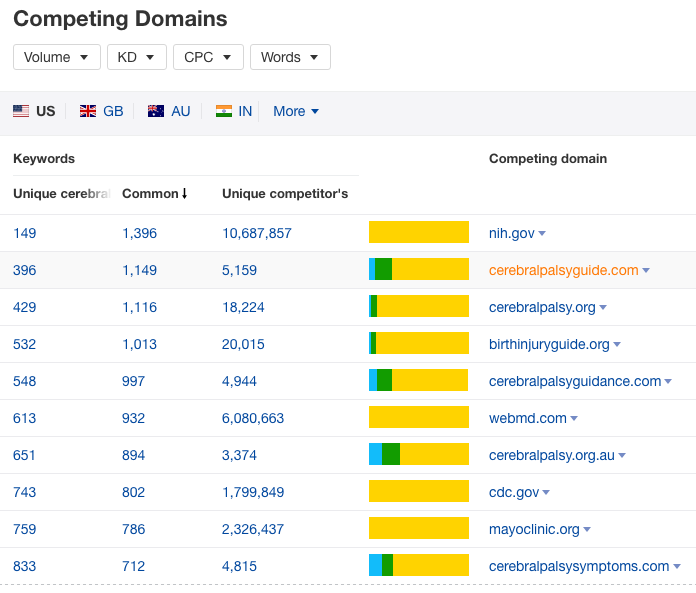 Tip: Remove large domains and exact match domains from your lists. These sites may just add noise to your analysis. For the example above, remove sites like nih.gov and cdc.gov. 
3. Content asset-specific competitors
These are information-driven pages that include webpages competing for "content asset" keywords (non-commercial industry terms).
For example, this "substance abuse guide for parents" competes with the following  content pieces:


On Checking Competitors Backlinks
1. Use Co-Citation Analysis
One strategy I've been using quite often is prioritizing link opportunities based on the number of competitors they've linked to.
Coined by Garrett French, co-citation is when a single web page links to two or more related domains.
Co-citation analysis is a process of organizing domains or URLs by the number of outbound links to sites relevant to your content/site (for this discussion to your competitors).
The logic behind is that if a page has linked to three or even five relevant sites, they're much more likely to add a link to your content than a page that has linked to just one related page.
Here are the different options to execute co-citation analysis on your competitors' backlinks:
Citation Labs Co-Citation Tool
This web product is freely available for Windows users. Here's a tutorial video that walks you through the process on how to use it.
Unfortunately, the tool only works for Windows users. For those who are using Mac, proceed to the second option.
Manual Co-Citation Analysis
If you haven't grabbed a list of all your competitors' backlinks, you can do so with Ahrefs or MajesticSEO.
It will leave you several CSV files which you want to combine into a big excel spreadsheet.
For Mac users, the "Terminal" tool has the capacity to merge all CSVs into one database.
Go to Applications – Terminal.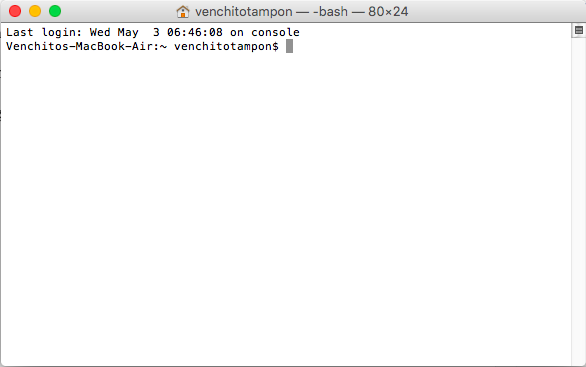 Pull up your Desktop by typing the following command and then pressing your "enter" key button: cd ~/Desktop (make sure all your CSV files is located in the same folder on Desktop). 
Type the command to open the folder on your desktop containing all of your CSV files and press the "enter" button again:
For example, my folder is called "NetAddictionCompetitors" so I type this command: cd NetAddictionCompetitors
Finally, type in the following command to automatically merge all of the CSV files in that folder. 
cat *.csv >merged.csv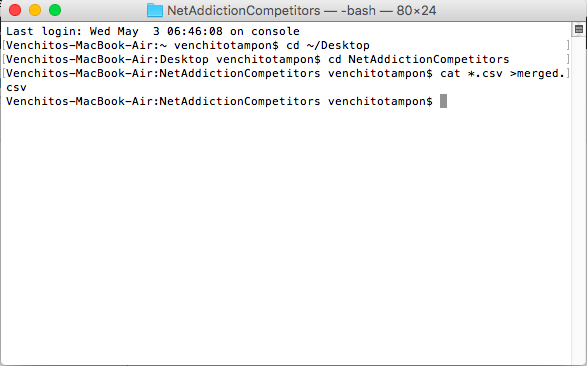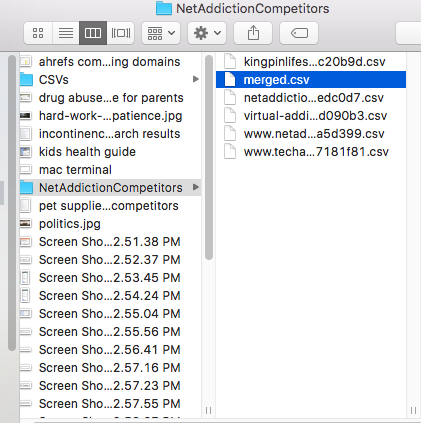 You can read this quick tutorial by Trent of Watchman Advisors. 
Remove unnecessary columns from the list and only remain the column for "Linking Pages". 
Next is to transfer it in a Google Spreadsheet.
Then create new columns for "Domains" and "Occurrences".
Include this formula below to strip off page URL to its root domain.
=IF(ISERROR(FIND("//www.",A2)), MID(A2,FIND(":",A2,4)+3,FIND("/",A2,9)–FIND(":",A2,4)–3), MID(A2,FIND(":",A2,4)+7,FIND("/",A2,9)–FIND(":",A2,4)–7))
Assuming the Linking page is on A2, this would be the formula (to be put into B2 cell).
For the "Occurrences" column, insert this formula to check how many times a certain page URL has occurred in the spreadsheet.
=COUNTIF(B:B,B2)
Now you can sort "Occurrences" column by descending order to display highest to lowest number of occurrences.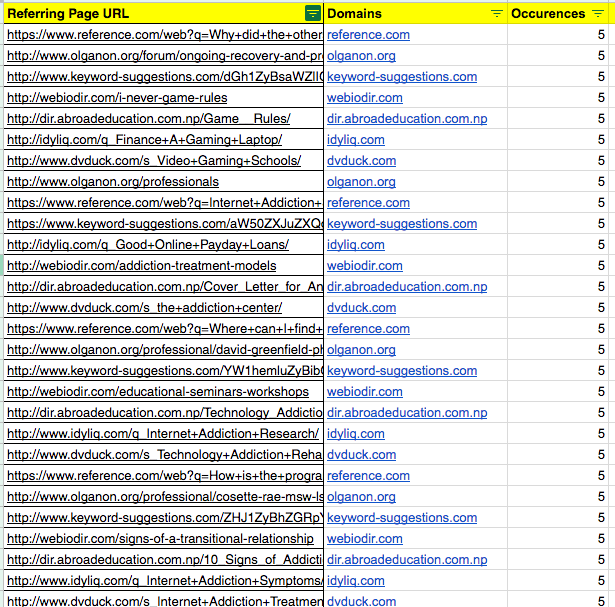 Resource pages, for example, linking to three or more of your competitors have a higher probability of linking to your content when you pitched for link requests.
For link builders who have a higher subscription plan than Lite plan of Ahrefs, you are authorized to use their link intersect tool.
Simply follow the process shared by Tim Soulo in this tutorial video:
2. Determine Link Approaches of Competitors
The next thing that you can do after getting backlinks from co-citated pages is to analyze how your competitors were able to get links in your industry.
Check link types of their inbound links to assess their previous and current link acquisition strategies.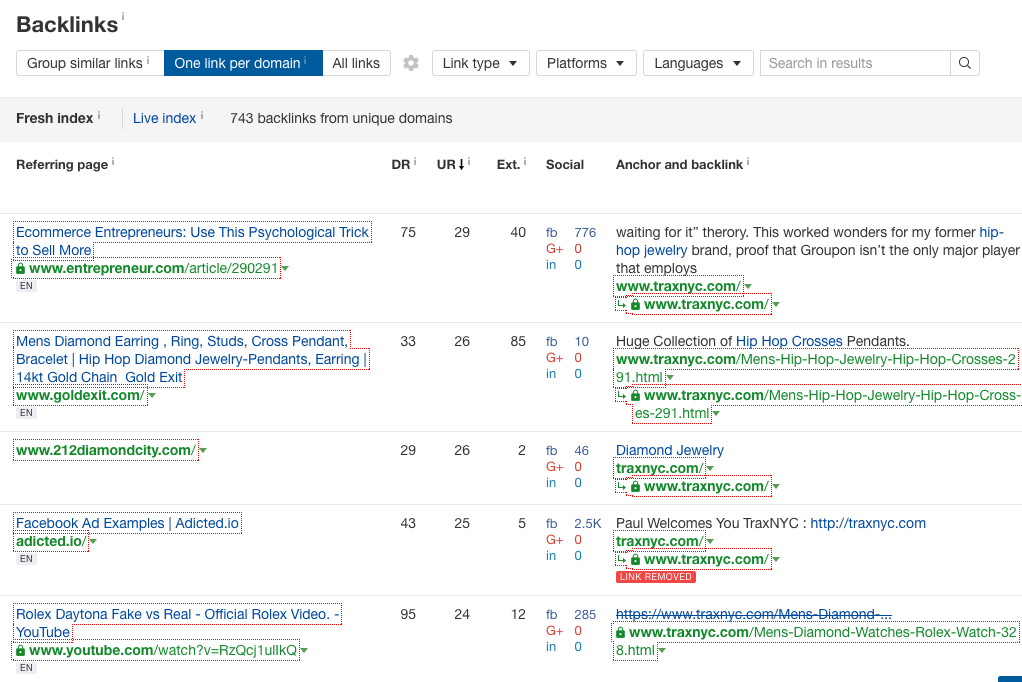 Filter links based on the following link acquisition approaches:
Submission-based (niche-specific and generic directories)

Link requests (resource pages on .edu/.gov and other non-commercial pages)

Content contribution (guest posts, sponsored posts)

Earned media (interviews, references/citations)
You can quickly determine the linker's approach by identifying "clues" on the page/site.
Submission-based
Submission-based websites like directories normally have "submit your page" or "submit your site" pages on their navigation menus.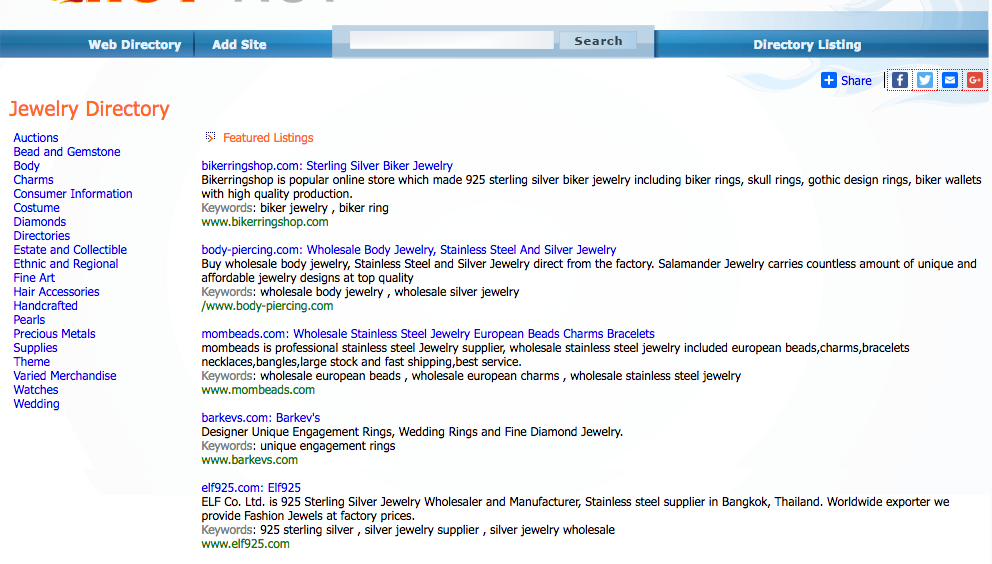 Supplying the webmaster with details about your website/blog is a requirement to get listed on their pages.
Link-request
Several factors that may indicate if a linking page (mostly in a form of resource page) has been approached by a link request pitch are:
Non-commerciality of external links – information-driven pages normally can be requested to be linked from a resource page.

Affiliations – a professional organization may include a website in its resource page if it has been associated/has been part of a certain group.

Fresh prospects – resource pages with recently

last updated

section on the page are more receptive to link requests (and have higher chances of linking).
Here are a few examples of link-request resource pages.
Non-commerciality of external links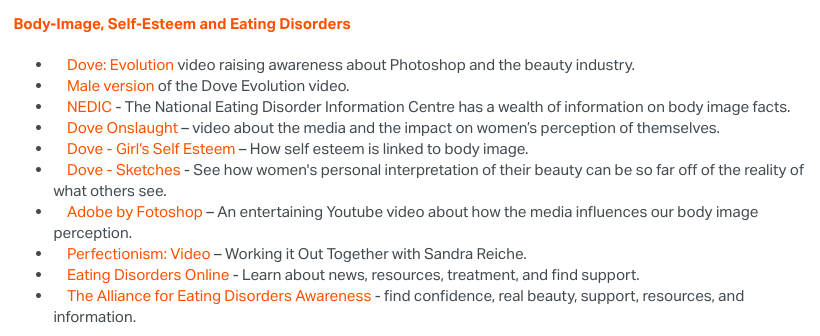 Affiliations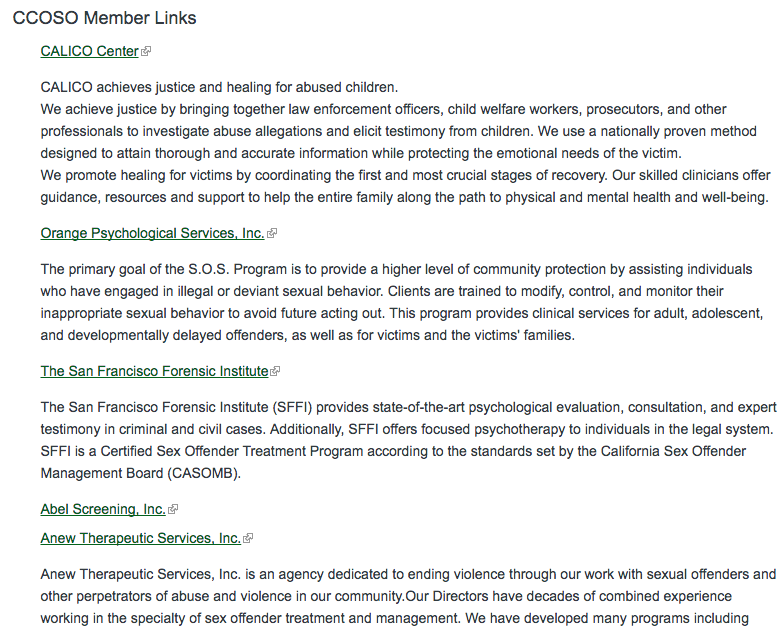 Fresh prospects

Tip: Use QuixApp lastmod command to check the page's last modified date.

The fastest way to determine if you can obtain a link from a resource page is by checking the closest relevant section on the page and the types of links included in that section.
For example, a video gaming addiction for parents guide can be best fit (highly relevant) in Mental Health and Addiction section.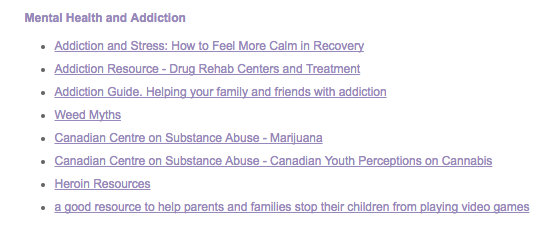 Tip: Use inbound/outbound and followed/no-followed overlay features of Mozbar to quickly check links' attributes and pointing sources.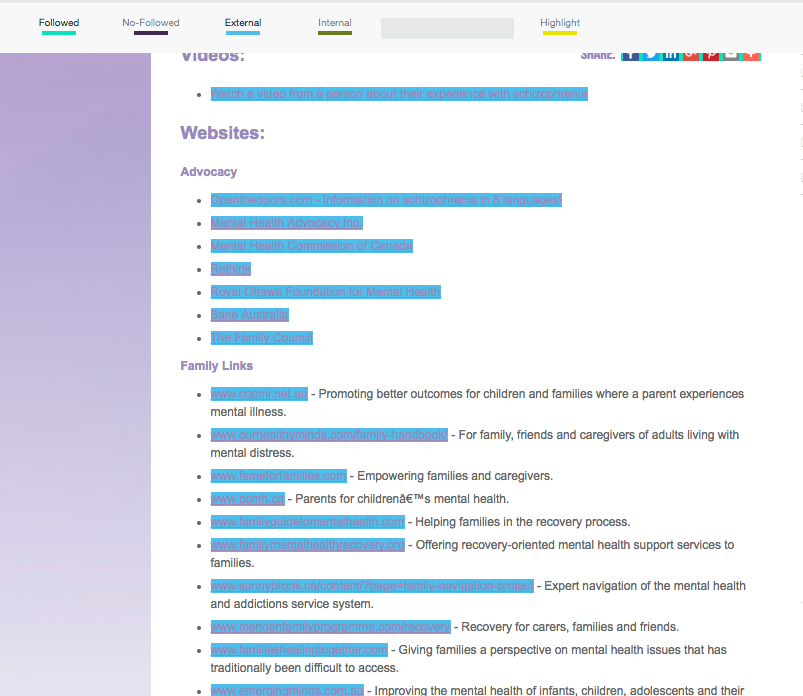 Content contribution
This is probably the easiest approach to spotting on given that you only have to check if there is an author's description with a link to another website (not the guest blog site itself) contextually placed within the blog post or author box.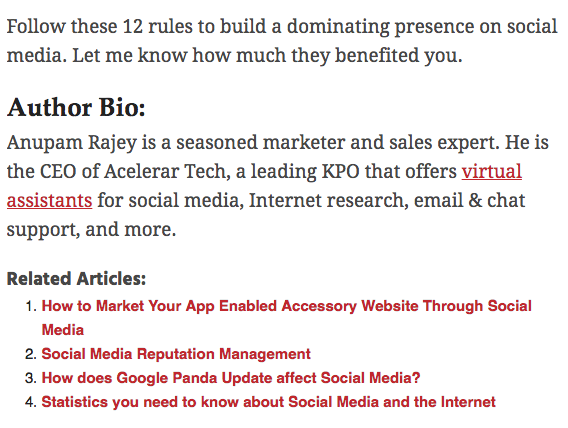 This could be in a form of sponsored article or a non-paid guest post.
Earned media
Several things that may indicate if a link of a competitor has been earned organically:
Exclusive interviews (e.g. podcast and individual interview).

Recommend lists of industry personalities, groups, brands, or tools

Serves as a reference for further reading (voluntarily-given)

Roundups (group interview)

Mentioning the brand to check as additional sources
Exclusive interviews (e.g. podcast and individual interview).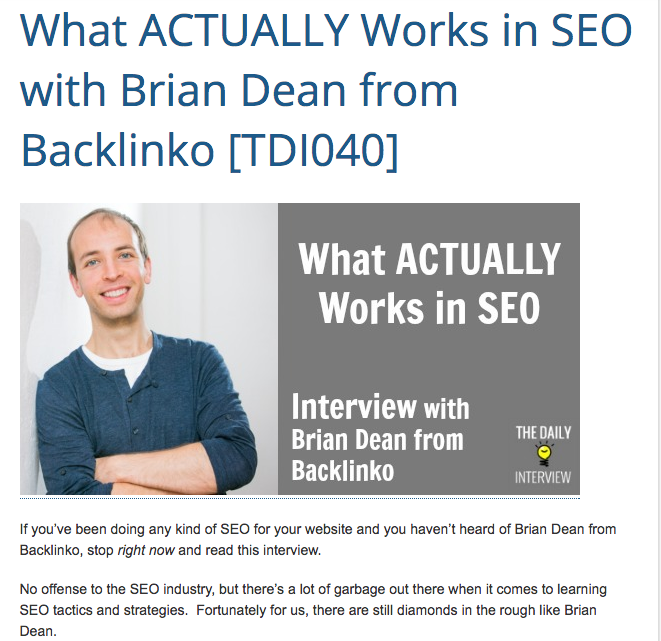 Recommend lists of industry personalities, groups, brands or tools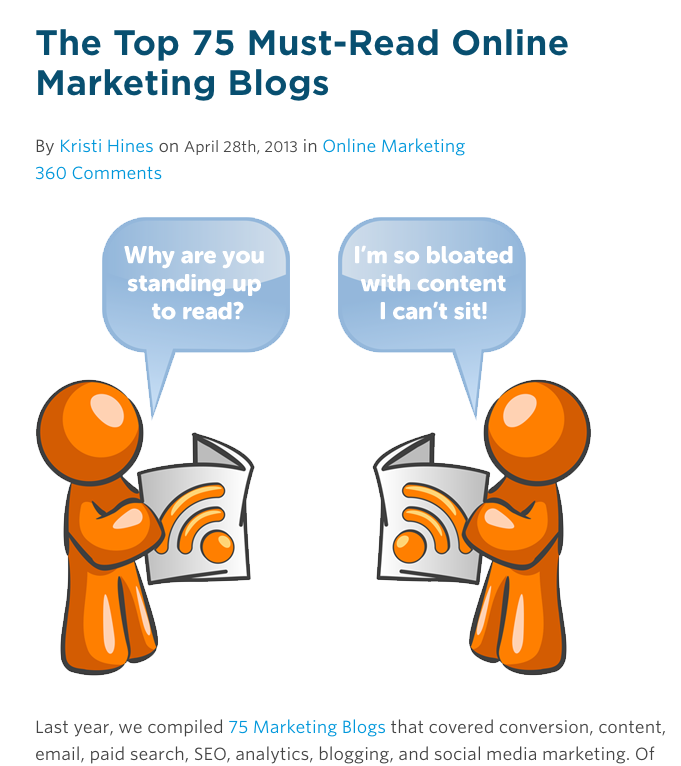 Serves as a reference for further reading

Roundups (group interview)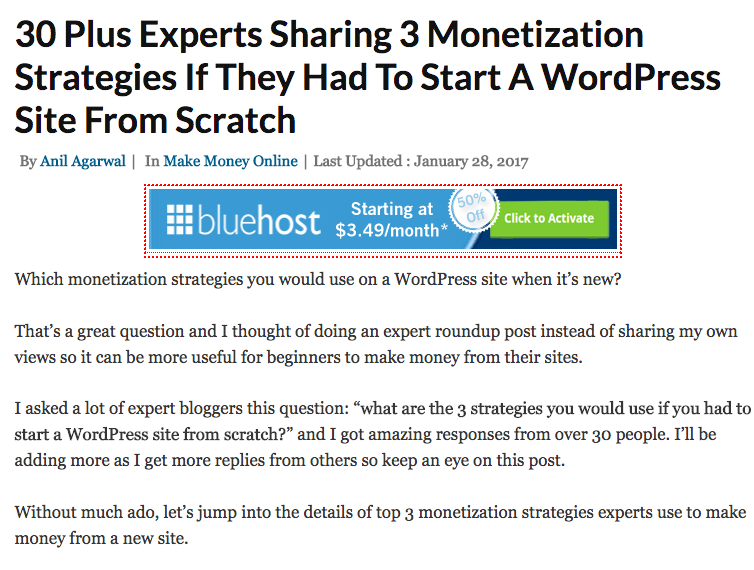 Mentioning the brand to check as additional sources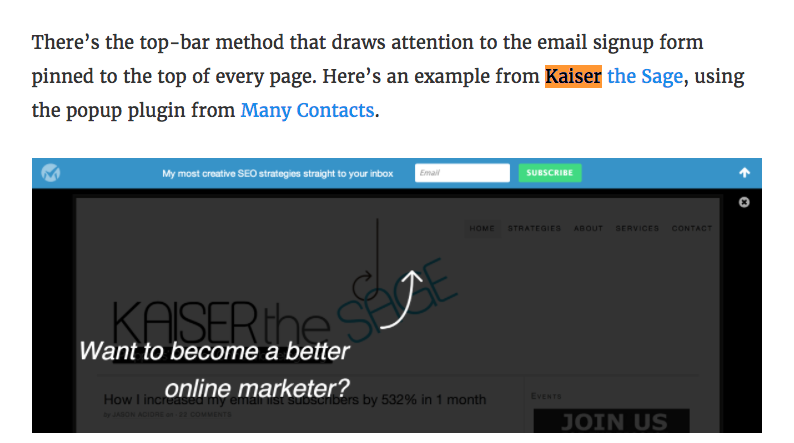 While not all links with aforementioned indicators are perfectly naturally earned (i.e. interviews being pitched to a future guest), most of them couldn't be replicated easily by requesting for links.
Further Reading: How to Build Authority Links through Branding and Content
3. Expand Link Lists with Deeper Analysis on Link Opportunities
Creating a huge list of existing links of your competitors is the first surface level of link opportunities.
Expand your database of link targets by taking a deeper look on their other important link data, such as:
High-performing linkable pages
It is best to determine what formats of content have proven to be effective for your competitors in garnering relevant links.
Sort top pages of your competitor's site by link growth (best by links feature of Ahrefs) to see what pages have received the highest number of inbound links.
This approach can help you get insights on linkable content formats your competitor has been focusing on – which you can replicate if you're initiating a new content-based link acquisition strategy for your clients.
For example, WineFolly has consistently found success in obtaining links using infographics in the wine industry.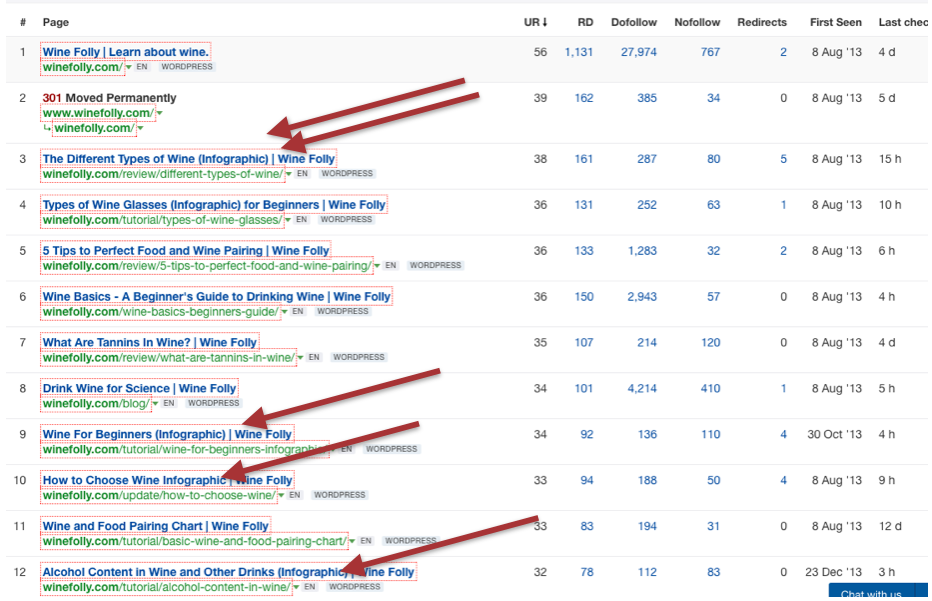 You don't necessarily have to reinvent the wheel always, particularly for new websites you're trying to build links to.
Pro tip: Always be on the lookout for broken pages of your competitors with lots of inbound links. Check if you can create a version of the page and do proper outreach to linkers of dead content.
Further reading: How to Build Backlinks Using Your Competitors' Broken Pages
Recurring backlink sources
Websites that send targeted traffic constantly to a website through recurring backlinks (placed within different linking pages) are strong signals that search engines can use to reward them with better search rankings.
Export link data of competitors and sort it by highest to lowest recurring backlinks (Total Backlinks column).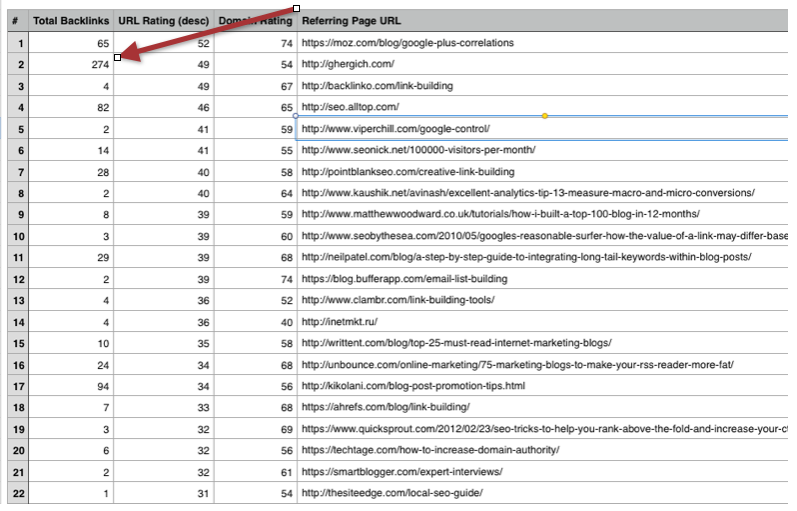 Repeat this process for all of your competitors to surface regular linkers in your industry that you should start building relationships with.
If you liked this post, you can follow me on Twitter @venchito14.