Starting an outreach campaign is easy. Executing it at the finest level is another story.
Outreach campaign initiatives vary depending on where you're at, what your goals are, and what are your available resources.
On Setting Up An Outreach Campaign
Where are you at? 
I'm specifically referring to what you're currently working on. Do you handle clients as an agency? If that is so, is your agency focused on link building alone, or are you taking link acquisition as part of your SEO services?
Do you build links to a single website or to multiple properties of your brand?
Of course, you have some knowledge about this one. But knowing this is a must if you want to have a clear picture of your starting point.
What are your goals? 
Have an end goal in mind. This speaks of what you want to achieve with your outreach campaign. Is it for PR purposes or are you trying to promote a content piece to get links?
An outreach campaign best works if it targets a specific goal/s.
What are your available resources?
Look at your current situation. Do you have any content specialists working with you? Any outreach specialists your company recently hired to become part of your team?
Did you subscribe to any premium tools? Buzzstream, Pitchbox, or NinjaOutreach, for example.
Not only should you be looking at your current resources, but you must also have an idea as to what additional resources you are willing to invest in. These include tools, more content and outreach specialists, or work offload from your current team members to be allotted to your outreach campaign.
Know these resources given as this will help fill in the gap between where you are and what your goals are.
How to Start an Outreach Campaign
There are certain outreach best practices to ensure an outreach campaign provides the most value to its end users (email recipients — i.e. potential linkers) and gets the most value in terms of content engagement.
Internal Content and Link Research Analysis
Start by knowing which of your current content assets you'll be using as bait for your outreach campaign.
Look at your existing blog assets. Which content piece has gotten relevant high-quality backlinks in the past? Once you've identified, check if there is still a market you can reach out with your evergreen content.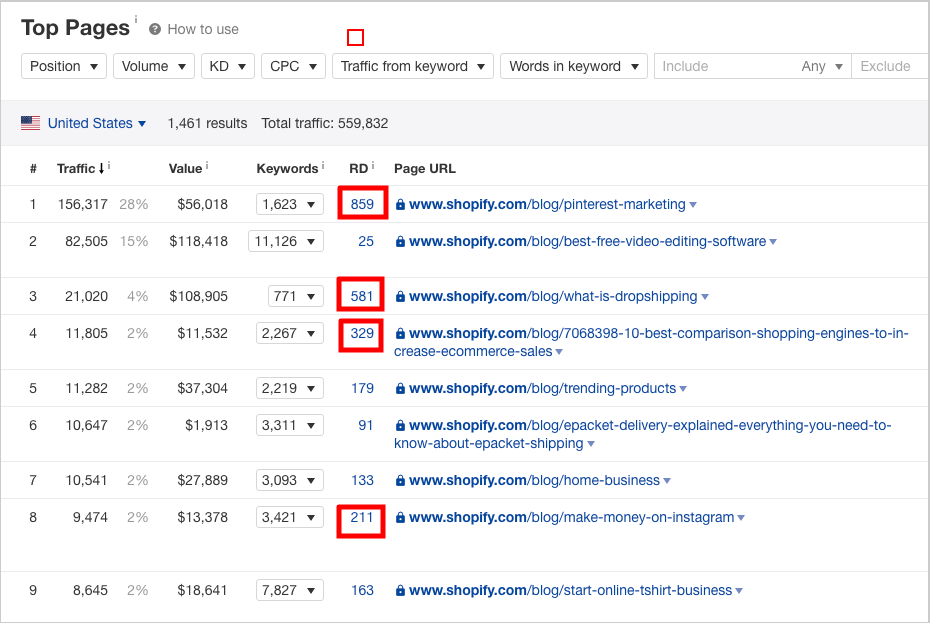 Outreach is tied to a specific content piece you are offering to the market. Start by knowing which makes the best offer.
Direct Extension of Prospecting to Outreach
If you think about scalability, you want to get the most out of your time for all of your outreach campaigns.
If you're handling multiple campaigns or even just for one website, one way to get more things done in less time is to extend your link prospecting initiative to outreach.
Instead of executing link prospecting and outreach separately, you can make them integrated by pulling some data from a third-party tool for gathered link prospects. Bring the targets directly to an outreach tool or platform for pitching.
You can use Ahrefs to pull some huge data of backlinks from competitors' sites (or other relevant sites to your brand).
On Ahrefs, you can qualify links through filtering by Platform (e.g. Blogs) and to One Link Per Domain. You can also use the included search to get only relevant pages. By including topical words, you exclude ones not related to your target campaign.

Once you've exported the links, you can strip the URLs to root domains using any URL trimmer tools: https://manageguru.com/url-trimmer 
You may quality the links further for relevance by manually checking them one by one.
Input your list to email finder tools like Hunter and VoilaNorbert. Through any email outreach platforms or Gmail plus extension tools, you start sending outreach emails.
Outreach Segmentation
There are many link prospecting methodologies from different agencies and specialists on outreach. Those that have the most value include segmenting the list into different groups. This leads you to do some outreach for influencers or just for resource curators or blogger outreach.
Outreach segmentation helps you prioritize link targets based on your current link strategy, audience type, and potential link value the target page can provide.
Basically, metrics like Ahrefs' DR/UR, Moz' DA/PA, or Majestic's CF/TF can assist you in knowing which link targets are valuable.
But don't stop there. Look at possible link types. Are those websites more driven as PR or contextually driven for link building?
Segmenting your outreach lists also includes knowing which backlink prospects you've had connections with in the past. Given that you'll get higher chances of recurring links from people who've known or have interacted with any of your content, than someone you'll be reaching out to for the first time.
Organization of Prospecting and Outreach Lists
The simplest way to organize your prospecting list is to use a free tool like Google Sheets. If you're not really fancy with organization, you may start with spreadsheets and labeled columns for outreach details.
For bigger outreach lists, outreach platforms like Buzzstream, or Pitchbox will give you better organization for your outreach lists.
Here are some guides to help you with organizing your prospecting lists using spreadsheets and extensions:
Quality audit on outreach templates
Scalability requires outreach templates.
While that gives you the leverage to speed up sending emails to hundreds and thousands of potential linkers, you care more of value than a mere personalization.
Fake personalization is worse than no personalization at all. @buzzstream found that a fake compliment such as "I read your post and loved it!" actually has a -1.3% impact on placement rate as compared to zero personalization.

— Ross Hudgens (@RossHudgens) May 7, 2020
Get some feedback on your outreach templates from the frontlines of your outreach team (ones who're in conversations with linkers).
Do some quality audits of your past outreach campaigns either for the same content piece or for a specific client outreach project (guest posts or resource page campaign you did) 
Check conversations that have gotten you links and ones that don't. You'll have a better understanding of what makes your email resonate with the linker.
Follow up email process
What separates a successful outreach campaign from a mediocre one is a meticulous system for follow-ups. Most outreach teams take follow-up email structure for granted.
You miss a lot of opportunities for link targets you didn't send some follow-ups.
Have a follow-up system for people who are out for vacations, who'll get back to you when they can but never replied, and people who've seen your content, but are asking for some more requirements (either in content format, messaging, or contact information).
Outreach is an ongoing process
As much as you consider the results of your outreach campaign, identify how to make your process better than before.
With systems and the right strategies and resources like tools and people, you'll penetrate an interesting market for links with your outreach emails.
How our LINK BUILDING AGENCY builds 250 links/mo consistently using Predictable Link Building Methodology™…
Using a SIMPLE and PROVEN system

Using a SCALABLE strategy
No private blog networks
No creepy outreach emails
SHOW ME THE FULL LINK BUILDING STRATEGY