Ahrefs has been my first and my most favorite link building tool since I started my career in SEO particularly in link building. This largest index of live links provides opportunities for link builders like me to analyze a link portfolio, get a good understanding of the site's current link status and making sure that it follows the guidelines set by Google.
In a nutshell, here is a list of activities where I use Ahrefs as one of my link building tools:
Link discovery
Link analysis
Competitor analysis
Content ideation
Now let me explain how I use Ahrefs to perform the above activities.
Link discovery
If you're working on a new link building campaign, then link discovery (or reverse engineering) could get you dive into both easy and hard to replicate links as well as give you better insights on which link acquisition methods work effective in your target niche.
Ahrefs has an easy-to-understand platform that lists down the referring page URLs, number of Internal and External links, link URL, and anchor texts of all the links acquired for the site.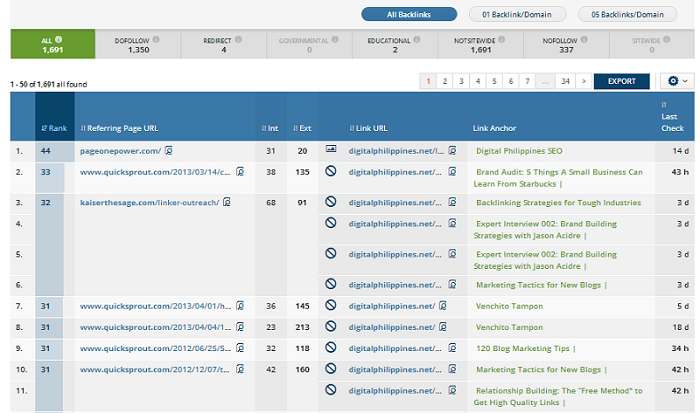 The filter options in the platform allow you to sort the links by All Backlinks, 01 Backlink/Domain or 05 Backlinks/Domain. This means that if you want to see only the referring domains and not all the links acquired from every single domain, you can choose the 01 Backlink/Domain or 05 Backlinks/Domain.

By skimming the whole list of URLs, you'll see which pages of the website garner the highest number of links and what keywords/phrases people are using to link to those pages.
Link analysis
Link analysis should be performed whether or not you've been hit by link-based penalties. Regular audit of your site using tools like Ahrefs allows you to track your current incoming links, see which one should be immediately removed and gets rid of over optimization of anchor texts by maintaining a balance between the use of commercial and brand-related keywords in link building.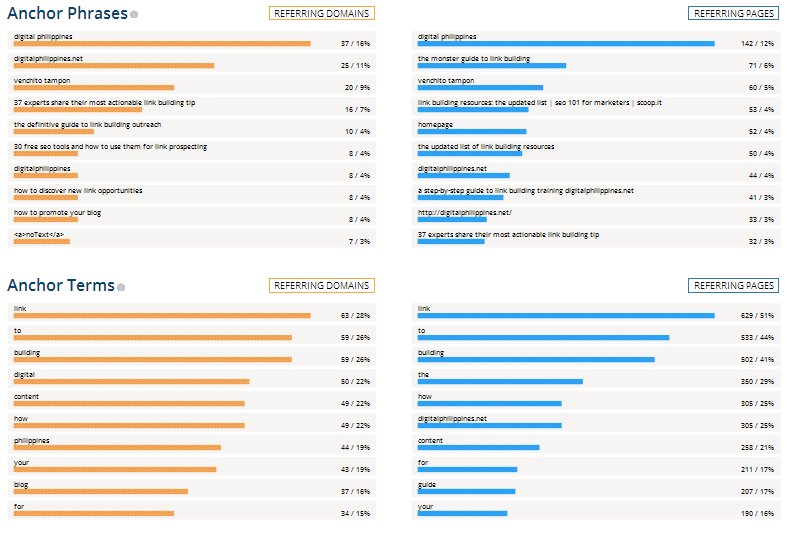 I don't need to dig deeper into this topic. Jon Ball has already written a beginners guide to conduct a backlink analysis.
Competitor Analysis
Instead of analyzing every single website of your competitors using the Ahrefs dashboard, why not try the Domain Comparison tool?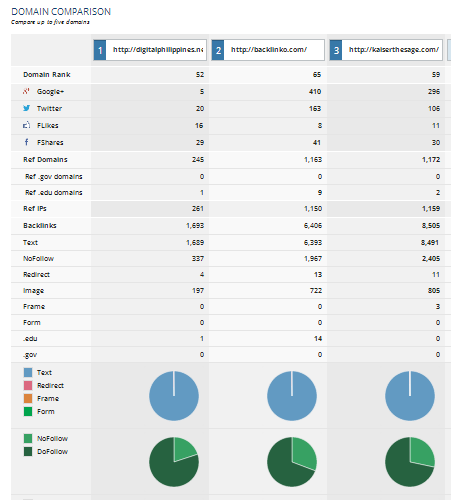 A quick glance of link profiles of your main competitors can reveal several insights about their current link statuses including the number of linking .edu/.gov domains, the total number of shares of their main pages and link velocities of each site. This gives you a general overview of the strengths and weaknesses of your website as well as of your competitors.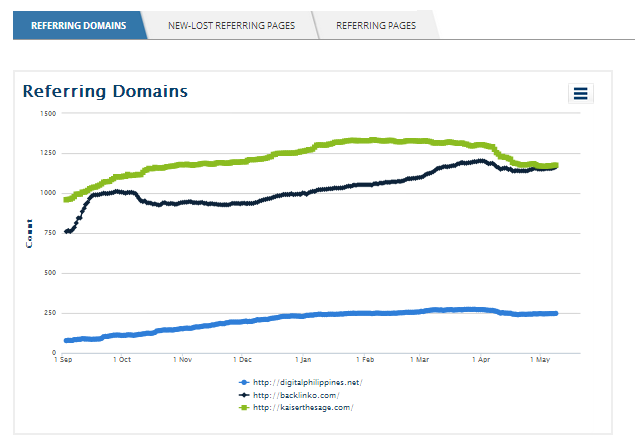 Content ideation
When getting natural links, a content piece is always at work. Whether you execute link prospecting before you proceed to content creation or do it verse visa, you'll realize that content marketing is always tied with link building.
When finding topic ideas for your future content assets, you can use Ahrefs as a content marketing tool. Consider the top pages of your competitors' websites or any related sites that have managed to earn high quality backlinks, shares and trust from the community.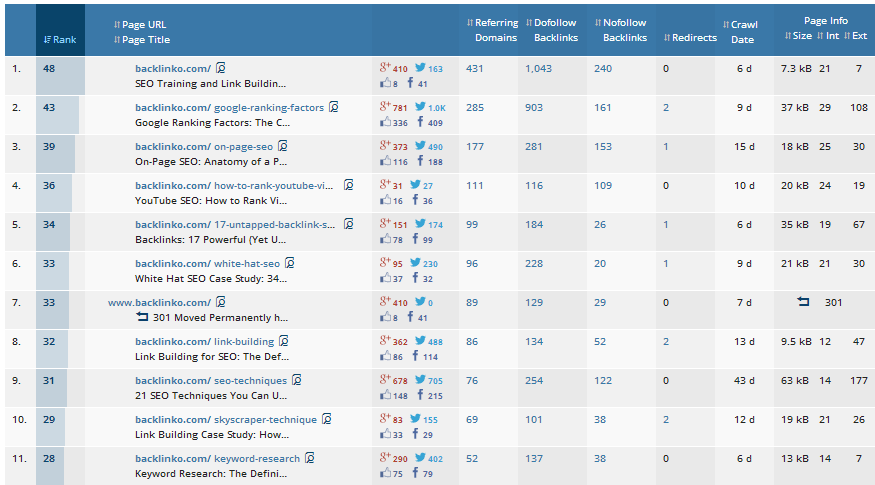 How to Increase Editorial Backlinks Using Ahrefs – A Short Case Study
Now let me share a short case study on how I increased the editorial backlinks of my client's website.
It is a video production blog that has several assets that can certainly generate traffic and sales including:
Conversion rate-optimized landing pages with embedded high quality videos that clearly explain the unique selling points of the brand.
Testimonials from clients they've worked with. This adds trust to the customers and can entice them to get the company's services.
Visible video-focused social media profiles placed in the most important areas of the website.
A portfolio page that lists down proofs of work, clients they've worked with and glimpse of their projects (behind the scenes).
You may be wondering why I need to share this with you. There is only one main point here. A well-designed website with branded and optimized content for sales and traffic can help increase the number of editorial backlinks because of two reasons:
Your brand is well-trusted within your community (this is proven by testimonials, portfolio pages, and optimized social media profiles preferably the ones your industry is using).
Lead generation can happen either on third party content (when the piece matches the selling point of the brand) or on your website (when landing pages are optimized for conversions).
So what we did is to utilize the available content assets to acquire editorial links for the site.
Service Listing Pages
First off, we prospect for available industry-related resource pages that don't require linkable assets (e.g. infographic) to include the company in their lists.
Using the common search queries like inurl:links OR inurl:resources "video production" "services" in Google search and/or executing reverse engineering method using Ahrefs,  we're able to find service listing pages.

After link prospecting, we proceed to link building outreach to get contextual links for the site.
High quality guest blogging
Matching the context to the brand's unique selling points improves the quality of the third-party content. It helps the company attract leads/potential customers from their content placements especially when the content piece is able to show the expertise of the brand in offering its service/product.
We shoot high quality guest blogs with the aim of building relationships with the webmasters and allowing us to contribute regularly on those blogs.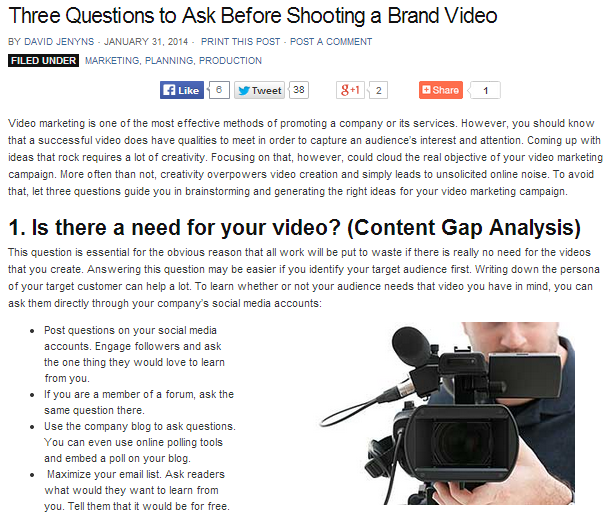 You can check out this post about risk management for guest blogging strategy.
.Edu link placement
For company sites that have blogs, one way to get links from .edu sites is to create a linkable asset that people in the community not just .edu webmasters would love to share and/or link to it.
Though there's nothing new with this technique, what I want to point out is to always reverse engineer on other websites whether or not they're directly related to your business before diving into your keyword research process. The main reason is that you want to get first an understanding of what topic and content type resonated with your target audience based on the existing content assets of influencers and competitors in your niche. Then just go over to your favorite keyword research to discover and identify which keywords/phrases have high search volume potentials.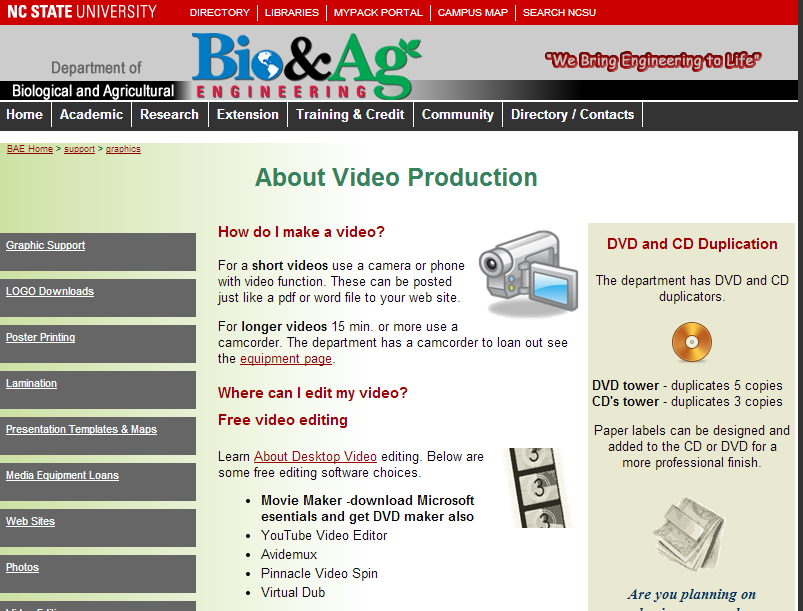 Related industry resource pages
To acquire more contextual backlinks, we move away from targeting video production resource pages. We tap into other broader industries like marketing blogs and related industries like graphic design websites.
The key is to stick into relevancy. As long as the resource page is relevant to your asset and you have a chance to acquire a link (i.e. there is a similar content that you have that is listed on the page), you can obtain a link from that page.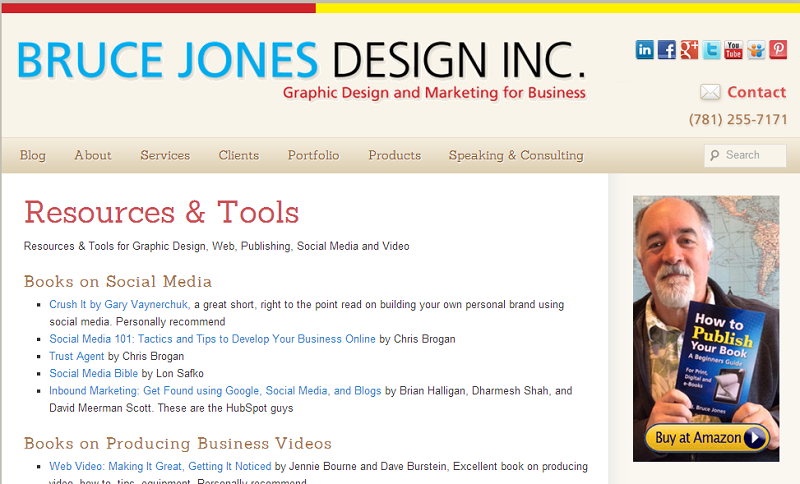 Summary
I was not paid to review this product. I simply love this tool and I know that newbies in the search industry would love to include it in their link building toolset.
For more link building tool reviews, you can subscribe to this blog (use the subscription box below) and follow me on Twitter and Google+.
How our LINK BUILDING AGENCY builds 250 links/mo consistently using Predictable Link Building Methodology™…
Using a SIMPLE and PROVEN system

Using a SCALABLE strategy
No private blog networks
No creepy outreach emails
SHOW ME THE FULL LINK BUILDING STRATEGY