This is a list of the most actionable content marketing tips for 2023.
In this post, you'll discover:
how to find content ideas without using expensive tools

how to write content that gets hundreds of shares and comments

tips to optimize content to rank in search and get organic traffic 

effective content promotion techniques for more traffic and links 
Let's dive in. 
1. Start with Topical Research.
Keyword research is not dead. 
The good thing in SEO is you can rank for multiple keywords, not just for one keyword — only if you know how to practice topical research.
Topical research is discovering the primary key topics your content can rank for, while determining semantically-related keywords to optimize content for topic coverage. 
How to start with topical research?
A. Begin with an industry head term. 
You can use any keyword discovery tools for this one (e.g., Ahrefs' Keyword Explorer).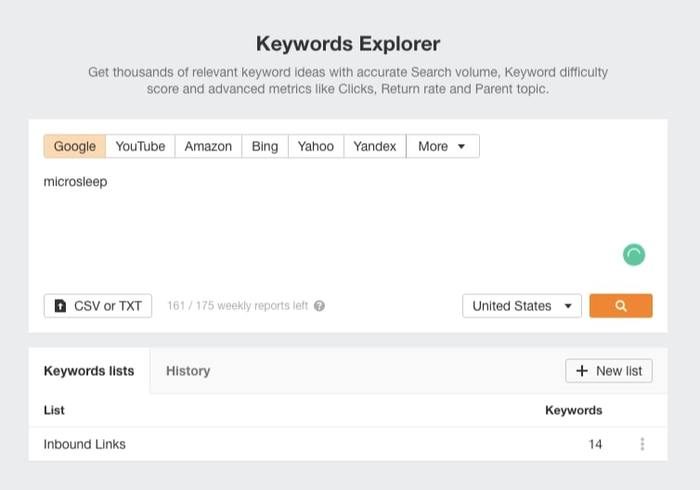 B. Go to the parent topic.
With Ahrefs, you can see exactly what the keyword's parent topic is.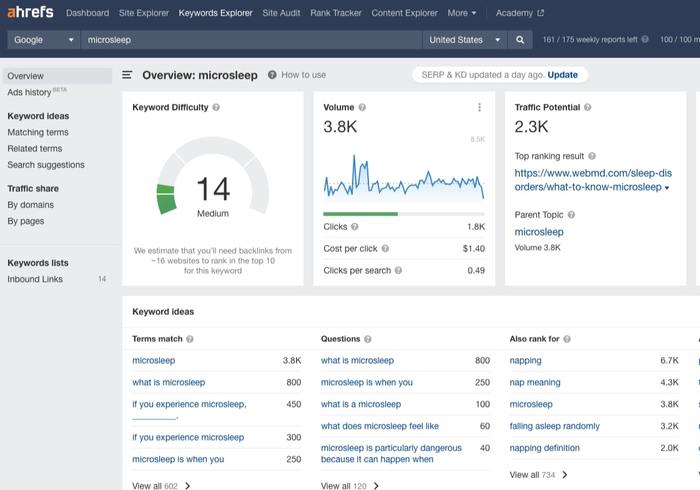 Either you write content just for the keyword you typed in or cover the parent topic.
C. Find semantically-related keywords and common questions.
This is useful for topic coverage. It builds more authority when you can cover as much information by answering related questions and including topically-related keywords.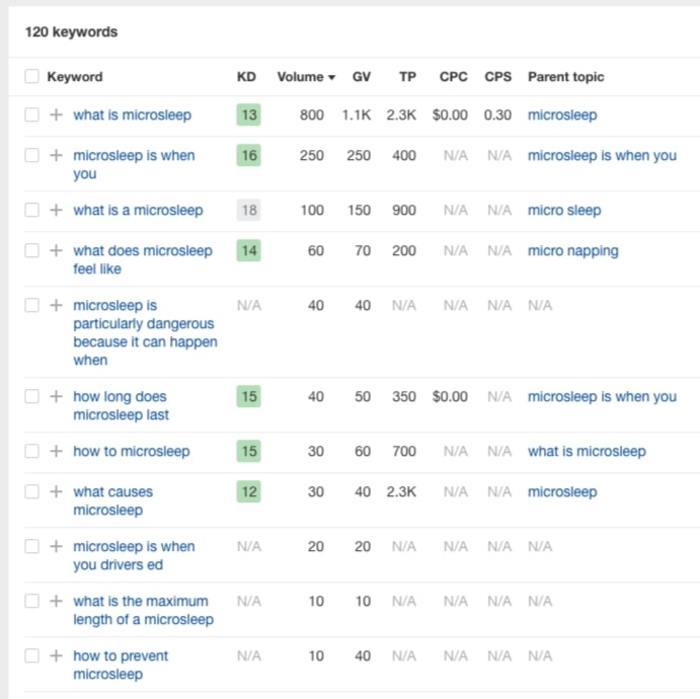 This leads us to our next tip. 
You can check out our link building services and SEO services. 
2. Discover Commonly Asked Questions 
Search users want quick answers to questions.
And if you know what type of question they search and provide them with quick answers in your content, you'll get more ranking opportunities.
AlsoAsked is an excellent tool to find dozens of questions you usually see in the "People Also Asked Questions" section. 
The good thing with this is you don't have to manually find all related questions for the topic you're writing about. Type in a keyphrase and the tool will provide you with topical questions.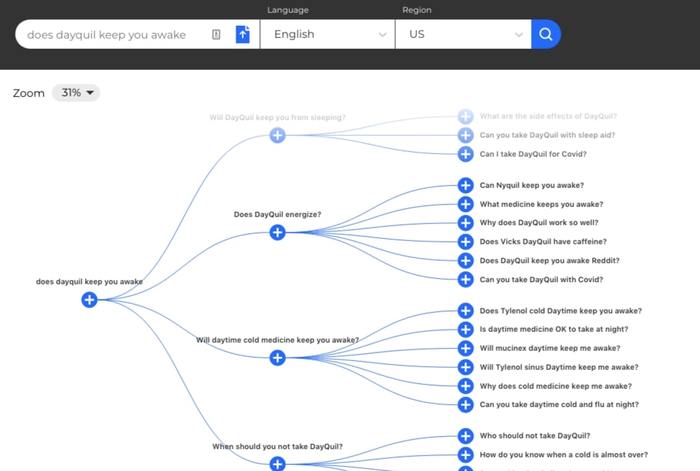 You can also export the list for later use. 
Another way to find commonly asked questions is through Ahrefs' Keyword Explorer.
Search for your topic.
Go to the Questions section.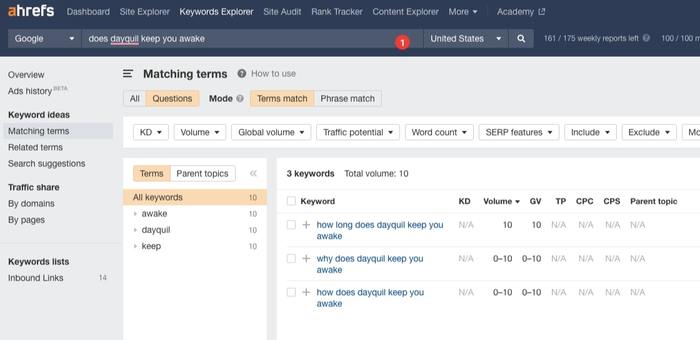 Two things you can do with these questions:
First, add a FAQ (Frequently Asked Questions) at the end of your article. List down all questions with your answers.
Second, you can include these questions as H2s of your article. 
Your readers don't have to check other similar content to find what they're looking for by answering it immediately. 
3. Write Content on Topics with Search Traffic Potential. 
SEO and content marketing, when combined, is powerful.
You provide what your readers are looking for while ranking the content for searchers who are looking for it. 
More traffic. More sales.
Use any tools to help you find search traffic potential. 
Here are some of my recommended topic or keyword discovery tools: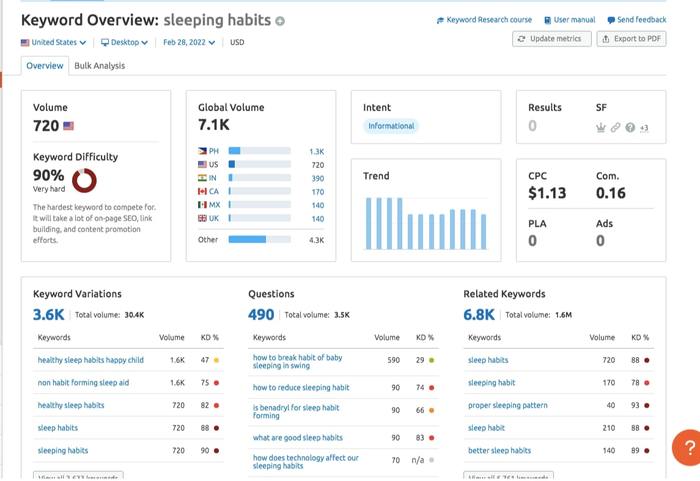 Ahrefs: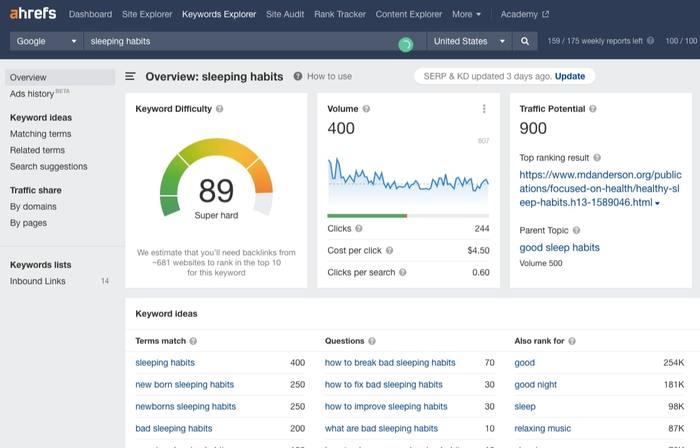 Sidenote:

Not all keywords with low search traffic are not feasible topics to write about — most of which are potential topics people are still asking. In aggregate, when you publish articles targeting long-tail keywords (even with lower search volume), the strategy can drive solid traffic to your site. 
4. Brainstorm Topics with Audience's Pain Points. 
Your audience's challenges, issues, and pain points are good content ideas (hat tip to @abbyreimermpls). 
It also puts emotions in your content, making it more shareable and linkable. 
So, how to find your audience's pain points?
Search for "[your audience]" "issues" "challenges". And see what comes up.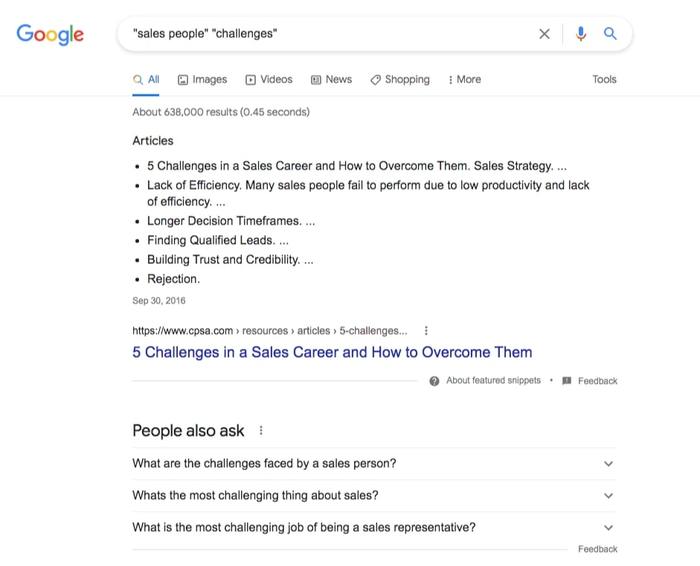 For example, if you're looking for paint points of most salespeople, you'll get ideas like:
Consistent follow ups
Self-management
Personality styles
Tackle each of these pain points as your blog post idea. 
5. Rank for Competitors' Keywords. 
Here's a gold mine opportunity. 
Your competitors may be ranking (or aren't ranking yet) for their branded keyphrases.
This could give you some organic traffic that can turn into sales if taken advantage of.
Let's say you want to rank for branded keywords of Monday (a project management software).
Simply enter the domain (monday.com) to Ahrefs Site Explorer and see what they're currently ranking for their own terms.
Filter the results by position 3 & up to see keywords your competitors don't rank in the top 3.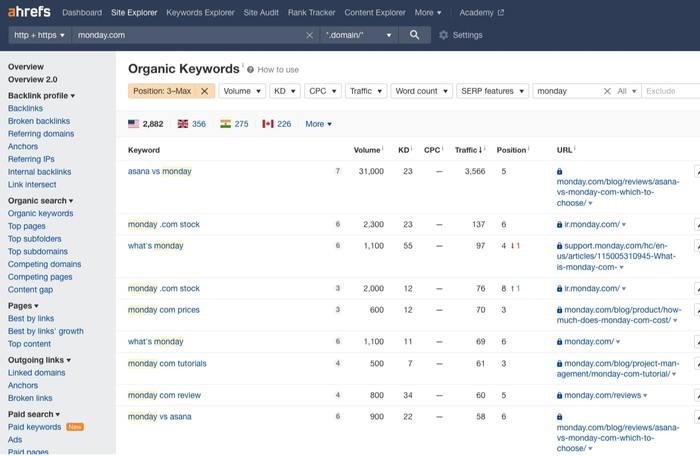 Check each term and think of any pages or content you can create on your website.
One example is "how to use monday com".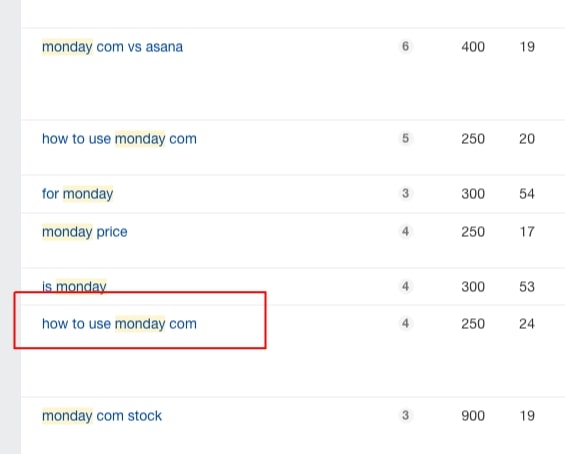 You can create an ultimate guide on how to use Monday and mention its competing products.
Or for any "alternatives" or "product A VS other products" keyphrases, you create a comparison page and add your product.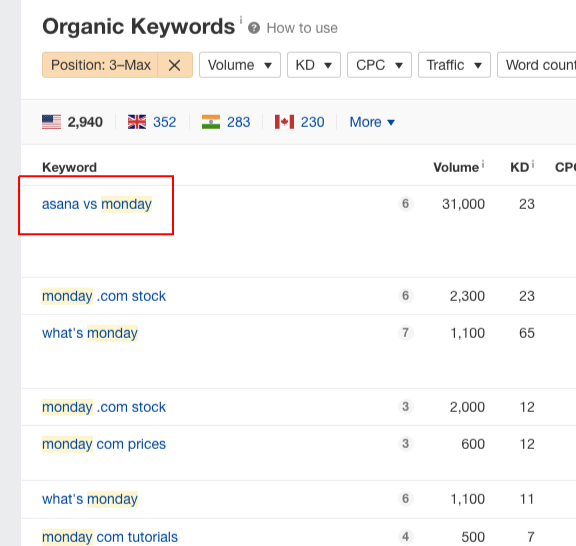 Think of how you can leverage competitors' keywords with new micro-content or a totally new page. 
6. Speak About Your Audience's Interests
Never run out of ideas if you think of your customers' interests.
If you tackle what they need, your content becomes relatable and valuable.
How can you find your audience's other interests?
You can use audience research tools like Sparktoro. 
Let's say you're looking for more content ideas for life coaches. 
Simply do Sparktoro search: My audience uses these word(s) in their profile "______".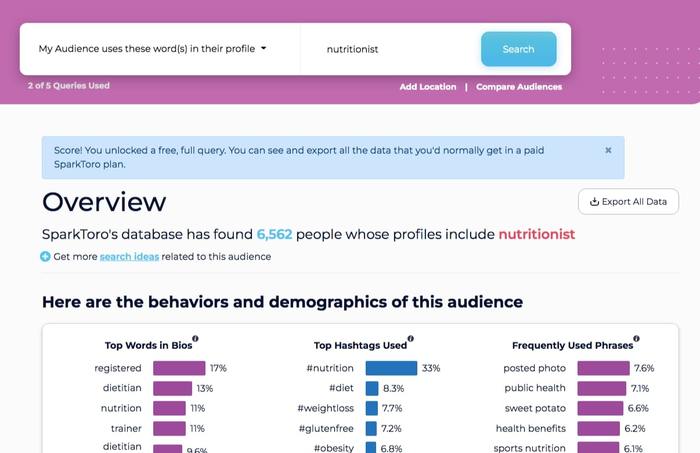 The tool shows you their other interests, aside from nutrition. 

Create content on public speaking and wellness. 
Replicate this content marketing technique to your brand and never run out of ideas. 
7. Use Proven and Tested Blog Post Introduction 
Content is king, but first, you have to grab the reader's attention.
You do that by using a blog post introduction that works.
When you consistently grab your readers' attention, you retain them on site. And thus, it indirectly improves your rankings and conversions.
The success of Backlinko (now acquired by SEMRush) is anchored to Brian's copywriting skills.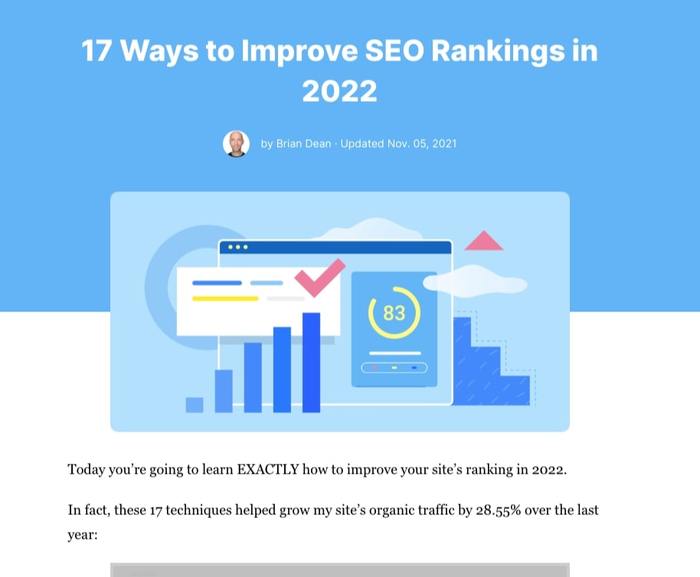 Backlinko has its PBB copywriting formula on content's introduction:
P – Preview

P – Proof 

B – Benefit
Tell exactly "what's in it for them?". Show results to build credibility. Give them more by showcasing the benefit of your information.
8. Generate Outlines Using Frase Blog Outline Generator
Writing about the topic flawlessly is much easier when you structure content.
Your writing flows. You cover the essential information.
One way to generate an outline quickly is using Frase's new tool – Blog Outline Generator.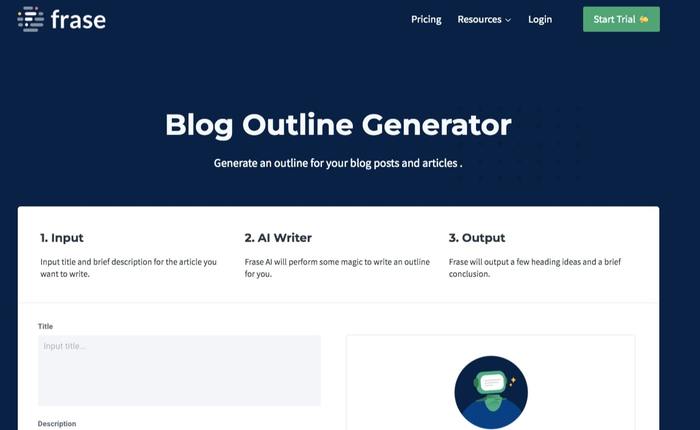 Input your title and description and wait for the AI tool to generate outline suggestions based on the ranking pages for the keyword.
It gives you insights into your outline quickly—no more hassle when starting. 
9. Optimize On-Page With Surfer SEO 
Competitive advantage is when you build proper on-page for your content.
It's not that easy. Add semantic keywords and entities to your content for more topic coverage and topical authority. Include headlines that target topically related keyphrases. 
This takes a lot of work. 
But with SEO tools like SurferSEO bring out the exact terms and instructions you need to optimize your content better.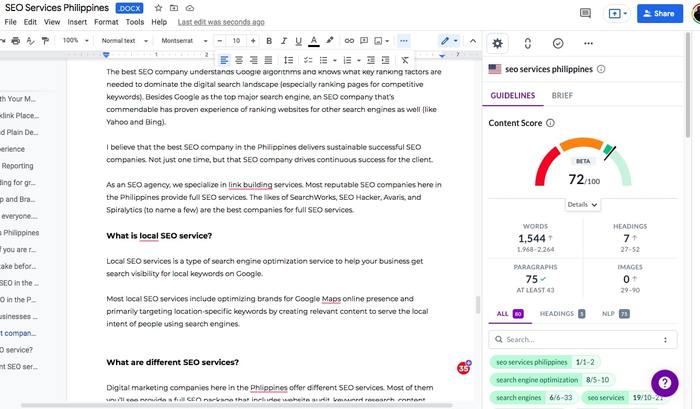 With exact frequency.
And some other entities you can include.
Build your topical authority by providing the quickest answer and most comprehensive information about the topic. 
10. Demonstrate E-A-T By Hiring Industry Practitioners.
The bar for content quality increases as more and more brands invest in content marketing.
It's now a competition of expertise.
E-A-T (Expertise, Authority, and Trust) matter in SEO. 
Experts and industry practitioners can provide better and new information than average writers.
They know exactly what to include in the "How-to" section and provide accurate and quick answers for the "FAQ" section. 
Recently, I've started my affiliate health blog that covers everything about sleeping. 
I could find any writers from different content writer sourcing platforms, or spend time finding the right fit — which in this case, are medical practitioners. 
Through Upwork, I was able to find a doctor who writes for health blogs. 
The content provides the highest quality of information with concrete instructions because of the writer's expertise.
Key takeaway:  Hire industry practitioners to write for your blog. It makes your content credible and valuable — and helps you rank quickly. 
11. Improve E-A-T by Adding Author Bios of Reviewers and Co-Authors  
Besides the quality of information you get from industry experts, you also benefit from added "author bio". 
If you ask industry writers to include their author profiles on your content, they won't hesitate to say "yes" to you.
Simply because it's an added credibility on their part and more opportunities to market their content writing projects. Easy.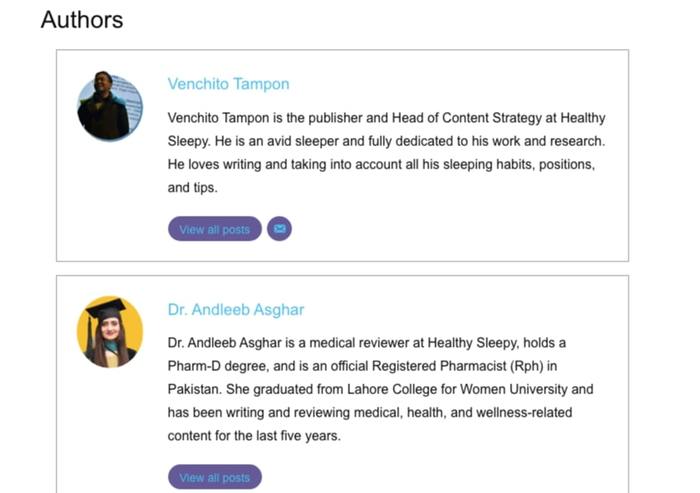 What benefits this to you?
Topical authority. Your content is much more reliable as you showcase reviewers of your content (and who they are). Their experiences, educational background — all these improve E-A-T of your content. 
Check out this Mobile Monkey's guide on how to become a content creator.
12. Apply "First Mover Advantage" When Writing Content 
What is the first-mover advantage?
It is your ability to better off than your competitors as a result of being first in the market. 
Being first is way easier than being the "best".
In content marketing, that translates to providing new information you won't see from your competitors' content.
You can do it by finding resources not easily sourced out elsewhere. However, that does take enough work for research.
For example, you can search for filetype:pdf "keyword" to discover file attachments of documents, presentations, and other resource formats from the internal data team and practitioners.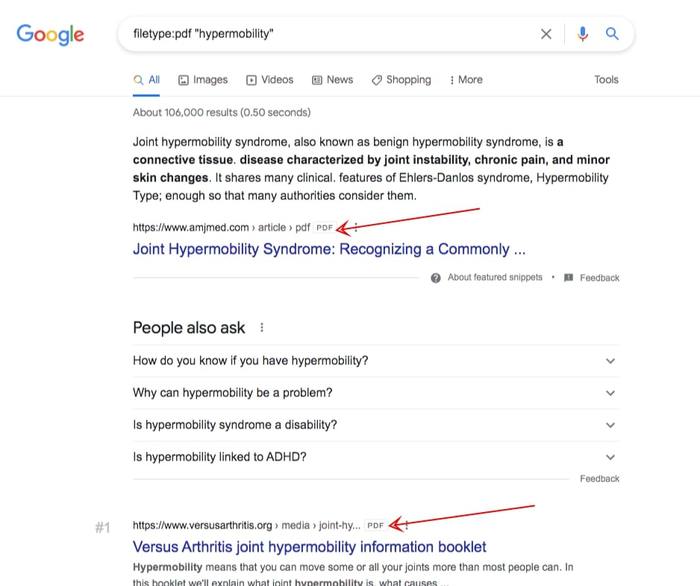 Most often than not, those files contain information that gives you a "first-mover advantage" when included in your content. 
13. Create Shareable Images
Shareability is vital for content to get additional links. Thus, it helps improve your website's rankings.  
Ahrefs, for example, create different shareable images that include workflows, templates, data, and other internal information that often gets citations.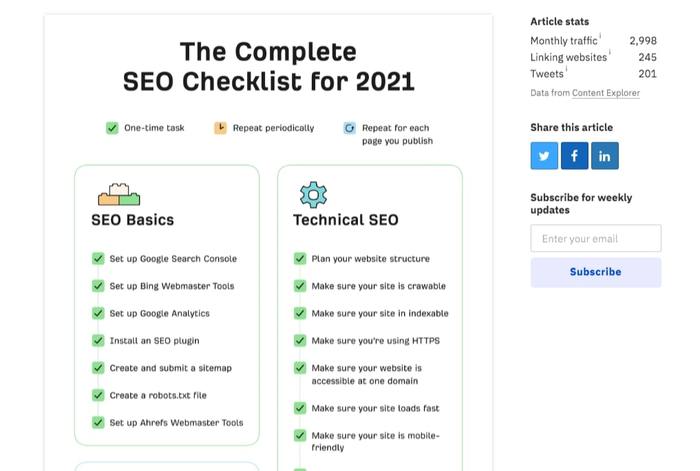 Another brand doing well in creating shareable images is The Zebra, an insurance comparison website.
They publish statistics content with citable, shareable images of checklists, surveys, and internal data.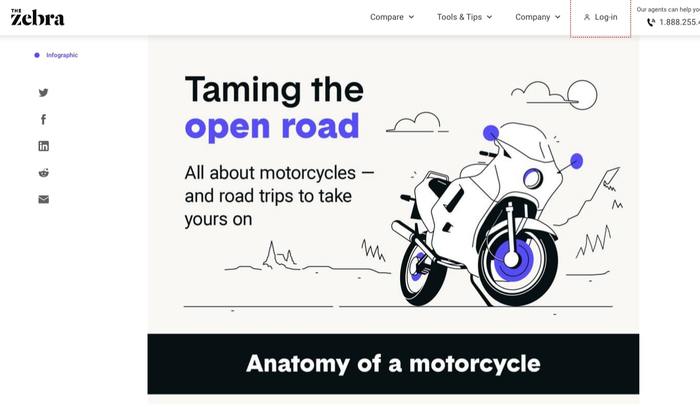 Both these brands understand the power of shareable images and how it positively impacts the perceived value of their content.
Think of how you can add more value to your audience by creating shareable images. 
14. Add Descriptive Conclusion (Not Just "Key Takeaways"). 
One of the most overlooked parts of a content piece is the conclusion.
Most often, writers would simply put a header, "Conclusion" or "Key Takeaways" and summarize the entire article into one or two paragraphs.
A good content marketer knows how to grab his readers' attention from beginning to end of the article. 
One creative tip is to emphasize a call to action or any challenge to readers. 
Look at SiegeMedia's ability to persuade his readers to act on the information.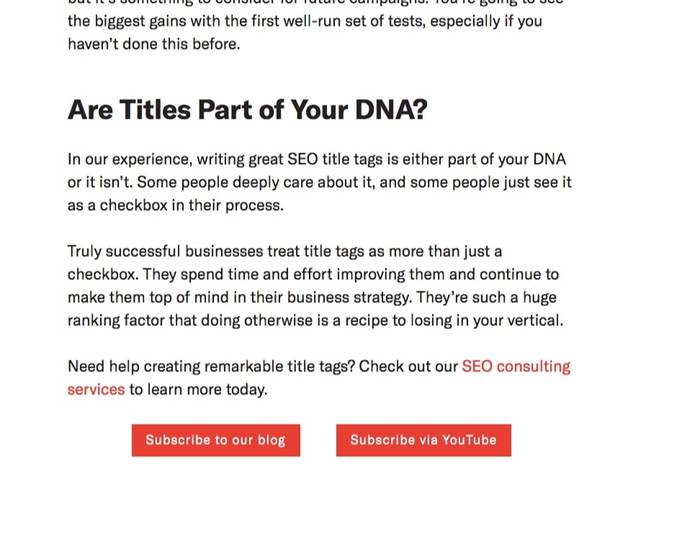 And other notable brands that do this well.
15. Upgrade and Upgrade Content 
One best practice in SEO and content marketing is always to make content relevant to its audience.
That means you update the content from time to time to ensure the timeliness and usefulness of the information to current times and industry trends. 
While having the ability to upgrade the content to make it the most comprehensive content on the topic, year by year.
One SEO technique is to add information for keyphrases your content has impressions yet is not currently ranking for. 
You can use tools like Search Console and Ahrefs to find key phrases to optimize your content further.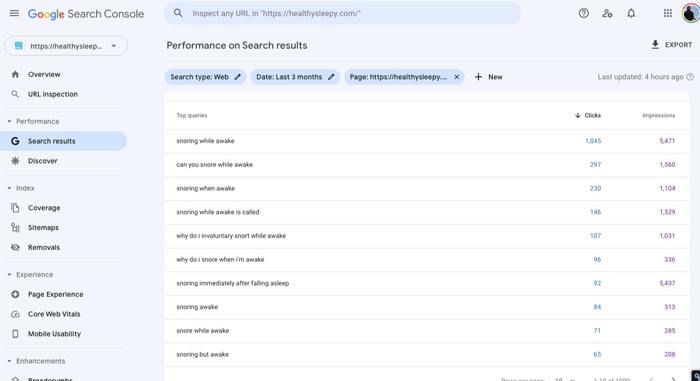 In Ahrefs, simply enter URL of your page that's ranking well and go to its Organic Keywords report.
Scroll down. Discover and check keyphrases you can eventually turn into headings and sections of your article.
By doing so, you improve topic coverage of content and help improve its rankings for those topically related terms. 
16. Do Conversion-Oriented Internal Linking
Internal linking is often an overlooked SEO strategy yet provides high returns on ranking improvements. 
If you have middle-of-the-funnel content tied to your landing pages, it would be helpful to link to your conversion pages.
It is a strategic move to get more conversions simply through internal links.
Take a look at Gusto. They did a great job internally linking to their product pages from "how to buy" and other middle-of-the-funnel content.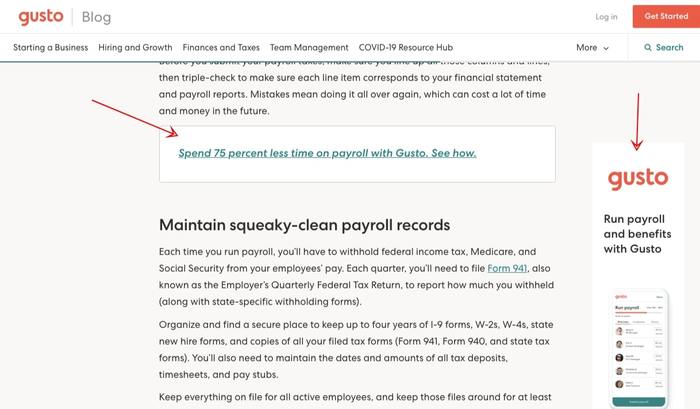 It's much easier to get conversions this way, as potential customers have a semi-intent of purchasing products. 
Go through your pages and see which pages you link internally to your conversion pages.
17. Create a Content Calendar 
Organization of content ideas is critical to producing highly useful content assets consistently. 
It is easier to be consistent if you plot those topics in a calendar.
There are many ways to create a content calendar. 
Here are some valuable resources to help you jump-start with that.
18. Use TweetHunter to Grow Your Audience
Twitter is becoming more and more of a content platform these days.
As more influencers and brands leverage the power of Twitter threads to showcase their expertise and build a strong following, the use of the platform is more of a necessity than a luxury.
However, using Twitter may seem time-consuming for most busy entrepreneurs and marketers. It eats up their time — as they say. 
The key is to do it in a single hour (or a few hours every week) and let it run for you.
How?
Publish tweets quickly using TweetHunter.
The tool allows you to write and schedule tweets through built-in AI suggested ideas. 
You don't have to consume all your mental energy to flesh out content. All you have is to swipe all trending tweets in your industry and/or based on niche keywords.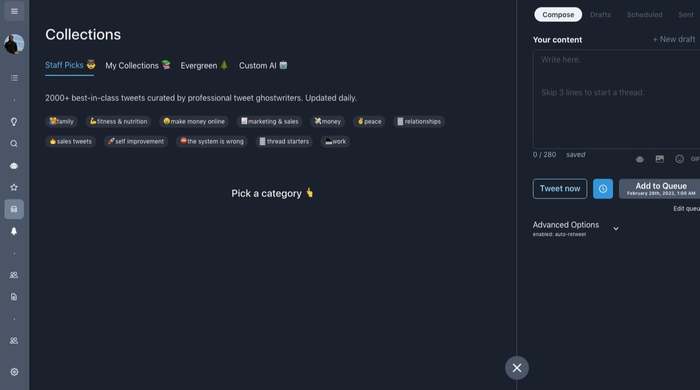 Another cool feature here is to engage with like-minded influencers on the platform itself.
All you have to do is to find tweets from profiles with a certain number of follower counts (>2000). And straight from the platform, engage these followers by replying to their tweets. 
19. Repurpose Web Assets For Content Promotion 
Content writing is 50% of the battle. The other half should be spent on content promotion.
The key here is not to overdo the "thinking process" of content promotion but to leverage some assets you've published on your site and distribute them across your marketing channels. 
You can repurpose web assets by turning them into other content formats that are better contextualized to be promoted in a particular marketing platform.
For instance, instead of creating another new Youtube video to be posted on Tiktok, you may instruct your graphic artist to produce several short reels (videos). Contextualize it to the platform you're marketing to, either by adding texts, sounds, images that are popular or useful to your target audience.
Another way is to turn industry guides into several shareable images, which you'll then use as bait for guest posts. 
Simply upload images as part of your email outreach campaign to get more attention right at the start of the pitch.
20. Do Omni-Channel Marketing With Your Content 
If you hit the right audience with content on specific platforms where they engage, you get followers consistently and build your brand.
Omnichannel does that.
Look at different customer touchpoints. And see which marketing platform can help you further your content.
21. Leverage Blogger Outreach To Get Backlinks
Blogger outreach is a solid strategy to get in front of your potential customers, acquire backlinks and improve your website's rankings.
Given that readers are likely to follow personalities (bloggers) if your brand has been linked to one of their content pieces, you'll have chances of getting more clicks from those inbound links.
Do strategic link placements on industry blogs.
Either leverage content-driven link exchange or other link building strategies on blogs. 
Content Marketing in Action
You'll find many ideas on how to create and promote your content. But these ideas will come into reality if apply them. 
Best practices are based on different contexts and scenarios. Test them out and see results yourself. 
How our LINK BUILDING AGENCY builds 250 links/mo consistently using Predictable Link Building Methodology™…
Using a SIMPLE and PROVEN system

Using a SCALABLE strategy
No private blog networks
No creepy outreach emails
SHOW ME THE FULL LINK BUILDING STRATEGY