Choosing the right content writing service provider can be a difficult decision in today's market. Some companies offer cheap content writing services without proper quality, relevance and knowledge to the client's industry. They publish content for the sake of publishing.
At SharpRocket, we create assets that can attract visitors to your site, generate targeted search traffic and earn links to your webpages from your potential customers. All of these goals can be met when we help you develop your content creation strategy.
OUR CONTENT WRITING PROCESS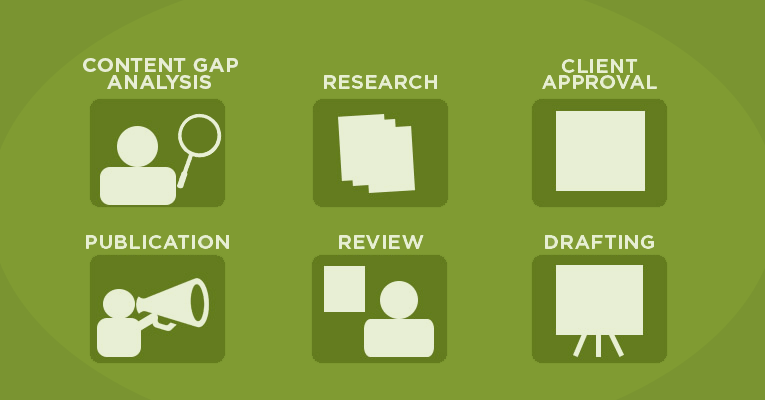 CONTENT GAP ANALYSIS
Our content management team will conduct an analysis of the top performing content pieces of your competitors and identify what organic keywords these pages are ranking for. We will then create a strategy planning what content topics will best fit for your website that you haven't published yet, categorizing them based on relevance and customer level in the buyer's journey.
CLIENT APPROVAL
We will hand it over a content creation plan to you at the beginning of each month. This allows you to give us your feedback and suggestions to make sure each and every content asset is excellently crafted for success.
REVIEW
We allow all our clients to review our final draft of content and let us know of any changes that need to be made – up to two revisions only. One we've made all the changes required, our team will proceed to the last phase, which is the publication of the content.
RESEARCH
Once we are done with initial research, we will then pick topics and plan them out by giving exact details of how these topics could be realized into a published content asset. This will include an initial outline of points to be discussed, layout, content format and other pertinent details for content creation.
DRAFTING
After we get an approval of topics for content pieces, our creative writers will complete its final draft on or before the third week of the month. The final draft will include all images (screenshots and relevant non-stock images), tables and other formats to make the content more appealing and engaging to its target readers.
PUBLICATION
Our content team will collaborate with your own in-house team to publish the content with all the requirements needed. This will include adding visuals, tagging it into the right category and optimizing the content for search engines.
WHAT KIND OF CONTENT DO WE PROVIDE?
Content types are intended to serve a purpose. Not all blog posts are designed to promote a product or service. Some articles can help your visitors to interact first with your site, to start a conversation with your team or to take menial actions that you want for them.
SharpRocket creative team offers the following content writing services:
COMPREHENSIVE GUIDES / TUTORIALS
We can help you create authoritative resources that establish your brand as the "go-to" website on a particular subject in your industry. This can give your website more opportunities to increase its social following and referral traffic from publishers who will be linking to your content. As we help you consistently publish comprehensive industry guides, it will be easier for you to dominate your market and get returns from your investment.
EBOOKS
We can create ebooks that will help move your visitors to the bottom of your marketing funnel. If you are struggling to get leads from your website even if you have thousands of visitors in your site, high-quality ebooks created by SharpRocket's team of writers will help convert these visitors into email subscribers, which will then convert into customers.
LINKBAIT
If your main goal is to build or earn links to your brand, then linkbait is the right content asset for you to create. Linkbait can help increase your chances of acquiring links that are needed to push your webpage(s) to first page of search results for your target keywords. By partnering with our team, we can help customize a linkbait strategy that can attract both links and loyal user base to your brand. We can show you how to market this asset to proper places so you can build a strong link acquisition channel.