If you've been in the SEO industry for years, then you know how important it is to scale link building to help multiple clients rank in search for their respective keywords.
Given that almost every year, there are new link building strategies being created, the best way to be on top of the game is not to think of new strategies (since mostly they're just revised version of old ones), but to create scalable processes for your link building campaigns.
In this post, I'm going to walk you through one scalable strategy we've tested internally that can give significant results to your website: building .edu links using scholarships.
It's amazing because we hadn't spent a single penny yet when we built 14 .edu links in two months' time.
Want to learn how?
Keep reading:
STEP 1: TARGET RELEVANT NICHES
Audience targeting is not only a necessity when executing common link building strategies like broken link building and guest blogging.
In fact, even when you build .edu backlinks, you still have to know your target audience that is highly relevant to your website or your client.
Here's how to make it simple.
Identify audience of students who'd be interested in your scholarship program.
With our link building services, for example, we focus our scholarship efforts to students majoring in courses related to marketing, business, and advertising because we've found them to be more relevant to our website.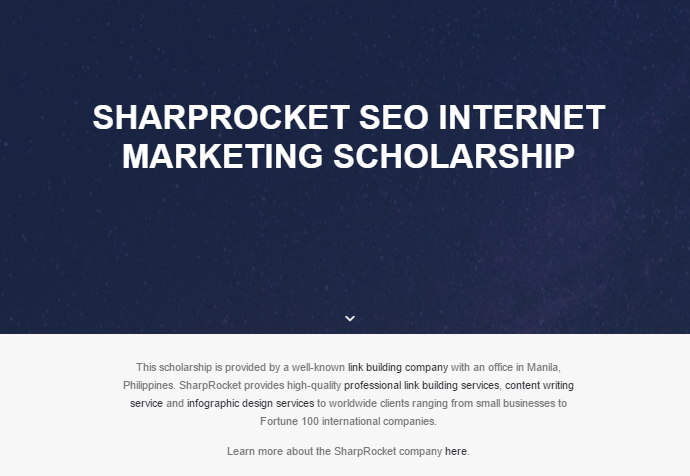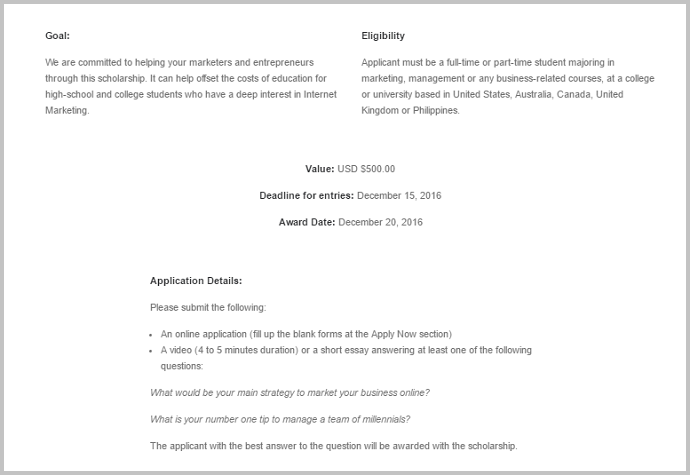 This is critical because if you got backlinks from .edu pages that are too far from your industry, it would be less valuable to your website. I'm not saying that generic .edu links aren't good enough, they are of course, but if you can get a high-quality link from a much more relevant page, that would be better.
Here are a few examples of audiences you can target for scholarships: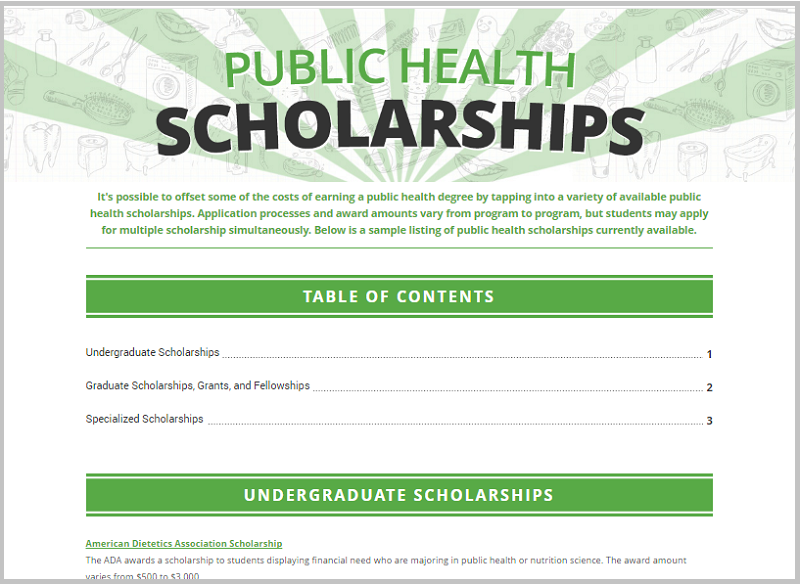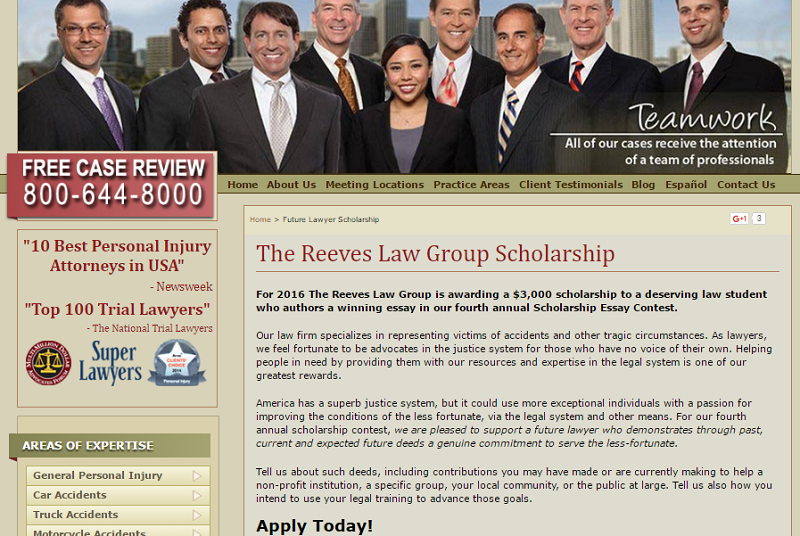 STEP 2: CREATE A SCHOLARSHIP PAGE
It's very simple to create this type of content.
However, you've got to have the important details.
Here is a few information that you need to include in your scholarship page.
1. COMPANY DESCRIPTION
Provide a short description about your company. This is actually where your whole domain will mostly get value from.
Internally link to your homepage or other important pages to pass link juice to these pages.
Here's a quick example of what I did for our link building company site.
[internal-links-scholarship]
2. ELIGIBLITY
The more specific you are when stating who will be your target applicants, the better you'll get responses from university and college staff members.
These are necessary details you need to do include in the eligibility section:
Full-time or part-time students?
Specific and relevant courses of students
Upcoming college students (high school), undergraduate or graduate?
Target country (if it is within a city or local, make sure it is stated).
See this example:

3. AMOUNT VALUE
The amount of scholarship depends on your budget for your client or your website. But I'd prefer the minimum to be $1000. Any amount lower than that won't be attractive to educational institutions. I've seen $300 scholarship program, not sure how it went.
4. APPLICATION DETAILS
This section should include how your applicants will be able to get the scholarship. This could be a submission of a written or video-based answer to a question related to the industry.
For example, we've asked our applicants to submit a short essay or a 4 to 5-minute video answering any of these questions:
What would be your main strategy to market your business online?
What is your number one tip to manage a team of millennials?
Alongside the process of application, you should also state the deadline and award dates.
To make the application much easier, provide a contact form at the end of your page so they can attach and send their requirements right away.
STEP 3: PROSPECT FOR EDU LINK OPPS
Not all educational websites have relevant scholarship listing opportunities you could get links from.
When finding those link targets, I use two different methods to find opportunities that best fit my scholarship page.
METHOD 1: USING SEARCH ENGINE OPERATORS TO FIND OPPORTUNITIES
Search engine operators are useful to help you seek possible link sources straight from search engines – Google, Yahoo, and Bing.
Combining appropriate search operators with proper keywords can filter the right prospects, enabling you to do link research much faster.
I use different search phrases, which I've collected and listed down in a spreadsheet to find .edu link sources with scholarship pages.

This is pretty handy as you can hand over this task to a virtual assistant, freelancer or your in-house SEO specialist (thanks to Jayson Bagio!).
What you are looking for in a scholarship page are two things:
Solely list down relevant scholarship links or has a specific section that caters to your audience (i.e. a generic scholarship listing page with marketing external scholarship links).
Has linked mentions of your scholarships (you want to get the most value from your effort of course – so make sure they provide external links).
With this strategy, you don't have to worry about domain authority, ahrefs rank or other metrics you are using to qualify link opportunities since most .edu websites are within the range of DA40 to DA90.
You should also make sure that external links point to individual scholarship pages, not just to scholarship search engines or websites solely for scholarships.
METHOD 2: REVERSE ENGINEER A SIMILAR SCHOLARSHIP PAGE
If you are running out of .edu scholarship listing opportunities, another way to expand your link list is to reverse engineer scholarship pages with edu referring pages.
You can use Ahrefs to plug in a similar scholarship page (which you can simply search in Google for the "keyword" "scholarship").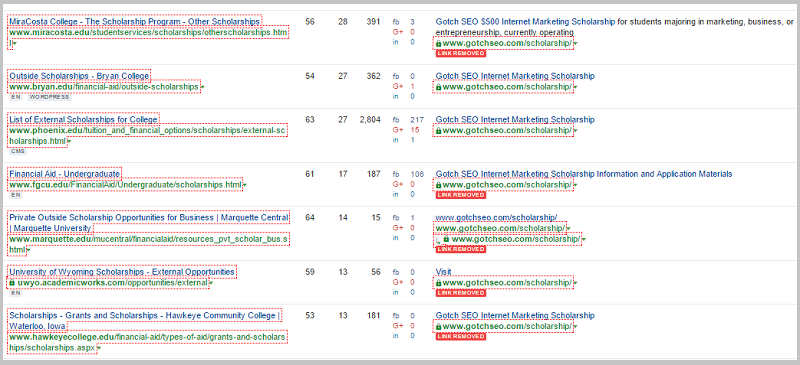 Scan through the list of backlinks and .edu websites with scholarship listing pages.
Once you've exhausted all possible link opportunities from one scholarship page, find another similar page and do the same process again.
Rinse and repeat.
MAKE SURE YOU ORGANIZE EVERYTHING
The key to properly scale this .edu link building strategy is to organize everything.
I use Google Docs spreadsheet for all tasks accompanied in a link building campaign.
Once you find a qualified link opportunity, include it in a Google Spreadsheet with all these required fields:
Scholarship Listing Page
Domains
Relationship Status
Name
Email Address
Remarks

FINDING CONTACT PERSON
Universities and colleges have several staff members, and the only way to build Edu backlinks is to reach out to the right person.
There are two types of emails we consider for scholarship link building technique:
[email protected] – you can get this email straight from the scholarship listing page
[email protected] – if you can't find the first email above, look for this one by checking out the admissions and/or finance aid department/section of the website.
[email protected]  or contact form – if you can't see any of those emails above, you can simply send a simple message (email template later) to a generic email or through a contact form, asking for the right person to contact to about your request.
STEP 4: REACH OUT TO EDU SITES
When all details had been filled up, you are now ready to do outreach.
This is the exact email template that I used to reach out to .edu contact persons.
Scholarship for [ UNIVERSITY / COLLEGE ] students
Hello [ NAME ],
I noticed that you provide a list of private scholarship for students.
I'm sending you a message to let you know that my company offers one (1) [ AMOUNT] scholarship to [ UNIVERSITY / COLLEGE ]  students that major in [ INDUSTRY ] courses.
Please feel free to contact me with any questions you may have so that I can send more information about our scholarship.
If it's not you who directly manages scholarships, can you forward me to the right person, please? I'd greatly appreciate that.
Regards,
[ YOUR NAME ]
When you send pitches to these people, you'll most receive three types of responses.
RESPONSE #1

If you receive this positive response, you just have to send all the details of your scholarship to them either via email or via a form which they will provide.
Once your scholarship is posted, they will give you a heads-up. If you don't receive a reply, make sure you are monitoring new backlinks to your site so you can see if you've got a backlink from one scholarship page. Pro tip: use Monitor Backlinks to ease this process.

Anchor texts on Edu backlinks are diversified: some are naked URLs, others are exact scholarship titles.
RESPONSE #2

If you can only offer less than $1000 or $500, some Edu sites won't include yours in their scholarship listings, since they have a certain threshold they consider.
RESPONSE #3

Another case is when financial/admission departments restrict scholarship listings to one or two districts or local-based scholarships only. See the response below.
A few more things:
Some Edu sites don't list individual scholarship pages, but they get to add new scholarships from scholarship search engines. To increase the chance of getting an Edu backlink, you can try submitting your site to scholarship search engines.
Be specific with audience targeting because some EDU financial departments do not add any scholarships not thematically related to courses of their students (e.g. if it's a marketing-centric scholarship, don't dare to reach out to psychology-based scholarship page).
WITHOUT SPENDING A PENNY
The title of this post says, "Without Spending A Penny."
That's true because I'll only spend some money ($500 in my case) on the scholarship award date.  I would have received the returns on the efforts before the money is spent. For a $500 budget for 14 links, that already amounts to $35 per 1 Edu backlink.
If you liked this post, subscribe to our newsletter and follow me on @venchito14.
Need help with your link building campaigns? Check out our link building services here.
[ninja-popup ID=3606]
How our LINK BUILDING AGENCY builds 250 links/mo consistently using Predictable Link Building Methodology™…
Using a SIMPLE and PROVEN system

Using a SCALABLE strategy
No private blog networks
No creepy outreach emails
SHOW ME THE FULL LINK BUILDING STRATEGY