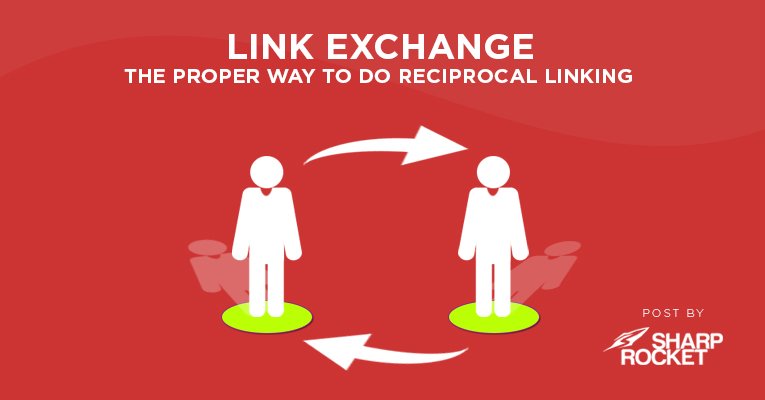 Link exchange or reciprocal linking is a link building strategy wherein 2 different websites on a similar niche or industry give a link or links to each other's webpage.
Though this practice has been abused for many years, e.g. a webmaster tries to rank for terms like "car insurance Australia" will find other webmasters in a same/different industry who would be interested to do link exchanges. The approach is to link to another website with exact match anchor text (another webmaster is trying to rank for) and get a link from that other website (for a target keyword he is trying to rank for as well).
Google itself instructed SEOs and webmasters about this approach of trying to manipulate Google search rankings.
" Excessive link exchanges ("Link to me and I'll link to you") or partner pages exclusively for the sake of cross-linking. "
Does that mean, link exchange isn't effective anymore these days?
THE RISE OF THEMATIC LINK EXCHANGE
I'm sure many SEOs and bloggers will disagree with me that thematic link exchange still works up to this date.
Thematic link exchange is a relationship-based link building strategy that involves intentional or unintentional linking and getting a link to and from another webmaster in the same industry who isn't a direct competitor of the business.
Here are four thematic link exchange methods that works pretty well in most industries, especially those that are sitting in very competitive ones.
1. RELATIONSHIP-BASED LINK ACQUISITION
Link exchange often occurs in an unintentional way. For example, I've been blogging for many years now with my first blog and here at SharpRocket.
I've built relationships with industry friends who also blog about SEO and link building. By acknowledging their work through linking to their content assets that serve as additional references or resources in my existing posts, it's an added value initiated to build trust which strengthens the opened relationship with them.
For instance, I linked to Rohit Palit's post on tiered link building. After a few months, he gave me a backlink pointing to my content creation and promotion guide in his article about increasing the domain authority of a website.
We're not direct competitors, as he is not accepting sole link building services as his website client offering.
But here's another case where one of my direct competitors linked to me.
PageOnePower is a link building company that has been in the industry since 2010, they blog about the same topic I'm passionate about.
Here are a few backlinks I gave to PageOnePower.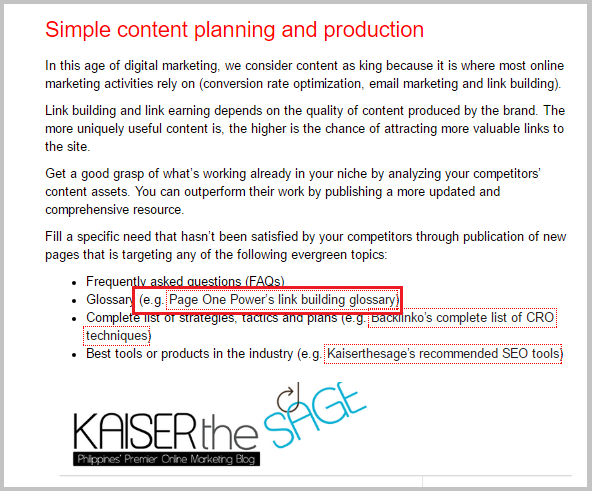 Relationships take time to get some returns. Guys from PageOnePower have give contextual backlinks to DigitalPhilippines many times. These are backlinks not built through manual outreach, but simply because they've known our brand, we have already given them and have established an authority in the link building scene. These backlinks are naturally earned.

Here is another example of how relationships can be effective for link exchanges. It is a conversation between Rohit Palit and Patrick Coombe.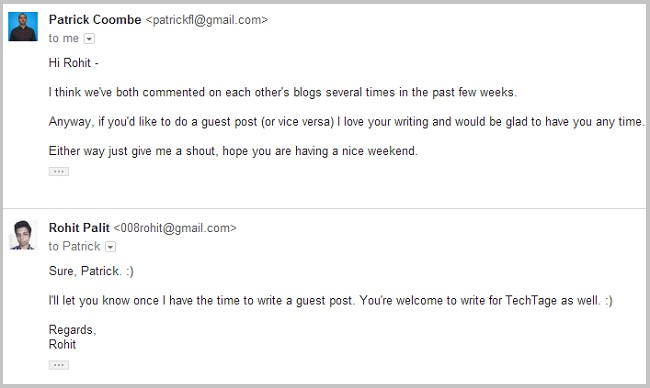 Both have provided value to each other, as they've been commenting on each other's blogs many times (see image above).
If you're wondering how you can start building relationships with other industry bloggers, here are a few tips you can apply:
Start showing yourself in the blogosphere. Comment on other people's blogs. It'd only take you 3 to 5 minutes for each comment per post (only look for relevant content you can give valuable insights to). If each blogger posts once every week, it won't consume much of your time.
Send a "thank you" email for sharing his actionable tips on his blog or find a similar interest both of you can relate with. For example, I often receive responses that they've visited Manila or some other parts of the country, so I asked them how's their vacation experience here. It starts a smooth flow of conversation.
Share other bloggers' content on other blogs. Don't use the default Twitter share: TITLE OF POST by TWITTER HANDLE. Add descriptive call-to-actions to let your followers click on the page and start reading it – it's way to add more value than the simply doing a default Twitter share.
2. CONTENT SWAP
Guest posting is still one of the mainstream link building method these days because it's pretty scalable and can really help skyrocket one website's traffic even in just a short period of time. Combined with other link building tactics, it is a robust link building strategy one can ever wish to implement and see results for themselves.
However, there's one problem I've seen with a lot of guest posting enquiries these days — they aren't giving any value. Even if the content they intend to provide is relevant to my blog, I won't see that as high value.
Content swap is the solution. It is a link acquisition process where both bloggers will provide high value content to each other, both with the goal of bringing exposure to a new reading audience for both sides.
This is very helpful when building links to websites in difficult industries like legal.
You can actualize this process by prospecting for list of local opportunities, where most legal industries focus on local marketing/branding.
You can try Google searches for "Miami" "legal" for example, then find any company websites that have recent blog updates so you'll know if they are publishing content on a regular basis. Make sure that you don't include link prospects that are not in direct competition with you – it'll be close to impossible to get links from them.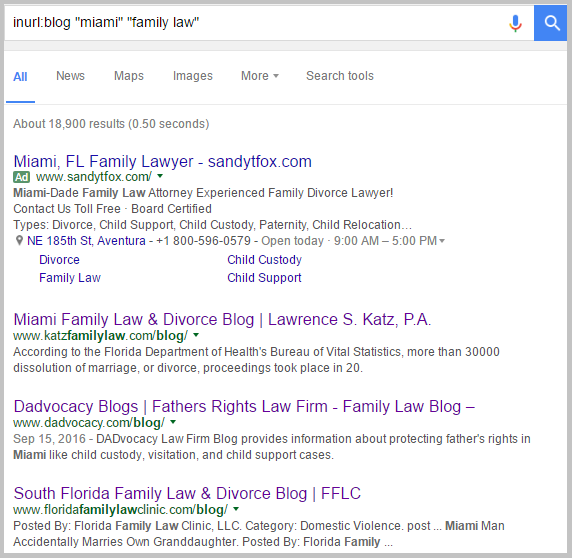 Once you have a list of local industry bloggers, it's time to reach out to them.
Here's a template that I used for content swap outreach.
Subject: Content swap for your legal blog, NAME
Hi [ NAME ],
My name is Tiffanny Chappels, an immigration lawyer and legal blogger based in Miami.
I came across your website and really like what you recently published. I would like both of our blogs to grow website traffic and would like to know if you'd be interested for a content exchange – I write for your blog, you write for mine.
I'd love to write a post for your blog related to child custody or family law.
If it needs to be in a conversational tone, I'd be happy to do that.
Let me know if your thoughts.
All the best,
Tiffany
A few things why this pitch works:
Industry to industry-based outreach emails are much more effective as they become more relevant to the recipient of the email.
Adding where you're located as a company adds a quick connection, with that, you can use a corporate email of your client.
Propose added value by sharing a customized content for your guest post – conversational tone. This helps you get a higher conversion rate.
3. CONTENT PARTNERSHIP
Another ethical backlink exchange strategy that works is content partnership, originally discussed by Jason Acidre on his SEO blog.
I've found that this is not scalable to all industries, especially in niches where there are no active bloggers.
But the key to make this link building method work is making yourself familiar with the brand you're reaching out to. After all, you want a partnership that can generate consistent results for both ends.
The difference with this link building technique compared to content swap is that you can offer different types/formats of content based on each party's needs, options such as:
Conducting a back to back interview. See this example at SEO Hacker and Kaiserthesage.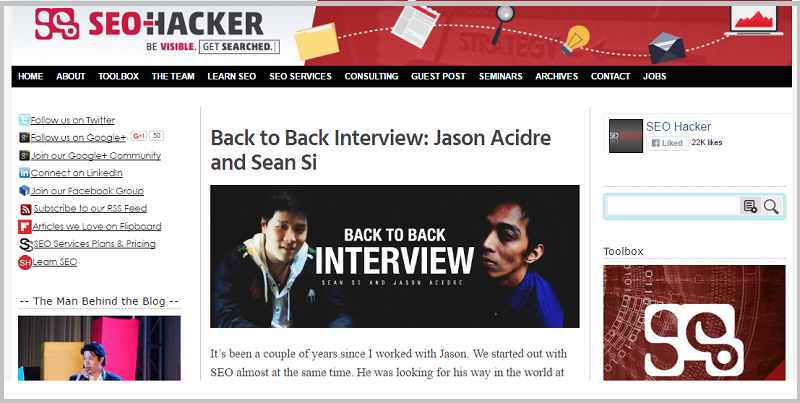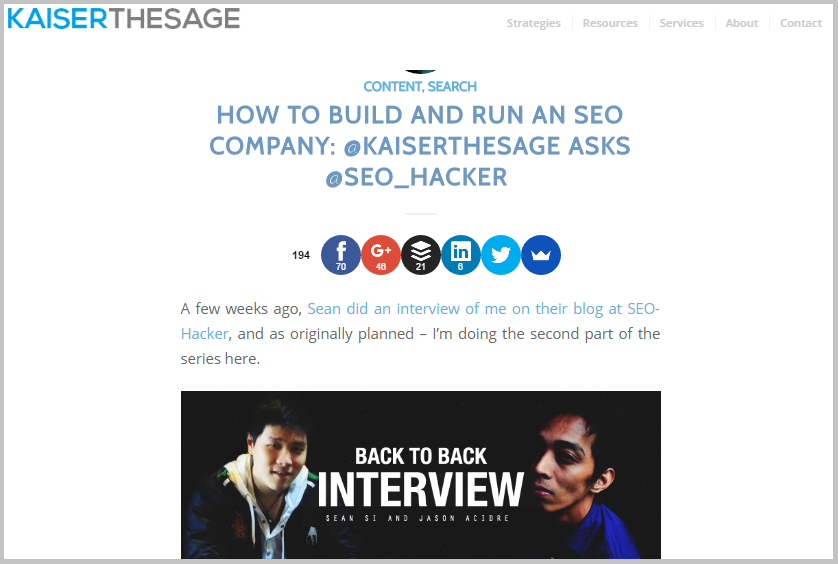 Inviting your content partner to write a guest blog on your site and writing a content for them as well (see this guest post at GotchSEO and Webris).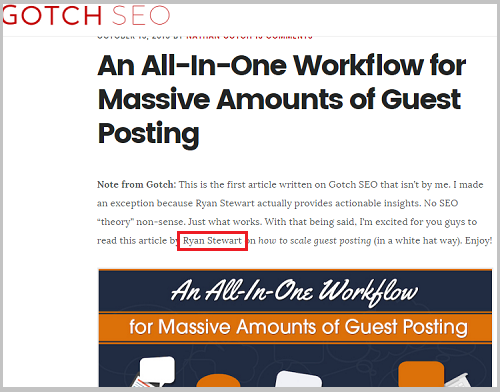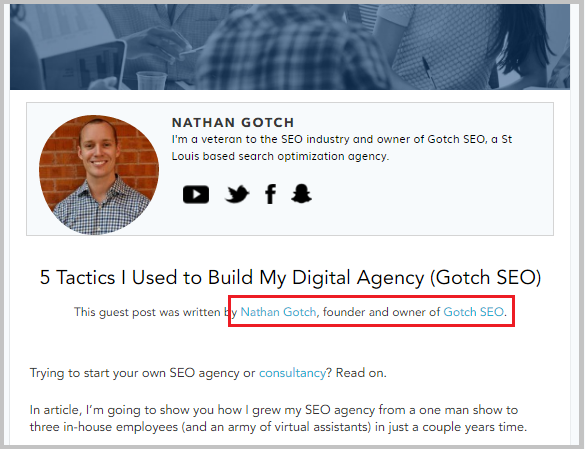 Offering an exclusive write-up or promotion/sponsored post on his site and in exchange, making him as your media partner. I wrote a promotional post for my previous startup workshop for Tycoon, in return, I added him as my media partner for my book.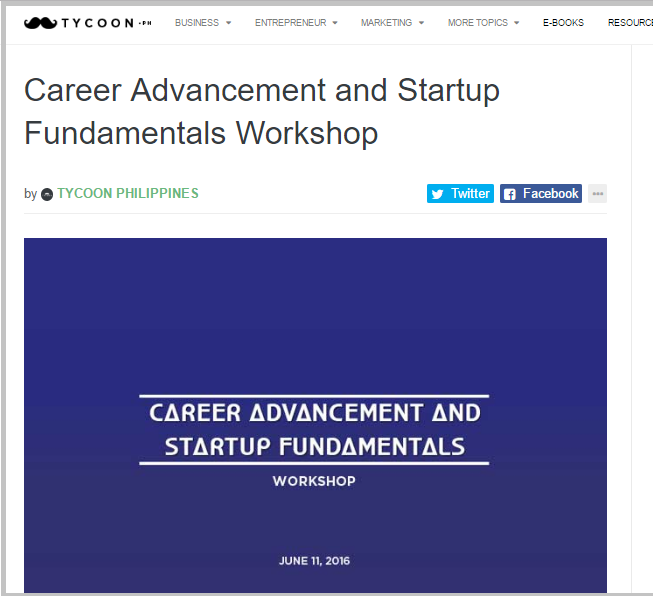 For the outreach phase, here is an example pitch Jason sent to one of his content partners. You can make variations of it based on the value proposition you'd like to provide to your targeted content partners.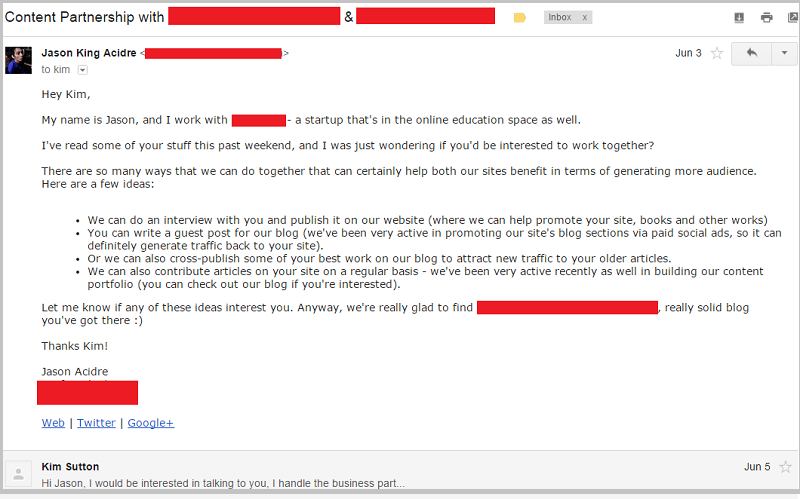 The value of this thematic link exchange strategy is far more beneficial than a single link you'll get from the typical link exchange, because this content partnership can help generate leads for both parties (of course they shouldn't be competing with each other), referral traffic, expanded branded exposure/influence and additional following for both social accounts.
Now It's Your Turn…
Do you have a thematic link exchange strategy that works for you?
Or maybe you have a question on how to implement any of the tactics in our above list?
Either way, leave a quick comment below.
I'll be more than happy to reply to comments and answer questions.