Looking for new ways to get backlinks and boost your site's Google ranking?
Great! 
This post contains 21 new link building tips and strategies that are working in 2022. 
Let's dive in.
1. Create An Image Library 
When people use your images, you can ask them to credit you with links.
The more images you produce, the more links you can reclaim for your website. 
How can you start with this?
First, analyze what images are linkable. 
Start with any of these sources to know what images get the most links: 
You want to look for images that are likely to be used by publications and blogs.
The reasons why bloggers would use it is very simple:
They want to show how a person behaves the way they mentioned in their articles or how things are used. 
And if you can give them images that portray that, then you're hitting their needs.
It must be any of these themes: 
Places: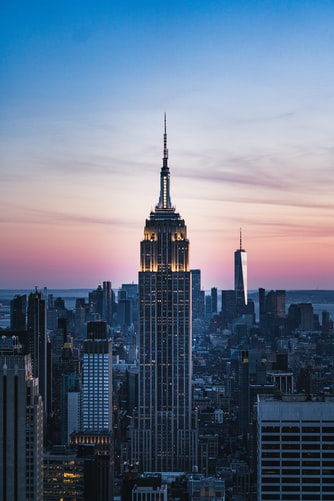 Objects: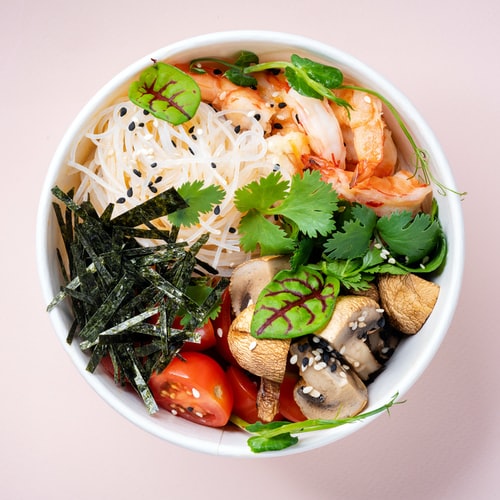 Events: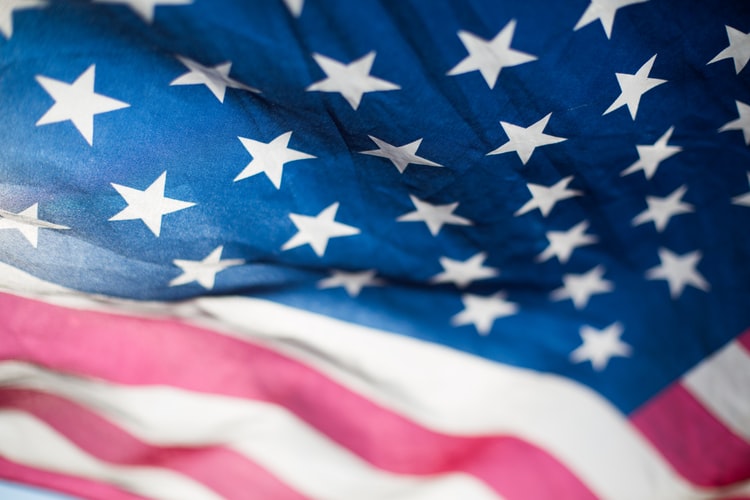 People: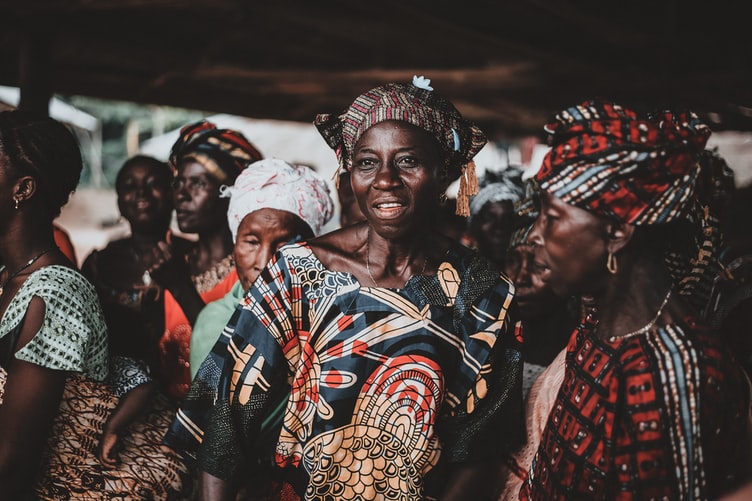 Actions: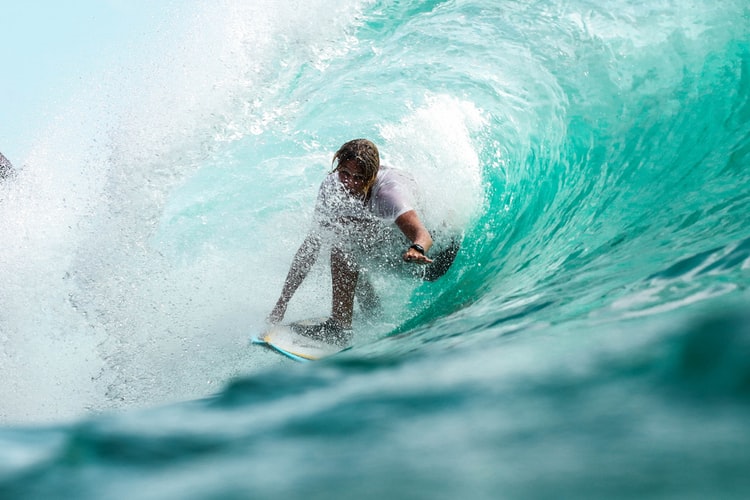 Emotions: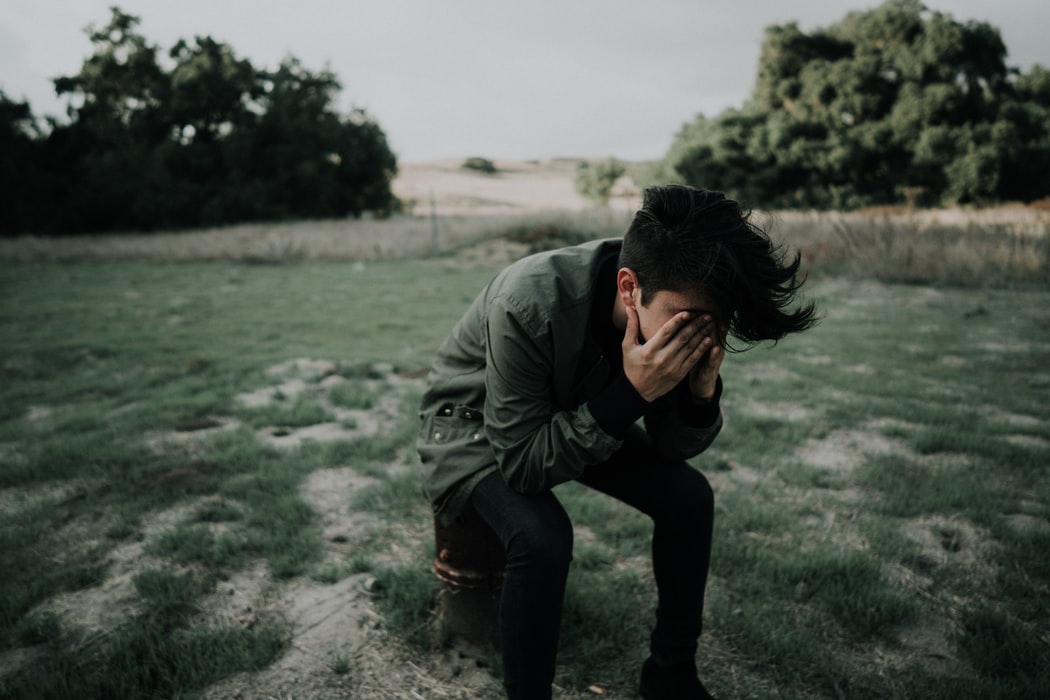 Go look for them on a photo source website by typing your niche keywords. 
For example, "work from home":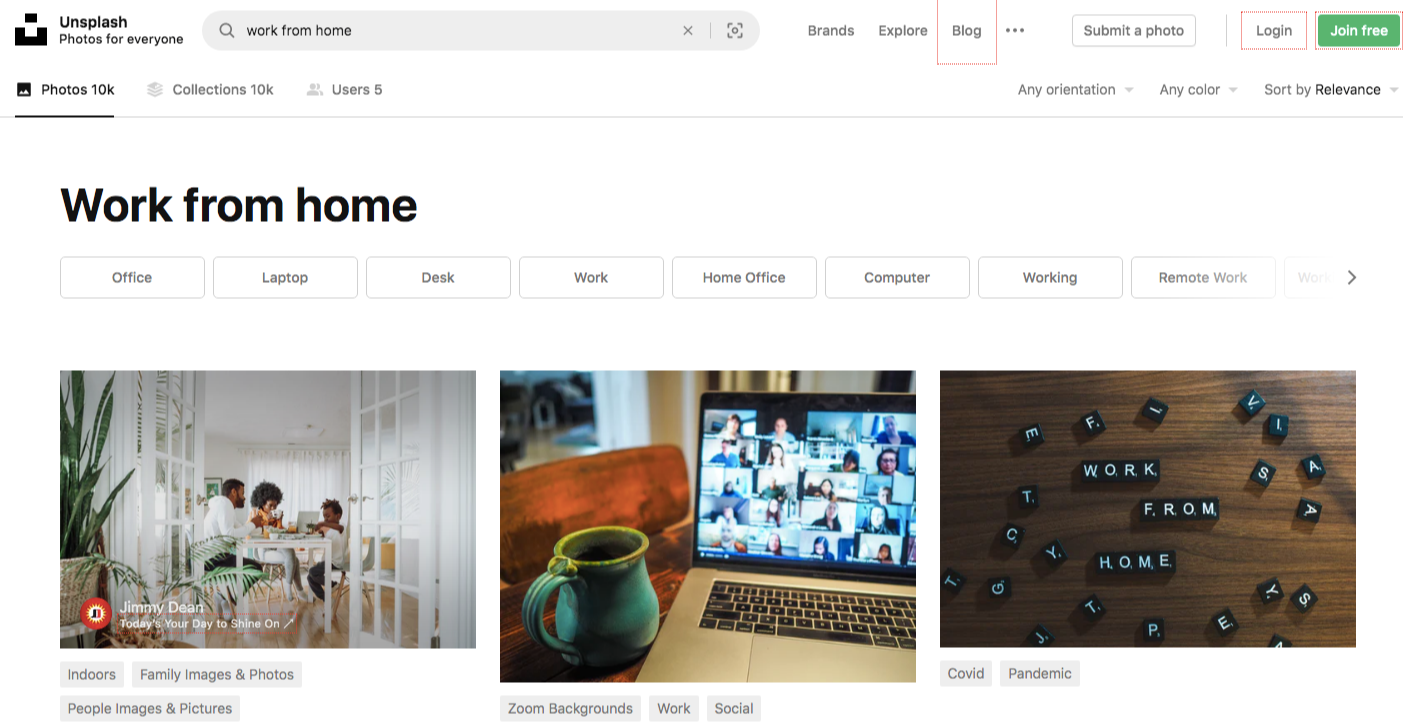 Or go to the Popular section to get a sense of what photos individuals and businesses are paying for.
Grab any image and plug it into Tineye to see how many sites have used it.
Once you analyze what images are often used by bloggers and publishers, go to your blog and start publishing an image library.
Create an image library that you can license under "creative commons distribute". 
Get these images uploaded on Flickr and other websites mentioned above. 
What you input in Flickr as title and description will be your page title and meta description box.
Make sure you add your attribution request in your description. 
Start with 30 images. 
Then as you get results, add 5 to 10 more each month. 
Monitor who uses your images using Tineye Reverse Image Search.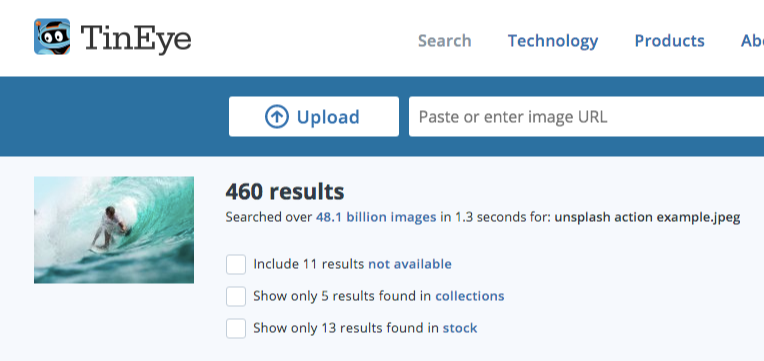 Or using Copytrack.
Or Picmatch.
Spot use of your images without links. 
Reach out to them and ask for attribution. 
Another effective strategy is this: 
If you have a big library of images, maximize it to the fullest. 
How?
Besides uploading these photos on photo sourcing sites:
You can offer it exclusively to publishers. 
Here is an email outreach template that you can use:
Subject Line: Save [Website]'s time and money on images you use

Hi [Name],

For [Website]'s editorial team, a crucial part of work is to find images, relevant to the content. 

What do you think of an alternative source of images in the form of a free subscription to more than [number of] images: [link to your page]?

We can give you [number of] images per month for a [X]-month period (with a possibility of extension). In return, we would like you to credit our images with clickable links.

Please let me know what do you think of our offer.

Thanks,

[Your Name] 
2. Apply 'Linkedin Reclamation' Technique 
One of the easiest types of backlinks you can get is:
From people who mentioned you on their sites but without attribution of links.
Well, you can simply reach out to them and ask to get credited with links. 
And you're probably familiar with this technique: 
The good thing is you can do it with any type of page you own.
Including your Linkedin page.
If you have someone in your organization who is getting attention from the press, either they are an authority on a technical topic. 
Sharing tips, quotes, or any value-added advice to the community.
Or because they have a remarkable story worth sharing.
Do a quick backlink check on their Linkedin profile page.

Find some potential link opportunities in there.
Reach out to blogs and ask them to link to their profile page on your website. 
If you don't have a dedicated page for that person, create one for this strategy.
Then, get links. 
3. Initiate Reciprocal Linking 
You're probably familiar with link exchange.
That's the activity of two websites linking to each other webpages. 
There is a heavy discussion in the SEO community about whether link exchange is good or bad. 
But think about it:
Two websites can link to each other reciprocally without even the intention of manipulating search result rankings.
For example:
If I'm a manufacturer of a product and you're a reseller, would it be logical to link to your page because I want my potential customers to know where they can purchase the product?
Or vice versa. 
Another example:
Two niche bloggers were attending a conference. They grabbed some coffee and talked.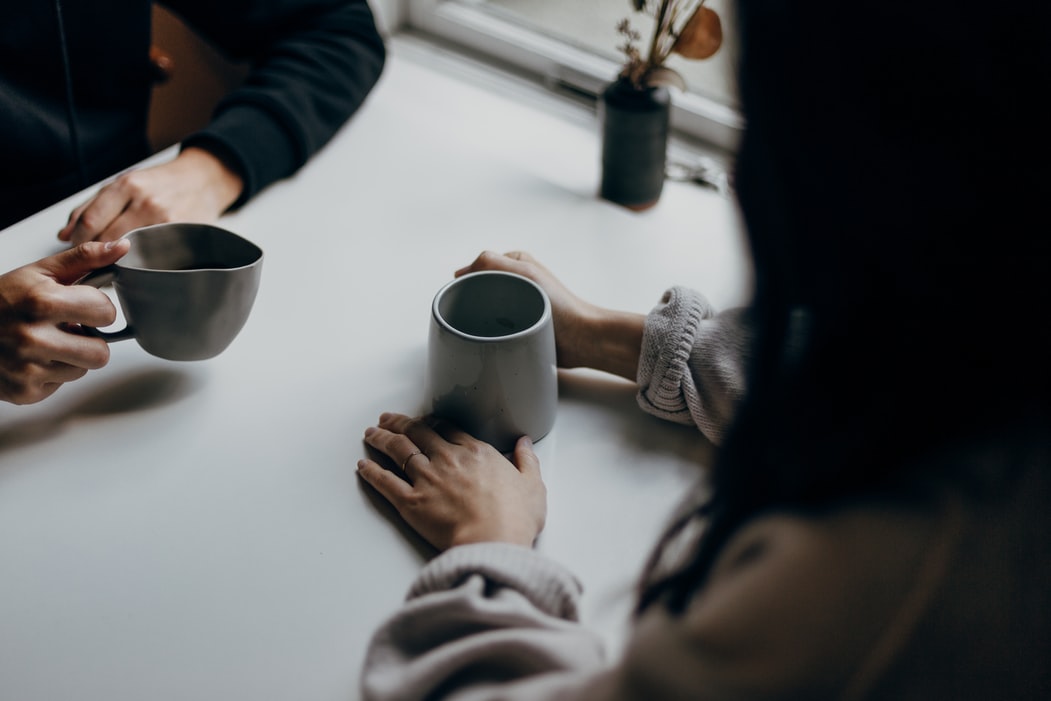 They are in different niches. But happen to find each other's new articles useful for their readers. 
One linked to his friend's blog post. And vice versa.
You see:
These two examples are natural reciprocal linking.
Link exchange is okay.
As long as it is done in a manageable manner.
Not scalable. But if initiated for targeted people you've built relationships with, then it becomes more effective. 
4. Use "Bank For Buck" Guest Posting Strategy 
Not all guest posting campaigns are effective.
Why?
When people send guest posting ideas, they come from the lines of:
"Here are my guest posting ideas, choose one that fits your blog."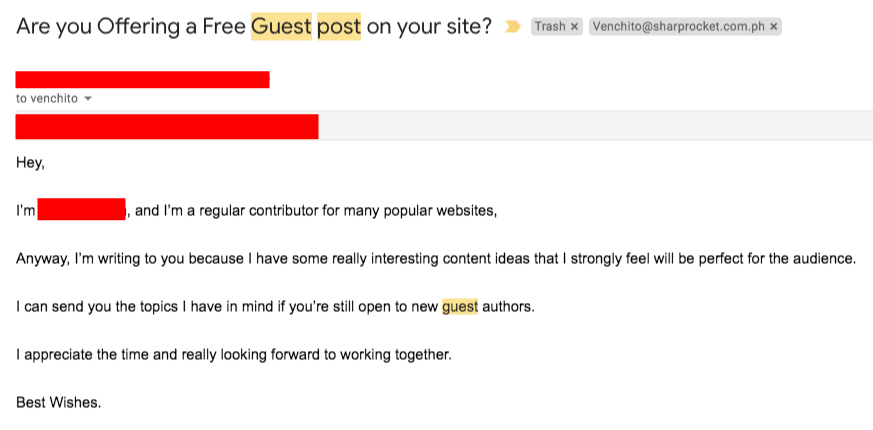 Or:
"topics I'm thinking about and hoping to include a link in your article pointing to my website" 
It is a one-sided benefit on the part of the guest blogger.
Sad truth: 
But this is the reason why a guest posting campaign doesn't work for many businesses. 
So how can you stand out among them? 
Instead of thinking about just "links", why not ask these questions: 
What do they want?
What do they care about?
Some answers you can arrive at may be: 
They want to rank for their target keywords to get new readers for their blogs.
They want to monetize their blogs. 
And so, if all these are beneficial to your target publication, what you want is a new level of guest posting strategy. 
Insert: 
"Bank For Buck" strategy. 
It's a guest posting strategy that is simple to apply. 
The idea is: 
You submit guest posting topics that your target guest publication/blog would benefit from:
Either because they can monetize from it.
Or they can potentially gain new search visitors by ranking your content for target keywords. 
Now:
Here's how you can do it. 
First is to find affiliate programs in your industry. 
And the reason is:
These affiliate programs may help your target niche bloggers earn a commission whenever someone clicks on their affiliate links and buy the products they're selling.
It's a win for them! 
How can you find these affiliate programs? 
You can do a Google search for "[INDUSTRY] affiliate programme" OR "[INDUSTRY] affiliate program".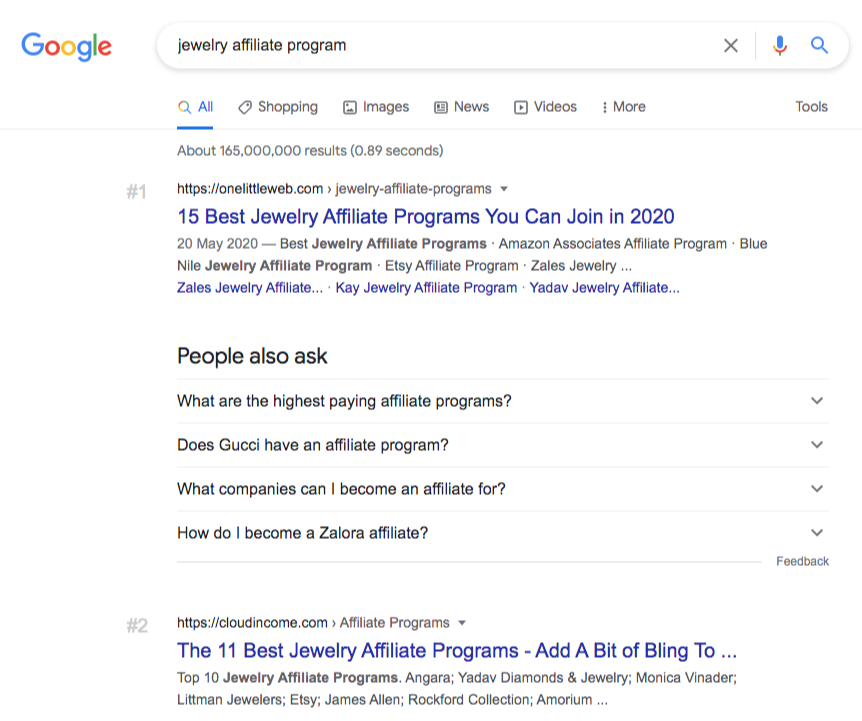 Here you'll see different brands looking for affiliate partners.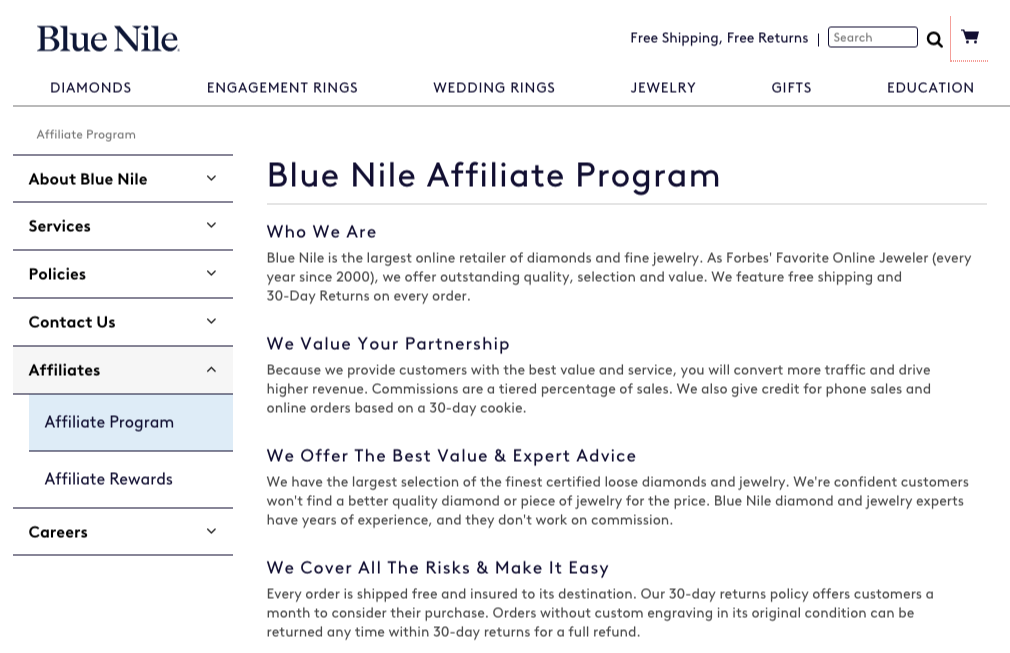 Make a list of these affiliate programs. 
Next step:
Look for bloggers who are likely to participate in the program.
And the easy way is to find people who've done it before.
These are bloggers who've written product reviews. 
And because they're into affiliate marketing, they will be more receptive to email pitches that would give them more affiliate commissions.
How to find them?
Use Ahrefs to check blogs linking to the affiliate programs you listed earlier.

Another way:
Look for authoritative blogs you can reach out to for guest posting.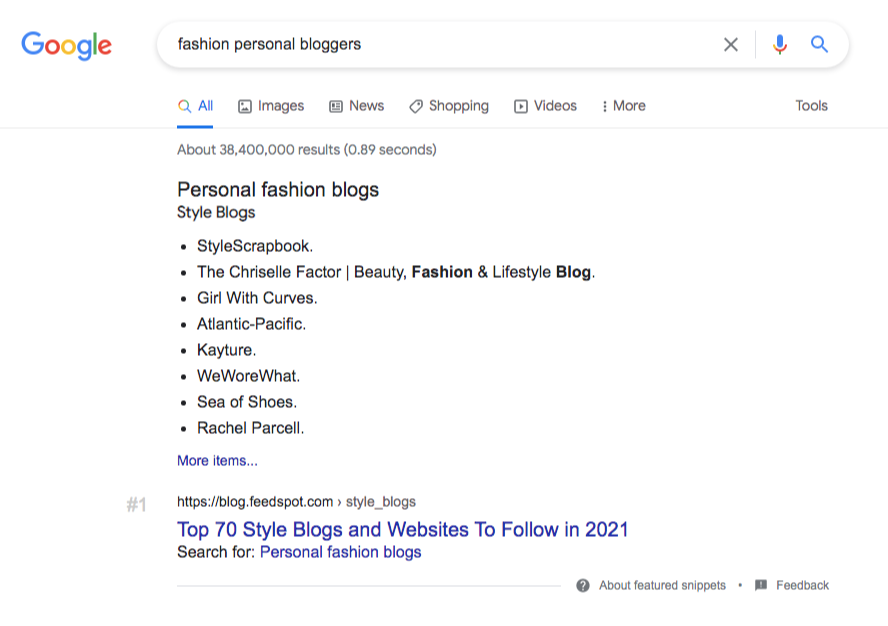 In other words, these are your prospective guest blogs. 
Then the next step:
Research for their best-performing content.
And find what topics you can write for them that can help them rank for some industry keywords.
You can use Ahrefs for this:
Either you use Top Pages to get a good sense of their top-performing content.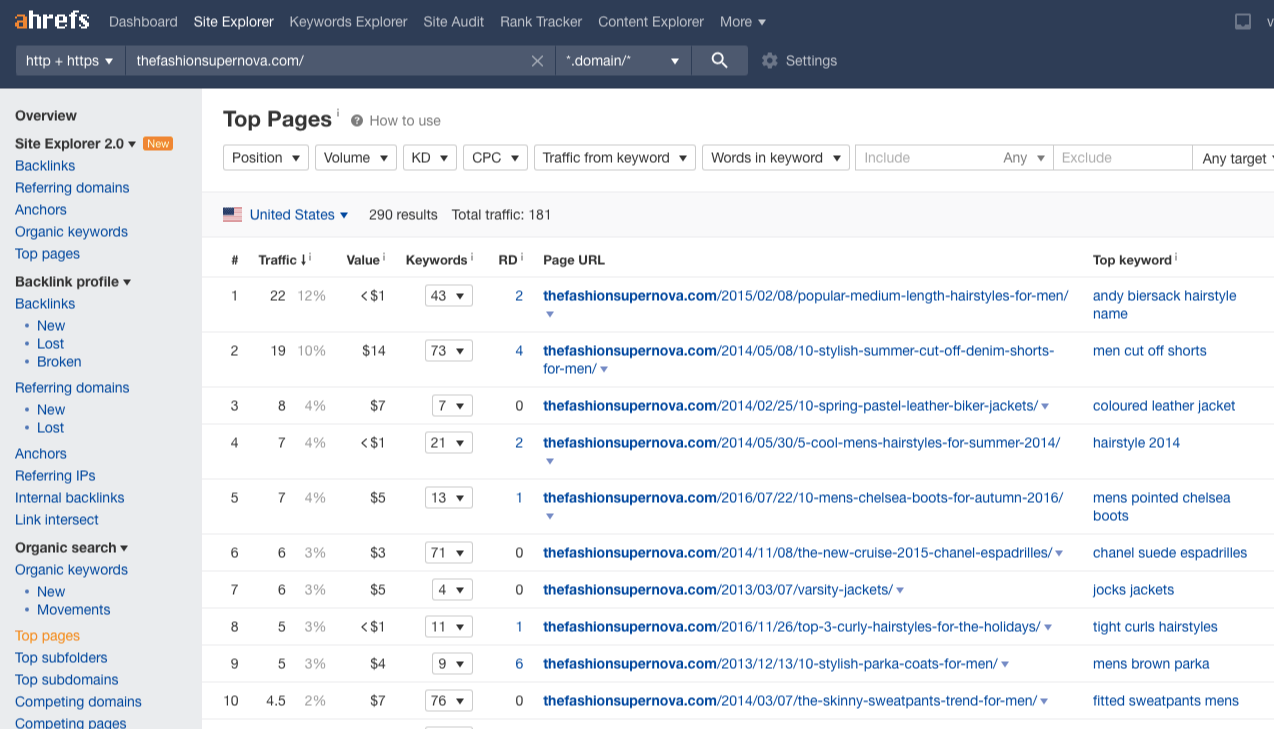 Or Content Gap Analysis to discover keywords they don't rank for yet (but their competitors are currently ranking).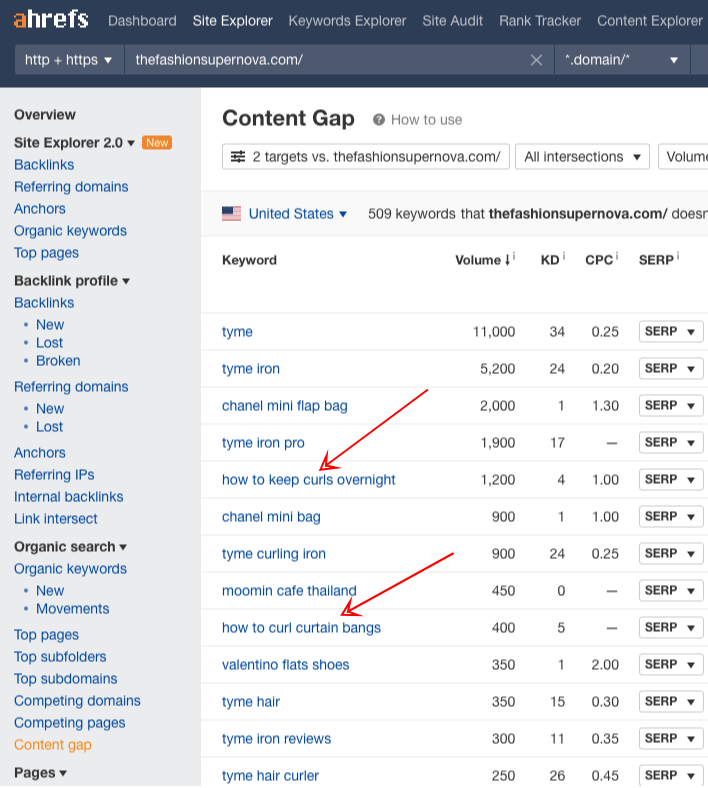 Now, as you assess, these are the topics you can suggest to write for the blog.
Two things:
You write the content and link to one of the affiliate programs you found related to their niche.
And you write the content that gets to rank for some keywords they haven't targeted yet. 
So, in summary, here's how to apply the "Bank for Buck" strategy: 
Find affiliate programs in your industry.

Look for niche bloggers who are linked to affiliate programs.

Find authoritative blogs in your list. 

Send a list of guest posting ideas (with target keywords to rank and related affiliate programs to target).

Write the content for them and get links to your site. 
5. Get Infographics Inspiration From Visual Capitalist 
It's challenging to make infographics stand out in your industry.
Not only:
There are thousands (if not hundreds) of businesses publishing various visual content assets every day. 
But there is nothing new with most infographics.
So how can you make your infographics stand out in your industry?
The key is to model what already works.
That is to get inspiration from proven and tested infographics that have gotten links from authoritative blogs and publications.
One website producing solid visual content assets is: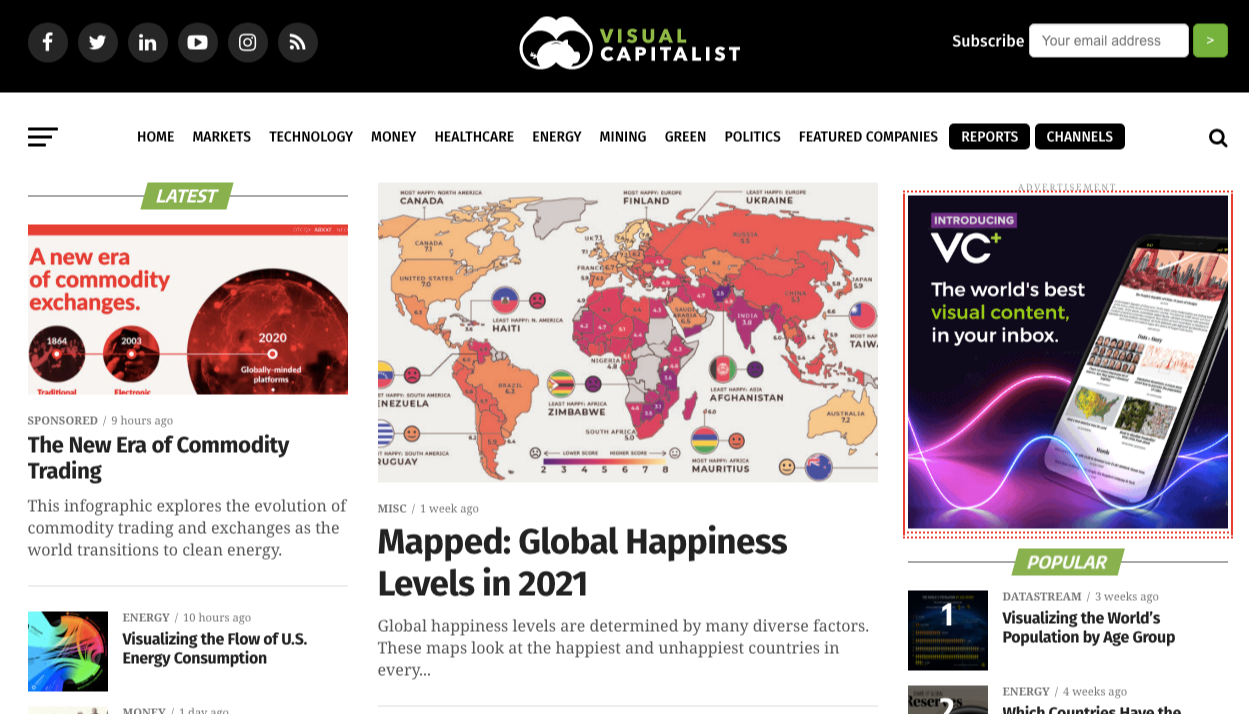 If you experience creative block when thinking of what infographics to create for your brand, check out what Visual Capitalist do. 
Some examples are: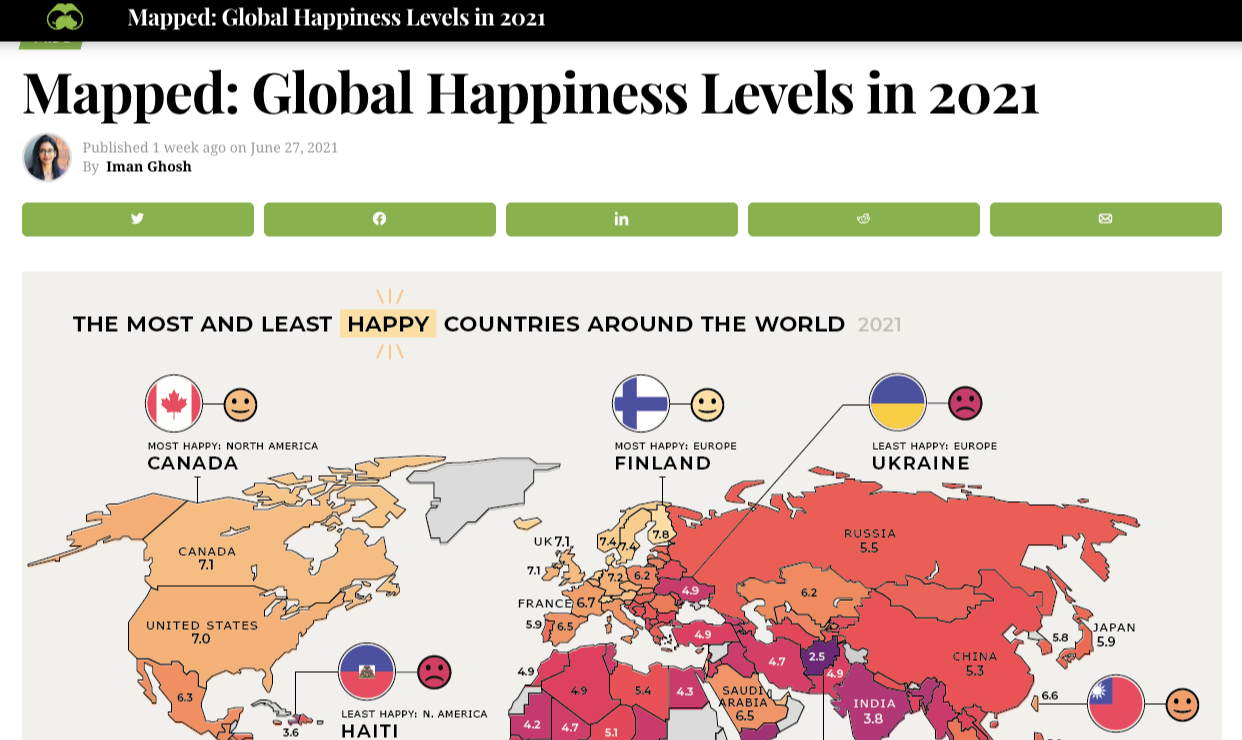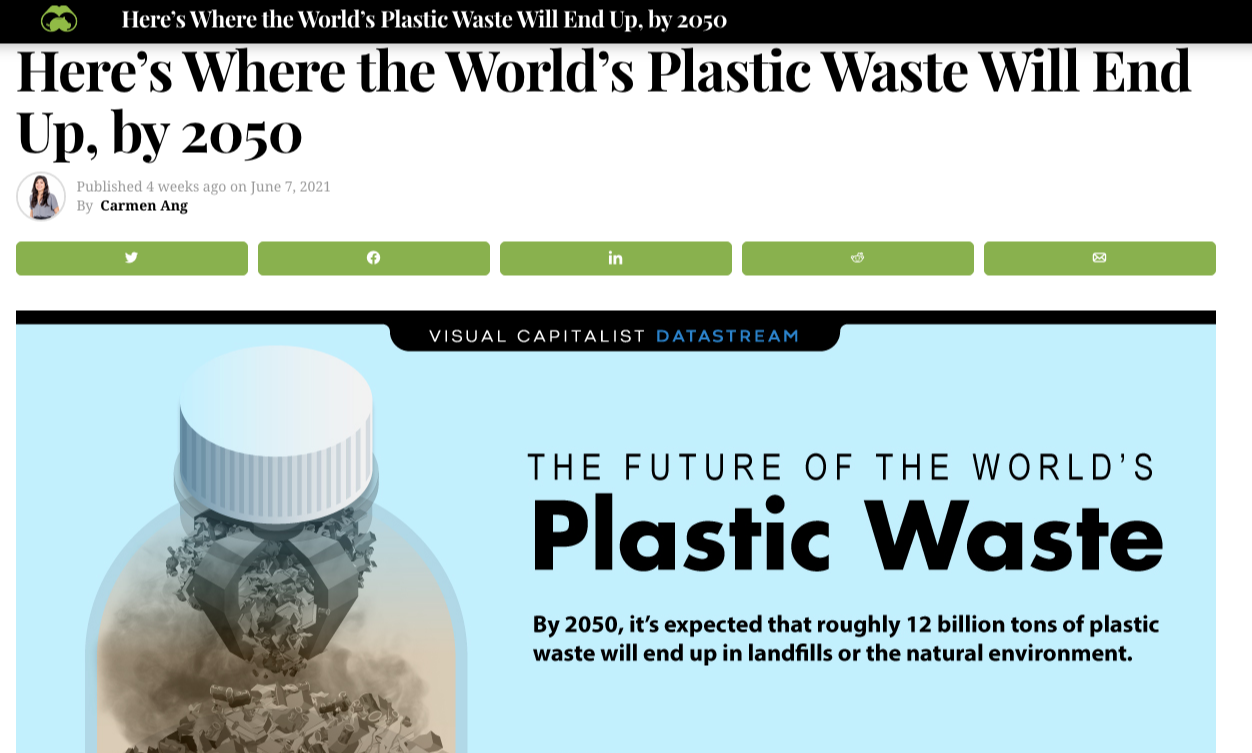 Now, you don't have to worry about where to start with infographics. 
Check out our other link building strategies.
6. Use Thought Leadership For Content Collaboration 
It's not that easy to create content.
But let's say you're working with other industry practitioners, you can produce more and higher quality content assets. 
That's co-marketing. 
How can you apply this?
Simple.
Find any thought leaders in your company.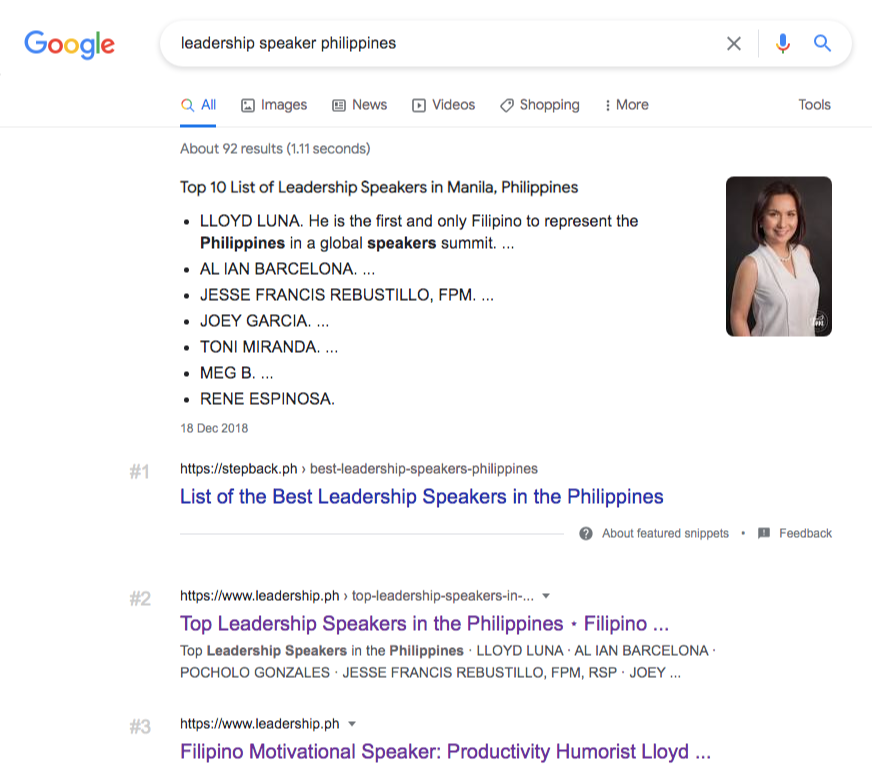 And get them to be involved in your content distribution strategy. 
The idea is that the more authoritative a person is in an industry, the easier it is for you to secure opportunities with online publications.
Now:
Do you have any subject matter experts in your company?
How about professors who've done any solid research at school? 
The great thing here is:
You can partner with other institutions and entities where you each guest post on each other's website. 
7. Apply Advanced Stats Round-up Strategy 
You're probably familiar with round-up posts.
A round-up post is an article containing insider tips from industry experts on a specific topic.
Most content marketers abused this technique.
And it affects how the marketing industry perceives the value of a round-up post. 
The thing is:
Round-up posts still work.
But instead of just asking thought leaders to share their "most actionable tip", you can go deep with data. 
For example: 
You can survey at least 30 people.
Or try to get statistics about the topic.
Let's say you're targeting business owners. 
You can research on:
"Percentage of business owners who would create the same business (industry) VS other business owners who prefer to venture into a different niche"

"The average number of employees, team size, or revenue VS the years in business" 
These are just some examples.
The thing is:
Statistics are referential topics.
Publishers, bloggers, and content creators often link to statistics to validate their points and make their content more comprehensive than others.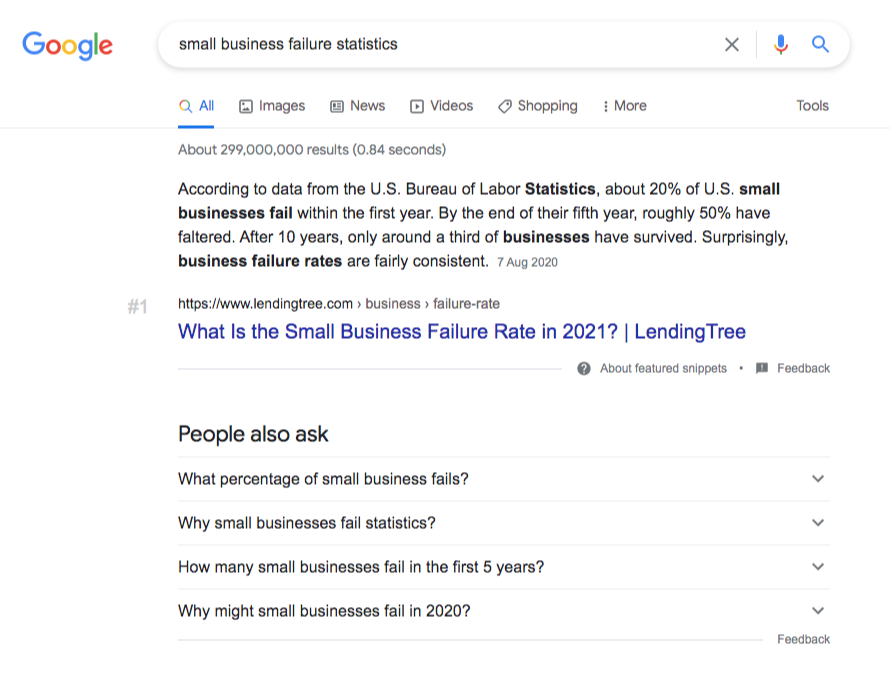 This means that you have a high chance of getting links when you rank for target keywords (e.g. "small business owners statistics"). 
So do not just publish a 'best tips' round-up article. Go beyond that. 
8. Do "Reduce, Re-use & Recycle" For Links 
You can do wonders out of garbage.
if you know how to recycle properly…
What if recycling is also applicable for link building on your site? 
How? 
With old, seemingly not useful content, you can create an entire content distribution program without even the need to create new content.
What are the steps? 
First, find old content that you can prune.
These are pages that bring heaviness to your website (in terms of wordcount), but doesn't gain or contain any of the following:
Not generating backlinks (0 referring domains).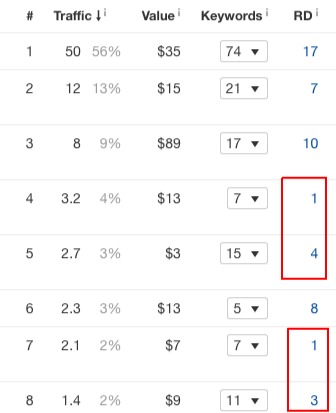 Receiving <100 organic visits per month (lower relative to your site's overall search traffic).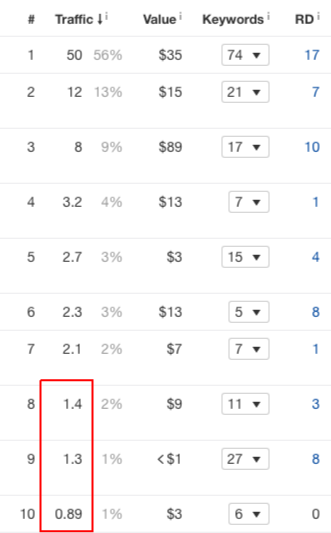 Not related to your blog's overall topic theme. 
The next thing you'll do is:
Offer the content as guest posts to third-party industry publications.
Or you can rewrite the content first to fit the blog's content guidelines.
Then submit it once you see "green signals" from blog editors. 
While doing this strategy, you'll find that not all of your pruned content are worth submitting as guest posts…
And that's okay.
If there's a huge volume of well-written content, those are good articles still relevant for other sites. 
The last step is to serve 410 response codes on the old URLs.
Or no-index via Search Console for those articles to no longer be indexed. 
So if you're having a hard time creating content for link building, recycle what you already have by turning old content into guest posts. 
9. Reverse Engineer Author Footprints Of Competitors 
You know competitor research.
Basically, finding patterns, behaviors, and people connected to your competitors.
In link building, it's understanding who linked to your competitors.
Why did they link to their sites…
And what specific patterns you can model for your own site. 
If you know competitors who are heavily involved in link building with authors or bio names. 
One link building technique you can do is:
Crawl their domain in a link building analysis tool like Ahrefs.
Outgoing links – Anchors
Scan through anchors and check names. Some of which are contributors to the publications.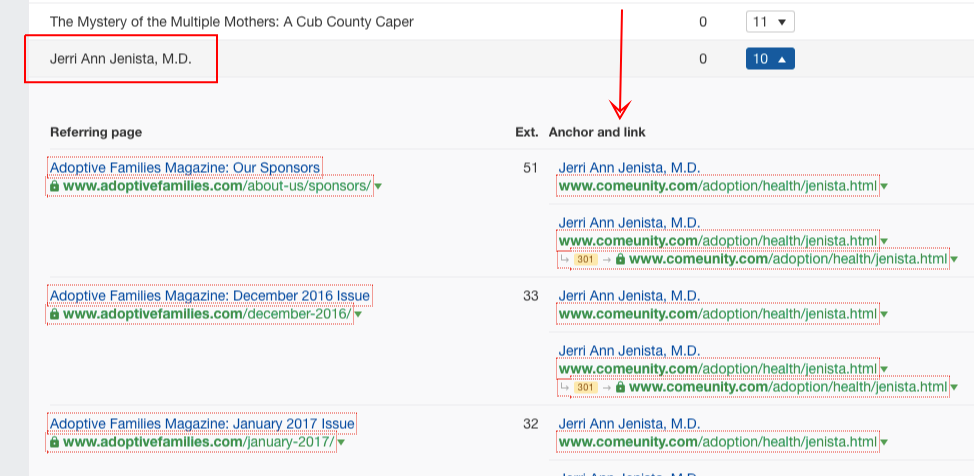 Locate the websites and social media profiles of those authors. 
Collaborate.
Either:
Offer content partnerships (pay-per-content partnership).
Where they'll create the content and submit it to an industry publication.
And because they are already contributors to these industry blogs, it would be easy for them to publish the content.
10. Approach eCommerce or Shopping Editors 
Ecommerce link building isn't that easy. 
Webmasters must have a good reason to link to your product pages. 
Many reasons, but one is:
Niche bloggers write "The best gifts for X" articles. 
And if your product is relevant to their topics, you can get direct links to your product/category pages. 
Besides bloggers:
You can also reach out to Shopping editors.
These are newswriters, content creators, and editors from top eCommerce publications.
Let me give you a few names.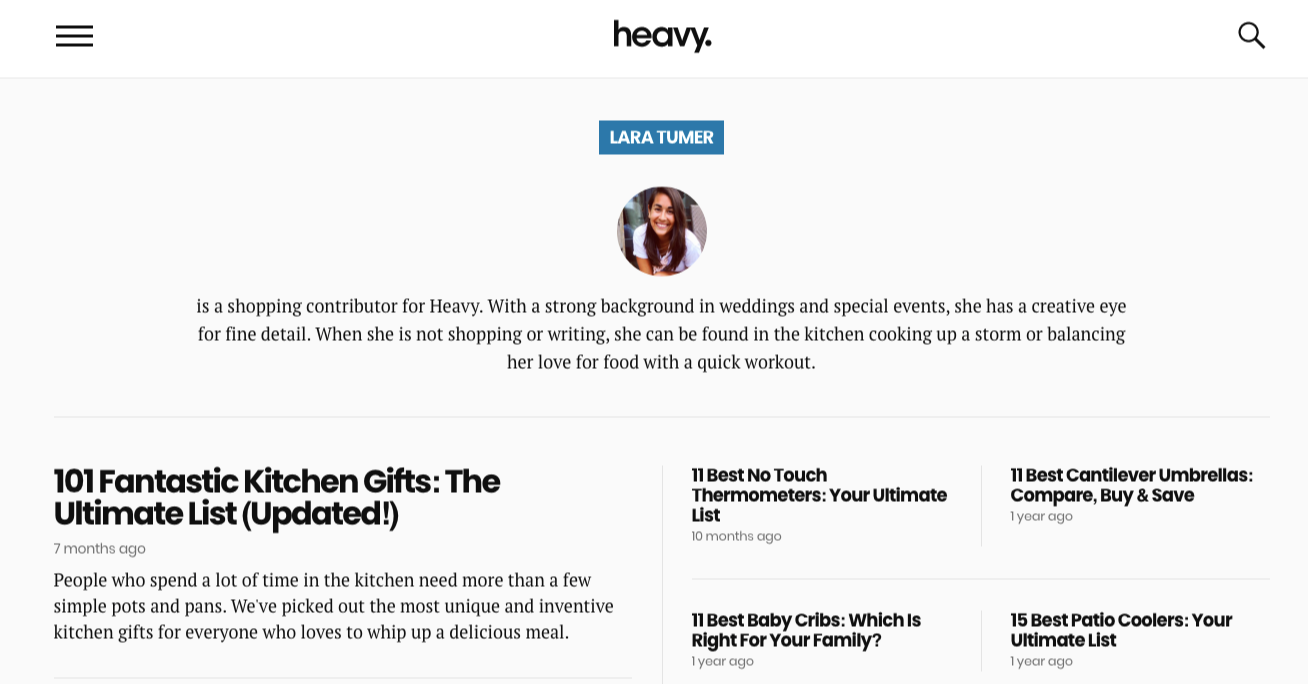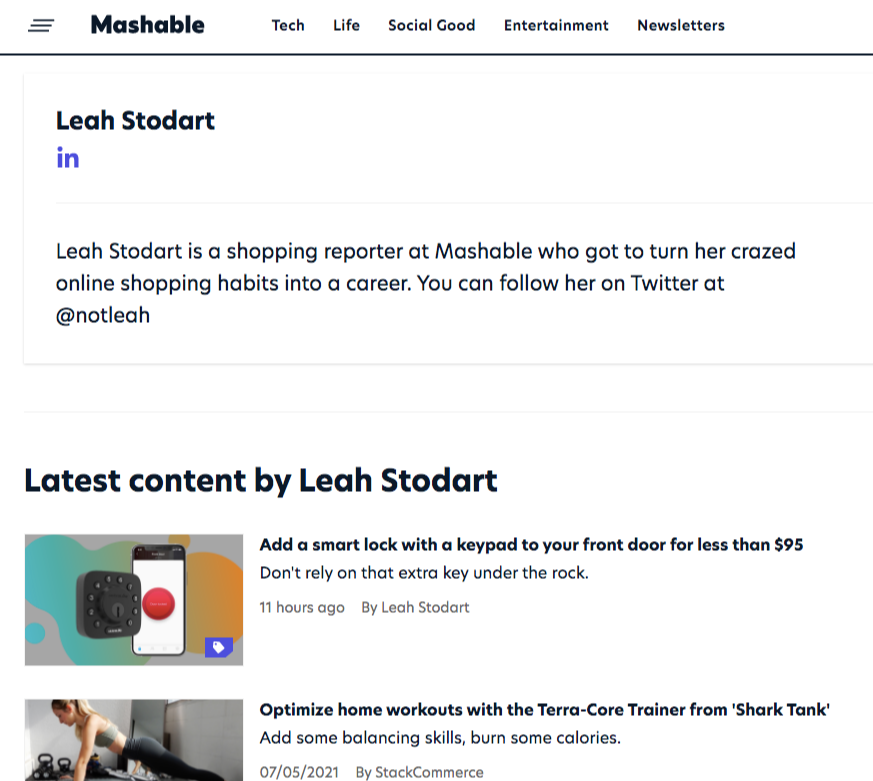 Then go from here. Prospect for more opportunities by discovering other publications that they're writing for.
Through Google search.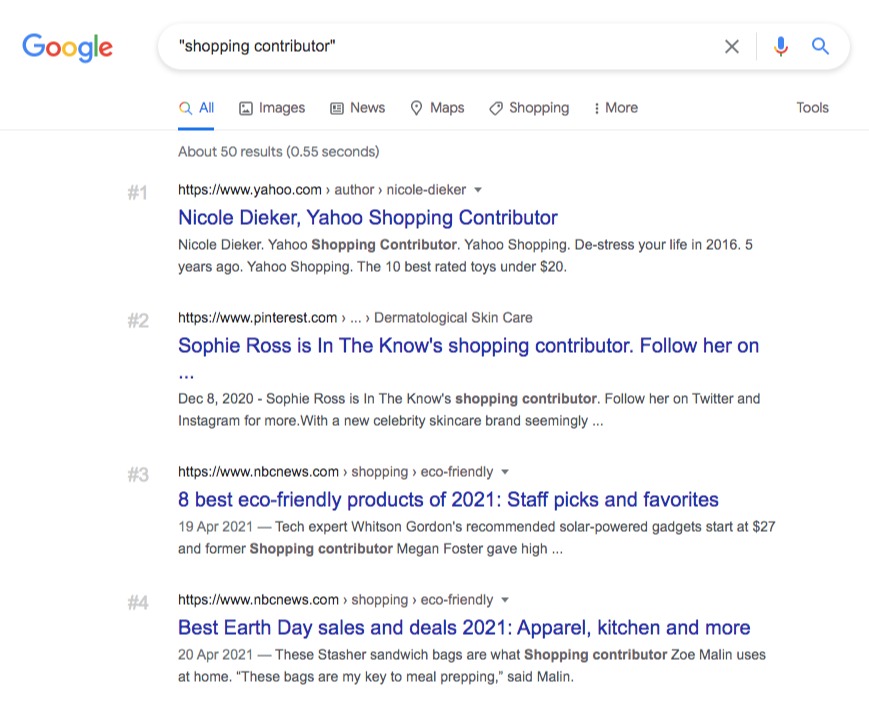 Through Ahrefs.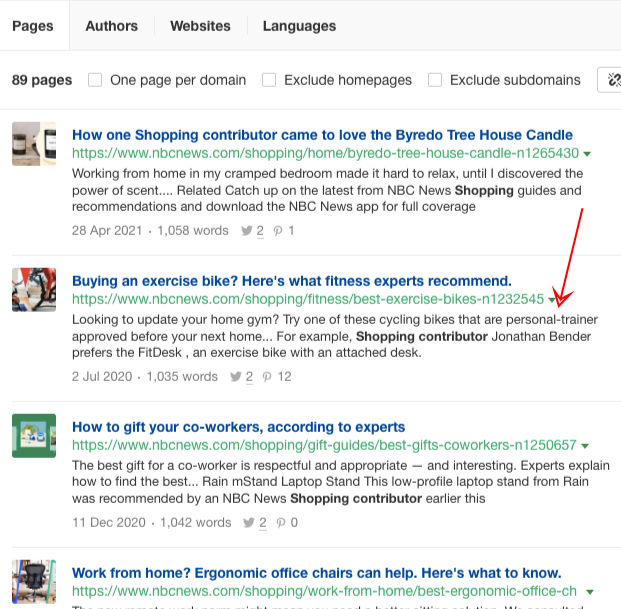 11. Use Non-Competing Websites As A Source Of Link Opps
What if you have exhausted the link opportunities of your competitors?
The next best option is to find non-competing websites to reverse engineer with.
These are brands that don't offer the same product as yours.
But they're in the same industry.
For example:
If you are a veterinarian, your first option is to find pages linking to other veterinarians in your market. 
If you've prospected enough link targets from other vets' sites, your next best is to use non-competing websites as your source of link opportunities.
Now, some resources pages link out to different needs of an audience. 
Take a look at this page: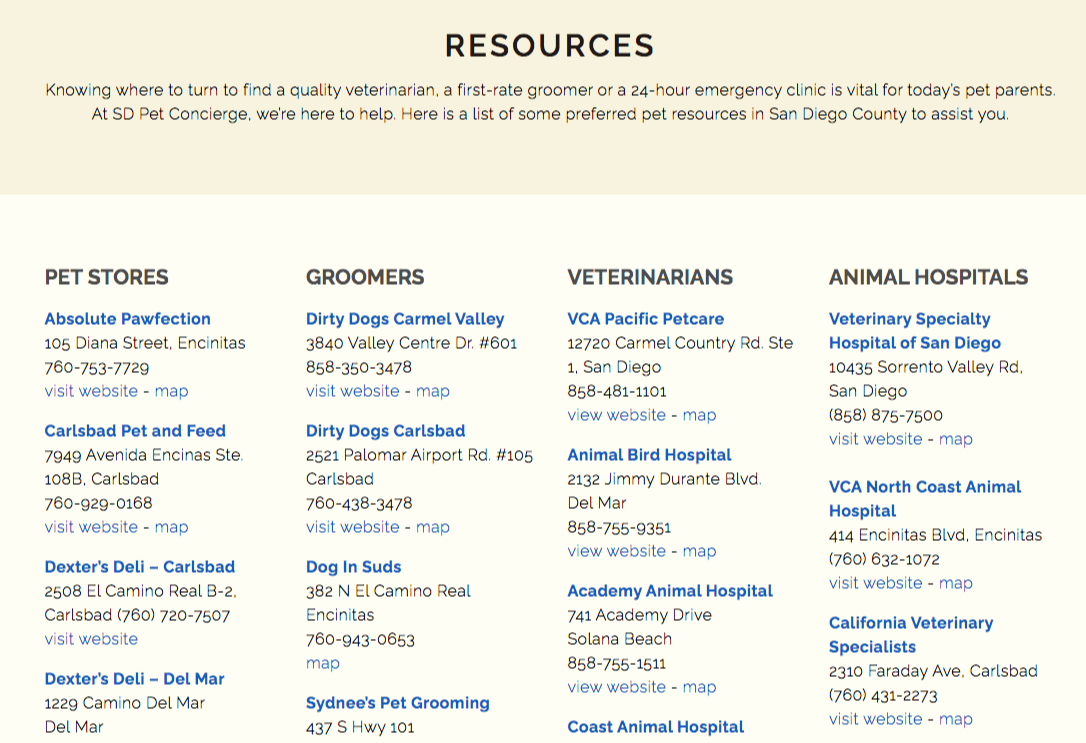 If you're a pet lover, you'd love this page as it covers pet resources in San Diego.
So you can think of pet stores.
Pet groomers.
Animal hospitals.
How can you apply this to your niche?
First, find niche resources pages (just like what I shared above) that cover different resources (not just for one niche offering – e.g. vets). 
Then, look for pages linked to each of the non-competing sites in every niche category you can find.
Then be amazed by the number of link opportunities available to you. 

12. Get Links From Eco-Friendly Product Listings
Green environment is a big chunk market of links.
Resource pages.
Guest posts.
Sponsorships.
Niche publications.
If you're selling physical products, one type of links you can take advantage of is:
Eco-friendly product listings.
There are tons of this type online.
For example:
An eco-friendly product listings page.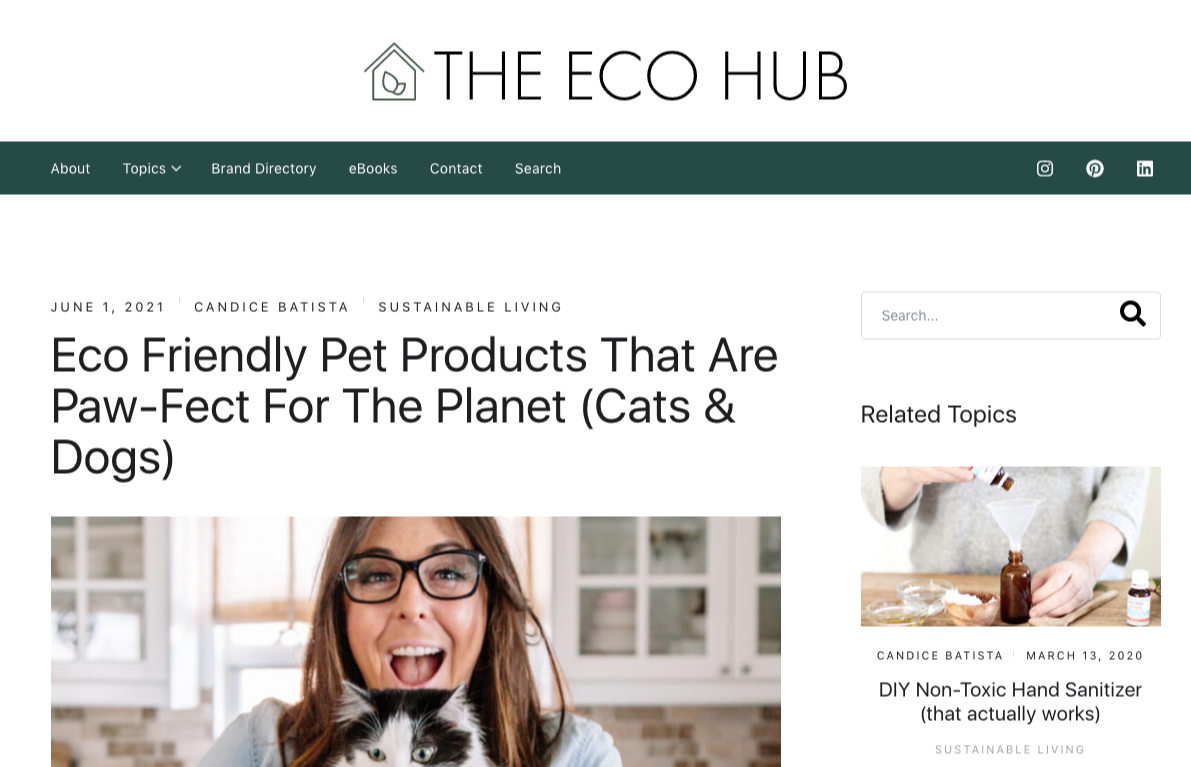 If you're a pet store selling eco-friendly products, then this one would open opportunities for you.
How?
Find other similar types of pages.
Using Google search:
Then reach out to them and pitch to be featured on their following articles. 
13. Reach Out To Freelance Journalists To Cover Your Story 
Digital PR is huge.
And publication editors receive hundreds of email pitches from brands and marketers looking to cover their stories.
The thing is:
It is saturated.
Instead of going directly into publications.
Try reaching out to freelance journalists.
They get paid by pitching stories and news into publications.
And that itself is an advantage, as they work with different publications.
One freelance journalist can open up many relationships. 
And if you're an agency working with different content campaigns, this one is for you.
So, how can you discover these freelance journalists? 
Use Twitter.
With their advanced searches, you can find Twitter profiles with "keywords" on their bio.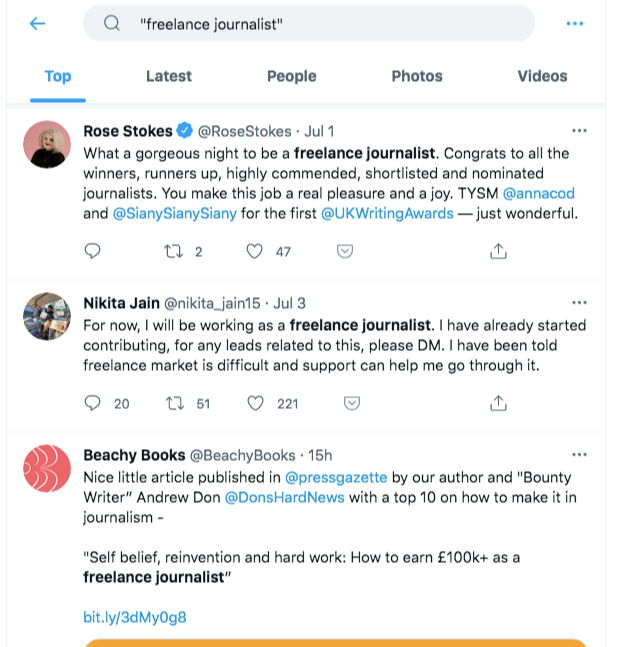 If you're into local SEO, you can focus your search on a specific location.
Find local freelance journalists that you can engage with during a coffee chat or simply hop on a call.
Another way is to incentivize these freelance journalists to write content for you or your client.
As you build relationships with them, you get to expose your brand to several external publications you'd otherwise prospect or think of when you reach out to a cold list of "any kind" of journalists. 
14. Use "3-Step Podcast Outreach Strategy" 
It's undoubtedly that podcasts can offer you great links to your site.
But how?
Here are the 3 step process you can use to maximize podcasts for link building in your industry.
First, use podcast search websites to discover active podcasts in your industry.
Either through: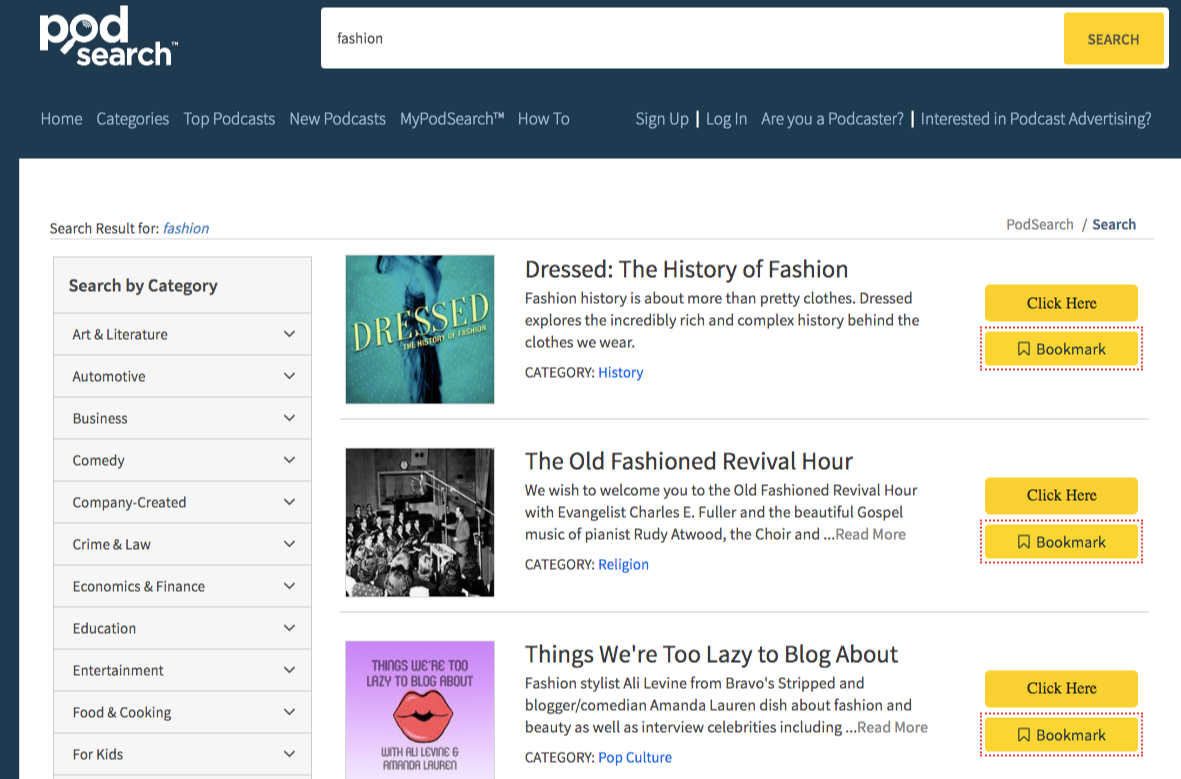 Or Wondery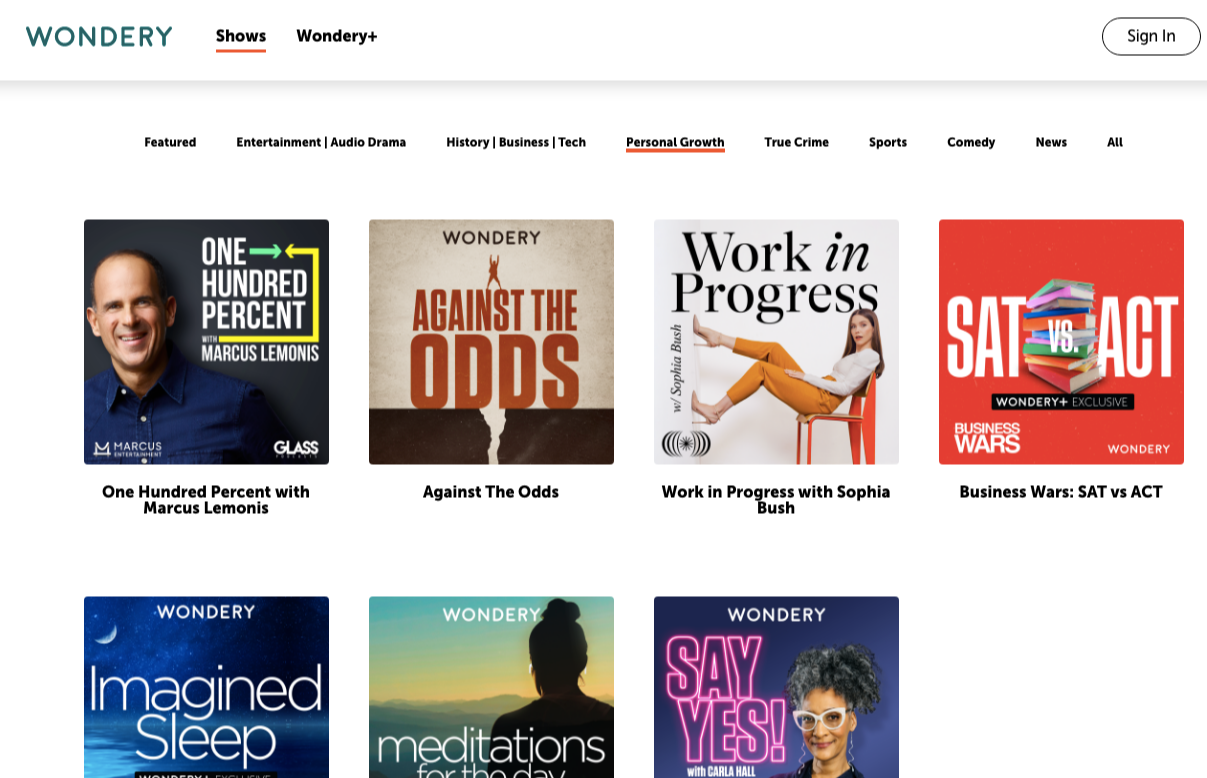 Or Blog Talk Radio: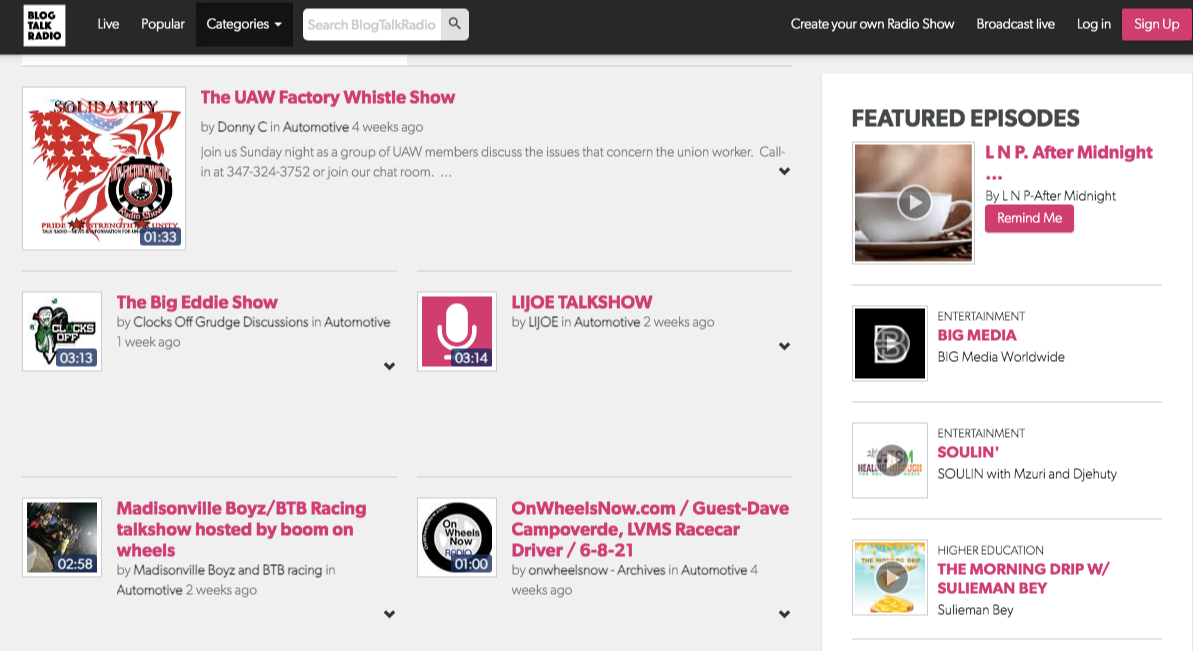 The next step is:
Pitch to these podcast hosts and offer great value in return for brand exposure. 
If you're pitching for your client, here is a good email template that you can use for outreach:
Subject Line: Guest suggestion for [Podcast]

Hi [Name],

[Briefly introduce yourself/your client]

Here are some key discussion points that your listeners would find interesting to hear:

[Topic 1]

[Topic 2]

[Topic 3]

I'm not sure if you're open for new guests but in any case, [me/my client – state you/your clients' credentials as to why you/your client would fit their podcast, what's in it for them]. 

Do you think my client could be a potential guest on [Podcast]? 

Let me know so I can connect you to [You/client's name]. I'll send any info you may need. 

I'll offer to transcribe the podcast episode for you – free of charge. 🙂 

Thanks,

[Your Name] 
The last step is getting in touch with the podcast hosts.
Other hosts would give you sponsorship requirements. 
So you need to invest money for that.
Others would let you come in for free.
Either way, you get brand exposure.
Plus, links from their transcript podcast articles. 
Or even from their "press" pages on their personal websites. 
15. Write Like A Normal Person 
Why does outreach fail?
One reason.
Generic non-personalized email templates. 
Public email templates are overrated.
Those email copies that you see included in SEO articles don't always work effectively.
And the reason is that:
Different markets have different needs of an audience.
Different styles. And different levels of personalization your email must adjust to. 
Do not say words to over impress people with lines like: 
"I'm a long-time reader/big fan of your blog."
"I liked what you shared in this article…" (without you even reading the article) 

One best practice in email outreach:
Write like you're writing to a friend.
The key is to check your inbox and see the latest emails from your friends.
How does it look like?
In what tone or style of conversation?
The next time you craft email outreach templates, think of your recent 1-on-1 conversation with your friend. 
Like you're writing to an average person. 
16. Find Websites Getting Natural Links 
The best link building strategy is going for a mix of natural/organic links and manually-built links.
Natural links are links you get without pursuing bloggers/publishers to link to your content.
You get backlinks because of your authority. 
Because of the information of your content.
One actionable link building tip is to spot competitors getting natural links.
That means they don't get it manually. They earned it organically.
But how can you know if what they picked up are natural links?
This is where you need a skill to separate manual and natural links.
When you get crawl a domain in Ahrefs, you'll then see a list of backlinks.
And by the type of links, you get to know if a link is earned or built manually by the kind of links.
You only need to know here that if a link is potentially built through manual outreach, you can collect it as part of your list of link opportunities you can reach out to for links.
Some types of links to be seen as manually-built:
Local sponsorship links: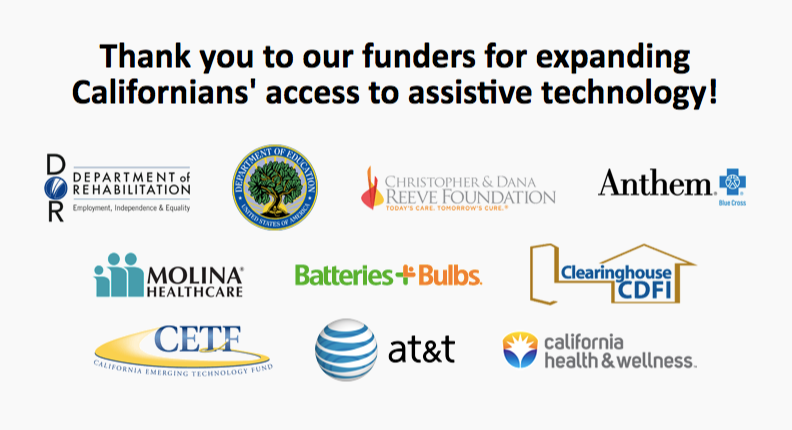 Resource page links: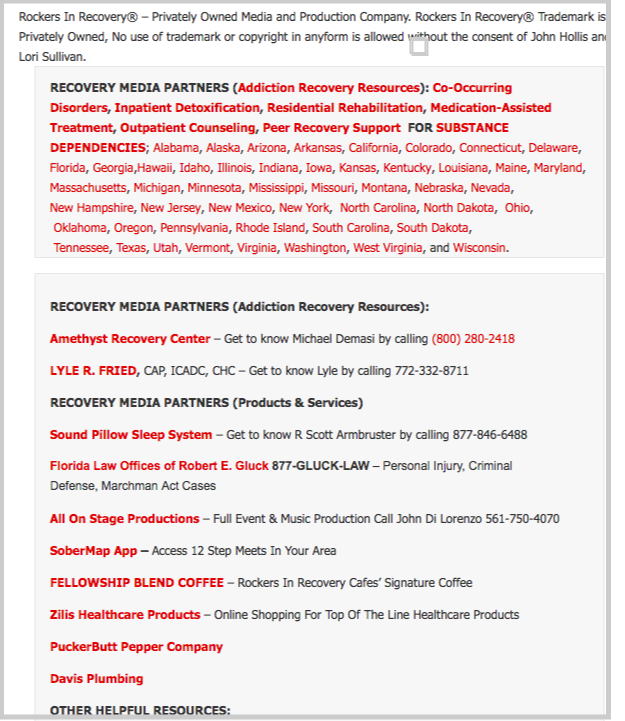 Round-up posts: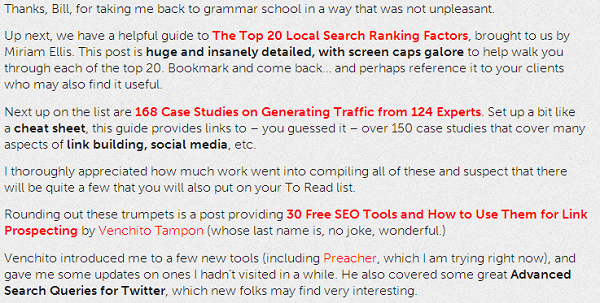 The logic is simple here.
Monitor your competitors getting natural links using Ahrefs' New Links feature.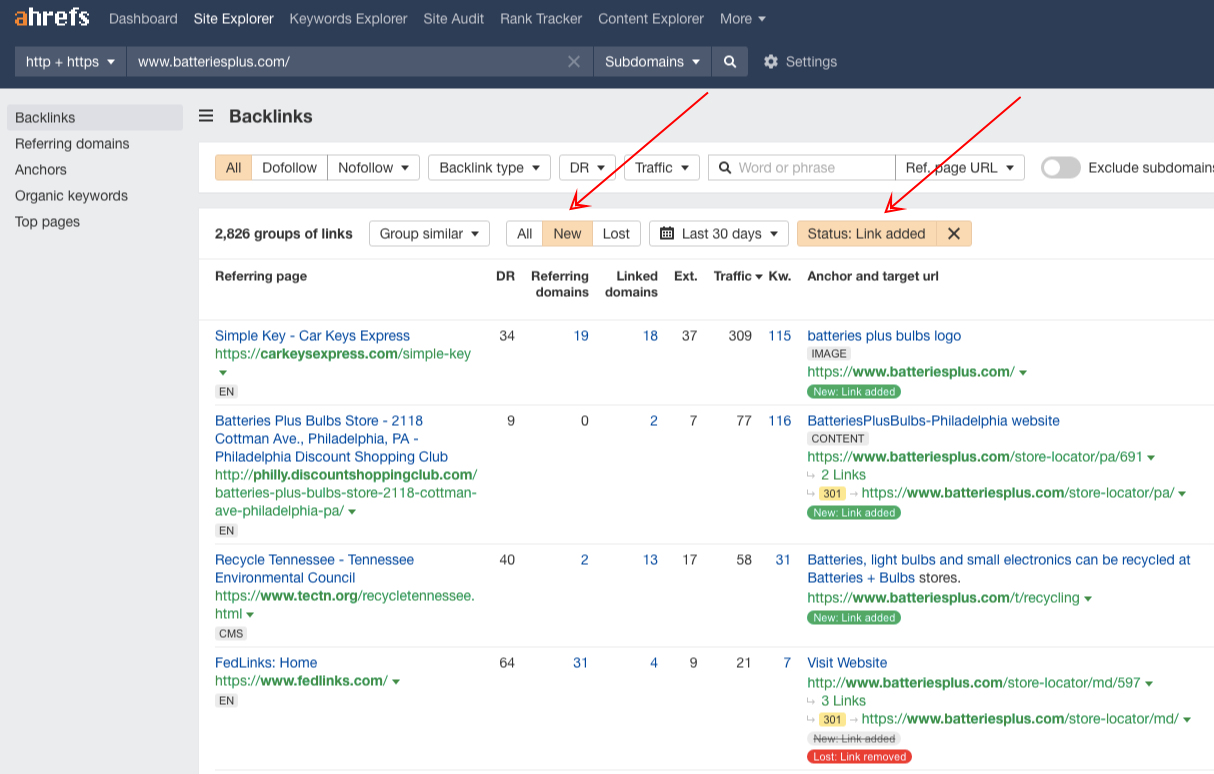 This could open up low-hanging fruits for your site. 
17. Create A "Link Prospecting and Outreach Cheatsheet" 
If you want to scale link building, you need processes. 
Processes help your team achieve predictable results.
If you're investing heavily in link building, you're probably not working alone.
You work with teams of SEOs or link builders.
Or have a small team of virtual assistants helping you with small tasks like finding email addresses. 
One thing to add to your process is creating a 'link prospecting and outreach cheatsheet'. 
An easy-to-follow document that your team can follow every time you're launching a new link building campaign.
Or have a new website to start doing link building with.
Create your documents, such as:
Broken link finding for broken link building strategy: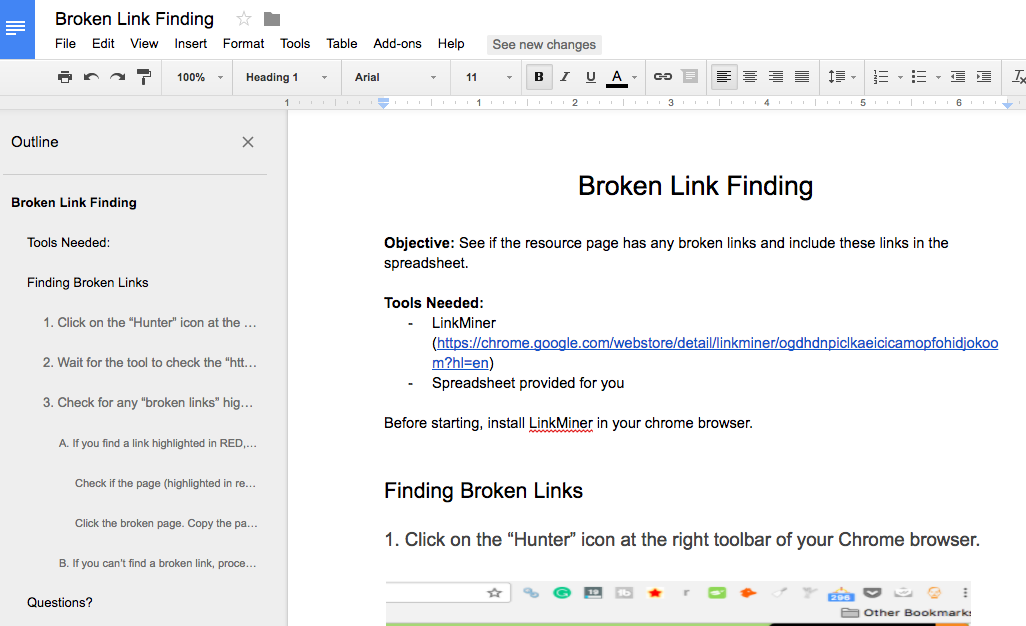 Outreach for broken link building strategy: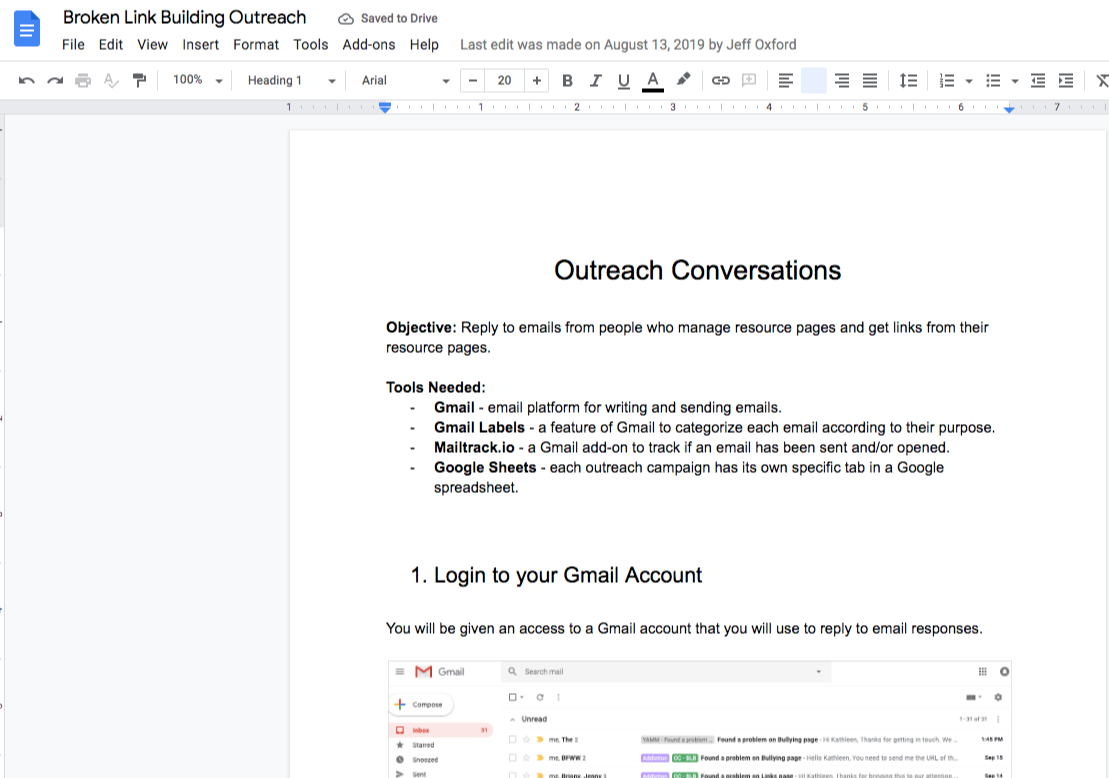 The more you scale links, the more you should be creating documentation for your link building processes. 
18. Use Phone For Reaching Out To Resource Page Curators
The most default way of connecting to potential linkers is email.
No doubt.
Write a personalized email. Hit send. 
But not every email is read by the recipients. 
Sometimes, they missed reading it. 
That's a loss link opportunity. 
One way that you'll found to be effective in outreach is:
Using the phone to request links.
This is especially true for resource page curators.
For example:
Links pages from .edu websites.
Typically, webmasters working in colleges and universities receive calls from people searching about the website.
So a potential error about one of their pages is something they care about. 
And they don't ignore it.
So do some A/B tests calling with resource page curators on the phone.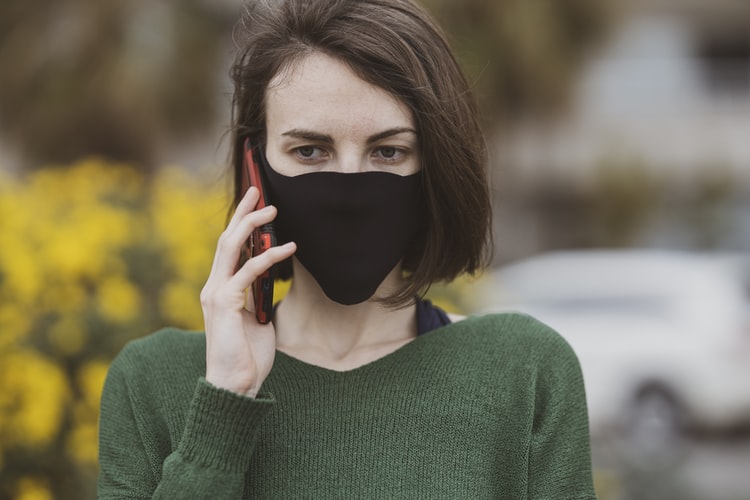 Or if you're writing outreach emails, you put something along the lines of:
"If I don't hear back from you, I'll just give you a quick call regarding this."
With this additional simple sentence, you can increase your responses from people who don't want to talk on the phone. 
19. Get Backlinks From Expired Domains 
Here is one reality in online marketing: 
Domains expire.
And when this happens, you can either:
Buy them.
Rebuild them.
Or redirect them to your site. 
Many SEOs get easy backlinks through buying expired domains that are relevant to their site.
But you instead of buying them. 
You can go through their backlink profile to see if there are websites linking to them that might be your potential links.
Use Ahrefs to download their links.

And filter out bad links.
Like scraper sites.
The next thing you'll do is to find their email addresses. 
And reach out to these websites. 
You simply tell them that the site is now down and you now have an up-to-date resource they can link to in replacement. 
Here is an email template that you can model: 
Subject line: error on your site 

Hi [Name], 

[Your Name] here from [Your Site}. Just wanted to let you know that you have some broken sites featured on [Page where an expired link is placed].

Your mentioned [Expired domain] on that page, which has been broken for a while.

We offer very similar content on [Your Site]. [Provide details of your content]. 

Let me know if you can add us to the page. Here is our site. [Your link to your page]. 

Look forward to hearing from you! 

Thanks,

Venchito 
If you're reaching out to the right people and you have a targeted message.
You can gain quick wins in your outreach. 
~10% in conversion rate 
20. Speak To What They Care About In Email Outreach 
One best tip in outreach:
Do not focus on links. 
Links don't motivate people in outreach. 
That's the hard truth.
Because SEOs care more about links rather than care about helping people — the latter helps you get the former. 
Care about what your prospects care about. 
Care about their organizations' goals. 
What do their websites want to achieve? 
Write emails to communicate people's issues, problems, or solutions.
Then you get links as the by-product of helping people. 
A quick nudge on emails like:
"Where do you refer parents to finding the right dentist for their child? Is there any resource page on your site? I didn't know if the info was in the right place."
It is not a direct ask of a link.
But a subtle opening of a conversation. 
As you start your conversation, and if it goes a long way. 
You respond with something like:
"Well, we just finished this guide on [topic] [insert the URL of your content]. In any case, parent calls, it would be the best help to have it included somewhere on your site — may be an additional item on your resource page". 
You see how this works:
It's not pushing them to add your link to their resource page.
It is basically:
Moving them.
Sparking their emotions.
And getting links in return for giving help. 
21. Build Linhpin-Level Links 
Linchpin.
Vital to an organization. Vital to a certain process. 
There are links that will move the needle in rankings.
They are relevant and may be pointing to the top-ranking pages for your target keywords. 
Now:
How you can find them?
Create a list of your priority keywords.
These are keywords you're targeting (and you want to target) for your content.
Find the top 10 ranking pages for your keywords. 
Do this with the help of Simple Scraper by URL Profiler.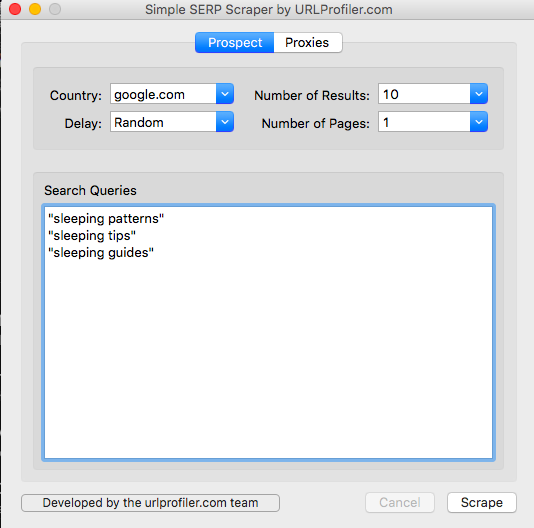 Then with the help of Ahrefs API, crawl the links pointing to these ranking pages.
Your API credits will depend on the number of pages you crawl.
Remove duplicates.
And any irrelevant bad links.
Then you now have a solid list of prospect linchpin links. 
Final Thoughts
Now I'd like to hear from you:
Which tactic from today's guide are you going to try out first?
Will you apply "Bank For Buck" guest posting strategy? Or do the "Reduce, Re-use, and Recycle" for links?
Either way, let me know by leaving a comment below right now.
How our LINK BUILDING AGENCY builds 250 links/mo consistently using Predictable Link Building Methodology™…
Using a SIMPLE and PROVEN system

Using a SCALABLE strategy
No private blog networks
No creepy outreach emails
SHOW ME THE FULL LINK BUILDING STRATEGY