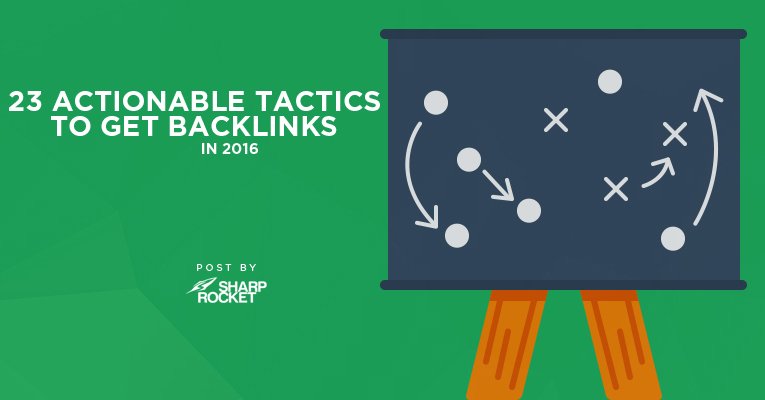 As a company who loves building backlinks, it's a must to do for us to come up with new innovative link building tips, not for the sake of posting something new here on the blog, but for keeping continuous improvements on how to get backlinks to our clients.
How to Get Backlinks
Here are some tips to get backlinks to your site in 2018.
1. PRIORITIZE AUTHORS' FAVORITE LISTS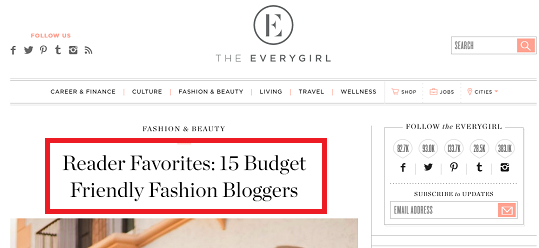 You might have used "list-type" of queries to find backlink sources. However, the problem with some directory sites listing "top industry blogs" is that they are outdated and often include bloggers' other websites (private blog network) – when overlooked, this might actually lead you to low-quality backlink prospects.
Instead of getting quick backlink sources from "top x" blog prospecting, you can look for author's personal recommendation of websites by using simple Google searches like "personal [industry] blogs I recommended". With this, you'll find an updated and topically-relevant list pages of recommended blogs. This is  actually part of personalizing search queries for a targeted link prospecting approach.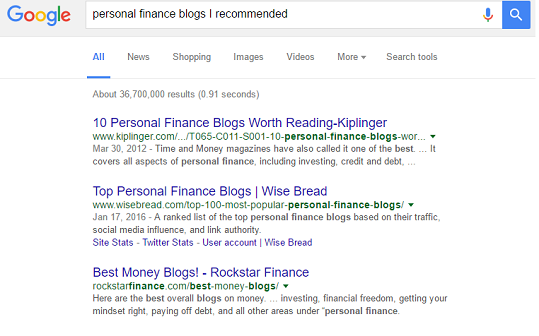 Adding a few lines to your email like, "I stumbled upon a list of personal recommended blogs from domain.com and saw that you're part of it" could make outreach significantly more effective. When you are giving people an idea where you got their contacts, you are instantly building connections with them.
2. USE CMS ATTRIBUTION TO QUALIFY PROSPECTING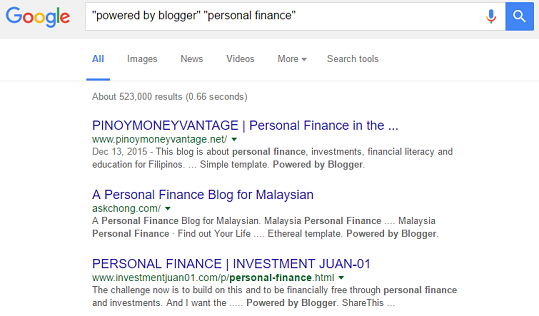 Using footprints to make backlink research easier has been a common practice in the internet marketing space. If you typically prospect with "guest post-related queries", it becomes less hassle to find blogs that are accepting contributed content pieces.
Of course, do this sparingly if you don't want search engines to detect backlinks with only one keyword in place – i.e. "guest post finance".
That's not to say that footprints aren't of good use for link builders. The best practice is actually using them as a backlink qualifier.
For example, you probably have seen blogger attributions at the footer section of every website ("powered by blogger" or "powered by wordpress"). Websites with this type of attribution are personally developed by sole bloggers or those who are at their newbie blogging phase – not with company sites, they'll likely remove this default attribution and replace it with something else, "Designed by [Web Company" or "Copyright 2017".
If you're seeking blog opportunities, you can use CMS attribution to separate blogs from company sites – giving you better response and link acquisition results.
3. RECONNECT TO EMAILS WITH AUTOMATED RESPONSES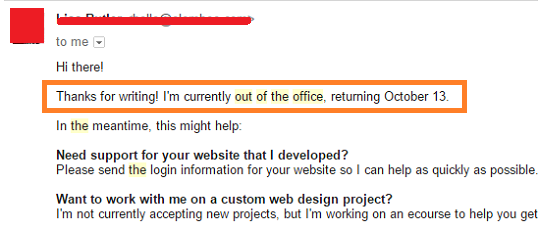 When you send pitches to webmasters and get automated responses, it's fairly easy to ignore them and proceed to another prospect in the list. However, if you spend time finding these potential backlinks, it would be best to reconnect again and build bridges to them.
For this reason, you can check the exact date the person is likely to return to work – 100% of the time, this is visible in their automated emails (see the email above).
Schedule follow-up emails at return dates, and use the same value proposition you've initially pitched.
4. LEVERAGE TWITTER LISTS FOR BULK PROSPECTING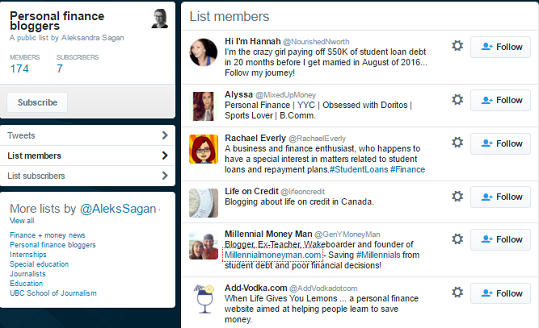 Marketers talk about using Twitter solely for content promotion all the time. However, on a link building perspective, you can actually use this social platform to prospect for blogs that aren't just giving you social shares, but also qualified backlinks.
Start your Google search with query, site:twitter.com inurl:lists inurl:members inurl:finance "finance blogger" and prioritize Twitter lists that are labeled with recommended experts, influencers, top bloggers and titles alike, so you would spend less time qualifying linking websites from Twitter profiles in lists based on link metrics.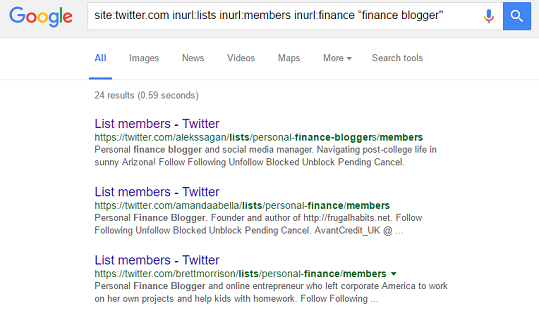 This works more efficiently if you can automate this link prospecting process using URL Profiler. You can check out this step by step guide to scrape Twitter lists to for bulk prospecting.
5. USE FACEBOOK FOR CONTENT AGGREGATION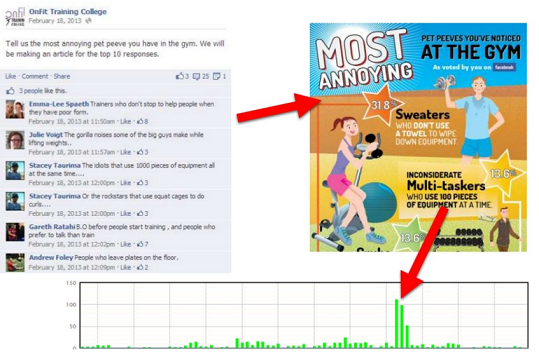 James Norquay introduced me to this idea of generating content ideas through the use of Facebook page. A simple trick like asking a relevant question to thousands of followers (if the client happens to maintain this growth) can ease the difficulty of brainstorming a content theme that resonates a target audience.
Having said that, this is a powerful workflow a content marketer can repeatedly execute, not only for content creation, but also for increasing the chances of promoting the content. If you aggregate answers from followers, you can effortlessly ask them to share the content piece, once published.
Facebook allows for more content visibility when people get nudged for every comment that is added to the post, as it pushes back to the timeline every time – giving some feedback to every answer, i.e. saying thank you also provides extra nudge.
6. BUILD PERSONAL BRAND IN WEB COMMUNITIES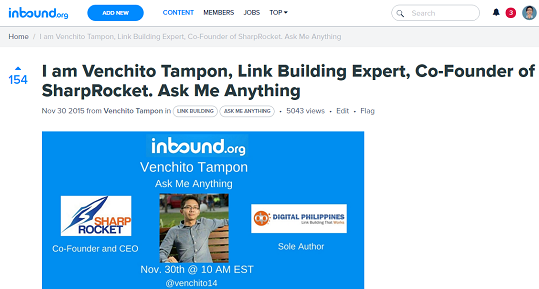 Generating backlinks from web communities is tough. If your main strategy is creating individual profiles from each of these community sites and inserting backlinks to your brand, you're missing out huge potential equities you could derived from them.
The best 2017 link building practice is to impress members with contributed content, interesting questions and immediate submission of 10x content. If you repeatedly do this, you'll create a flywheel effect that builds an impressive online presence, which will eventually result to backlinks.
One pro tip here is to observe Ask Me Anything-like opportunities and become the first one to grab it – while moderators qualify based on expertise, there is a higher probability to be included in their line-up of AMA experts if you become the first to pitch them.
This strategy works for us at SharpRocket, as we're able to build high-quality backlinks from Reddit (DA70) and Inbound.org (DA90). Not a surprise – this drives converting visitors to our sites who became our current clients today.
7. BUY-IN CONTENT GAP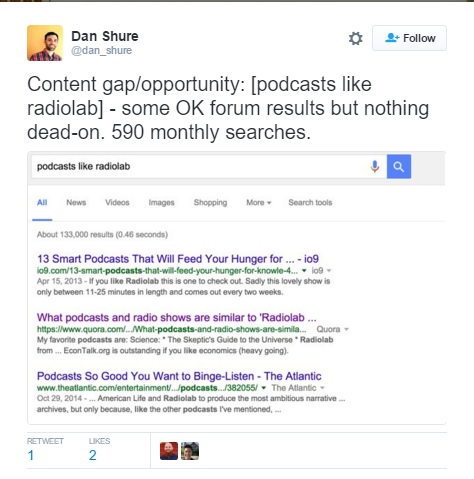 Content matters, but it's not actually the king – value proposition is. What keep pages ranked for a long time is their ability to satisfy users with information they're looking for.
When you stumble a keyword with high search volume, but with high content gap from any ranking pages, you have spotted a goldmine there. This tip is actually inspired by Dan Shure's post on Twitter – that is executable when targeting informational searches with nothing to compete in the SERPs.
By giving content chances to rank in low-competitive non-commercial keywords, it's very possible that many publishers and researchers will pick up the page when it gets ranked and use it as a reference to their content works.
If you can create different content pieces that easily rank in search, of course, you earn high-quality editorial backlinks over time – doing less efforts in outreach.
8. ALIGN OUTREACH WITH HIGH TRAFFIC PERIODS

If you're pitching webmasters with right timing – early morning on peak days of the week, you probably see good results in your outreach response and conversion rates. Even if content can speak for itself, when an email isn't read on days and hours when people are likely to see it, you potentially lose the likelihood of hitting a link.
Having said that, there's also one best practice that supports right timing – that is, aligning outreach with high traffic periods.
If your most visited days in your newly published content are Tuesday and Thursday, it would be best to reach out to people where there's higher probability that the relevant outreach market is ready to link to your page. If you've got an access to client's analytics, track the highest traffic periods and match this up when scheduling emails. You can check out this guide for a complete setup on the blogger outreach process.
Additional Resource: How we reached a 16% response rate in email outreach (+ 9 actionable tips)
9. CREATE SUCCESS STORIES-TYPE OF CONTENT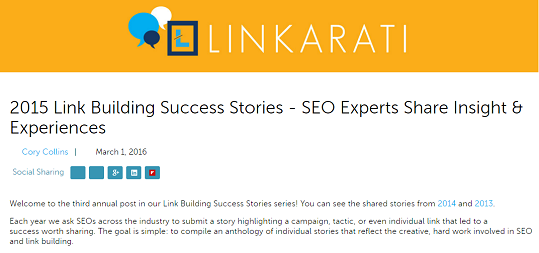 When working on a round-up post, it's pretty easy to start emailing industry influencers with a question – what is your best X strategy in 2017?, then end the email with a straight call-to-action, "mind sharing the post?". This strategy works for some content marketers, but there's a higher probability that this may not resonate to verticals who understand what this game is – influencers might answer the question but won't be enticed to share the curated piece.
However, there's a more advanced way to come up with round-up posts that are likely to result to shares and high-quality links – which only a few content management teams dare to create…. success stories.
Have you encountered a case study that walks you through the entire process on how to do a thing? This immediately takes you to action, right? and encourages you to share the piece to others even without testing it first.
Combine success stories with a round-up post and you'll end up with a 10x content that is worthy of social shares and high-quality links.
One best example of this is the annual success stories (2013, 2014 and 2015), produced by the content marketing team at PageOnePower. These linkable assets combine different success stories from top link building experts on areas of content promotion, relationships, publicity and mentions, innovation and creative and business-oriented links.
Success-type curated content is unique, comprehensive and repeatable – there's unlikely contributions will be the same since they're based from own experiences. Experts combined into one post make the content also comprehensive – making it repeatable given that there are actually new stories to tell every year.
10. INCORPORATE PROSPECT LISTS TO SEARCH QUERIES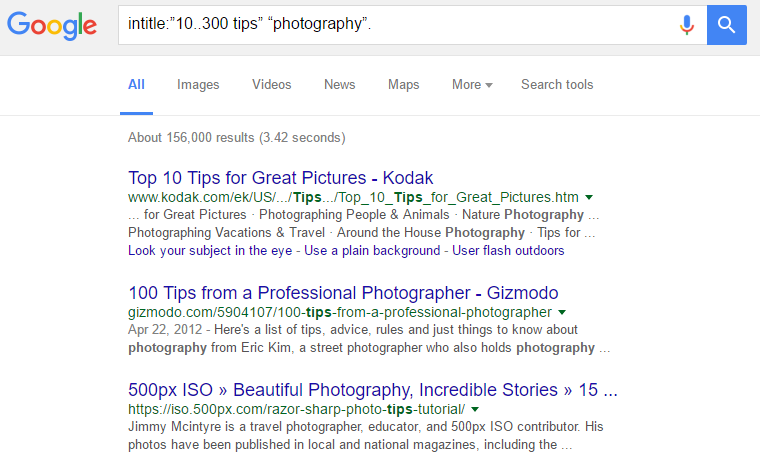 The ability to construct productive Google search queries will separate success from failure in link prospecting. The more concrete and specific a search query is, the better search-driven pages it would yield – after all, it's about the quality, not quantity. If you see 5 million results from a particular search query while not being sure if most of them pass your link metrics, then it would make sense to get more particular with your link prospecting keywords to discover high-quality link targets instantly.
In our day-to-day tasks of finding and qualifying blog targets for our clients (an average of 500 each client), we've noticed that list-type of content dominate the search results.
If you take a look at them, they are constructed in such a way like this:
10 keyword tips for industry
21 reasons why industry
16 rules for industry
27 ways on how to keyword industry
18 types of industry
8 lessons learned from industry
10 steps to keyword
8 facts about keyword
The secret to expanding a list of outreach prospects is using above keyword-formats along with the intitle:"1..300" advanced search operator (hat tip to @pointblankseo)– the first and last number serves as the start and end point, respectively. For example, if you're looking for blog posts with 10 or more photography tips, you can use the search query: intitle:"10..300 tips" "photography".
Take advantage of this when you have content – product or resource that is perceivably useful to the audience, which is likely be included in a list-type of content.
11. PREDICT LIFETIME LINK VALUE
Like in other areas of digital marketing, maintenance is critically practiced in link acquisition to ensure link values won't deteriorate. Backlinks could potentially lose their values for many reasons, such as:
When they are placed in off-topic pages or in websites with multi-categories.
When they are placed in solely-trending pages (top 2015 best practices) – as time passes by, these pages aren't perceived as valuable to visitors.
When backlinks are temporary placed for particular listings – i.e. sponsorships / annual rented paid links.
When backlink growth goes downward – implicating that the webmaster isn't building links to its webpages anymore.
When link value depreciates, the overall backlink profile could negatively affect the site's top ranking pages – pulling them down to lower pages of search results. This often happens when backlinks is a differentiating ranking factor to compete in a certain vertical.
Having said that, lifetime link value considers to be a standard metric when qualifying if a link on a particular page/site can offer long term value to the linking brand.
Making the above reasons opposite are the exact tips to ensure backlinks appreciate in its value:
Prioritize websites/pages that are topically relevant to your niche – avoid multi-category sites as they have diversified topic values.
Invest in getting backlinks from evergreen content or pages that'll get updated often times due to the demand of the topic. Pages unlikely to be extinct are valuable pages that can rank for in search as well, which translates to constant flow of referral traffic to your site – once you acquired links from them.
You can use CognitiveSEO to check the site's backlink growth and link velocity – if the graph goes upward, it's a good signal that the webmaster acquire backlinks to its website over time.
When you can predict the lifetime link value of a backlink from a particular domain/page, it's easy to prioritize outreach prospects – looking at the highest return of investment you could get even from a single backlink.
12. MANIPULATE LINK LISTS WITH LINKCLUMP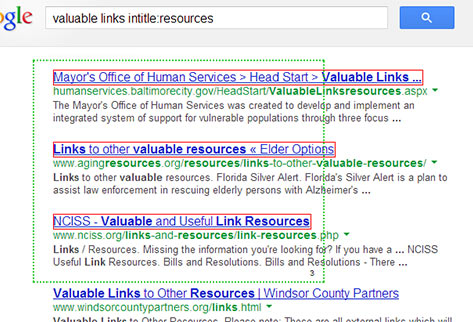 I've been using Linkclump for almost a year now, and it's a guaranteed of big help for link builders trying to expand their link lists in less time. The tool enables you to open links on search results or custom lists in new tabs or new windows – with a simple drag using the right mouse button on the target area.
Linkclump also allows multiple links to be bookmarked or copied to clipboard for immediate or future use. Smart select opens done this way, when combined in several minutes is a huge time saver for bulk link prospecting.
There is still one particular use of Linkclump that others aren't familiar with, but definitely provides great value – filter links that contain or exclude particular words. For example, if you're working on a guest blogging campaign – with no particulars on sponsored posts, you can add the words, sponsored post, sponsored, paid post as words to be excluded when manipulating link lists. With this, you won't open links that contain particular words that aren't relevant to a link building tactic you're using – another time-saver tip.
13. LEVERAGE CONTENT REUSAGE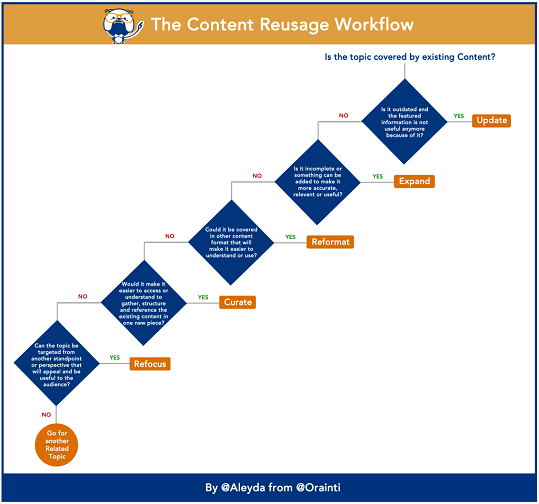 Content reusage, commonly termed as content curation coined by Aleyda Solis, is the process of organizing and presenting outside content in a new, meaningful way either through updating, expanding, reformatting, curating and refocusing a particular content piece.
Utilizing content reusage as part of your entire link acquisition campaign drives significant advantage to determining an outreach market. For example, an outdated content piece with 100+ referring domains linking to it, can be revisited and plugged in to a favorite backlink research tool (Ahrefs, OSE or CognitiveSEO) to see which of the links are obtainable. Once the updated version of the content has been published on your site, it's easier to build backlinks to the page given that there's an available and qualified backlink prospects to reach out and to acquire backlinks from.
14. USE TAXONOMIES TO EXPAND LINK LISTS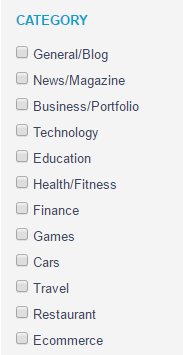 There is one advantage when competing in non-marketing heavy verticals – some bloggers and webmasters aren't taught of non-indexing pages to avoid duplication issues and help the website maintain only quality pages as part of the site's search-driven pages.
While this is unfortunate to some publishers, you can use this to your own advantage by constructing search queries with taxonomies, such as tags and categories.
Based on our internal research, we've found out that using the above search queries generate more qualified backlink prospects than using normal searches like how to x in industry – being more specific with keywords when using inurl:tag (i.e. inurl:tag "startup tips") are more topically relevant than generic tag keywords.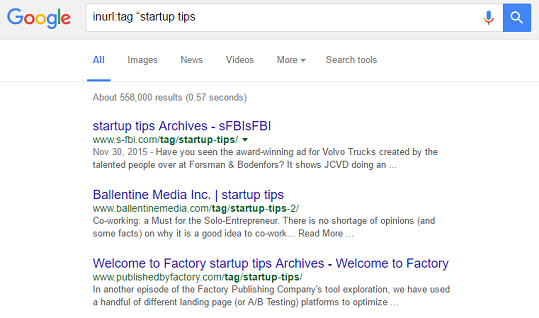 15. COMMENT ON POSTS LIKELY TO RANK
Comment marketing is one of the overlooked and misused link acquisition techniques, primarily because most SEOs don't see the benefits one can gain from this simple link building trick like setting yourself as an expert in the industry, being invited to become a guest contributor, building relationships with other authority publishers, so on and so forth.
Most importantly, one comment nudge from community-based blogs like this and this can generate hundreds of referral traffic to a site, which may lead to actual assisted conversions without actually spending much time to execute the entire link building tactic.

Be the first one to comment on an authority blog (use RSS feeds plus email to get you notified immediately if there's a new post that has been published) and make it as part of your regular content efforts with the intent of getting clicks from blog readers (see example above).
Target pages that are likely to rank in search – content assets that are targeted with keywords or content themes instead of plain theories, so when you build a link from these pages, you can constantly send relevant traffic to your site.
16. GENERATE LEADS FROM SOLUTION-BASED BACKLINKS
Increasing visibility in search results through proper link building while getting leads from referral visits (conversion link building) is hitting two birds with one stone. While this may not always happen, but if you can actually anticipate that links built from a relevant site/page could drive potential customers/clients to your brand, this is something you must prioritize in your link development campaign.
Find and participate on topically-relevant discussions that people are actually searching for when looking for recommended products/services. Here is a list of example Google search queries that you can try:
Where should I buy / where to buy / "keyword" + inurl:forum
Where to get / where can I get / where can you find "keyword" + inurl:forum
Who do you recommend "keyword" inurl:forum
Another link building trick here is to find commonly-asked questions with commercial intent on AnswerthePublic and utilize them as search queries with combined search operator inurl.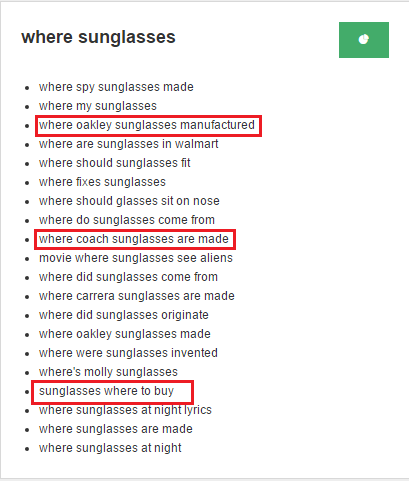 Additionally, if you're targeting multiple verticals or you're handling a set of clients with the same target audience (i.e. Australian-focused), you can acquire backlinks from multi-category forum sites like Whirlpool. This type of sites often get visited by people who can easily be converted into customers/clients – so it's a big win to earn backlinks from them.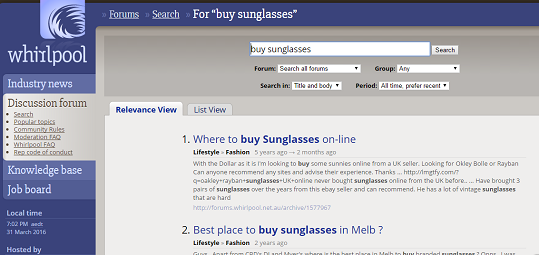 17. PROSPECT EASILY WITH MILLIONSHORT

Link prospecting consumes a lot of hours, three times more than time spent for outreach. So it's a definite need to use link prospecting tools that filter sites better in less time but still providing relevant pages.
There are a lot of this kind of tools, but one I highly recommend is MillionShort. From the name it derives, it ignores the 1 million most popular websites on the internet, which makes it easier for link builders to find less-authoritative blogs. Needless to say, this is not actually fit for high-level development campaigns, specifically targeting huge online publication sites.
MillionShort has a drop-down list that also provides you the option of removing only the top 100 or the top 100,000. Definitely fit for low to medium-level link development campaigns, the search engine tool helps the entire link prospecting process focused on pages derived from long-tail searches.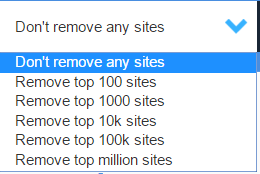 18. ESTIMATE LINK PROBABILITY
When you can predict if backlinks are obtainable from a certain page/site, it's actually easy to decide whether or not that link prospect is worthy to spend minutes of outreach. While there's no guarantee of exact percentage of link probability, you can estimate it based on a number of indicators, which are listed below:
Consider the context of a link and purpose of page when qualifying prospects. The page may be exactly relevant to your vertical (gardening to gardening) but only offers to demographic-based visitors. For example, in this particular resource, you'll have less chances of acquiring a link from it if you have a Texas gardening resource page given that the purpose of the page is to provide research-based information to Georgia gardeners – take note that cities of USA have different gardening and landscaping atmospheres/areas.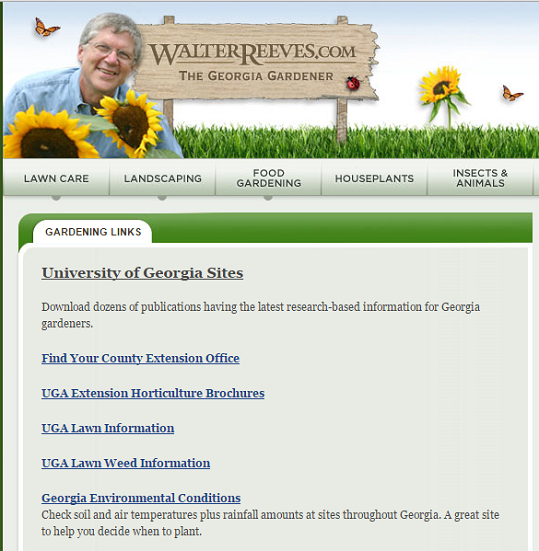 Another indicator to look at is link type – determining if link is local, national or general-focused, contextual or site-wide, resource page link or blog link. If you have an AU-focused html page and is itching to get a link, you will immediately reach out to the owner of this resource page and request for a backlink. But you'll likely end up in failure because the page mostly links out to pdfs and publications sites.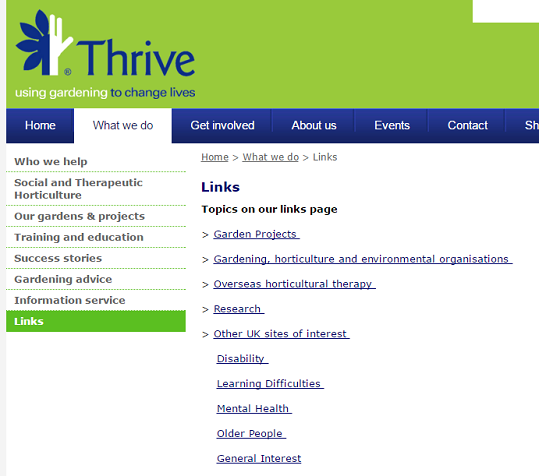 Make sure these considerations become part of metrics so you can save time in your outreach process and most importantly, helps you personalize outreach emails with the right context.
19. REQUEST EDITORIAL LINKS FROM SOCIAL LINKERS
Publishers and content creators often reference co-authors in their content assets by mentioning their social profiles (see image above). These social content can actually earn more backlinks than any page in the website, which is a lost equity if you have many of those but are not pointing to your website.
With the use of link tracking tools (see image below), you can discover pages currently linking to your social profiles. Some social links aren't convertible into editorial links, such as those that are included in a list-type content (top 50 SEOs to follow on Twitter).

However, there are backlinks that of good use like those that referenced your content, quotes/statements – Brian Dean shared an actionable advice to… and stolen your assets – copied infographic that linked to your social profile, not to your website.
Once you've filtered high quality domains that can benefit your site, you can use this email copy to reach out to them:
Hi [Name],

I noticed that you mentioned my content about [topic] in one of your blog posts at [SiteName]. I appreciate you linked to my Twitter profile.

Just wondering if there's any chance you can link instead to my profile page in my website.

Thank you again,

[Your Name],
The key here is to create a branded page in your website so it'll be easy for publishers to link to you.
20. RE-ENGAGE DOMAINS THAT REMOVED BACKLINKS
Not all backlinks remain for a long time, some are actually lost or deleted due to webmasters' preference – either they removed the link in the content or replace it with another content source.
Lost backlinks aren't easily recovered since the webmaster may actually abandon the site – leaving no rooms for re-engagement. While removed backlinks can still be recovered by doing an outreach to webmasters and asking if they can add back your link or acquire another link from a different page in the same website – both are best ways to get backlinks.
You can start this link building tactic by using Ahrefs to grab websites that removed your backlinks and put them in a list – since these links are normally labeled removed, you can easily identify them in the Ahrefs dashboard.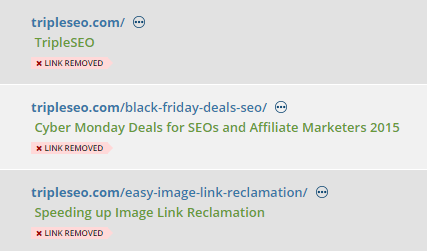 Once you're done with the link list, you can get their contact details and reach out to them. A few ways to make your outreach works more effective:
If the page doesn't exists anymore, you can ask current linkers if they are interested in republishing the page but with updated information this time, and if they did say yes, collaborate with them for the new version of the content.
If  the page still exists but your link was removed, there are higher chances that the publisher is looking for new and updated resources. Go back to your content and update it, then loop back to the publisher and ask him to let the resource be included.
Given that you've built previous relationships with these webmasters in your initial pitch, you would get a better response rate compared to pitching cold emails to new outreach prospects.
21.GUEST POST PROSPECTING USING BRANDMENTIONS
Guest blogging still works, but how it is practiced differentiates great content marketers from newbies. If you've been prospecting in search using the same and only footprints in 2012 (guest post by, sponsored post, etc..), you are missing out a lot of other opportunities that could easily be converted into links.
One way to prospect for guest blogging opportunities is through the use of web mention tools like BrandMentions or Mention to find recently published guest posts that are relevant to your industry.
Finding these link targets makes a lot of difference in your link acquisition results given that they are more receptive to outreach compared to domains gathered through search footprints.
22. EARN LINKS USING SLIDE DECKS
In a content-based link acquisition process, it always start with finding the available resources a client/business have. Whether it's online or offline, these assets if used extensively, can entice publishers and niche-like content creators to link to your site.
Offline events like trainings and seminars have slide presentations that are ready to be uploaded to Slideshare. If you've got a client with these assets, you're reaching a goldmine others won't consider in their own link acquisition campaigns.
If you take a look at Rand Fishkin's Slideshare profile, he had 100 different slide presentations on his account, which if you'll plug in over to your favorite link building tool, you'll discover 3,778 total links from 252+ different LRDs – linked by publishers in three different ways:
Directly linking to the presentation
Linking to the Slideshare profile
Embedding the slide deck on their websites.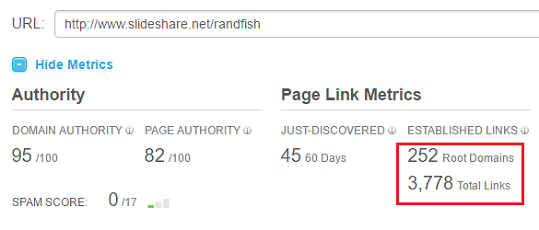 Export a list of linking sites or create your own and filter them based on quality. Once done, you can brainstorm link building tactics on what to execute for each filtered domain, below are some examples:
Create your own page in your website with all presentations embedded then pitch publishers to source link to that particular page.
Offering them exclusive write-up about your upcoming events or overview of presentations and they'll get the benefit of exposure on your client's talks (e. featured on this news site/publication – one slide).
Ask bloggers if they'll be interested to conduct an interview with your client in relevant proportion to his slide presentation.
Propose a guest post idea to the publishing site that expands the content theme of the slide deck.
The main advantage of these slideshare link opportunities is that they convert better than other asset link sources, as some (event participants) had actually interacted with your client.
23. PERSONALIZE EMAILS TO GENERIC EMAIL ADDRESSES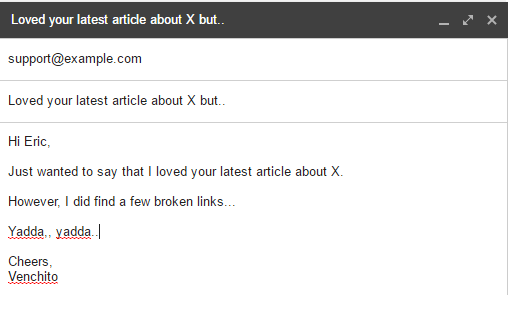 If you know a person runs a website but can't find a particular email address, you'll likely send a generic outreach email to a generic email address – asking the person if he can forward your email to the right person. You won't be aware but this type of emails often get deleted instantly. The webmaster may only be using the generic email address for personal conversations.
Additionally, if you are not doing outreach for generic emails and proceed to another prospect on your list, you'll miss out the link that could be converted through a conversation with the person behind the generic email-ad.
Needless to say, always use the name of the webmaster or publisher as part of your greetings – personalizing your email even for generic email addresses.
OTHER USEFUL RESOURCES:
HAVE WE BEEN HELPFUL?
Want to take your link building to the next level – — but don't know where to start, and are feeling overwhelmed by this post.
We are here to help you. SharpRocket is a team of link building specialists who love building high quality backlinks.
To learn more about how we can help, take a look at the services we offer.
Hear about new posts as they happen. Build extraordinary links.