As defined by Wikipedia, life-time value (LTV) is a prediction of the net profit attributed to the entire future relationship with a customer.
This business concept enables entrepreneurs and marketers assess payback of advertising spent in promoting a product/service.
Replicating this same principle to link building campaigns can enable us to future proof links by considering their long-term effect on the pages they've linked to.
What is lifetime link value?
Lifetime link value is a self-evaluated prediction of the entire value of a backlink target to assess its potential impact to its destination pages. (coined by Ross Hudgens).
The great thing about using lifetime link value is that it can serve as a basis in determining the worthiness of getting a link from a page/site through its potential referred traffic, branding and assisted conversions, and by considering the resources you've put into place to acquire the same link (cost for content, time for prospecting/outreach, etc..).
There's no absolute metric to measure individual lifetime link value of backlinks. However, knowing what makes one link more valuable than the other (because not all links are equal) can help you set standards in qualifying link targets and in prioritizing outreach based on which sets of link prospects can potentially bring long-term results for your campaign.
Link Value Factors
Search engines use a wide range of factors to determine how much weight each link on a page may pass along.
The Reasonable Surfer model, which was discussed by Bill Slawski in his 2010 post covered these three determinant sets of link value:
features associated with links

the pages these links had been placed

pages being linked to
In detail, examples of each link determinant set are stated below.
Examples of features associated with a link might include:
1. Font size of anchor text associated with the link;
2. The position of the link (measured, for example, in a HTML list, in running text, above or below the first screenful viewed on an 800 X 600 browser display, side (top, bottom, left, right) of document, in a footer, in a sidebar, etc.);
3. If the link is in a list, the position of the link in the list;
4. Font color and/or other attributes of the link (e.g., italics, gray, same color as background, etc.);
5. Number of words in anchor text of a link;
6. Actual words in the anchor text of a link;
7. How commercial the anchor text associated with a link might be;
8. Type of link (e.g., text link, image link);
9. If the link is an image link, what the aspect ratio of the image might be;
10. The context of a few words before and/or after the link;
11. A topical cluster with which the anchor text of the link is associated;
12. Whether the link leads somewhere on the same host or domain;
13. If the link leads to somewhere on the same domain,
• Whether the link URL is shorter than the referring URL; and/or
• Whether the link URL embeds another URL (e.g., for server-side redirection)
Examples of features associated with a source document (the page being linked to) might include:
1. The URL of the source document (or a portion of the URL of the source document);
2. A web site associated with the source document;
3. A number of links in the source document;
4. The presence of other words in the source document;
5. The presence of other words in a heading of the source document;
6. A topical cluster with which the source document is associated; and/or
7. A degree to which a topical cluster associated with the source document matches a topical cluster associated with anchor text of a link.
Examples of features associated with a target document might include:
1. The URL of the target document (or a portion of the URL of the target document);
2. A web site associated with the target document;
3. Whether the URL of the target document is on the same host as the URL of the source document;
4. Whether the URL of the target document is associated with the same domain as the URL of the source document;
5. Words in the URL of the target document; and/or
6. The length of the URL of the target document.
In the continuation patent (deeply discussed by Bill Slawski in his 2016 post), user behaviour on the page seems to be emphasized more as an important factor of link valuation. A link with high probability of being clicked on a page carries more weight than other links on the same page with no actions by users.
Further Reading:
Visible Determinants of Lifetime Link Value
Evaluating links on a naked-eye standpoint is feasible given that there are visible clues that can be found on potential linking pages.
While some determinants provided below may require first-hand analysis on websites' backlink profiles, it will only take less than 2 minutes of your time to generally evaluate a website/page for a link opportunity.
1. Topical Relevance
Relevance, no doubt, should be the primary factor when evaluating the value of a link target. In fact, the majority of top link builders/SEOs in this latest round-up post prefers a highly-relevant link but low authoritative link than a high-authority link with lower relevance, considering all other metrics being equal.
I'm fortunate enough to participate in the group discussion by sharing my insights on the topic:
"I strongly believe that relevant links have a bigger impact on the algorithm. More so, authority is pretty subjective, as metrics available on SEO tools out there can be flawed; how users/website visitors look at sites is mostly based on the relevance and utility of the information they've found on a given page.

"Also, in terms of scalability, you're likely to get a bigger list of highly relevant link prospects, sitting in a very specific niche, than finding only high-authority sites with your choice of metric. Plus, if you've been reaching out to a webmaster, it makes more sense for them to give you a link if they think you're highly relevant to their sites."
Lifetime link value goes up when a certain page is highly relevant to your website. Meanwhile, if it's a link off-topic to the destination page, its LLV certainly goes down.
One approach that you can use to determine the thematic relevance of a page is by using Majestic Backlink Analyzer.
The tool allows you to get an overview of the topical trust flow of a site.

Use this approach only for certain sites that you're unsure of with relevance requirements.
Another tactical approach you can use for topical relevance is by checking the site's list of categories. For generic blogs like travel, some of which have second-level deep categories like medications/insurance, you might find good link opportunities to acquire links from on a page-to-page relevance basis.

However, for niches with large linkable market audience, it isn't a good idea to obtain a link from a domain with no category fit.
2. Evergreen Linking Source
The timeliness of a topic can either recede or raise a backlink's lifetime link value.
An evergreen content idea like "how to tie your shoes" for example is less likely to become extinct than a marketing technique in SnapChat (who knows there'll be another set of social media sites and new tactics to effectively use them?).
While trends can be taken advantage of for new linking opportunities, acquiring a link from an evergreen page can result to better ROI. It can help continuously drive traffic to your content as long as people can find the information on the linking page relevant and useful.
Given that the source page can improve its visibility by itself, getting in-content links directly to your content from publishers who are looking for references for their works (in addition to to the evergreen content they've seen) is also highly possible.

3. Link velocity
Domains that market themselves are great opportunities to build links from, as they continuously bring new visitors from organic channel (when they happened to rank for several industry keywords) which will then drive secondary traffic to your content.
Link velocity can be a visible determinant of the page's marketability.
Link velocity describe the speed of link growth to a page or domain. Link velocity can be measured in new links per month or new linking root domains per month (LinkResearchTools).
Pages with steadier link velocity slopes tends to have a better LTV.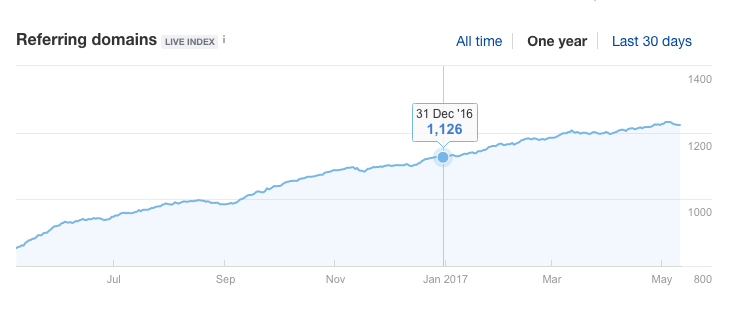 Similar to evergreen linking topics, they have the leverage of acquiring new visitors and potential customers from being able to rank for organic keywords. Given that they've been getting inbound links over time, they also have the tendency of improving its current search rankings – which can increase its lifetime link value.
For example, this page where I've acquired a backlink is getting consistent amount of links (see its link velocity graph).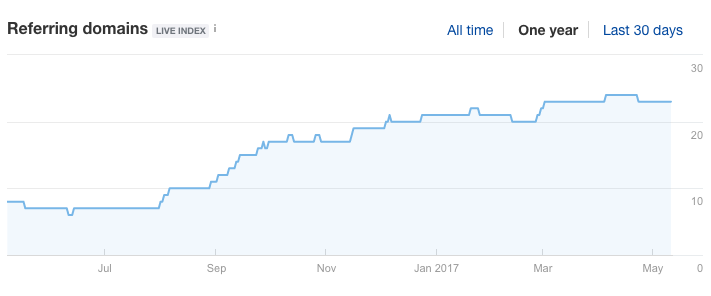 This has allowed me to semi-automate leads coming from the page itself (even after 1 year of being published).



4. Temporal Links
Temporary links obtained through a "link renting" approach (similar to renting a house) have the lowest lifetime link value. Their value is predicated on the period of time the link remains sustained by the fees of the link buyer.
This type of links depreciates its link value, which can negatively affects the rankings of the content being linked to.
Imagine if a page is ranking within the top 3-5 spots for a target keyword and after a few months, 6 out of 10 of its temporal links have been removed by bloggers – this can certainly affects the page's ranking.
While this hasn't been proven by any study, the point in bringing this up is that temporal links can do more harm than good in the long run. Resources consumed for this type of links can be better off spent to links with high LTV.
4. Frequency of Updates
Determining the page's frequency to updates or maintenance can help better assess its lifetime link value.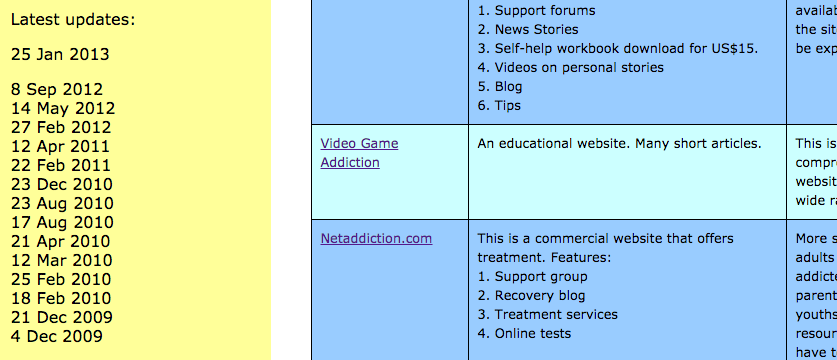 Static pages like resource pages with no updates since 2013 collects broken external links over time and is less likely being receptive to link request outreach pitches (some webmaster even planned to remove these pages).
Though these sites linking to 404s won't be demoted by Google (as Gary Illyes answered Jennifer's question), they are still perceived to provide a sub-optimal user experience. If you're checking links on a resource page and find that most of them are broken, you wouldn't take a chance to visit another link on the same page, even if it's working in the first place.
No-longer-updated pages have low lifetime link value, as there are less likely to drive new visitors to their destination pages (their external links). Search engines won't even try to rank these pages as they no longer updates information which are essential factor for search engines to decide which page deserve to rank for in search.
5. Link Neighbourhood
Checking the page's link neighbourhood (other external links placed within the target page) is an imperative part of the link qualification process as it helps you better assess a backlink's LTV.
A blog's page with five commercial off-topic links is a low valued link neighborhood you certainly won't get clicks from.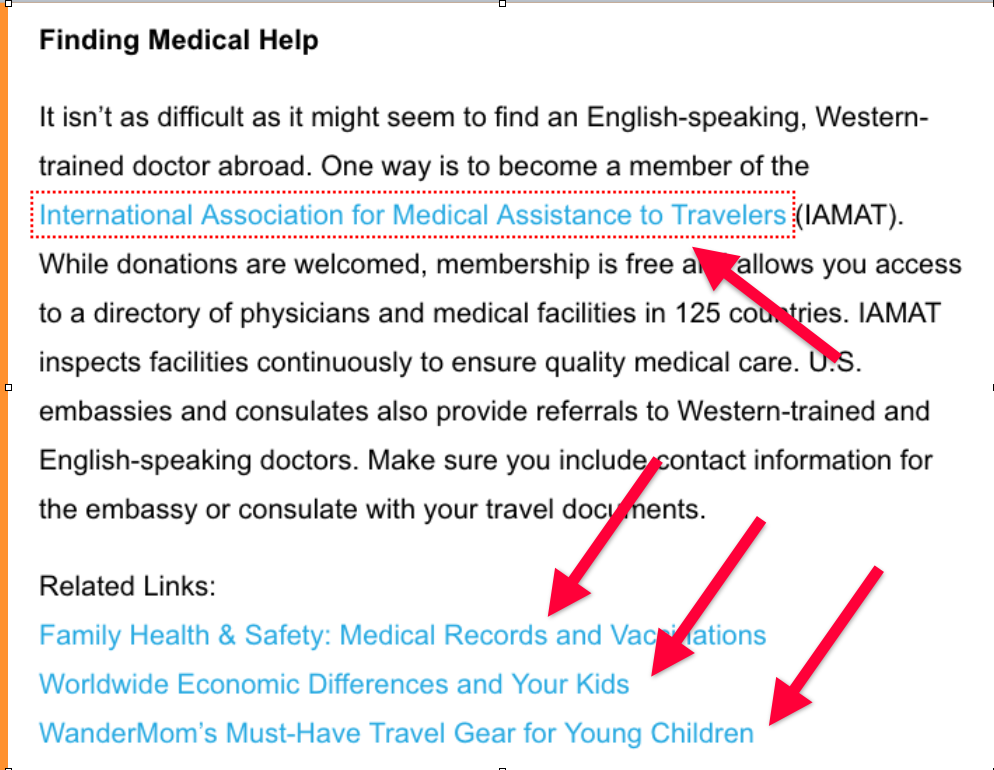 Check external links on the page and see if they're mostly linking to commercial pages that aren't thematically relevant to the content.
As a link building company, it has been part of our protocol not to acquire a link from a blog page with more than five external links and/or with a direct competitor link, unless the context of the page is a pure recommendation of services/products (i.e. top 25 productivity tools).
6. Indexability and Ranking Potentials
Indexability is fairly obvious, if a page isn't indexed by search engines, it won't certainly be found by target users. But there are potential link acquisition targets that are great opportunities on a naked eye view (well-designed and can potentially drive site traffic), but aren't indexed by search engines in the first place.
To check if the site is actually indexed at the current time, you can use the command, site:domain.com and see if its pages are on search results (homepage should be at the #1 spot).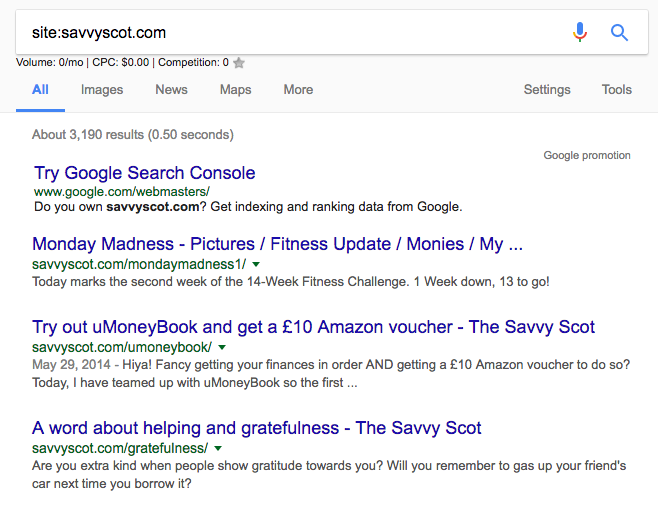 But more than that, target pages should at least rank in the first page for long-tail and/or low competitive keywords. The title tag of the homepage may not be worth assessing for in terms of rankings, as they may not be in the ranking positions yet. But going through its URL (target page), you should expect it to be visible in the first page of search results given that it's targeting less competitive keyword than the homepage.
Ahrefs recently studied 3 million searches discovering the average number of keywords a page can rank for. They discovered that a page ranking for 10th, for example, can also rank for other 400~ related keywords.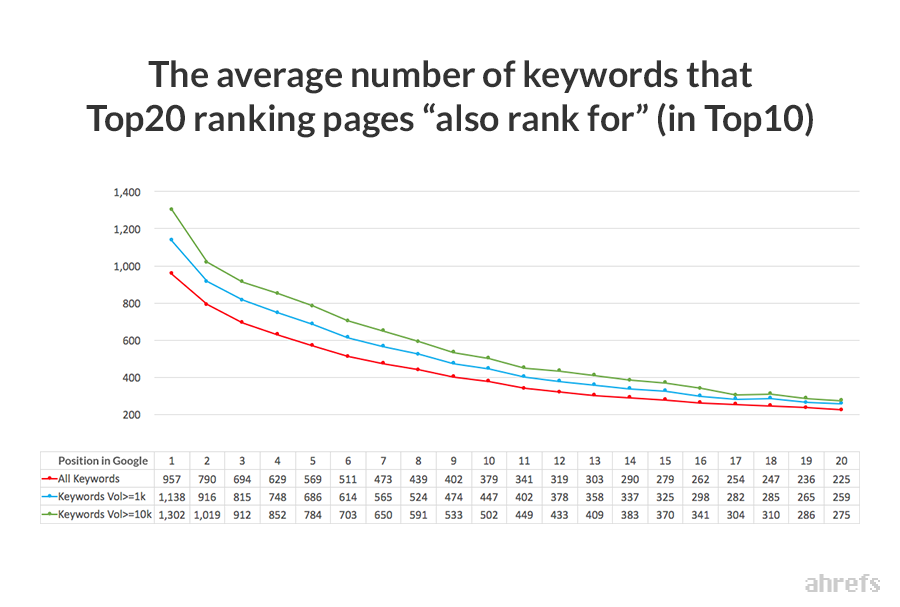 Content that are both indexed and ranking for target keywords are high-LTV pages that are worth pursuing for links.
If you liked this post, you can follow me on Twitter @venchito14.