What exactly is "Link Building"?
Link building is the process of acquiring backlinks from other websites on the web with the purpose of improving traffic on search.
For example, let's say you created a website that sells coffee. At first, nobody knows about it. But given you have friends who own coffee blogs, you request if they can give links from their blogs to an article you wrote about the types of coffee drinks.

The link on the coffee blog going to your article about coffee drinks is what SEOs called as, "backlinks" or "hyperlinks".
There are two types of backlinks: internal backlinks and external backlinks.
On one hand, an internal backlink is a link to your page from another page within the same website. Your webpage links to your other webpage.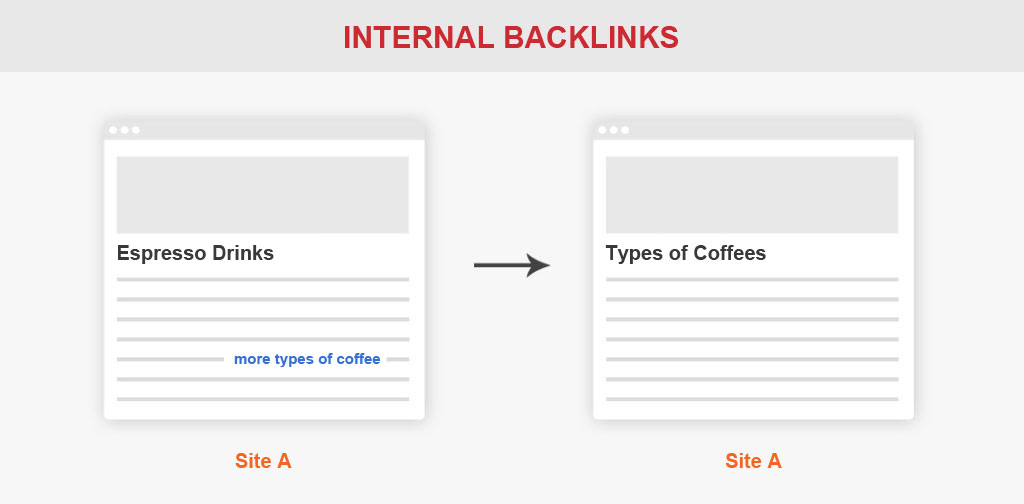 External backlink, on the other hand, is a link to your page from a page of another website.
A page from another website links to your webpage.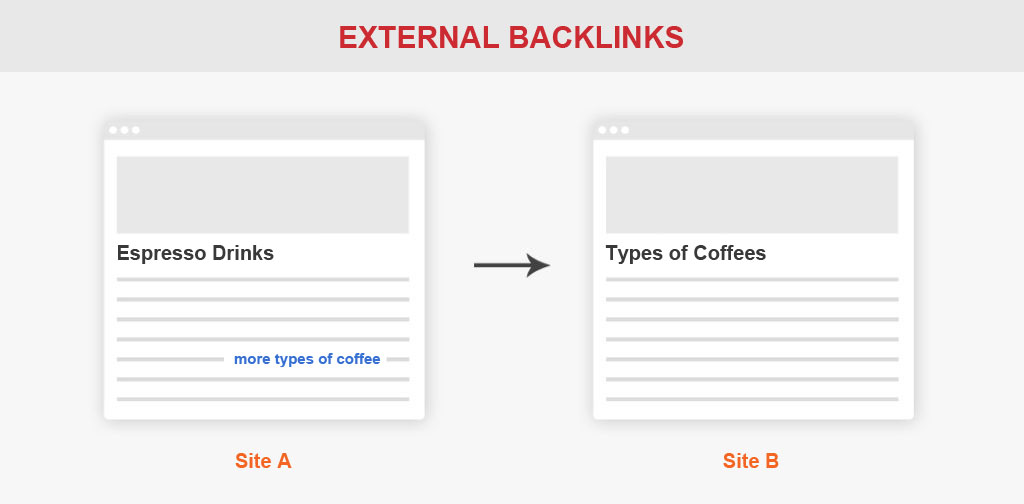 What you are "link building" are external backlinks for your website.

Why do you need link building?
First, search engines like Google uses links as a core ranking factor.
The websites that you see on Google when you type any keyword or phrase rank based on over 200 ranking signals.
Among these 200 plus ranking factors, Google uses links as a core ranking signal.
In fact, there is an algorithm by Google that places value on links and affects rankings of websites. It is called PageRank. Google uses it to look at how many websites linked to a page (quantity).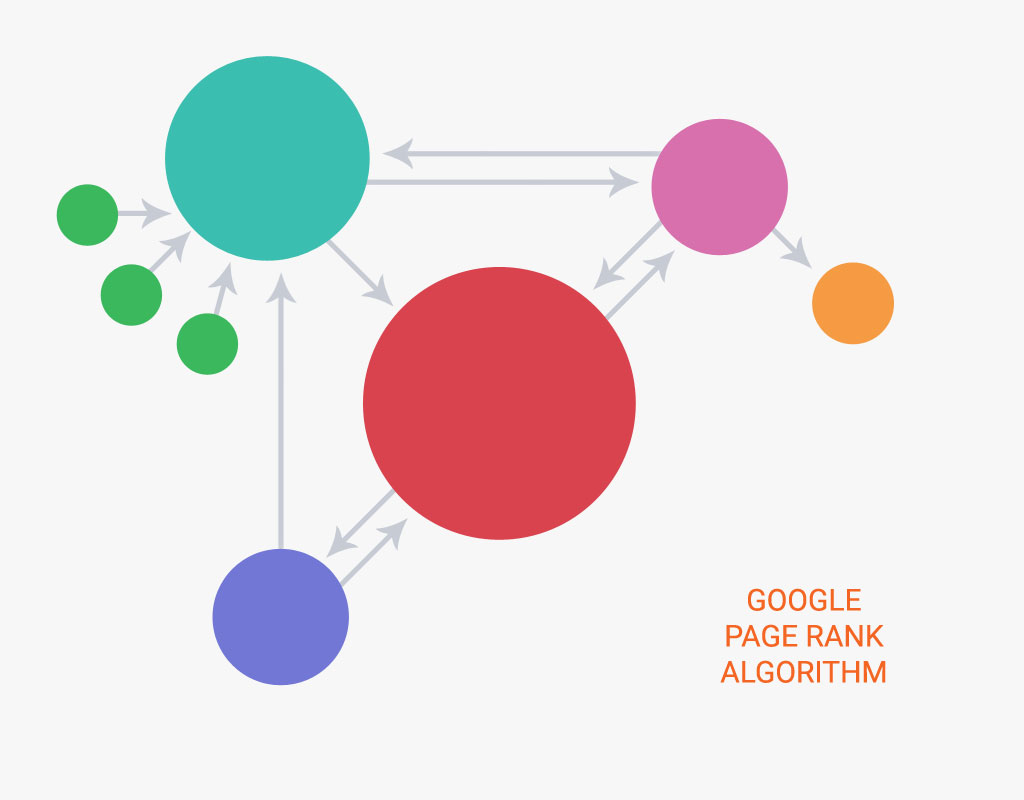 In 2012, Google released Penguin which has now become part of their core algorithm –  that looks at the quality of links (more to that later).
Second, link building can drive referral traffic to your website.
Traffic is the lifeblood of your website. The more qualified traffic to your website, the more sales and more clients you generate for your business.
Referral traffic is a type of traffic that comes from another website. When you secure a link on another website, it gives another visitor an access to your website and visits it – thus, it generates a referral traffic.
Third, link building can possibly generate conversions.
A visitor sent from another website can possibly convert into a new customer or client. That means, more money to your business.
Fourth, link building enhances your branding.
When you get a link from a top publisher in your industry, it builds awareness of your brand. It associates you with other organizations and other entities.
For example, a link I acquired from Forbes can now be used as a social proof on my website. Thus, it enhances our branding as a link building company.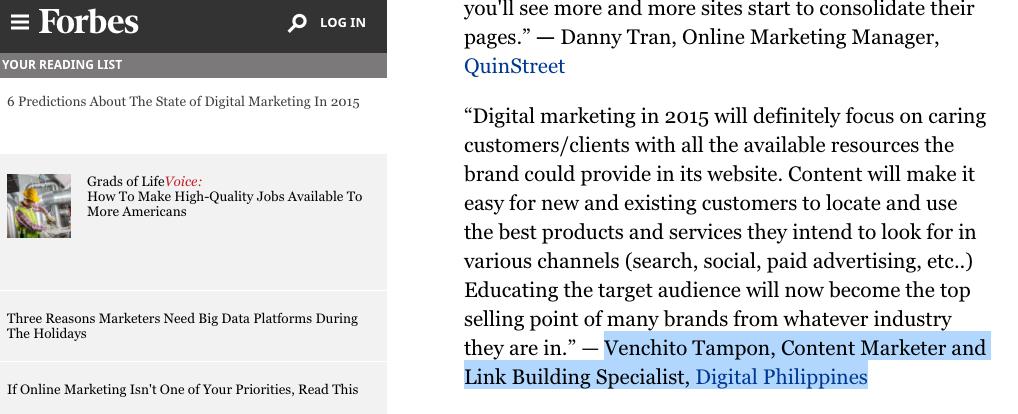 Lastly, link building builds trust and authority.
Backlinks from highly credible websites can help your brand be acknowledged as a trustworthy and authoritative website.
For example, when you get a link from an .edu website, you know it is a link that other brands can't easily acquire unless they have valuable information on their website worthy of being linked to.
In other words, links from edu,.gov websites can help your website gain trust and authority from perspectives of users and search engines. 

Definitions on the link building terms
As you begin learning about link building, you'll come across a lot of terms and jargons you will probably encounter in your readings about SEO.
Here are definitions of some essential link building terms that you need to know.
A. Backlink Profile
Backlink profile is a report commonly established by backlink analyzing tools to evaluate the site's inbound links, anchor text distribution of those links and from what ads those links are coming from.
Below is an example of a backlink profile (report by Ahrefs).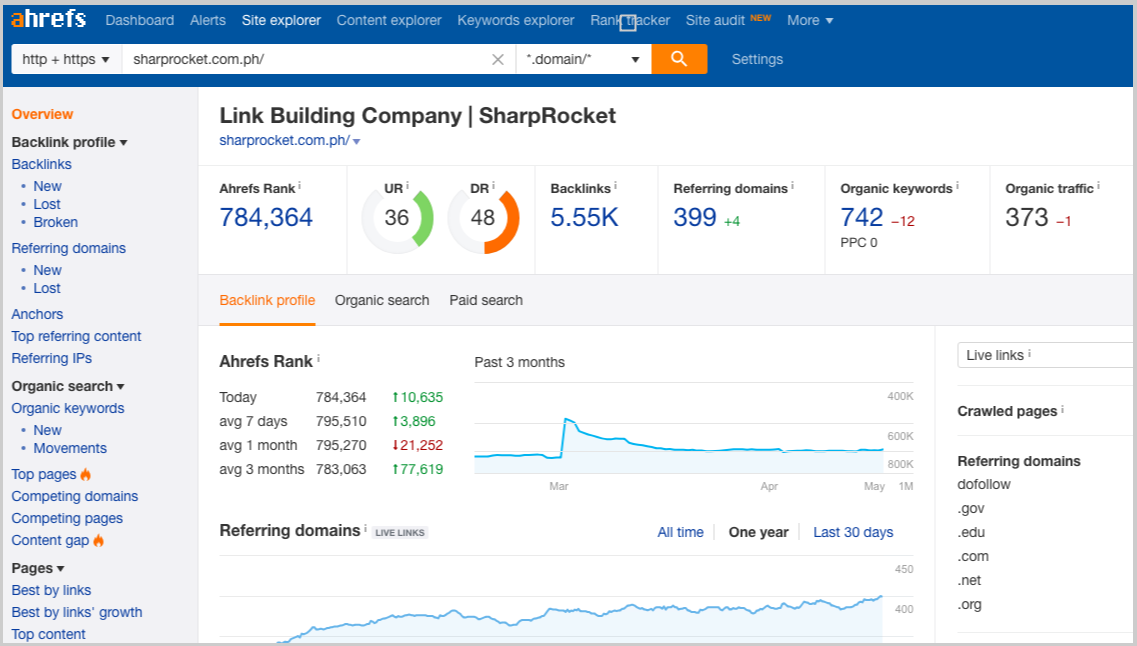 B. Anchor text
Anchor text is the user visible text of a link. It has the anchor element that contains an ahref attribute where the target of the link is placed.
Further reading: Anchor Text: The Definitive Guide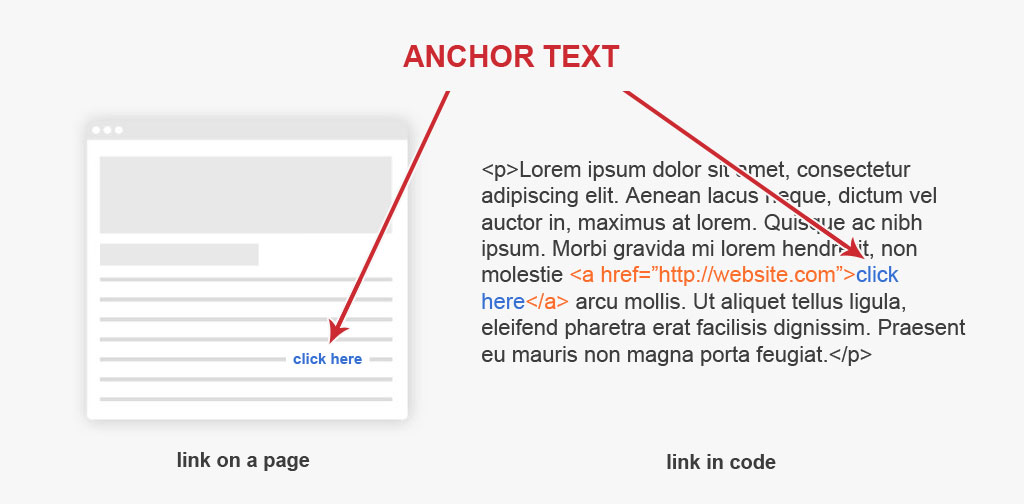 C. Linkerati
Linkerati are users of the internet who have the capacity to include a link from their websites to a specific page. Examples of linkeratis are bloggers, resource link curators and industry publishers.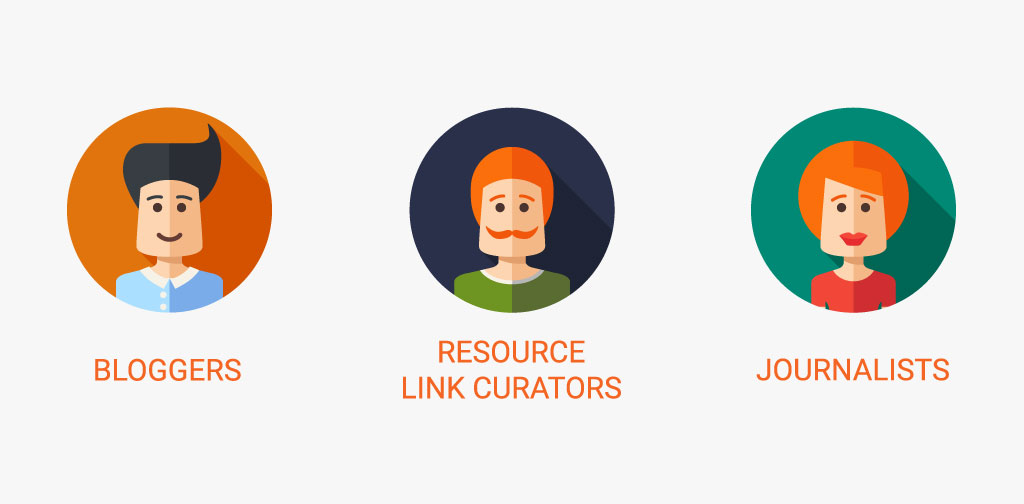 D. Link Prospect
Link prospect is a website or page intentionally found to acquire a link from. The link builder looks for the contact person and his/her email address on a link prospect, reach out to them, build a relationship and get a backlink.
E. Co-Citation
Co-citation refers to the similarities found between two webpages based on a third-party webpage that mentions the first two webpages in a correlation with each other. For example, Site A links to both Site B and Site C. Though Site B is not linked directly to Site C, Google can identify Site B is related to Site C.
F. Co-occurence
Co-occurence refers to the association of particular words and phrases in close proximity to the link. Below is an example.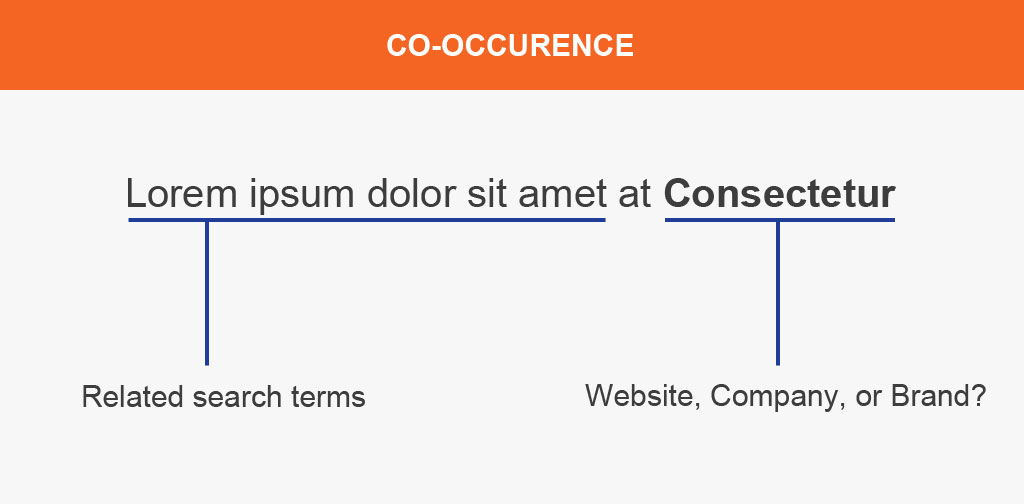 G. No-follow and Do-follow
No-follow links have the rel="nofollow" attribute applied (example: <a href="example.com" rel="nofollow">This is a nofollow link</a>). It instructs search engines not to follow the link.
By default, any links without the nofollow attribute are do-follow links. There is no "dofollow" attribute in dofollow links.
Both nofollow and follow links contribute to rankings. As the late link building expert Eric Ward says,
"I believe that any search engine with the goal of returning accurate results must maintain ultimate control over what it does and does not give credit to, and selectively choose the signals it values. And this includes rel=nofollow. I think it is perfectly reasonable to assume that any search engine can give credit to any link it wants to give credit to, if it feels there are enough signals to indicate it's a credible link. And that means even if the link is nofollowed.

In my entire career I have never made a decision about whether or not I would pursue a link based upon whether or not that link would be followed or nofollowed.

I pursue links if I feel they will help my client reach a certain goal or objective."

– Eric Ward
H. Domain Authority
Domain Authority is a search engine ranking score by Moz that predicts how well a par tic ular website will rank on search engine result pages (SERPs). The range score starts from 0 to 100.
Sidenote: There are a lot of metrics that are being used by SEOs to gauge a page or website's authority and trust. Examples are Domain Rating and URL Rating by Ahrefs and Trustflow and Citation Flow of Majestic SEO. Moz' DA's has been common metric by a lot of webmasters and marketers because of its popularity.

How has link building changed over the years?
I started learning link building in 2012. The far majority of things that were effective in building links that help websites rank are either of these two things:
Use automated tools to insert links to relevant or irrelevant comment sections and forum boards.

Create massive amounts of spun articles and submit to hundreds of article directories with links to your commercial or informational pages using exact match anchor texts.
With that, you rank your website in a matter of weeks or days.
Now? You can't see that magic move happen today. Links are now acquired through intentional and hardwork efforts.
What has changed? Enter Google Penguin.
Penguin 1.0 (April 2012)
It was released by Google to devalue and punish websites with manipulative backlink profiles and with low quality links.
Penguin 2.0 (May 2013)
This update on their link-centered algorithm is focused on targeting the entire websites' backlink profiles, not just links pointing to their homepage.
Penguin 3.0 (October 2014)
This update was controversial, wherein Google admitted that a website cannot recover from the algorithm without an update. Therefore, many penalized websites have to wait for the next update to recover from their penalties.
However, it's clear that the new update allowed many webmasters to recover.
Penguin 4.0 and real time (September 2016)
By this time, Penguin is now part of Google's core algorithm. It's now real time and granular. It means that a website will be penalized in near real time (if it gets unnatural link) as well as recover from penalty incredibly quickly (if bad links are disavowed or removed). The recovery and penalization of a websites becomes much faster than before.
No shortcuts. Link building today is done with patience, perserverance and hard work.

Which types of links matter today?
There are only certain types of links that matter to your website. For a few reasons that:
Not all links are created equal.

Not all links will have a lasting impact to your website's organic traffic.
The ones that you want to build are links that will drive traffic, will potentially generate leads to your business and will establish your website as a solid brand in your niche.
1. Topical Relevance
A relevant link can navigate a visitor to its desired destination page. For example, you have a webpage about sleep disorders, visitors on that page are specifically looking for information about sleep disorders.
If you link to a page that is not related to sleep disorders or any health topics (let's say insurance quotes), there is a low probability that a person will follow the link. It's a pattern of behavior that speaks how important topical relevance is.
As a matter of fact, Google's Reasonable Surfer Model reflects that not all of the links on a document are equally likely to be followed. Examples of unlikely followed links may include "Terms of Service" links, banner advertisements, and links unrelated to the document.
Go look for websites that are topically relevant to the page you're building links to. The more relevant the page is (snoring to snoring for example, and not just snoring to health), the more valuable your link is.
2. Specific external links and not random
If you see a website that randomly links out to any pages, either irrelevant to theirs or pointing to product pages using commercial keywords as anchor texts like BestBuy Coupon Code, it's a link that does no impact to the destination page.
3. Quality of pages being linked to
An article that includes other content formats like video and images are likely to receive more user engagements than a 500-word article without proper formatting and additional media files. The page may be hosted in a website that has a domain authority of 20 but has received social shares and has links pointing to it.
That's a quality page people followed (and are more likely to follow your link if you acquire one).
There are a lot of things to cover

Our evergreen approach to link building
With over a hundred link building campaigns we've handled as a link building company, we have formulated and followed a process to build links consistently to our clients.
Whether you are working in an eCommerce t-shirt business or own a travel sports gear affiliate blog, the backbone of this evergeen link building approach holds true.
Phase 1
Learning / Discovery Period
Before working with clients, we understand their link building goals and their past link building efforts. By closely looking at their needs, we'll know if they consider link building as a long term strategy or as a one-time off project.
We assess their backlink profiles, their existing resources in their website and their capacity to outpace their competitors given their website authority, branding, budget and size.
This phase focuses on learning about the client, their working style and the link status of their website.
Phase 2
Link Landscape and Content Inventory
We look at the existing linkers in the industry and determine what types of pages and topics they  are they linking to. This allows us to check if there are link opportunities available before we jump right in and create content for them.
Additionally, we audit the website and see if they have existing content assets that are underpromoted and underdeveloped. We improve them first and ensure we're proud of promoting them to their target linkers.
Phase 3
Creating Content Assets
Content creation for links begins with ideation. Our starting point when looking for topics is intersecting linkable audiences to our client.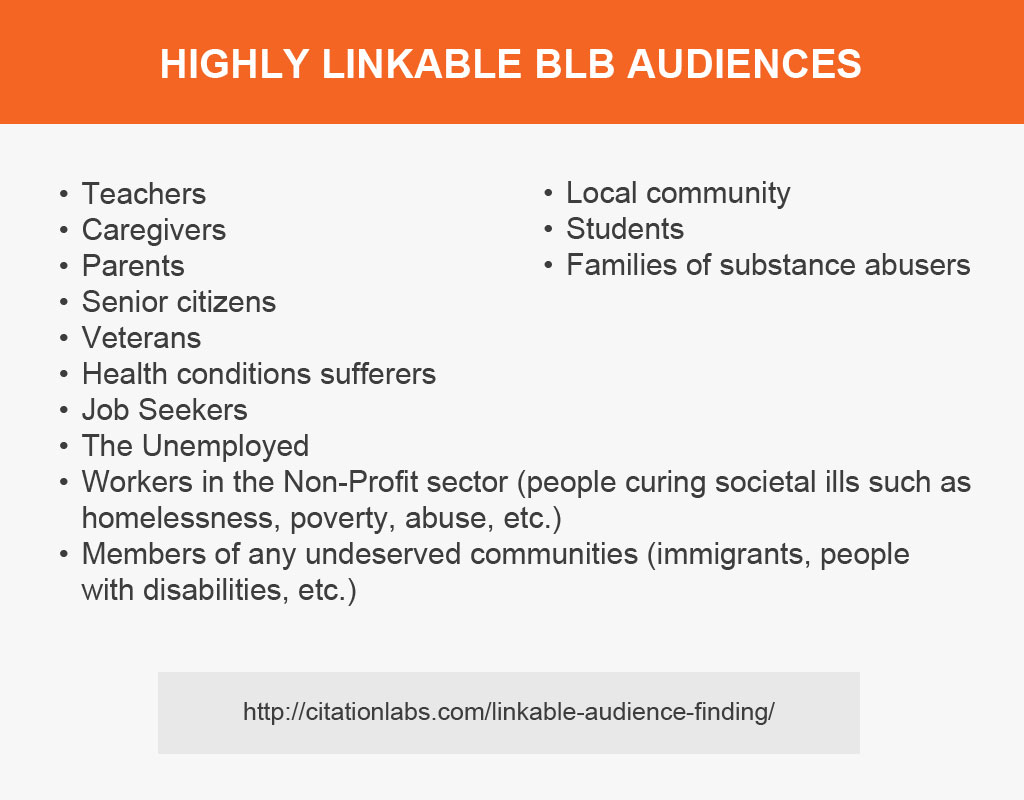 These linkable audiences are proven to have the intent of linking to a website from their webpages. Therefore, creating content for them increases the probability that the content we produce can acquire high-quality links.
You can apply the same methodology whether you own a shoes eCommerce store or a time-tracking SAas company.
For example, if you own a window blinds company, you may not see a lot of enthusiasts that blogs about window blinds. So, writing an article about "10 tips about setting up window blinds" may not get a lot of links.
But putting a linkable audience in mind, you can create a linkable content for parents – for example, a parent's guide for sun safety for kids.
Phase 4
Prospecting & Qualification
Both our prospecting and qualification processes are executed manually. Meaning, every page where a live link is hosted, was found through a manual search in Google, or by looking at client's competitors' backlink profiles or checking curated online posts for a list of blogs we can reach out to. 
We use tools like Ahrefs to find blogs while at the same time, manually look for the right contact person and his/her email address.
Lists of link prospects are added continuously until we have accumulated hundreds of link opportunities for one campaign.
Quality control for links found is also critically important. We look at relevance, content quality of the website, and use metrics such as Moz DA, SEMRush estimated organic traffic graph or Ahrefs' DR to determine the page or website's authority and trust.
Until lists of link prospects are filtered accordingly, that's the only time we proceed to the next phase.
Content creation, prospecting and link qualification is only half of the battle. Outreach is the second-half. This is when our linkable audience decides whether the content is good enough to link to from their webpages.
All our outreach campaigns aim to get our content seen and be linked which means that the emails we pitched should be opened, be responded and webmasters will be the engaged until they've decided to link to the content piece.
Relationships are monitored and strengthened, as they can be maximized for future client campaigns within the same vertical.
All outreach conversations are regularly monitored to check for any live links. We do this both manually and with the help of Monitor Backlinks.
Note: Ahrefs has a new backlinks feature but can take days before links are , especially for small websites with not content yet.
Going deeper, if you have access to your client's GA data, go and check if they have improved their organic traffic over time. We've seen clients that gain immediate effect, some takes months to get results.

As you go along with your journey of building links, you'll find common questions in the SEO community such as, "What are the best link building strategies in [state the current year]? ,or "What are the common trends and tactics to follow in link building?".
Everyone is always on the lookout for new link building strategy or tactic. As if an old link building tactic is never come to use anymore and that requires a new thing for a replacement.
I believe in this:
It's not the new tactic, trend or strategy in link building that matters primarily, it's the right types of links that an SEO or link builder should focus on.
Only those new link building tactics will become effective if they aim to get the right types of links.
Certainly, there are a lot of link building tactics that you can try and test out but not all of which can be applied for your website. You should ask the following questions:
Does this link building tactic fits for my brand/website?

Do I have the resources to accommodate and execute this link building tactic?

Do the links produced will impact my website for short-term or long-term?
"The links that people are most likely to follow are the ones that end up carrying the most weight." – Bill Slawski, on Google's Reasonable Surfer Patent

Further learning resources in link building