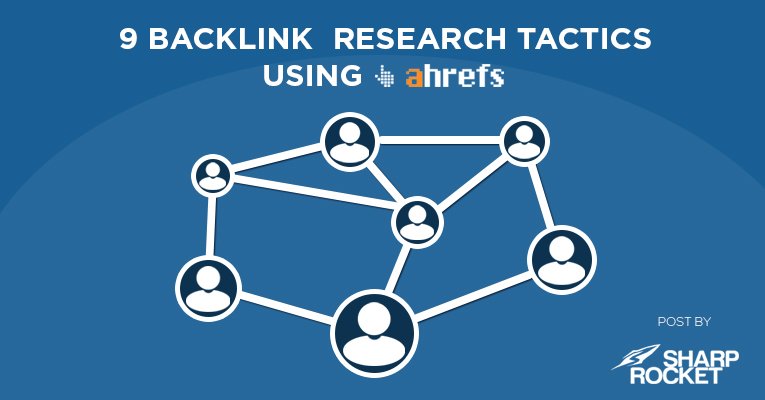 Backlink research is the most difficult part in link building.
Yes, you heard it right.
If you can't find tons of link opportunities and qualify them based on your campaign's metrics, you wouldn't have backlinks.
Trust me.
The most successful link builders are the ones who are very good at finding backlinks.
In this post, I'll walk you through how to research for backlink sources by using just one link building tool that I've been tested and been helpful for my entire SEO career.
Don't get me wrong, I'm not selling anything (not an affiliate of this web product). In fact, I have some bonus resources for you. Tip: I'm opening my second giveaway today.
[yellowbox] .[/yellowbox]
Let's get started.
Ahrefs has been my true friend in finding backlinks opportunities that wouldn't just come through a normal Google search.
Here are 9 backlink research tactics to build a giant list of thousand link opportunities.
1. BUILD RELATIONSHIPS WITH NEW LINKERS
It's easy to start a link building campaign and go directly find new ones in your way.
However, you miss out knowing about existing linkers to your website who are actually waiting to be engaged with your brand.
The question that pops up is, why would I waste time building relationships with someone who already linked to us?
The answer:
Recurring backlinks.
Getting backlinks from websites that already linked to you is a good signal for search engines that your site is a trusted source of good web information.
It's a big advantage on your part simply because every time you publish new content on your blog, you'll have existing linkeraties waiting to reference your post in their future content pieces.
That's a less costly way than manually finding new link opportunities and cold reaching out to them.
ACTION ITEM:
Use the Alerts feature of Ahrefs.
Click into Alerts – Add Alert (orange button placed at the right).


Enter your domain URL.
Mode should be on a domain level.
Choose "New Backlinks" as your Scope since you only want alerts for new backlinks.
Enter your email to which alerts will be sent to.
Then set frequency either daily or weekly depending on how many times you'd like to receive email alerts. I recommend you choose daily alerts, so you can reach out to that new linker right after you received an alert for a new backlink.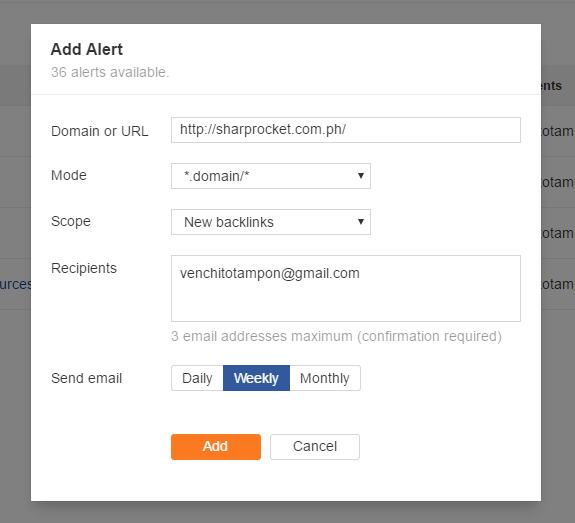 2. GET ALERTS FOR COMPETITORS' NEW LINKERS
Linker outreach is a continuous process.
If content is excellent, it'll earn organic backlinks over time.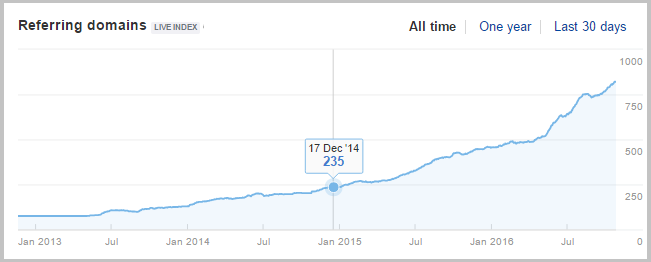 But what if?
You have just created content asset but don't get any attraction at all.
What you need to do is look at your other publishers' similar content and reverse engineer their newly earned backlinks.
The advantage here is that linkers of your content competitors are more receptive to initial pitches than those whose content has been published years or months ago.
Publishers who have just posted their articles are still looking for additional resources/references to add to their own content, which makes it more comprehensive.
Here's good news for you:
You can semi-automate this process using our tool for today.
ACTION ITEM:
You can create alerts to receive an email if a backlink is built/earned by that similar content piece.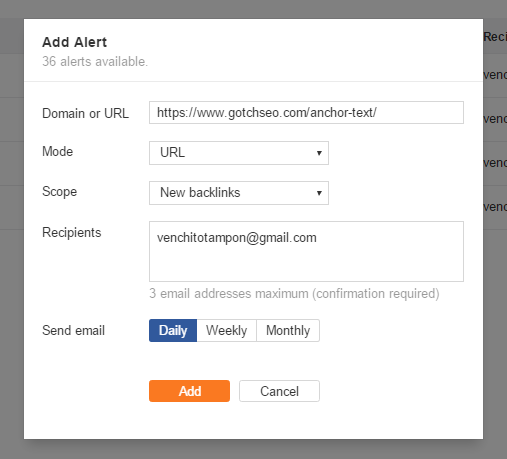 Go to Ahrefs Alerts – Backlinks
Click the "add alert" button at the right.
Enter the URL of your content competitor's content
Choose URL as your mode.
Enter your email for Recipients.
Click daily or weekly depending on your frequency preference.
Click add.
3. RECLAIM BROKEN LINKS
You lose backlinks.
This happens, whether you like it or not.
Whether a webmaster deletes a page linking to your site and/or haven't redirected a non-existing page to a new one, you loss a backlink.
It could also be that you have a 404 page and you're not aware that it earned/built backlinks in the past.
You can't redirect because there's no new similar page or simply just forgot redirection.
You can actually reclaim those broken backlinks, reach out to those past linkers and let them add a link to your other relevant page.
ACTION ITEM:
Enter your domain URL in the Dashboard or Site Explorer then click Explore.

See Backlinks section then click Broken. It will direct you into the list of broken links and your linking pages in the Anchor and backlink column.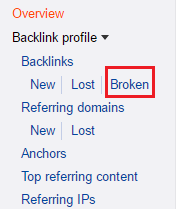 You have two options here:
Redirect that broken page to a new but highly relevant page.
Reach out to the webmaster and ask if he can change the link to another similar page of yours or he can simply add another relevant topic page.
4. CHECK LINKABLE CONTENT FOR BROKEN BACKLINKS
Broken link building has become popular for two reasons:
It adds value to the webmaster fixing his resource page for online users.
You get a backlink pointing to your own page.
If you want to scale broken link building, you need a tool to check if there are any broken links found on the page.
That can be your value proposition when reaching out to the webmaster, saying I found a broken resource on your page, would you want to fix it?
ACTION ITEM:
Plug in the URL of the content and choose URL in the drop down menu, then click "Explore".

Go to Outgoing Links section and click Broken links.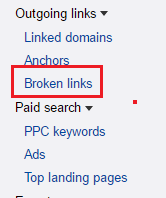 If there are no results, that means there are no broken links on the page. Take note I found it useful in some cases, so I use LinkMiner instead.
5. REVERSE ENGINEER TOP CONTENT
I've seen most content marketers have this common process of finding similar content to reach out to for links.

This simple process is mostly time-consuming.
You can actually semi-automate this entire process by using Ahrefs.
ACTION ITEM:
Go to Content Explorer, type in your target keyword or niche topic, then click "Explore".

Recommended options:
Publish: it should be all time.
Language: I prefer English, if you're looking for English language sites.
Highlight unlinked domains: click this button and enter your domain to highlight pages that haven't linked to your webpage.
Relevance: Sort it by traffic, so you can see first high-traffic websites.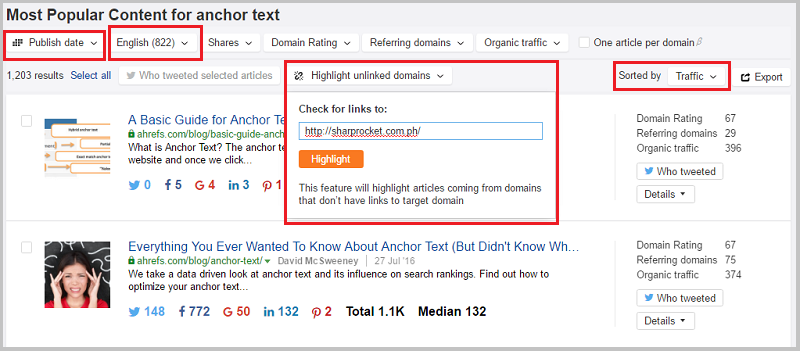 6. FIND BLOG AUTHOR OPPORTUNITIES
Using Google searches to find guest blogging or content distribution opportunities would still require filtering using metrics you prefer (DA, SEMRush traffic, TF, CF, etc..)
If you do searches for "guest post by" "author's name" or "written by" "author's name" plus any other similar terms, Google will give you results of different types and not all of them are entirely guest posts, some could be "business profiles", citations, so on and so forth.
Ahrefs has its advanced option of seeking for industry blogs that you can reach out to for content placement.
ACTION ITEM:
Go to Content Explorer.

Type in author:name
Replace name with a popular guest blogger or an industry content contributor.

Sort websites by Traffic, if you're aiming to build exposure to websites that already market themselves (with good traffic in other words).
This is optional. Click Highlight unlinked domains, then add your domain to only see websites that you haven't acquired backlinks yet.
7. EXPAND YOUR LINK LIST WITH AUTOMATED "AROUND"
Glen Allsopp shared this "around" search operator in his post about advanced link building, which all link builders can use to increase their link prospect rate.
Quite interesting because I've been building backlinks for years, but haven't discovered that yet.
Anyway, the idea with using around search operator is to find link prospects that includes two words that are in close proximity but are not together. For example, submit and "guest post" in this search query are not together but both are in close proximity not more than 4 words apart.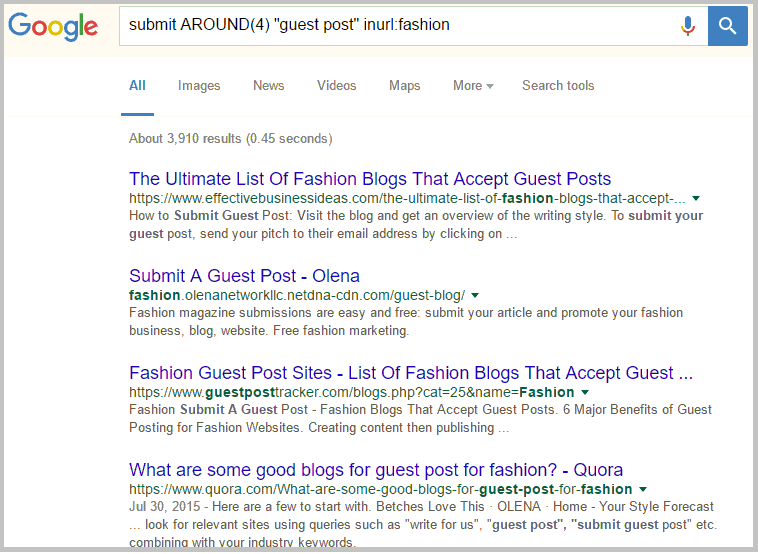 Ahrefs allows you to do this.
ACTION ITEM:
Go to Content Explorer.
Type in your target keywords or keyphrase.
For example, if you are looking for branded mention opportunities in your industry, you can try using "BRAND" "keyword"~5. For example, "ahrefs" "link building"~5. Then choose "Title" in the drop down menu.
This gives you results that have the "keyword "health" and with words "submit article" that are 4 words apart from each other.

8. STRATEGIC COMPETITOR LINK ANALYSIS USING LINK INTERSECT
I've seen most competitor link analysis fail for two reasons:
One is that link builders don't know how to identify the right competitors. They only like to dig into links pointing to top sites like Forbes and Huffingting Post, then analyze how those links were built. Sites like these are authority in all industries and that's enough for them to rank and be linked to heavily by publishers.
They are not your competitors, if you are still starting to build your own brand, find those who are ranking on similar content but haven't much gained higher authority rate. Know if both of you are targeting the same audience in the same buyer's journey. Look at their SEMRush traffic and total domain referring domains.
Know if it's realistic to compete with them.
Second reason why competitor link analysis fail is because some think that creating a list of backlink opportunities of all competitors is the starting and end points of the process.
There's a reason why it is called link analysis, because obviously you want to analyze how those links were built and/or earned. What content type is linkable in nature in your industry? How do the audience resonated with the piece and why did it go viral, if it did?
These are just a few questions you should ask yourself before you get your hands dirty with link building.
ACTION ITEM:
Once you've identified who your real competitors are.
Go to Ahrefs, click into Tools and choose "Link Intersect" in the drop down menu.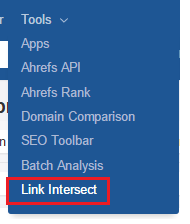 Include all your competitors' domains in blank sections under "Show me who is linking to all of the below targets". You can use the plus button if you have more than three competitors.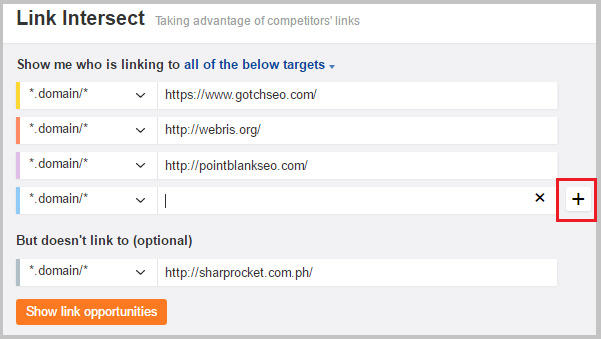 Then click "Show link opportunities" button.
This is what results look like.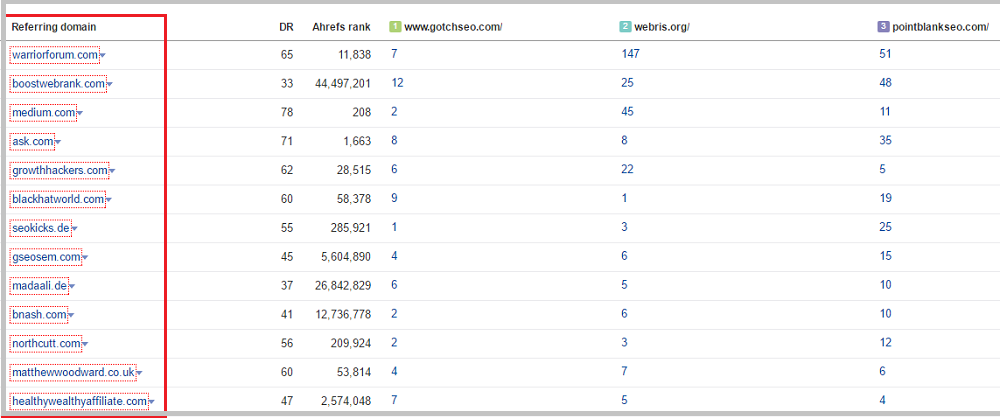 I can go forward to acquire same links and mentions from top websites that all linked to my competitors. For example, I can then create a WarriorForum profile and start answering questions there and posting relevant threads with referential links to my relevant content.
9. USE BATCH ANALYSIS FOR SCALABILITY
What I simply like about Ahrefs is its ability to scale processes. If you're working in an agency, you know it is vital to get all things done as soon as possible to bring in more results for each client's link building campaign that you handle.
The batch analysis feature of Ahrefs can help you generate multiple backlink repots at once by simply entering a list of domains or URLs you'd like to reverse engineer pointing backlinks to.

If you are trying to see how your website performs in terms of link acquisition compared to your competitor sites, you can use batch analysis to quickly see the gap between your site's backlink performance and from your competitors.
You can get some insights on different things, such as:
Number of referring domains each competitor have acquired
Types of links they're getting (do they have some .gov. or .edu backlinks?)
Do they have a diverse backlink profile?
If you are executing broken link building at scale, batch link analysis is very useful in identifying which broken page can be recreated or upgraded to another version of the content.
By inserting all URLs of broken pages you've found in your list and sorting them from highest to lowest referring domains, you'll then see which broken page has acquired the highest number of backlinks.
See if that page is feasible to be recreated, use all resources to get it published on your site and reach out to those who have linked to the piece.
Bring this Ahrefs Review guide anywhere…
Now It's Your Turn…
How do you use Ahrefs for your daily or weekly link building use?
Or maybe you have a question on how to implement any of the backlink research tactics in our above list?
Either way, leave a comment quick below.
I'll be more than happy to reply to comments and answer questions.
So if you have a question, insight or new tactic, leave a comment right now.