We develop an effective broken link building strategy to secure promotion of your content to established online audiences.
If you're an agency struggling with how to scale broken link building campaigns, SharpRocket can be your trusted partner. We have in-house workflows and processes to prospect for highly-relevant link curators and establish relationships with them through manual outreach.
We put relevance and authority as the core of our broken link building service. That's why we aim to only acquire links with AhrefsRank of 30 and above.
If you're a direct business owner, we tailor-fit and align our content development strategy to your business' goals and needs. We won't just help you build links. We create content that drives awareness and builds brand authority in your industry.
SharpRocket is a mission-based link building agency focused on helping online businesses and agencies secure extraordinary links from trusted sources on the web.
Here's a quick case study of our previous client (a steady growth of link placements to their content asset).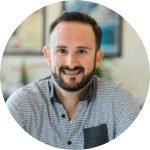 John Doherty,
Founder of Credo / Former Consultant at Distilled
Venchito and his team at SharpRocket are impressive. From their hustle to build their agency to their focus on quality, they're a great link building agency to consider when looking to hire someone to take your traffic to the next level.