After conducting hundreds of backlink audit campaigns for our clients, we teach you the entire process to do it. 
In this guide, you'll discover:
What is a backlink audit? 

Why backlink audit is important? 

5 easy steps to do a backlink audit (in less than 30 minutes) 
So if you want to know if your website is in good shape through a simple backlink audit, finish this guide. 
What Is A Backlink Audit? 
A backlink audit is an essential SEO activity analyzing your backlink profile based on the quality of backlinks pointing to your website. 
In this activity, you want to ensure there are zero unnatural and toxic backlinks that could harm your website, and that could hinder future SEO initiatives or might trigger a Google manual or algorithmic penalty. 
Why Do A Backlink Audit? 
Before you perform a backlink audit, you need to know why you should be doing it. 
Here are three purposes of a backlink audit:
Identify spammy inbound links to your website.

Do more of what you did well in previous link building efforts.

Get insights into your next link building plan. 
Identify spammy inbound links.
You could've taken a new client and you're unaware that their previous agency built bad links to your client's site. 
Or your website has been hit by a negative SEO attack. Your competitors have done nasty things of building toxic links to your website, instead of them focusing on improving their own backlink profile.
Either way, you want to know if you've got any spammy inbound links. As a course of action, you want to remove them as soon as possible. Otherwise, you might receive a Google manual penalty, which could hurt your website's organic traffic (and conversions) 
Do more of what you did well in previous link building efforts.
Backlink audit isn't just knowing the negative stuff. It is also giving you the time to assess what works well and do more of them. 
If you've been building and earning good backlinks, it is wise to replicate the types of links, link building strategies, and linkable content formats, so you could improve your site's backlink profile even more. 
Get insights into your next link building plan.
Backlink audit helps you make an assessment of your website's link profile against the competition. 
With that, you can leverage a more cohesive action-oriented plan to outpace your competitor's backlinks, and outrank their performance in search results. 
Insights gathered from backlink audit helps you come up with a solid future link building plan. 
What Do You need? 
You need tools to help you gather valuable information about your backlinks. 
In performing a backlink audit, you could use any of the following link building tools (or even combine them if you have spreadsheet skills):
Moz

Majestic

Search Console

Screaming Frog
My recommended tools for backlink audits are Ahrefs, Moz, and Majestic. 
It is best to invest in at least one of the mentioned link intelligence tools, as you'll not only be using them for backlink audit but for other essential link building tasks (e.g. competitor backlink research and link search).  
In this guide, I'll be using Ahrefs and Majestic. So let's go about how to do a complete backlink audit in 30 minutes or less.
How To Do A Backlink Audit
Here is how to do a backlink audit in five steps:
Step 1: Get an overview of your backlink profile and of your competitors.
Step 2: Find low quality backlinks to your website. 
Step 3: Discover opportunities and methods by reviewing your backlink profile.
Step 4: Check for any broken backlink you can fix.
Step 5: Strategize for your next link building plan.
Step 1:  Get An Overview Of Your Backlink Profile and Of Your Competitors 
In a backlink audit, you start from top to bottom. 
This means you look from a high-level view of your backlink profile then lean into details. 
Begin by entering your domain into Ahrefs' Site Explorer to see overview details of your backlinks.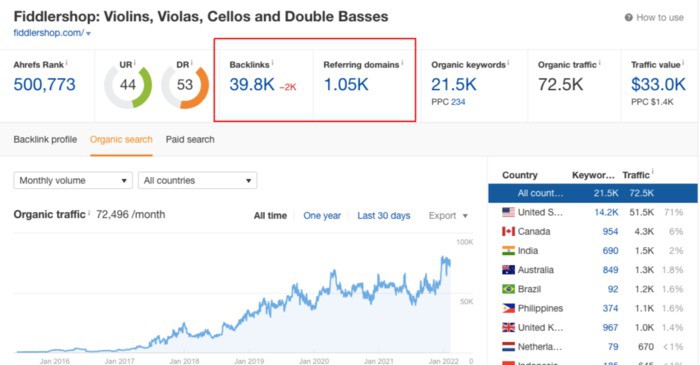 As of this writing, our example website has 39.8K total backlinks and 1.05K referring domains. 
The number of backlinks and referring domains gives you a quantifiable metric for the current success of your link building campaign. 
The higher number you have with these numbers, the higher the domain rating you'll get for your website. More backlinks from high authority sites increase your own site's domain rating. 
Sidenote:

If you find an imbalance number between the two, say 1M backlinks while having only 5K+ referring domains, take a closer look at the website, as this might indicate that the site did shady link building strategies. More on this later. 
Next thing to do:
Compute the average link gap between your website and your competitors. 
To keep up with your competitors (or get ahead of them), you have to compute the average backlink gap.
What is backlink gap? 
Backlink gap is basically the estimated difference of links and referring domains between your competitors and your website.
It's not an absolute number, though, but this gives you a rough estimate of how many links you should be pursuing more to get ahead of the competition. 
One tool you can use to initially compute for this is Ahrefs' Domain Comparison feature.
When you enter domains of your competitors, It shows you an overview of backlink data across multiple domains at a glance.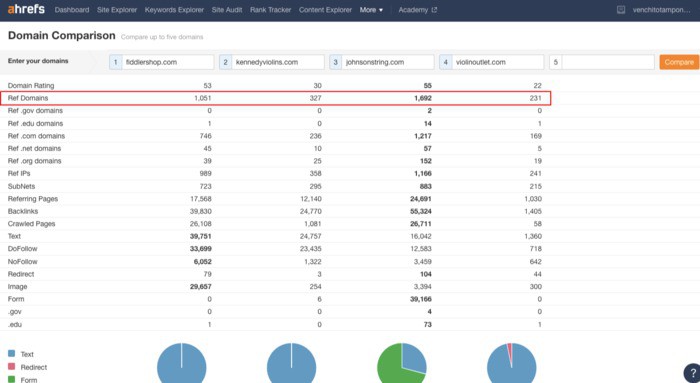 You can see directly here how many backlinks and referring domains your competitors have in comparison to yours. 
Backlink gap isn't just about the quantity difference.
So to calculate the backlink gap, you should focus on high-quality backlinks. The easiest way to get the quality of links is by evaluating the DR of each referring domain. You can do it via Ahrefs' Referring Domains report. 
Once you have a list of websites and their DR, you need to export the results and see how many links are high-quality (DR > 70), medium quality (DR ≥ 30 ), and low-quality websites (DR < 30). 
Sidenote:

DR isn't the only metric to assess link quality. Other tools offer similar metrics, such as Moz' Domain Rating and Majestic Trustflow. But for the purposes of using Ahrefs, we use DR as our qualitative metric. 
Another initiative to get a top-level view of the competition is to: 
Assess your link velocity rate in comparison to your competitors. 
Link velocity rate is the speed at which backlinks to your website are added over a specific period of time. 
You can be so fast at a given time, which might dictate a potential negative SEO attack or so slow, that your competitors are outcompeting you in terms of links. 
To check link velocity, you can see the website's referring domains graph on the overview of Ahrefs' Site Explorer.

Sidenote:

Check if there is a big burst or big drop on referring domains graph. A big burst might indicate a potential negative SEO attack, while a big drop might signal loss of links to specific pages. 
Speaking of potential harm to your website, your next activity should be to:
Look for potential spam and/or keyword-rich anchor text in your profile.
Harmful links are easy to detect by looking at the way they link to you — anchor text. 
One is checking for any dodgy anchor texts and keyword-rich anchor texts. 
Ahrefs provides with you an anchor text section of all backlinks in your profile.
A good anchor text profile must compose of branded anchor texts, as this is a natural way other publishers link to their external sources.
Check if there are any dodgy anchor texts:
Or high-density keyword-rich anchor texts: 

Sidenote:

Backlinks with keyword-rich anchor texts aren't necessarily bad. In fact, it's common to have this type of anchor text. However, if you see that the high density of your anchor texts (let's say 70 to 90%) are all keyword-rich anchor texts, consider it for a backlink audit execution. 
Covered this earlier, but it's good to separate this one: 
Check for possible negative SEO attacks. 
Are there any big spikes or big dips in referring domains graph? 
Big spikes might indicate negative SEO to your website. Other webmasters and SEOs may be trying to pull your site's organic traffic by building toxic backlinks to your pages.
What will you do then?
Ignore or disavow. 
Why and how? 
Read our next step, I'll get into this in a little more detail. 
Step 2:  Find Low Quality Backlinks To Your Website. 
This is one of the important steps in backlink audit.
The reason you want to find low quality backlinks is to remove them (at all cost if you can). 
Toxic, irrelevant backlinks could hinder your SEO growth in the future, if not taken into consideration.
So how do you find low-quality backlinks? 
First, know the difference between good backlinks and bad backlinks.
You can't find them if you don't know their nature, and if they are considered as bad. 
Good Backlinks VS Bad Backlinks
What is a good backlink?
Good backlink is editorially given.
Editorially-given links are natural backlinks. These are links gained without any manipulation or even some kind of manual outreach. 
You create value out of the content or any other web assets, and that's why they link to you. 
Good backlink is from a reliable website.
A reliable website is a website that has an intended audience. It speaks to a target market (e.g. tech-savvy people). 
You'll know if a website is good when the website has a real audience (readers). If it's a blog, you can check the website's social engagement and its comment section. There you'll know that it has a community of readers. 
A reliable website has good quality content. The information isn't generated by any AI copywriting tools, or spun content by getting original content and running it through a word spinner content to make it look original.
You know that the content is high-quality when you can read information from beginning to end, and still understand what it is about.
Good backlink is from an authoritative website.
Authority is relative. But it can easily be determined by a quantifiable metric such as Ahrefs' Domain Rating.
An authoritative website must have at least a Domain Rating (or Moz' Domain Authority) of 25 and above. 
Sidenote:

Some domains may have low DR given that they don't have many links yet pointing to the website. However, these low-DR websites have real authors and readers and are good sources of backlinks. 
Good backlink is do-follow. 
Dofollow backlinks improve link equity to its destination pages, which is great for ranking websites.
While you can naturally get no-follow backlinks, you must aim for do-follow backlinks, as it passes more link juice to your website. 
Sidenote:

Do not discount no-follow backlinks, as it makes your backlink profile natural. But if you want to maximize your outreach efforts, pursue link opportunities that are do-follow because they pass link juice to your website. 
Now, it's time to know what a bad backlink is.
It's basically the opposite characteristics of a good backlink. 
What is a bad backlink?
Bad backlink is from a spammy source.
They don't come from reliable websites. 
Bad backlinks are from websites of low-quality Private Blog Network, content farms, and generic low-quality directories.
Bad backlink is from a website with rich exact match anchor texts. 
High density of keyword-rich anchor texts can harm your website. Unnatural anchor texts signal your website to be manipulating each and every manual outreach effort. 
Bad backlink is from elicits websites.
Elicit websites are porn, gambling, hate, adult, and any unsafe websites.
Bad backlink is related to spammy content.
Spammy content doesn't offer much value to its readers. Whether it is clearly spun or AI-generated, or it has grammatical errors. In other words, hard to consume for a general audience. 
Bad backlink is a no-follow link. 
No-follow backlinks don't pass any link juice to your website.
Now, you know exactly the difference between a good backlink and a bad backlink.
Let's get right to how you can find spammy backlinks. 
How to Find Low Quality Backlinks?
1. Enter your domain in Majestic to get backlink data. 
(I use Majestic this time as it gives me a more accurate spam score for backlinks through its Trust Flow). 
Export all backlinks.
2. Sort links according to spam metrics. 
Different link intelligence tools have different spam metrics. 
Moz has its Spam Score. Majestic has its Trustflow. For Ahrefs, you can use its Organic Traffic. 
Get low-quality links from the list that have either:
Moz' Spam Score (Spam Score <8) 

Majestic's Trustflow (TF <15)

Ahrefs' Organic Traffic (<500)
Sidenote: You may be tempted not to check high-DR (DA) websites as it seems they don't have any indication for spam.

But it is best to review high DR websites but with low organic traffic. 
Review websites with insignificant backlinks to referring domains ratio (e.g. 500K backlinks > 1K referring domains).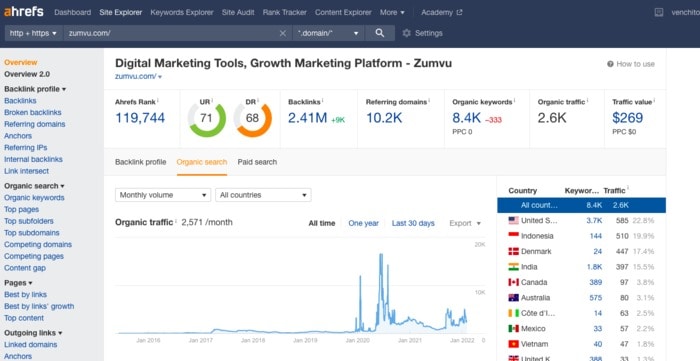 Next:
3. Check anchor texts of these low-quality links. 
Dig deeper. 
See if they have irrelevant anchor texts or keyword-rich anchor texts. 
Make a note of these links with spammy anchor texts. 
4. See their link types. 
Bad backlinks are from non-authoritative websites and low-quality content (as mentioned earlier).
Check if any of those low-quality links are content farms, UGC (user-generated content), forums, and comments.
Also, make a note of these.
5. Manually check suspicious-looking websites.
Dig deeper and deeper.
After reviewing links with spammy anchor texts and low-quality link sources, check other websites with low spam scores.
There are other bad or spammy indications to links that are more obvious when you actually see the website.
Is the website full of display ads that the actual content gets difficult to read? 
Does the website have a general (non-niche) audience? 
Does the website have an old-school (the early 2000s) design template? 
These are just a few things to look at the backlink source to assess their link quality. 
Now you need to:
6. Have a final list of websites.
This should be a list of backlinks:
From low-quality link sources

With irrelevant or keyword-rich anchor texts

PBN-looking websites (old school design template)

From spammy content 

From irrelevant and/or elicits websites
Once you have a list, you have three courses of action:
Ignore these toxic links. 
Because Google's algorithm has become so advanced in checking spammy links, they simply ignore backlinks to a website.
Especially if your website has gained authority and trust as it builds natural, high-quality links and offers readable and high-quality content. 
Google will simply ignore your toxic links. 
But if this is not your preferred action, you may:
Request for backlink removal. 
Find all email addresses of websites hosting these spammy links.
Contact those webmasters and ask to remove your backlink.
There are cases where they would ask you for a payment before removing your link. For me, this is not worth your money (you should've invested it in link building).
If in any case, some won't remove your backlinks, it's time to disavow. 
Disavow
Disavow is simply telling Google that you don't count certain backlinks of your website. 
To start with this, list down all domains or web pages you find to be low-quality.
Then go to Search Console and to its disavow tool. 
You can check out the following guides to give you more details on how to disavow toxic links:
Step 3:  Discover Opportunities and Methods By Reviewing Your Backlink Profile
Backlink audit is not only about finding low quality backlinks to your website.
It is also discovering the best opportunities and methods. 
Start by reviewing your backlink profile.
If your website has been successful in increasing its organic traffic. Plus, it attracts new backlinks every month.
It is best to uncover some content ideas.
How?
Use "Best by links" feature.
See which pages on your site have gained the highest number of referring domains.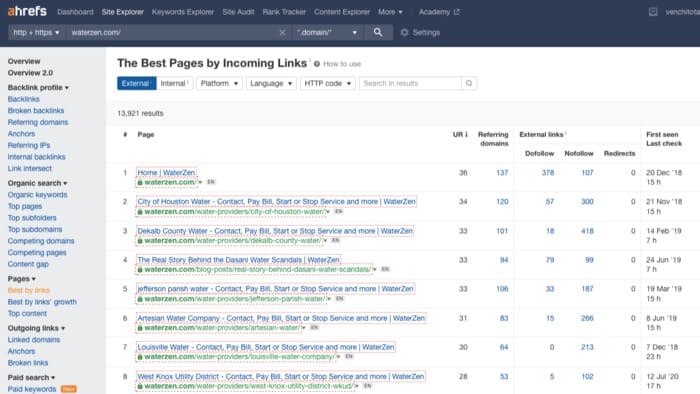 You can assess which content formats, length of content and topics have resonated most with your linkable audiences.
From this insight, you can create similar types of content to continue the momentum of gaining new inbound backlinks to your site.
Another important discovery:
Use "Best by links growth" feature of Ahrefs to know what pages naturally attract backlinks.
The first one is knowing the type and topic of content that works, with or without manual outreach to get links. 
This time, it's more of getting insights into what gives your site the ability to attract backlinks, even without doing email outreach. 
By link growth, you see that the page attracts new links from publishers who used it as references for their content (they see it ranking on the first page while looking for references in search).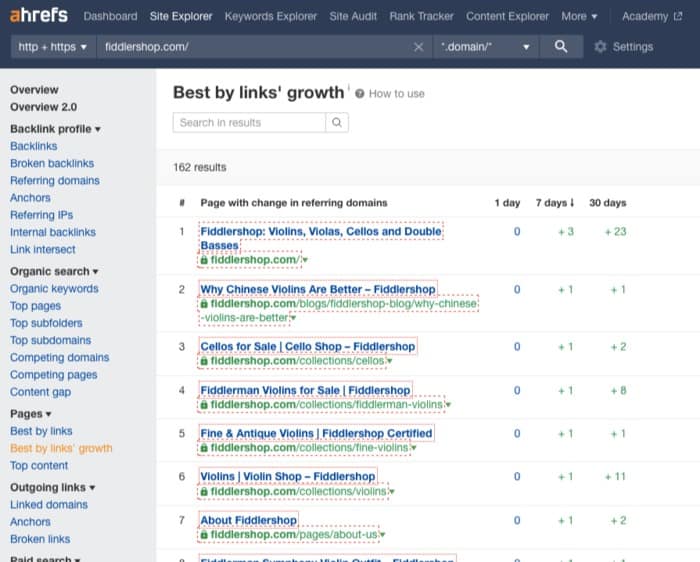 This is an important process, as you can also use it for your competitors to see what pages bring them the most number of backlinks.
Besides links, you also want to know this:
Know what websites bring you the most traffic.
Go to Ahrefs and view Backlinks report. 
Sort websites based on Traffic.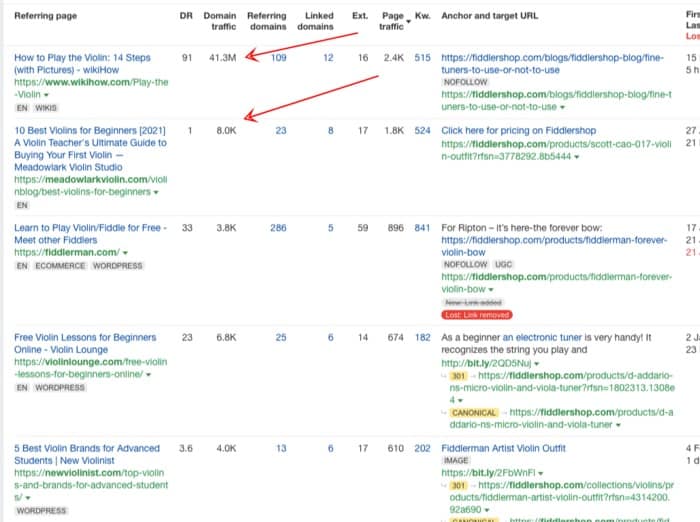 You want to know what websites pointing to your site bring the most referral traffic. 
This insight leads you to improve your link building strategies.
One is to go after these publications and contribute more guest posts so you can increase the amount of traffic you're getting from them. 
Another way is to build content assets that resonate with high-traffic websites. So when you reach out to them and promote your content, you know it's something they'd be interested in linking as external sources. 
Want some more actionable methods?
Read the next link building opportunity. 
Discover patterns between your inbound links.
If you can identify commonalities between your most powerful backlinks, then you start to understand the reason why these people are linking to you.
Finding new backlink prospects that can help move the needle for your rankings becomes easier. 
In summary, to get insights and methods by reviewing your backlink profile:
Use "Best by links" feature to uncover content ideas.

Use "Best by links growth" to know what pages naturally attract backlinks.

Know what websites bring you the most traffic.

Discover patterns between your inbound links.
Step 4:  Check For Any Wasted Backlinks You Can Fix
Wasted backlinks are links that have brought value, but not anymore giving desired link juice to your site.
So what do you do about them?
Check for any wasted links and try to fix them.
How?
First:
Find broken pages of your websites with inbound links. 
This is an overlooked opportunity in link building:
Pages that gained backlinks but given they are no longer function, these links are put to waste. 
So, start identifying these broken pages by using "Best by links" feature of Ahrefs.
Then search for 404 pages by simply clicking the drop menu.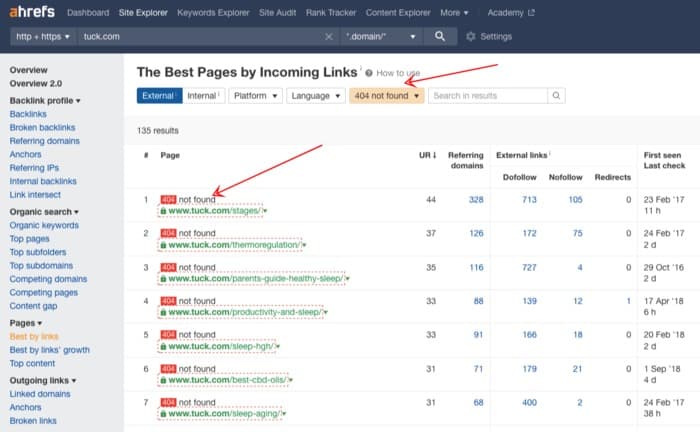 These are defunct pages with links. 
Your action could be:
Redirect these broken pages to similar content on your site. This will pass link juice to your new page and thus, help your linked-to page to rank for its target keyword.
Another plan is to create an entirely new page that covers the topic. 
Once publish your new page, you can reach out to publishers and webmasters who linked to your broken page. Ask them to change their external links (from the old broken page to a new page). 
Find pages with inbound links but with little to no organic search traffic. 
You also want to look at pages that need some internal linking to push their rankings up in search results.
How to find them first?
Once you enter the domain in Ahrefs Site Explorer, go to "Top Pages" report from Organic Search tab.
Filter pages based on Traffic maximum of 50 to only get pages that receive 0 to 50 in organic traffic.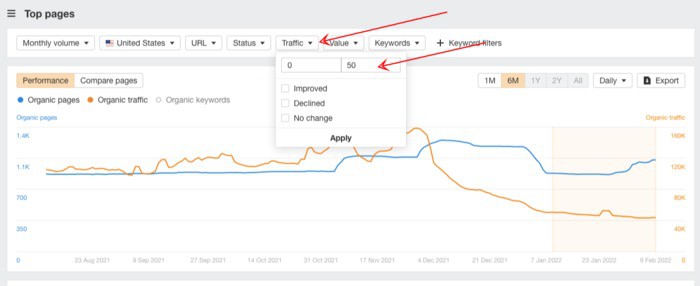 Export the results and examine them further.
Enter URLs in the Batch feature of Ahrefs so you can see how many referring domains are pointing to each page.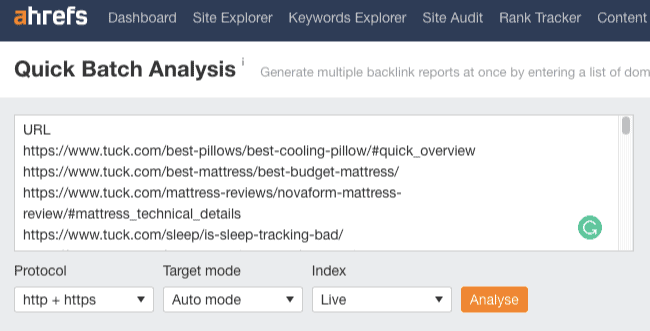 Sort the list from highest to lowest referring domains to arrive at pages with little to no organic traffic, but receives a good number of referring domains.

What will you do with them?
Update and optimize this content.
Make sure on page and off page SEO elements are added to the page. This doesn't only help the content to improve its rankings, but also acquire additional inbound links. 
Last thing for backlink audit:
Step 5: Strategize For Your Next Link Building Plan
After weeding out toxic links and seeing methods and more link opportunities to your website,  your next action is to have a better link building plan. 
This goes to say you'll think not just about the details of your website but from a view over your competitors. 
Here are some tips in this last phase to make it work for your link building campaign: 
Assess the right balance of distribution of efforts to your pages.
If you're doing manual outreach for links, not all pages deserve your attention.
There are only linkable assets that you can promote, and could give you links from interested linkers. 
Make a list of these linkable information pages.  
Then, add up to your list are landing pages you're also aiming to rank for. These pages are part of your mid to bottom-of-the-funnel strategy that brings sales to your brand.
Now, you have linkable informational pages and landing pages in your list.
Here are some considerations when you decide which pages to build more links to:
What commercial pages are sitting in positions 6 to 20 in search results?
More backlinks to these pages can help improve their rankings and drive more revenue to your business. There is a huge difference in clicks from a page ranking in #1 from its competing page ranking in #6. 
You can use Ahrefs to find these pages quickly.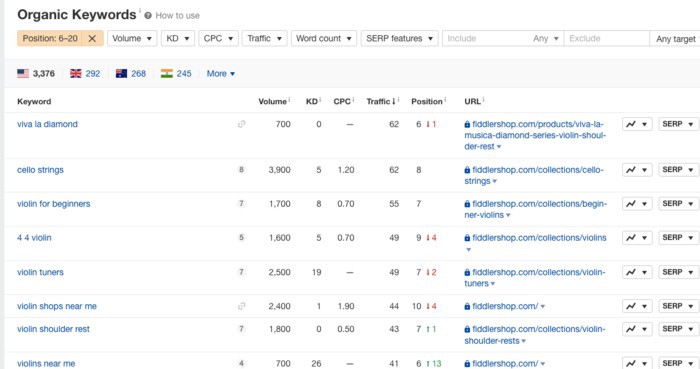 Or you can go straight to "Top Landing Pages" report.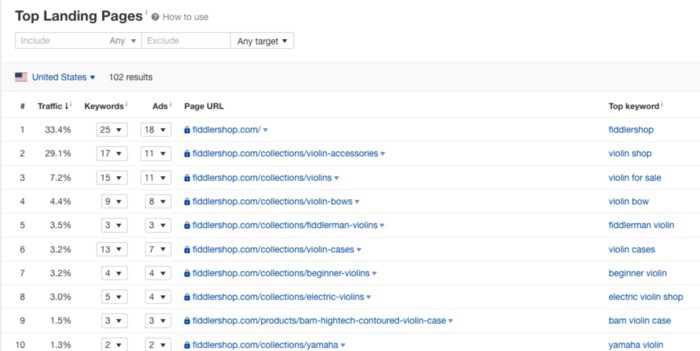 What pages are bringing you traffic but receive zero to few backlinks?
These are your pages that bring money to your website.
If you can build more links to these pages, you can drive up their rankings and increase your site's overall traffic value.
How to find them?
Enter your domain and go to "Top Pages" report. 
Export the list. Then filter to less than 10 RD (Referring Domains). 
Then sort the list by ascending Traffic. 
Here, you'll see a list of pages with the most traffic value, but with less than 10 referring domains.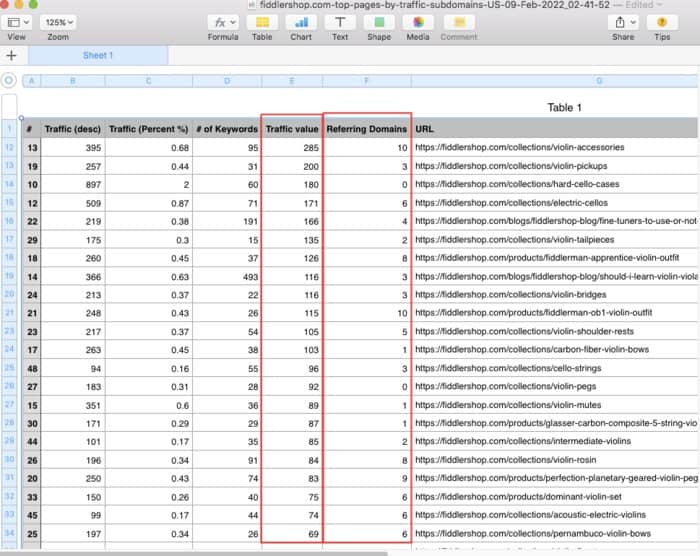 You can use our two considerations above to make a decision on which pages to push more links to. 
Select pages for targeted links based on backlink gap index. [ADVANCED] 
Your next link building plan includes how to outperform your competitors.
That includes the quality and quality of backlinks you're building against them.
We've covered how to compute backlink gap in the middle section of this guide. It is basically the difference between your site's number of referring root domains and your competitors' websites. 
If you want a more accurate number, you can compute for the backlink gap index.
So on top of linking root domain gap, you also compute for the volume/gap ratio.
To compute for this, simply divide the link gap into the search volume. See example computation below from Garett French's guest ost on Moz.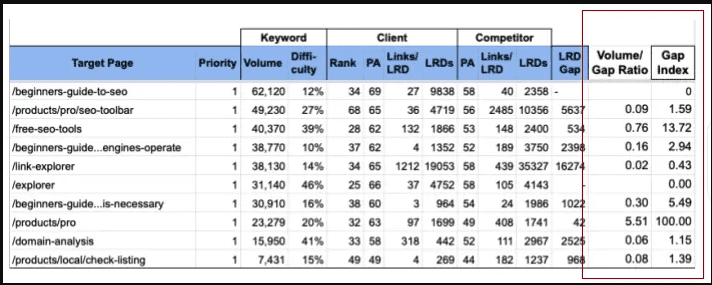 Know these two numbers: value per link VS cost per link. 
Have a good rough estimate of how much you're spending to earn a single link.
While there are different variables to cost per link, finding a good number gives you an idea if you're spending too much. 
For this section, here are good resources that exactly shows how to compute for value per link and cost per link:
Assess and Improve Your Link Building Campaign 
The purpose of a backlink audit is to assess the current status of your backlink profile while identifying toxic backlinks you can remove and discovering opportunities you can maximize at. 
Keep in mind. Every website is different. Some backlink audits might take days to finish, others if done well, can initially be done in 30 minutes. 
Frequently Asked Questions About Backlink Audit
How do I remove harmful backlinks?
There are a few steps you can take to remove harmful backlinks:
Reach out to the website owner: If you are able to identify the website owner or webmaster, you can try reaching out to them and asking them to remove the backlink.
Use the "disavow" tool in Google Search Console: If you are unable to remove the backlink through other means, you can use the "disavow" tool in Google Search Console to tell Google not to consider the backlink when evaluating your website. To use the disavow tool, you will need to create a list of the URLs of the backlinks you want to disavow and submit the list to Google.
Monitor your backlink profile: It is important to continue monitoring your backlink profile to ensure that new harmful backlinks are not added. You can use a backlink analysis tool to track your backlinks and identify any new low-quality or spammy links that may have been added.
Implement a backlink removal strategy: If you are unable to remove harmful backlinks through the methods described above, you may need to implement a more comprehensive backlink removal strategy. This could include using the disavow tool, reaching out to website owners, and using other tactics to decrease the value of harmful backlinks.
It is important to note that removing harmful backlinks can be a time-consuming process, and it may take some time to see the results of your efforts. However, improving the quality of your backlink profile can have long-term benefits for your website's search engine rankings.
How often should I perform a backlink audit?
It is generally recommended to perform a backlink audit on a regular basis, as the quality and relevance of your backlinks can change over time. Some experts recommend performing a backlink audit at least once a year, although more frequent audits may be necessary for websites with a large number of backlinks or those that are facing significant ranking fluctuations.
Here are a few other factors to consider when deciding how often to perform a backlink audit:
The size and complexity of your website: If your website has a large number of pages and a complex backlink profile, you may want to perform a backlink audit more frequently to ensure that all of your backlinks are being properly evaluated.
The competitiveness of your industry: If you are in a highly competitive industry, you may want to perform a backlink audit more frequently to ensure that your website is not being outranked by competitors with stronger backlink profiles.
Your overall marketing strategy: If you are actively working to improve your search engine rankings, you may want to perform a backlink audit more frequently to identify any opportunities to build high-quality backlinks.
Ultimately, the frequency of your backlink audits will depend on the specific needs and goals of your website. It is important to find a balance between conducting frequent audits to ensure the quality of your backlink profile, while also not spending too much time on this task.
How our LINK BUILDING AGENCY builds 250 links/mo consistently using Predictable Link Building Methodology™…
Using a SIMPLE and PROVEN system

Using a SCALABLE strategy
No private blog networks
No creepy outreach emails
SHOW ME THE FULL LINK BUILDING STRATEGY