Link prospecting is one of the critical and first initiatives in the link acquisition process. Every link building tactic always start with finding links in a particular web place using free SEO tools and sorting those links in a spreadsheet based on the brand's link standards.
Additionally, a manual and careful evaluation of link targets if they're suitable for your site/page would greatly affect your content development given that you will be able to identify which type of content people are always linking to.
What Do You Consider When Finding Link Targets Using Free SEO Tools?
There are three important things that I think every SEO practitioner like you must be aware of when finding link targets for your link building campaigns.
The link target should match to the metrics used (have high PR/DA, relevant to their "linking from" page, etc).
Obtainability of the link (simply ask yourself: why would the site owner link to my page?)
Scalability. Tools will always help you speed up your link prospecting activity.
In this post, I will share 30 link prospecting tools that are free to use and would help you collect tons of link targets from different web places where your competitors haven't obtain yet.
1. Preacher
This is my new founded tool that was created by ZazzleMedia. It's easy to look for link targets by using this tool since it has already filters where you could look only for the content type of your choice.
Let's say you have an infographic about weight loss and you're looking for blogs where you could place your visual. You can type industry-terms (the topics your infographic had covered: e.g. nutrition, reducing weight, losing weight) in the Preacher's search box.

You can also use Google Docs to find synonyms or phrases that are related to your topic..
Type in one keyword in one cell and add its synonym one cell below the keyword. Hold the Ctrl key and drag it down the page.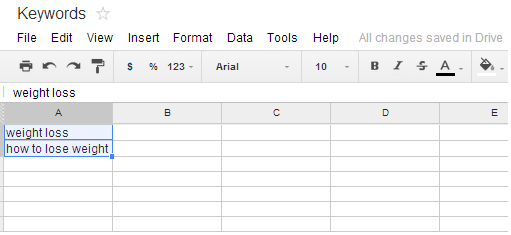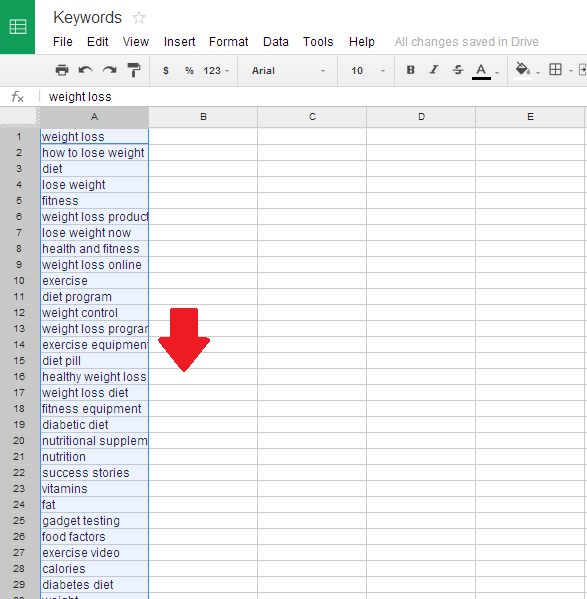 Now that you have a good list of keywords, you can already use them to look for link targets for your branded content.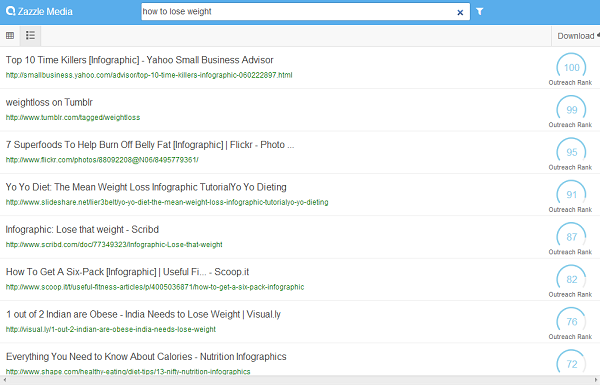 You can find different types of content in the search results (curated list of infographics, related infographics, etc..). Use them to find more link targets for your content.
Apply the following tips:
Identify where the infographic had been put into place. Use Reverse Image Search to easily find these web places.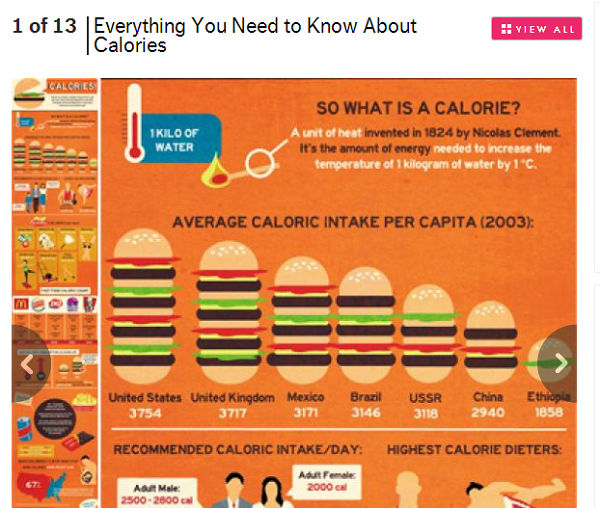 Right click, then click copy image URL..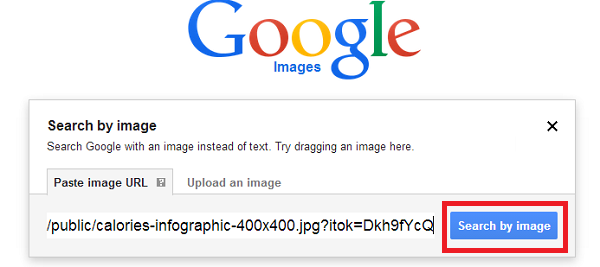 Paste the image URL. Then, click "Search by Image".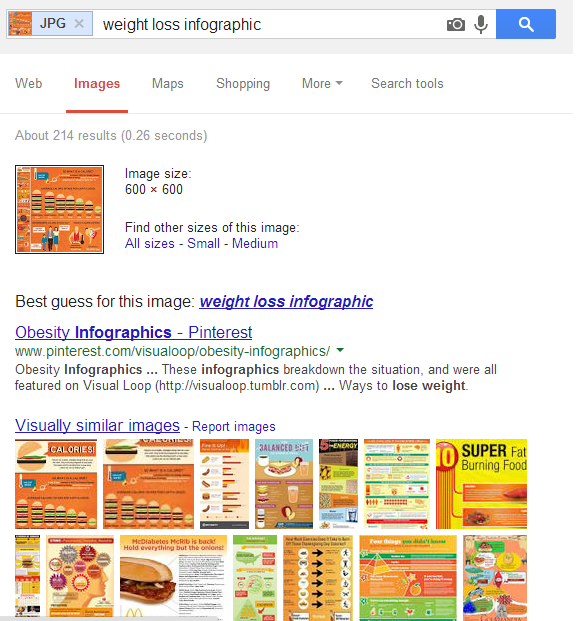 Given that the related infographic had already been placed on those blogs/sites, the chances of putting your content on those link targets are higher. You can also include that as your angle when pitching to site owners.
Hi [Webmaster],
I was on the hunt for some blogging ideas today and found this infographic – "Everything You Need to Know About Calories".
I actually created an infographic about blog promotion that you may want to check out too.
Sample template
Use Ahrefs or OSE to get all the pages that linked to your similar content. Use your link senses to find high quality and relevant pages.
Identify social shares of your similar content using Topsy. Sort out targets who don't have decent followers and/or who don't tweet relevant content pieces.
Use the search bar of your target site to look for more content pieces.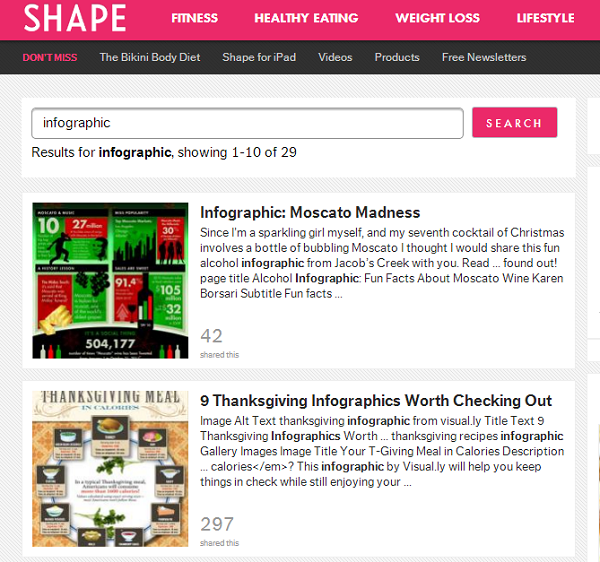 Or do a search query in Google to find the same type of content or related pages of your target site.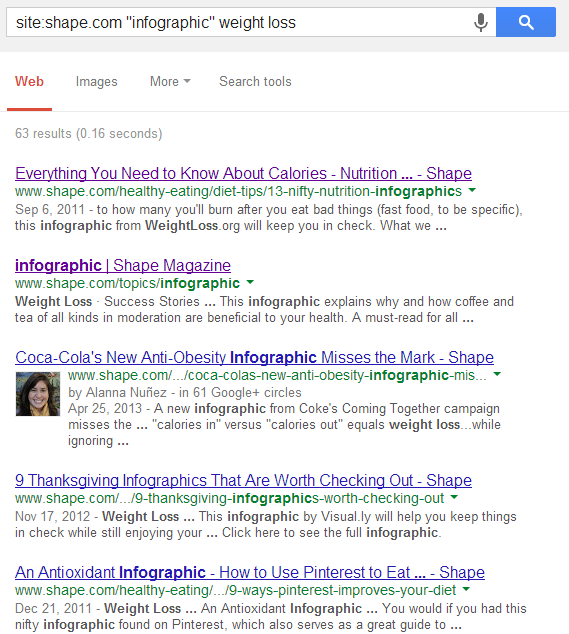 2. AllTop
Use the search functionality of Alltop to find websites that are related to your target keyword/topic.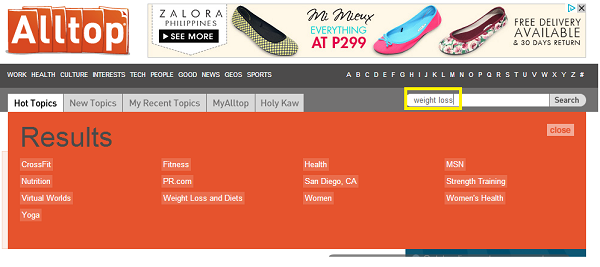 When you already have a list of sites in your spreadsheet, you can start building relationships with the site owners even before the start of your link building campaign. You can easily get a link/mention from bloggers in the future if you've built relationships with them beforehand.
As soon as you find websites that are related to your brand, add them to your favorite feed tools (e.g. Feedly) or use the manage feeds functionality of Alltop.
You can get emails from your blog feed tools about the updated posts of your target sites. In this case, you can be the first to comment in their blog posts.
Allot 3-5 minutes to put yourself in your prospect's radar through blog commenting, social and email outreach. This will make your link acquisition easier for the next months/years.
3. Flickr
Flickr collects thousands of albums/images that brands can use for their content pieces (because of the originality/creativity of the image, it would be a useful element to almost all types of content).
Type industry-related terms in the Flick'r search bar and look for images that garnered hundreds/thousands of views.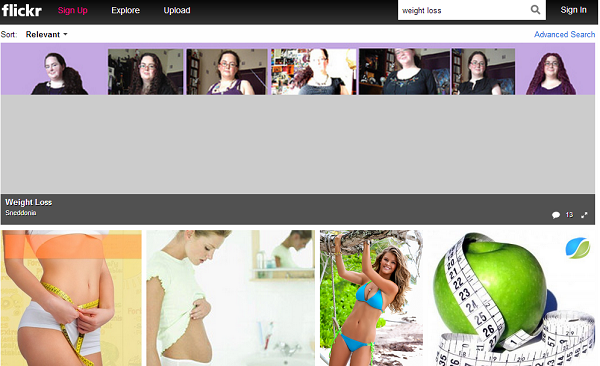 Do a reverse image search to find pages that embed those images (use the same instructions I mentioned above).
You can again use OSE or any link research tools to find pages that linked to those images.
Tip: You can also use Flickr to find infographics in your niche that are not yet submitted to Visual.ly and other infographic submission sites.(A good opportunity to find link targets that are not yet reached out by your competitors).
4. Google Image Search
Use the Google image search to look for images that are ranking for your related keywords. Those images are ranking high on image search results because of their alt-tags used by webmasters to optimize them.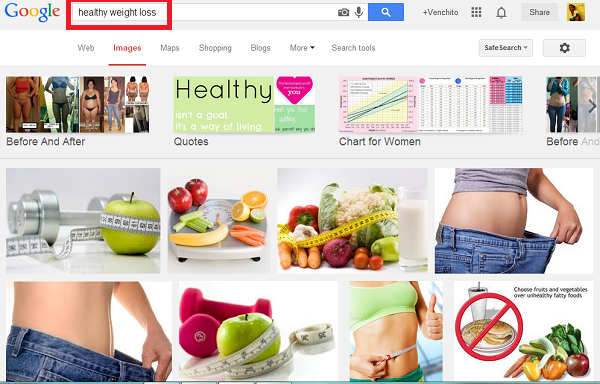 Given that the images are ranking for image search results, bloggers could easily find them when they're looking for visual content. Most of the time, they use those visuals for their content pieces. As such, you could use it as your own advantage by finding bloggers who used/linked to those images (use Ahrefs and Reverse Image Search).
In addition, images of your brand (event photos, your CEO's profile image, brand logo, etc..) would help you find more link opportunities.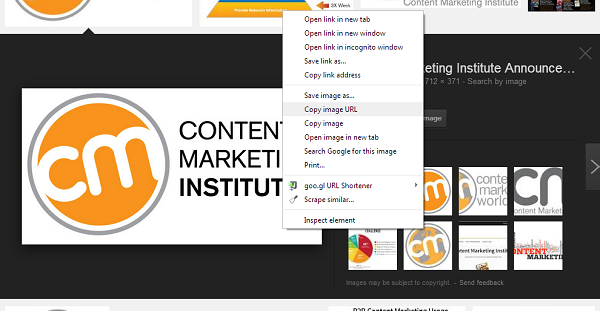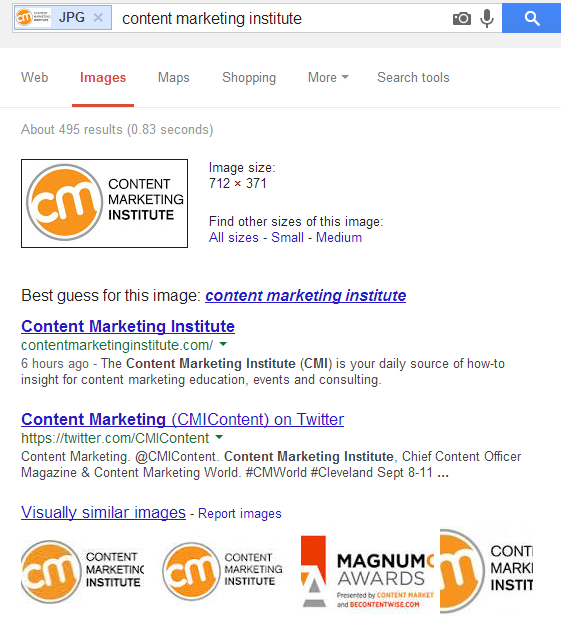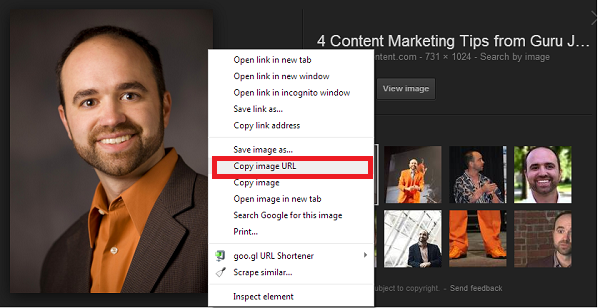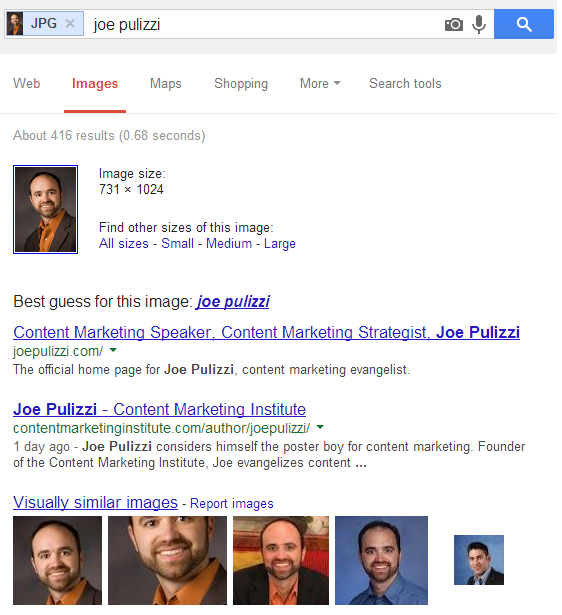 5. Similar Site Search
Similar Site Search is a free link prospecting tool to find similar websites of your brand (as the domain name implies).
There are several search queries that you can use to find more link prospects aside from the common search phrase (the site's URL).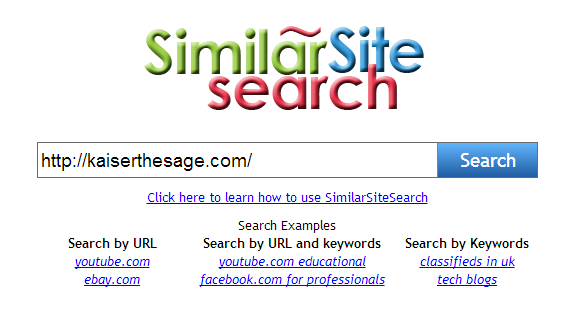 I'll use Kaiserthesage.com as my example:
Kaiserthesage.com marketing. This would give you sites that are similar to kaiserthesage.com and are related to the keyword, "marketing".
Kaiserthesage.com +marketing –seo. This would give you sites that are similar to kaiserthesage.com and related to marketing but must not include seo blogs. (This is a good opportunity to widen your reach as you are able to get in touch with bloggers from other niches).
Kaiserthesage.com (then filter the language by Italian). This would give you websites that are similar to kaiserthesage.com and use the Italian language.
Kaiserthesage.com (then filter the country by India). You'll get Indian blogs that are similar to kaiserthesage.com  (with .in as TLDs)
The last two search queries are good opportunities for local link building since these websites are personalized for local places and languages.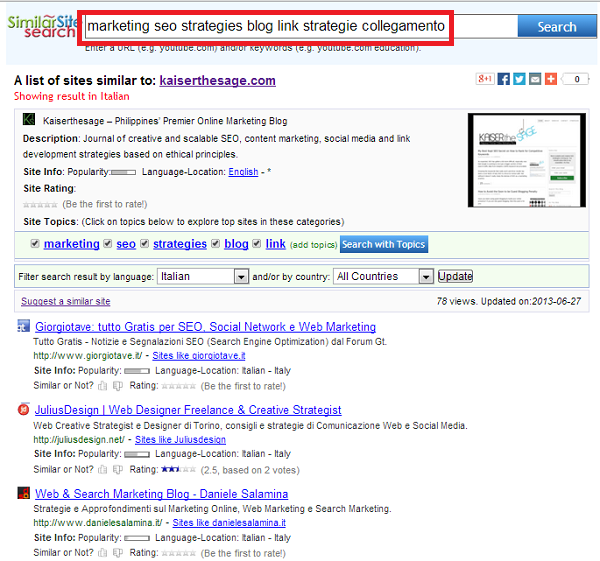 6. SearchEdu.com
There's no trick here..Just type in your keyword in the search bar, and you'll see a list of educational resources that are related to your keyword.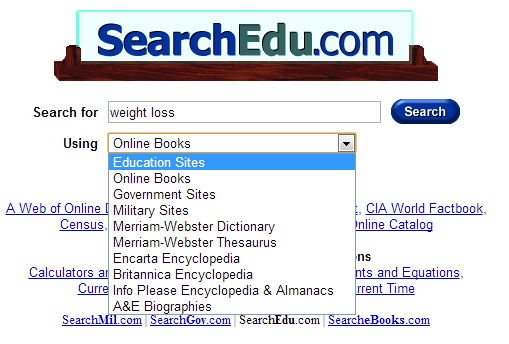 The good thing with SearchEdu.com is that everyone can use it even if you're not familiar with Google search operators.
Remember that free SEO tools should help you a lot to become an efficient SEO.
Simply Measured is not only a twitter analytics tool but is also a free tool to find linking opportunities. By using the tool, you can identify your top followers and influencers on Twitter. Some of them may haven't linked to your site yet. Get them on your list of link targets and start to connect with them.
8. Twitter Advanced Search Queries
Twitter is not only a social tool to engage with your brand's customers/influencers but also you can find great linking opportunities when you know how to use it properly. Like search engines, Twitter has its own advanced search options to make your search task more efficient and effective.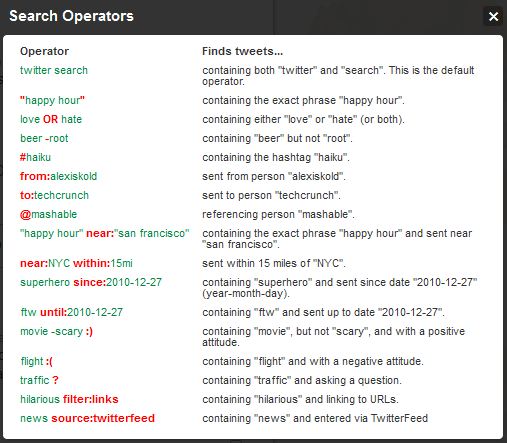 Here are some ways to obtain links using Twitter advanced search queries:
"guest post" + "keyword" + filter:link – use it to look for guest post opportunities that could not be seen in the search results (when you use "guest post by" "your keyword" or other Google advanced search queries).
to:influencer – track who's sending message(s) to your influencer. This would help you identify bloggers who are linking to your influencer's site. How would I know that? Bloggers would say in their status updates that they mentioned your influencer on their blogs.
@mashable –  track who's mentioning your influencer. You can use the same trick above.
near:texas "weight loss" – tweets/profiles near Texas city and are related to the keyword, weight loss either placed in the user's profile description or in their tweets.
Engage with the users you've found using this tactic by answering their questions or commenting on their tweets. Strong relationships with these localized users would result to lots of linking opportunities.
Weight loss? –  this search would result to questions that have the keyword, weight loss. Engage with the users by answering their questions (No need to explain how relationships work in link building).
since:2010-12-27 "weight loss"  – search for conversations that include the keyword , weight loss and get  interactions with the users (early dates would be more efficient for engagement than conversations dated from past years or months)
You can also check out this old post by Rand Fishkin (he listed tactics that are still effective in today's search).
9. Facebook Graph Search
Though Facebook is not good for SEOs who're asking for links/mentions right at the start of their conversation with their prospects (like cold emails), it could be used for setting up connections with the target linkers/influencers (who in the future could give the link/mention their looking for).
Use Facebook Graph Search to look for pages, groups and people that are interested to your brand's offerings and content. Type your keyword (niche, brand name, city) in the search bar and get exactly what you want.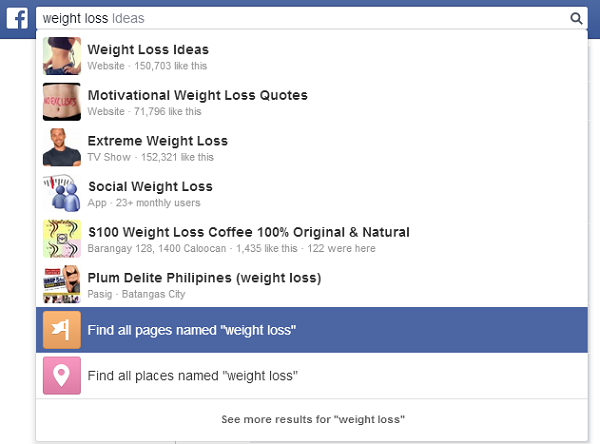 10.  Comment Contact Exporter
If you regularly updating your blog with great content pieces, chances are people will like your blog posts and will not hesitate to comment on them. Those bloggers who left a comment on your blog can be your potential link targets.
To easily scrape the list of those commenters together with their blog URLs, you can use the Comment Contact Exporter by Seer Interactive. Just add the plugin to your WordPress site so you can track link prospects among visitors who comment on your blog posts.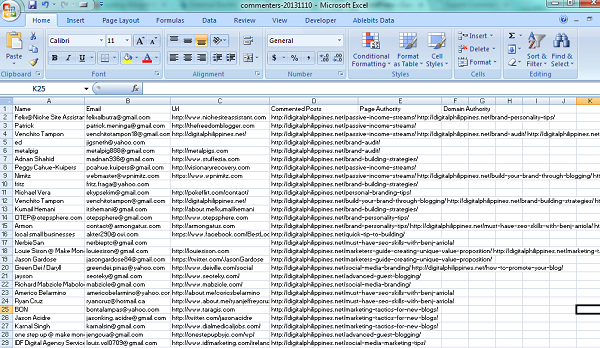 Reaching out to those link targets has a high conversion rate given that the bloggers already initiated the conversation with you. You are no longer stranger to them. As such, you can easily ask for a favor (link/share) for your page/content.
11. Allyoucanread.com
If your brand's content strategy is focused more on publications (industry guides, magazines), this site is for you. You can get easy list of top magazines published for your niche/industry where you can contribute your content (if the magazine editor allows contributions from other content publishers).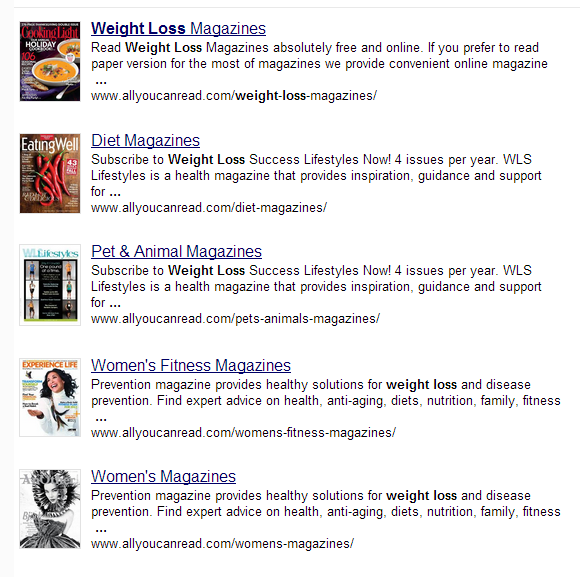 12. Wikipedia
Look for a page that discussed a topic in your industry (use the search bar of Wikipedia or this query: site:Wikipedia.com "your topic" to find pages that contain the keyword you're searching for.
Scroll down at the bottom of the page and check if the page has a list of resources/references (links to external sources). Visit each of those resources and track who shared/linked to them (use Ahrefs, OSE or your preferred tool for this part).
You could find great resources from that list which are mostly authoritative, credible and hosted on commercial sites (.edu, .org, etc..). Linking to these resources from your own content piece would really help you in your outreach campaigns. It will somehow increase your response rate when you reach out to the creators of those resource pages (I linked to you, please link to me – law of reciprocity).
You could also find outdated articles in Wikipedia and update them by adding more relevant insights that are timely and useful to Wikipedia readers. Find these outdated articles by using the query: site:Wikipedia.org "This article is outdated" "your keyword"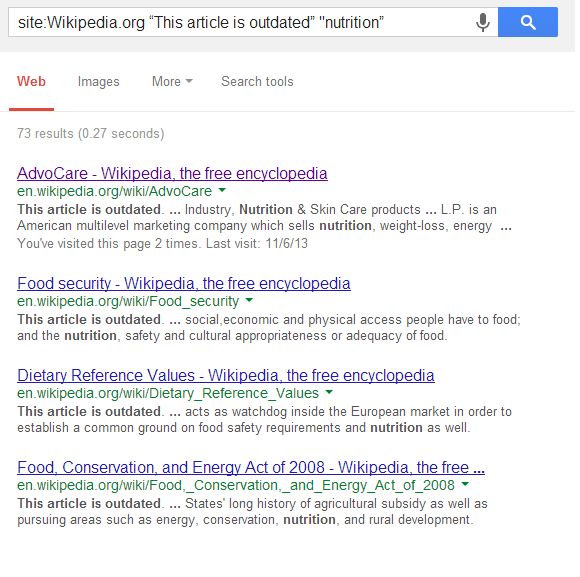 13. Outdated Content Finder
Content that is evergreen and useful for the readers win the game. But sadly, most of the pages you find on the web do not fit to these criteria. This is exactly the problem that you want to solve. Go and find outdated content in your industry and try to improve them by adding more design elements, credible sources (links) and/or insights based on your experience/expertise.
Use the Outdated Content Finder tool by Greenlane SEO for this task.
Finding content that is outdated  in a specific industry and finding people who linked to that resource has a high chance to get several premium links (especially if the outdated content tends to earn links/shares in the past).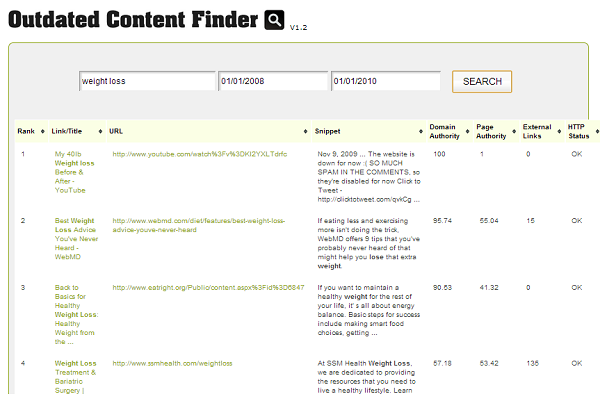 14. Quora
Quora is a good place to receive referred traffic for your site and increase your personal branding as you are able to share your expertise by answering thoroughly to questions most people have. Some content publishers would start from identifying the most frequently asked questions by industry peers on Quora before starting to create their own piece. The likelihood of crafting a useful and targeted content is higher given that answers/solutions to questions/problems comprise the overall concept/theme of the content.
Answer to questions that you know you could add the most value to. Link to your blog post only when it is necessary to add it to the discussion.
The more you answer industry-related questions, the more industry folks will  follow you. Engage with them by sending a personal message right on Quora or stalking to their blogs and reaching out to them through email or social platforms.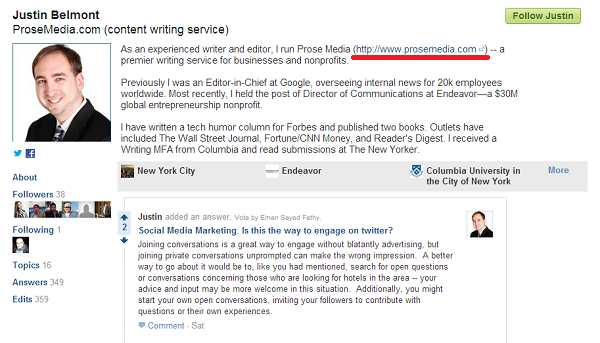 15. Web Directories (General or Niche-Specific)
Directories are still valuable in today's search given that these sites are the places that people use to find industry-specific websites (for whatever reason they have). Just remember your reason of using phone directories to find businesses' phone numbers, to contact business owners. That's the same reason why people would visit web directories.
Dmoz is one of the high quality directories to find link targets (websites that fall under your niche/category). Dmoz categorize indexed websites that you can add to your list of industry related sites. Use quality metrics (ad placement, design, etc..)  to sort out websites that are mediocre and are potential targets for Google penalties (though Dmoz listed high quality sites, you still need to manually check each and every site you're trying to get links from if they pass to your link standards).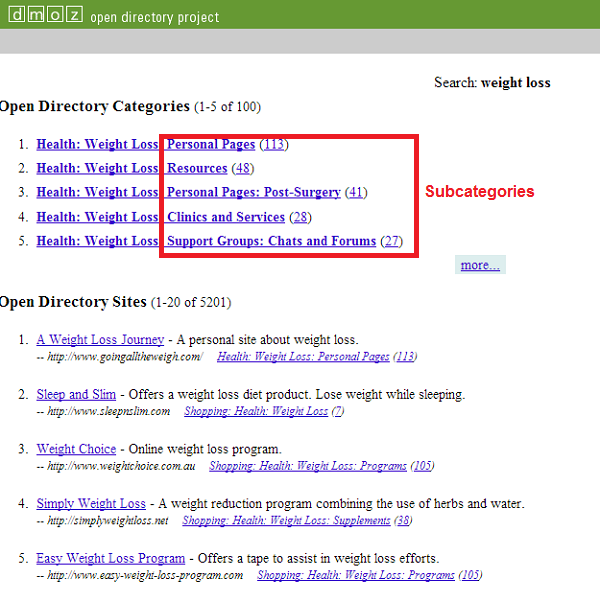 16. Search Queries for the List Section of the Site
Bloggers always have a list section on their websites whether it's a resource page, blogroll section, partners or sponsorship page. Those pages/sections are list of internal and/or external links and are considered gold mines for link building given that you can find industry-related pages where you can place your links.
For blogrolls: Use this query: "blogrolls" "your keyword" to find quality sites that have blogroll sections.
For partners: Use this query: "partners with" OR "in partnership with" OR "partners" "your keyword" to see pages that list down potential partners in your industry. (This is a good opportunity to find brands that you can connect with, especially if you're working in an ecommerce site).
For sponsors:  Use this query: "donate" OR "sponsor" OR "contribute" "your keyword" to get a list of websites that accept donations/sponsors from other brands. I suggest that you use your brand related terms when you ask to place your link on the page (especially if you already targeted ranking keywords for your other link building tactics). This would give you more diversified anchor texts.
17. Board Reader
If you're tired of using the common query: inurl:forum "your keyword" to find niche-specific forums where you could participate in the discussions and engage with forum users, you may want to try Board Reader.
The site allows you to search for discussions (e.g. forums) that are related to your industry. This would make your task of finding forums easier than the manual search for forums in Google.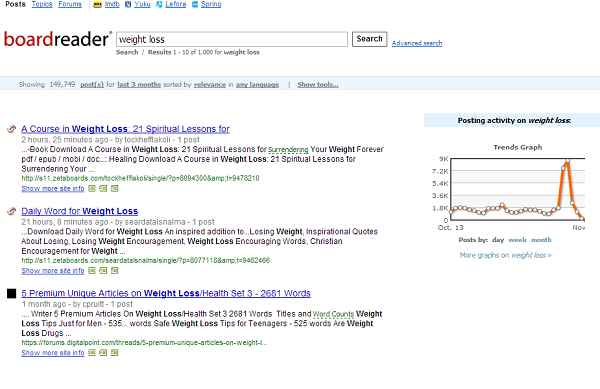 Here are two amazing things that Board Reader will do for you:
Provides you results based on your preferences (through its advanced search option).
Gives you a visual graph of the posting activity of your chosen keyword. This would help you track how many people are using that keyword in your industry's discussions (like what Google Trends tool does for you).
Filter the results by language and time period which helps you to create a more solid and targeted list of discussions sites.
18. Twilert
This will automate the process of prospecting for link targets in tool #8  given that Twilert will just send you emails about tweets where the tool found relevant based on your searches (use advanced search queries to get more exact/specific results).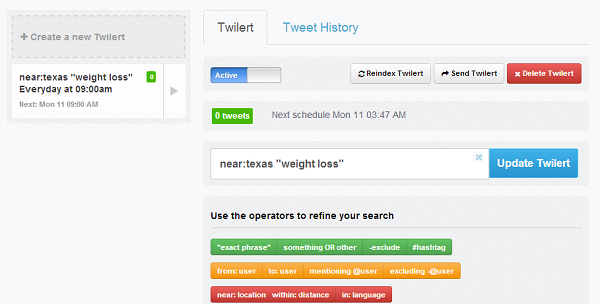 19. People Finder
(credit to SEER Interactive for this tactic)
The main purpose of this tactic is to identify which edu sites in your list have their own people finder tool – a tool that will help you get a list of current students from those particular colleges/institutions together with their student emails. It will make your outreach more effective if you send emails to students than to the owners of generic emails like info@college.edu or contact@college.edu. The reason is that students are more active and responsive to email requests than those who have direct access to .edu sites.
It would be great if you already have a list of .edu sites (by doing a Google search: inurl:.edu "your country" OR "your city") and you will just have to determine whether or not those sites have a people finder tool.
How can you identify if the site has a people finder tool?
How can you find the student's email address?
Use this advanced search query: "people finder" site:schoolname.edu to determine if the site has its own people finder tool.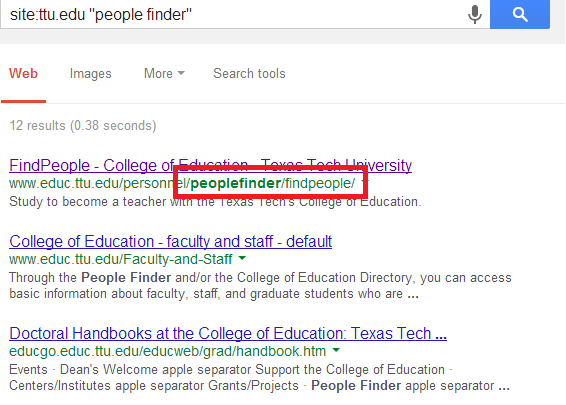 Visit the page and type in common nicknames in the search box of the tool. Get the list of his or her email address.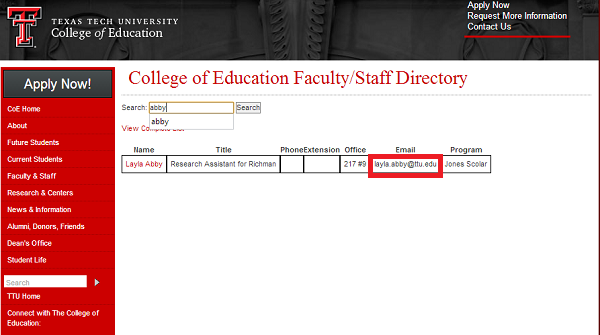 Some people finder tools would reveal the affiliations where the student belongs and also his/her personal blog, This will make your outreach more personalized if you include his/her affiliation and his/her personal blog in your pitch.  By addressing their current position in the organization, your email pitch could gain a positive response.
20. Industry Survey tools
By creating your own industry survey using tools like SurveyMonkey, you can get insights from your target audience (which composed of people you may or may not know) about the topic that you want to receive feedbacks.
The tool should not only be used for content marketing purposes but also for finding new link targets that you're not really targeting in the survey. Qualify all your link prospects in this phase using your brand's link standards (relevancy, user's blog, influence, etc..).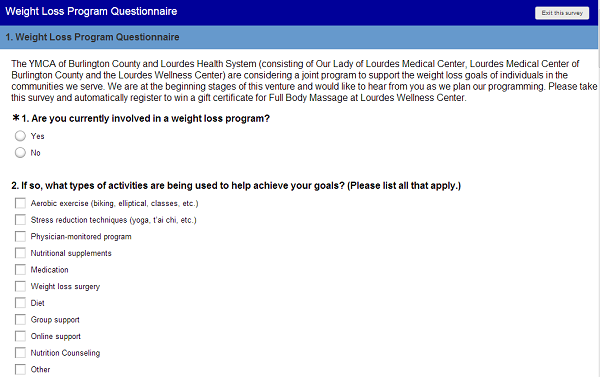 The more popular your survey is, the more link targets you can get from it.
21. WordPress.org Plugins
What I discovered is that almost all WordPress sites from different niches use plugins to improve their sites' user experience. The reason is that plugins can add design elements, produces industry-specific tools (e.g. weight/height calculator) and allows smooth flow in their sites' customer journey.
For instance, when you search for the keyword, weight loss in WordPress plugins, you will see these results: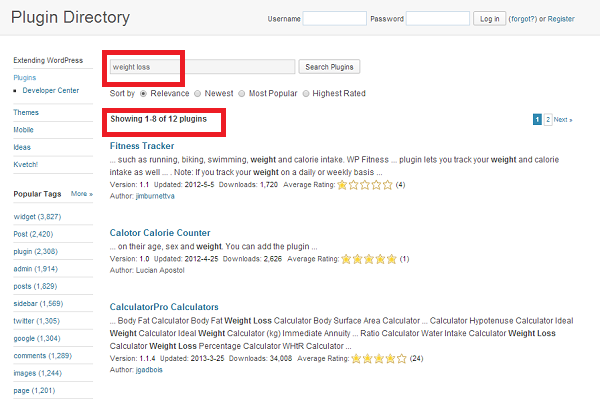 These are plugins that had been used by nutrition/health bloggers to better serve their target audience
By simply looking at each detail of those plugins, you could easily find link targets and add them to your list. Here are some ways to find more targets:
Identify the creator of the plugin and his website. Add those details in a spreadsheet.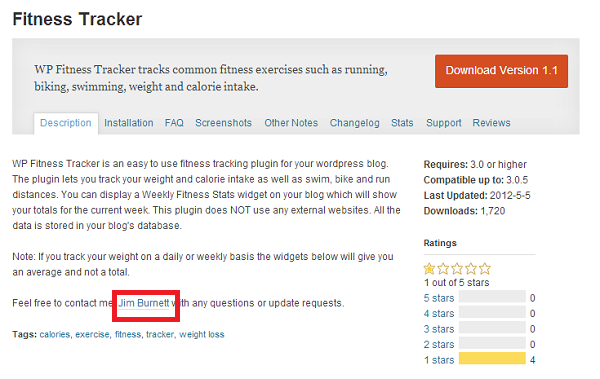 Or author profile section..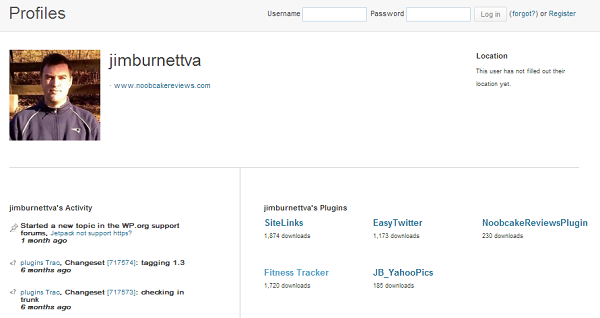 Look for people who reviewed the plugin. Get them also in your list.
Before doing your outreach to those link targets, you have to create something that will get them link to you. An example would be to create an updated version of the plugin that you see and has some errors when you installed the plugin or based on the negative feedbacks/reviews you've seen in the plugin page. Using this as your angle when pitching to your link targets would increase your response rate seeing that you offer value to them (an updated useful plugin).
WordPresss plugin pages sometimes link out to donation pages of the plugin developer. People would donate if they find the plugin useful for them and this type of donation would encourage the developer to create more useful plugins targeted for a particular industry.
Aside from getting a donation link from the plugin developer's site, you could also setup partnership with him.
If you could bribe/incentivize the plugin developer to create a brand-centric plugin that will be useful to your target audience, then it's a great opportunity to earn links for your brand and widen your reach to your community by providing an awesome resource.
22.  Personal Contacts
You don't need to go far from your circles when you're looking for prospects for link building. I'm sure you have a contact list consisting of emails of your friends, those you have engaged with during your link building campaign and people who had contacted you for consultation, product or service.
Tips on how to get more link targets using your contact list:
Ask your friends about which sites they contributed their guest posts on. I did it last month wherein I asked Brian Dean about websites that he had in his list and where he submitted his guest posts.
The good thing with asking your friends for link targeting is that they would be able to send you not only the URLs of the websites but also the contact persons to whom you should send your email pitches. Most of the time, you get lower response rates when you send pitches to generic emails (info@domain.com) because they're not really the persons you should get in touch with. Big brands hired editors who're tasked to manage editorial content/news for their sites. They are the persons that should be on your list of targets.
Use Google advanced search queries and aforementioned link prospecting tools to further go down the list.
Choose a name among your list of contacts.
Do an inpostauthor query in Google search. You can get al list of sites where guest posts could be contributed.
Do a reverse image search for the default picture or his brand's logo. You could see results for interviews, sponsorship pages and potential guest post prospects.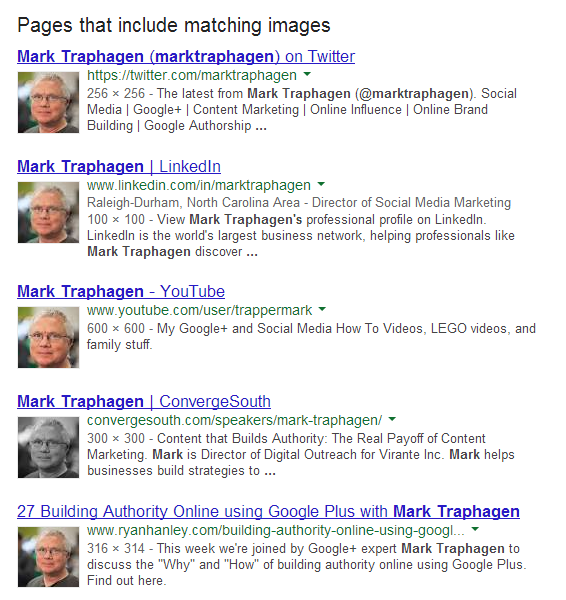 23. Local Event Websites
Local events could possibly be the linkable asset of your brand both offline and online (if you know how to use them properly). Knowing that you can build new relationships with your customers or with other brands during and after a local event, your brand can promote its offerings through partnerships or collaborations with other companies/customers.
Eventbrite and Meetup are a few websites where you can find events that will be held near your brand. This would open doors for local linking opportunities seeing that the audience that you might connect with either by attending or even hosting the local event could link to your brand/site from their blogs.
Let's say I'm looking for a local event that will discuss about technology, internet marketing or any related topics. And specifically, I want an event that targets students, faculty staff and personalities working in an educational institution.
By simply using Eventribe as my prospeting tool, I was able to visit this page.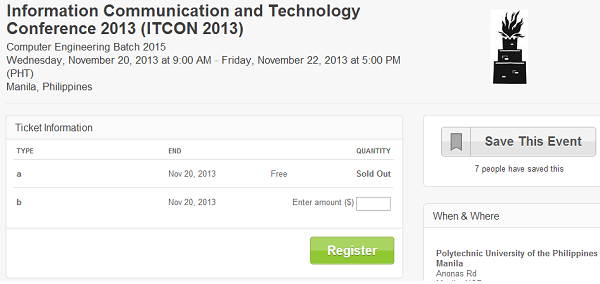 It is an IT-related event that will be held in our university. This is a good opportunity for me to connect with co-students who are interested in what I am doing today (online marketing and SEO).
Let's switch places..(you are now the person who're looking for local events)…
Just like what you are doing offline, local event can make a way for you to easily reach out your local influencer through online outreach. Click on the "click the organizer" button at the bottom right of the page.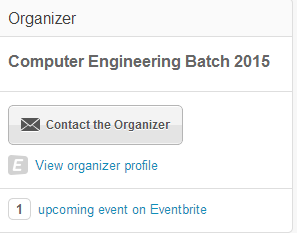 Get in touch with the local organizer. Speak about yourself and what you can offer to the event. Incentivize him by giving discounts on your products or offering a sponsorship program for the event.
Tip: Start to have an approachable personality every time you reach out to local personalities.
24. Footprints
There is a disadvantage of using simple searches in Google to find link targets for your campaign. When you search for phrases like "weight loss" "resources", you'll see hundreds/thousands of resource pages that list down various content pieces. This is a good linking opportunity for your brand but only to find out that all your competitors are already targeting those websites for link placement. This might actually affect your outreach response rates (as you need to stand out among the pitches from your competitors) to obtain positive responses from your link prospects.
Footprints would dig into pages/sites where your competitors may not have been targeting in their campaigns. In this case, you're not just running behind them but actually leaving them behind the race.
Let's have an example…
If you're finding local linking opportunities, you might be using this search query "local events" + "your industry". This would reveal different local events that you might want to participate for branding and promotion purposes. But as you go further searching, you would see footprint that almost all local event pages have it included.
"powered by trumbra"
Add this to your search query to find more local events that your competitors might not have been listing in their link prospecting spreadsheet.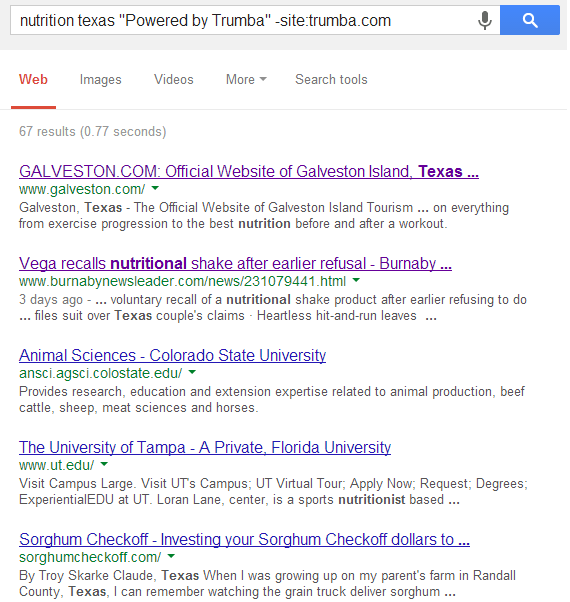 Pro Tip: List down terms/phrases that you are repeatedly seeing in every page you're visiting. Add them to your search query to find specifically targeted pages.
25. Comment section in social media platforms
Social media platforms have their own comment sections that allow people to share their own experience about the subject matter and in turn, the brand can build its own community of like-minded people.
Youtube is one of the successful social media sites and I consider it as gold mine for finding link targets (especially for video content pieces).
By simply searching for a particular keyword, you can see a list of videos that are relevant to your chosen keyword. Each video has some comments that you need to watch out for link building opportunities (unless the video uploader restricts people to comment on the video).
Go into each comment and visit the user's Youtube profile. Click on the about section and visit the URL of the user's site.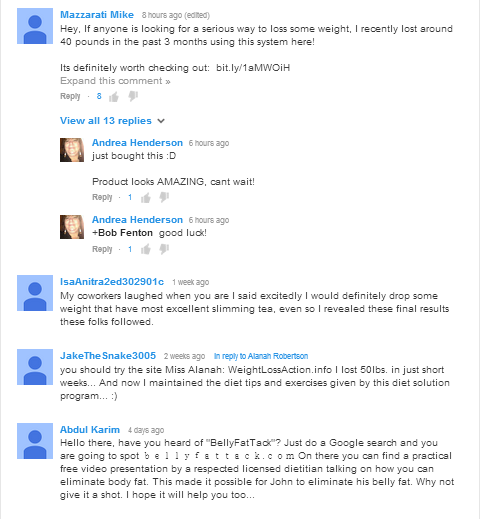 This is a time consuming task but if you're into a massive video content strategy, this should be one of your methods to find linkers in your community (given that these people are interested to watch/link to your video content).
26. Zemanta
Zemanta could provide suggestions for your content piece which lessens your time finding related blog posts targeting your keyword. Though it's a great tool for content creation, you could also find link opportunities using Zemanta.
By simply visiting relevant content pieces, you could get a feel if the sites where content pieces are published can be considered good opportunities for link building.
27. Wefollow
Wefollow is an easy-to-use tool to find influencers working in your niche. These influencers are a must to follow because they had already built an authority and influence which you will borrow for your own social or link building campaign.
As always, you want to build a rapport with these people and get them connect with you by doing your email or social outreach.
You may want to check out this post about relationship building to learn how you can engage with your influencers and in the same way, build links from it.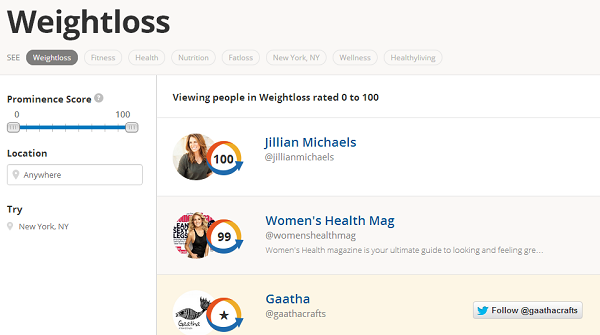 28. Discussion section of Google search
Forums can give plenty of traffic to your site as well as help you build your own personality in your community by sharing your insights on industry-related threads.
But forums can also be used for easy prospecting of industry influencers and active contributors in the community.
Do a Google search for your keyword (e.g. weight loss), click the discussions tab and filter the results by recent 24 hours so you will see  active contributors in your industry.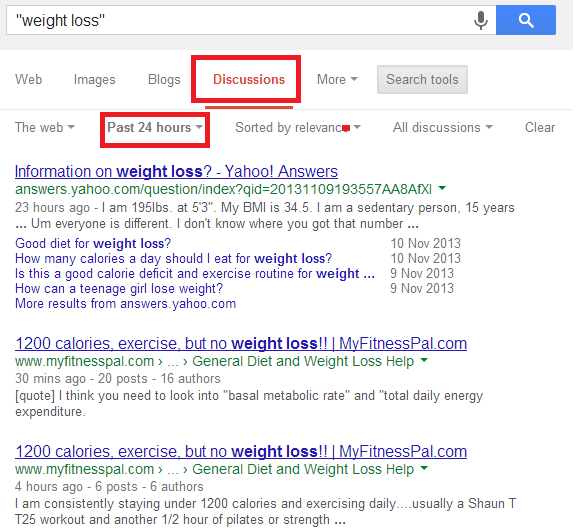 Some forums have their "top contributors" or "active members" section which would help you find link targets easily.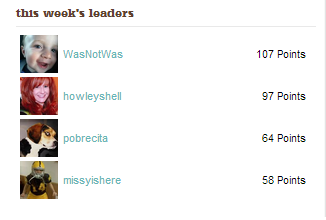 Add them to your list of link prospects and start to engage with them.
29. Foursquare
Foursquare is a good place to see local brands near your city and what people are talking about in your industry. It's an opportunity to partner with other brands for a local event (e.g. SEO for food bloggers) where you can share your brand's offering to the local community and how important your brand's service/vision to them.
The Best Nearby functionality of Foursquare is an easy-to-use tool to see companies that can help you promote your brand even if those brands are outside your target industries.

30.  SEOQuake
This is my last but not the least tool for link prospecting. I started to use this tool when I read this link prospecting guide by Jason Acidre. He already detailed the step by step instructions on how you can find link targets using SEOQuake.
Here you go! The 30 free SEO tools that you can use for link prospecting. Did I miss anything? Share your tool in the comment section.
 If you liked this post, kindly share it to your circles/networks and follow me on twitter @venchito14.
Hear about new posts as they happen. Build extraordinary links.