What is link reclamation?
Link reclamation is the process of identifying and fixing broken links on your website and getting links from other publishers who mentioned your brand or content but didn't linked to your site.
This is perhaps the most effective link building tactic that can drive initial set of links to your website with ease – it won't require new published content, you utilize your existing web assets for link reclamation (website, images, text, article, etc..).
Let's also see how other link building experts define link reclamation.
Link reclamation is the process of fixing broken links on your company website and other websites that link to yours.

Razvan, Founder of CognitiveSEO and BrandMentions
Reclaiming links is a process that happens when you've either lost links and want them back or when you've not been properly linked to, such as with a broken link or a non-linked mention. Links can vanish for multiple reasons. Sites get moved, pages get removed, and your link isn't always foremost in a webmaster's mind. Keeping an eye on lost links and non-linked mentions is a fantastic way to keep and add to the good links you want in your profile.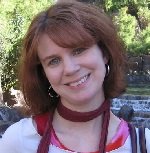 Julie Joyce, Founder of LinkFish Media
Is Link Reclamation The Right Tactic For Your Business?
If you're asking whether or not link reclamation is the right tactic for your business, the answer is – it depends.
Link reclamation is best utilized by brands who have already established authority in their industries whether through word of mouth marketing, content development, press publication and other branding initiatives. Given that link reclamation requires tracking of existing publishers who mentioned the brand in any form, authoritative brands (i.e. Fortune 500s) that have a set of content followers would more likely benefit from this link building tactic.
For newly established brands, link reclamation isn't the initial link building technique that could be easily implemented right away, unless they have content assets readily available on their sites that can potentially earn links from time to time.
Link Reclamation Best Practices
1. COINED TERM
Coined term is a word or phrase created by a publisher or content creator used to refer to a new thing (an event, strategy, place, tip, etc..). The term has been mentioned a lot of times by other industry publishers in their content pieces – exposing the word/phrase to an existing audience and using it as well in their daily conversations (whether online or offline).
Almost every industry has its own coined term. Whether you are in finance, health and even in search, you'll notice a lot of words that are mere creation by influencers and by highly respected SEO publishers. In fact, the topic of this post, link reclamation, is just a coined term created by Eric Ward way back in 2004.
So how can you leverage coined term creation in acquiring links?
First, you'll have to think of something new to contribute to the industry – i.e. a tip or trick that would highly benefit a specific group of audience. It shouldn't be a copy of another principle, but is unique or a revised or twisted version of a thing.
For instance, Brian Dean coined the term, "Skyscraper Technique" on his SEO blog, Backlinko. It has been used multiple times on other marketing blogs as one of the effective SEO strategies for ranking a website on Google and acquiring consistent traffic from search engines.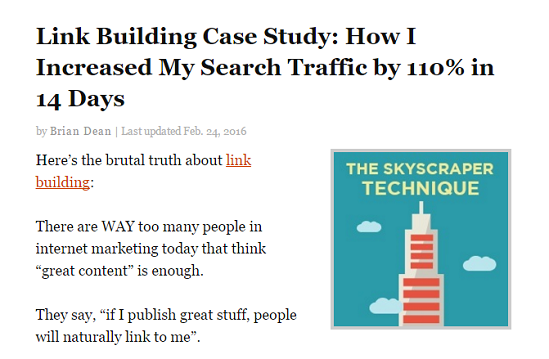 Once you created a coined term, it's time to promote them to your audience. Here are a few ways to get traction to your coined-term-based content:
Build links pointing to your content asset from relevant websites within your blogosphere.
Get internal links from pages that can support your content – i.e. glossary.
Include your coined term when answering commonly-asked questions in forums and Q&A sites.
Finally, if you've seen high interest to your coined term from your web community, you can track which publishers and content creators have used your created term in their own content pieces. Tools like BrandMentions and Mentions.net can aid you with this.
2. DRIVE VISIBILITY TO UNLINKED CONTENT
Reaching out to webmasters through email outreach and asking them to credit references by linking to the original creator works effectively for most of the link builders out there – 50% or higher is the usual conversion rate.
However, if you nudge potential linkers with pre-acted efforts i.e. distributing their content on content promotion platforms, you'll receive more responses and more links reclaimed for your brand.
One way to show that you initiate connections with these potential linkers is to actually share their content on social media sites even before you reached out to them via email. Notify these publishers by adding social handles to your social updates to make them aware that you shared the original post.
Putting email postscripts like, "I've shared your post on Twitter already, twitter status is here: www.url.com" to your pitch helps build enough trust to get them link to your website.
3. FILE LOCATION LINKS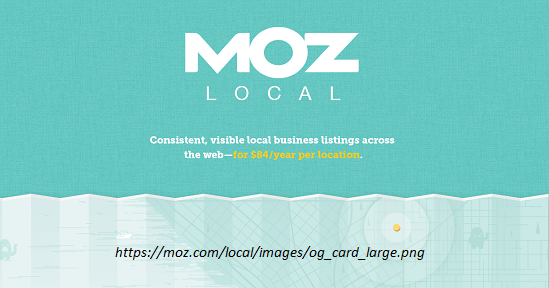 Not utilizing images for link acquisition is an opportunity lost especially if you have multiple images uploaded on your site (i.e. ecommerce branded product images).
Those images particularly branded images intended for distribution (i.e. infographic), should be monitored regularly to see if there are websites that have already linked to you as their source. However, if they're linking to the file location (i.e. domain.com/images/photo.png) instead of the page that image is uploaded (i.e. domain.com/blog-post/), then content creators who linked to you this way should be asked to change their destination link.
Monitor file location links using Ahrefs, CognitiveSEO or OSE and ask content creators to change the destination link – from file location link to the linking page.
4. EXACT MATCH IMAGE SEARCH FOR EASY IDENTIFICATION
One of the difficulties when finding pages to reclaim links from, particularly for enterprises, is seeing several pages in search results with the need to further filter out irrelevant pages – i.e. those where content are not owned by you.
For instance, if you are reclaiming links from content creators who uploaded your infographic from their sites but not having link to you as the source, then doing a search for [ blogging ] [infographic ] would reveal branded visuals from other publishers.
At SharpRocket, our main qualifier for exact branded image reclamation is the use of allintitle – advanced search operator. This helps Google drives out pages with page titles that are not similar to the title of the branded content.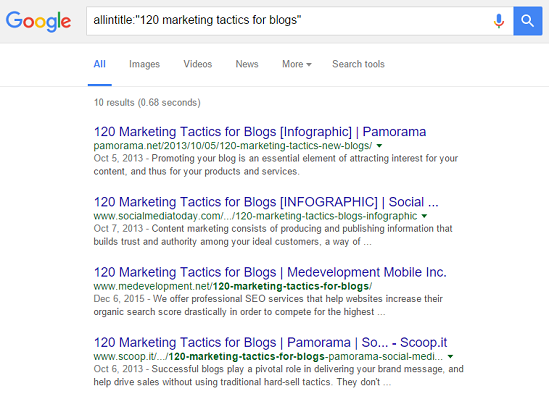 One thing to keep in mind, if your visual titles aren't unique (i.e. it's the most common keyword others are trying to rank for as well), then there are filtering efforts you still have to do in search results.
Even having unique visual titles, there is a ~10 to ~20% inefficiency here since you'll also weed out pages from allintitle search but happen to be the pages where your content has been placed on, examples are:
Pages with a different page title but uploaded your branded content.
Pages that only includes a portion of your visual (sliced infographic into sections), then getting only one portion as a resource to their content.
For 90% of the time, using allintitle search operator for image link reclamation helps you easily target pages that used your branded content. And when they haven't credited you as the source, reach out to them with tested copies and secure those links (sample outreach copies in the latter section of this post).
5. SHORT FORM TEXT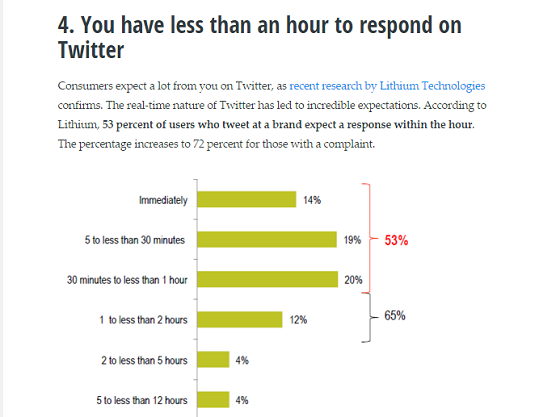 Short form text is a small piece of content that is worthy of mention on other publishing sites for reference to a certain topic. This varies in many kinds, such as:
Having a few short form texts in your website doesn't only increase brand exposure but also help you gain editorial links from other publishers who'll be referencing your small content from their blogs. If fortunately they've linked to your site, reach out to them and send a simple "thank you" message. Building a rapport with these content creators would amplify additional links in the future – as they can also refer to your short form text from their content pieces on other blogs (their guest posts).
If in case some publishers didn't credit you as the source, you can pitch them to reclaim unlinked mentions of your content.
If you are starting out to build your our own brand and don't have a set of followers yet to spread your short form texts on the web then here are some ways to promote these small pieces of content:
Participate in industry forums and Q&A sites by answering relevant questions, particularly those that require definition of terms – so you can simply insert your short form texts easily and still get value from the discussion – clicks and assisted conversions.
Track publishers who frequently use the industry phrase and offer them to add your own definition.
Include them to your site's external web assets (i.e. linking to them from your contributed content on other blogs). This nudges readers from other blogs to make it also a reference in their own content pieces.
Building short form content assets isn't scalable. You can't force your brand to create this type of content if it's not totally remarkable. Otherwise, it will serve as a plain text in your page without any publishers stealing your content.
The solid gold process for creating remarkable short form texts is to think of something unexpected hook in it – the "amazing thing" that initially captures the interests of majority of industry publishers.
6. GIF FORMS FOR QUICK TUTORIALS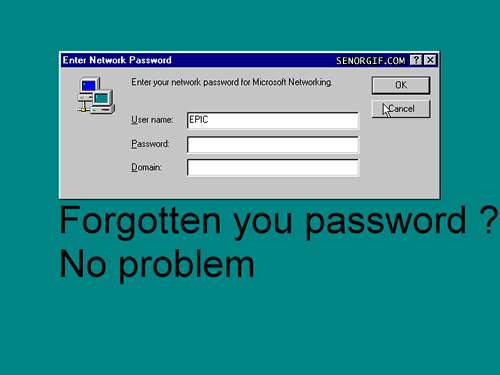 The growing industry of content marketing creates new types of content that helps consumers read, see and digest information easily on the web.
One form of content asset that I noticed became popular and useful these days is GIF-based quick tutorial. It is almost similar to the traditional video tutorials created by startup agencies and bloggers trying to entice customers or clients to purchase their products or services. What only differs is that they are easy to consume as you don't need to click the play button to watch the full tutorial, it automatically runs even without initiatives from the user.
So how can you maximize the use of GIF-based quick tutorials for link acquisition?
Before anything else, let's first understand that not all quick tutorial GIFs could get you earn additional links. In most cases, this type of content is actually a portion or one step in a whole definitive guide or resources. Unless, the content can stand on its own – i.e. it doesn't need other quick tutorials to support its idea, it isn't a feasible content to be promoted.
How to come up with ideas for useful GIF quick tutorials:
Generate content ideas from Top GIFs on Reddit.
Brainstorm common problems in your industry that don't require long form tutorials to provide solutions to. An example of a useful quick tutorial is this Resetting Password gif –almost everyone who uses computer encounters this problem.
Look for frequently asked questions (FAQs) page in your niche and answer one question with a simple GIF quick tutorial.
When you are done brainstorming for topic ideas, you can use any of the following tools to create your own GIF quick tutorial:
Once content is published, spend time monitoring publishers who have used your quick tutorial in their own webpages. You can use Tineye to track websites that stole your branded GIF, which you can reach out to reclaim unlinked mentions.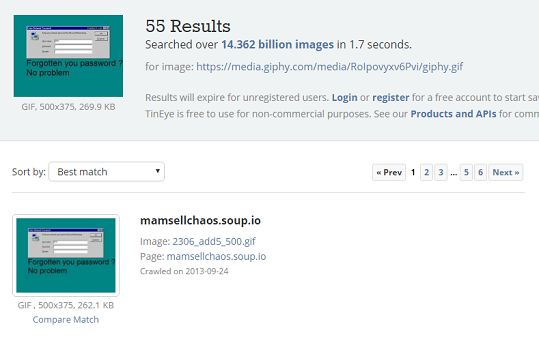 7. OPTIMIZE YOUR PHOTOS FOR IMAGE SEARCH
Image optimization is one of the best practices in search marketing as it helps sites' branded visuals to rank for targeted keywords and absorbs additional search traffic from organic source.
Given that content creators are using search engines to look for high quality images, ranking highly for image search also allows your visuals to be featured on other relevant blogs. – and if they're not linked to you as the source, you can pitch them and ask for a link.
Here's a quick checklist of points to complete for each visual:
Optimize your image traditionally for target keywords (e.g. star-wars-jedi.jpg).
Describe your image in a few words using the alt attribute tag – maximum number of characters is 125.
Try to come up with unique versions of images since Google also treats duplicate images in image search similar to what it does in universal search.
Use correct image types for page speed purposes: JPEGs for images with rich colors, no transparency; GIFs for images with flat colors; PNG8 for transparent images with flat colors and PNG24 for transparent images with rich colors.
8. CHANGE LINK REQUESTS FOR OLD DOMAINS
When building links to new domains of your brand, one tactic that search marketers often overlook is reclaiming links built to old web properties. These are links pointing to hosted sites like WordPress.com and other free platforms or links to old owned domains. You may have started blogging using these old/hosted sites and received several links to it, but sooner have a blog on your own domain or have bought a new one.
The optimal process is to check your old web properties and see if there are other websites (not owned by you) pointing to your old website. Get these links changed by asking existing linkers to link to the right destination pages or you can permanently (301) redirect old pages to their equivalent landing pages in your new website. This is very important since you don't want to redirect all pages from old site to new site's homepage only unless it's relevant and beneficial to do so.
A few more tips to keep in mind when requesting to change links from old domains to new websites:
Check if old properties are still owned by the brand you're working for. You can't simply grab content assets (images, rich media, etc…) and anything that has been hosted in your previous domain and publish them in your new website. Otherwise, you'll be the sued by the new owner of those aged sites.
If it's possible, redirect old pages to their equivalent landing pages in your new website. This allows users to find the information they're actually looking straight ahead as opposed to using the homepage's search bar to look for the right page.
7 Best Link Reclamation Tools
There are a hundred options of tools on the web that helps link builders track unlinked mentions, identify broken pages in their websites or initiate conversations through email outreach, but here is my own recommended toolset that can assist you in a link reclamation workflow.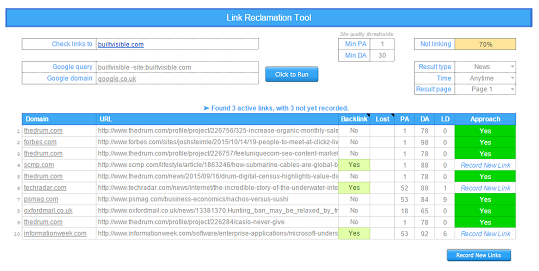 This is probably the most accessible tool in the market that supports in-house and agency link builders for tracking existing mentions – whether linked or unlinked. This free tool also allows viewing websites' data – domain authority, page authority and number of linking root domains, which makes it easy for search marketers to prioritize outreach prospects that might generate the highest link value.
Agency link builders can execute link reclamation at scale by renaming Google sheet with their own labels of clients' campaigns.
If you are lowering costs on premium SEO tools, then this one might be a good option to add to your link reclamation toolset.
Note: Google is a bit slow returning data in the spreadsheet, but aside from that, the tool works pretty well.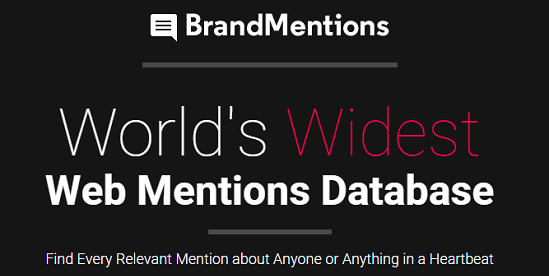 Brandmention's main value from a link reclamation perspective is sending email notifications whenever a mention of your content has been tracked. It enables you to monitor branded mentions in real time while doing your other marketing tasks. This keeps you on loop for new publishers you can get in touch for content partnerships.
What keeps this tool distinct from other mention tracking products are its notable features – language filtering and location-based sifting. This allows you to prioritize mentions from certain audiences where you could further analyze why and how these mentions had been placed.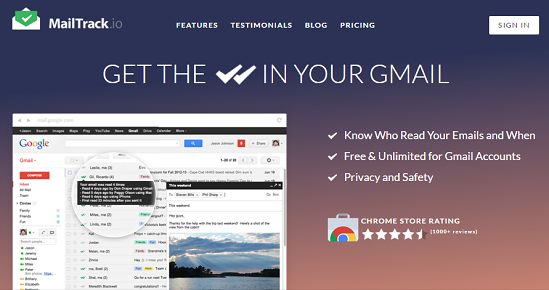 If you're tracking open rates in outreach, MailTrack.io provides a free option to guarantee reporting for that said key performance indicator. If you play in an industry where publishers aren't responsive in emails, open rates enables you to counteract communication issues. Options might include switching to another subject line that captures immediate interests from recipients or adding more personalization straight to subject lines in order to nudge email opens from prospects.
It also allows you to know when content creators read your emails, giving you a framework for optimal email scheduling times. If you're using emails for link reclamation outreach, you need to be using MailTrack.io.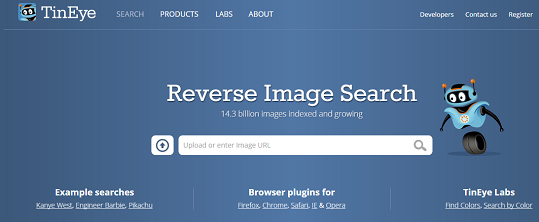 Tineye might be the most underrated image reclamation tool that exists on the web. It enables you to track websites that stole your branded visuals – whether it is a logo, infographic or company staff photo and when these publishers haven't refer to you as their original source, reach out to them and reclaim image-source links.
Additionally, if you are working in an image-heavy space where every section of the content requires photos, you might consider adding Tineye to your link reclamation toolset for image reverse engineering purposes.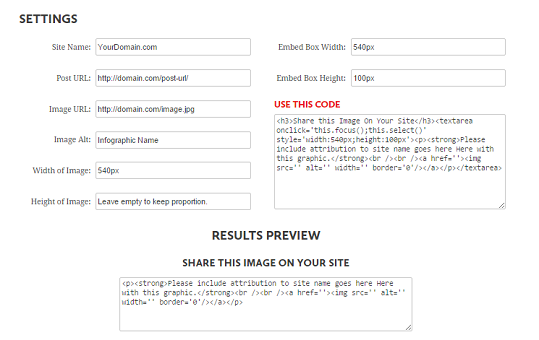 Siegemedia's Embed Code Generator is a simple but powerful tool for distributing visual content to other publishing websites with the full guarantee of linking to you as the original creator.
Aside from its customization features which include image and embed box resize, it enables you to see the preview of embed code straight from the platform itself. The tool gives you lower probability that other industry content creators will not link to you as the main reference for customized images.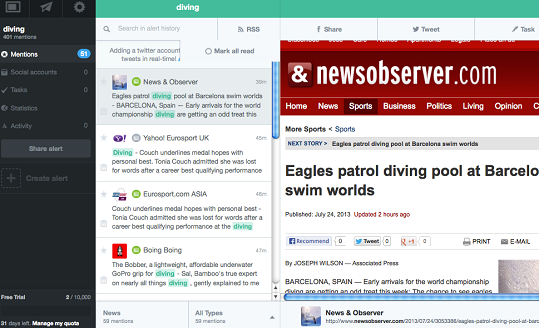 Mention.net is the next-best option in terms of uncovering mentions of your brand based on various sources such as social, news, blogs, videos and forums.  The difference-maker of this tool is its capability of filtering web mentions using sentiments (neutral, positive and negative). This aids you to easily see negative mentions that you can counteract immediately through proper response.
It also allows you to filter results by tags which you can use to sort data according to industries, keywords and content properties.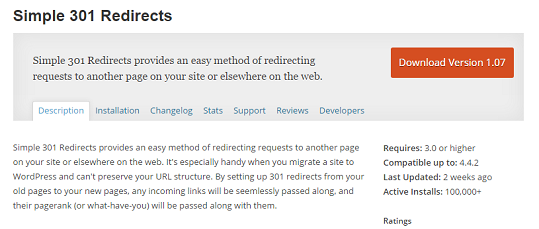 301 Redirects is a simple and free tool for WordPress users. For introductory link builders without a set of programming skills or access to FTP files, this plugin enables you to permanently redirect links to corresponding webpages.
On a link reclamation perspective, this workflow helps you preserve a smooth flow of link equity through your website by minimizing internal broken pages.
Link Reclamation Email Outreach Templates
The main course of link reclamation is outreach, which is basically asking publishers who haven't linked to you as the source, to get them attribute to your content asset by linking to it.
Conversion rates using this workflow normally gets 50% and even goes up to 100% if everything is executed correctly.
To get the best results for your link reclamation outreach, below are a few outreach strategies with examples of email templates that you can test for yourself.
1. RECLAIMING LINKS OUTREACH
Once you tracked all publishers who've mentioned you or grab a certain content asset (but didn't linked to you), you can reach out to them and ask to give you credits as references.
Being aggressive – i.e. using copyright law or license as the initial paragraph in your pitch that doesn't sounds polite often decreases response rate.  Though this is not the case maybe for publishers whom you've built relationships with before as they would normally take time to go to their site's dashboard and give you links from their pages.
The best practice still is to make your pitch sound that you actually want to spark connections with them and being kind to ask for links from their websites.
Here's an outreach template for asking links from publishers who haven't credit you as their references:
Subject: Thanks for mentioning [ SITE/BRAND NAME]

Hi [ NAME ],

Hope you're doing great day.

I would like to drop a quick message to say thank you for mentioning [ BRAND NAME ] in your post – [URL].

I noticed that you hadn't included details of our brand and was wondering if you would be kind to include a link pointing to our website, so your visitors would see more information about your reference.

Thanks again

Kind regards,

[ YOUR NAME ]
2. REQUESTING TO CHANGE DESTINATION PAGES
The request to change destination pages in links pointing to your old properties, sad to say, is often ignored by bloggers and content creators. What we've tested that best nudge these publishers to take an action is to give them reasons why doing so is useful for their websites.
Here are a few points that you can add to your pitch that increases the odds to get bloggers change links' destination pages:
Emphasize how changing linking to pages helps their website achieve a positive user experience, given that visitors would be able to see the right information on pages referred to by their content as opposed to seeing broken pages – if your old web properties have been moved.
Include additional unique proposition to your pitch – i.e. offer free content pieces to publishers.
Make sure that you properly include details of your request – page where the link has been placed, anchor text used in external linking, old page's URL and the new site/page's link.
Here's an email copy to use for email outreach.
Subject: Broken link on [ SITE NAME ]

Hi [ NAME ],

Hope you're doing well.

It's [ NAME ] from [ BRAND NAME ]. I noticed that you were linking to one of our old page, which has now been moved.

The link is on this page [ URL OF THEIR PAGE ] and is pointing to [ OLD URL ] using the phrase [ ANCHOR TEXT].

I'm wondering if you could possibly update the link to [ NEW URL ].

Your readers would benefit from this as they can now see the information they are actually looking for.

Thanks for your time.

Best regards,

[ YOUR NAME ]
3. BRAND MISSPELLINGS
One of the most obvious but often overlooked strategies in link reclamation is finding publishers who had misspelled your brand or product name in their mentions and asking them for spelling corrections. This process may be useful to a few cases where brand names are spelled incorrectly:
A digit in a brand name (Believe2Succeed spelled as Believe to Succeed).
Unusual sounding
Foreign names
Rhotacized words (inserting an r) – e.g. surport for support, and de-rhotacizing (removing an r) – e.g. supprise for surprise (source)
Countries (e.g. Philipines for Philippines).
There are still other cases where brand names could be misspelled aside from what's mentioned – use this tool to generate misspelled variations of your brand name.
Once you've identified misspelled mentions, it's time to reach out to publishers using this email template:
Subject: Could you edit this?

Hello [ NAME ],

It's [ YOUR NAME ] from [ SITE NAME ].

We noticed that your page [ ENTER POST URL ] is linking to [ SITE NAME ]  – thank you so much for the love. Unfortunately, the link is spelled incorrectly and we'd like to ask you for a favor if you could correct this – so your readers could easily find our website.

The proper spelling of our website is [ SITE NAME ].

Is it possible to update the link?

Thank you,

[ YOUR NAME ]
Additionally, you can monitor misspelled variation of your brand name with the highest number of mentions using tools like BrandMentions. This workflow, when found to be successful over time, can also be added to your link reclamation process.
Other Link Reclamation Techniques
There are several other options you can try to get backlinks from other content creators besides aforementioned link reclamation methods.
Make youtube linkers link to primary domain. Video-heavy publishers have more than average chances of earing links from content creators uploading non-owned videos in their websites. Instead of preserving links to your youtube content, why not get them link to the original source – your primary domain. Use Open Site Explorer to find these publishers.
Make "links to tweets" point to primary domain. In an event where tweets could be used as references for actionable tips, news coverage or short form data, leveraging links to tweets for your own website's benefit is a sure fire way to improve your site's backlink profile.
Reclaim links from stolen powerpoint. If this visual type of content has been uploaded to Slideshare or had been shared on similar sites, same steps for the two above will work also work for this workflow.
Have We Been Helpful?
Want to take your link building to the next level – — but don't know where to start, and are feeling overwhelmed by this post.
We are here to help you. SharpRocket is a team of link building specialists who love building high quality links.
To learn more about how we can help, take a look at the link building services we offer.
How our LINK BUILDING AGENCY builds 250 links/mo consistently using Predictable Link Building Methodology™…
Using a SIMPLE and PROVEN system

Using a SCALABLE strategy
No private blog networks
No creepy outreach emails
SHOW ME THE FULL LINK BUILDING STRATEGY