In this new guide, you'll learn how to use Ahrefs for link building.
Even without experience using the SEO tool.
Even if you've been using Ahrefs for quite a while.
(I'll include lots of advanced strategies that I've never shared anywhere before).
Here's everything you'll discover in this guide:
Let's dive right in.
What is Ahrefs SEO Tool?
Ahrefs is a robust tool that can be used to perform backlink audits, conduct keyword research, analyze competitors, track organic visibility and find and quality link prospects.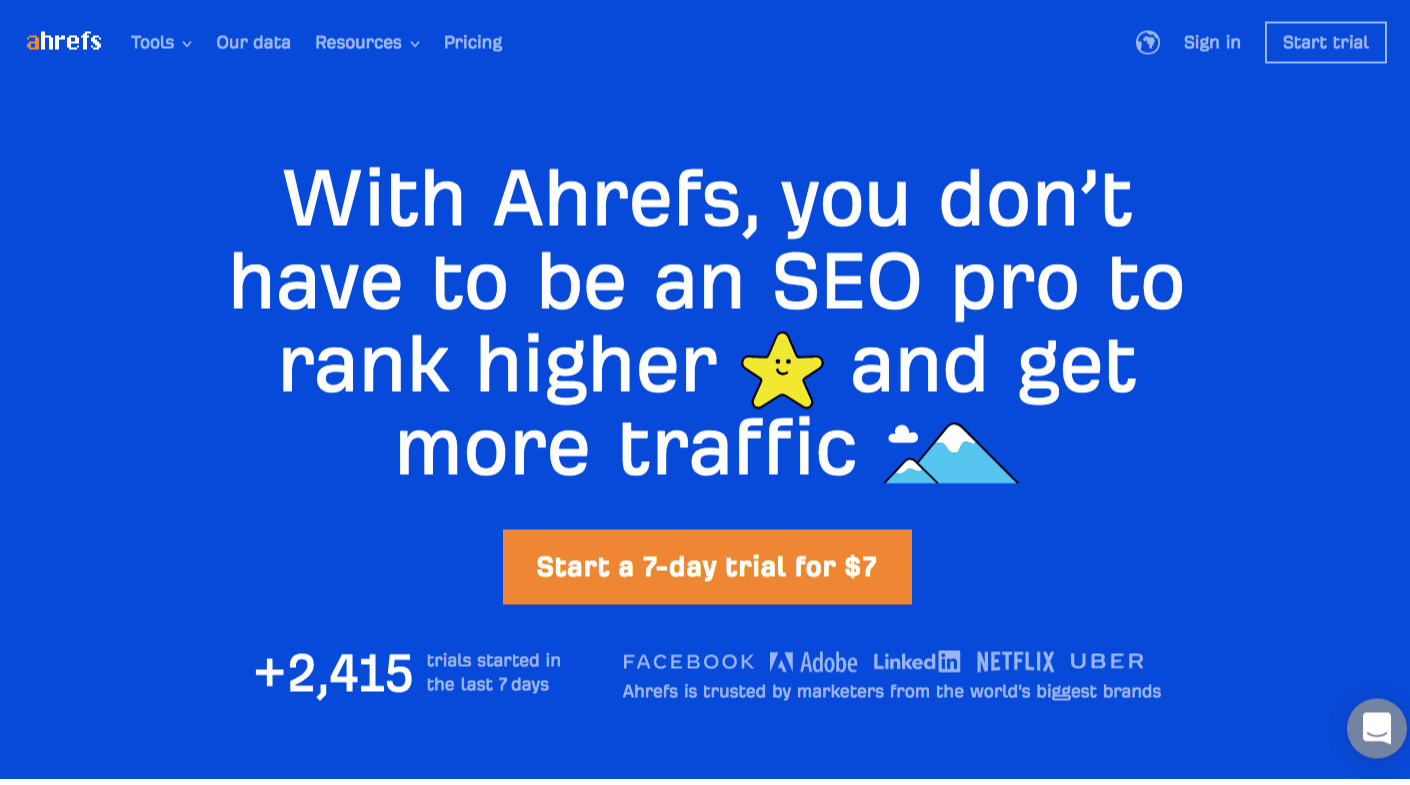 For this guide, we'll focus on activities related to link building.
If you don't what link building is, start first by reading this beginner's link building guide.
How to Find Backlink Prospects Using Ahrefs Link Explorer
Every link building campaign starts with finding websites that can potentially link to your business.
When finding link prospects, you can use Google and advanced search operators to discover blogs and websites to look after for links.
You'll surely discover hundreds of websites following this process.
But if you're looking for a scalable way of link prospecting:
You use Ahrefs.
Ahrefs has a Link Explorer feature to help you find websites linking to the URL or domain you've entered.

The URL you will enter can be a competitor of your business.
Since you'll enter a relevant competitor, you also find backlink prospects that are relevant to your business.

You'll then see a bunch of websites linking to your competitor's website. This could be your possible backlink prospects for your business.
That's how simple it is.
You do this to every website of your competitors. And you'll find thousands, if not hundreds of link opportunities.
Now, if you lack ideas of who your competitors are.
You go to one feature of Ahrefs: competing domains.
Click "Competing domains".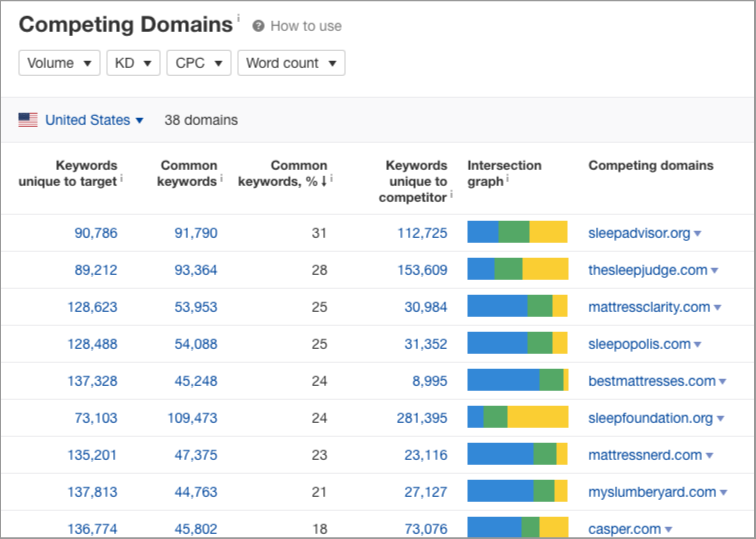 You'll see all websites competing with your business.
Going back.
If you want to get all the backlink opportunities (websites linking to your competitor's website), click Export in the Backlinks feature.
How to Find Guest Blogging Opportunities Using Ahrefs
Guest blogging is the practice of contributing a content piece to another blog, whether that piece is an article, visual assets like an infographic, video, or any other content format. And get backlinks in return for that value.
Here's how to find guest blogging prospects using Ahrefs.
Enter a keyword in Content Explorer.

Add a filter for Domain Rating and toggle to see only "One page per domain".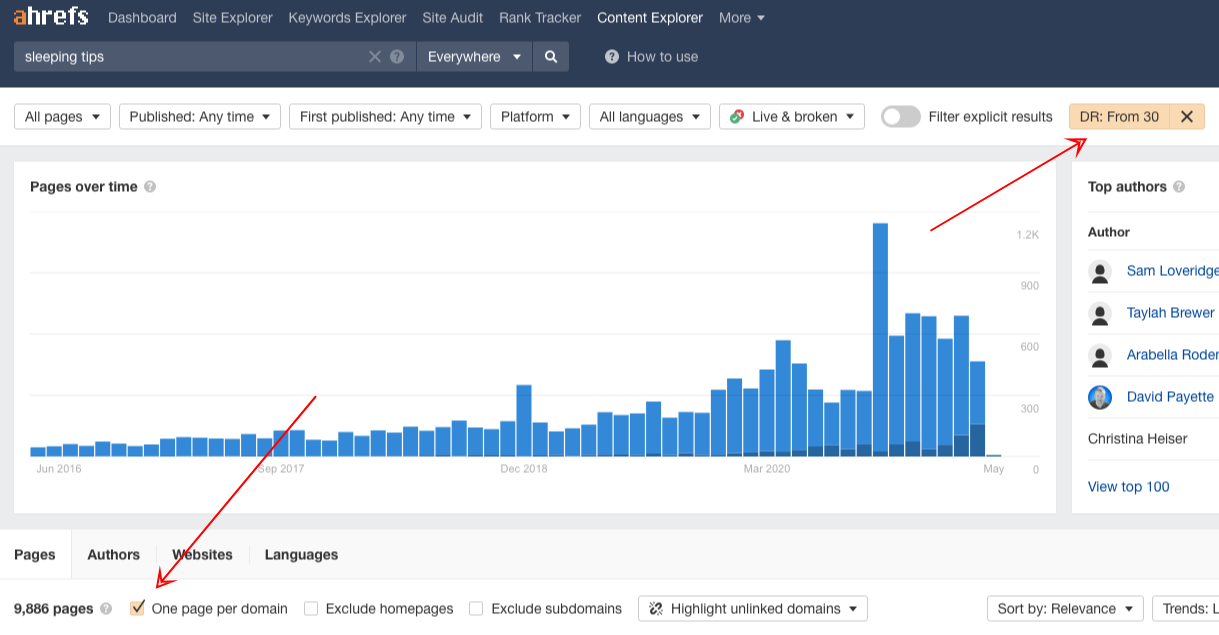 Use the "highlight unlinked domains" function to highlight results from websites that haven't linked to you before.
Now, that gives you a list of blogs you can consider as guest blogging prospects.
How to Find Unlinked Mentions Of Your Brand Using Ahrefs
Not all websites that mentioned your brand would link to you. Some will do, others do not.
But for those who didn't link to you, what you can do is reach out to them and ask to link back.
Given that they've mentioned you, you have leverage for links by simply asking them.
So, how do you find these "unlinked mentions"?
Search your brand name in Content Explorer.

Click the "highlight unlinked domains" button. And enter your domain.

Then, you'll see websites that mentioned your brand on one of their pages.
You can check out this guide on link reclamation to know how to qualify these brand mention pages and reach out to them effectively to acquire links to your site.
How to Find Podcast Opportunities Using Ahrefs
Podcasts are everywhere.
In your industry, there are podcasts you can get interviewed in, to bring your message out there to your target audience.
Using Ahrefs, you can find these podcast backlinks opportunities.
Find a thought leader or someone who've been guested on many podcast in your industry. This will be your starting point.
Look for his website and enter it into Ahrefs' Site Explorer. Go to the Backlinks report and search for their name.


This will give you websites where the person has appeared on.
You can learn more about this from this guide on getting podcast link opportunities.
How to Find Broken LInk Opportunities Using Ahrefs
Deadrot is something link builders can take advantage of.
Broken links on other websites are link building opportunities for your website.
Using Ahrefs, you can discover these broken links.
There are two approaches you can apply here.
First is by entering a competing website into Ahrefs' Site Explorer.
Then go to "Best By Links" and filter for "404 not found".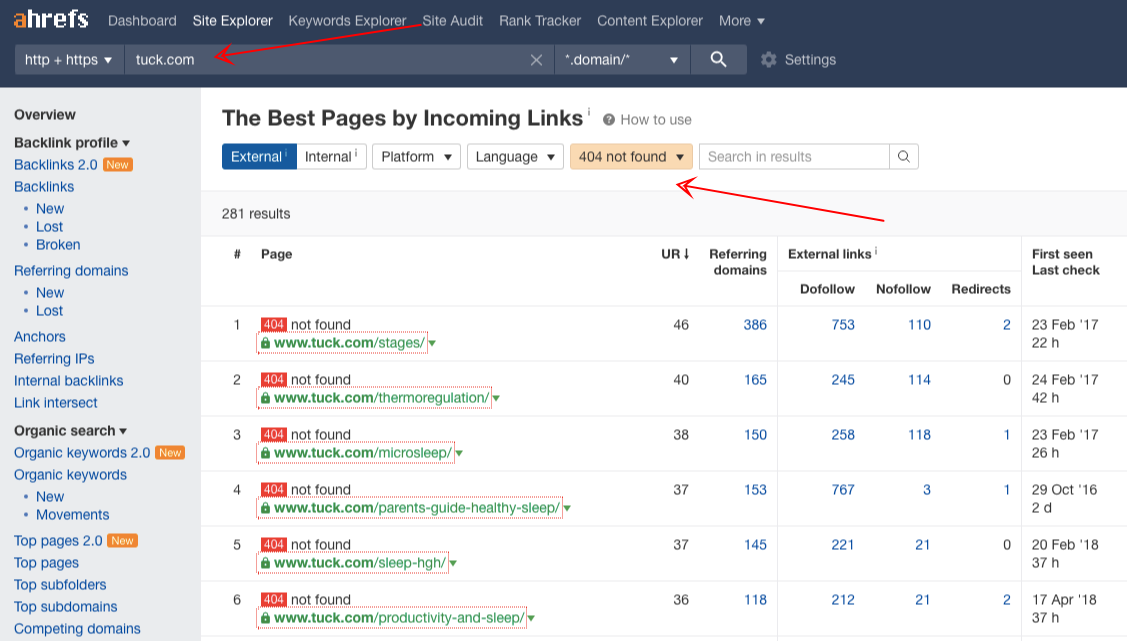 Find any pages that linked to the 404 page by plugging it into Ahrefs' Site Explorer.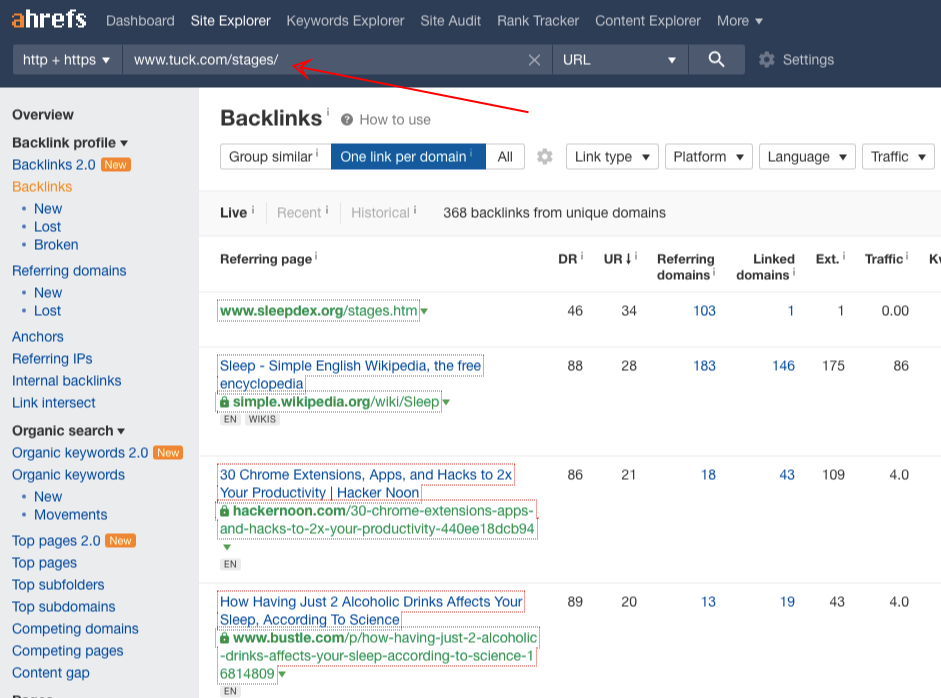 These will surface you link opportunities you can reach out, and offer your resource as a replacement to their broken link.
Another way to find broken link building opportunities is by using Ahrefs' Content Explorer.
Enter a topic or keyword.
Then filter for "Only broken".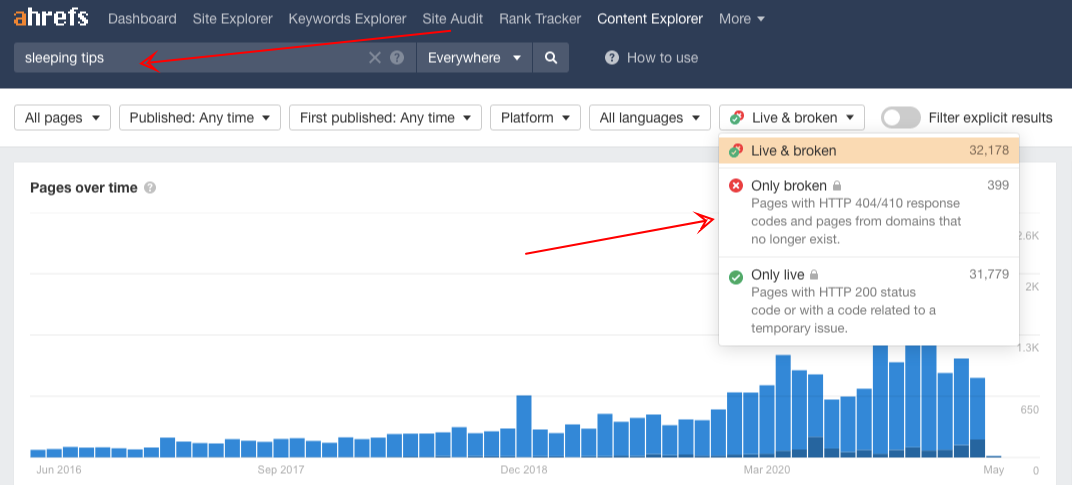 Set the filter for referring domains for a minimum of 50. This will give you linkable pages that you can recreate and publish on your website.

How to Prospect For Resource Page Link Targets Using Ahrefs
There are a lot of resource pages available on the web.
Use Ahrefs to find them.
Enter a relevant keyword into Content Explorer plus a search operator, "inurl:resources" to find only pages with resources on its title or content.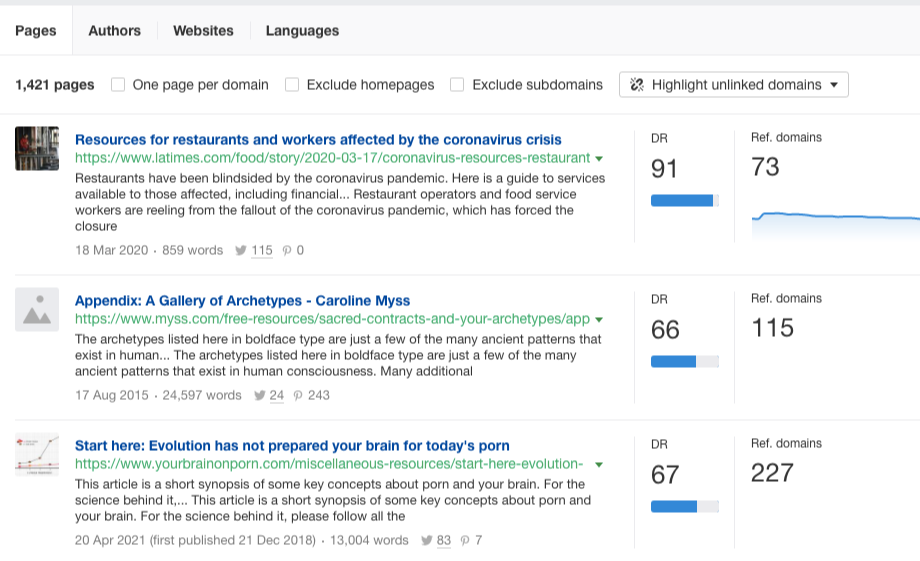 How to Discover Content Syndication Opportunities Using Ahrefs
Content syndication happens when a content is re-published by other third-party websites.
As the content is automatically being republished, it gets more visibility on other more web places.
How do you find these content syndication opportunities?
First thing to do is to find a website that gets syndicated regularly. You can also find an author, content creator, or blogger who gets his article republished elsewhere.
Ahrefs now has an author feature to help you discover authors in your space.
Simply type any keywords in Content Explorer. And go to the Authors tab.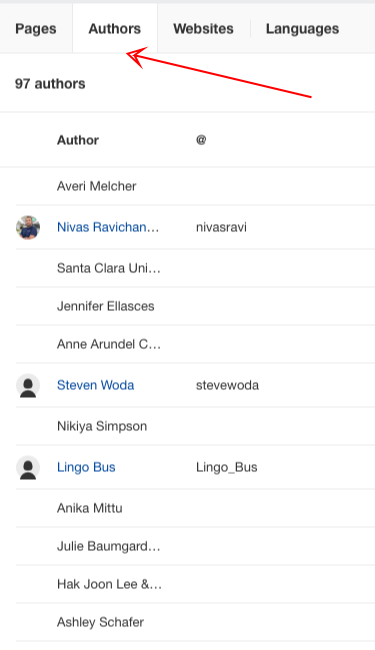 Once you find an author who has a blog that gets syndicated. Paste the domain into Ahrefs' Site Explorer and go to the Backlinks report.
Search for "originally appeared on" in the "Include" box to filter the pages with titles, and content that includes that phrase.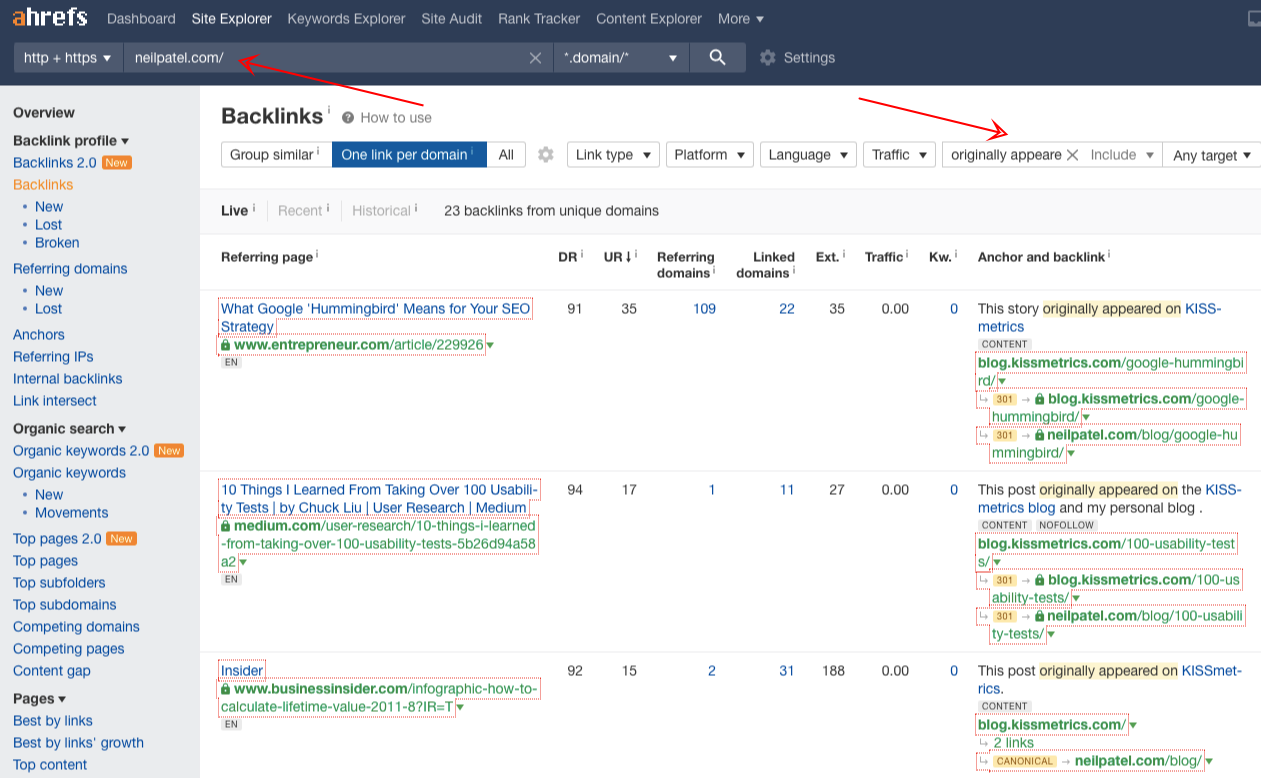 Now, these are content syndication opportunities you can leverage for links.
How to Find Industry Authors Using Ahrefs
When people use guest blogging, they opt to look for websites and blogs.
A more strategic way of doing this is to find industry authors.
There are many things you can do when you find them, either you hire these industry authors to create content for you and distribute third-party content on other niche blogs.
Or get these industry authors to promote content published on your website.
Now, how to find authors in your space using Ahrefs?
Go to Content Explorer.
Click on Authors tab.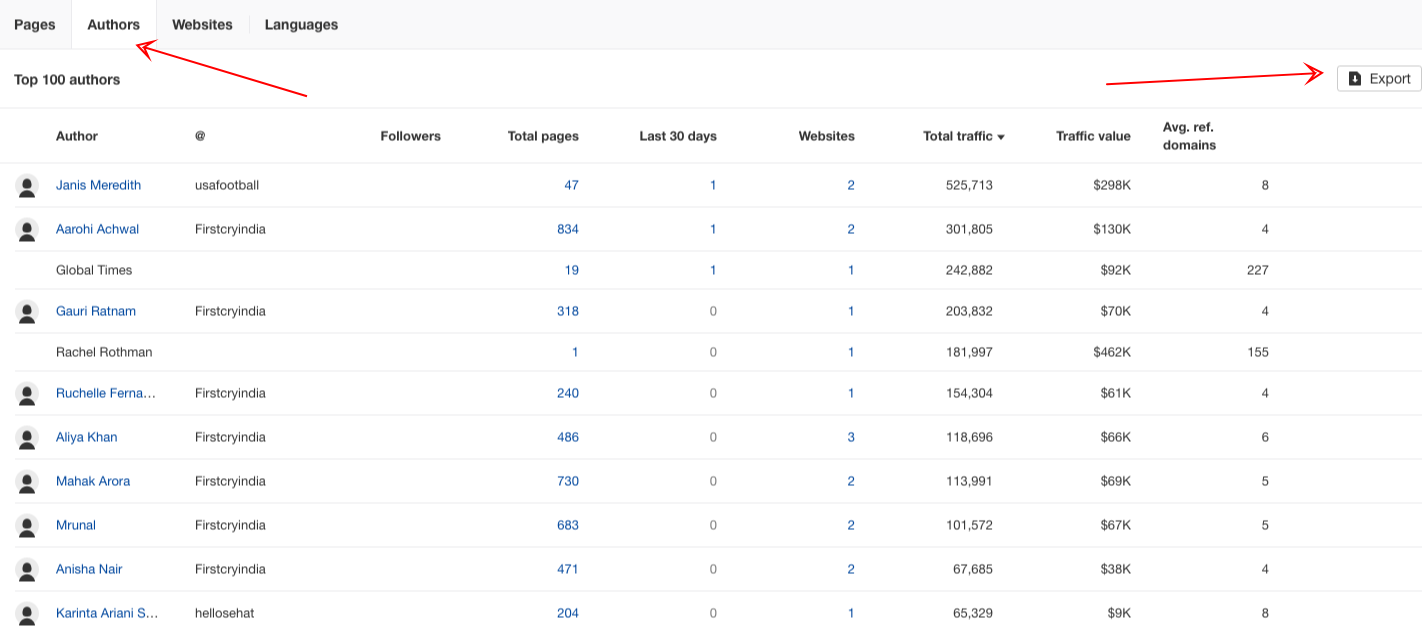 You can export the list to further assess each author.
You can then filter them by their number of followers, traffic value of their website, and average referring domains.
How to Monitor People Linking To Less-Deserved Content Using Ahrefs
Link building is a matter of giving value to a target audience.
If you can more value to linkerati, you get these people to link to you without hesitation.
If your ranking page isn't getting its deserved spot (not yet ranking number one), then either the competition for that keyword is too difficult, or your competititors' pages have more high-quality backlinks than you.
Besides making your content better to serve both search engines and search users, you would want to build more backlinks to your page.
You can reach out to people who linked to the top-ranking page.
A more strategic approach is to find any less-deserved content (people with lesser backlinks than the top-ranking page), but are getting continuously links from publishers.
Use Alerts feature of Ahrefs to send you alerts whenever people link to those pages.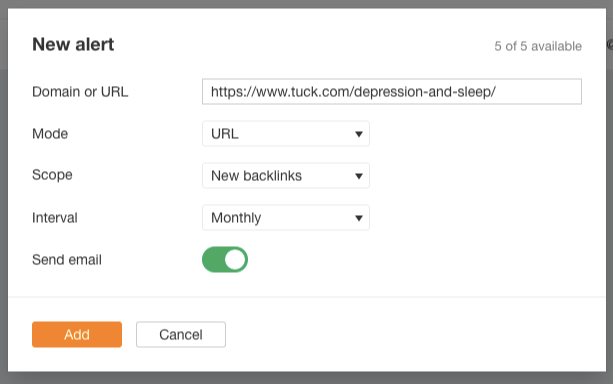 As soon as you receive alerts, check each of them and see if your content deserves more of getting the link than your competitor.
Whenever you find it relevant and more feasible for your content to get links, consider reaching out to the linker and share your content.
How to Find Fresh Outreach Prospects In Your Industry Using Ahrefs
You need to find an outreach angle when reaching out to potential linkers.
Whether that's an interest of the prospect you're tapping into, or as simple as describing your content from a unique angle.
One way to get more responses and link placements from your outreach campaign is to ping them about their most recent content piece.
Oftentimes, people reach out to bloggers about their old articles (most of the time, articles from years back).
Those bloggers obviously may or may not care about their old articles, unless they find it interesting to update them.
So you want to be looking for people who've recently just published their content.
Why is the case?
These are people who are more receptive to suggestions as they're in the positive mode of receiving feedback for their recent content.  So that means you have a higher likelihood of receiving responses from them.
How to find fresh outreach prospects in your industry?
Enter a relevant topic (a topic of your content) in Ahrefs' Content Explorer.
Set filter for "Published last 90 days". Then, set a minimum "Website Traffic" from 1K, and "Domain Rating" of 60-90.

Check "Exclude Homepage" to avoid seeing multiple pages from the same website.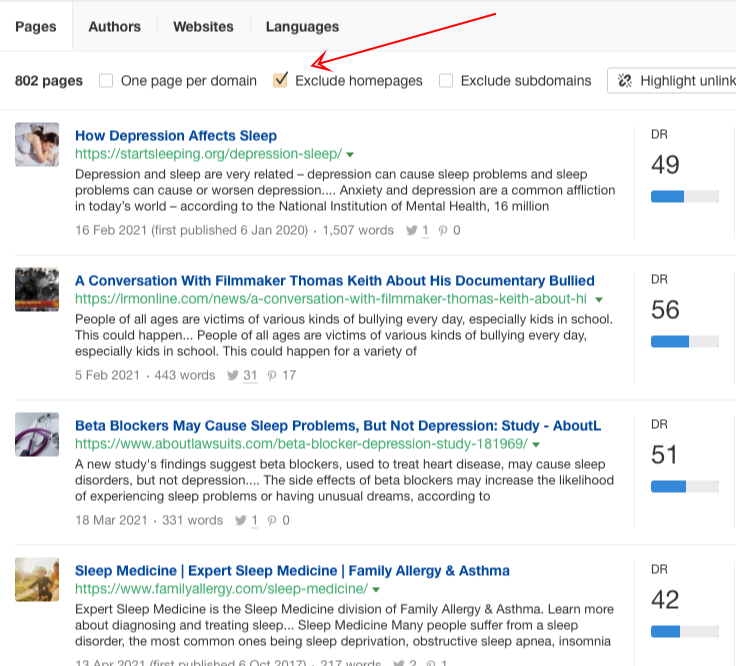 These are fresh outreach prospects in your industry that you can reach out to for content promotion.
How to Discover Link Targets With Potential To Bring Referral Traffic
One of the best types of links is links that can generate referral traffic to your website.
Not only you'll get the benefit of link juice from a relevant website to help you rank in search, but you'll also receive relevant traffic who can be your potential customers.
Now, how would you be able to find these link targets?
Enter a relevant topic on Ahrefs' Content Explorer to see pages that mention your topic.
Then set the minimum search traffic filter to 500.

Export the list and consider them as your link prospects.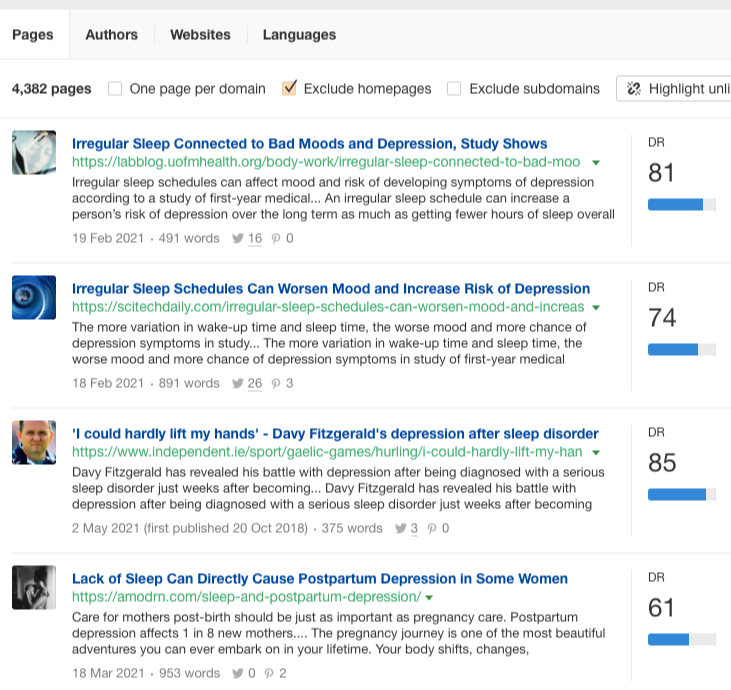 How to Qualify Backlink Opportunities Using Ahrefs
Not all backlink opportunities are relevant to your business.
Not every website is worth pursuing.
That's the reason why you have to qualify sites or specific pages before you reach out to people who own them.
Link qualification helps you to maximize your resources and efforts in link building.
The better you qualify, the less time you spend reaching out to websites with no relevance and business value to your site.
What are some criteria to consider when qualifying backlink opportunities?
First is contextual relevance.
Check the website and see for yourself if the website is topically relevant to your business.
Let's say you're looking for a guest blogging opportunity in the personal injury space.
The most relevant opportunities are personal injury blogs.
If you sell beauty products, your most relevant backlink opportunities are beauty blogs, lifestyle blogs, and mommy blogs (with topics on beauty for mommies).
Second thing you should be looking at is: Authority
This is where Ahrefs comes in.
Ahrefs has an authority metric, called Domain Rating (DR) and URL Rating (UR) that shows you how authoritative a website is (measured on a scale from 0 to 100).

There are two things you can do when qualifying backlink opportunities using Ahrefs:
Manual approach and Ahrefs' Batch Analysis feature.
You can qualify websites manually. Go to the website. Click on Ahrefs tool button (make sure you install it on your Google Chrome Extension).
Or do it using Batch Analysis.
Collect all URLs of your backlink opportunities.
Copy and paste them in the Batch Analysis box. You can enter up to 200 URLs.
Let's say I'm going after guest blogging opportunities, what I'll be pasting in the box are all websites I'm going after for guest blogging.
After pasting all these URLs, click the dropdown and choose "domain with all its subdomains" option.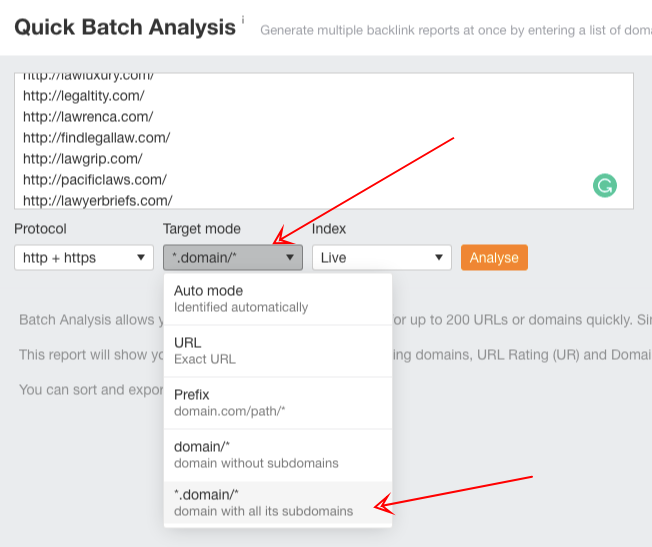 This is important if you want to qualify a backlink opportunity as a whole (not just as a single page).
Now then, you'll see a bunch of data you can use to assess whether a website is good or not.
Basic metrics you can look at from this Ahrefs data:
Organic Search (Traffic)
The monthly organic of the website from search. The higher this metric, the better opportunity because you know that it ranks for its target keywords in Google. This means that if you get backlinks from the website, it could bring visitors to your site through the link.
Ahrefs Ratings (DR)
The higher this metric is, the better. We recommend as a link building agency to have a benchmark of at least 30 (DR of 30 and above). Not too high, but not too low to see if there is enough authority on the website.
Referring Domains (Total)
The total number of unique domains linking to the target. The higher it is, the better. This means that there are other websites that have votes of confidence in your backlink opportunity.
There are a lot of other factors you have to consider when qualifying backlink opportunities, but what I've shared would be enough to help you start with link qualification.
How to Qualify Link Prospects Better Using Ahrefs
Besides using contextual relevance and authority metrics (like Ahrefs' Domain Rating), you can qualify link prospects in a more detailed way.
Using Ahrefs, you can check websites if they have been penalized.
While we don't have data to see if they have been hit by a penalty unless we got a direct access the website's Google Analytics.
However, there are clues when you assess further the website.
You can use Ahrefs to see the website's search organic trends or performance.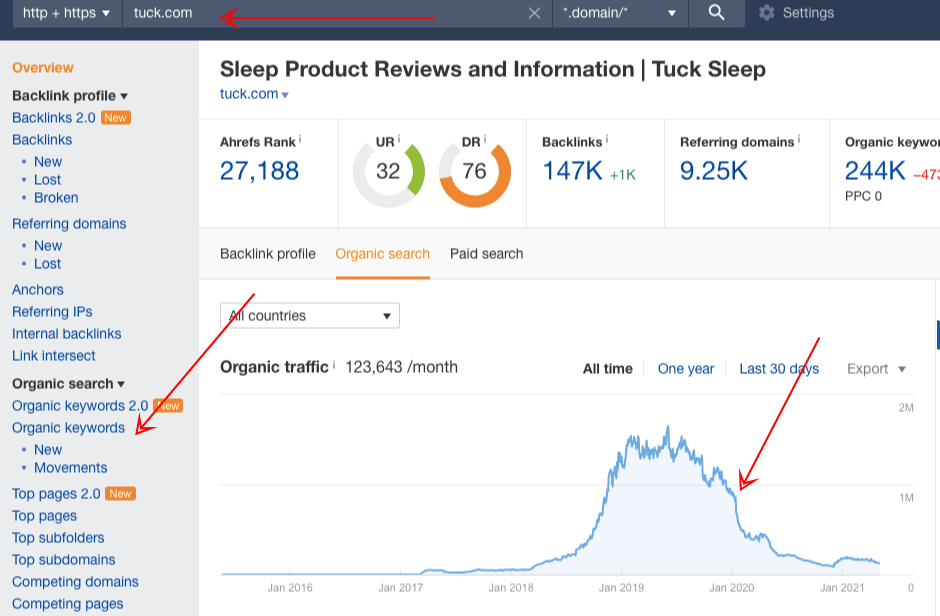 If you see drops in search traffic, you may want to investigate further.
You can't simply conclude the website has been penalized.
Look through the date where the drop began.
Check using Moz calendar of algorithm updates to see if there are any big updates on that date.
Remember that Google is constantly changing its algorithms to serve its search users better.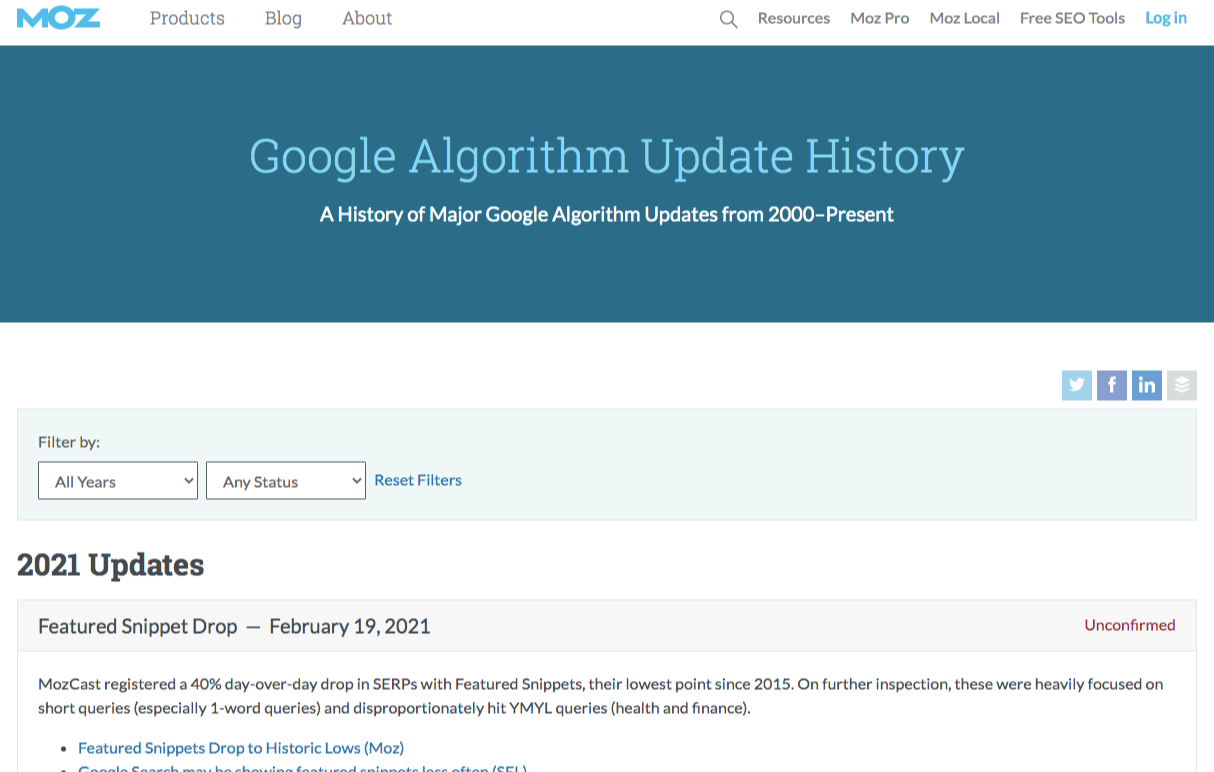 Another thing you need to check is if there are any website revisions during that date.
If there is a website redesign, it may have caused technical errors that led to a traffic drop. Use Wayback Machine and go through the date when you've seen the search drop-in Ahrefs.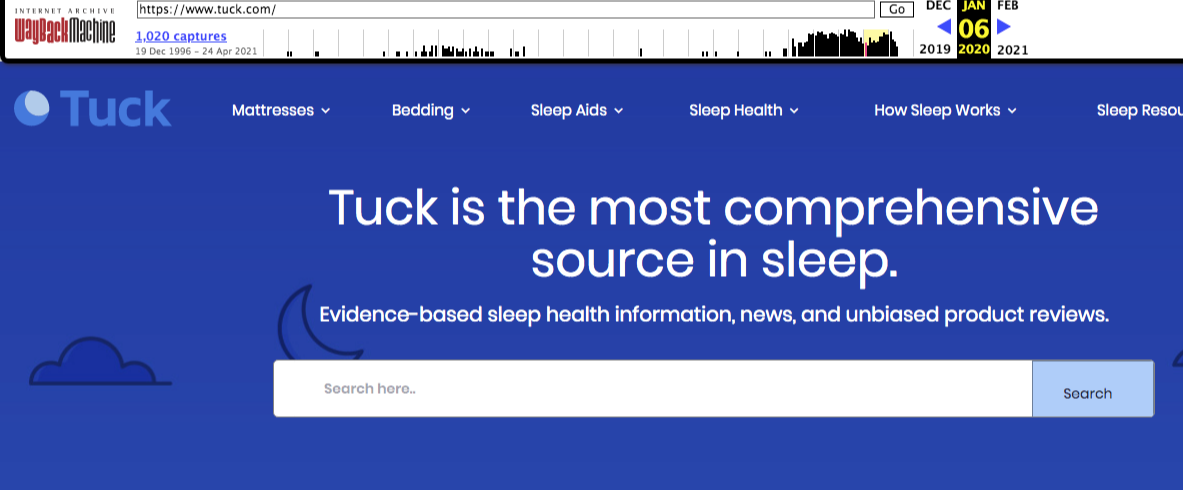 One last thing:
Know the seasonality of the website's traffic. There are on and off seasons in certain markets. This means that if a website sells seasonal products, it's understandable the website will experience drops in its search performance.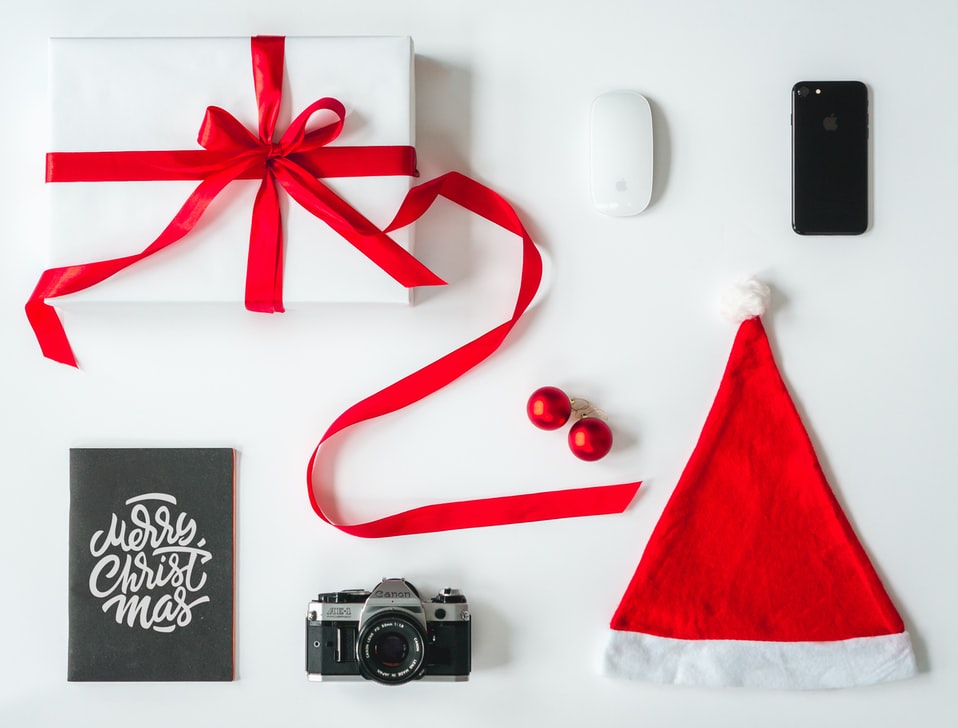 How to Know If Your Outreach Prospect Has Linked To You Before?
In outreach, it is best if you can identify if your prospects have linked to you in the past.
There are two reasons for this:
First, you may reach out to them later, if you prefer to prioritize websites that haven't given you links yet.
Second, if you see that getting recurring backlinks from them benefits you, consider them as your current outreach prospects.
Now if you need to see if a website has linked to you before.
Enter the website of your outreach prospect in Ahrefs' Site Explorer.
Go to "Referring domains" report. And include your brand or website in the search bar.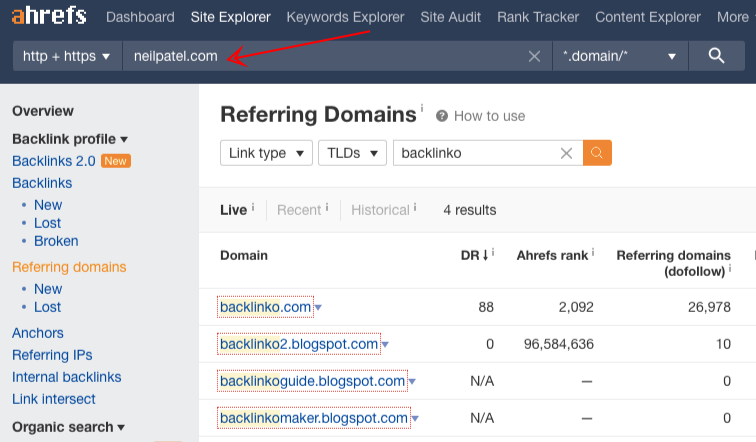 There you'll quickly find all the pages linking to your website or have mentioned you.
How to Discover Linkable Content Topics Using Ahrefs
One reason why people link to a website is they see content worth referencing on their pages.
So creating content that people would love linking to is a great way to increase backlinks to your website.
Content creation is not a requirement all the time. But if you want to scale link building, do it with a strategy.
Use Content Explorer feature of Ahrefs to find linkable topics in your industry.
Start by entering a keyword or phrase (your topic) to search for their database of over one billion web pages.
Your query matches what you choose in the dropdown options:

If you're starting out, it is best to choose "Everywhere" to let the tool explore more pages on the topic. 
Go to the bottom section and "Sort by referring domains". This allows pages to sort from highest to lowest referring domains.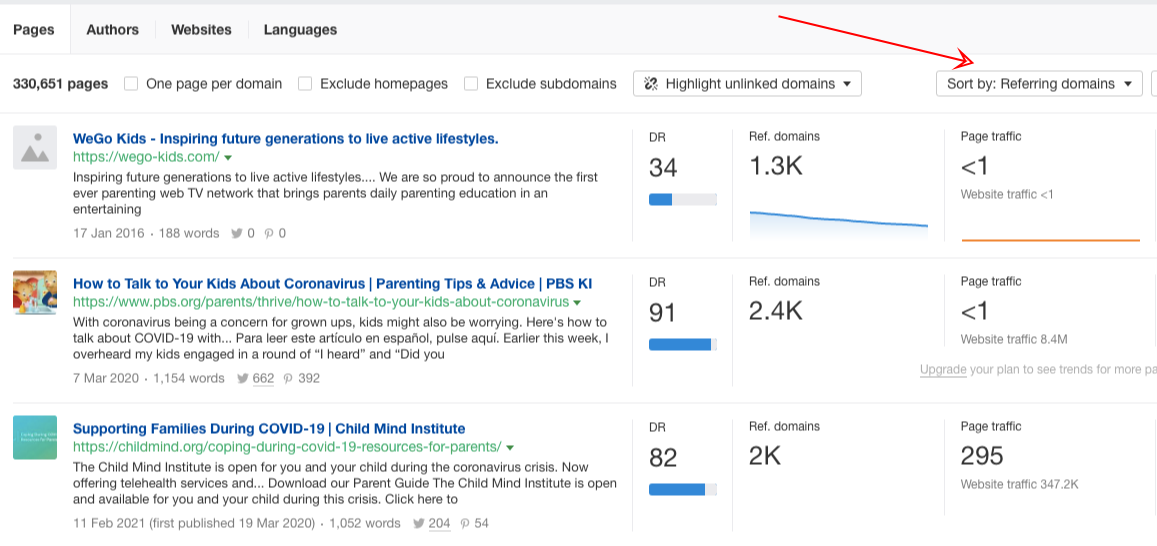 To say that a topic is linkable, a good count is at least 100 referring domains.
For other industries, you may not able to find more than the number, but you get the point.
You should be able to find topics with a good number of referring domains.
How to Find Skyscraper Content Opportunities Using Ahrefs
Skyscraper technique.
Creating a 10x content that's better, longer, and more comprehensive than other competing content on the topic.
It starts with finding what topics you can create yourself.
Use any of the three features of Ahrefs.
A. Ahrefs' Content Explorer
Enter a relevant topic into Ahrefs' Content Explorer.
Set the minimum 'Referring Domains' filter to 50, to give you websites.
You can add a language filter to get only pages in your target language.

Consider checking the Traffic Value of each page in the list, as it gives you an idea of the value of the topic and page related to your business.
B. Ahrefs' Site Explorer
Plug in the URL of an authoritative website (in your industry) into Ahrefs' Site Explorer.
Go to Best By Links section. Set the filter to "200 ok". And sort the list by Referring Domains.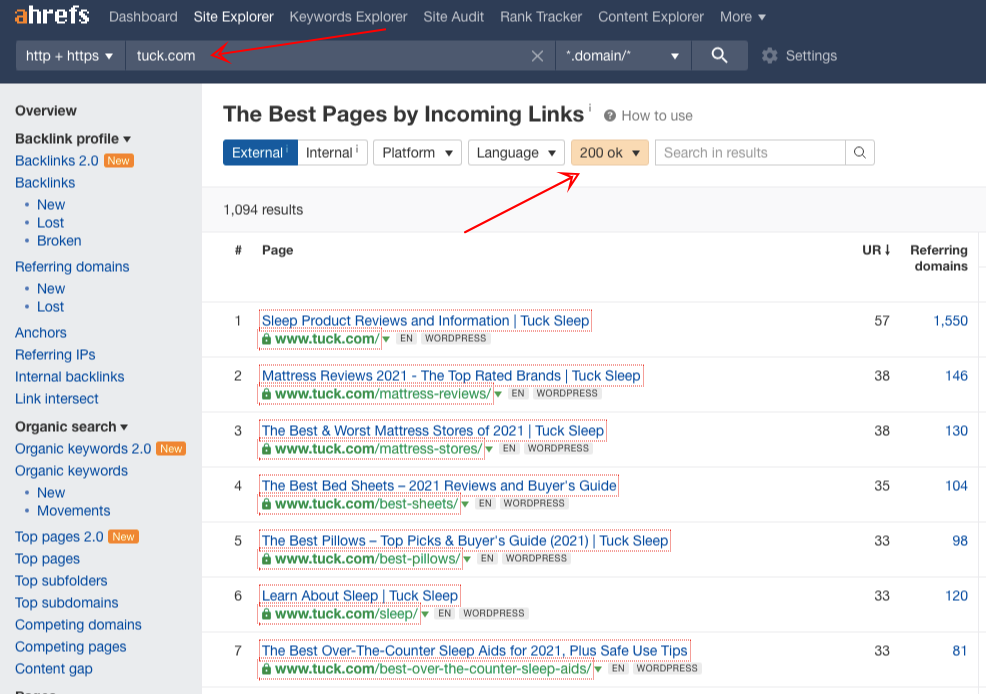 This will give you an idea of what topics are linkable in your industry based on the highest linkable pages of an industry website.
C. Ahrefs' Keyword Explorer
Enter a broad industry keyword into Ahrefs' Keyword Explorer.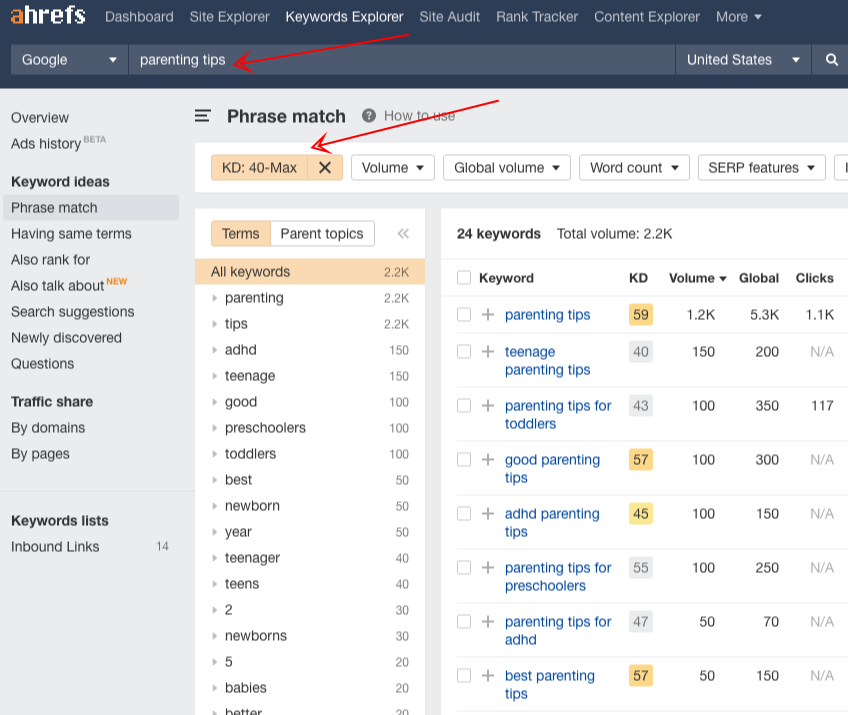 Set a minimum of Keyword Difficulty to ~40. Based on Ahrefs' calculation on KD, the top-ranking pages for high-KD keywords have lots of backlinks.
You can check ranking pages for each of the high-KD keywords. See if they have a good number of referring domains.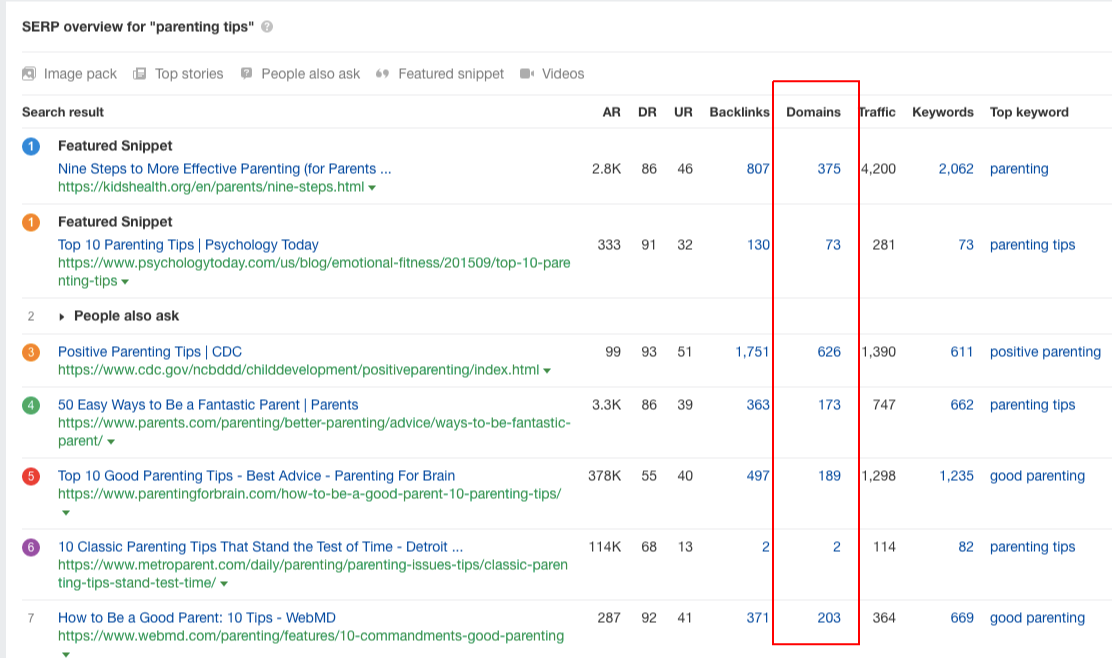 How to Look For "Definition" Keywords Using Ahrefs
Today, most searches for definitions show a featured snippet.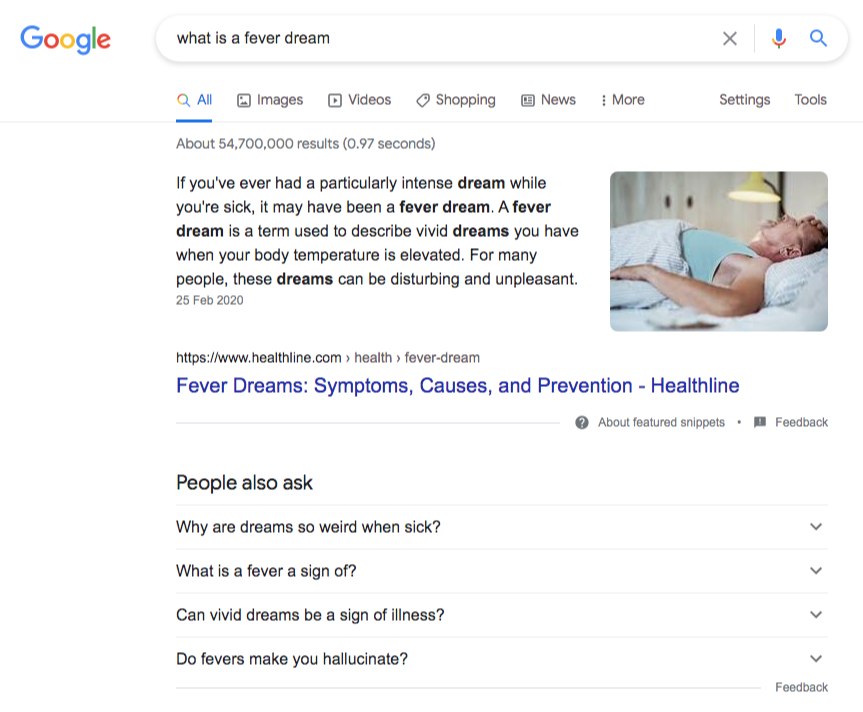 Google pulls this information out from one of the top-ranking pages.
Now, that is an opportunity you can maximize in your content. You could appear in the snippet section if you have a definition of a term on your page.
If you have pages currently ranking for your target keywords, you may want to look if they rank for the definition of terms.
Here's what you can do:
You can enter your domain into Ahrefs' Site Explorer.
Go to the Organic Keywords section, then filter for top 10 rankings with featured snippets.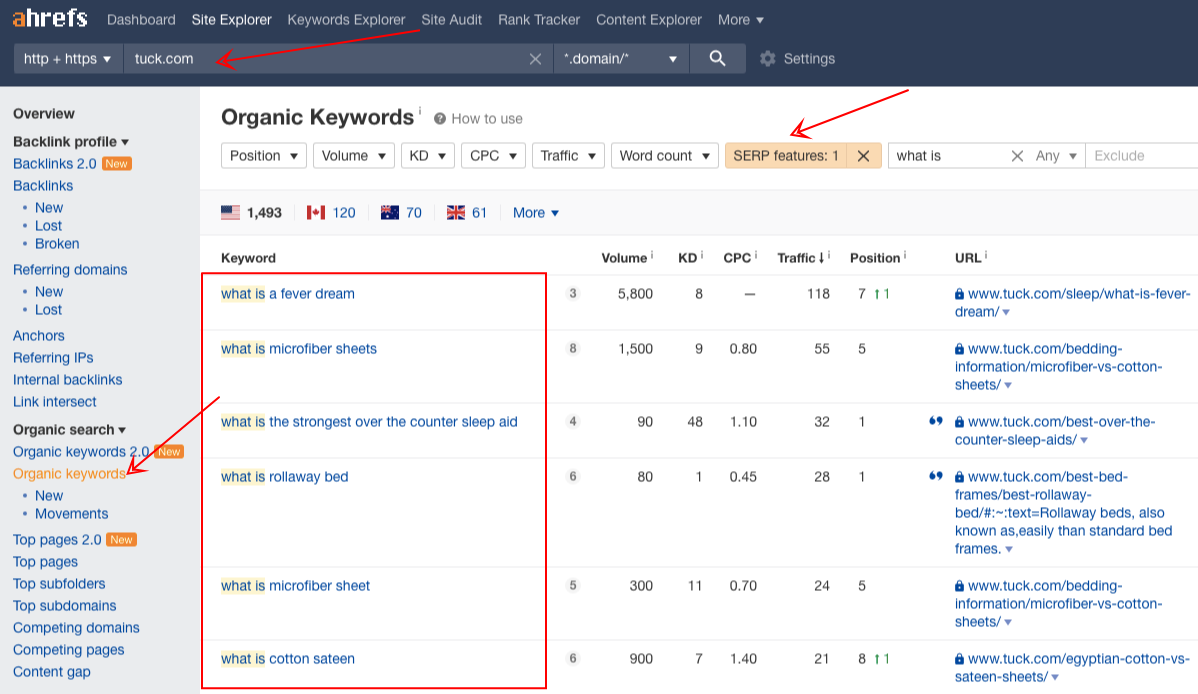 Next thing is you filter for "what is" and "what are" keywords using the Include filter.
Check through your pages that are currently ranking for these definition keywords. Add sections for  "what is" or "what are" content. Make sure there's a relevant definition of those terms on your page.
How to Discover Content Types That Get Links In Your Industry
When you look for content topics to write, you also want to know what content types or formats that receive the most backlinks.
That way you can create a content piece that is both consumed best by your target audience and best linked by other people.
How will you know content types that work?
First, find any big publishers in your industry.
Then enter the domain URL into Ahrefs' Link Explorer.
Go to the Best Pages by Link report.
Look for any patterns of the content format that gets links most often.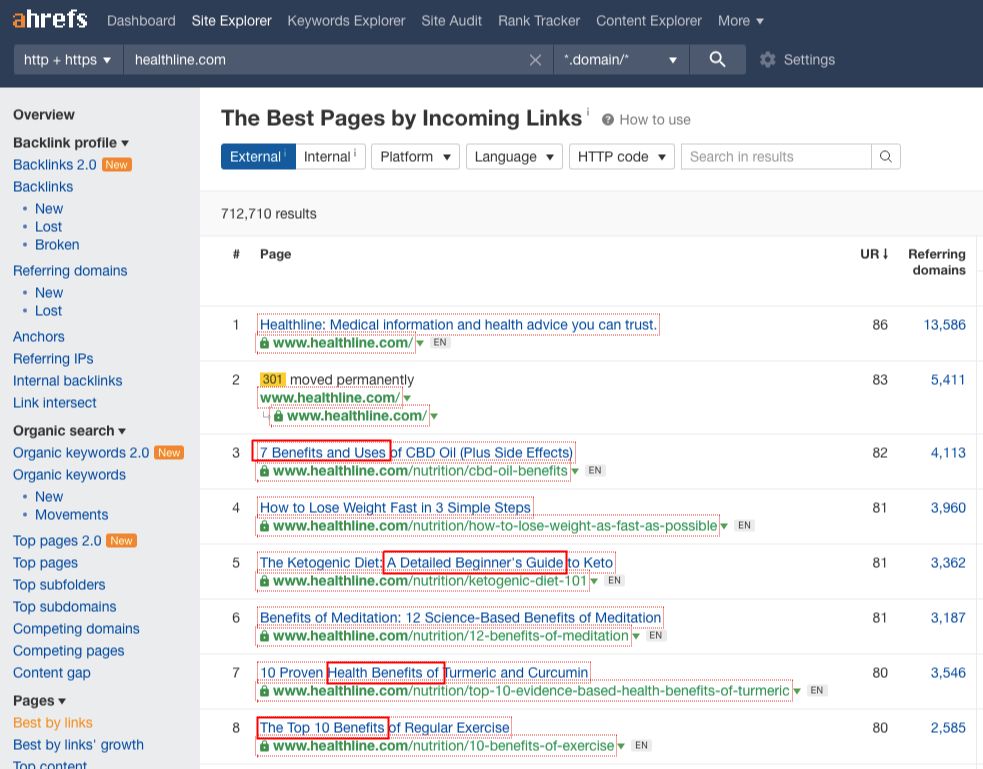 How to Find Videos With Potential To Attract Search Visibility Using Ahrefs
Video marketing gives one of the highest yields in terms of building brand awareness and gaining new followers and visitors for your website.
Here is how you can look for videos that have the potential to attract views from Google.
Go to Ahrefs' Site Explorer and enter Youtube. 
Go to the "Organic Keywords" report. Then add a relevant keyword or topics to the "Include" filter.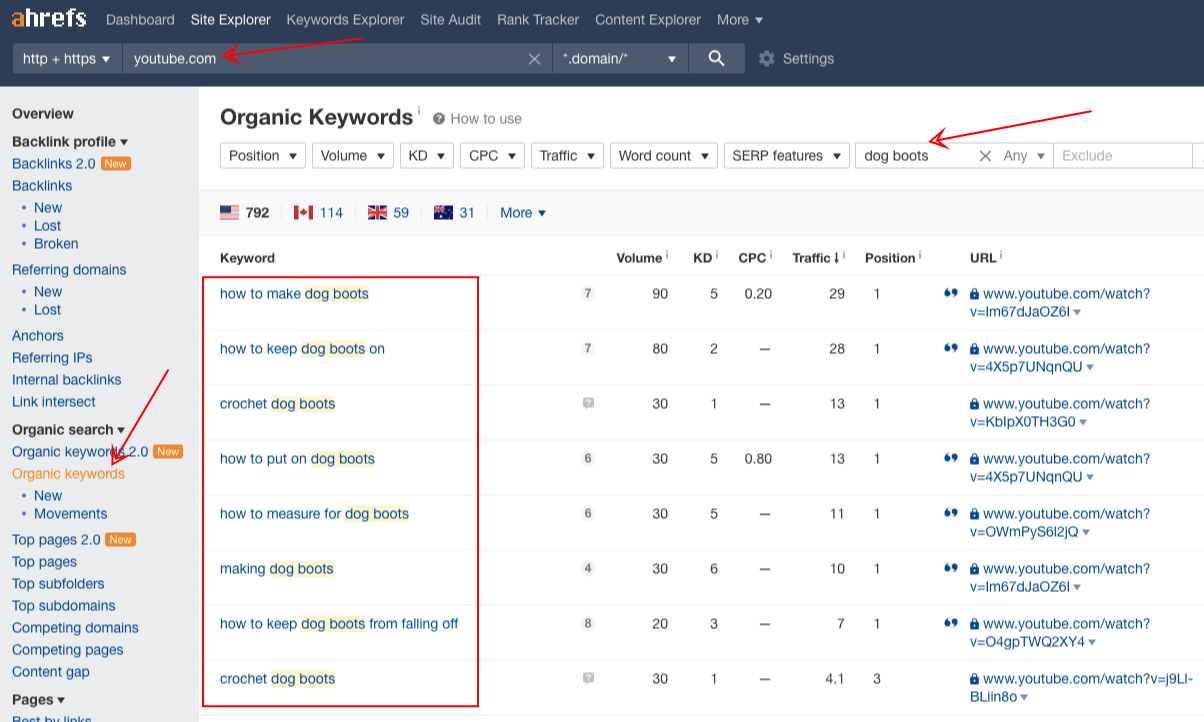 There you'll surface video topics that get on the top of Google when you search for them.
How to Know What Attracts The Linkerati
There are certain pages and topics that receive the most attention from linkers.
A more advanced way of finding what makes them tick is not only looking at the "Best By Links" section of Ahrefs.
If you enter a website into the tool, you'll find what pages they get the most number of links.
However, that's not to account for the velocity of their link building campaign. That means, if they're doing link building effectively, you'll likely see a steady growth of links.
You don't just see the Best By Links section, but also find some time to get more insights from the Best By Links growth.
If you try to reverse engineer a competitive content to know what attracts the linkerati, use Best By LInks growth for that. This feature of Ahrefs doesn't just show you what worked in the past in terms of link attraction, but what also works today.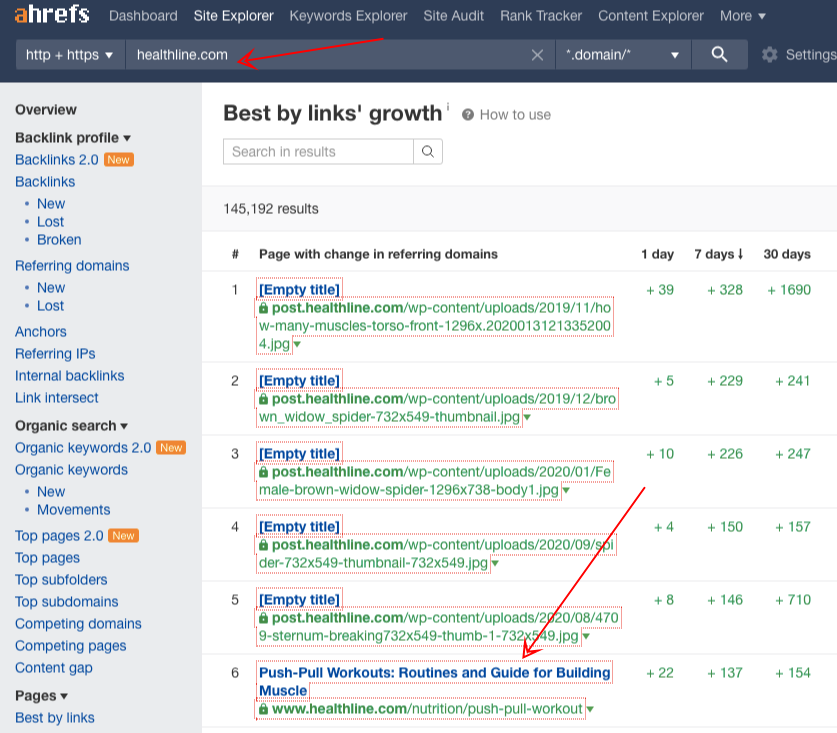 A steady link growth implies you have a content type and topic that captures attention from linkerati continuously.
How to Make Your Content Better By Knowing Why People Link To Ranking Pages
Content creation is not a one-time hit wonder.
You don't stop just because you create one.
But you continuously update it to better serve your target readers.
One way to make your content more powerful is to understand why people are linking to your competitor pages.
When you get insights as to why link to them, you can go back to your content and add insights to your page.
Here's how to do it.
Get one of the ranking pages for the target keywords you're trying to rank for. Enter the domain into Site Explorer.
Go to Anchors report. In here, you'll see what anchor texts people are using when they link to this page.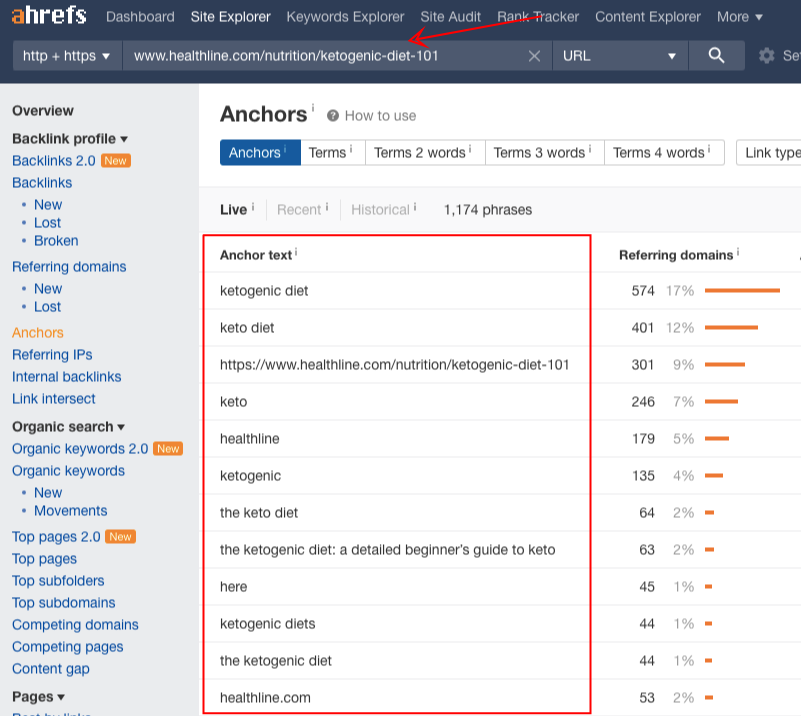 You'll then see anchor texts not commonly used by other people.
Look deeper and try to understand why by going through each of the pages linking to the content.
For instance, one reason the page gets a different anchor text because the author has a new section for the page he needs more references on a sub-topic.
You see:
Knowing why people link to certain pages can give you insights as to what sections to add to your content to make it better for your target audience.
Conclusion
I hope you got a ton of value from Actionable Tips On Using Ahrefs For Link Building.
Now I'd like to hear from you.
What tip from today's post are you going to try first?
Do you want to try discovering linkable content topics using Ahrefs?
Or maybe want to try knowing if an outreach prospect has linked to you before?
Either way, let me know by leaving a comment below.
How our LINK BUILDING AGENCY builds 250 links/mo consistently using Predictable Link Building Methodology™…
Using a SIMPLE and PROVEN system

Using a SCALABLE strategy
No private blog networks
No creepy outreach emails
SHOW ME THE FULL LINK BUILDING STRATEGY