In this day and age where almost everyone is into link building, it's important to build the right types of links.
Knowing first if a link is good or bad can determine the course of your link building campaign.
If you aren't careful enough, you will be either missing opportunities associated with good links or be penalized (more on this later) with the bad backlink you've gotten.
The question therefore is, how can you know if a link is good or bad?
How to Determine If a Link is Good or Bad?
First off, the basis of whether a link is good or bad depends on who looks at it.
It may be good in the eyes of the person building the links, but it seems not right to the eyes of Google.
Google has specified what they consider as 'link schemes' in their Google Quality Guidelines:
Any links intended to manipulate PageRank or a site's ranking in Google search results may be considered part of a link scheme and a violation of Google's Webmaster Guidelines, including paid links. This includes any behavior that manipulates links to your site or outgoing links from your site.
Therefore, any links that violate their guidelines may be considered bad by Google itself — but not primarily by the users.
Again, it depends on which point of view is considered: Google or the SEO guy who does link building.
There are a number of factors that we as a link building agency look at to determine if a link is good or bad.
Contextual Relevance
What this means is the page and the domain where the potential link can be acquired.
Besides the type of link (which we will be covering later on), the website where the link is placed is a critical success factor for link building.
We can look at relevance from three-level perspectives.
A. Page Relevance
It means getting a link from a page (linking from page) that is contextually (highly) relevant to your webpage (linking to page).
For example, if you publish a snoring guide for parents, you can get an editorial link from an article about sleeping tips for parents. The domain where that article is published can be on a domain about health and lifestyle.
You may not get a link from a snoring domain or website about sleeping, but you get a link from an article about sleeping.
B. Domain Relevance
This is when you get a link from a page of another that isn't directly about the topic of your page.
In our given example, your snoring guide for parents page can get a link from a page on another website about family behavior, but the domain where it is hosted is mainly about snoring.
C. Domain and Page Relevance
This is the combination of the two.
What this means is both the page and the domain where that page is published are relevant to your webpage.
Your snoring guide to parents gets a link from the 'sleeping tips for parents' article from a snoring website.
Why contextual relevance is important in auditing a website for link opportunities?
Google considers the relevance of pages through pages.
If you always get bad links from an industry that you are not part of (or you don't want your site to be included) (i.e. casino or adult), your site is likely to be associated with that niche.
Traffic
Nowadays, the most considerable factor in auditing a website for backlink opportunities is the traffic of the website.
Does your prospect site have a 1000 minimum organic traffic? Will it bring new visitors to your website, not only through referral (visitors from your target page to yours) but through an organic channel — given the site is ranking for industry keywords.

Traffic should be your key indicator of successful backlink prospecting. You can't just get a link from a random website or from a website that doesn't have any organic traffic.
Getting a link from a website that ranks has many benefits such as continuously bringing visitors to your page, especially if the linking-from page ranks for its target keywords
Traffic Location
It's important to identify if a website has a minimum viable organic traffic (~1000 minimum).
More importantly, you have to check if the traffic is coming from an audience you're also targeting.
There are many backlink analysis tools that can quickly give you this assessment.
One link building tool I'm always a fan of is Ahrefs.
Simply enter the domain URL of the website. Click on Organic Search. There you'll see the list of countries where the sum of traffic keywords is targeted to.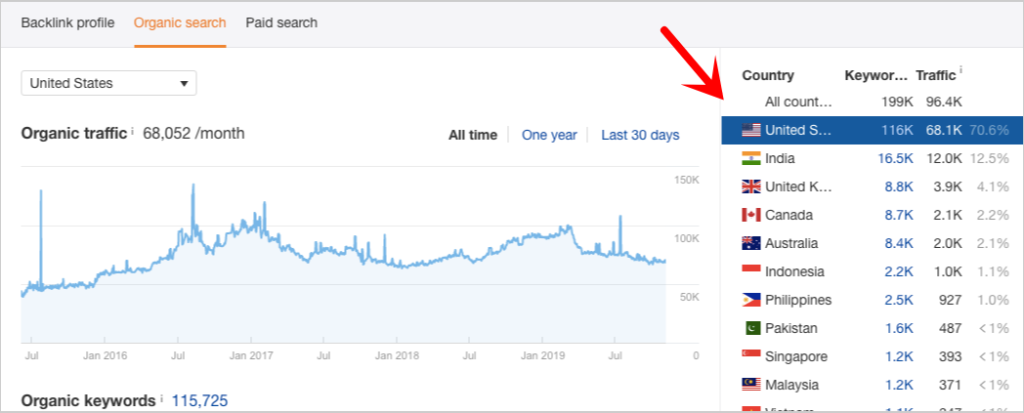 This metric estimates the total monthly search engine traffic to the target website, subsection, or URL from the top 100 organic search results. It is calculated as the sum of traffic from all organic keywords for which the target ranks.
If you are a website targeting foreign audiences, traffic location is a must to consider in every website you're trying to acquire inbound links from.
Speaking of traffic, you want to get referral traffic (and possible assisted conversions) from the right people — this means your target audience.
Link Placement
One of the overlooked components in a backlink audit for white hat link building is the idea of link placement.
Where the link is placed is significant on whether or not you'll get clicks from it.
In the past years, author boxes have been the most targeted section for links by many SEOs. The reason perhaps is that there's a luxury to match your target keywords with the links that you want.
You can easily make your target keywords your anchor texts.
Fundamentally, if you're looking for more value from your links, you want to ensure there is a high chance of clicks from your links.
Instead of aiming for links in author boxes, go for editorial links.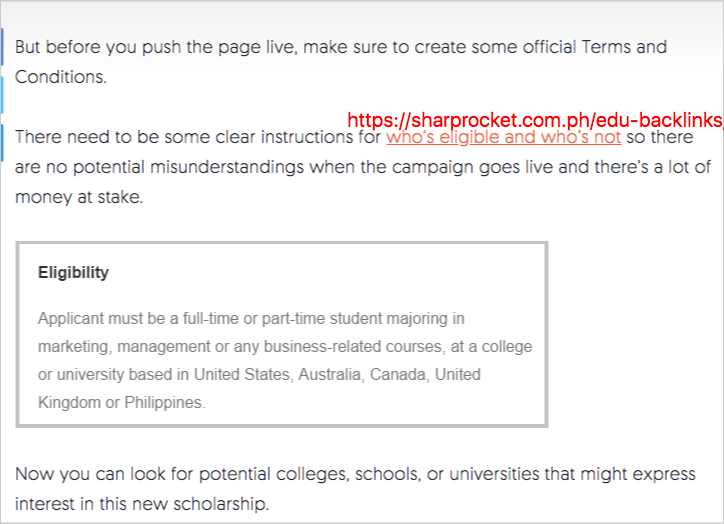 Editorial links are the most powerful type of links given that it signals Google that the brand being linked to is a trusted resource/reference (either it is targeting the homepage of the site or its inner pages/contents).
If a page from a website with good engagement and traffic references you with editorial links, it gives a signal of trust that your website is worth referencing. Of course, consider here the relevance and the surrounding text of the anchor text.
More and more, Google now understands the topic of a page based on entities — which will give you more emphasis on how they value your links from a relevance standpoint.
Anchor Text Distribution
It doesn't hurt to check the website's anchor text distribution.
You want to know if the site has a balance in its anchor texts for links.
Here is what the site's anchor text distribution should be composed of:
Branded anchor texts (SharpRocket)

Naked URL anchor texts (

www.sharprocket.com.ph

;

https://sharprocket.com.ph/how-to-get-editorial-links-to-your-website/

)

Topical anchor texts (link building)

Miscellaneous (click here; go here)

Keyword-targeted anchor texts (editorial link building)

Non-text links (image)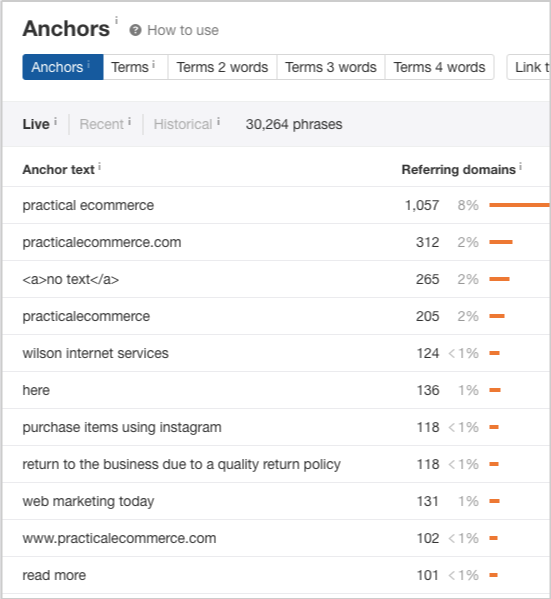 You only want to get a link from a website that isn't likely to get a penalty because of its improper balance in anchor text distribution.
Metrics
Another good determining factor if a link is good or bad is by checking third-party tools for metric calculation.
This means having a set of quantitative benchmarks to measure the authority of a prospect website.
Have a good grasp of viable benchmarks in your industry. The recommended number for Ahrefs DR is 20 and for Majestic TF/CF is greater than 0.75.
The website's contextual relevance, traffic, traffic location, link placement, anchor text distribution, and metric benchmarks (Ahrefs and Majestic) are good factors to consider when determining if a link is good or bad.
Google Link Penalties
It wouldn't hurt to know at least the basic overview or details about link penalties.
There are two Google link penalties: manual and algorithmic.
Basically, the difference between the two:
Manual link spam penalty happens when someone from Google's webspam team reviews your backlink profile, applies a google penalty, and sends you a notification in Google Search Console. The reasons behind this include a spam report from one of your competitors or there is something in your link profile that has triggered a manual review.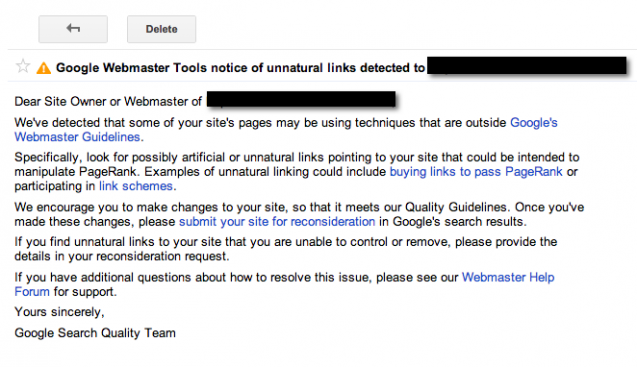 Meanwhile, algorithmic link spam penalty requires no human review but is automatically applied by Google to your site based on your site's backlink profile.
Both of these penalties can lead to a significant drop in organic traffic. So, it's a must to monitor your website on a daily basis.
Type 2: Algorithmic Link Spam Penalty (generally Penguin)
An algorithmic penalty is a penalty that is applied automatically by Google based on your link profile. No human review is required.
Less Effective Link Building Tactics
There are many link building tactics that you can use today. Some are white-hat, grey hat, or black-hat.
Whatever the color is, there is one thing you have to identify – the effectiveness of the inbound links to your site.
This is where the high-performing link building professionals differ from the average ones. They know what specific techniques can move the needle of results — organic traffic, additional authority to the page/site, so on and so forth.
The days are gone when you can shortcut your way to ranking success.
Here are some link building tactics that are totally obsolete, some of which are ineffective when not properly scaled.
Discussion Spamming
Community websites and other platforms where people would have a chance to discuss relevant topics and are allowed to input links to reference some points that have been spammed for many years.
Blogs that allow do-follow comments have been all-day submitted for comments with exact match anchor text links.
"This is a superb post", "Your article is good", or any fluffy, no-value blog comments won't make the cut.
Alternatives to discussion spamming
1. Target discussion pages with high traffic
Discover discussion pages with recurring traffic. These are Quora discussions and niche forum threads are continuously getting visitors because the topic is focused on audience needs.
Here is a good example in Quora for anyone tapping the giant sleeping industry.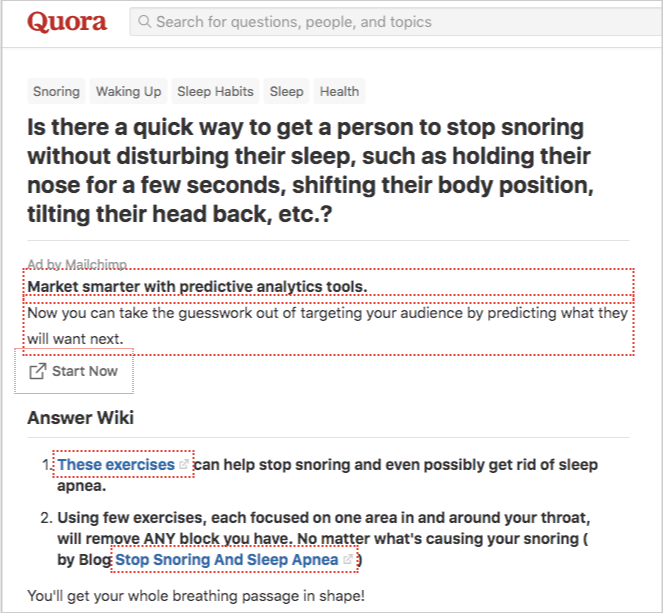 To discover these pages, you can use Ahrefs and enter the domain URL of Quora or other community discussion sites you'd like to reverse engineer with.

Go to Organic Keywords and search for topics in your industry.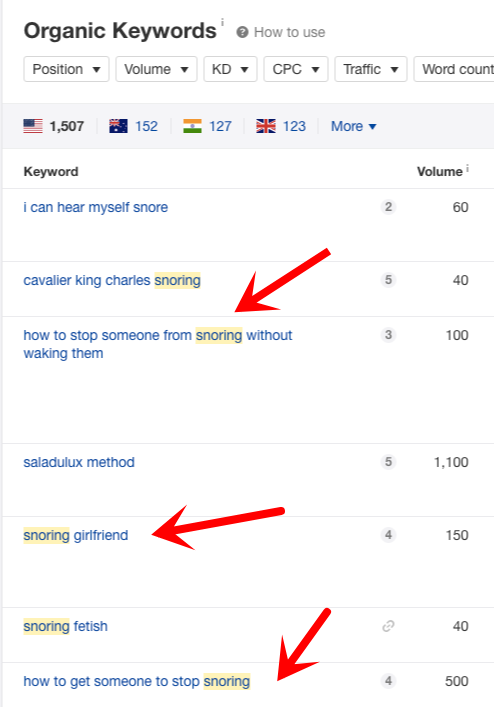 Go deeper with the results. Filter keywords based on position (0-10) to only get Quora pages that are ranking on the first page of search results and set search volume to greater than 100. This assures you that the Quora page gets a considerable amount of organic traffic.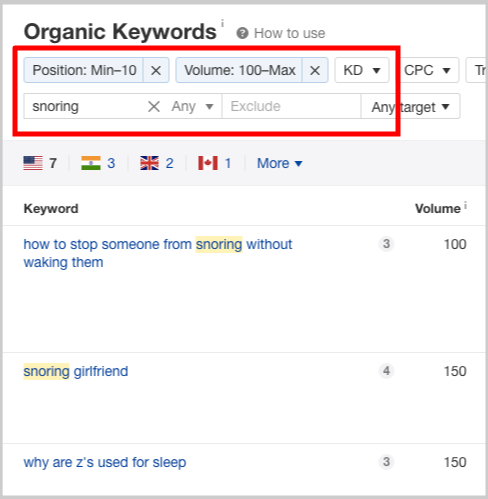 Go over to Quora pages that you found to be relevant to your site and where you can participate strategically based on your expertise. Don't just insert bad links if it's not relevant to the discussion.
2. Focus on 3 to 5 industry blogs to comment on.
The reason why marketers spam industry blogs are that they're too much focused on quantity over quality link. Inserting blog comment links to a hundred sites doesn't mean you're getting the results that you want.
To battle that, you can simply focus on 3 to 5 top-notch blogs in your industry.
Of course, you have to check if those blogs are accepting blog comments, regardless of whether they allow do-follow links (or by default no-follow).
Spend a good amount of time thinking of what would make the discussion better by scanning and reading the entire content. If it takes only a few minutes to read the whole article, do so, so you can craft a better quality site comment.
Submission Techniques
Getting links from websites that allow listings for business sites like directories can help diversify your backlink profile — making it as natural as possible.
However, doing so without carefully checking what makes the submission worthy of investment from a link perspective is a serious matter.
There are many low-quality directories, even generic submission sites that are already losing much traffic.

Of course, those sites are good to submit your website to, to acquire some links initially. However, putting much effort into this less effective link building technique should be thought of carefully.
Alternatives to generic submissions
Find local citation directories in your city/state. If there are niche-specific, go over and prioritize submitting website details to them.

Discover non-profit organizations where your business has been part of. Reach out to website managers and ask to be included in their profiles.
Improper Scaling Techniques
One consideration when scaling any link building technique is the person executing it maintains and improves the quality of activities.
In guest blogging, for example, link builders pitch the target guest publishers with the same generic pitch they've seen on SEO blogs.
This decreases the value of what they do as the campaign itself isn't focused on the unique proposition of the pitch.
Another example is when link roundups became popular from 2012 to 2015. A lot of marketers both in the internet marketing industry and other verticals started to pitch experts, practitioners, and top bloggers and publishers to get just "one tip" from each of them.
This was all for the purpose of compiling these tips in one roundup post and calling it "great content".
If you know how to use HARO and monitor HARO requests for your brand, you may have seen publishers looking for expert tips in HARO itself. They turn the platform into an ego bait ecosystem where they can easily request short-form content.
The problem with scaling link building techniques that sacrifice quality is that the value that should be given to its end-users diminishes as those exact techniques are aggressively used by anyone.
Alternatives to low-quality scalable link acquisition techniques
1. Use content gaps as topic ideas for guest blogging
Find content gaps in your target publisher's blogs. Look for keywords they haven't ranked yet but their competitors have.
You can use Ahrefs to find what they are currently lacking in content based on what keywords they are not ranking yet.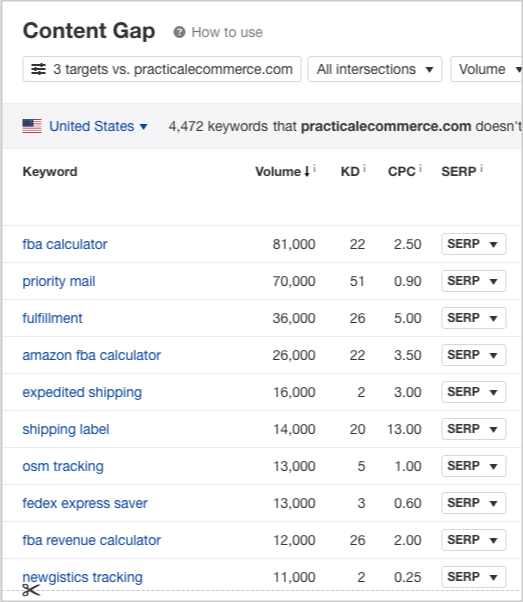 List those insights in your guest blogging spreadsheet.
When you start pitching publishers, you include in your email copy the list of suggested topic titles that correspond to potential keywords that they can target.
This simple tweak to the guest blogging process can make a great difference in how the response and conversion rate would turn out.
Emphasize the value of potential ranking opportunities from your enlisted topic ideas.
2. Use pre-link bait strategy to check topic's linkability
Producing long-form link bait content assets is risky particularly in today's time where you don't know whether your audience would share or even link to your content piece.
One way to check the linkability of your content is to actually start a preliminary outreach campaign.
The idea is to know whether your topic or a list of X websites content has chances of acquiring the links.
You send emails to publishers, influencers, and top-notch bloggers with the intent of asking them to be included in your linkbait content. Who would reject the idea and don't want to be featured?
Without them doing anything, you already give them enough value beforehand.
Once the content is published, you share it both with people who responded to your initial pitch and to people who might also be interested to share or even linking to your ego bait.
Seek For High-Quality Backlinks
Spammy links are everywhere. It's up to you and to me to analyze which opportunity from a page or site is worth asking for a link, and/or is worth trying to send an email pitch.
Seek editorial links from relevant websites that get monthly traffic from search (through ranking for its targeted keywords). Improve the same old link building strategies but with a new and improved version of unique propositions to ensure you're getting the most out of your link building efforts.
How our LINK BUILDING AGENCY builds 250 links/mo consistently using Predictable Link Building Methodology™…
Using a SIMPLE and PROVEN system

Using a SCALABLE strategy
No private blog networks
No creepy outreach emails
SHOW ME THE FULL LINK BUILDING STRATEGY