What is SEMRush SEO Writing Assistant?
SEMRush SEO Writing Assistant is a smart extension for everyday use of content specialists. It offers recommendations straight from what it calls, 'SEO Content Template' (SCT). It provides recommendations and analysis based on the top 10 pages ranking for a given keyword.
How Does SEMRush SEO Writing Assistant Work?
Many content writers are confused as to who they should serve: search engines or users.
With many debates, the best answer is both.
And you can actually do so. With SEMRush SEO Writing Assistant, you can have the ability to check the SEO potential of a blog post — meaning how well it'll rank for your target keyword.
While maintaining the quality of the piece – conciseness, flow, context, you also want to make sure it includes keywords and related terms for better search performance. This would allow your page to serve both search engines and its users.
SEMRush SEO Writing Assistant is a reliable and handy tool. It's very useful as you don't have to sign in to your SEMRush account every time you want to use it.
Features, Details, and Pricing
The main question for every content creator trying a content product is, "what does the tool gives me?".
Here are the features of SEMRush SEO Writing Assistant:
FEATURES AND DETAILS
Overall score
This shows you the general quality of an article. It is calculated based on four metrics: readability, SEO, tone of voice, and originality.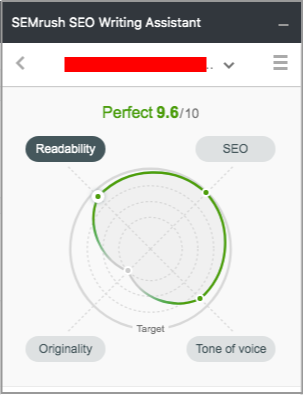 Readability
Readability is the ease with which a reader understands your text (readability score). It covers four things:
Plain language. This refers to how the text corresponds to the basic reading level of a person (reading ease score).
Target words. This is based on the average words used by the top-ranking page for the keyword.
Title issues. Is your title present in the most important places of your content?
Content Issues. Do you have long paragraphs that need to be cut? Do any hard-to-read sentences need to be rewritten?
SEO
The SEO section, only covers keywords, alt attributes of images, link issues, and title issues.
Target keywords. The tool will let you know if you're using keywords at least once in the entire content. This is SEO 101, yet most bloggers don't apply this.
Recommended keywords. Enrich your content by adding semantically-related keywords, primarily based on the top 10 ranking pages.
Alt attribute issues. Do your images have alt-attributes?
Link issues. Do you have external links in your content? Are these links functioning or broken?
Title issues. Have you used your target keywords?
Tone of voice
The tone of voice is how you say your message, including the choice of words, their order, rhythm, and pace. The tone of voice of your content could be very casual, very formal, or anything in between
Consistency in a tone of voice measures how well you did maintain the tone of voice across your content. SEMRush SWA gives you a list of the most casual sentences as well as the most formal sentences.
Originality
This feature gives you the total percentage and number of copied words from identified content sources. The originality check is based on the Copyleaks Plagiarism Checker.
PRICING
SEO Writing Assistant tool is already included in the SEMRush toolkit. However, based on the plan that you purchase, you are only allowed a certain number of users for the features.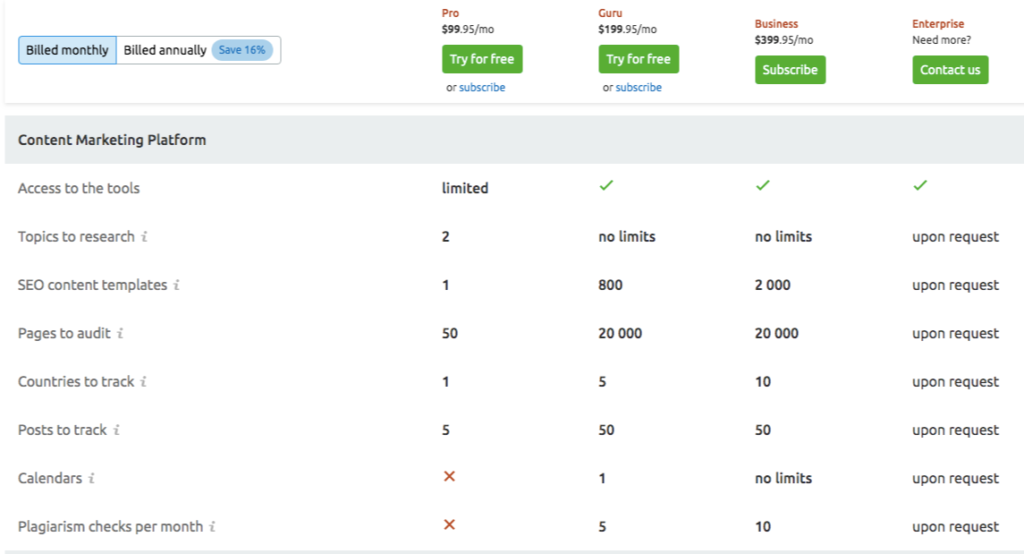 For example, if you are using a Guru account, you can use 800 SEO content templates every month. While if it's a PRO account, you can only have 1 content template.
Meanwhile, plagiarism checks are not allowed for a PRO account, but for Guru subscribers, you can have 5 plagiarism checks every month.
How To Use SEMRush SEO Writing Assistant?
There are two ways you can use SEMRush SEO Writing Assistant: adding a Google Docs Add-on or installing SEMRush SWA WordPress plugin.
Google Docs Add-on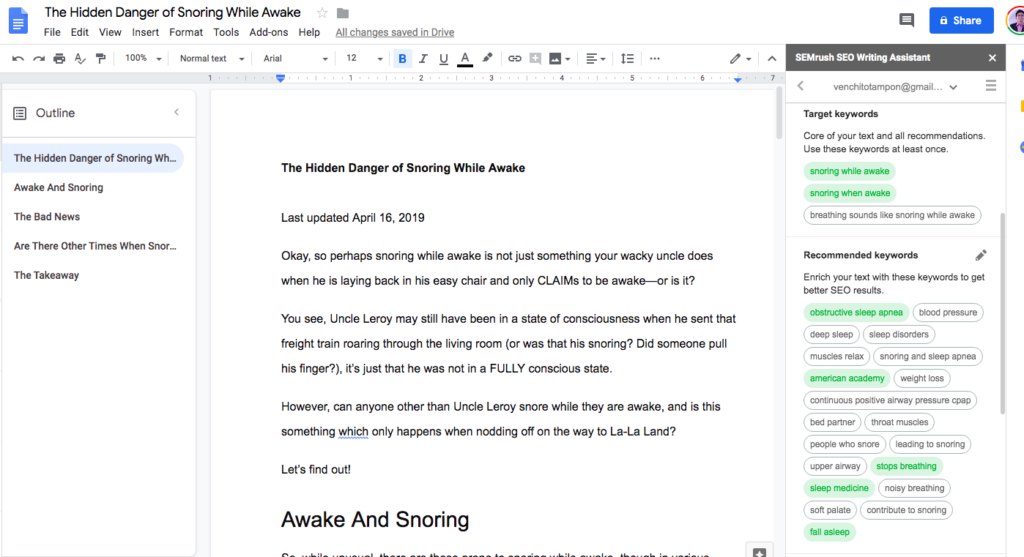 Install the SEMRush SEO Writing Assistant as your Chrome Add-on.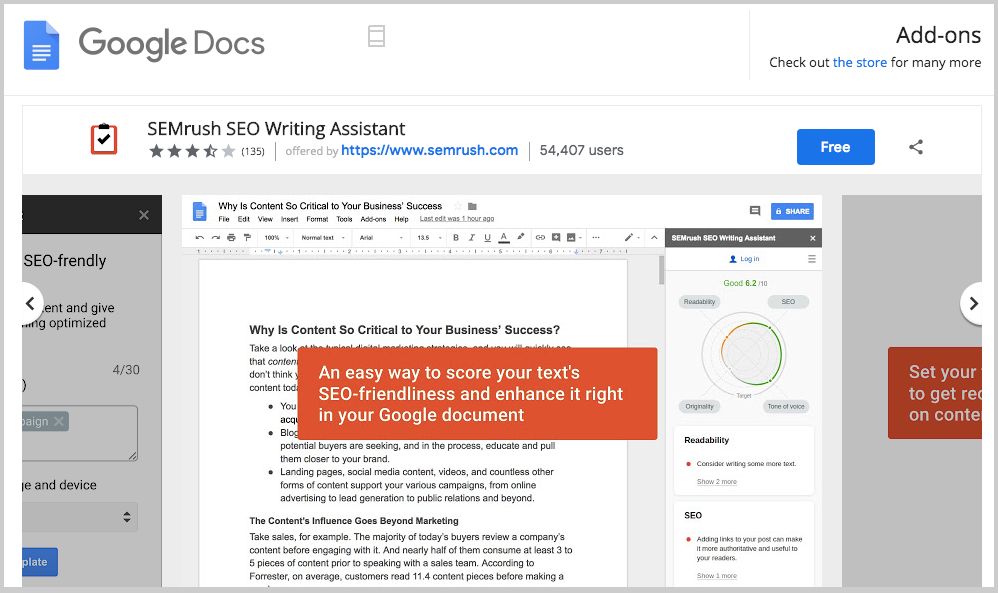 Once you install it, click Add-ons in your Google document, then choose SEMRush SEO Writing Assistant.
You have to sign in to your SEMRush Account to get started with the tool.
WordPress Plugin
You can download this WordPress plugin and upload it to your plugin files.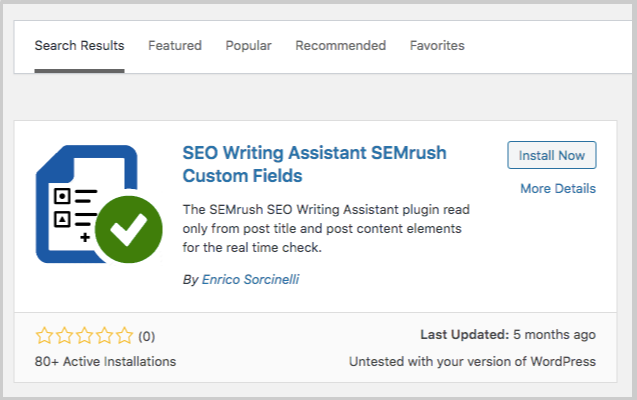 Another method is to simply search the plugin directory for the SEMRush SEO Writing Assistant plugin, and click install.
Below your content draft, you'll see a section for SEMRush SEO Writing Assistant.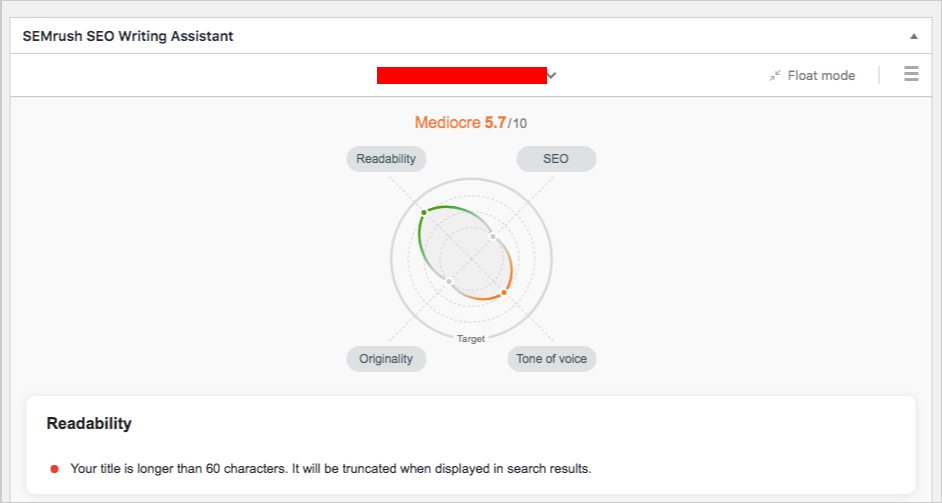 I highly recommend you use the Float mode. This gives you the freedom to see both your content draft and SEMRush SWA on the right side of your WordPress screen.

SEMRush SEO Writing Assistant in Action
The basic content optimization based for most content creators is adding target keywords in the title of the page, header tags, and including those keywords as often as it can be (contextually) in the content.
Content optimization doesn't stop there. With Google being more and more intelligent in understanding the context of the page, you have to optimize your content for LSI keywords.
LSI (Latent Semantic Indexing) Keywords are conceptually related terms that search engines use to deeply understand the content on a webpage. (source: Backlinko)
SEMRush SWA does the legwork of giving you what related industry terms to add to your content. You can go straight edit your WordPress draft, and contextually as it fits, incorporate fitted ones.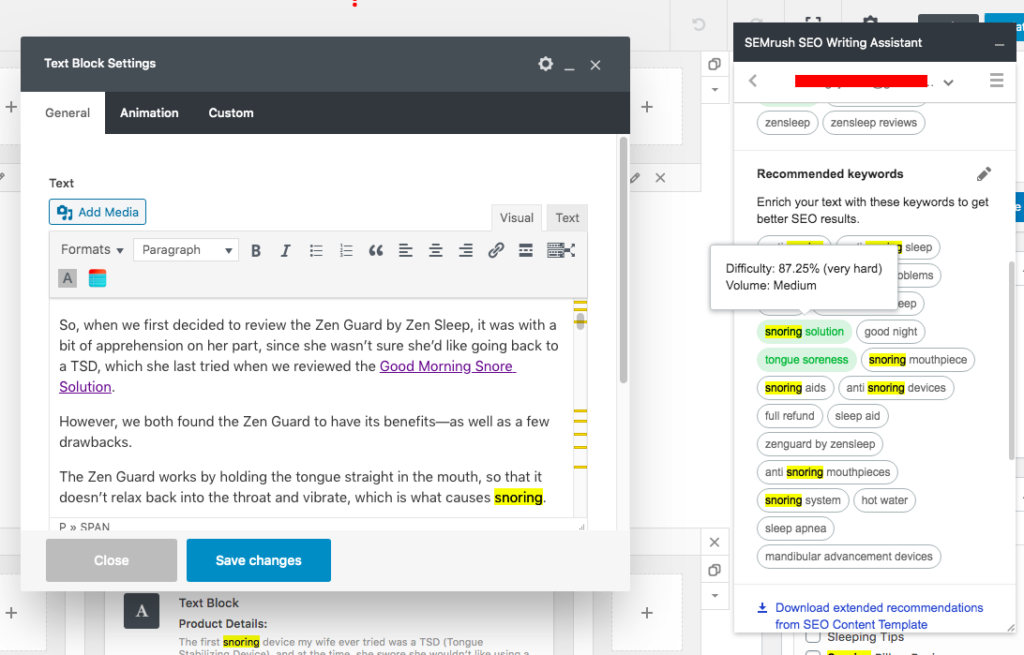 You also want to make sure entities that will give more context to your content page are being added. SEMRush SWA doesn't show you all, but in my own testing, it gives you a few entities (names, personalities, brands, institutions, etc..) that could add context to your page. Those recommended keywords show semantic relevance to your page.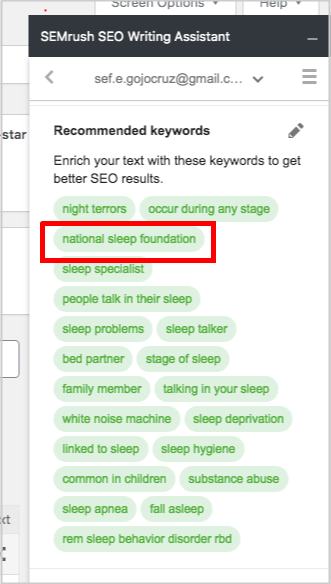 The length of paragraphs matters in search rankings. There is an average word count of rankings pages for your target keyword you can hit with your content — ensuring you have a chance to compete for the top ranking.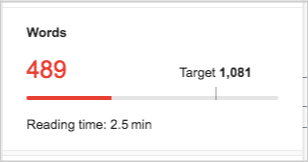 Readability is important for users. You don't have to make your content complex to consume. Depending on your users' reading level, you want to make your content as readable as possible to general, yet targeted audiences.
Splitting long paragraphs, rewriting hard-to-read sentences, and simplifying complex words to make the content readable is highly recommended.
Lastly, what I liked about SEMRush SWA is its SCT or SEO Content Template, giving you an extended list of recommendations to further optimize your content.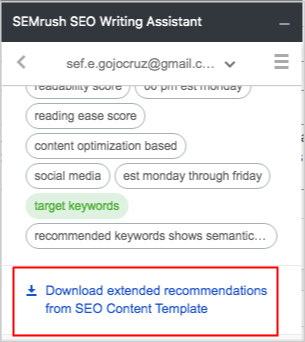 You may also schedule content optimization in your calendar through the SEMRush platform. Rename your activity title and choose the date and time you want to focus on optimizing that certain content piece.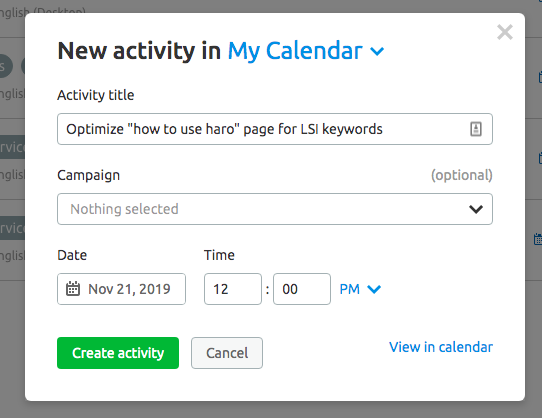 Further Reading:
Key Takeaways:
While there are many initiatives to execute in every SEO campaign, one you shouldn't ignore is content optimization.
Optimizing existing content assets is just as important as publishing new pages. SEMRush SWA can be a handy and useful tool to speed up recommendations for content optimization.
How our LINK BUILDING AGENCY builds 250 links/mo consistently using Predictable Link Building Methodology™…
Using a SIMPLE and PROVEN system

Using a SCALABLE strategy
No private blog networks
No creepy outreach emails
SHOW ME THE FULL LINK BUILDING STRATEGY