Link building space is a fast-paced search environment. Different link building approaches and techniques had evolved to adapt to the users' needs and behavior and are now focusing on building strong brand presence on the web, earning trust from the target audience and building connections with the right persona groups.
Authority link building is essential not only for those small brands who don't have any established influence within their niches but also for bigger ones to get them stay ahead of the competition. Brands will benefit from getting authority links in so many ways such as:
Increases the exposure of the brand as it would be introduced to a wider audience targeted by the link sources.
Continuously assists conversions.
Passes authority to the domain being linked to.
Sends referred targeted visitors.
Helps the brand absorb social followers/readers/brand loyalists.
These benefits could be obtained by the referred domain considering that the authority links are niche relevant and qualified based on domain metrics (DA, PA, search share, Alexa) and brand metrics (social shares, readership, community strength).
Types of authority links
There are two types of authority links: absolute and relative authority links.
Absolute authority links are backlinks from domains that generally discuss multiple subjects/niches. Those domains can easily get the trust of their audience from different market segments, seeing that they had establish themselves as authorities before on earned media  outlets (newspapers, television, radio, etc..).
Relative authority links are backlinks from domains that are considered as authorities in a specific niche. These domains have high search share in their particular market segments.
Earning both types of authority links could help boost the authority and influence of your domain. However, if you're targeting a specific market, you would want to prioritize building relative authority links as they are much more favorable of passing highly converted visitors to your website.
How to Get Authority Links to Your Domain
Produce link-bait content pieces
Link baiting has become a norm in content marketing given that it has the ability to automate link acquisition (link building machine) without the need to follow the normal blogging frequency.
Producing one link bait content in a monthly basis is a good starting point to acquire a few authority links and to slowly build the brand within the community.
You can start link bating on your own blog. Target to produce at least one content that is tailored to a specific market segment. Then just go with other market segments when you're done establishing yourself as an authority in one particular niche.
Look at Brian Dean of Backlinko. At the start of his campaign, he published actionable link bait pieces about search engine optimization particularly in the off page sub-niche – link building. As a result, he was able to rank for popular keywords like link building, on page seo, and keyword research.
When he noticed that he was already an authority in the SEO field, he tap into other market segments like CRO and email marketing – which are parts of the big market segment he was targeting from the start, online marketing.
This linkbaiting process can also be applied to other industries by applying the following steps:
1. Look at the client's market and see where there's a content gap.
2. See if there's content on their site that could be improved upon or turned into a linkable asset. That's usually faster and easier than starting from scratch.
3. If they don't have that, I help them create a linkable asset. I prefer infographics and ultimate guides because they're cheap and easy to share.
4. I try to get as many eyeballs on the content as possible. That means posting it on industry forums and trying to get it featured on popular newsletters (a massively underrated content promotion strategy).
5. Once the buzz has died down, I pound the pavement with an email outreach campaign.
I believe the main reason why you need to produce a link bait piece is to create a hook that people will get something new from your brand (news/insight/information) and which will give your brand an opportunity to prove its authority.
More resources:
SEO Guide to Creating Viral Linkbait and Infographics
Linkbaiting Tips with Chris Dyson
Invite authoritative guest authors
Authority in a certain niche becomes achievable when useful content assets are consistently produced on the table. These are content pieces that are driven by data/analyses and information that no one in the industry has published yet and would require experience and expertise to provide actionable, comprehensive and unexpected niche-specific advices.
Regular publishing of content that have all the elements described in the image below has been a common problem for several brands (especially for those small brands that don't have enough resources for content generation).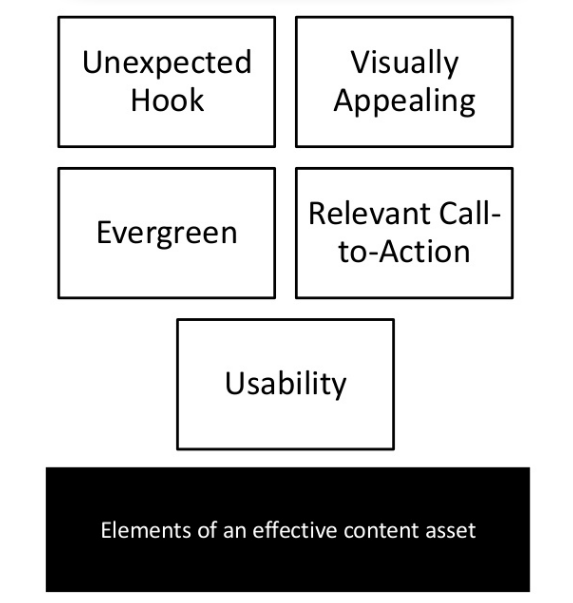 Source: From Zero to Hero by @kaiserthesage
To solve the inconsistency of publishing regular posts for my blog, I invited a few authors to produce new and actionable link building tips and absorb new followers/subscribers/readers from my guest authors' blogs.
This process help me earn links from UpCity and Kaiserthesage pointing to the enterprise link building post by Glen Dimaandal and link earning strategies article by Roel Manarang (both of which are guest posts for my blog).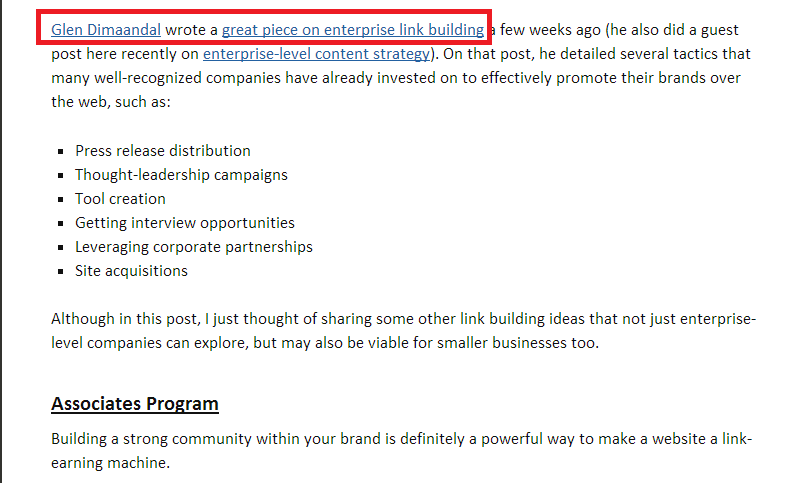 How to invite new but expert guest authors
1. Prospecting
Start with people whom you've built relationships with (those you met in local meetups/seminars/workshops and those who reached out to you in the past through email outreach).
You can also track new bloggers in your niche by diving to Twitter and Google searches (use the search query: "new blog" OR "new website" [industry])
You can also visit the comment sections of your favorite niche blogs and watch out for those people who actively engage on those blogs. See if they have links pointing to their own blog/site. These are the people that you can easily partner with because they're spending time building new relationships/connections with the industry community through blog commenting.
2. Evaluation
Once you listed your prospect guest authors in a spreadsheet, you can now spend time visiting their websites. Evaluate their existing content assets based on the quality, design and information.
Different industries have different tone, style and delivery of information so you will really be the one to decide if those authors have enough expertise and experience to write comprehensive articles for your blog.  
3. Pitching
When pitching for target guest authors, the core angle of your email copy should be the value that you will provide for them.
If you're an established authority, you can use your brand's current status as the value-added factor to your pitch. It could be one of the following elements:
Readership size
Social following
Average monthly acquired links
Site's monthly traffic (optional)
Online awards
Monetary incentives
If you're a small brand and you don't have any incentives to offer, you can start by getting into the radars of the guest authors. Spark conversations with them on their blogs through blog commenting or performing an initial outreach campaign. You can use the email copy below:
Hello [First Name],
First I should introduce myself. My name is [Name] and I'm in charge of content management on the [Site Name]  (URL)
Just wanted to say to you again that I loved your post [title] You may already know that from Twitter 🙂
[Complement about the post he wrote]
We aim to increase both the volume and the quality of our blog content and we're looking for awesome writers (just like yourself) to team up with us on this job.
Do you think I could tempt you into becoming a guest author for the [Site Name]?  🙂
What do you think? Would you be interested?
I hope I managed to spark your interest on this and I'm looking forward to hearing from you!
Best wishes,
[Your Name]
Ethical link reciprocation
Excessive link exchanges designed to cross link pages is considered as a red flag for Google.
This link building technique starts with creating a page (link to me, link to you page) that lists down all the sites that the webmaster has partnered with. A little section at the top or below the page provides instructions on how other websites could get a link from the page which is obviously through linking back to the site.
Though it has been practiced in a black hat approach, link reciprocation can be executed in an ethical manner.
Here's how.
How to get reciprocal links ethically
Build alliances with key influencers and active participants in your industry (target those that spend time answering questions on forums, Q&A and other community discussion boards).
Include content pieces from other authors to your blog and distributed content (e.g. guest post). Let them know about the mentioned link. Chances are they will also link to you from their content assets.
Create a crowdsourced content (group interview) on your blog.
Start by listing down influencers/bloggers/evangelists that are expert, well-experienced and approachable in some ways. Think of a solid and actionable topic – this will be the main angle of your content. Then pitch those whom you want to contribute tips/insights about your chosen topic. Publish the group interview and let all the contributors know about it. Expect authority and social links from them using this content-based link building technique.
Engage content authorities on social and/or email platforms to solidify the relationships you have with them. There is a high tendency that they will reciprocate your actions through promotion partnerships and social sharing.
Team members at SEMRush are part of my core list of influencers/evangelists. By constantly helping them promote their product/content in some way, I was able to earn their trust and thus, led me to more link opportunities for my blog.
Their Twitter account is constantly promoting my content assets (whether it is a blog or a guest post). This only proves that link reciprocation works effectively when it is done in the right way.
6 White Hat Link Building Tips for 2014 and Beyond by @venchito14 – http://t.co/Nr4R4kp6O5

— SEMrush (@semrush) June 30, 2014
Buy links ethically
For brands with bigger budget/resources, link buying can be considered as part of their authority link building strategies.
However, there are handful considerations you need to consider when using monetary incentives to build links from other websites:
Choosing and controlling anchor texts for pages/domains that link back to your site can be detrimental to your site's link portfolio.
Diversify your link profile by getting links from different types of pages (e.g. not only donation pages).
Consider relevancy as your top priority in link buying. Links from irrelevant sources may not be beneficial for your site in the long run.
How to buy links ethically
Sponsor meetups/seminars/workshops that will cater to the audience you're targeting and will include bloggers/freelance writers as one of the participants.
Incentivize bloggers in your niche to write reviews about your products/sites. Incentives could be in the form of commissions/affiliates, free access to premium products and direct payments.
Organize niche-related and/or blogging contests that will result to baiting contextual links from participants and winners given that linking out may be part of the contest's criteria).
Donate to charities/organizations. Prioritize those commercial sites that can easily give you authority links (ones that already have donation pages designed to attract donations from different brands).
Another effective way to earn in-content links through link buying is investing on influential bloggers that actively contribute guest articles on different authority news sites/blogs.
The strategy will result to contextual links from guest posts written by an influential blogger. Those high quality authority links are pointing to either your homepage or any of your deep links (e.g. category pages).
To get started, here's a step by step process to execute this strategy:
1. Prospecting
Look for influential bloggers that consistently write high quality guest articles on authority blogs. Use Followerwonk and Google search to find them.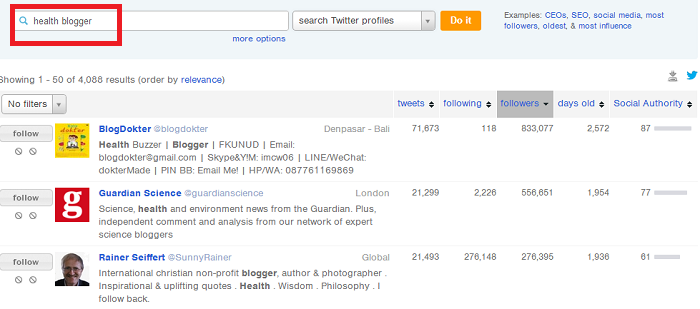 Check out their Google+ profiles to see and evaluate their existing guest contributions. Normally, if they implement authorship markup (rel author) on their guest blogs, it would be listed in their Google Plus' contributors' section.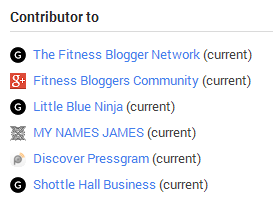 Create a spreadsheet for those prospect bloggers. Include columns for their personal websites, contact emails/forms, Google plus profiles and samples of their works (e.g. at least two guest posts).
2. Evaluation
Filter your list of prospect bloggers based on different quality metrics such as:
Authority of domains where his guest articles have been published.
Quality of content produced by the guest blogger (i.e. flow of information, hooks, style, format, etc..)
Relevancy of the content he creates (targeting general or specific market segment – e.g. SEO is general; link building is specific).
Strong social following (Twitter and Google Plus following).
These metrics could help you filter out influential bloggers that don't fit to your A-list prospect bloggers such as those that publish re-hashed articles on their guest blogs, don't have any strong community/connections (less than 500 social followers) and those that contribute for low quality domains (DA 20 and less).
3. Pitching
Craft your email copy using the same angle you used for the second link building strategy – inviting authoritative guest bloggers.
However there is one main difference between the two approaches – that is, paying guest posts from influential bloggers will focus more on monetary incentives.
Normally, a guest post from an influential blogger will cost from $100 – $250 depending on the goals and metrics used to quality a certain guest post or the domain where the guest post will be published.
This monetary incentive can become part of your email and could help your outreach campaign to get quick responses from your end-receivers.
If you liked this post, you can subscribe to this blog or follow me on Twitter and Google+.
Image Source: 1
How our LINK BUILDING AGENCY builds 250 links/mo consistently using Predictable Link Building Methodology™…
Using a SIMPLE and PROVEN system

Using a SCALABLE strategy
No private blog networks
No creepy outreach emails
SHOW ME THE FULL LINK BUILDING STRATEGY