This is the comprehensive guide on attorney link building in 2021.
The best part?
Everything on this list is working GREAT right now.
So if you want to get more backlinks to your legal website, you'll love today's list of link building strategies.
Let's dive right in…
1. Get Easy Links From Legal Directories
Directory link building is probably the easiest way to get backlinks.
Some directories are free. Others require subscription or one-time fees.
But you don't need to submit any content, all you need is a few important details about your law firm and your website.
That's it.
So how you can get backlinks from directories?
First, make a list of all lawyer-specific directories.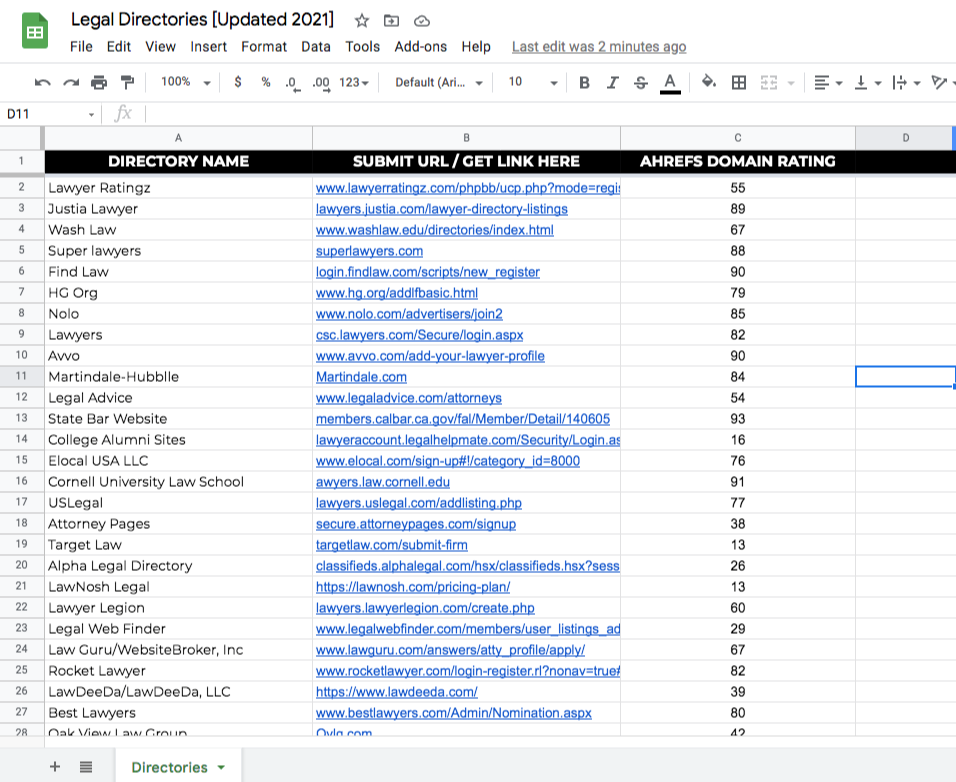 Next is to categorize them based on their type.
Basically, there are two types of directories: paid and free directories.
There are paid directories where you need to fill out a form, submit a payment, and wait for the review process of your submission. Other paid directories don't have much waiting time. You get easily approved once you submit your payment.
And free directories where you only need to fill out your basic information (Business Name, Phone Number, Practice Area, links to social profiles, and to your website). Then submit. Some free directories also have an approval process.
Know that every directory is different.
Once you have a list of free and paid directories, qualify these directories based on some metrics.
The reason is that you want to make sure you only get links from directories that can bring value to your law firm website.
So what are those metrics?
First, relevance.
Start with directories that are legal-specific.
For example, Justia Lawyers only include listings from law firms and legal organizations.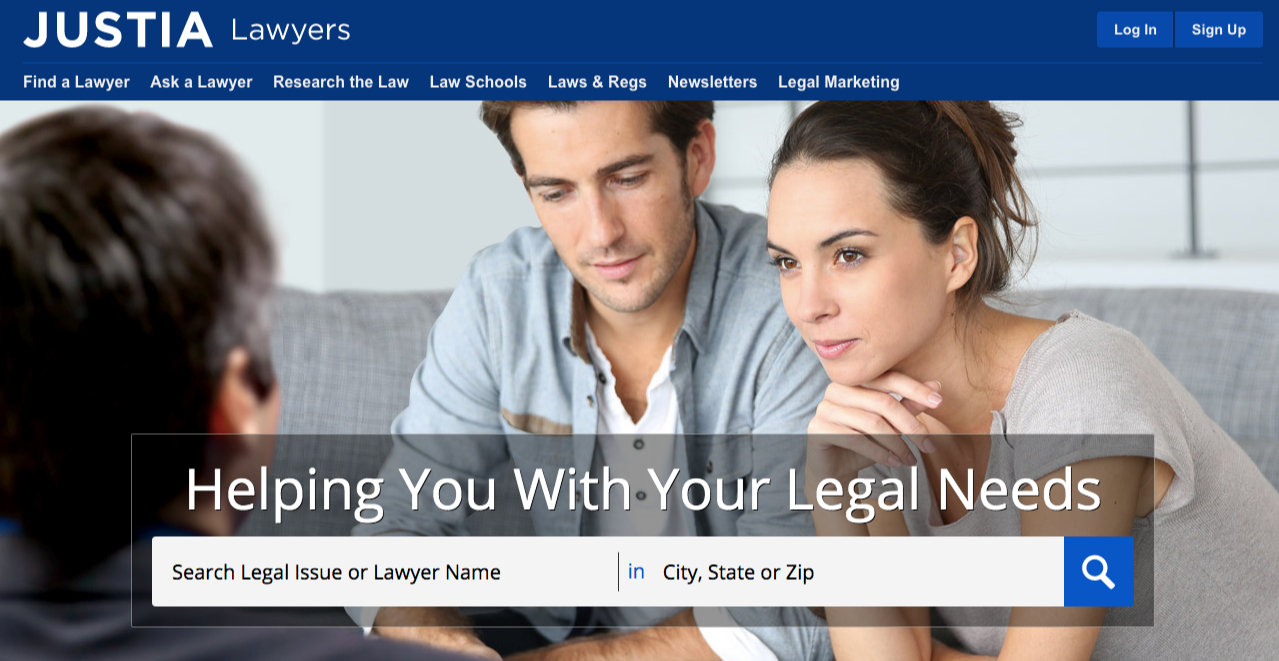 Another qualifier is Moz' Domain Rating.
My recommendation is to get lawyer niche directories with a minimum DA or 20.
Not too low to get NEW relevant directories.  Not too high to include non-authoritative submission sites.
Once you have these details of directories on your list, decide if you'll do the submission yourself or you'll hire a virtual assistant to do all the legwork for you.
How To Find More Lawyer-Specific Directories
If you're looking to find more directories for your law firm website, the best way is to check out your competitors' backlink profiles.
Ahrefs can help you out finding directories where your competitors have links.
Start by entering the domain in Ahrefs' Site Explorer.

Go to Backlinks section. This will show you all the websites linking to your competitor.
Type in "directory" in the "Include" search to only see directory websites.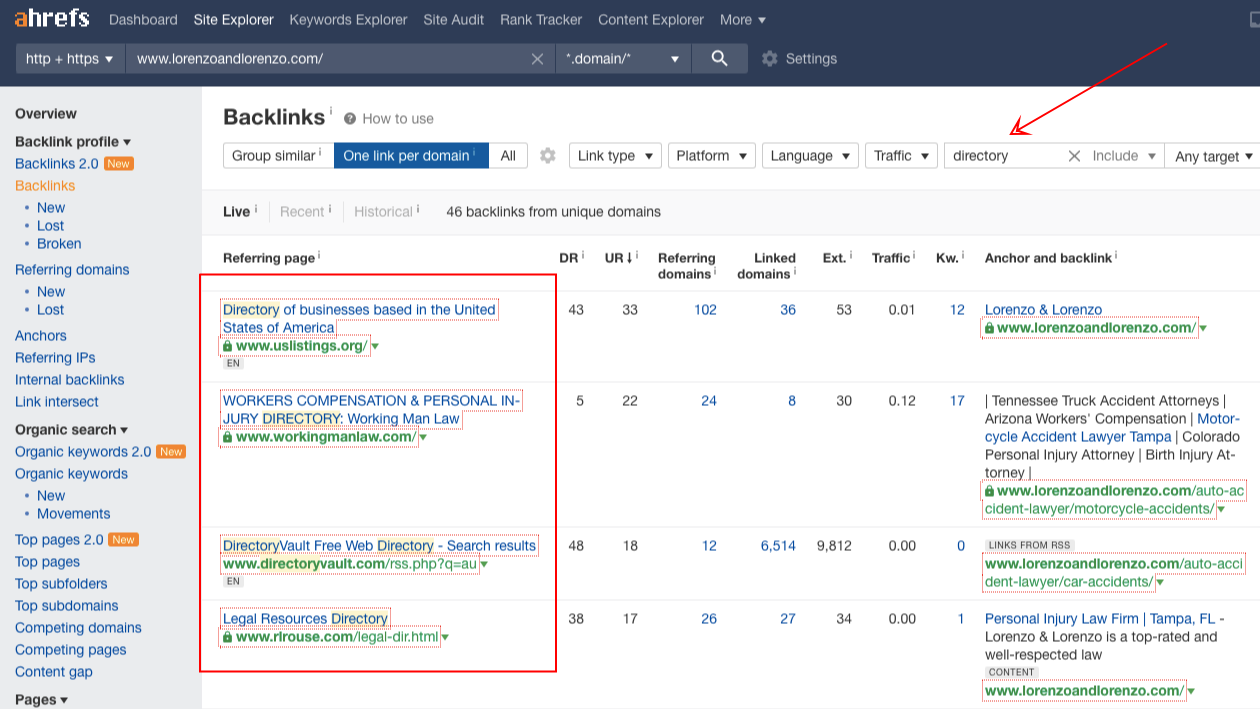 There you'll surface a bunch of directories you can submit your website details and get attorney-related links.
You can check out this guide on how to use Ahrefs for link building.
2. Build Local Citations
If you want to rank for localized attorney keywords, such as "personal injury florida", you need citations.
A local citation is any online mention of the name, address, and phone number (NAP) of a local business.
Cictaions help search users to discover local businesses. These can impact your local search rankings.
Check out this updated list by Bright Local of the top local citation sites.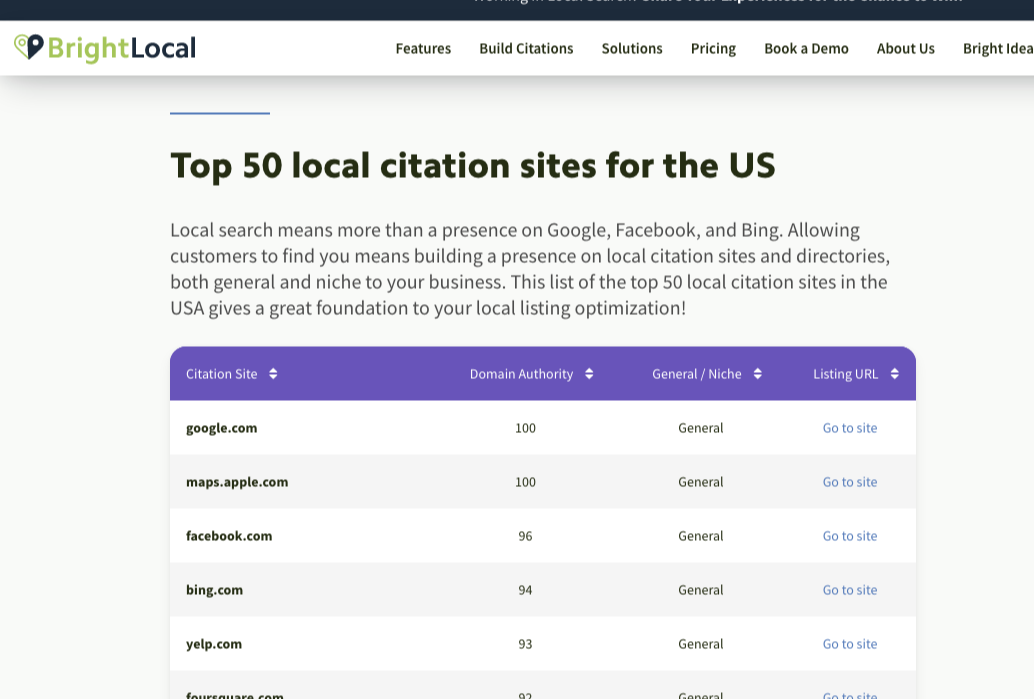 3. Offer Scholarship Programs
Scholarships are one way to get tons of edu backlinks to your website.
The reason?
Financial aid departments of universities have listings of current scholarships on their website. They keep on updating those listing pages to help students find the latest scholarship programs they can apply for.
And the best thing is you aid students with their financial needs, while at the same time, get backlinks to your law firm website from these scholarship pages.
Now here are four steps to do scholarship link building.
Step 1: Create a scholarship page
Know what you want to offer in your scholarship program.
Do you want to target law school students?
The more relevant your scholarship is to your brand, the better impact scholarship links can have on your website.
Create a page that includes all of the details your target beneficiaries need to apply for your program. Details such as name, award amount, deadline, rules or criteria for application, snd submission, and review process.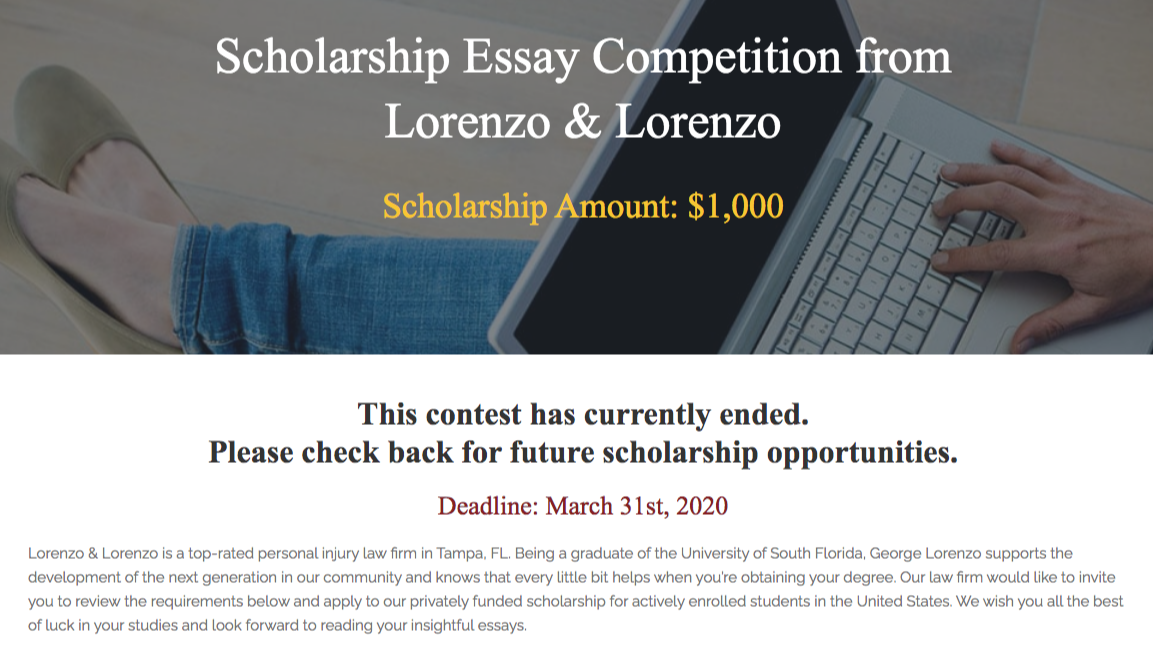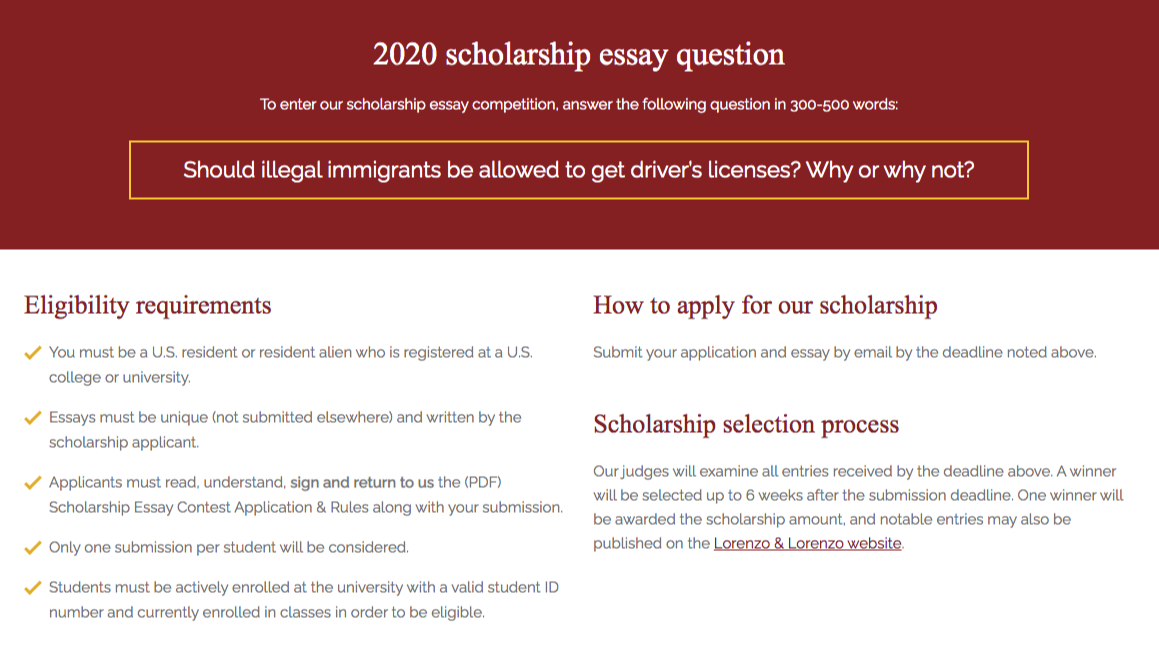 Complete all details of your scholarship program.
That way, your offer is more appealing to people who handle the financial aids department of university websites.
Step 2: Make a list of all target schools for outreach
Once your page is already set up, your next step is to look for scholarship listing pages.
Typically, you'll find the financial aid department that provides a list filled with scholarship programs.
How do you find them?
Use search phrases along with Google search operators.
Here's a list of search queries that you can use for prospecting:
"legal" ~scholarships ~financial aid

"legal" ~scholarships ~financial aid

"legal" site.edu ~scholarships ~financial aid

"legal" site.edu ~scholarships ~financial aid

"legal" site.edu ~scholarships ~financial aid

"legal" site.edu ~scholarships ~financial aid

"legal" site.edu ~scholarships ~financial aid

"legal" site.edu ~scholarships ~financial aid

"legal" site.edu ~scholarships ~financial aid

"legal" site.edu ~scholarships ~financial aid

"legal" site.edu ~scholarships ~financial aid

"legal" site.edu ~scholarships ~financial aid

"legal" site.edu ~scholarships ~financial aid
Look for the contact person who manages the scholarship listing. It could be the person in charge of the financial aid page or the webmaster of the school.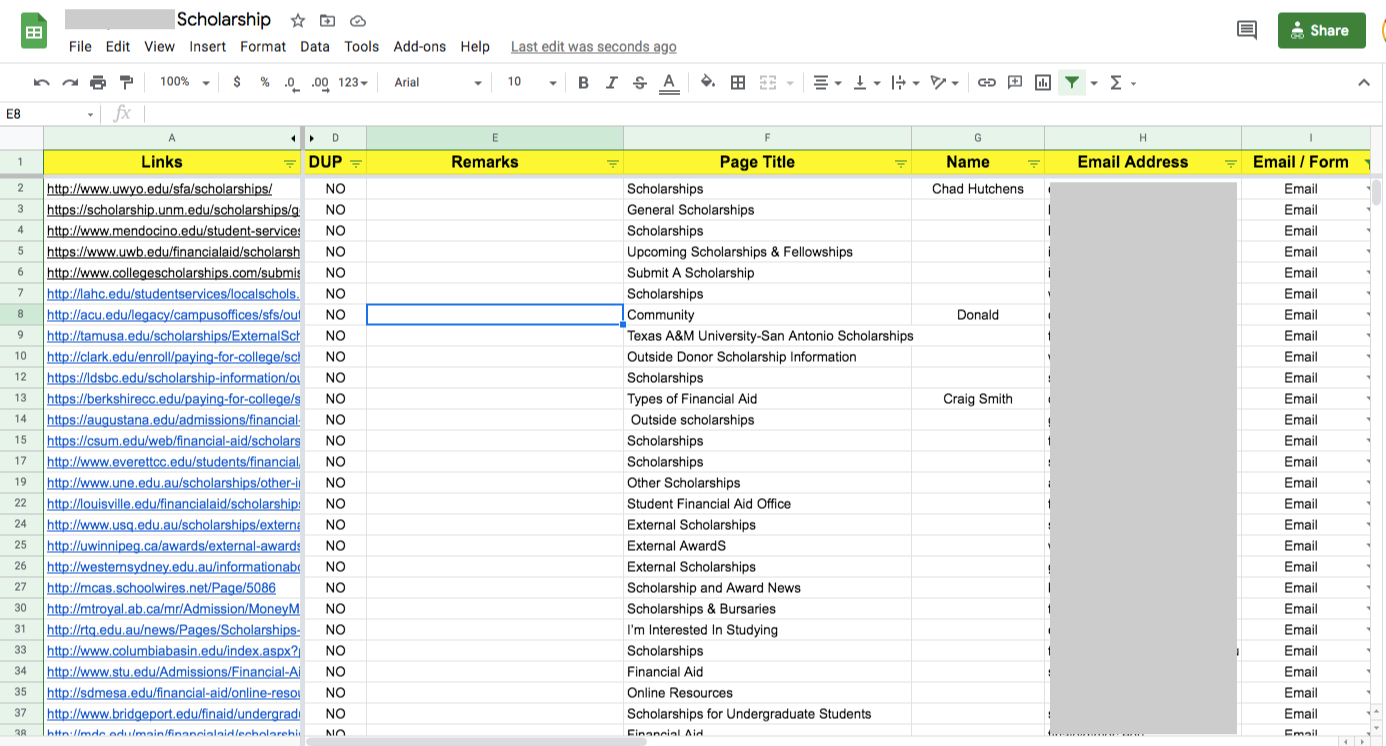 Add the contact person's name, designation, and email address (or contact form) to your list.
How To Find More Scholarship Listing Pages
Another way to populate your list is to find pages that linked to your competitors' scholarship page or other relevant law firms that offer scholarship programs.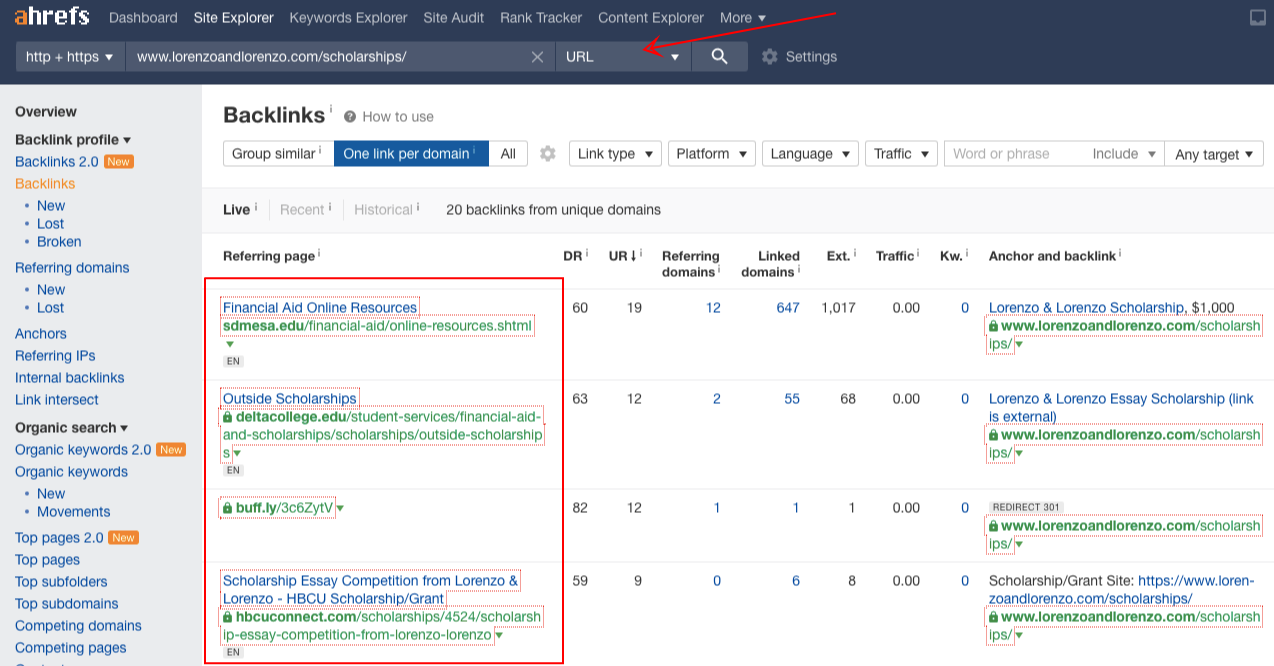 Enter a legal-specific scholarship program in Ahrefs Site Explorer. Go to Backlinks sections and you'll see all pages linking to the scholarship page.
Add these pages to your list.
Step 3: Reach out to your outreach prospects
Send emails to your prospects. Tell them about your scholarship, where to find it (URL of your page), and how students can apply.
Not all prospects are the same.
Some people will ask for more details about your scholarship program, so be sure, you have complete details when they need them.
Best Lawyer Scholarship Programs (2021 List)
Below is a list of the best scholarship programs in the legal space. Check them out and find inspiration for your scholarship link building strategy.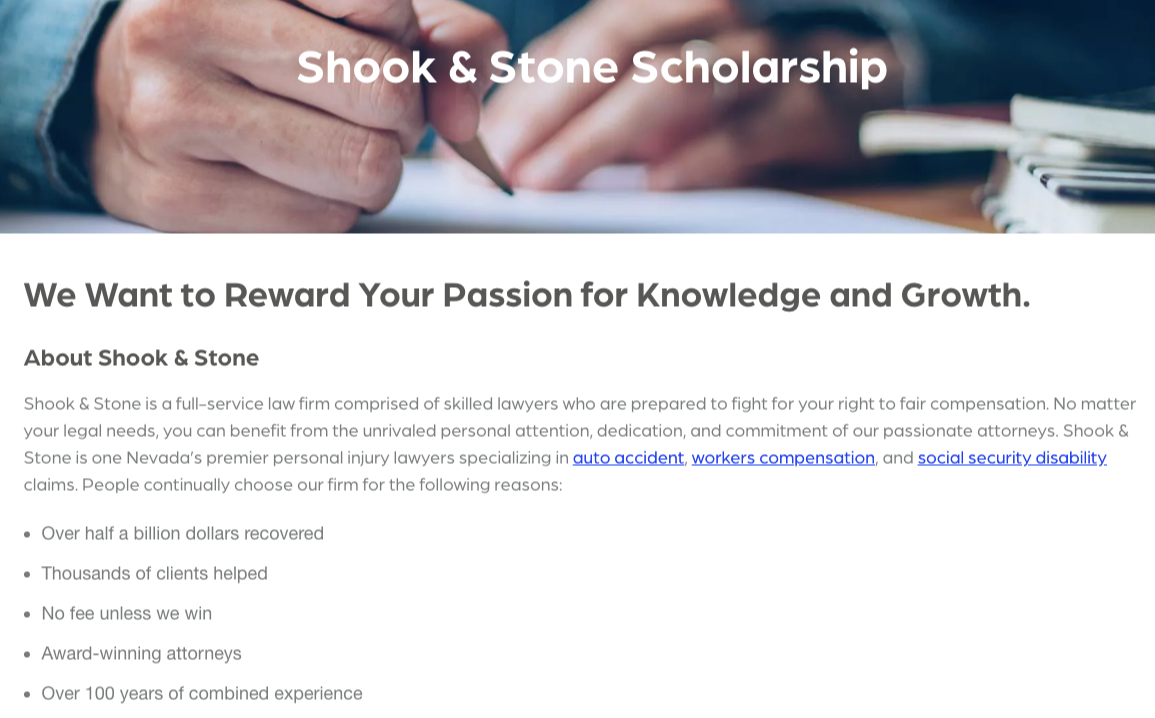 4. Create And Promote Evergreen Content Assets
There's more content published today than ever before.
According to this content study by Backlinko, 94% of online content has zero external links.
So:
How can you create content that stands out in the legal space?
The answer is:
Publish evergreen content assets.
Content that is more comprehensive than other pages related to your topic.
Content that is evergreen to be relevant and beneficial over the long term.
In creating these evergreen content assets, you need a content strategy and keyword research.
Doing keyword research effectively and creating content to match topics to serve your audience.
You can do both with topic clustering.
Topic clustering is basically grouping your content by key topic areas, wherein there is the main page (commonly called as "pillar page") that targets a broader audience, and stretches out by having support pages to cover specific topic ideas or key phrases listed on the pillar content.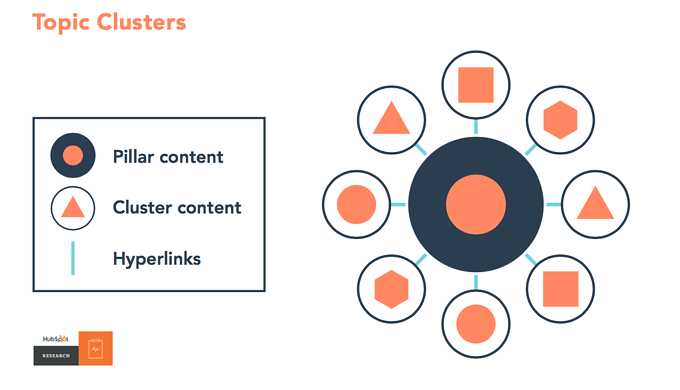 And importantly is having both pillar and cluster content internally link to each other.
How To Create Evergreen Content Assets
Step 1: Discover Topics, Not Just Keywords
Find topics that you can address with your expertise.
My recommendation is to use Ahrefs to discover legal-related topics.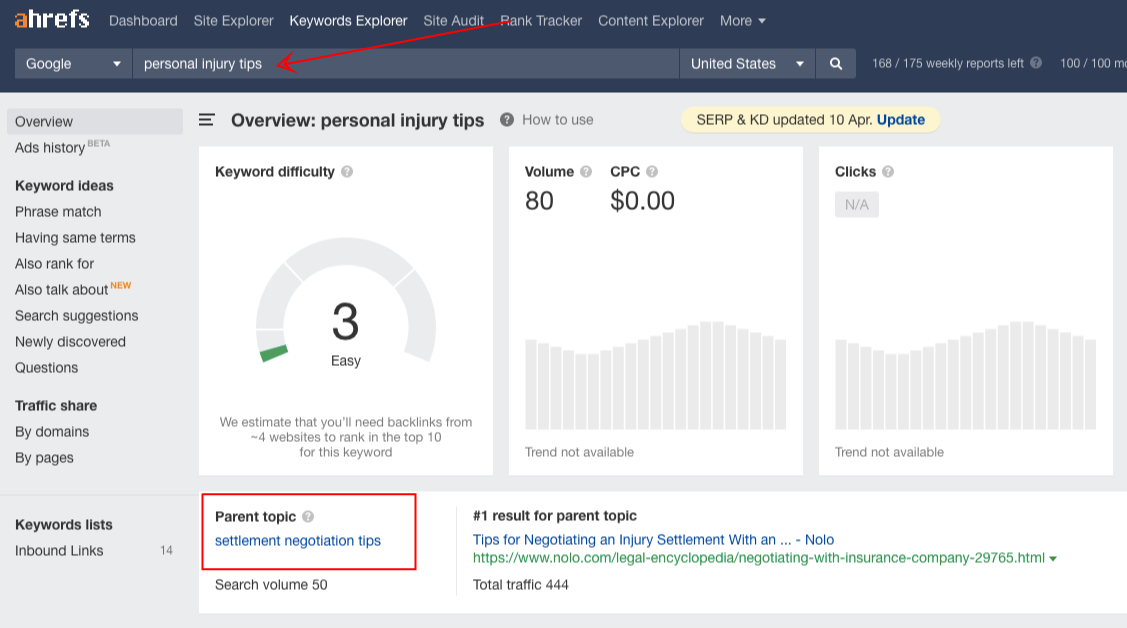 Go through each keyword in the results and see which one has informational content.
Check through the list and see if there are any parent informational topics.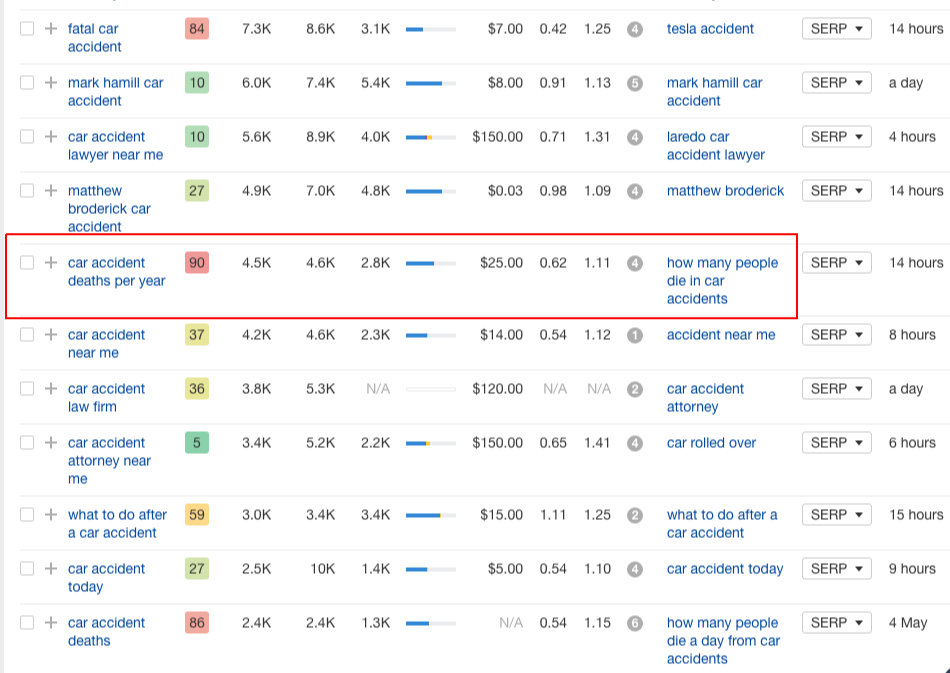 Look deeper to find more relevant topics.
Add filters if you want to only see keywords that are fit to your context.
For example:
Set KD (Keyword Difficulty) to Max 40 if you know your law firm website doesn't much domain authority to compete in the search results.
Filter by volume. Make it only give you keywords with a search volume of 100 minimum.
Check Featured Snippet in SERP features, which is optional, only if you want to keywords with featured snippet pack.
You can export results from Ahrefs into CSV to filter them more.
Make sure you create a list of all the keywords with their parent topics (including all criteria you choose to consider – KD, volume, Featured Snippet).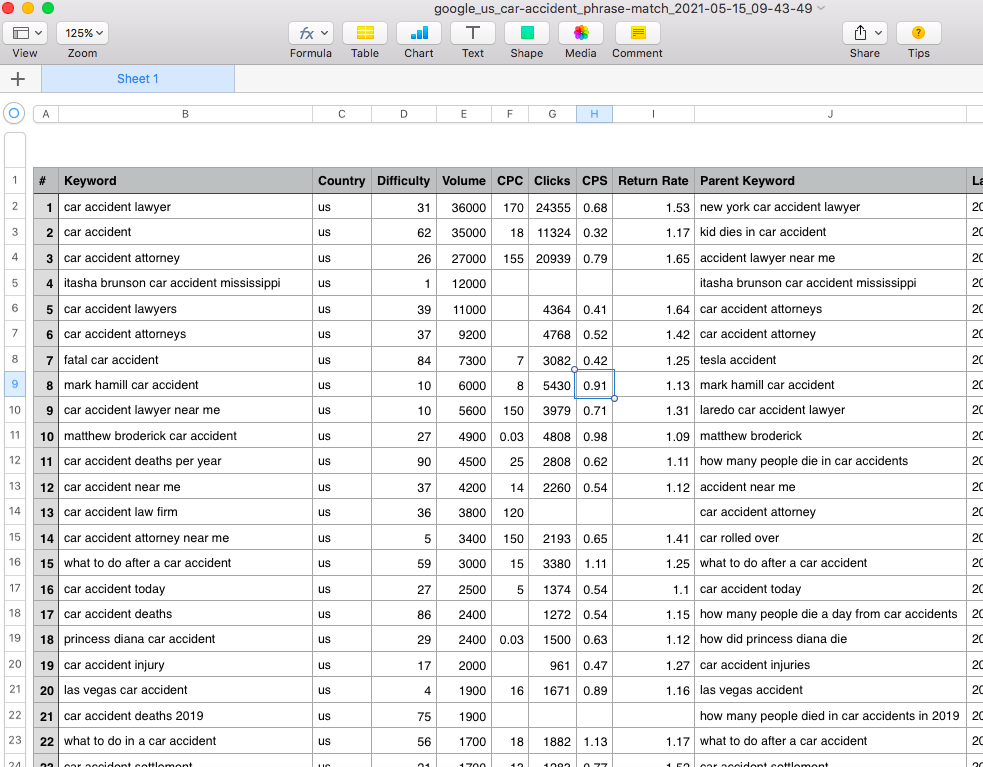 What's another important thing besides finding content topics?
It's the content type.
You want to know what kind of content piece you'll publish on your content.
Step 2: Identify Content Types That's Best For The Topic
How to know what content type suits you best for the topic?
The answer?
Look at the search results.
Because what the search results will reveal is basically the type of content the search engines see as deserving to rank for that topic.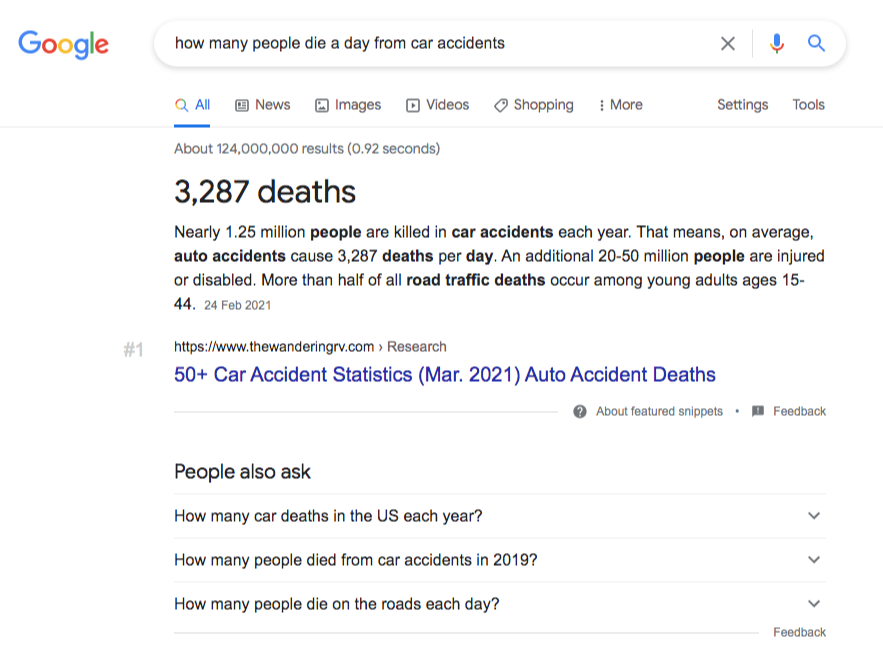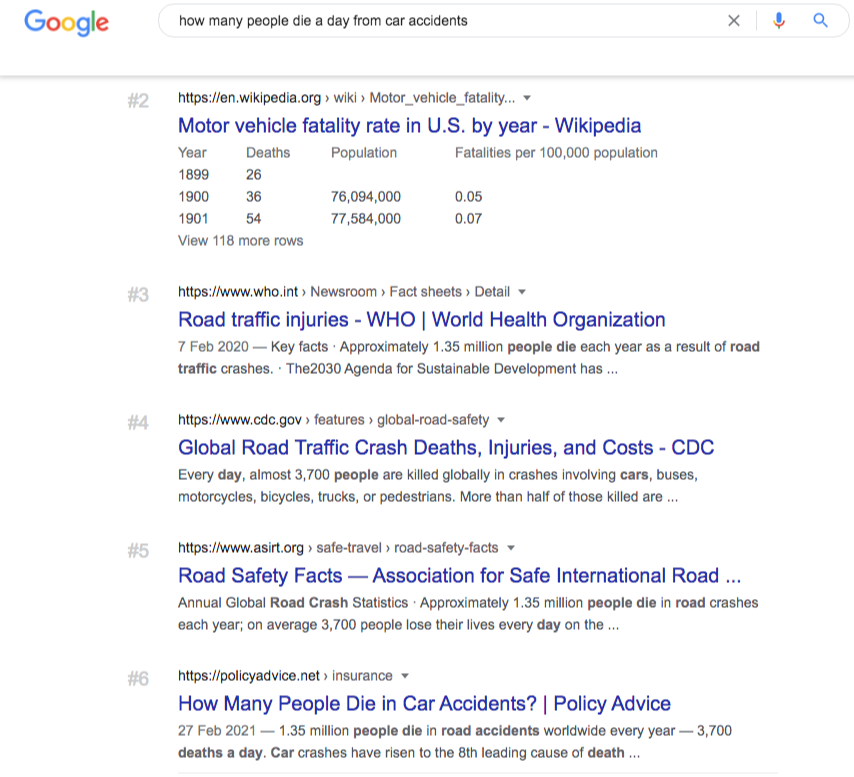 You may surface content types such as statistics ("study"), long-form content ("guides"), listicles ("best X"), or FAQ ("frequently-asked questions").
Different topics manifest different content types.
Look through each search result and see what's the common pattern among ranking pages.
Add a "Content Type" column to your list.
Step 3: Create Content 10X Than Its Competitors
The biggest step in content marketing is creating the content.
And to make your content 10x:
Make sure you check what's missing from your competitors. Go to each ranking page and review them.
Ask yourself, can I add something that's been missing or hasn't been mentioned from their content?
List them down.
Add internal data.
Case studies, surveys, and other content formats.
Include your own actionable insights in your post.  Just make it more comprehensive.
Structure your content in a way that's easy to digest.
Here is a simple guide from Ahrefs to creating "BIG" blog content.
Step 4: Promote Your Content Assets
Everyone creates content, but only a few promote their work.
That's not you, right?
So start to promote your content assets to get more traffic and earn backlinks to your website.
But how will you do that?
Make a list of all pages that have shared or linked to pages related to your topic.
You can use Ahrefs to find these backlink prospects.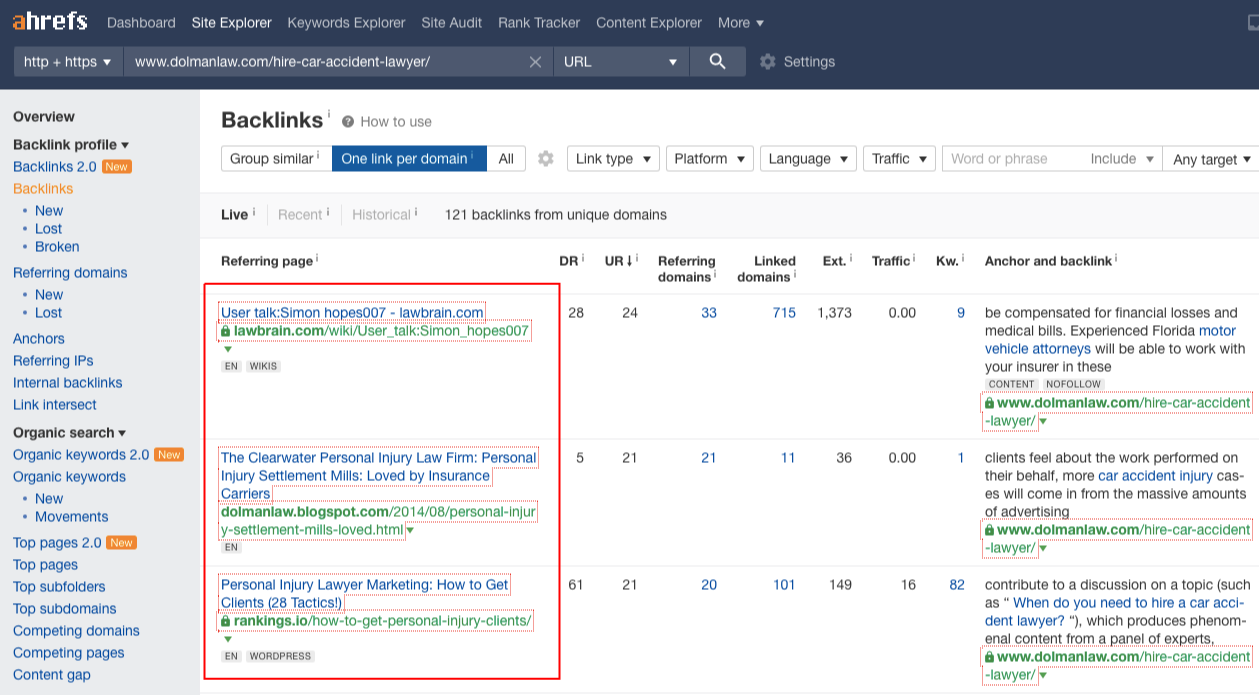 Get their contact details and start reaching out to them.
See more link building strategies that focus on content as value proposition in email outreach.
5. Leverage Thought Leadership
Your legal expertise can help you build more natural links to your law firm site.
As they say:
To educate is the best way to sell.
Well, in doing law firm SEO services, educating is the best way to build links.
Because people want answers to their pressing needs and questions.
And they will give you links if they find value when you share your expertise.
If you're a thought leader, leverage any of these brand assets.
Publishing Books
If you or your attorney client have published books in Amazon or in any book publishing webplaces, think about how you can use these books to get links to the legal site.
You may add direct links to your lawyer website in author profiles.
Or have a page on your site dedicated to that book.
You may include the URL of this book page in your digital PR campaign to get traction and potential natural links from websites of publishers and journalists.
Podcasts
Podcasting is a great way not only to build your brand but to expose your thought leadership to a large audience of linkers (publishers and bloggers) who're likely to link to your website.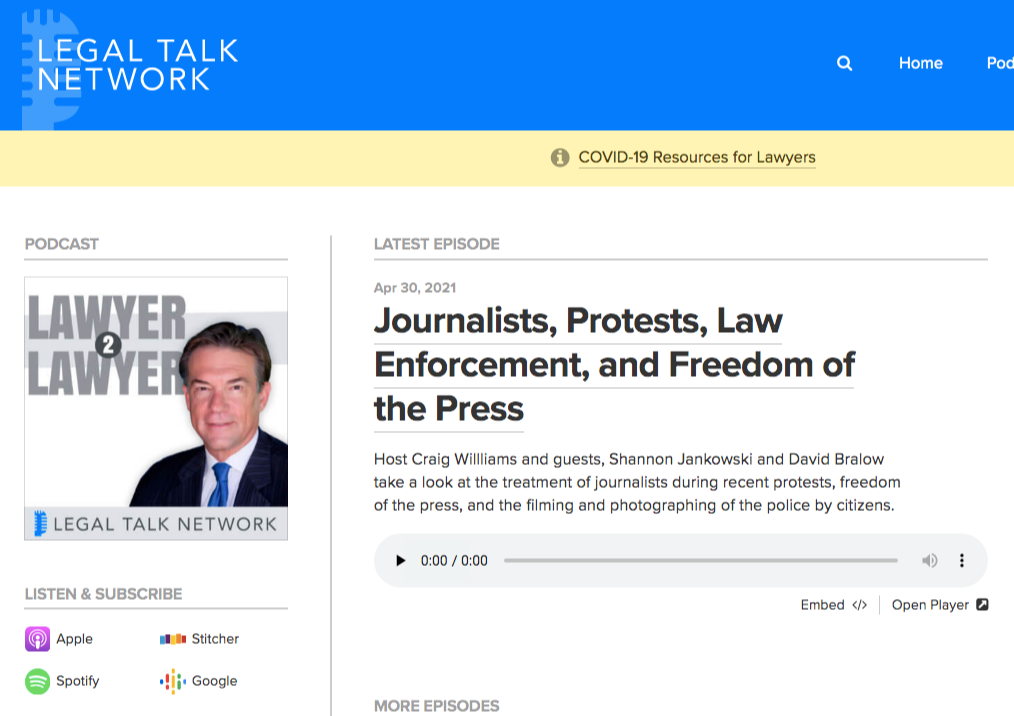 There are two ways to get backlinks from podcasting:
Start a podcast.
Get interviewed on podcasts.
When you start a podcast, you get links from podcast hosting companies through your profile pages.
When you get interviewed on podcasts, you get links from podcast blog transcriptions ("show notes" or "links section").
Provide Answers To Questions
As a legal practitioner, you can help anyone interested in legal practice by answering their questions online.
Either you comment on other people's legal blogs (not your competitors) or by becoming part of a crowdsourcing post sharing a tip or two when asked for insight on legal topics.
When you comment on blogs, you don't simply drop by and spam them with comment links.
You give value to their audience by sharing your own insights or feedback points to their articles.
You want your comment to be interesting that people are enticed to click on your link pointing to your website. This way, you get referred traffic from the website.
Discover Unlinked Brand Mentions
If you're showcasing thought leadership online, chances are publishers and content creators recognize you.
Search the entire web to see if you, your law firm, or any of your online assets have been mentioned elsewhere.
Some brand mentions may not have links to your legal website — these are missed link opportunities.
Take advantage of that by reaching out to people and asking them to credit mentions with links.
You can use Ahrefs to create alerts whenever someone mentions you. This way, you can quickly send an email to ask for a backlink (in case, the person didn't give you a link).
6. Use PR Outreach
What would you feel if journalists cover your stories?
What about being interviewed as a thought leader (or expert) in the legal space?
These are things that are possible with PR outreach.
Online PR is doable. It is something SMEs including law firms can take advantage of, not just Enterprise brands.
One effective tool to help you with online PR is Help a Reporter Out (HARO).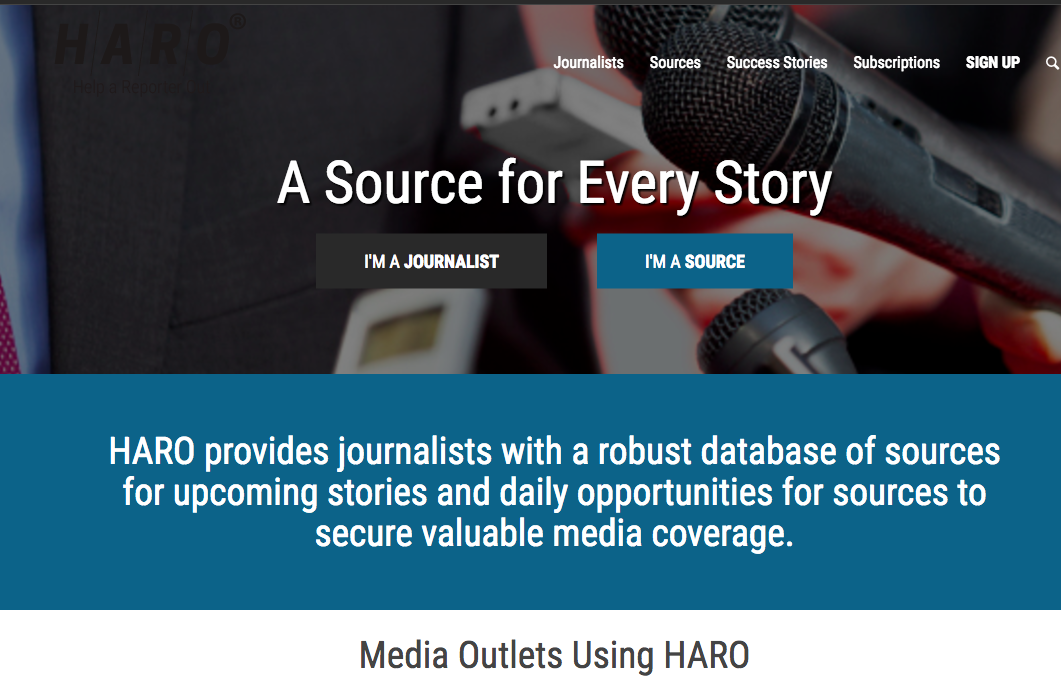 It's a simple tool that allows you to connect to journalists.
The good thing with HARO?
Because the journalists do request quotes, you have chances to get responses, instead of you chasing them out on Linkedin or other social platforms.
For example, if they required quotes in an article about new legislation or the implications of a court case currently in local news, you can jump into HARO and share your insights on the topic.
HARO curates requests for stories, tips, information, or quotes from journalists and puts them in one place.
This may feel like a lot of work, but if you have a process to follow and tools, you can get exposure (and links) from journalists and top-tier publishers in your space.
Here are useful resources to help you get started with HARO link building and digital PR:
7. Maximize Sponsorship Opportunities
You can buy links ethically. How?
Not directly paying someone to give you a backlink to your legal firm site.
But by using money to support a cause of your target linkers.
Have you seen someone donates to a charity, sponsor an organization, event, or foundation?
That's what you do online.
Most non-profits and charitable organizations have their websites and dedicated pages to list logos of companies and organizations who support their cause.
For example, if a local non-profit organization has an upcoming event page, it has a section on its event page or somewhere on their website a list of all the event sponsors.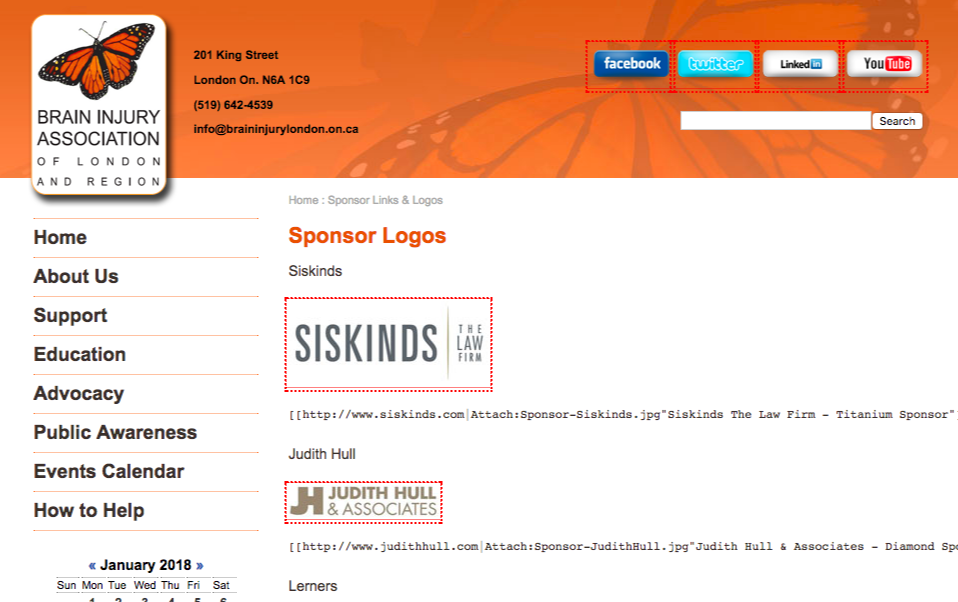 That section has a list of links to company websites.
Besides pursuing non-profit organizations, you can leverage online community websites where you can find sponsorships on events from local businesses.
One example is Meetup. 
With Meetup, you get to see events that you'll sponsor and in return, have the exposure (and links).
You connect to the organizer and ask about their sponsorship details.
Then you decide if it's the right fit for you.
8. Publish Legal-Specific Roundups
What if you can create valuable content with lesser efforts in producing it?
That's possible with:
Legal roundups.
You ask thought leaders, practitioners, or experts a question on a particular topic.
Then you curate all of the inputs into one big blog post.
What's more interesting in having 33+ legal experts talking about a legal topic?
That's what The Dolman Law Group did with their "Attorneys Answer: When do you need to hire a car accident lawyer?" roundup post.
They asked 33+ experienced lawyers in auto accident claims in Florida to answer a question most people would ask with regards to a car accident.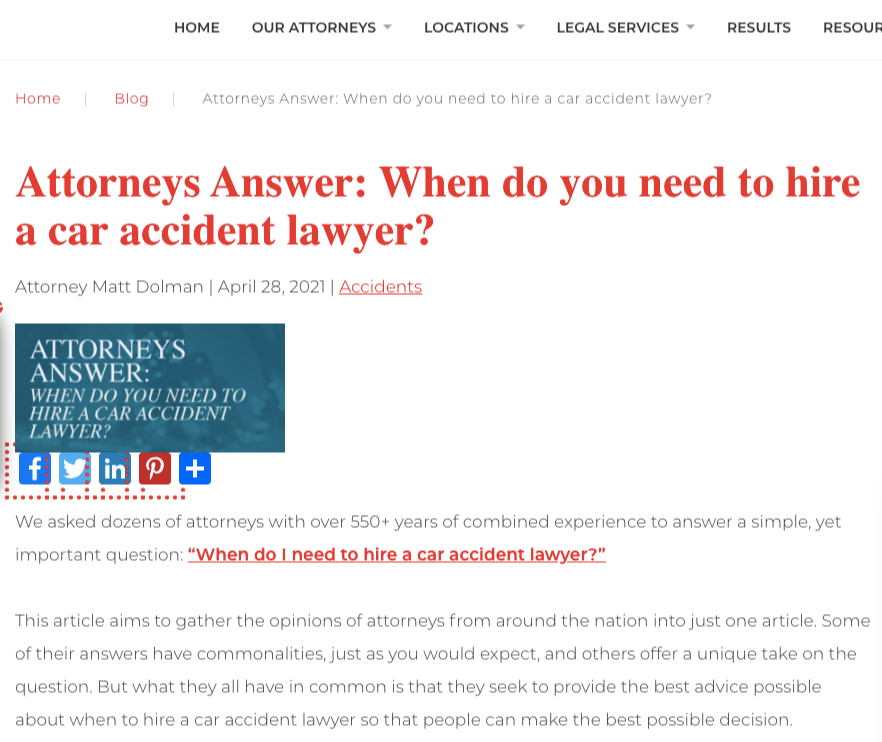 As of this writing, this law firm website earned 128+ backlinks from other relevant publishers, helping their website to improve their site's search traffic.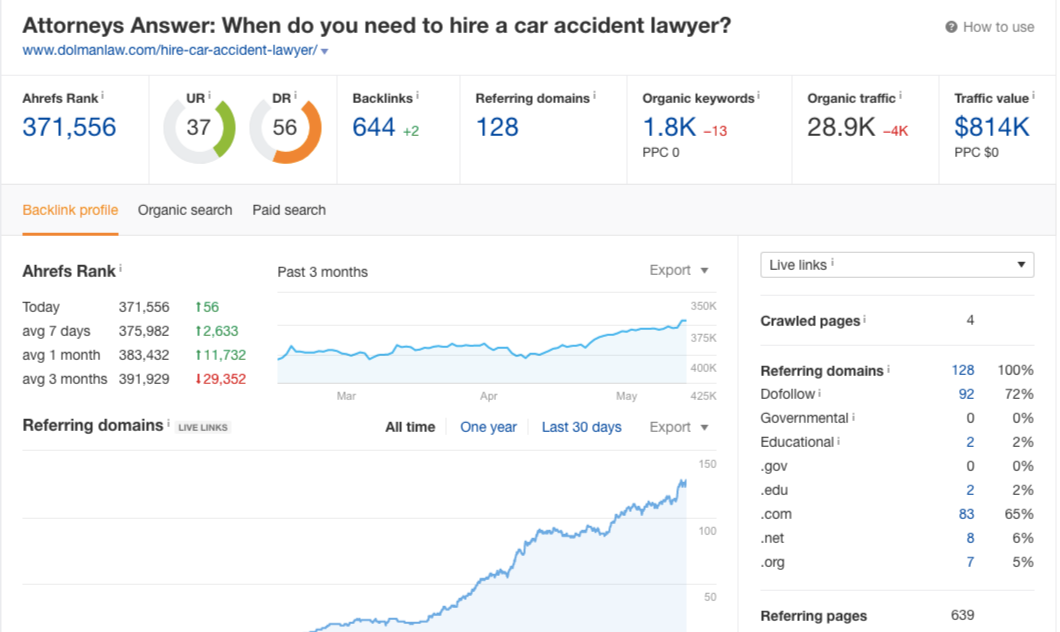 You can model what they did.
See what content topics that people were looking to get insights from.
Go through each partner's legal websites and legal experts in your field to ask that question.
Compile their insights and make it a blog post.
9. Apply For Legal Awards & Associations
Any brand assets that display thought leadership and excellence in the legal space are powerful in helping you gain more backlinks to your legal website.
Do you have legal awards and associations you're associated with?
Some legal awards include:
If you're an SEO agency, ask your attorney client if they want to be nominated in an upcoming legal award in your niche.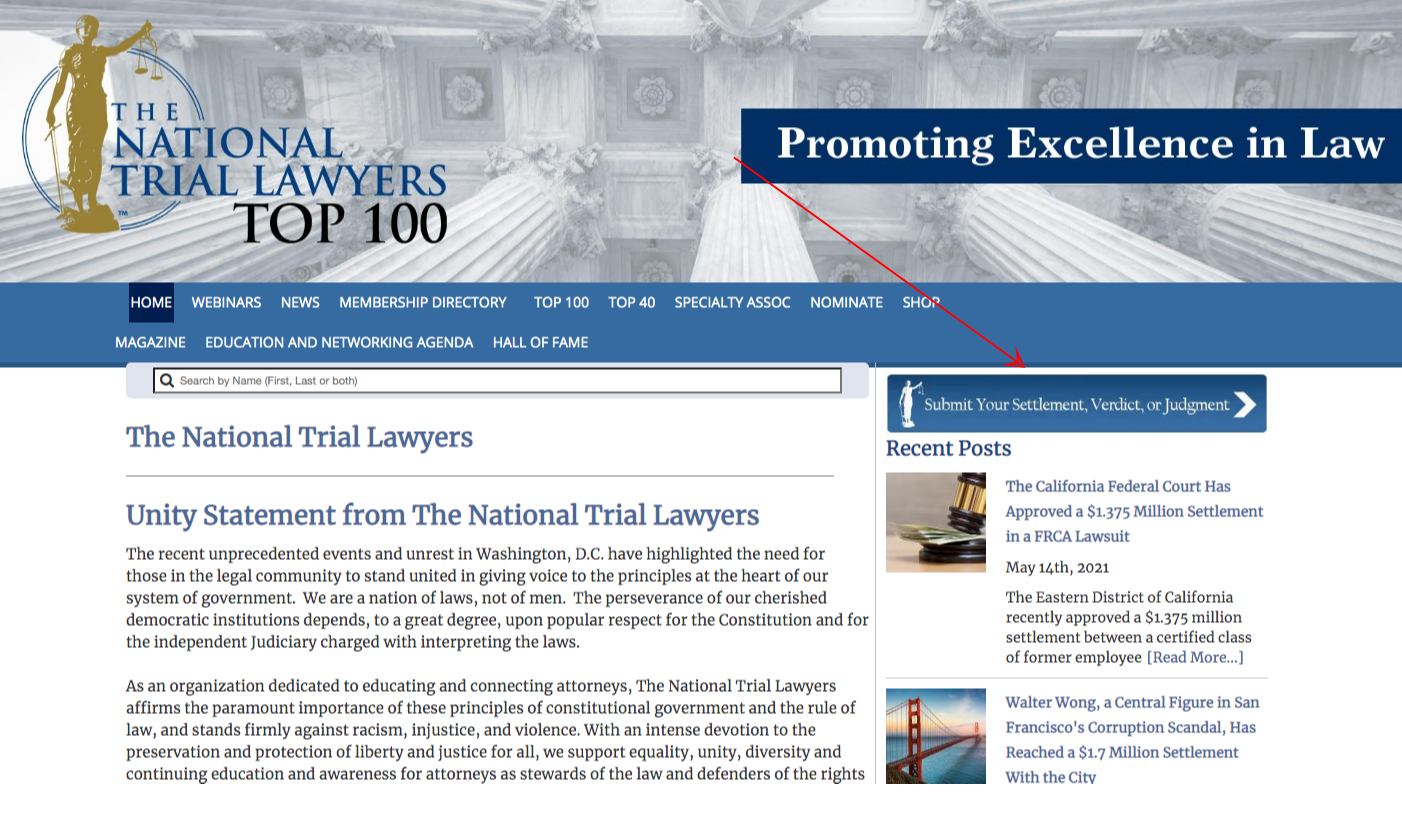 When you're permitted to do so, submit their information and other details needed by the awarding body.
Typically, award pages offer links to the websites of awardees. This is your good chance to get a backlink using this attorney link building strategy.
10. Invest In Relationship Building
One of the best types of links is links built on relationships.
Why?
Because you don't just get one link from the website, but recurring links given you continuously provide value to the person (linker).

Ask Your Peers For Links
There's never an easier way to get backlinks than to ask your friends.
Do you have any friends or partners in your networks who have a website?
No, you don't reach out to them and say, "give me links!".
Even if they are your friends, you still want to know what kind of value will you offer to them.
One value offer is content exchange.
This means that you lend your expertise to write on a specific issue your friend's target audience will get value from.
For example, you could write an article that speaks of a unique perspective to an issue that one of his clients might have. If you're a tax attorney and your friend is in the personal injury space, you could write an article on how personal injury settlements are taxed in her state.
You find what topics resonate with their audience — that also resonate with your brand or niche.
Give Testimonials
Testimonial link building is an easy way to get free backlinks to your law firm website.
How's that possible?
Businesses need social proof to help their visitors convert into customers.
And testimonial is one social proof that tells their audience how good their product or service is.
Typically, business websites have their testimonials section on their homepage.
Or they have a dedicated page just for that.
Can you remember any business that provided services to you?
For example, if you hire home-based services to help you out with cleaning or house chores, you can send them an email and provide a testimonial in exchange for a link to your legal firm website.
Check their websites and see if they have testimonials.
Reach out to them and send a testimonial quote about their service.
11. Give Value Through Reddit & Forum Link Building
Forums are not dead.
Your audience wants to get insights from other like-minded people.
The reason is:
They connect more, share their experiences openly, and are more receptive to answers and questions when they're part of a community.
Reddit is a very active social forum.
Law-related topics such as this one: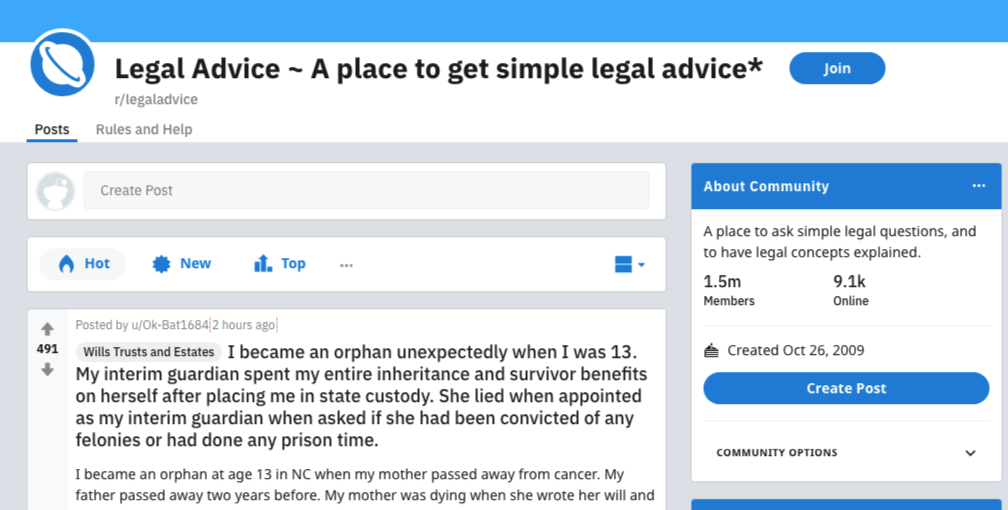 Or topics your audience engages in: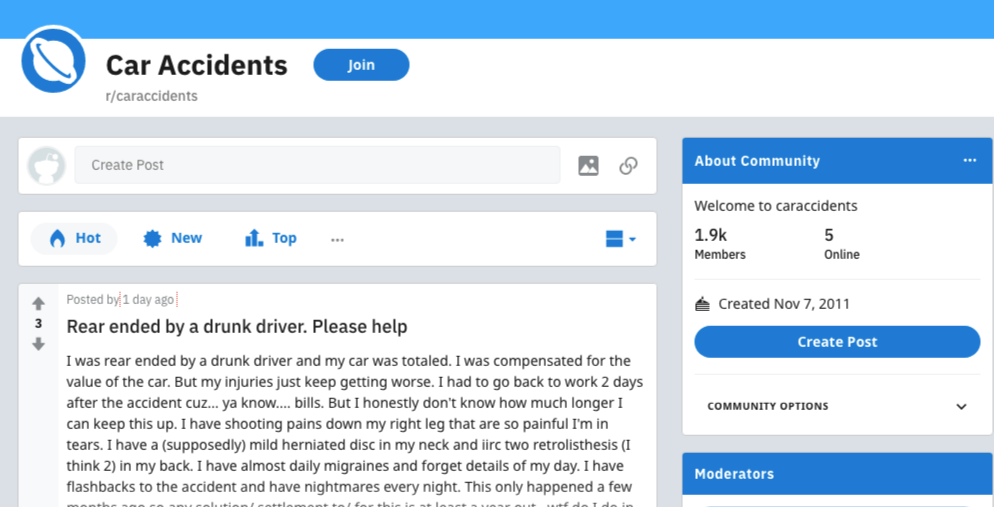 Create your Reddit profile.
Display your thought leadership by interacting with other members in subreddits.
You don't post links right away.
Participate in other discussions by simply responding to legal and niche-specific questions (e.g. car accidents).
Be mindful of the subreddit posting rules and regulations.
Some communities have strict rules for posting too many self-promotional links.
When it is only relevant to your audience, post links to your helpful articles.
12. Do Guest Posting 
Guest posting is not dead.
Any publishers accept contributions from other authors (at some point).
Why?
Because it's free.
And if the quality of content reaches the standards of the guest blog.
How come they won't accept it?
Guest blogging offers more benefits than just links.
Branding. Exposure. Referral Traffic. Assisted conversions.
All these are long term benefits useful for your law firm.
I've covered the exact step-by-step process on how to do guest blogging.
If you're a bit hesitant about the effectiveness of guest blogging, check out your competitors and how they are getting backlinks today.
At some point, some of the links they got to come from guest posts they contributed to other blogs.
Conclusion
I hope you enjoyed my attorney link building guide.
Now I'd like to hear what you have to say:
Which technique from this guide are you going to try first?
Do you want to submit your law firm website to legal directories?
Or maybe you want to leverage thought leadership to get more links.
Let me know by leaving a comment below right now.
How our LINK BUILDING AGENCY builds 250 links/mo consistently using Predictable Link Building Methodology™…
Using a SIMPLE and PROVEN system

Using a SCALABLE strategy
No private blog networks
No creepy outreach emails
SHOW ME THE FULL LINK BUILDING STRATEGY