In this guide, you'll discover 15 tips to get SEO clients.
Actionable. 
And these are proven to work for freelancers, consultants, and SEO agency founders. 
Let's get started. 
1. Apply The "Local Courier" Lead Generation Approach
Cold outreach to get SEO leads is effective.
Only if you apply the right approach.
First, you select your target market.
It could be dentists, veterinarians, or HVACs. 
Or, if you're offering local SEO services, find local-based businesses.
How?
Start with Google search. 
Everyone who's not ranking well is an obvious choice of prospect.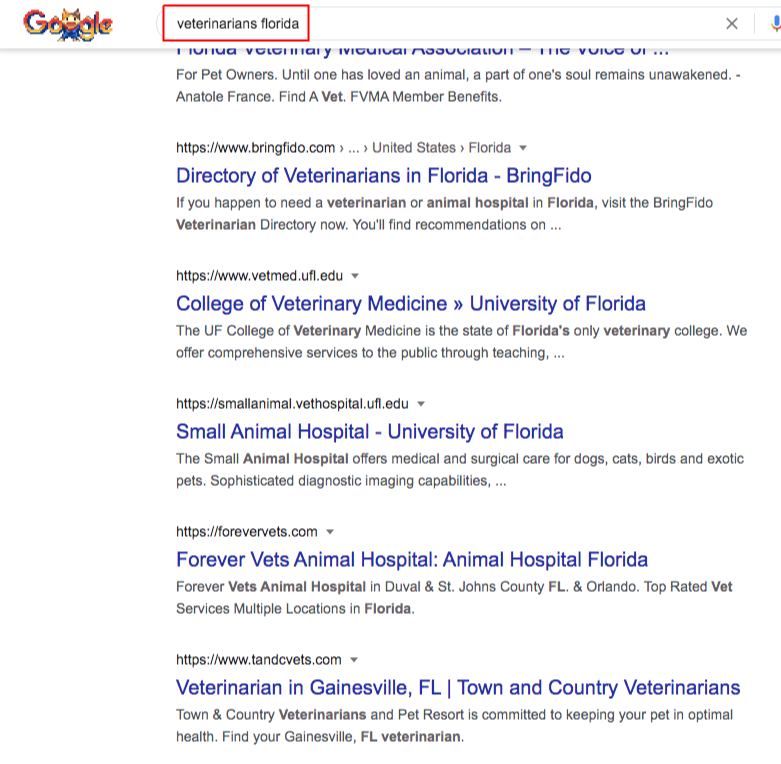 Another technique that you can do:
Use Ahrefs' Content Explorer to discover potential clients. 

Filter for websites that have DR 1 to 15. 
Then check "One page per domain" and "Exclude domains" to reduce the results.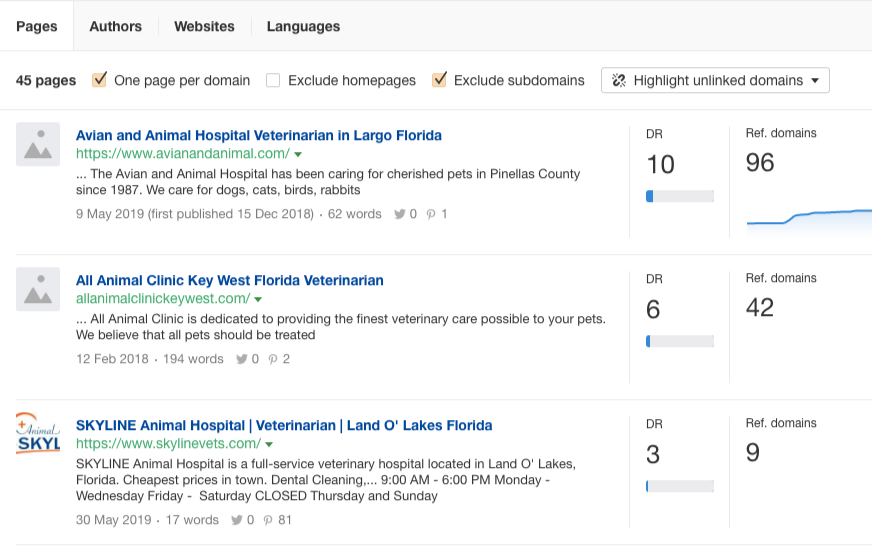 Export the list.
The second step is to analyze the website.
Provide a quick summary of where the business is currently at against its competitors.
From there, you create the proposal. 
The last step is the most creative part of this cold outreach approach. 
Instead of you sending the proposal to the prospect business email…
Have a courier or any delivery service (e.g. FedEx) to send it to them.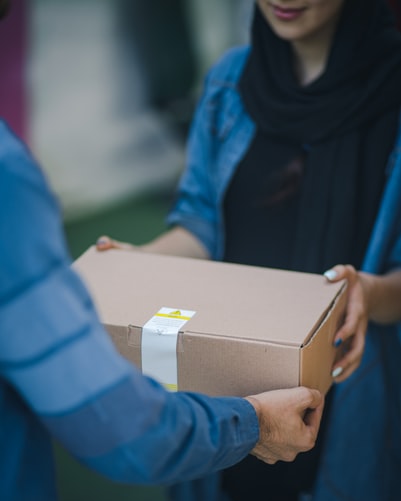 Include in your intro letter a note saying that they have to call you on a particular day at a specific time. 
Do a follow-up if you don't receive any call from them. 
2. Include "Customer Success Stories" In Cold Outreach
Want to triple results in cold outreach?
The strategy:
Show customer success stories in your emails. 
Your potential clients want to know if you can deliver results. 
And the best way to have it is by creating case studies. 
HipLead increased their conversions by 208% by mentioning a famous customer in one of their sales emails. 
For your SEO services, invest the time to interview one of your clients to get results for their website.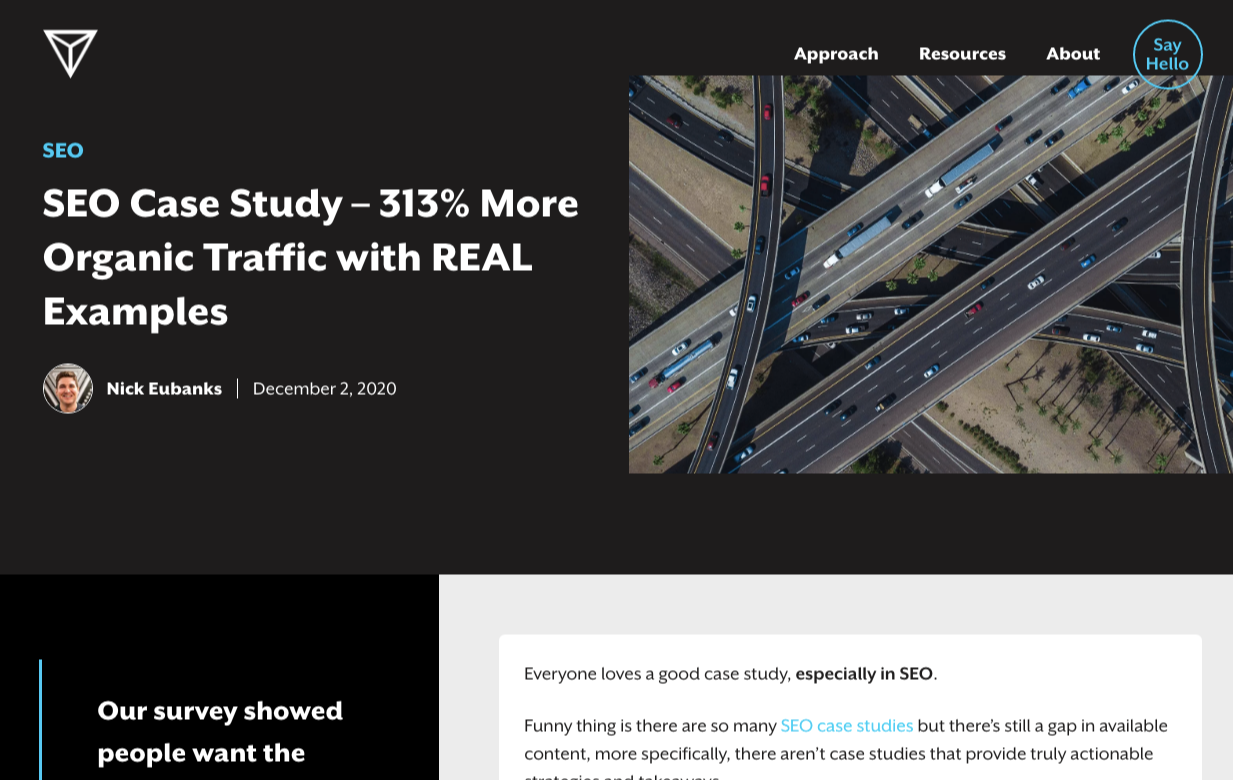 You can use Case Study Buddy to help you with this one.
The next step is to include a note in your cold outreach email. 
Something goes like this:
"One of our clients, [Client Name], was able to [Results] because of [Your Service]. What would those results mean for your business?"
If no response, send follow-up emails. 
One of your follow-up email sequences includes asking them to take a strategy call with you. 
This is when you put on your "consultative hat", you ask questions to get to know about their business. 
Engage them, and help them set a roadmap to get their SEO to the next level. 
3. Specialize With Your Core SEO Strengths
Target a niche market.
There are three advantages when you serve a specific group of people with your SEO services:
First, you get more inbound leads for your website.
Potential clients will see how specific you address their lead generation problems through SEO. 
Instead of an "SEO services" landing page, you publish a "Dental SEO NYC" page.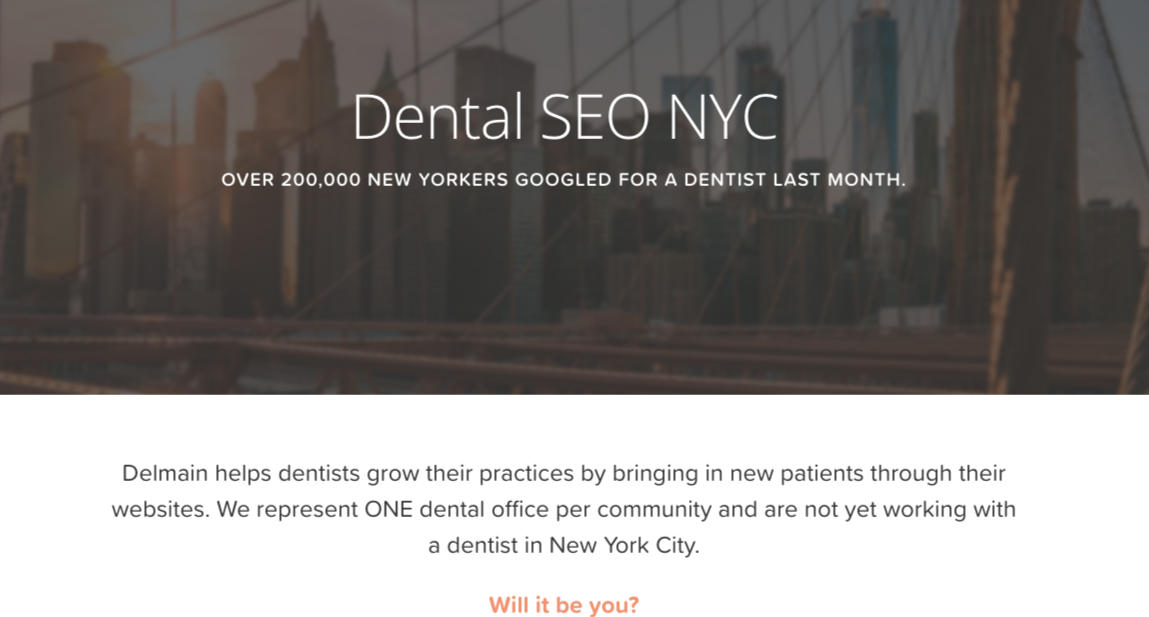 The message holds for the copy on the site, blog posts, social, and other branded assets. 
Second, you establish solid internal processes. 
When you constantly create an SEO plan for a specific target market, you can easily duplicate the framework or list of tasks.
The scale of information and your internal knowledge processes can help produce consistent quality results for your clients. 
Best for your team. You now have documented processes they can rely on to provide deliverables for your clients.
Third, you expand networking opportunities. 
If you know what vertical to target with your SEO services, you can go to niche-specific conferences/events.
This is where you can build relationships with your potential clients.
Getting SEO leads this way becomes easier as you're not simply pitching your SEO services but rather understanding their problems, struggles, challenges, and industry. 
Here are some examples of niche-targeted SEO agencies: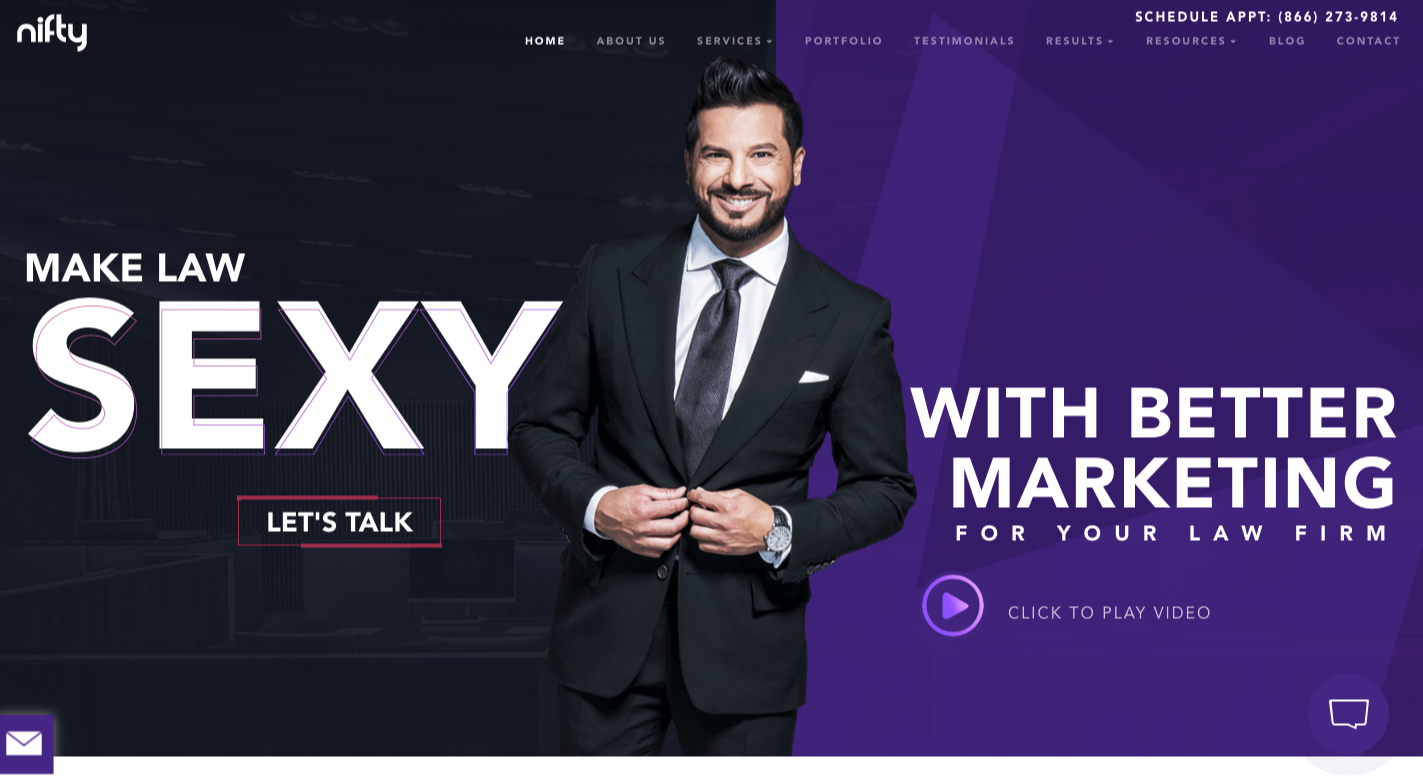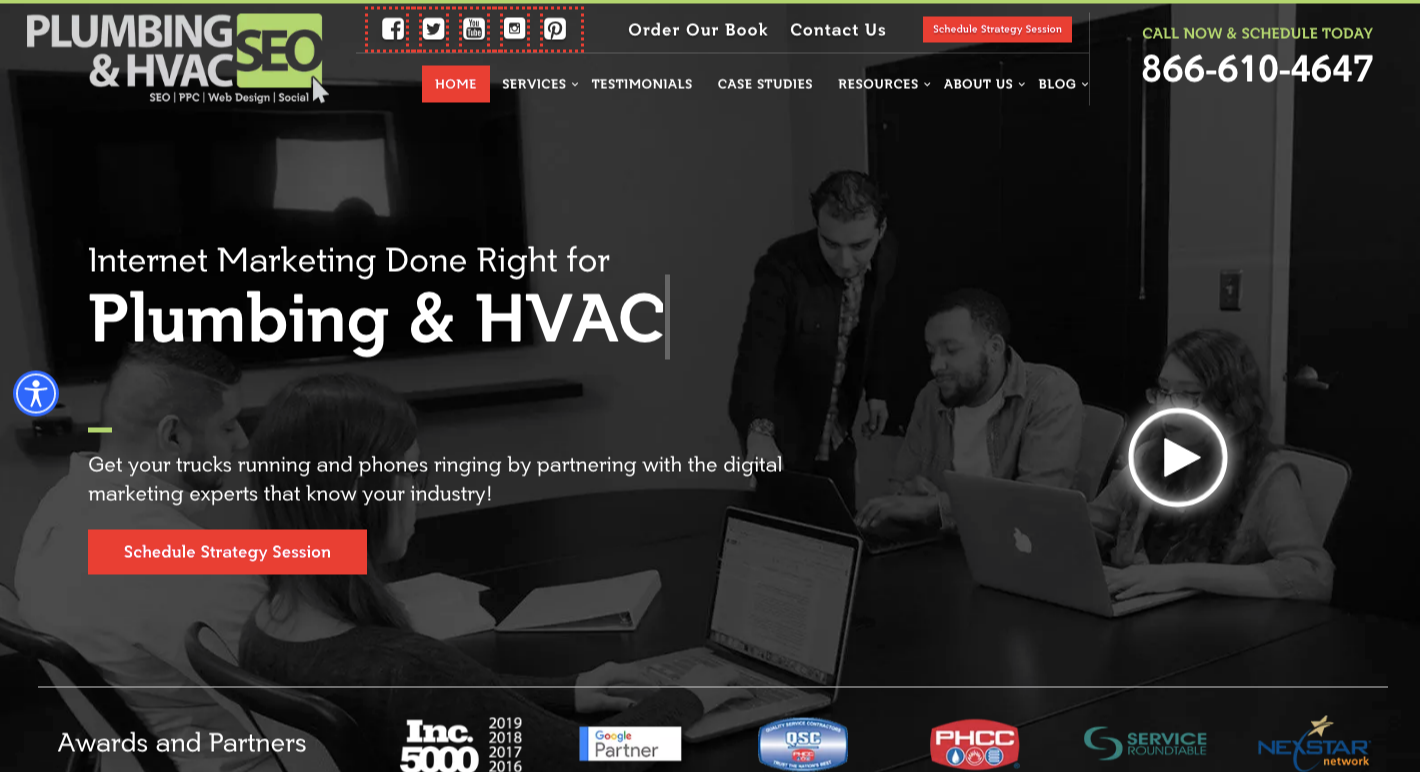 Below are some tips to help you identify what niche market you want to specialize in:
A. Start with your core SEO strengths and experiences.
Most successful specialized SEO agencies started getting clients from their past jobs either as in-house SEO or an enterprise-level digital marketer.
When you invested in working relationships capital, it will pave a long way for your SEO business.
Reason?
Your past colleagues will remember you and can pass along potential clients to you.
B. Identify which type of client/market gets a high consistency level of results
Many SEO agencies start with saying "yes" to all available opportunities, including all potential clients.
You don't choose which client to work with; you accept clients as long as they have the necessary budget for SEO. 
From time on, you get as many clients as maximum as your capacity. 
As you grow your client base, you now start thinking about the SEO campaigns you've handled.
Then you assess if there are any markets you've consistently been providing results with your SEO work. 
C. Check what client types/industries you like. 
Interests can be a good factor in determining what industry you'll specialize in.
The reason?
The more your interests grow, the more you can discover new opportunities to develop your SEO client campaigns. 
You get to find a similar scalable strategy for content creation and promotion through manual outreach.
Which would help you deliver outstanding results now and then.
4. Send Custom Videos In Emails Using BombBomb
You get deals closed with clients if you demonstrate value to them.
And the best way is:
By showing how you'll help them increase their bottom line as businesses. 
Instead of sending a sales pitch.
Like what anyone else is doing.
You show that you're a real person through video.
You record a video using BombBomb (which plays a quick GIF-style clip).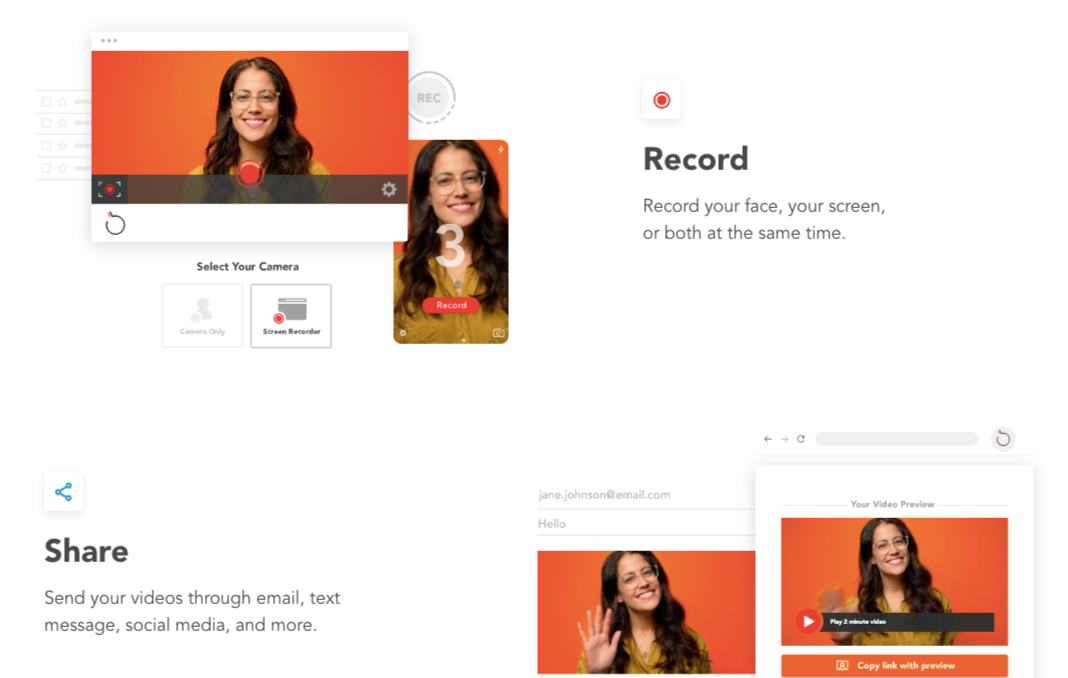 In that video, you include: 
The opportunity/problem they're facing.
Data explaining why SEO is a good channel for them.
Who you are and your value proposition (your credentials, client case studies, etc..)
What you can do next with their website.
Once you recorded the video, include it as part of your email. 
And one more thing:
You can insert a link directing your outbound prospects to a Facebook video that's relevant to your pitch. 
Then create a custom audience on Facebook Ads for people who watched it.
Retarget them with more helpful videos and/or case studies to get them through your sales pipeline.  
5. Organize Branded Local Meetups
Somebody says this best:
If you're not networking, you are not working.
It's good to attend industry events where you can meet entrepreneurs whose primary need is lead generation.
But there's more leverage when you organize local meetups. 
Conduct your Meetup to establish a brand.
While at the same time, build relationships with your target clients — e.g., eCommerce entrepreneurs.
Search Meetup and other networking sites for relevant meeting groups.
You may want to attend any of those meet-ups to see how they conduct sessions.
Then, create a strategy for how to come up with your local meetup. 
SEO Sydney Mastermind by James Norquay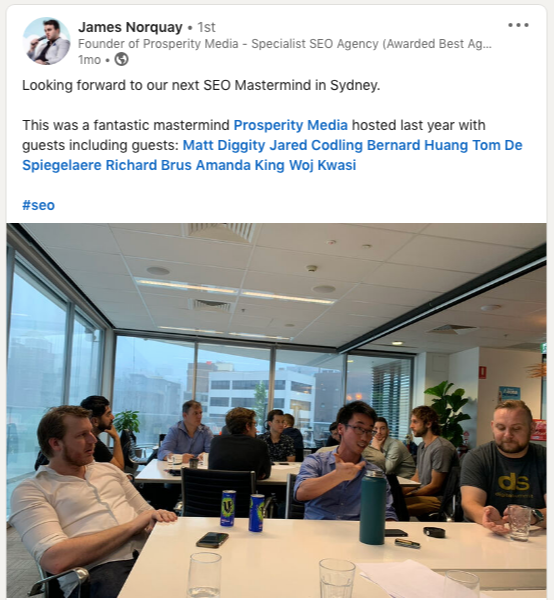 PeepCon Philippines By Glen Dimaandal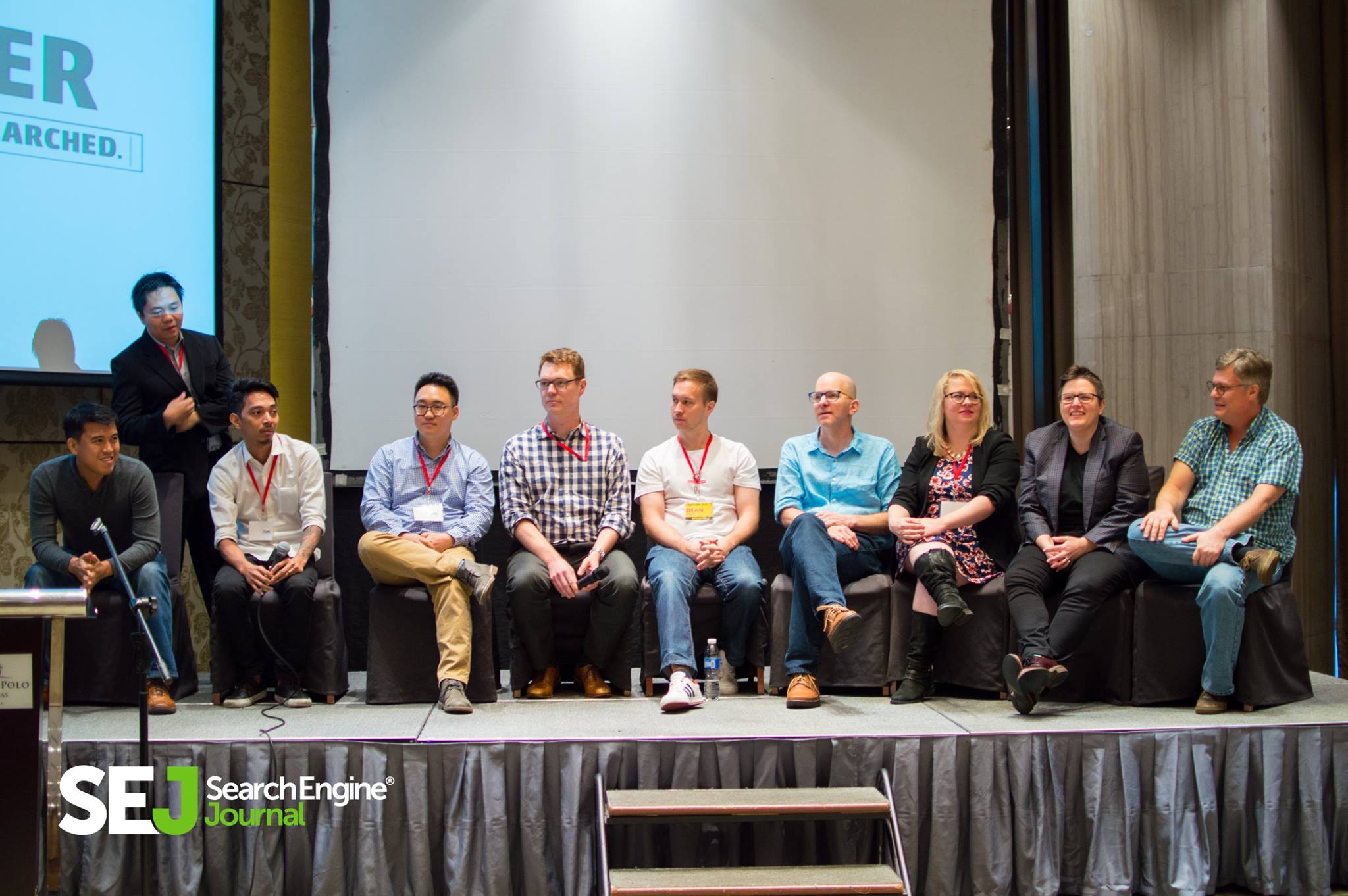 6. Educate SEO Leads With Evergreen Blog Assets
Educating is the best way to sell.
To move further your prospects.
From an eyeing client to a closed deal, you have to give them value upfront.
The way to do that is to publish content assets that will be useful for them. 
How is that possible? 
First, think about solving the problems your potential clients may have. 
It is best to make a profile of the exact customer. 
Are they a business owner, marketing director, in-house enterprise SEO specialist?
Next, if you already specialize in selling SEO services, either on a core SEO strength (e.g., link building services) or market segment. 
You may now have an idea of what topics to write about. 
For example, link building guide for lawyers.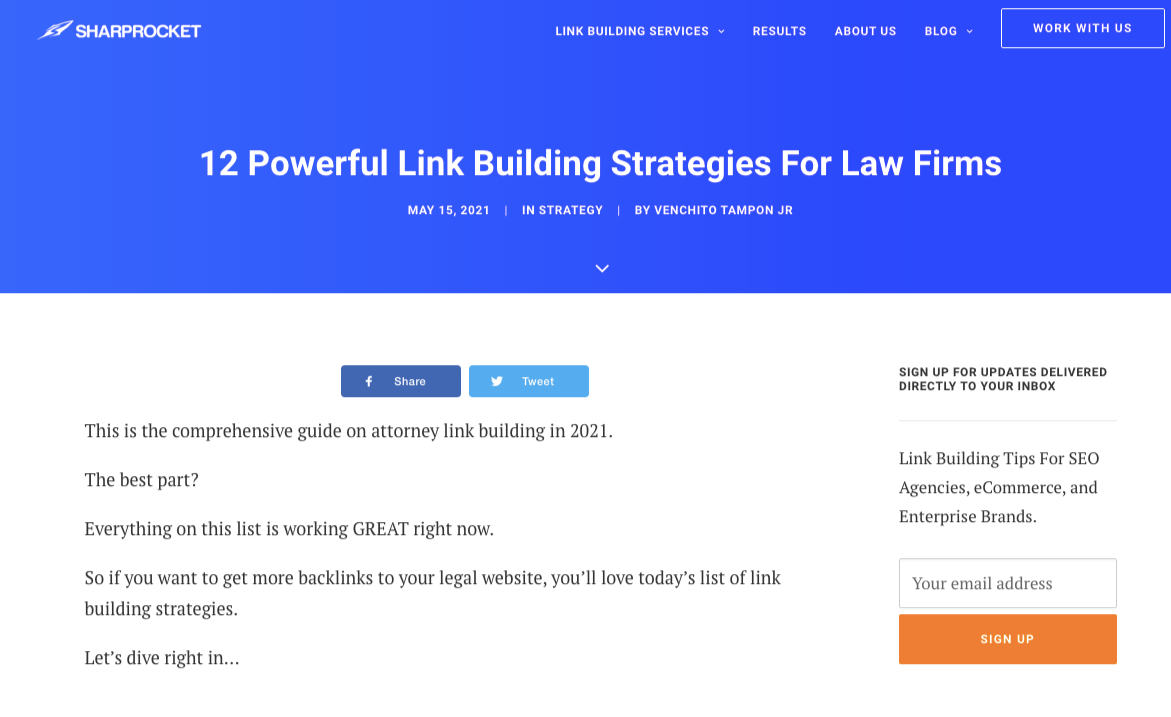 Consider the best format and style of content.
For instance, we usually publish evergreen content assets here on our link building blog.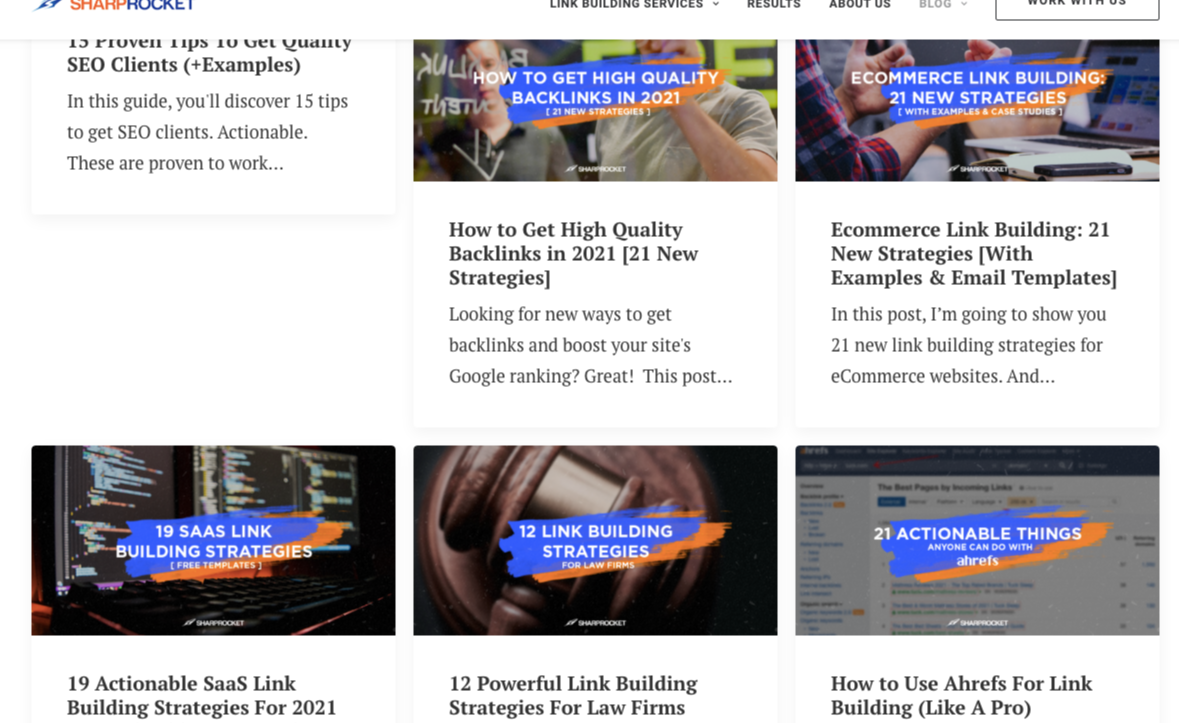 The reason is simple. 
We know that months or years from now, those guides will still be relevant to our target audience.
Plus, this type of content will eventually rank and drive leads to our business over time.
Case studies showing successful SEO campaigns are one variation you can make with your content.
By sharing results, would prove expertise in your industry. 
You may also look for frequently asked questions in SEO communities and forums.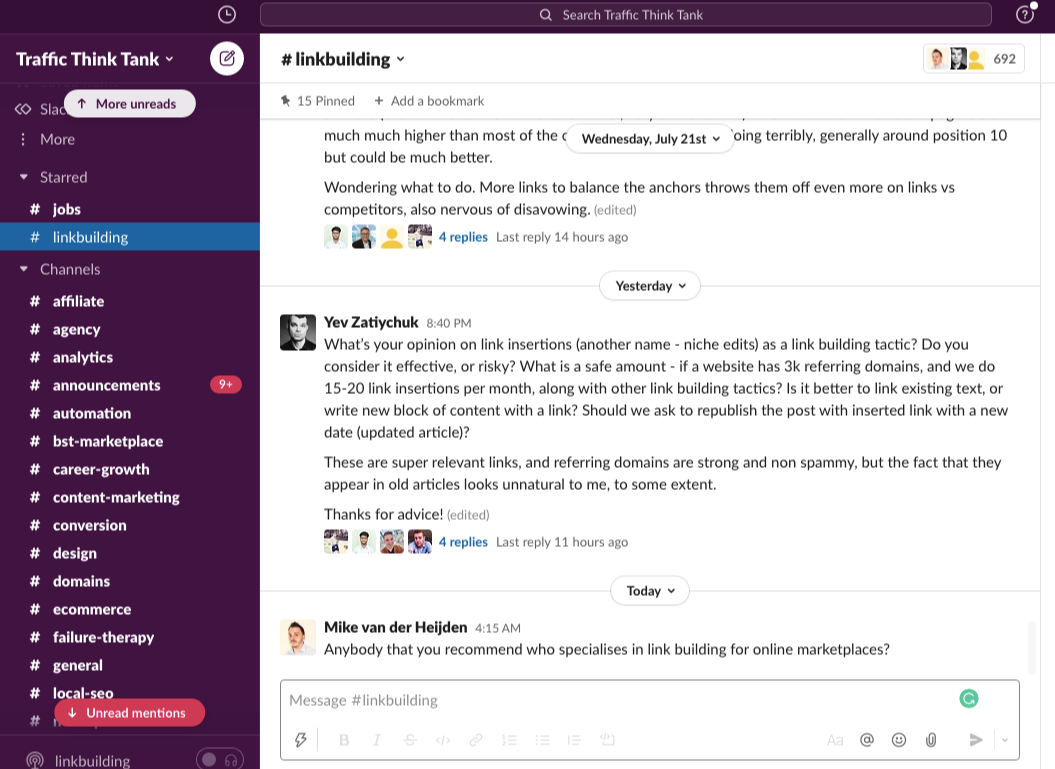 Answer them through your blog posts and use them as reference points to help leads and emails subscribers with their marketing challenges. 
7. Use "Growth Manager/Specialist" As Sales Position Titles
If you have salespeople:
One technique you can test to win good deals is by changing "sales position titles."
Some potential clients do have resistance when they see or hear "sales" from pitches and emails — while that would require that you test it out if it's true on your end.
So instead of putting "Sales" in the title, you can use something like "Growth Manager" or "Growth Specialist."
See for yourself. 
8. Create Strategic Partnerships With Non-Competing Agencies 
Business development is crucial to growing your SEO agency or consultancy.
Knowing who to partner with matters and growing based on those relationships can help you get more inbound leads you wouldn't otherwise expect.
One strategy here is to partner with non-competing businesses. 
For example, if you're selling SEO services, considering partnering up with:
Web development firms: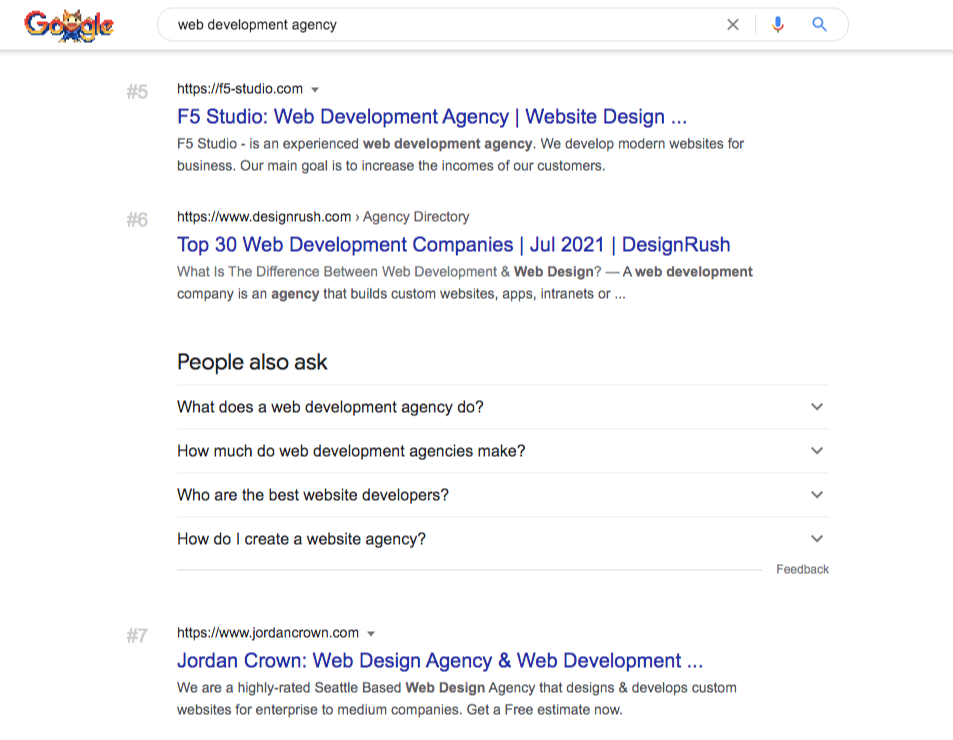 PPC agencies: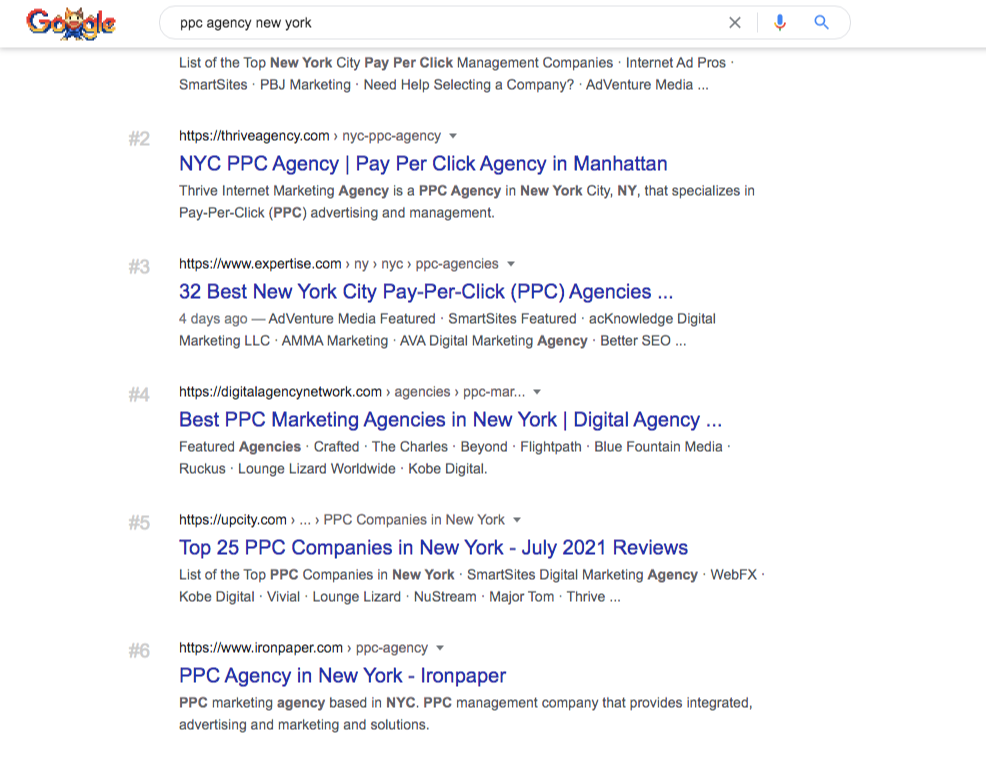 Branding agencies: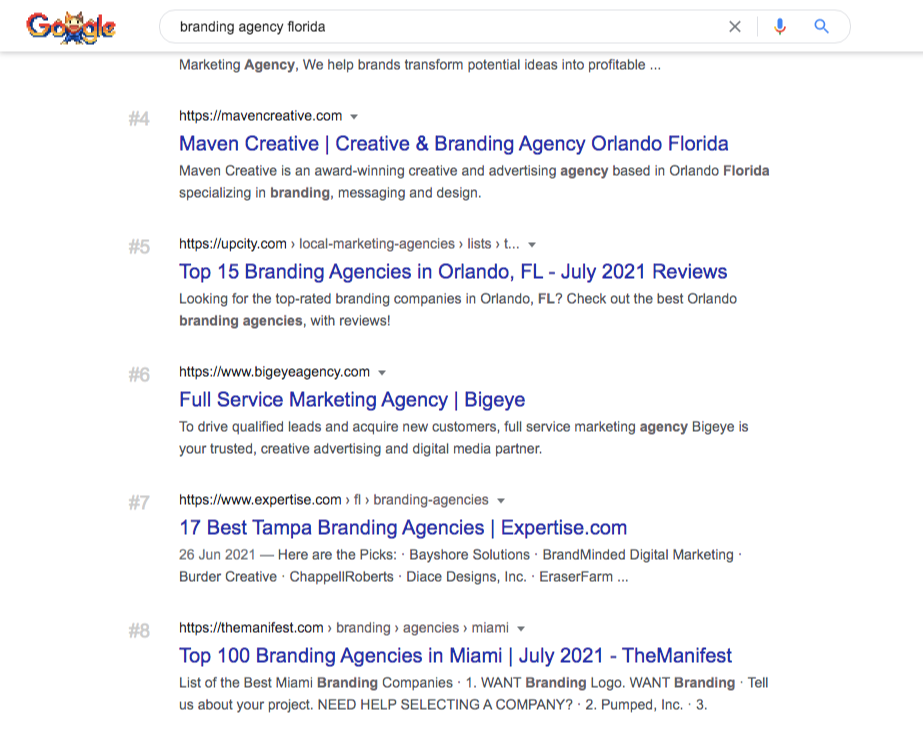 Because both of you offer different but complimenting services, you get the mutual benefit of passing along clients who might need the service the other party offers. 
Create a plan that mutually benefits you and the other party.
Reach out to them and let them know of your partnership deal. 
Then get a constant stream of inbound leads by doing this. 
9. Set Up Referral Program For Employees
Not only you'll get SEO leads from outside.
But from people inside your company (your employees) who will refer new business opportunities to your SEO agency.
Set up a referral program for your employees. 
Decide on your payment structures. 
Either on a percentage level:
For example, some SEO agencies give 10% on any retainer clients for up to 6 months. 
Or a 10% revenue share for the first year of the contract.
Or a subsequent percentage: 10% the first year, 8% the second year, 5% the third year.
Other SEO agencies provide gift cards or vouchers to employees who refer new clients to them. 
10. Invest In Agency Sourcing Platforms 
Some websites match businesses with their potential outsourced SEO agency or consultants. 
One good example is Credo.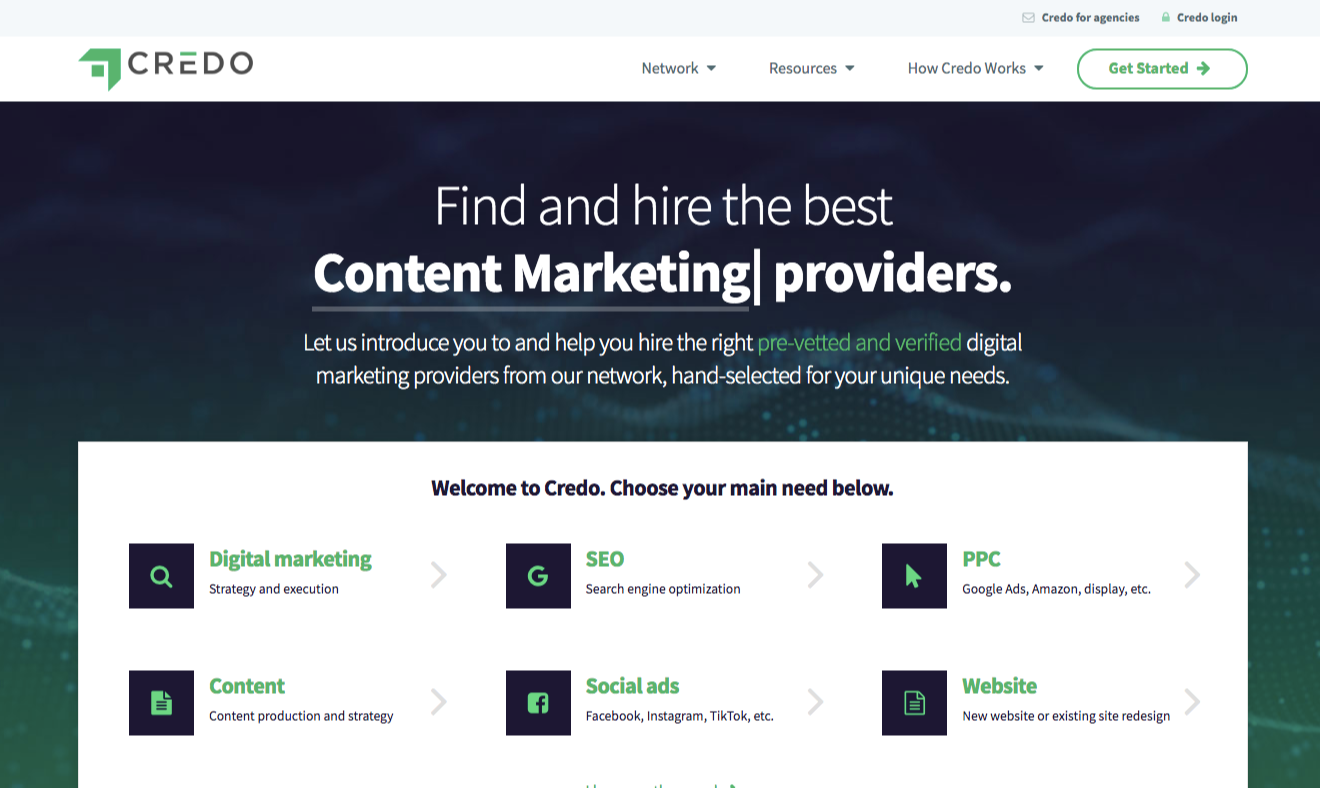 They introduce pre-vetted and verified digital marketing providers to businesses and individuals. 
With their Lead Networks Access for marketing agencies, you'll get notified of leads you access to. 
If you're consistently looking to grow your SEO client base, consider joining the Credo list of verified agencies. 
11. Protect Your Greatest Salesforce 
Do you know who your greatest salesforce is?
It's not your salespeople. 
It's your current and past (satisfied) clients. 
Other SEOs take for granted their clients.
How?
By not providing the results and not protecting their interests.
Even beyond SEO.
Building trust is more than half of the battle.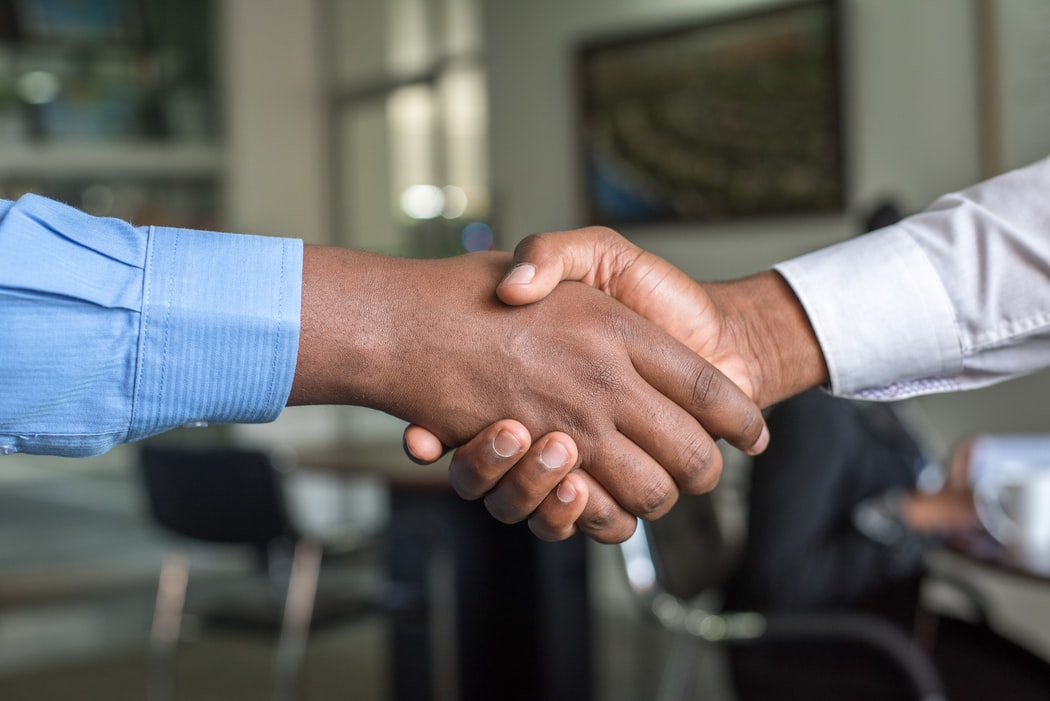 Whether they stop getting your services for some reason, you're still part of their radar.
They can get back to you for future potential projects or refer their networks in need of your help.  
SEO isn't known for the highest ethics.
But if you are ethical and can earn and keep respect with clients, especially for industries that sell professional services, like law and finance.
You get more business out of it by protecting your greatest salesforce — "trust." 
12. Attend and Speak At Events
Thought leadership is one of the highest leverage to get more SEO leads.
Because you're demonstrating expertise while at the same time building relationships with people who might need your services later on. 
How can you practice thought leadership?
Two ways:
Either you attend events. 
Or speak at events. Get invited or pitch to organizers looking for potential speakers. 
Public speaking can become your biggest driver of new clients with no prior connection with your SEO business. 
Start small with local meetups, dinners, lunch & learns.
Either speak to an audience in the SEO or digital marketing space: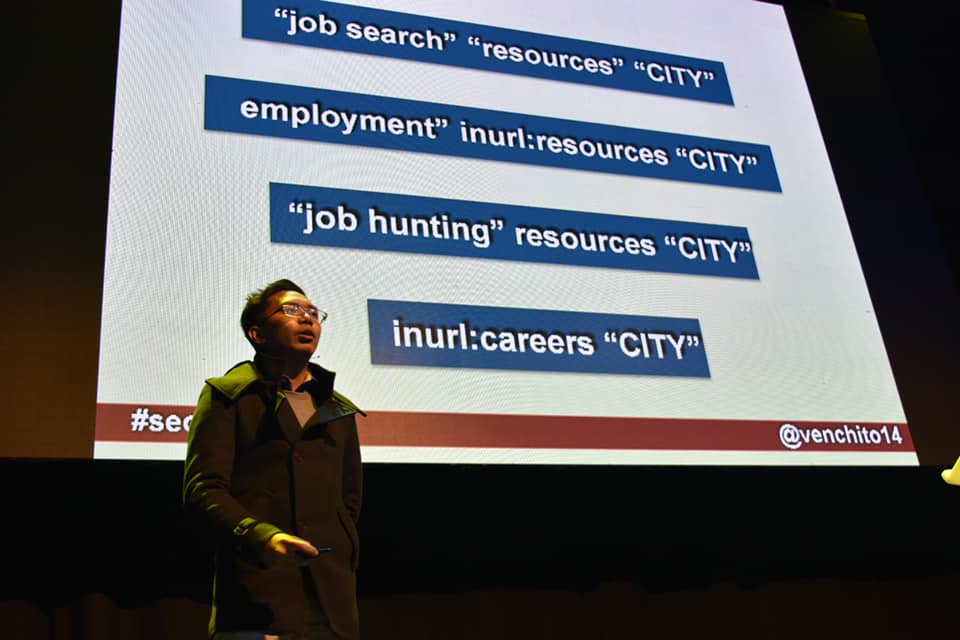 Or to entrepreneurs in a specific market.
When you speak, you position yourself as an expert.
It solidifies your credibility. 
As your speaking grows, your business grows as well. 
More prominent organizations will come knocking to get your services. 
13. Use Application Funnel As A Lead Qualifier 
Marketing funnels are effective in getting your leads to go through a process of learning about your business.
As they move from one step to the next, they get to see what your agency or consultancy can offer to them.
One marketing funnel that's been effective for high-ticket services (>$1500) is:
Application Funnel
The flow goes like this:

You show people a pure value webinar. 
Million Dollar Agency Webinar by Dev Basu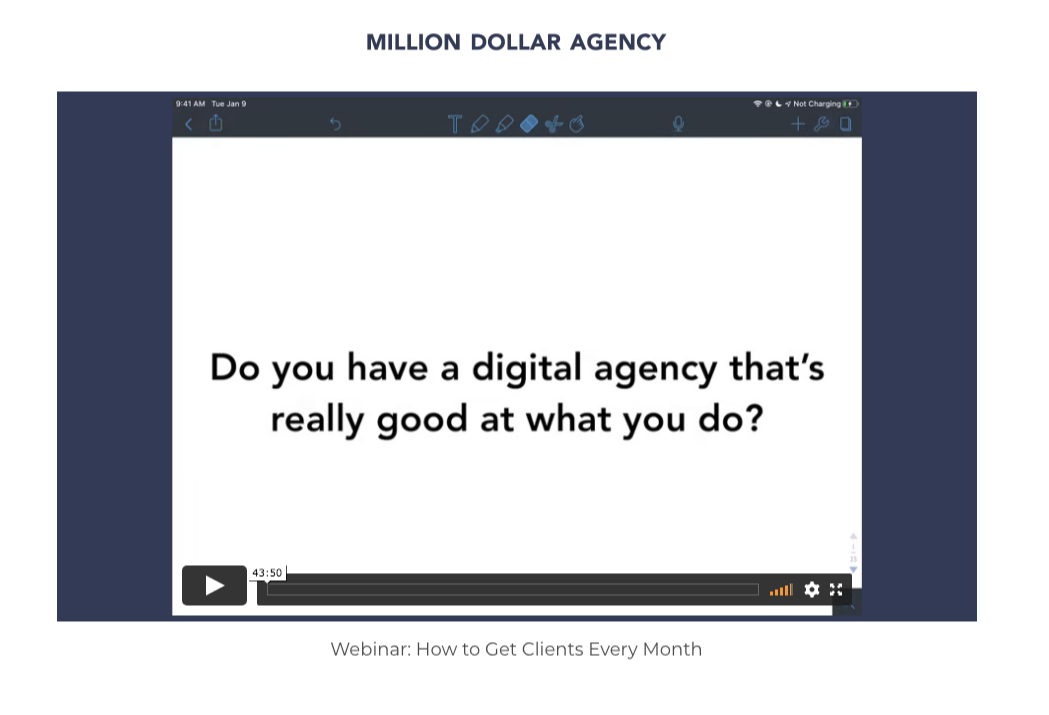 After watching it, they would go through an application process to see if they're a good fit for your business. 
Instead of chasing these potential clients, you now have control over which client you'd like to work with.
At the end of the application (if they seem to fit your target customer), they'll be able to schedule a strategy session with you.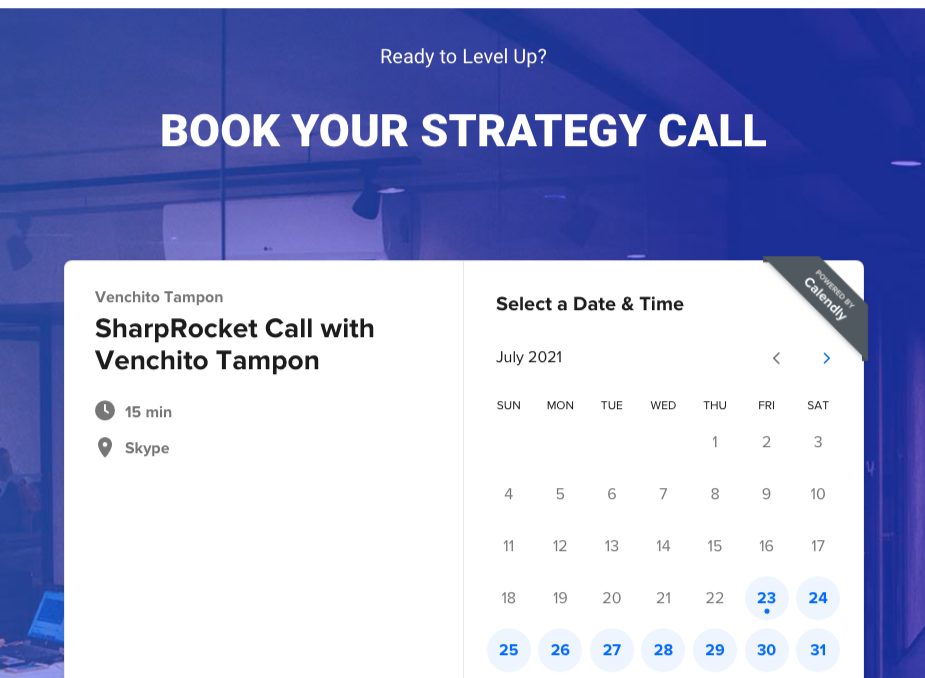 During this session, you walk them through your framework of moving their business to the next level in terms of SEO. 
From there, you may send a proposal that suits their needs.
Then have the next meeting if everything goes well on their end.
Client win. 
14. Develop A Win-Win Referral Program For Existing Clients 
External commissions are best.
But add more — internal commissions.
Set up a referral program for your existing clients.
Make sure it benefits the referee (you) and referrer (client). 
Either has a specific payment structure: 
Percentage model — 10% bonuses towards the retainers (based on the new client's contract value). 
Or have a higher rate but with a shorter length — 20% of the monthly retainer for the first three months. 
Some agencies have complex computation:
10% on month 1, 5% on month 2 to 6. 
Either of these options works.
You should decide on a commission structure that best suits your model. 
15. Apply "Strategic Linkedin Engagement" Strategy 
Linkedin is an excellent place to get SEO leads.
Not that you spam any potential client with your pitch.
But with a strategic Linkedin engagement strategy.
The tactic goes like this:
You add connections from few juniors from the potential client (company) you want to pitch.
Then add later the senior contact (manager, director, etc..). 
That way, your connection request appears that you know a few that's part of the organization. 
You can simply just jump in and send a short message to connect to them.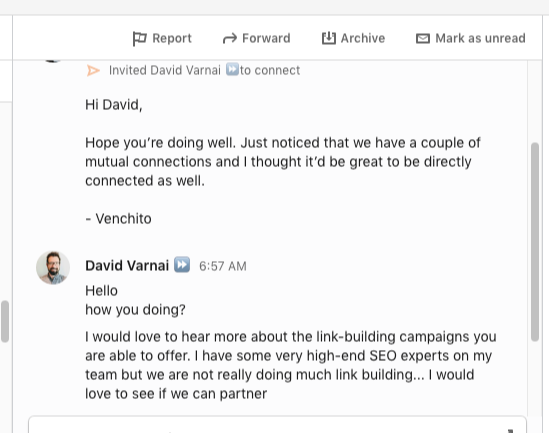 Bonus #1: Strengthen Your Current Networks 
Your networks are critical to your success.
That includes your past workmates who have gone in-house in different companies. 
Given that they know you when there's a need for SEO from their respective, you are one of the first people they'll have in mind. 
This takes time.
So you need to hustle and always be connected with your past colleagues.
Strengthen your networks as you work in and out of business.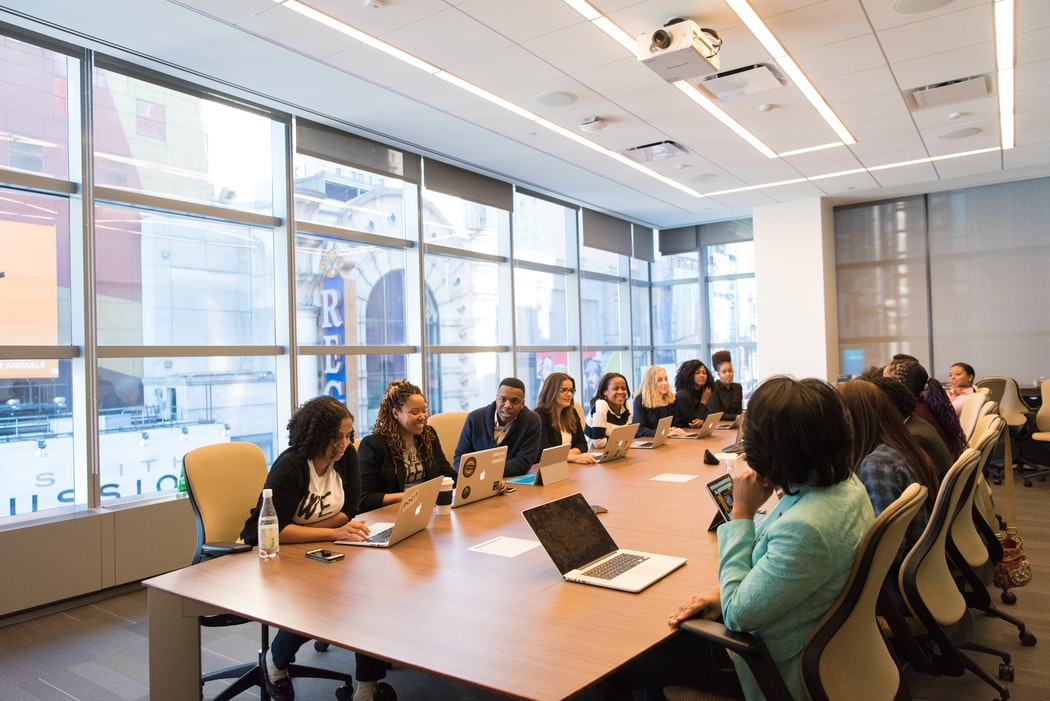 Bonus #2: Give Value Natively On Social Media 
Social media shouldn't be an environment for spamming people with your services.
It's a marketplace value.
Therefore, you should know how to create content (posts) to add value to your target clients. 
You can follow great companies publishing great Linkedin posts.
Like Gong:
And Ross Hudgens of SiegeMedia:
And see how they accumulate followers, and expand their reach through their high-value content. 
Your Turn 
Which tip you'd like to try first?
Will you include "customer success stories" in your next cold email outreach?
How about setting up a referral program for your employees?
Let me know in the comment section below. 
How our LINK BUILDING AGENCY builds 250 links/mo consistently using Predictable Link Building Methodology™…
Using a SIMPLE and PROVEN system

Using a SCALABLE strategy
No private blog networks
No creepy outreach emails
SHOW ME THE FULL LINK BUILDING STRATEGY