What are inbound links? 
Inbound backlinks are links from a page of another website pointing to your site. Also known as backlinks, but people add the word, "inbound" to refer to links coming from other sites and to differentiate it from links through pages within the same website —known as internal links.
Among the 1 billion web pages studied by Ahrefs, 90.88% of these pages don't get any traffic from Google search.
There are hundreds of SEO issues that keep those other 9% pages away from ranking well in Google, but Ahrefs shared two most common scenarios:
The page doesn't have any backlinks (inbound links).

The page doesn't target a topic with enough search traffic potential
Imagine if you know how to get inbound links to your site, you'll be better off than the rest of the articles and other types of pages published every day.
So…
HOW TO GET INBOUND LINKS TO YOUR SITE? 
1. Discover ways to promote your underpromoted and underutilized content assets
You may wonder why I didn't start with "create great content!".
Here's why:
The truth is if your brand has been around for a while, you may have published several content pieces that if you take a quick look may have just shared socially, got a few links, but never maximized to get much more inbound links.
These are your underpromoted and underutilized content assets.
Tim Soulo, CMO of Ahrefs in his latest presentation at Pubcon shared a recent study they conducted with backlinks of ~100k random* domains. They found out that in their sample size, 77.6% of domains had less than 30% are added links.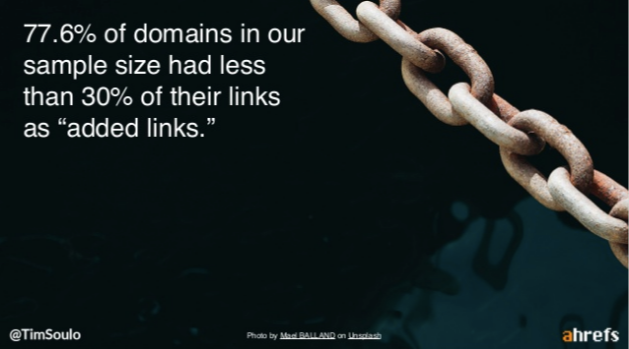 Added links, meaning these are links that were added to a referring page after more than 3 months since the page was published.
So if your content got additional backlinks after 3 months, those backlinks were considered as added links.
This posed a problem to many content pieces published in every industry. Some of them don't get much-added links after months of publishing.
How to Solve This Issue?
Identify your underpromoted & underutilized content assets. These are pages that have gotten a few links in the past but are evergreen and can still be promoted through manual outreach to earn more inbound links.
You can use Ahrefs for this quick execution (Ahrefs – Top Pages).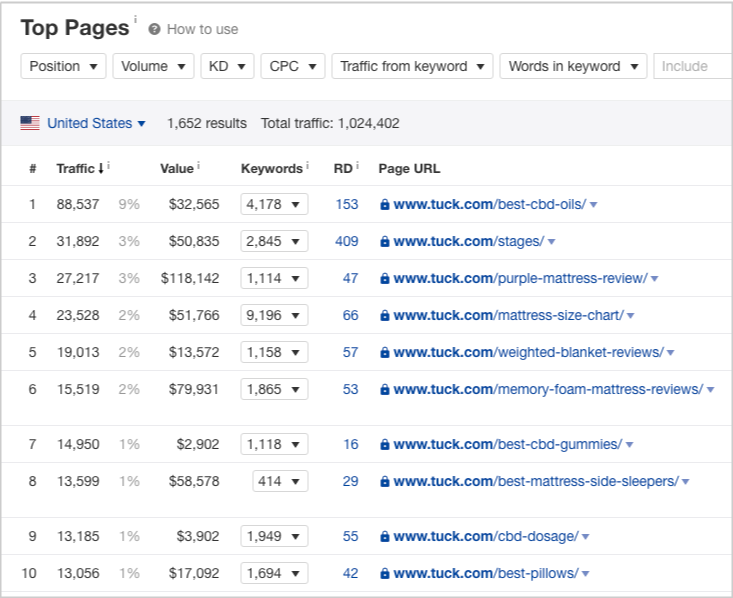 The best way to quickly get the pages that you need is to export the file.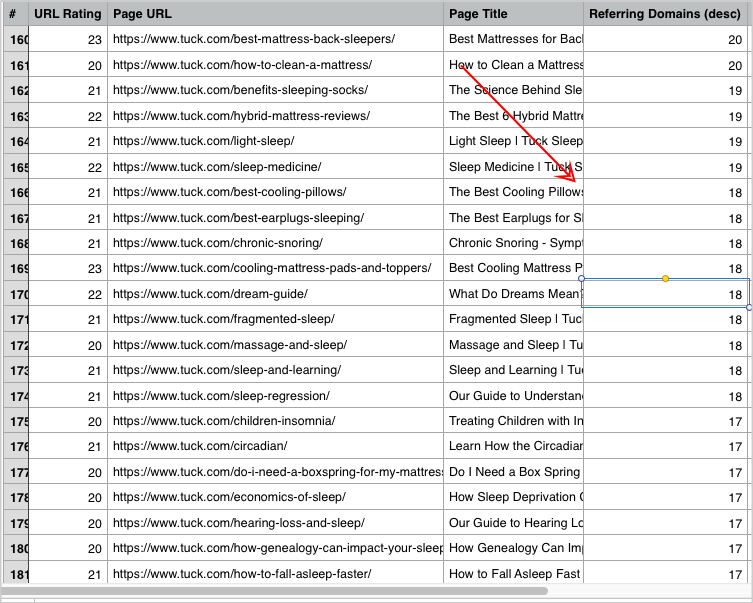 You may go further in filtering by only looking at pages that have been published three months or so. Filter the pages by First Seen column.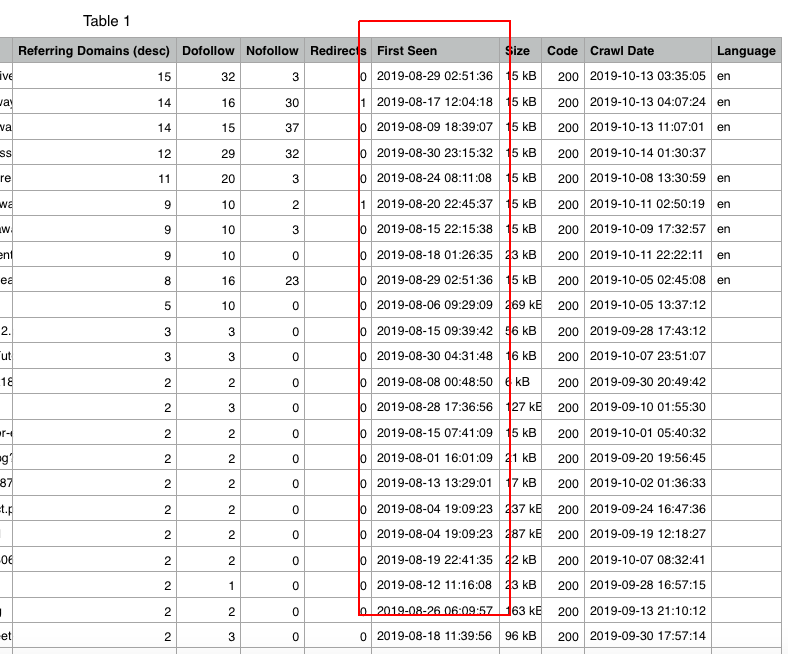 The pages that you currently have may be a mix of sales and informational content. Sort out content assets purely for information.
Once you have underutilized & underpromoted pages at hand, here are some recommendations you can take.
Check the existing links pointing to your content. Understand some patterns of the types of links. Are those links are mostly resource page links? Are they referenced in other articles, as guest posts? Do those links are pretty much contextual links?
DISCOVER PATTERNS IN TYPES OF LINKS
By understanding the type of linking your content asset (or your client) has gotten into, you can devise your strategy around it. For example, if you have links mostly coming from resource pages, then you can create another round of resource page promotion for that content piece. That's how you get more inbound links to it.
CHECK THE EVERGREEN TEST OF CONTENT
In order to get more inbound links to your content piece, the page has to be updated to its current standing in information. If the content you've created is evergreen — can stand the test of time even after months of another set of promotions, you'll likely get more positive responses in content promotion.
Check the content for the evergreen test. Upgrade it as much as you can with new relevant information.
OPTIMIZE FOR NEW RANKING KEYWORDS
Look for new keywords your content piece has been able to rank for. Using Ahrefs or Search Console, you can quickly check for new ranking keywords. By optimizing your content for those new topics, you increase the search visibility of your content for new opportunities.
This increases your chances of getting organic links from people who might have found your content in Google and source it as references to their content works.
ENSURE CRAFTING A NEW OUTREACH TEMPLATE
In many cases for link builders trying to re-promote a content piece often ended up with much lower response and outreach placement rates as compared to their first set of outreach campaigns.
Here's why:
They haven't taken the time to review what works and what doesn't with their initial email template. They send the same email template to their new prospects — where some may have been part of their initial batch of possible linkers.
The key to making sure you get the most out of your next outreach campaigns is to improve your outreach templates.
You may check out these guides on email outreach tips and outreach best practices and Gmail extensions for outreach.
2. Reclaim links to your content
There are pages that have mentioned your brand, your name, and any content piece you have developed for months and years.
What you need to do is to reclaim links from unlinked mentions.
I've written a whole new guide about link reclamation on this link building blog. But here's a good summary of tips you can easily apply to your campaign:
Track your coined terms of your brand using BrandMentions or Mentions, and reach out to those people who've mentioned them without giving you links.

Use reverse image search tools like Tineye to find blogs and publishers who used your visual assets. Reclaim links using manual outreach.

Find footprints of pages where your own short-form text was referenced (e.g. quotes from your company staff, statement derived from data, or your own short definition of terms).
Monitor your content, whether it's a visual, coined phrase, short-form text, or any branded content that's worth referencing to. Reach out to publishers who've sourced them out for their own content works, and ask them to credit you with links.
3. Target local pages for inbound links
You may not be getting quick inbound links on a global or national scale, but if your audiences are in the local scene, you can think of ways to execute a local link building campaign.
I've covered seven hard-hitting local link building tips in one of my posts. But here are bite-sized tips to get you started with them.
If you have job portals or pages for niche-related job positions, you can get inbound links from local niche job resource pages.

Develop localized visual data from valid statistics sources in your vertical and promote it to local publishers.

If you're in the local real estate niche, you can acquire resource inbound links from summer or off-campus housing city pages (simply do outreach to them).

Serve frequently-search queries with local content (i.e. street occupancy, moving permits, local neighborhoods, helpful moving tips, things to do before you move to another city, resources for landlords & tenants, voter registration, address change, etc..).
There are many other local link building strategies, some of which are highly niche targeted. Here are some good readings for you.
Further Reading:
HOW TO CHECK INBOUND LINKS TO YOUR SITE [TOOLS YOU CAN USE]
It is important to know who links to your site to keep track of the results of your link building campaigns.
While there are intangible outcomes you can't quantify and monitor quickly like brand impressions, a number of connections built throughout the entire outreach process, the number of inbound links you've generated in your outreach campaign gives you a quick rundown of the campaign performance.
To check inbound links to your website, you can use this finest tool, Ahrefs. It has a free version you can immediately try today.
I'd recommend their paid subscription because it unlocks their best features and provides more data about your site's inbound links. You can check out our own tool review of Ahrefs here.
Disclaimer: I'm not an affiliate of Ahrefs.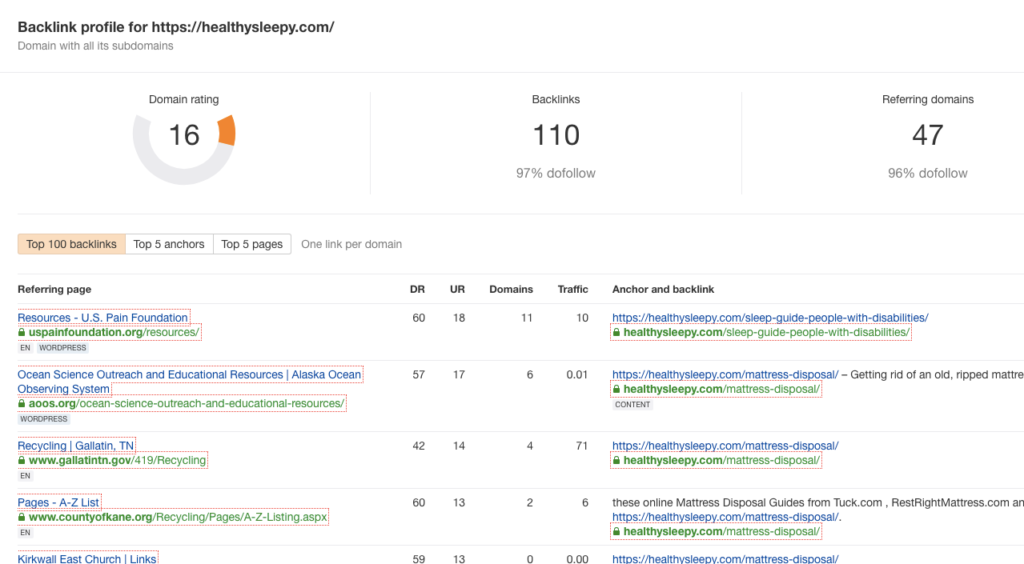 Another option is to use the Search Console. Go to Links and there you can export external links. The list may not cover the majority of your links, but it will give you enough rundown of your inbound links.

Have We Been Helpful?
Want to increase your inbound links to your site — or you don't where to start?
We are here to help you. SharpRocket is a team of link building specialists who love building high-quality links.
To learn more about how we can help, take a look at the link building services we offer.
How our LINK BUILDING AGENCY builds 250 links/mo consistently using Predictable Link Building Methodology™…
Using a SIMPLE and PROVEN system

Using a SCALABLE strategy
No private blog networks
No creepy outreach emails
SHOW ME THE FULL LINK BUILDING STRATEGY