Knowing who links to your site gives you a starting point in your link building.
If your website has been around for a while, you want to know the sites interacting with you. Those are the brands that can become your company partners, future advocates, or content collaborators.
There are many ways to find who links to your site, but here is one great tool to get you started.
AHREFS SITE EXPLORER
Ahrefs is by far the world's largest backlink index with a total of 15 trillion (it has more than that I guess).
Knowing that gives you the confidence of finding all the recent and finest links pointing to your site.
Ahrefs' Link Explorer gives you a wide array of information, including the exact referring page where the link is placed, potential traffic the site might bring to your site (Traffic), and the anchor text used on those links.
The good thing is you can use Ahrefs' Backlink Checker for free.

For example, if I want to know how many links are pointing to this website, www.healthysleepy.com I'll simply enter the exact URL to the checker, and click the "Check backlinks" button.

This opens up a data of information called backlink profile.
Before I go to what comprises backlink profile. let's see the numbers initially seen.
As you can see, the domain rating is 16. I sourced the exact definition of domain rating from Ahrefs , if you're not familiar with Ahrefs' Domain Rating.
Domain Rating is a proprietary Ahrefs' metric that shows the strength of a target website's total backlink profile (in terms of its size and quality). DR is measured on a logarithmic scale from 0 to 100, with the latter being the strongest.
There are 110 backlinks pointing to the site (answering how many links to my website?), with 97% of those being do-follow backlinks.
Forty-seven (47) referring domains from 110 backlinks are 96% do-follow.
The good thing with Ahrefs is that it gives you a rundown of the numbers that you need to know in a backlink profile.
Now, let's have a look at who links to your website.
AHREFS SHOWS YOU WHO LINKS TO YOUR WEBSITE
Scroll down the page, you'll now see who links to your site.
In our given example, U.S. Pain Foundation, Alaska Ocean Observing System, Gallatin, and Kirkwall East Church are some of the brands linked to HealthySleepy.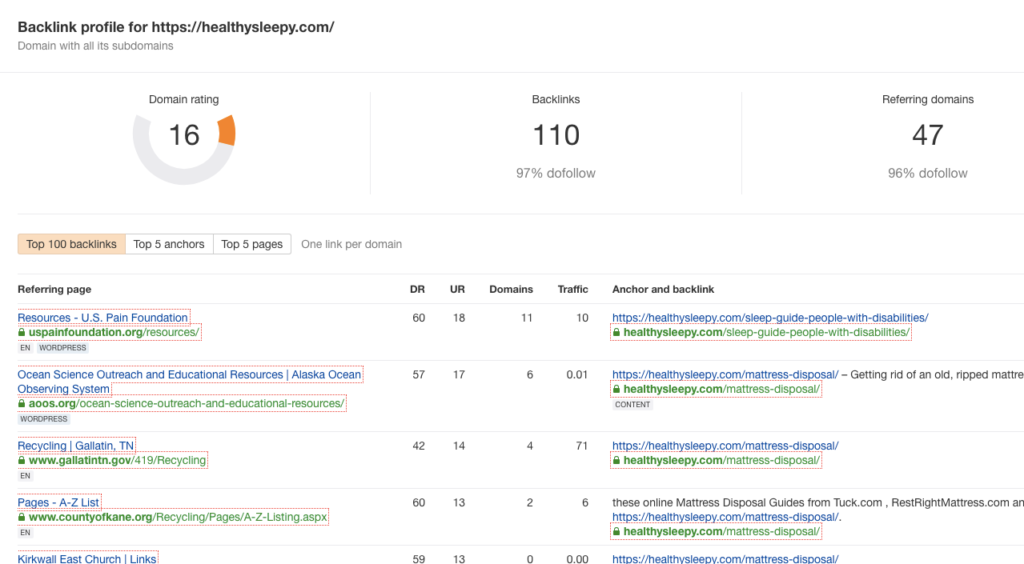 There are a lot more if you scroll down-its up to 100+ backlinks. However, Ahrefs can only show you 100 of the backlinks. If you want to see more, it will require you to subscribe to their starter package tool.
Nonetheless, it's a great free tool to know who links to your website.
WHAT TO DO WITH WHO LINKS TO YOUR WEBSITE?   
Now you know who links to your site. The next question to answer is what will you do about it.
It's one thing to have a list of pages/websites linking to your brand's domain. It's another thing to do something with the list.
Here are some tips you can apply to make the most out of your list.
1. Try to understand why they linked to you
This may sound absurd. But there's a way to know the reason why the owner of the site/page linked to you in the first place.
For example, a contextual link (a link placed within the body of the content) is an indication of many things such as:
The content publisher, blogger, or writer found one of your articles on your blog worth referencing, so he/she mentioned it and credited you with a link.

The curator of another website listed your product in one of the recommended products on a specific category, with a link on the anchor text.

The writer quoted one of your statements on a press article with a link pointing to your about me or your staff page in your company site.
There are many other reasons why you were able to get the link.
If the brand or website who linked to you is someone you're familiar with, it would be easier for you to know the reason for linking – either it's from a previous relationship or partnership both of you are involved in or because of the value of the content piece you've provided on your blog.
If you understand the reason why your existing linkers linked to you, you would be able to get multiple links from the same set of linkers as well as replicate the same strategy to other possible linkers in order to acquire the same type of links.
2. Start collaborating and connecting with your linkers
It's a myth in link building that all who are linked to your site differ in their needs and context. The truth is your existing linkers may have a common need and reason for linking.
If you can nurture relationships (because you probably had connections with them already), you are opening doors of more linking opportunities. These opportunities may not be always coming directly from them, others would be recommending your site/brand or any offering you had to their peers or circles of networks.
If you know the email addresses of your linkers, you can send them individual messages with thank you notes, particularly if the links you acquired are organic — meaning you didn't do anything, even a manual outreach, to get the links.
You want to have a group of serial linkers. Joshua Hardwick of Ahrefs calls them as such because these are the people who've linked to your site multiple times.
In fact, you can actually see who links to your site many times using the top linking sites in Ahrefs.

3. Brainstorm what works for your brand's content strategy
You may have published several content pieces that have gotten you enough links to track (who links to your site as we know).
Interestingly, you would discover patterns of content that work for your brand and have provided great value in your industry — which allowed you to acquire links to your site.
You want to know the type of content that works for your site because finding the pattern gives you insights into your next content marketing plan.
Enter the URL of your site and go to Ahrefs' Best Pages. This will give you a rundown of your site's top pages sorted from highest to lowest incoming referring domains.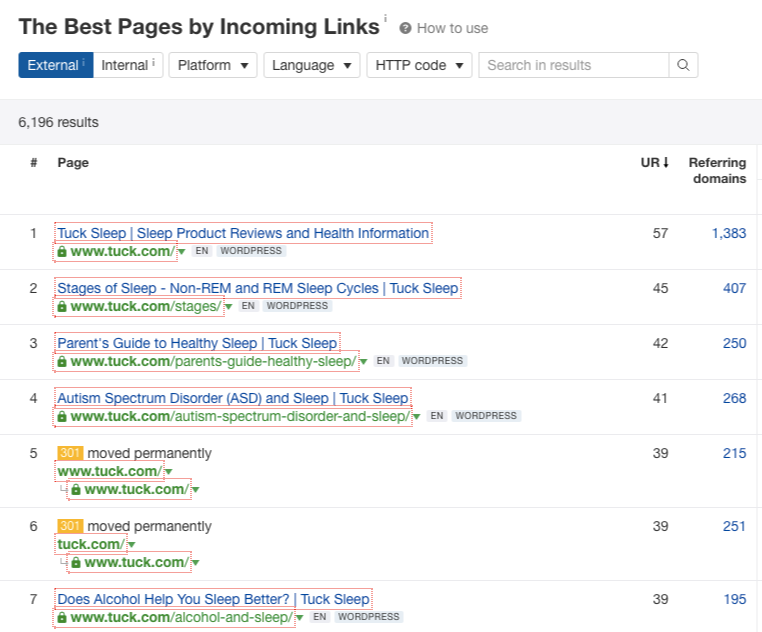 Study the pattern of the type of content that gives you the most number of links. If you are just starting to build your own brand and haven't been involved much in link building, I recommend you do this methodology first to your competitors.
See what works for them in terms of a content type. Replicate it to your brand if it's feasible according to your brand's resources.
4. Fix broken links to your site
By tracking who links to your site and your best linkable pages, you may find a few or a couple of your pages to be broken (404).
If those pages have links pointing to them, they're a must to be reclaimed.
Otherwise, your previous efforts to build links to those pages may be forfeited somehow and you don't want those links to be missed.
What you need to do is to identify your site's broken pages. Filter your best pages by incoming links to only give you 404/broken pages.
Check each page and decide what options best work for it.
Either you redirect the dead page to a more relevant functional page or ask linkers to link to another working page relevant to the dead page.
There's no best option. It depends upon the situation. The first option is easy as it is something you can control; the second one might require you to send emails to all linkers. Take note that you won't be sure of the response time and modification of your linkers if you choose the second option.
WHO LINKS TO MY SITE IS THE INITIAL TOUCHPOINT
Having the list of pages linking to your overall site or to only one page is the first initiative. The next step is to understand why they've linked to you in the first place — in order to replicate the same approach to your next set of actions or do the same thing to your other sites.
Feel free to comment below if you have any recommendations on what to do with the list of pages that have linked to the site.
How our LINK BUILDING AGENCY builds 250 links/mo consistently using Predictable Link Building Methodology™…
Using a SIMPLE and PROVEN system

Using a SCALABLE strategy
No private blog networks
No creepy outreach emails
SHOW ME THE FULL LINK BUILDING STRATEGY