The blogosphere in the music industry is increasing as new bands, independent artists, musicians, and solo songwriters are paving their way into the music scene and building their own personal brands online.
Consumption of music content is no anymore out of reach. Just a few clicks away and anyone can discover new musicians and bands — people can start clamoring if the content (songs) are appealing to its target listeners.
Though there are massive opportunities for upcoming and promising artists and for existing established bands, music creators still don't know how to market their own content online — even more so acquiring additional brand impressions through mentions and music backlinks.
The list of tactics I've shared in this post on how to build links to music Ecommerce websites can also be applied to websites of independent artists, bands, and musicians.
There are only some nuances given that the discovery is more through branded searches (as people know specific names of bands and artists) before they even do some research about it. This is in comparison to the basic process of discovering new entities through informational pages and starts with searching of informational keywords.
Let's look at some sources of content creation tactics and link opportunities for musicians' websites.
CONTENT FOR BRANDED SEARCHES
For musicians — solo artists, composers, and bands, you can maximize searches about your musician profiles. These are searches for any of your content — your album names, song names, lyrics, performance and other event dates, interviews, and a list of band members.
Identify any content gaps — where a keyphrase has a substantial search volume but without any content piece that serves the intended search.
Create new pages, if necessary, to serve the searches' needs, as those visitors who may be searching would have just been getting information from third-party websites.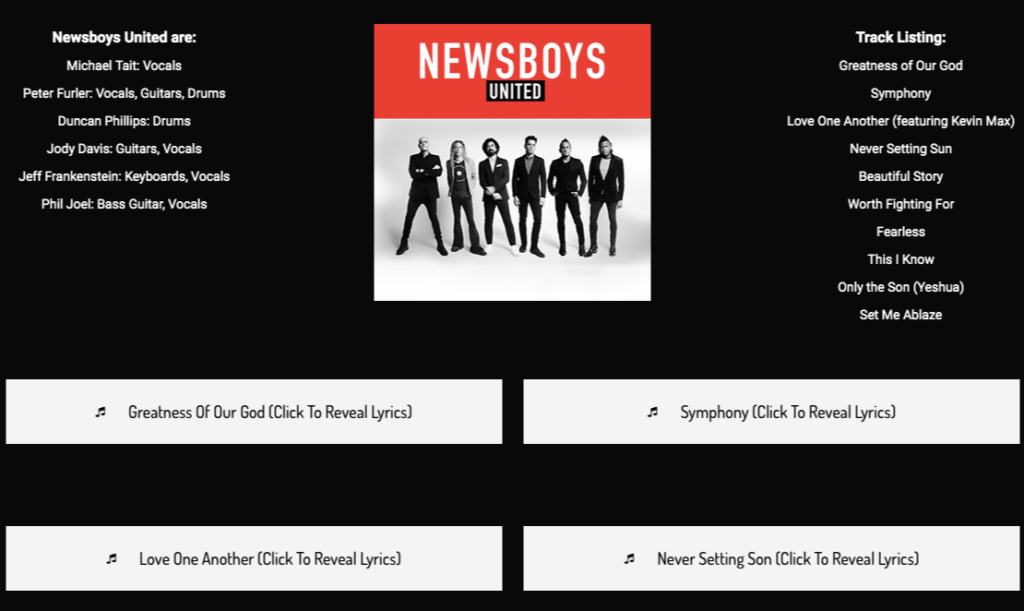 Maximizing this exact opportunity is a great way of not only getting more organic traffic but nurture your visitors into potential loyal listeners through some series of information-capturing funnels.
LINK RECLAMATION
Whether the client is famous or not, people who are working behind marketing musicians' websites should start monitoring any mentions of the brand. It doesn't just help in maintaining positive sentiments about the personality, but also in ensuring that there are appropriate links deserved those profile mentions.
The idea is to discover blogs and websites where you and your content have been mentioned, but with no attribution of links.
Create a list of possible mentions of you. Obviously, band or musicians name, titles of albums you've released or plan to release, and song titles — these are things you should start monitoring as often as possible.
Go beyond those immediately apparent searches. You can list down any misspellings of your brand name, one or two famous lines of your songs (chorus maybe), and tour titles (different from song/album titles).
Take a look at this resource on link reclamation.
PRODUCE AND PROMOTE VIDEO CONTENT
Though fans are commonly uploading their own versions of you or your band's live performance events, the idea of capturing it yourself and publishing it on your site and video channels helps you add more solid content assets to your site and to other video platforms besides Youtube.
In addition to the demands for videos of live performances, you can search for any common searches about your brand using Ahrefs' Youtube search. By using the tool, for example, it can help you discover songs that get high demand in searches for lyrics.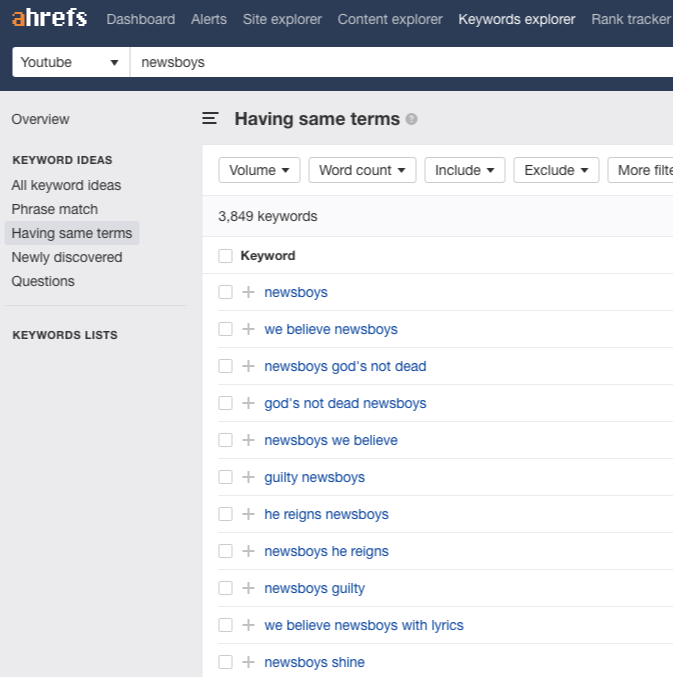 People want to sing songs while looking at the lyrics. Publishing lyric versions of your songs is a must nowadays – helping you gain an additional following from that type of avid listener.
Additionally, there are listeners who knew how to sing the song but would want to find the exact title of it. There may be a lot of search volume for a single song. Single lines in chorus that are popular can be served with a specific section of the page (or could be targeted in other lyrics pages).
Another search suggestion (or already a search option) is popular live performances or any associations you or your brand has with. Go over and check in Ahrefs' Keyword Explorer Youtube filter to find these relevant searches and upcoming/suggested search phrases.
PUBLISH EXCLUSIVE CONTENT
You may also create your own exclusive content and not just rely on what Youtube and other search channels suggest that you satisfy with online assets.
Here are some suggestions or ideas for your music exclusive content:
Clips of stories and inspiration about how and why songs were written

An explanation about the name of the brand or album you or your brand has released or is releasing

Images of where your brand has originally written certain songs

Informal interviews of your brand before, or after the concert or performance
GET LISTED IN WIKIPEDIA
If you (musician) or your brand is notable enough to get into Wikipedia, start the process of getting it listed.
You can check out this slide page on how to create a Wikipedia page for your business.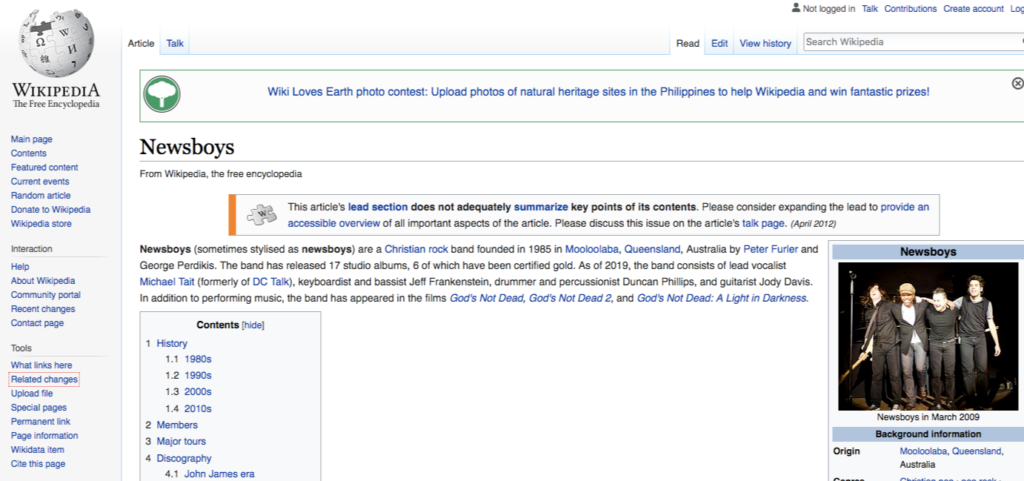 You can also hire an experienced Wikipedia writer in People Per Hour so you can semi-automate the process of getting you or your band listed in there.
ACQUIRE RESOURCE LINKS FROM ARTISTS OR "GENRE" PAGES
Resource link building is also applicable to websites of artists and bands.
Similar to other resource link approach, one has to know what types of topics get linked the most.
For example, in the music space, you'll find a lot of artists and music links pages. There are even resource pages that link out to specific genres of artist groups that can likely give a boost in relevant traffic to your site.
Artist links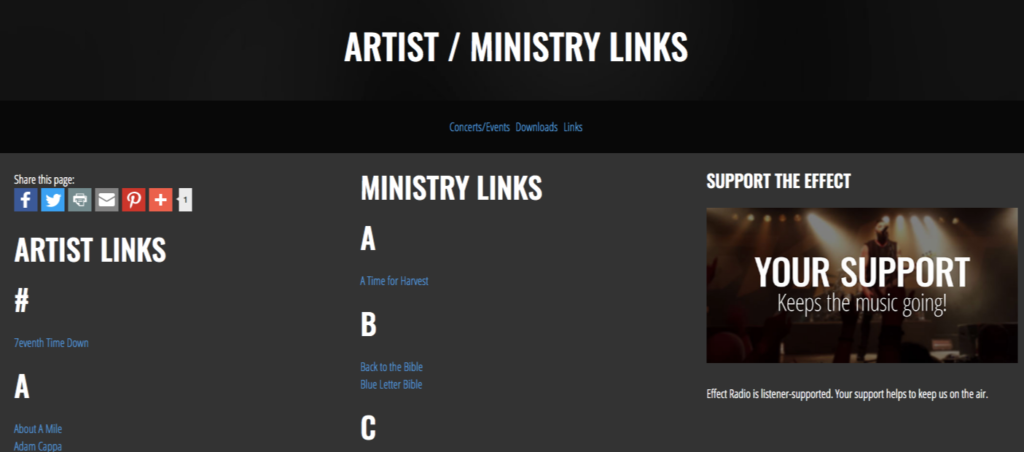 Christian group links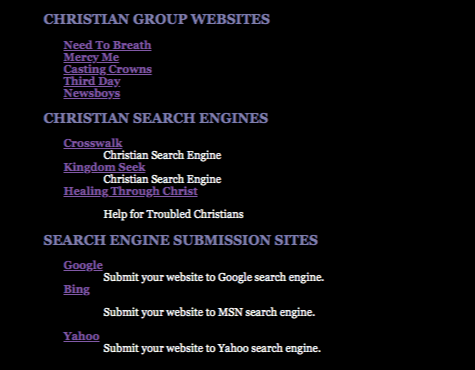 Go over these links pages through using link prospecting phrases. Find them either on Google and/or competitor link analysis using tools like Ahrefs.
If you know an artist group with the same genre as yours, plug their website's domain in Ahrefs and see which pages they're getting links from.
If you want a solid process for this particular link building strategy, you can read this guide on broken link building.
BUILD "BANDS IN TOWN" ANNOUNCEMENTS FROM EDU SITES
Artist groups who perform in school events can take advantage of mentions and links from announcement sections of edu blogs.
If the artist group has a specific clamor from students to perform, edu student writers can feature their profiles on the article. "Bands in town" news-type articles are ones commonly being posted in those blogs.

OBTAIN LINKS FROM EVENT LISTING SITES
It is best to start creating pages for individual shows of your group. This approach will allow you to get official ticket links from event organizers who have their own pages dedicated for future event performances, as well as their own network of event listing sites for ticket purposes.
LOW HANGING FRUITS IN MUSIC DISTRIBUTION SITES AND FAN SITES
There are low-hanging fruits for link opportunities you can discover simply from music distribution and even fan websites.
Popular bands and artist groups normally have their own fan club sites. There are likely some demands for membership — which may even have the interest to start their own fan sites.
MusicBrainz, a music listing site, music distributions sites, and fans club sites are types of opportunities you can continuously monitor as relevant link targets.

GROOVES IN LINK BUILDING
It's natural that when you're starting to promote your website, you don't have many link opportunities at hand. But as you go over and search for how and where your competitors are getting engagements and relevant traffic from, you'll see all sorts of different types eager to give links straight to your most important pages.
Find these both low-hanging fruits and hard-to-replicate contextual links. Then build momentum along the way.
How our LINK BUILDING AGENCY builds 250 links/mo consistently using Predictable Link Building Methodology™…
Using a SIMPLE and PROVEN system

Using a SCALABLE strategy
No private blog networks
No creepy outreach emails
SHOW ME THE FULL LINK BUILDING STRATEGY