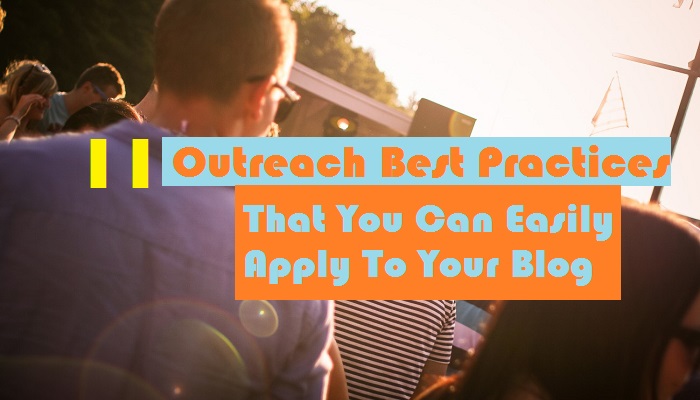 Great outreach always lands coverage. Whether or not it is accompanied by a link/mention, the potential business value that coverage can provide to your brand is still worth your investment.
Best practices in outreach are not products of great inputs by experts in the blogging/internet marketing scene but rather just a collection of small pieces that improve a specific outreach in order to yield great results (higher response and press/link coverage rates).
In this post, I'd like to share a few outstanding outreach practices that you can immediately apply to your blog.
1. Using corporate emails with branded signatures for commercial sites
I've seen a large percentage of outreach emails fail even before the battle begins because of one simple reason – not using corporate email for the initial and subsequent pitches.
Using a corporate email for outreach doesn't only make your pitch professional, but would also make it easy for your prospect to contact you via your website's contact form, in case they will offer content partnerships or other brand-related opportunities.
Uniqueness adds more chances of getting your pitch remembered by your link targets. Instead of a common gmail account, your prospects would see a unique domain that might help them decide if your pitch deserves a response. Domain names that include industry related phrases can get more attention from recipients than domains without semantic relevancy in their brand names.
For instance, you can easily determine that this working shoes site is a working shoes brand because of its brand name. So when this particular business asks for a specific link or partnership, the link target can quickly understand the nature of its business, which will be his/her deciding factor when trying to respond to the pitch.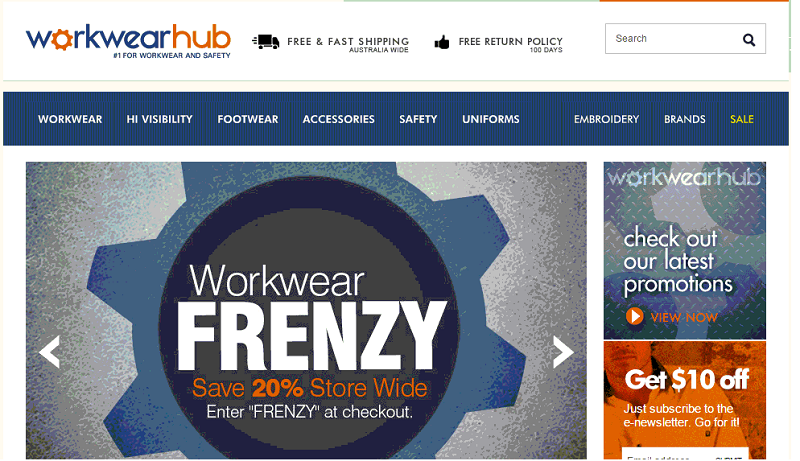 In this actionable post by Ross Hudgens on SiegeMedia about using PR practices for link development campaigns, he emphasizes the value of using branded signatures for outreach.
Some significant points from the post about the importance of using a branded signature when pitching bloggers/journalists in the field:
Increases the credibility of the pitch.
Adds a differential factor against other outreach emails (because you make your brand's phone number visible in your first email).
Higher friction of earning a response/contact via direct email or phone.
Here's an example of a branded signature.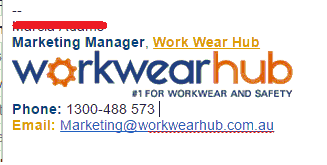 It's easy to add default signature to your email. Go to your email provider settings and insert these specific details to your signature:
Name
Company position
Company name (linking to your website)
Logo
Phone number
Email
This action tip is pretty basic for advanced link developers out there, but if this is done correctly, this could really make a big difference to your campaign's result.
2. Using top pages to identify link target's interest
Identifying interest of a certain business/site is one of the underrated techniques to secure positive responses from niche bloggers/journalists. Knowing what idea, strategy or topic he/she is interested to discuss with you can help improve your pitch and make it beneficial to your prospects.
There are so many ways to determine what a specific website/blogger's interest is. One of them is using Open Site Explorer to track the top pages of a certain website, which is commonly based on the page's performance in terms of authority and # of referring domains. The tool is indeed useful when scaling this outreach approach – identifying link target's interest.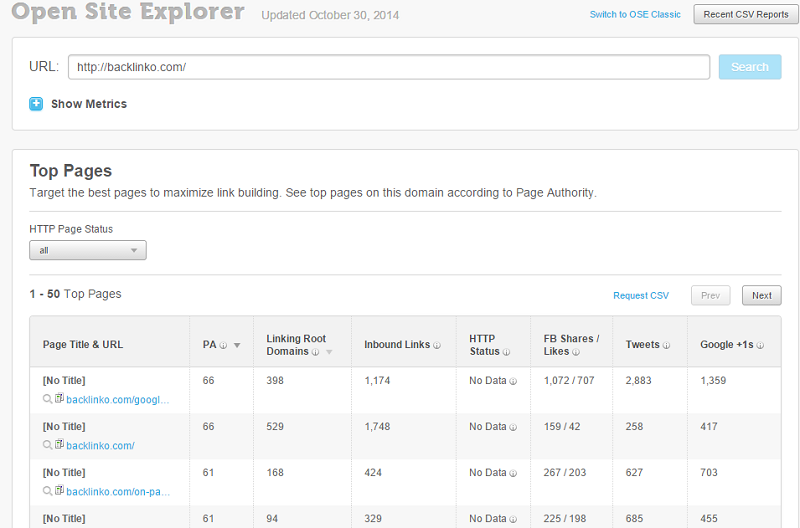 Why ranking pages is a good identifiable factor of a link prospect's interest?
Efforts devoted by a person can result to higher performance of the page, which means that if someone is very interested with the content he produced, he would promote the page to increase its page discovery (leading to a good link and social performance). Removing important pages like homepage and branded pages – about us, our team, etc.., this assumption is probably true.
Pages that get a lot of traction in the community can be sources of highly useful/acceptable content ideas.
Inserting prospect's interest in your email is a good technique to spark some interesting conversations with your target.
3. Pitching unique ideas not yet discussed in a blog's existing archives
Sending two or three content ideas to write about for a specific blog is one of the common strategies outreach specialists/marketing managers are using to get the attention of blog editors.
This guest blogging approach could still be improved by adding creativity to the content ideation process – pitching only unique blog topics.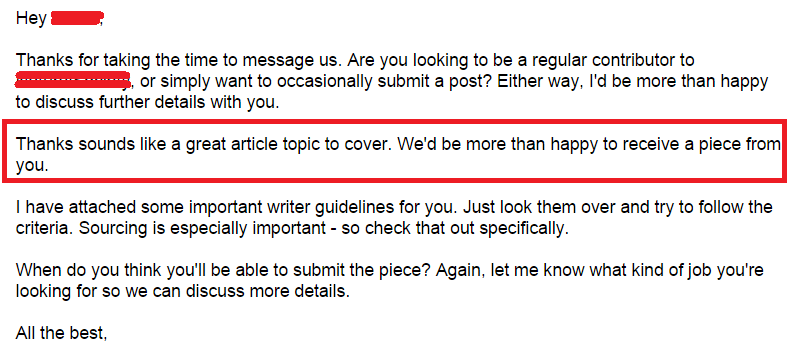 These are just a few examples of how this approach can result to positive responses from bloggers.
This is very much applicable for contributors who don't have any writing samples to include in their pitch in order to prove their capability of writing great content. By pitching unique ideas, you'll be able to show how knowledgeable you are in your industry and how interesting your piece would be even you haven't started writing it.
One of the content ideation tools I'm very much amazed and is part of my SEO arsenal today is FAQFox. What it does is that it allows you to see a list of questions people are asking in your community related to the keyword/phrase you inserted in its search box.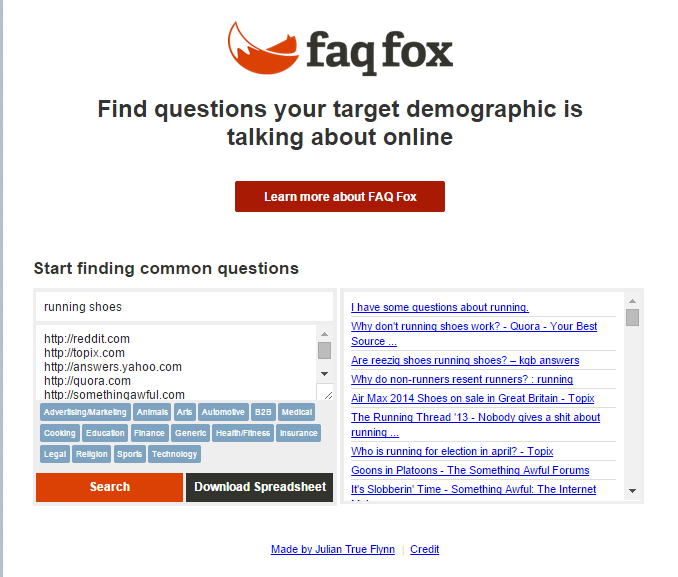 If you're working on a new content marketing campaign, FAQFox can provide you several topics that might not yet been discussed on your target guest blogs. Including those topics to your pitch could make some difference to your campaign's response and link acquisition rates.
4. Pursuing commitment to earn trust
The hardest part in outreach is not finding the contact emails of your target bloggers or journalists nor scheduling emails in your CRM tool but actually building the right relationships and earning trusts from your potential amplifiers.
Effective relationship building doesn't only break relationship barriers between you and your amplifier but allows both parties to benefit from the partnership you both actually agreed on.
There are many ways to strengthen relationships but one of the most valuable methods is initiating commitment to a specific task. This approach is doable in many simple actions (that you can also insert to your pitch). A few of them are:
Helping a blogger lighten his blogging workload by applying to become a regular blog contributor, especially in busy seasons like Christmas.
Committing yourself to send any future error pages that you might encounter in a links/resource pages (assuming you're executing a broken link building technique).
Sharing someone's content works on social and blog communities without asking for any incentives from that person. You can also use this commitment as your initial sentence to your pitch (i.e. I've been a social follower of your blog and shared your recent posts on [topic 1] and [topic 2].
Though commitment will always require time and effort, and it seems that this can't be done in a scalable manner, the fruits of doing so would be much higher than plain engagements with your target influencers/bloggers.
5. Improving subsequent pitches by analyzing unsuccessful emails
There are tons of reasons why your email didn't get a response (that you can somehow track using your CRM tool). Below are some of those reasons:
Pitch sent at non-peak hours of the recipient (burying down the email to the bottom part of the inbox).
Non-related pitch (wrong choice of potential amplifier).
Inactive or non-validated email.
Low interest to respond to the email (email may not be straightforward or beneficial for the receiver).
Knowing those reasons should push you to take actions to increase response and coverage rates in your next round of pitch. Those actions include:
Perform necessary actions to directly connect with your recipient in case you don't get a response (they could be in the form of blog commenting or social engagement).
Find secondary emails and note them in your spreadsheet (look for non-generic emails like

[email protected]

; don't be satisfied with

[email protected]

and other common types of emails).
Go back to auto-responder emails. They may include other contact points that you can utilize for second pitch.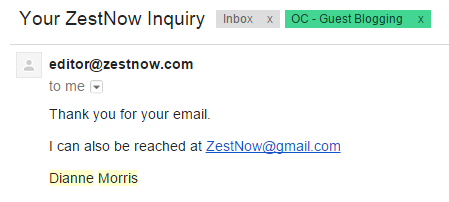 6. Personalizing pitch based on industry's needs
Personalization always comes to play when outreach/content promotion is being discussed on blogs and communities. But what most personalization in outreach lacks is including details that best describe the needs of the community.
Notable tips to consider in persona outreach:
Get insights from existing industry articles and determine the most common pain points in the industry (e.g. relationship building with family members in the parenting niche). Semantically improve your pitch by adding those insights to your pitch, in order to emphasize the need to respond to your email.
Utilizing information found on a specific website to focus the pitch on your content's benefit. For instance, blogger outreach specifically designed for scholarship page promotion should note the range of budget and list of expenses the scholarship will cover (e.g. laboratory expenses for medical students).
Change opening and closing remarks in email (e.g. Happy parenting! for parenting bloggers).
7. Engaging early before performing initial outreach
Adding personal touch to pitch is good enough for mediocre outreach campaigns. However, if you are targeting high-tier blogs and news sites, you have to execute pre-engagement activities to tap signals to your target content amplifiers.
You don't want to receive this kind of email, right?

Actionable tips to perform pre-outreach engagement activities:
Follow blogs you'd like to reach out to and share their recent blog posts on social and blog communities.
Authentically comment on targets' recent blog posts (you can use RSS feeds to track their future articles). Let them remember you by adding value to your comments.
Include your blogs' high quality articles to your own content. Let them know about it via email/social even before you connect to them for your main pitch.
Subscribe to their newsletter and learn the latest updates about their brand and its industry.
Pre-outreach engagement initiates relationship building right from the start of your outreach campaign, which makes it easy for both parties to know each other and help you identify what would best work in your pitch.
8. Writing more on benefits rather than descriptions
If you're doing PR for quite some time now, one of your must-do acts is writing email copies that are saleable to journalists who are looking for new stories to cover in their news sites.
This sales approach in outreach is also applicable to other outreach campaigns like content contribution or link requests wherein they require solid lines of benefits to persuade someone to give a link to a certain blog whether or not there is an intention to have one.
Now, here are some tips to make your pitch benefit-focused:
Get straight to the unique value proposition of your content (if it is a direct product, then doing so is very vital to your success). Emphasize content's UVP in the first few lines of your email.
For content contribution, some authority blogs require bullet points of subtopics that you want to discuss in the article not just the list of suggested topics/titles. In this case, adding benefits or points to your pitch would be a better option rather than just listing down suggested ideas that you want them to choose from.
For content aimed at getting links from industry-related blogs, you might consider adding a few lines in your pitch detailing which sections/paragraph in the post you would want to be mentioned. Provide reasons why it would be a great fit to add as a resource to their article.
It is very important to understand the worth of your content before promoting it to your target audience. Confidence in selling can easily be seen in your pitch.
9. Aiming for semantic improvement
Editing your email copy before sending it or running an editorial review for email copies/templates can help filter out unnecessary lines/texts in your pitch, which can overall help increase your campaign's response rate.
Editorial review for outreach involves semantic improvement, which is identifying elements that are robotic in nature and changing them to make pitches appear natural for receivers.
One good example of this is using the phrase personal blog instead of naming the personal website of the blogger (e.g. www.venchitotampon.com).
This is a basic editing knowledge for writers that should also be impart to outreach specialists.
10. Including the brand's latest activity
Pitches that are appreciative in sense must include details of the brand's latest activity.
If you're telling someone that you like his blog, you should include his brand's latest activity. This approach will let that person know that you really know something about his website and his personal interest.

Other latest activities of the brand that you can include in the pitch:
His latest tweet or other social profile updates (choose one that you know that you can provide feedback/insights to).
His latest newsletter (subscription) and add some feedback to it.
His latest blog post/content (leave some comments straight in your pitch).
11. Lending two hands for ongoing conversations
Best results in outreach can't be achieved in just one-time conversations. It may take five rounds or more exchange of emails before actually yielding the desired result (partnership, link/mention, brand coverage, etc..).
So it is very important that you offer the best help all throughout the conversation with your outreach prospect to let him feel of the value that you want to provide to that person.
Helping hand tips that you can apply:
For content contribution, you can ask the blogger/editor if he is interested to give you an access to his WordPress blog so you can by yourself create a draft of your article and submit it for review, instead of just sending your finished article with images attached via email and let him do the review and publishing himself.
Create customized featured images for all your third-party content. You can find free non-licensed photos here. Add some texts and borders and you now have high quality images for your posts.
If it is a link request, send him the date of the post and specific section in the article where you want your brand/content to be mentioned.
Other resources about  helping hand outreach approach:
If you liked this post, you can subscribe to this blog or follow me on Twitter and Google+.
Whenever you're ready…here are 4 ways we can help you grow your client or business through performance-based link building:
Claim your Free Link Building Strategy Session. If you've achieved initial traction from Google, we can help you scale up to record-breaking search traffic and sales faster, claim your FREE Link Building Strategy Session. We'll brainstorm some ideas to increase your search traffic through ROI-driven backlinks, including practical solutions to add more content within the next 90 days.
If you'd like to learn the exact link building strategies we use for free, go to our blog or visit our resources section, where you can download guides, cheatsheets, and templates we use for our most successful clients.
If you know another marketer who'd enjoy reading this page, share it with them via email, Linkedin, Twitter, or Facebook.