Learning how to find backlinks shouldn't be too difficult for those people who are starting out in the SEO (link building) industry.
Given that there are proven ways to source pages that you can potentially earn or build links from, you only have to discover these methods, apply it to your own link building campaign and collect a solid list of available link opportunities.
The hardest part is not really finding backlinks, but the actual pursuit of them in outreach. So why give yourself too much difficulty? Get a quick headstart in looking for backlinks.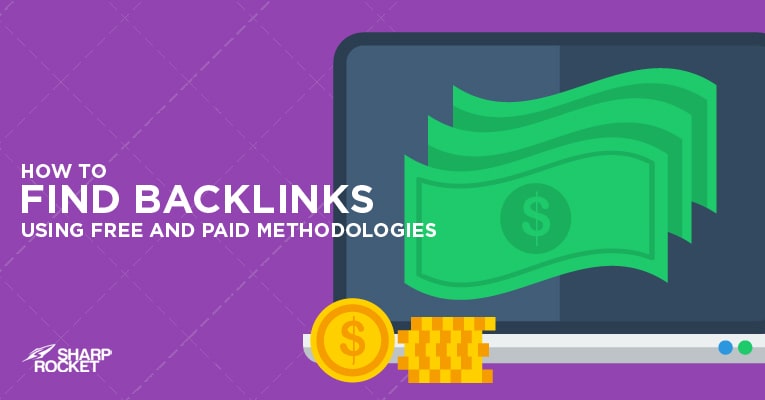 In this post, we'll cover primary methodologies in finding these backlinks that are easy to use. Follow each process carefully and get the most number of link opportunities in your space.
The Use of Link Building Tools
Just by taking a Google search for the keyphrase, "link building tools", you'll find all sorts of articles that curate quote and quote the best SEO software. Some of these tools are designed just for link building while others aid you with every activity in the SEO process.
Note: You may want to check out my own curation of recommended link building tools.
Going back, what I highly recommended is to check and try out tools that are designed just for link building. The reason behind is that they have the best features, or are best at delivering value in terms of speed, flexibility and results for a certain link building activity.
Let's start with the most-loved link building tool – Ahrefs.
Ahrefs
Ahrefs is one of my go-to product in having a quick look at the best backlinks of a website. Whether it's a website of a competitor, a non-competing blog that produces high-quality content assets for similar topics our client also covers about or just by monitoring similar content production trends of websites from other industries, Ahrefs can provide with a solid view of backlinks.
In finding backlinks, Ahrefs can help in:
1. Viewing the best backlinks of a competitor.
Note: What we refer as competitors are local and/or niche brands or companies you're competing with for a specific offering (either products or services) that have their own websites and maybe are also pursuing organic growth for their business through SEO. If the competitor you know doesn't have its own website, you don't have to consider them as a search competitor.
In a case you don't who are your competitors are, try this out. Do a quick Google search for your primary keyword.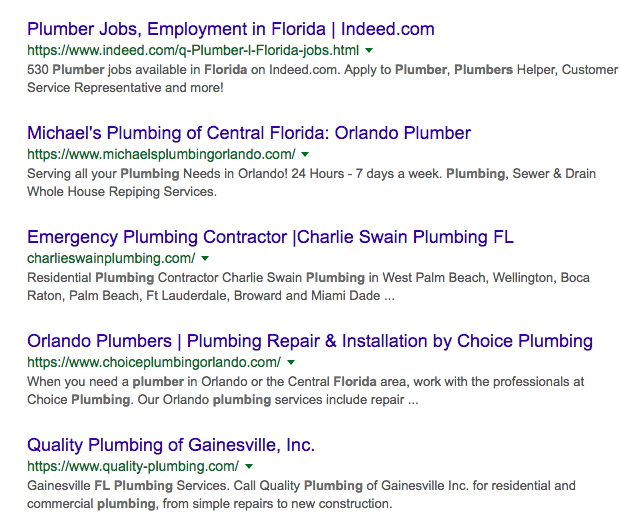 All websites ranking in the first top spots of page 1 are possibly your search direct competitors. Of course, some may just be in a retail business having one page ranking for your target keyword and may not be the exact competitors you're looking for. Other pages maybe a curated list of products/services — so it's very important that you manually check each one of them and see if they are actually direct competitors of your offering.
Another method to find search direct competitors is to use Ahrefs competing domains feature.
Simply enter your domain in Ahrefs' Site Explorer and click Competing Domains. This will give you a rundown of domains competing with your website.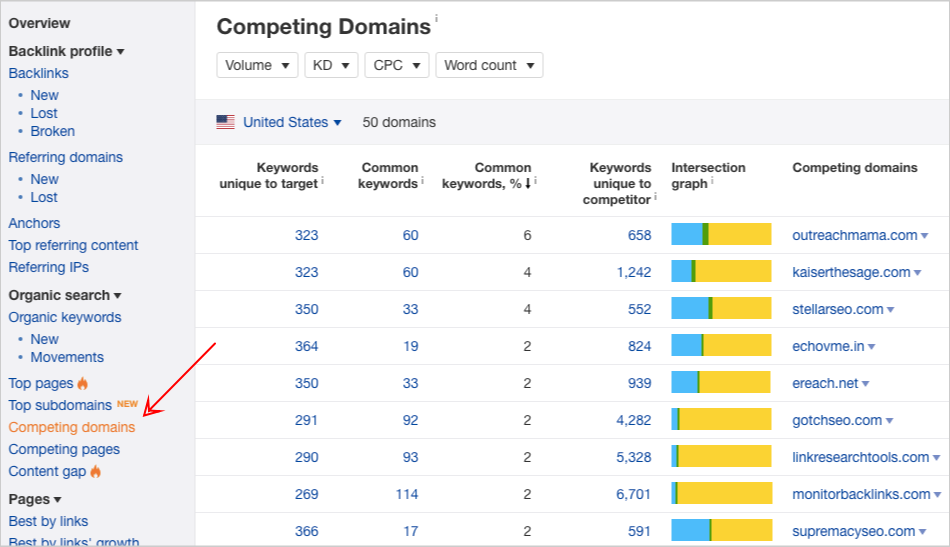 Once you already have a list of competitors, you can follow these steps to view all backlinks of their websites:
Copy the domain of the website.

Paste it on the Ahrefs' Site Explorer box for domain URL.

Click the search button.

Click on Backlinks under the Backlink profile (located at the upper left section).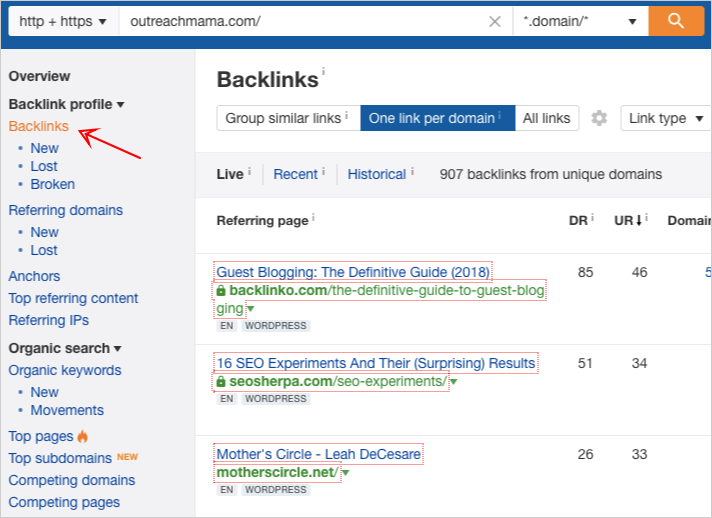 Note: If you are looking for backlinks for a specific page, not the entire website, use the URL option of Ahrefs' Site Explorer. But in the case of a category or blog section, you should choose their Prefix option.
2. Getting the data of backlinks.
Ahrefs provides backlink data, which are components of backlinks that will give you hints of when and how links were built or earned. These data include:
Referring page (the exact website or page where the links was found)

Anchor text (the words or phrases that link to a target page)

Backlink (which page of the website has been linked to)

First seen or lost (when Ahrefs saw the link)

By looking at the first set of backlinks and their respective backlink data, you'll have a preview understanding of how natural backlinks were built.
For example, if you see that most of the top backlinks have branded anchor texts, meaning that the title or brand of the website are the clickable words and of which are pointing to content (informational page) of the website, it might signal that backlink building were naturally or customly made, and not fully manipulated. That's not absolute, but can overall give you an idea of how they approach link building in general.
3. Filtering and sorting backlinks.
Part of finding backlinks is the ability to make high use of you what you've found or collected. In doing that, you need to filter your backlinks. Filtering helps you get the most out of your backlink prospecting, as you'll be able to separate the wheat from the chaff and do so much with your high-quality prospects.
There are different filters you can play with in Ahrefs platform, but filters are based on the purpose of your link building campaign – what type of links are you trying to acquire for your website.
If you are trying to improve search performance of a newly published content on your blog, then do-follow editorial links on blogs is the type of link that will suit you best.
To look for these do-follow editorial links in Ahrefs, choose Dofollow as your Link Type, Blogs in Platform and English for Language.

Another example. If you want to know whose .edu websites are linking to your competitors and understand how they (competitor) got these links, you may use filters Educational as Link Type and English for Language.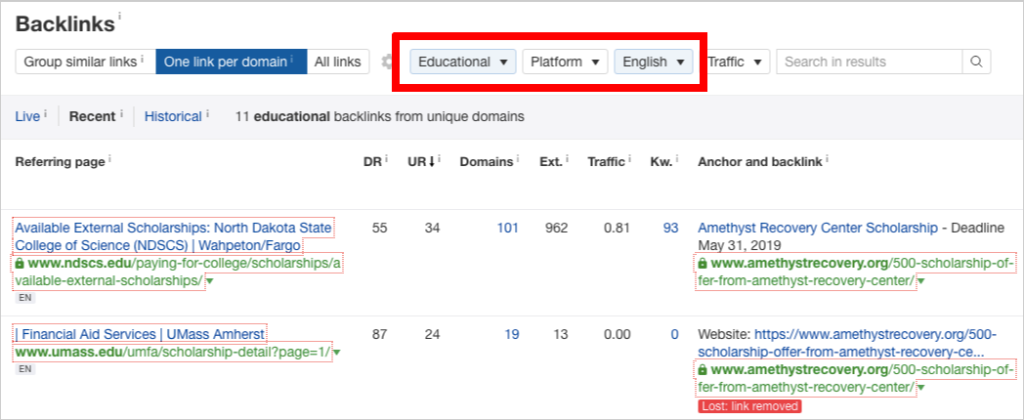 Now, you have a list of .edu links you can manually check for further understanding of how you could actually replicate them.
Filtering and sorting backlinks isn't only necessarily to get the desired links for a campaign purpose, but also in generating linkable content ideas.
To find these ideas, instead of going through the Backlink Profile section of Ahrefs, you may move to Pages section and click on either Best by Backlinks or Best by Links' Growth.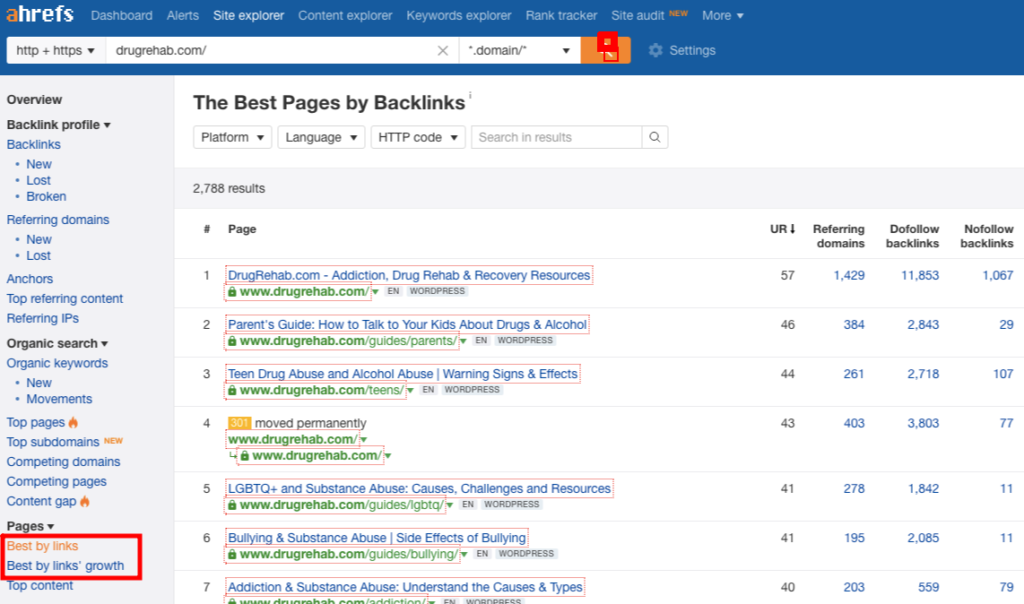 Through those filters, you will see pages that have the most number of links and referring domains. This will serve you well if you're brainstorming for topics for content that have high chances of earning consistent links in your industry.
Pro Tip: You can sort through your backlink prospects from highest to lowest of potential traffic from linking pages (pages where links are seen). This would help you customize your campaign to get links from valuable pages that would also earn links over time – these may drive more visits to your webpages (which will then possibly multiply to another set of links).

4. Understanding how backlinks were formed.
Ahrefs does not only help you view backlinks of a competitor, get the desired backlink data, filter and sort them through to collect the most valuable links. The said tool can also aid in figuring out what approach has been used to facilitate link placements.
For example, if you will know the recent links built to a website, it will lead you to identify some patterns that may occur, i.e. the common page being targeted by these links.
In Ahrefs, you can filter backlinks based on recency (Ahrefs – Backlinks – Recent).

Take a quick scroll and look at the first page of links. It wouldn't take you longer to see common pages being linked to. In my example below, one of the visible linked-to pages is the scholarship page. That may simply imply that the website may have executed a scholarship program recently.
There are a lot of features Ahrefs can be useful for identifying linkable asset ideas and looking for straight backlink sources. Learn best from their regular tutorials, videos and blog.
Further Resources:
Link Prospector
I have been playing massively with Citation Labs' Link Prospector as a source of semi-qualified link prospects for a client of mine recently.
When I say semi-qualified, prospects exported from reports have been run through some tests already. Relevant link type (e.g. links page), relevance and quantifiable metrics, i.e. Domain Authority that are in place can help sort through multiple pages for a search query.
If you want to try out Citation Labs' Link Prospector, I have covered a short tutorial using that tool on this post.

There are other tutorials Garrett and their team have published over the past years, which are extremely helpful to get the most out of it:
Search Engines
Not everyone has the luxury to subscribe to link building tools, so let's go over how you can use free means to find backlinks in your space.
The best way to start is through the use of search engines.
It's a no brainer thing for SEO professionals to start with this link search method, but I find it strange when agencies complain about expensive link building tools and yet not utilizing search engines for quality link prospecting.
To get the highest usage of search engines, the first discipline one has to master is strictly understanding how advanced search operators work.
A search engine operator is a character or string of characters used in a search engine query to narrow the focus of the search
It would be a huge hit if there is one perfect formula for combining industry phrases with advanced search operators. Far from the reality, there's no one you can find.
However, you can actually customize your entire search query (niche words and appropriate advanced search operators) based on the type of campaign or campaign audience.
Search queries by campaign type
Campaign type is anywhere from guest blogging, resource page link building, sponsorship or .edu link building campaign. The type of the campaign varies depending on the strategy or tactic being executed to get the links.
A search query for guest blogging is different from the one you use for broken link building. Different search queries cater to different kinds of page.
I've created a resource page that lists down all of search queries categorized by campaign types. I recommend that you download the pdf on the search engine queries cheatsheet and use them even whenever you want.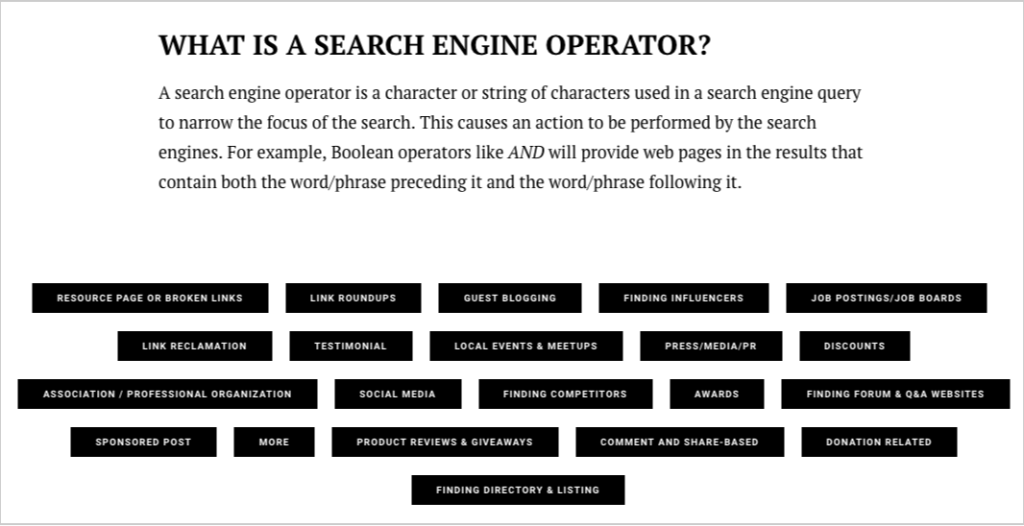 Search queries by campaign audience
By using a combination of inurl and intitle, you can actually target your search to a particular niche audience.
Examples of these search queries are:
inurl:"for parents" "savings"

intitle:"for kids" "science"
You may combine your campaign audience with the niche words to populate better search results. This approach is very helpful to refine your search results pages to just the exact pages for an audience within the industry.
Proper usage of patterns in manual link prospecting
Appropriate usage of search queries for a campaign type is a good way to collect your initial list of link prospects. But expanding your list is the challenge. How do you come up with more new prospects if you use the same search query (of a specific campaign type) over and over again.
The key is to understand patterns that can result into multiple of new pages of the same type (or a different link type all throughout) — where if you are curious enough can brainstorm a new link building strategy that you can test out for your website.
To better understand this, let me give you an example.
In my post about link building for car rental companies, I covered a link prospecting strategy that some of you haven't been using for your link search.
It's the method of identifying niche opportunity phrases on pages unique to those verticals.
For instance, in the transportation niche, you'll find pages with "getting there" or "getting here" as resource titles. If you're in a hurry prospecting, you'll miss out those resource titles and use inurl:resources "transportation" instead.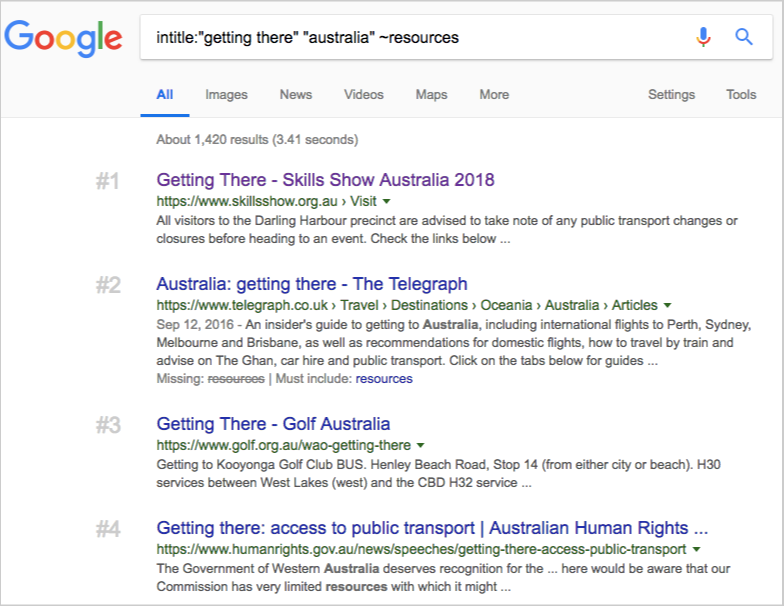 That pattern or footprint is the opportunity phrase itself, which can lead to multiple lists of qualified pages. Combine these phrases to a variety of advanced search operators and you would find a couple more prospects to quality for.
Another pattern you can check on is the specific common url a page has been built. For example, in most .edu sites, library guides pages are resource-like pages they normally publish. The page curates all research, data, news-worthy and other highly-academic content on a topic.
And if you're pursuing resource pages, you may use the exact name URL (libguides) to search for relevant libguides.
The search phrase would now be, inurl:libguides. Combine it with the niche (e.g. psychology) and you'll find libguide pages dedicated to psychology.

Experimenting Search Queries
How to identify patterns and experiment search queries so you can produce more lists than your current list of websites?
First, gather your initial set of qualified pages (qualified meaning they've run through the relevance test yourself). You may prospect them with automation but you have to check those individual link targets manually.
Second, you look for patterns in URL. By URL meaning, you find what are the common words that occur in URLs. Aside from URLs, you may also check each individual qualified prospects. Be curious and ask yourself, do they have similar page titles? How about titles of categories or sections?
Lastly, get all similar phrases in URLs or titles, and experiment by combining them with advanced search operators. Start with inurl and intitle and get the ball rolling.
Using search engines for link prospecting may require mastery in picking up words and understanding advanced search operators. But when you have done it a couple of times, you'll get better at knowing which search query will best produce quality and relevant link prospects.
Track Relationships
Continuing your link search will not be effective if you forget to track all relationships of your brand and your website.
Let's first discuss all your brand's offline relationships.
Offline relationships can later turn into links in the online world. By identifying which of your partners have their own websites and which have the necessary means to be able to link to your site, you'll get better prospecting rate and conversion rate in terms of links.
Apparently, the more your brand is familiar with the person you're reaching out to for a link (most especially if you have established trust and relationship), the likelihood of getting the backlink is much higher.
Let's take a look at retail and manufacturing companies. If you have this type of company (or you're working for this kind), get an inventory of all your suppliers, manufacturers/retaillers, delivery service providers and other partners involved in the operations.
Then check if your partners have their own websites and collect all their contact information (may it be email address or phone number).
That similar strategy can also be applied to eCommerce websites. In fact, I've written different methods to maximize relationships for eCommerce brands in my post on eCommerce link building campaign – you may want to check that out.
Besides offline relationships, there are online connections that have started since the brand's website has started running. These connections may be in the form of editorial, promotional affinities or operational terms. Whatever it may be, it's recommended that you track them yourself and organize all the information in a spreadsheet.
If you don't know where to start, consider these questions: have you written any online columns for a publishing website before? Any online interviews of your founders, editors, or other staff members you remember? Have you worked with a group of affiliate bloggers who promoted your product/service years ago?
Links from Recurring Domains
By identifying online and offline connections, you are on the road of either reclaiming lost links or building new backlinks from recurring referring domains.
Lost backlinks are any links (as implies) lost during a technical issue or discretion of the publisher removing the link from the content (where you originally got the link).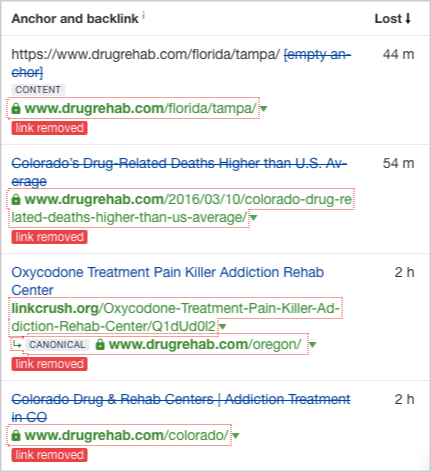 Before sending an email and aggressively tell the webmaster to "could you link again to this page – (your page)", consider these things.
Figure out why your link was removed. Is the page (or even the website) hosting the link was deleted? That is one example of a technical link removal.
If it's not and the hosting page is still live and your link was removed, check if it's the only external backlink ejected. Otherwise, there may be issues with your link (or content) alone.
Review your page/content. Is it off-topic this year? If it's outdated and the linking page requires information to be relevant for current times, it's unwise to reach out to the publisher and get the link back immediately.
That is just one example of how you understand why lost links were removed. It's a caution to first look at the possible reason, see what you can make changes with your content, and make possible corrections.
New backlinks from recurring domains, assuming these sites are authoritatve in your space, are beneficial for your website, as it signals trust and authority — which increase the value of your overall domain.
Get back over websites that have linked to you in the past. And see which are editorial in nature, i.e. links coming from publication websites. If you have contributed an article or column for them, why not reach out again and submit another high-quality content?
All of these shouldn't be done casually but rather make it as a continuous (regular) activity for any new connections that will come along the way.
To help you further, we've created a definitive guide that discusses how to get links through link reclamation – it's a good strategy to maximize value from publications who have used your content in the past.
Secondary Linking Pages
Several pages on the web are interlinked to each other. So, if you have a acquired a link from Page A, it's possible that Page A also acquires a link from another page (Page C). This continues as long as Page C remains to be relevant for linking.
On the first section of this link building guide, we covered how to find backlinks by reverse engineering a competitor's domain. By entering the domain URL in Ahrefs, you can quickly find its backlinks.
You can already get the ball rolling with the first list of backlinks you see in Ahrefs Site Explorer.
But if you want more of highly relevant link opportunities, you may consider secondary linking pages.
Secondary linking pages are pages linking to pages that are linked to you. In other words, they are second-level deep.
In Ahrefs, it's easy to spot on these secondary linking pages. The Domains column can help you figure out the number of unique referring domains linking to a referring page.
For example, I've got a good number of backlinks to this link building website (below is a quick overview of this site's backlink profile).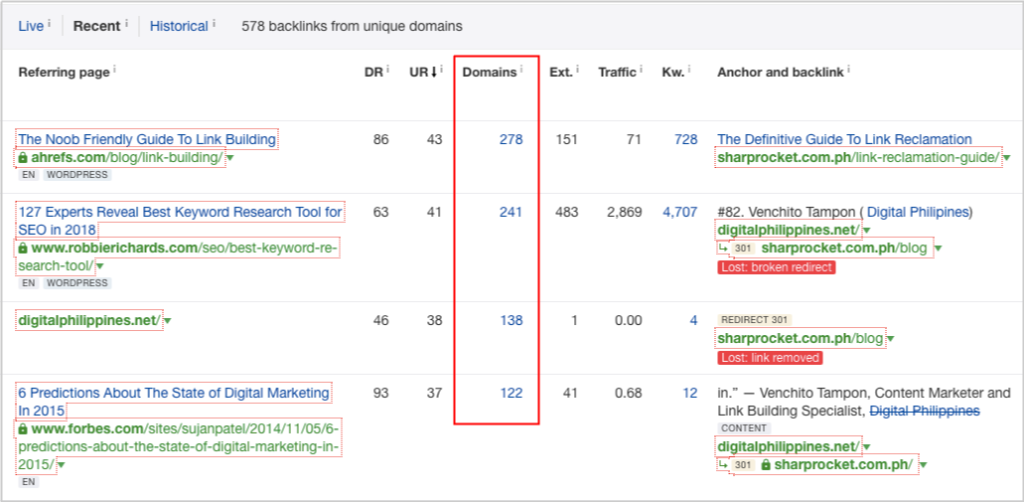 If I want to go deeper and find secondary linking pages, I'd look for the number of Domains column, which as of the time of this writing, Ahrefs as my top linking page has 278 referring domains linking to it.
These 278 referring pages are already second-level deep. If I want to find more backlinks, I'd take a look at them, manually check and see which of these pages are qualified to be additional target blogs for outreach.
Finding secondary pages is a methodology you can execute both for your website and for your competitors' sites. Do it appropriate for your campaign and find more link opportunities.
Testing Out and Doubling on What Works
There is no sure one method of finding backlinks that are good for your site. The reason there are different tools is for you to test them out and see which benefits you the most. Patterns in URLs and titles are also guides to keep you collecting more link opportunities for campaign.
Don't forget, it all comes down to qualifying all your given blogs and websites, whether they come from an export of links using a link building tool, or a manual search through Google or a deep look at secondary pages of a competitor's domain. From whichever source, every potential link opportunity should be checked for quality — so all your next initiatives including outreach activities will be worthwhile.
Hear about new posts as they happen. Build extraordinary links.