Content assets had been one of the greatest investments of almost all size of brands today. It became such a phenomenon in the industry that everyone wants to have a piece of asset for their site's content development.
However, content marketing is not just about creating content pieces. It's more on delivering the best value to your target audience. Without including your audience as a contributing factor in your marketing campaign, you would be more likely to lose track with your goals/objectives. Remember that your customers are the reasons why your brand exists in the industry. Therefore, they should be given the top priority in your content marketing campaign.
I've seen a lot of improvements in content marketing and how those improvements affect the thinking of many content marketers in delivering a useful and targeted content. This made every phase in the content process looks more challenging than before.
Five Stages of a High Quality Content Development
To surely make the most value out of your content efforts, it's very important to take every stage in the content creation process as a chance to win over your competitors. This may require strategic planning in those stages to truly provide a reliable and useful content piece for your audience.

In this post, I will share to you actionable tips to help you outrank your competitors with every content piece that you will be creating.
Ideation
There are several ways to get ideas for your content that are not only catchy to the eyes of your audience but are also seasonal and/or traffic-based keywords (which means that they can give a boost to the traffic of your site if those keywords/ideas are optimized on your content and your content pieces ranked high on search results for those certain keywords).
Let's get started..
1. Comments on other site's content
Blog commenting is not only used for link building purposes but also for finding keywords for your content. If you have a list of authority sites in your mind, you may want to visit once in a while to get some ideas.
I'll get Moz as my example.
Every post on Moz (the main blog) managed to get an average of a hundred comments just the time they were published on the site.
This Whiteboard Friday edition by Michael King received 119 comments which is a good amount of blog comments for one post.

Those comments would give a significant value when looking for content ideas given that every word commented by a blogger could be words/phrases that they may/might be searching for in the search engines.
What I'm gonna do is to find keywords in the comment section that are related to link building, content and branding (because this is my field!).
By using the Find and Replace in Chrome Web Browser, I was able to find phrases that are related to my keywords.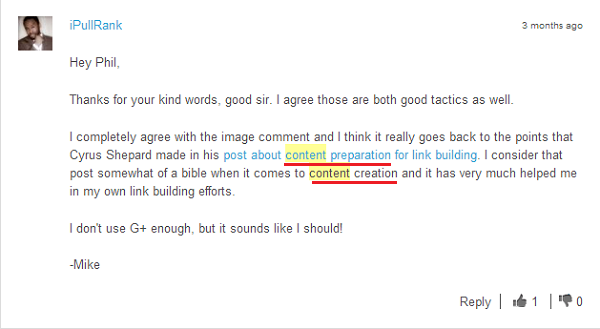 Oh! An expression!
Finding these keywords is not enough. You have to see whether or not they are the most commonly searched terms in your industry. To do this, we can use Google Keyword Planner (for search volume) or Google Trends (for seasonality).
Let's see the trend of each keyword.
As you can see, the word "great content" seems like a good keyword and the interest for that keyword progresses over time. Gold!
"Amazing content" (though it may not be a seasonal term for now), looking at its seasonality would give us an idea that it might be an interest-rich keyword for content in the future.
And if you're targeting an audience located in India and USA, those aforementioned content-related terms is a must to consider for your campaign.
Another Tip: Click the box saying, "email me when new comments are posted" right below the post of your target site, this would help you track if there is a new comment on the blog post (you'll receive a WordPress email).

2. Authority Sites through RSS Feeds
Competitive research will never be excluded in every marketing campaign of SEO practitioners given that it would help them identify their strengths and weaknesses as brands which are necessary to bring those campaigns into success.
Determining what authority sites are doing with their blogs based on the content they're publishing would give you a feel of what you can also do for your content strategy (outranking them with better content than they have).
If you still don't have any authority site in your list (perhaps, you're new to the industry), you can use this tool to look for websites that have a large number of subscribers. The reason you want to consider the number of subscribers when finding authority sites is that most of the time, those websites with a large amount of subscribers managed to build a community for their brands. This community could get them share their content on social and provide useful insights (which is commonly about their offerings) in the comment section of their blogs.
Type in your keyword in the search bar of the tool and it will give you a list of websites that are ranked according to the number of subscribers. Use Feedly to get those sites on track. Once in a while, visit those authority sites, read their content pieces and analyze how they create content (based on content format, concept, posting frequency, etc…).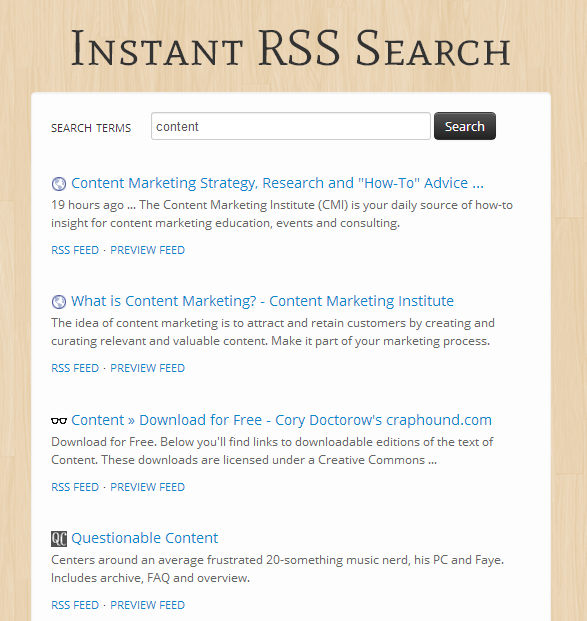 You can check out this huge list of free link building tools to find more link prospects.
3. Repurpose other people's content
Most of the time, posts that get a lot of attention are those content that are just repurposed from another content (made by them or other brands). This would save you time and money especially if you're tight with your budget.
Repurposing blog posts to UGC content pieces is a good strategy especially if the original content garnered several shares/links. Outreaching to the linkers/sharers of the original version would yield much better results in terms of outreach response rates.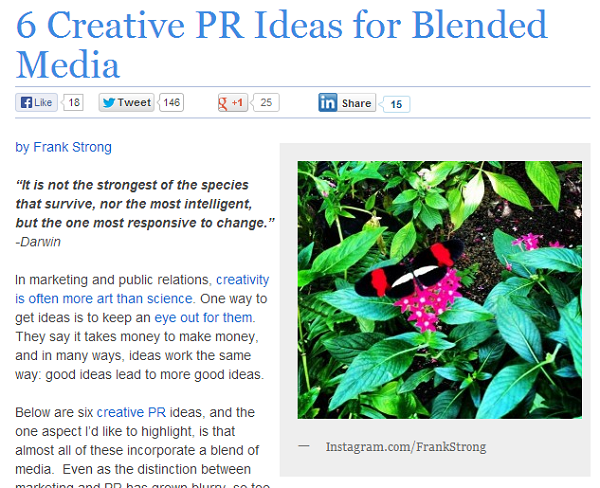 Original content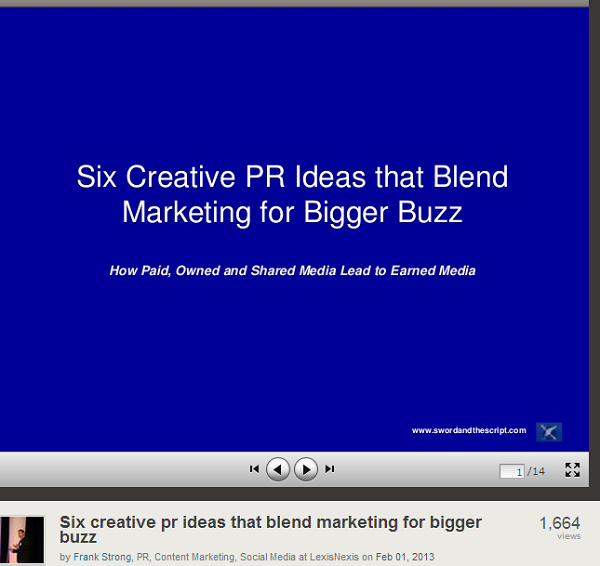 Repurposed content
4. Keyword-rich URLs
Authority sites don't rank easily without optimizing their pages for search (unless they've been in the webspace for over 2 years or so). For those sites that are new in the industry (6 months to 2 years) but tend to get  to the top spots of search results for targeted keywords, there must be some on-page optimization that they are doing for their pages.
Let's take Kaiserthesage as my example (do you still wonder why I always link to him?).
By simply looking at each url of every page, you have an idea of what keyword the webmaster is trying to rank for that page.

Or you can use Ahrefs to find their top pages (where you can see their keyword-rich URLs). Click on the top pages.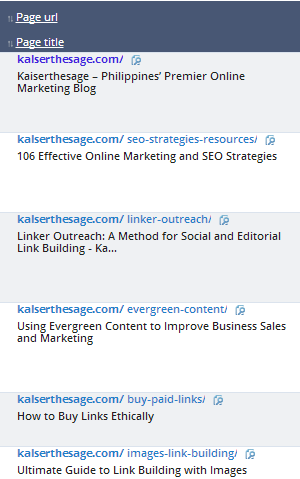 5. Anchor texts of referring domains of your competitors' content
If you're tired of searching for an idea that doesn't have a potential to gain continuous traffic to your site (through search), you should make some analysis of your competitor's backlink profile. You won't be getting the list of referring domains that linked to your competitor's site/page (to reach out and get the same types of links). Instead, you will only look at the anchor texts that your competitor's referring domains used to link to your competitor's page.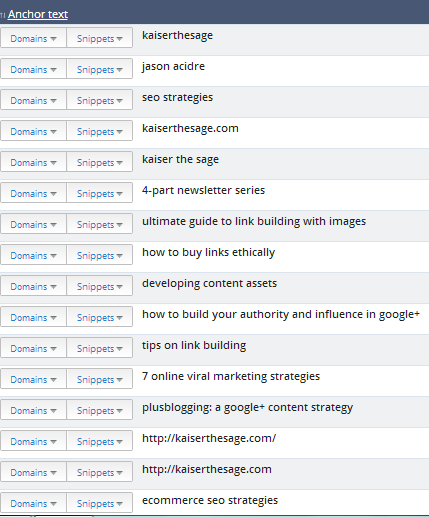 Get those anchor texts and put them in a spreadsheet. Use your keyword tool to identify which of them could be considered gold for search volume.
6. Ultimate Industry Guides
Not all industry guides are perfect guides. Every portion in the guide would support the main subject/theme of the content. However, those portions are just descriptions, which means that they are not so detailed (which is a good content idea that you can use for your own content piece).
Let's give an example.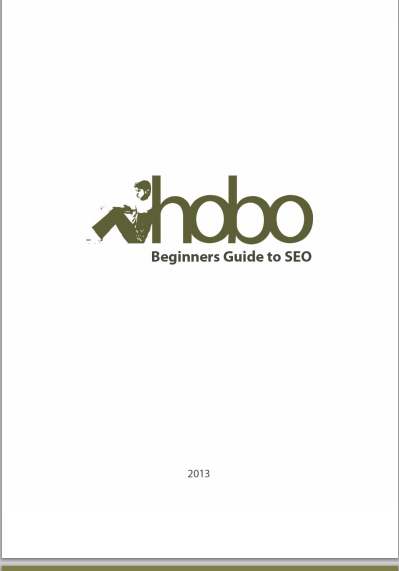 There are portions in this industry guide that are not so detailed but when you see it in the overall view, it is a comprehensive and useful content. Use those portions to create another content piece (not necessarily be an industry guide, could be visuals) but ensure that the content piece is specifically optimize for the keyword you're looking at.

7. FAQs
You're familiar with this. I'm sure a lot of brands have their Frequently Ask Questions page to better serve their customers by answering their most common questions. This would help the brand to know any problems that their customers might be experiencing when they use their products (questions that are not answered or solved by their FAQs page).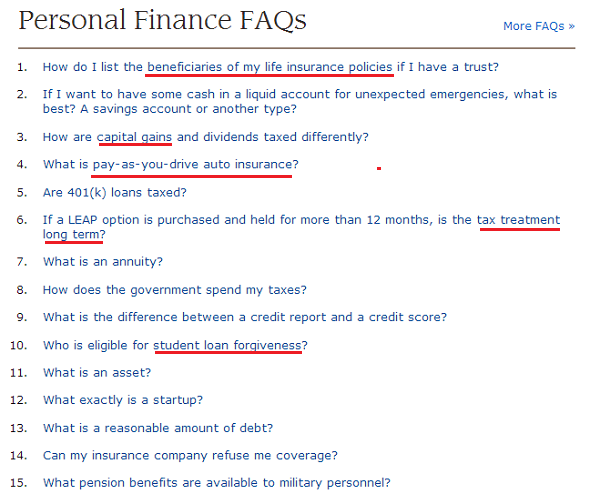 FAQ pages could also be used for content ideation. What you will do is to get all the listed questions, place them all in a spreadsheet and take each one of them into Google search (don't put all the phrases; pick up those related terms in the question).
If there is any page that is already targeting those questions, you could put another phrase in Google search until you find one that has not yet been targeted by someone.
8. Dissect Google+ Hangout videos
You will not strip the video into shorter ones but you want to know what ideas/insights have been discussed in the hangout that can be covered in a blog post (or any other content format).
Listen to the hangout video (it would be great if you could listen to a group interview). There are tons of ideas that are accidentally shared by industry experts (they could just say anything that is sometimes not specifically pointing to the topic they're discussing about).
List those points in the spreadsheet and get back to the list once you're done with the content ideation.
9. Two seemingly-irrelevant but relevant topics
Connections are what would make your content looks more natural and appealing to your readers. You could connect two seemingly-unrelated topics and turn that combined idea into a blog post.
You might need a thorough research to make this thing works! It would take time and effort to create awesome piece like this.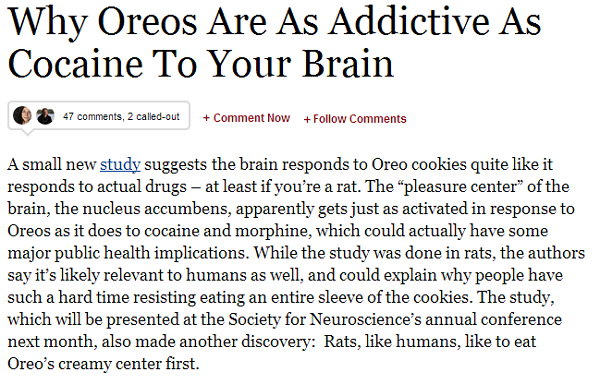 Imagine if you can create several pieces like this (related to your industry terms), you might be surprised by how many people would link to your content or at least share it to their peers.
10.  Niche-related communities
There is at least one community related to your field that could be a useful resource for your content development assets. Use Google search to find at least one (inurl:forum + "your industry") and identify if that is really awesome (users participate well and not spammy).
Use the intext:query to find niche-specific phrase/ideas.
Try this one: intext:your keyword + site:yourforum.com
You should only use one word (your main keyword) to find relevant ideas in the forum.
Example: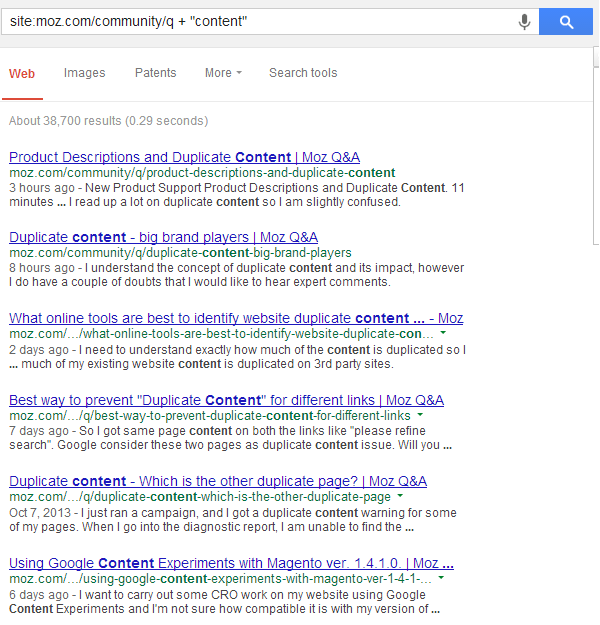 As you can see, there are tons of ideas that you could use to develop your own content. Use again your preferred keyword tool to get the highest search volume and use your personal judgment on which keyword you'll be using for your own content.
11. Anchor texts of linking domains to your site.
You can't control the anchor texts that other webmasters are using to link to you (unless you're the one who approach them about those link opportunities). They might be using phrases/keywords which are uncommon to you but related to your industry terms.
This is great if you have that list of anchor texts that your linkers link to you. However, you can use those texts to create a solid content that matches to each of the phrase. Simply, find a phrase you have not optimized yet for your site. Create a page targeting that phrase/keyword and build links to it (just like what you did for your site's other pages).
12. Branded link mentions.
You may be tracking every site/page that linked to your website. If you're already doing this for link building purposes, make sure you do it also for your content strategy. Those webmasters (those who linked to you) have reasons why they did that linking. If you will know their reasons of linking to you, you can have good partnership/relationships with them. Who knows? They might collaborate with you to create an awesome content piece.
You could also interview the person who linked to you (especially if that is a customer). Ask him what pushes him to give credit or mention your brand on his blog/page. Incentivize him to encourage him to talk more about you. Interviewing that person would improve your site's performance given that people would like to know the feedback(s) from the users of your product.
Remember that you don't want to make the content be a self-promotional one. Add some twists in it (like asking the person, "Give me some experiences in using the product that almost pushes you to stop using it?"
People love brands that are transparent with their situations/offerings as this would prove how they truly value their customers.
13.  Interview speakers of upcoming webinars/events.
If you're looking for an easy content piece, this one is good for you. The only thing that you need is to do is to make a list of events (webinar/conference/seminar) that people in your community (local) is so excited to participate in. Gather all the details about each event like the names of the speakers, location and other important details that could help your content (if you're using this as an angle) to be detailed and useful for your followers.
I wrote a piece of content a few weeks ago about a conference that will be held here in the Philippines. Review that post on how I use event details to make the post more valuable to my local followers.
14.  Product Reviews
You have a product and you got product reviews in the past. You can use that to make an awesome content piece for your brand.
Here is what you can do.
Look at the sites (your own website if you allow ratings/reviews for each of your product or product review sites where your product had been mentioned). Some websites allow you to sort reviews based on ratings so you can get the most value out of those comments/reviews. Check industy-related terms that people had used in their comments. Those terms is what you'll be using for your content piece given that those are informational keywords (people are using those phrases in their searches).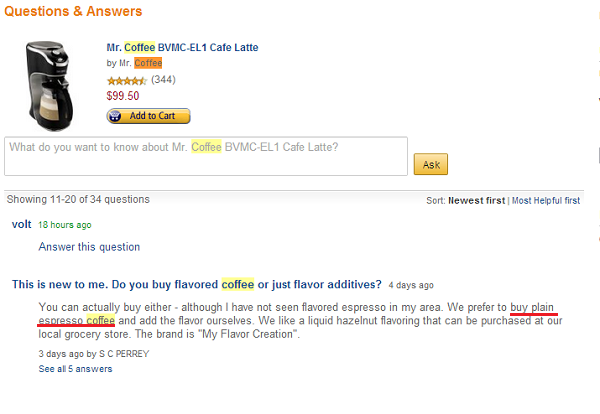 15. Intext Query
You're probably familiar with this query. You can use this to find keywords that are placed on any sites (that you should be analyzing as to the content format).
To get the best content ideas from sites that you're not almost familiar with, don't add any specific website to this query. Just use the plain query, like this: intext:"financial calculator".
The reason for doing this is that you want to see all the pages where that keyword/phrase has been mentioned. You will probably see the top pages ranking for that keyword (most of the time, those are authority sites in your industry). In my opinion, you can't get much value from those pages (as they already had built an authority in the space). You want pages that are still new but are authoritative already in terms of followers/readers and analyze what they did to create a page targeting that keyword.
Click on the lower pages (page 7 or higher) to see how are those sites use that keyword in their content assets.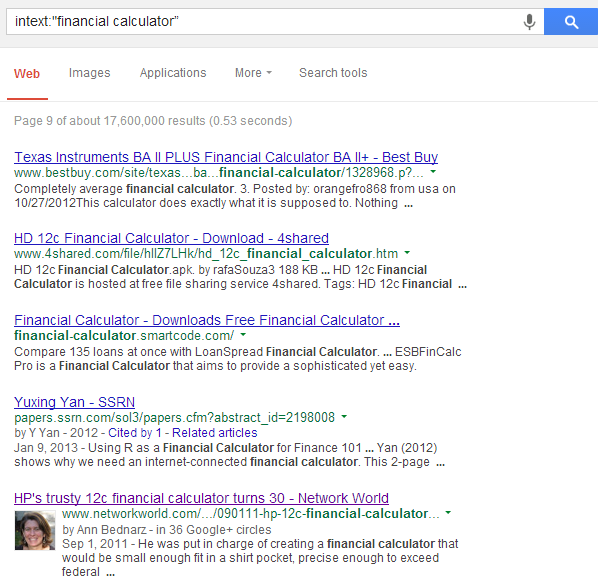 16. Ask someone about your brand through email or social.
Know what captivates your readers' interest by asking questions to them. You may have not known they're waiting for you to reach out and ask their content suggestions. This is one of the most effective ways to get content ideas as those customers/readers/followers is part of the group (target audience) that you're trying to please with your content. If one of them replies and suggest one idea for your content, don't ignore him. He might also suggest a content format (infographic, blog post, etc..) that you had never done before for your brand which can make a significant difference to what your site is already doing for them.
17. Use tools to organize your content.
I have Mindmeister in my mobile phone which I use to organize my content ideas and add more to it as I think another idea. The best content ideas that I had for my recent posts came from nowhere. When I'm not facing at my computer, those ideas pumped up!
You can try this technique. It might work for you also.
Another tool that you can also use is wordcloud. This will help you see the common keyword/phrase and some combined thoughts that you can use for your content.
Research
Sixty-five percent of the respondents in the survey conducted by the team of Colleen Jones say that web is an unreliable source.
But there's still some (45%) who're looking for sources from web for their own research/content. The reason is that people go to web to get true help or advice. So if you want to get the most value out of your content, you have to consider the credibility of your sources/references which you will use to point out facts/info/data that are relevant to the topic/subject of your content piece.
Aside from what I mentioned in this post about attributes/characteristics that I consider valuable factors when looking for resources for content, credibility should also be taken into consideration.
Why do you have to look for credible sources?
Most often than not, people get confused with the content they searched on the web given that the cited sources are not really credible. The sources were outdated and they don't really support the main point that the content wants to convey.
This is something that you should be looking at when looking for credible sources.
Now let's know what factors that would make the source(s) credible (added info to what I mentioned in that post about content resources)
It has a distinct voice. When the content publisher of that source says something, everyone listens to him given that he has proven his authority and influence to his audience. So if you're looking for credible sources, determine if they have distinct voices (or personality). Does their audience agree with their saying/thoughts? Does the brand owner get several complaints rather than compliments/praises?
It makes a clear point. The source should only give emphasis on one subject. I haven't seen any content piece that already tackles all the terms in the industry. There are pieces that managed to do that (ultimate guides) but most of the time, there's one topic that the content asset is specifically talking about. Sources are credible when they managed to show off their expertise through those sources (pointing only to one topic).
It is useful. As you always get the most useful sources, you enable your content to become more credible in the eyes of your audience (users will learn much from your content and to its sources). This would give them a reason to come back to your site once in a while (to read/consume your content).
It guides you to the next step. A source always guides to your next step of learning. If your source does not do it for you, it will not also guide your users. Make sure that you are satisfied first with the value that you're getting from your sources before enticing others to be satisfied with your content. Otherwise, your users will not read those sources for additional knowledge.
Note: Not because it ranks in one of the top five spots in the search results for the target keyword doesn't mean it is a credible source.
Here are a few ways to get sources for your content:
Use this tool to find industry-related sources/references. Use this as your own advantage to identify which of them could pass credibility and value to your content. Data-driven content is a good source if the content publisher provides source documents of their content.
Expert's insights/advices. Get help from people who know their stuff really well. This post by Rohit Palit is a good example of this. Below that page, there is a section that allows experts to share their own insights about the topic.
Indeed, research takes time. To maximize your research efforts, ensure that you only get credible and relevant sources for your content.
Other Resource:
6 Ways to Find Data to Support Your Content
Conceptual Framework
All the data/sources should be gathered at one place. This phase, "Conceptual Framework" would ensure that your content has a logical flow of information.
One of the mistakes of every blogger or content publisher is gathering all the data at one place without even arranging every single thought that they collected. This would look like a scratch paper (scattered ideas).
Note: There's no rule in the method of outlining your ideas. Use your own if you already have one.
But here are some tools (they're the common, ha!) that you can try to make your ideas flow smoothly within your content:
Excel Spreadsheet. One way to organize your ideas is using an excel spreadsheet. Make sure that you add a column for "what is lacking" to take down notes on what is lacking in your resources so you can add insights/hooks to it to improve the context of your content.
Problem-to-Recommedation Table. This an effective tool to use when you're creating a guide (how-to) that is focused on helping your target audience solve their own problems. Use this spreadsheet to list down all those problems and take down notes for recommendations.
Visualization. It's easy to create a content when you can see the whole picture of it. Visualization allows you to do this by picking up the main principles/ideas and visualize them in a good format.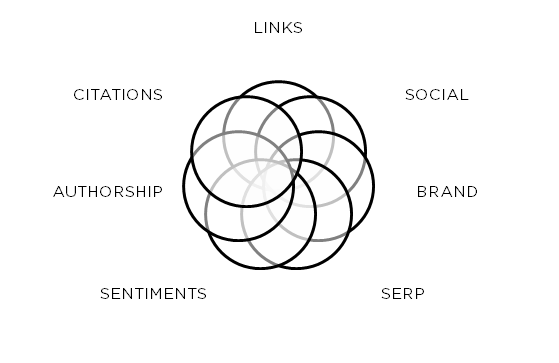 Basic Outline. Use your document tool for this one (e.g. Microsoft Word).

Here's an example of a basic outline.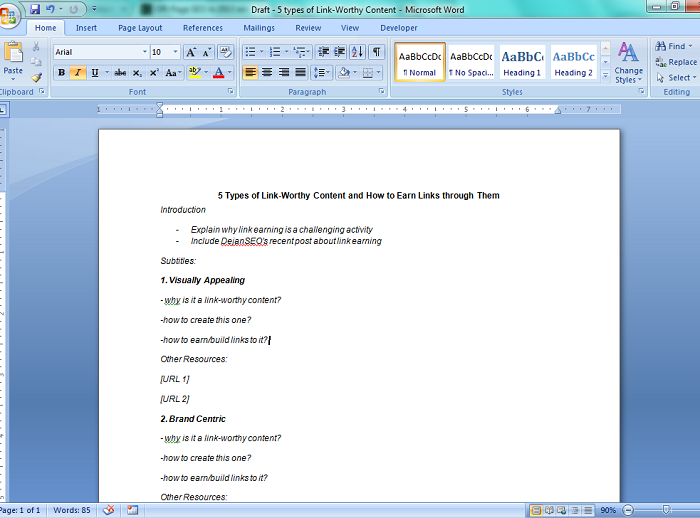 Optimization
I already covered this phase in my post about content promotion. But for additional tips, here are some that you can apply for your content piece.
Based on the list of anchor texts you've gathered earlier, pick up the best ones and use it to optimize your content. Additionally, you can use this query: (site:abc.com inanchor:content) to find pages where your competitor used anchor texts related to your industry terms.
Make sure that you strategically use those anchor texts to ensure that you're also passing value to your site's other content assets. You can also use those anchor texts for your content distribution efforts like guest posts.
Optimize the page with the basic on-page SEO. Putting your keyword at the page's title tag, H1 and at the first sentence of your page would help your page to rank high on SERPs.
It's also best to use the exact keyword at the first place of your title (there's an added factor for rankings when you use this).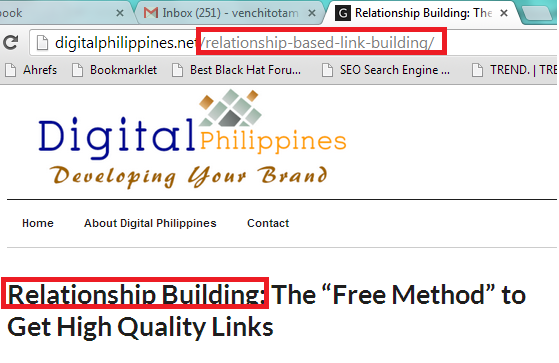 Link to your site's other content assets (especially to your money pages or your top converting pages). Use Google Analytics to find your top converting pages.
You can link to those pages strategically when you optimize your future content assets.
The most common mistake of webmasters is the use of generic words (e.g. click here) as anchor texts for their content. Though you don't want to use your exact match anchor texts (so as not to have anchor text over optimization), the use of generic words could be replaced by using your alternatives (partial match, long-stringed, etc..) which is more powerful to use than generic words.
Don't worry about keyword density. Focus more on getting links for your content. As long as your keywords are positioned in the right spots (title, h1, first sentence) of your content, you don't have to make an effort counting how many times you use that keyword alongside your page.
Here is a cool video by Brian Dean about the upside down guest post (where you can get tips on how to optimize your page for search engines and users).
Content Placement
Reminder: There's no rule in determining where to place your content (on your site or other's site(s) – guest posts).
But here are a few tips by Moosa Hermani on how to determine if the site (where you will place your guest post on) matches to your brand.
"I always keep few things in mind when reaching out to any place (for guest post or my content)" – M.Hemani
Is my audience there?
Do they agree my core principles (for instance I do not like Google's idea of hiding keyword data in GA. If there is a great website who have an opinion that is negative to this then I probably will drop the idea of placing my content there as this differs my ideology)
Do they have a positive name in the market?
DA (obviously)
Will I be able to grab some traffic and make them my continuous reader?
Using this list of guidelines when identifying the right site/blog to place your content would help you get the most value of your content distribution efforts.
Other Resources:
Conclusion:
Strategic planning is necessary to every marketing campaign (the same goes with your content marketing). If you perform really well for each phase (ideation to content placement), you'll be surprised that you almost win half of the battle. The other half is obviously promoting your content.
 If you're looking for high quality links to support your content and grow your business, get in touch with us for effective link building services. 
How our LINK BUILDING AGENCY builds 250 links/mo consistently using Predictable Link Building Methodology™…
Using a SIMPLE and PROVEN system

Using a SCALABLE strategy
No private blog networks
No creepy outreach emails
SHOW ME THE FULL LINK BUILDING STRATEGY