In my work in SharpRocket, I often am asked what is the "best link prospecting tool" to scale link building campaigns for clients.
This post aims to answer that question.
Disclaimer: I'm not an affiliate of the tool that I'll be sharing with you – it's just that I highly recommend you try it out if you struggle with link prospecting.
There are only a few link builders that I respect in the industry because of their deep expertise and love for sharing insights that will best help the SEO community. Garrett French is one of them. He is the founder of Citation Labs, a link building agency and creator of Link Prospector Tool.
His tool can help semi-automate the search-query prospecting process that will definitely save hours of doing it manually.
Here's a walkthrough of how you can use Link Prospector.
If you already know how to use the tool, jump in straight to Feature Tips to get some goldmine tips.
Step 1: Create a Campaign
As soon as you sign up and login, you can start creating a campaign. I recommend that you name it after your Client or your Website so as not to get confused if you have several clients to work for in the future.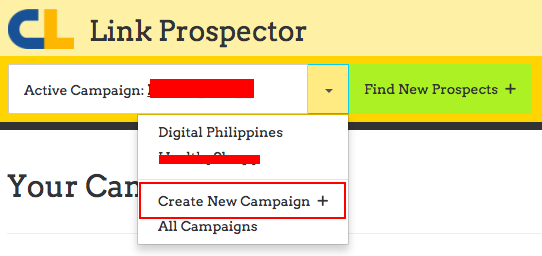 Step 2: Choose a Specific Link Type
Next is to start finding link prospects. Click on Find New Prospects in the Navigation bar.

Select the report type that suits your link building needs. For example, if you want resource or links pages, then choose links pages (pretty easy right?).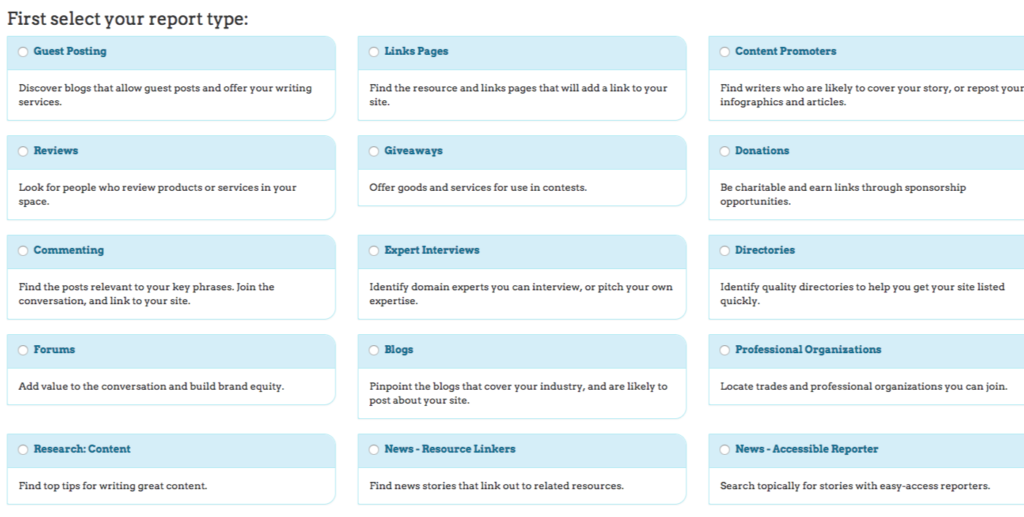 Click on Create Links Pages Report. 

Step 3: Name Your Link Report and Set Advanced Options
I suggest naming your report under a niche such as snoring or flood planning. You can always go back to specific reports when you have another very specific client in the same industry or have a content asset on the same topic.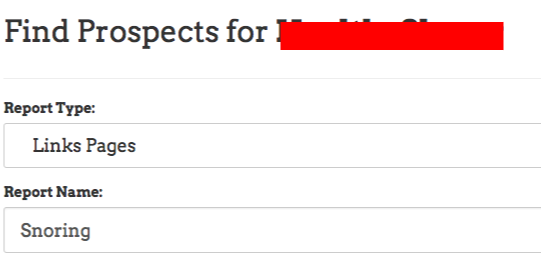 ADVANCED OPTIONS
If you want your link prospects to be very targeted, I suggest you choose customize search features on advanced settings.
Click on Show Advanced Options.

Let me pause a few seconds here.
You need to strategize your prospecting based on these options.

Let's check each one of them:
Report Update Frequency – if you want your reports to be updated with new link prospects, you can choose update frequency as weekly, bi-weekly or monthly. But if you're doing an ad-hoc campaign, I suggest you choose Run Once.
Language – don't change the default (English) unless you're tapping into Non-English markets.
Select Region – choose the location you want searches to be queried from. This is best customized for country-specific link prospecting campaigns (e.g. tapping .

co.uk

backlink targets).
Select Scope – leave it default if you're not targeting news pages.
Select Depth – this allows you to choose how many results you want from each query. For example, if you type 4 custom queries and you choose a depth of 700, you'll get 2800 total results.
TLD – choose the top level domains preferred for the results. They can be .edu, .gov, .org, .com, .us, .mil or other.
Date Range – choose whether you want to get results from the past 24 hours, week, month or year.

SafeSearch Filters

Send Email Notification – choose whether you want to be sent the report to your email address or to another email address.
Exclude Domains from – click or unclick Global Exclusions or Campaign Exclusions (more on this later).
Research Phrases – include topical keywords to yield better search results. For more insights on non-SEO keywords, watch this video below:
Step 4: Start Prospecting and Wait For Your Report
When you have customize your report based on your needs in the advanced options and have included research phrases, the tool will give you its equivalent report cost, and show your available credits.
When you have decided your options are final, click on Start Prospecting.

Once you've submitted a report, wait for around 10 to 25 minutes for it to be ready. Do something else while waiting. The report will give you a number of results based on the number of research phrases and in-depth scope. For example, for 5 queries (research phrases) with 700 in-depth, it will give you 3500 prospects.
Here's what individual report will look like: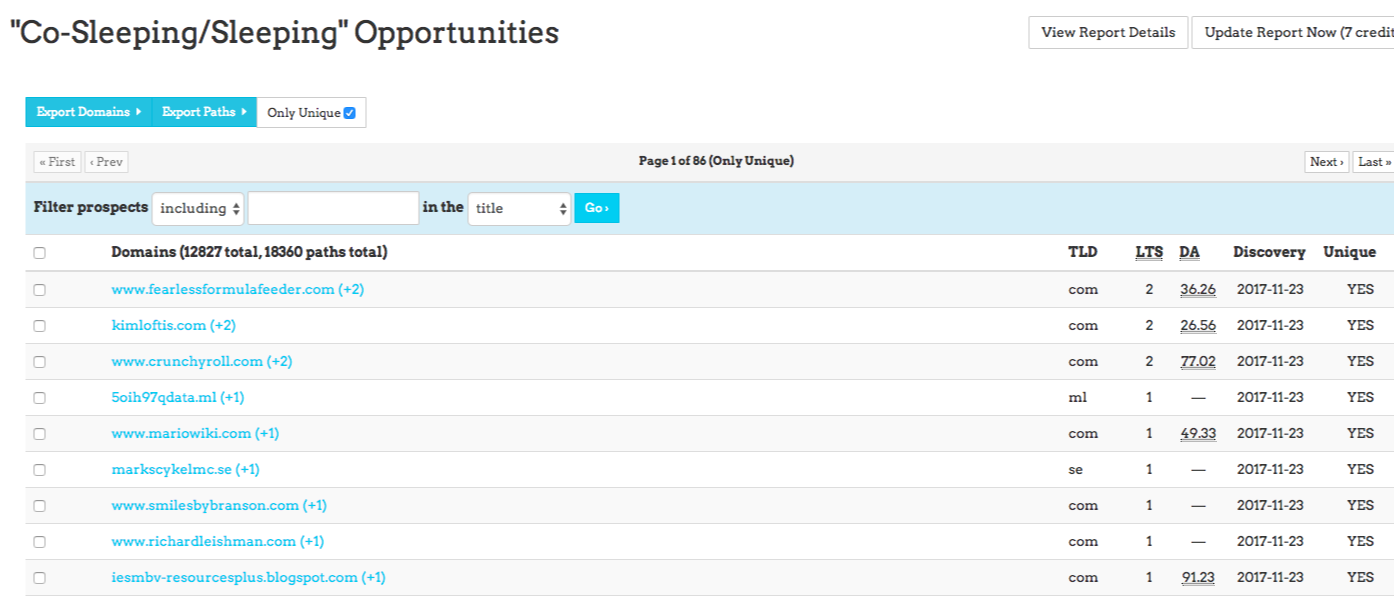 When you have run a few reports, your campaign page screen will look like this.

It shows you how many prospects you have for each report.
Step 5: Export Paths/Domains to Get Your Report
You'll see two options at the upper right side of your report screen, "Export Domain" and "Export Paths".

Export Domain feature gives you a list of the domains found in the report as a CSV file (e.g. sharprocket.com.ph) while Export Paths gets you a list of all the URL paths found in the report (e.g. sharprocket.com.ph/links-pages).
For each domain, there may be two or more URLs found that are queried based on your link types. See example below.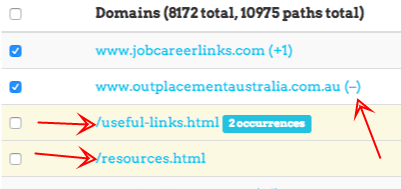 When you click on the number drop down, it shows you two URLs within the website.
I suggest you choose Export Paths for page-level link opportunities (resource pages, guest posts opportunities, sponsorships, etc..) and Export Domains for domain-level link targets that doesn't require you to target a specific page to get a link from (e.g. content promotion blogs).
Once you've exported URLs (for Export Paths), your CSV file when downloaded will look like this: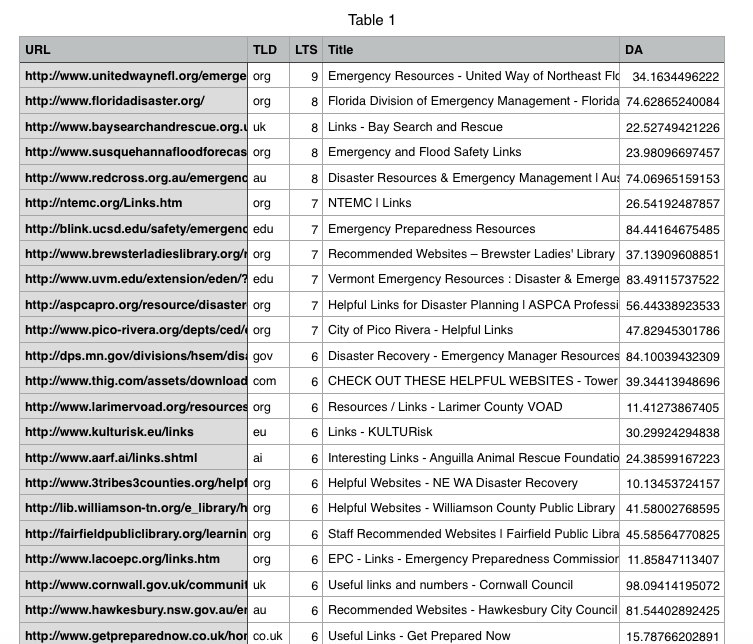 LINK PROSPECTOR FEATURE TIPS:
This section is to give you some tips on how to use Link Prospector more effectively helping you provide better targeted link opportunities.
The first tip is:
1. USE NON-SEO KEYWORDS AS RESEARCH PHRASES
If you have watched the video I've shared earlier, Garett French emphasized heavily about using non-SEO keywords or words as your research phrases in the tool. The reason is that the topical keywords can give you more page-level link opportunities, as they are more informational than commercial in nature.
One method that you can use is by doing a Google search for research phrases to check if they are more topical than commercial. If most webpages on the first page are commercial pages, you're less likely to get links.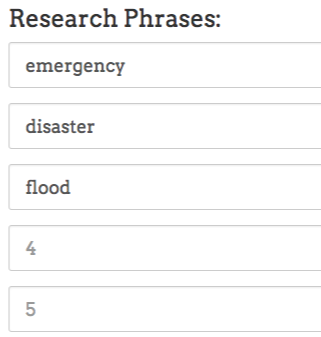 If you are struggling to add more research phrases, I recommend that you do a Google search for one topical phrase. And have a simple look at page titles and descriptions of URLs on the first page search results.
You'll then uncover phrases you haven't thought of relevant to your topical phrase that can be used as research phrases in Link Prospector.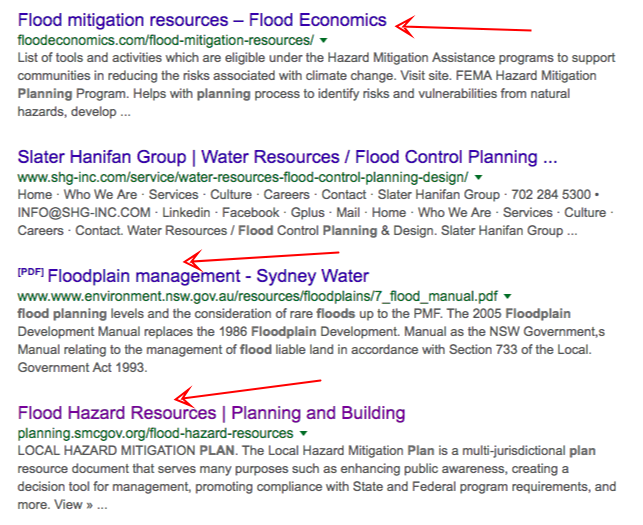 Useful Resource: 4 Advanced Link Prospecting Techniques for Increased Efficiency
2. LEVERAGE .EDU AND .GOV TLD SEARCH FILTER
If you've been very specific with your prospecting, I recommend that you utilizeTLD advanced search option of Link Prospector.
For example, if you only want to find .edu and .gov links pages, it's better to choose .edu as your preferred TLD to filter results to only yield .edu link targets.

It's plain and simple.
3. MAXIMIZE GLOBAL OR CAMPAIGN EXCLUSIONS
Here's my recommendation:
Before you start creating a report, make a list of sites or pages you need to exclude from searching. These may include social sites like Pinterest, Facebook or Twitter or even the site of your client.
This aids you with the cleaning up process.
For campaign exclusions, I recommend that you get your list from backlink reports of your website generated from a link building tool like Ahrefs – the report is a list of links that you have acquired already for your website.
Make sure you exclude lost links in your campaign exclusions as you may still want to reacquire them in your outreach.
4. PROSPECT FAST BUT QUALIFY BETTER
The hard work isn't exerted in using the tool, but primarily on what you do after you have collected thousands of link opportunities in your hand – that is qualifying them.
Prospect fast but qualify better.
The tool gives you the edge of scalability. But the work doesn't stop there. You have to qualify each and every link target based on relevance Otherwise, it'll be difficult for you to acquire links from them (irrelevant to your niche) or most of your link opps will be too bad (not authoritative websites and spammy). 
In addition, it's important to know the estimated number of quality link targets you can quality from a big report of links.
For example, in my list of 10,000+  unqualified pages, we've generated only 400 DA20+ niche-relevant link opportunities.
On average, we qualify 1000 prospects based on relevance and obtainability within 15 to 25 minutes. So the total time it took us to conduct relevance test for 10,000 pages was 2 1/2 hours to 5 hours.
That may be time-consuming to some of you, so I suggest that you hire a virtual assistant to do the task (a VA with basic skills charges $3 per hour).
With a good documentation/process (.doc) on how to quality each link opportunity, you can generate targeted possible links from thousands of unqualified ones.
5. PUT MORE EMPHASIS ON RELEVANCE THAN DA THRESHOLD
When qualifying link opportunities, some SEOs are heavy on DA numbers as their threshold. It's okay if you've got clients who look at and measure your deliverables based on that.
However, if you have the luxury to strategize on yo ur campaigns and its results, I suggest that you give more emphasis on relevance over DA because if not, you'll miss out on good opportunities.
Tip: Educate your clients regarding link metrics.
In conjunction to this topic, Jon Cooper killed it with his tweets: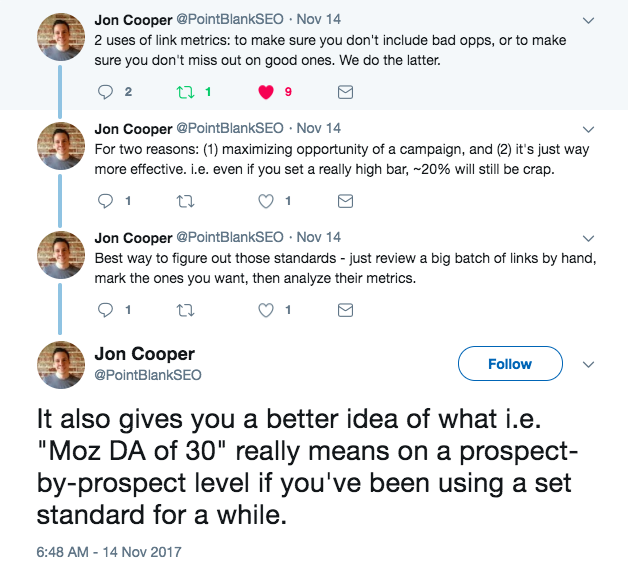 If you liked this post, subscribe to our newsletter and follow me on @venchito14.
Need help with your link building campaigns? Check out our link building services here.