In my years of experience, I would say that there isn't a one-stop-shop of tools for SEOs and link builders.
Using a variety of tools for many link building tasks, for example, depends on what makes each tool more suited for a specific function.
Since checking of new and existing links that have become part of our daily tasks as a link building agency, we know of one tool that makes backlink monitoring and backlink analysis made simple.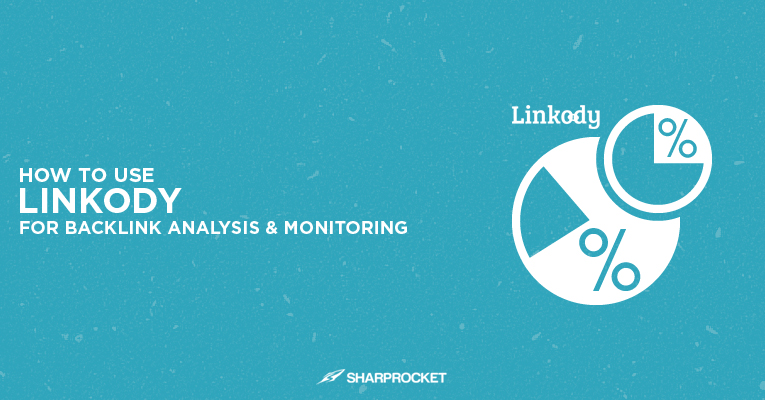 What is Linkody?
Linkody is a SaaS tool for backlink monitoring, analysis, and reporting. Since 2011, many marketers and SEOs have used the tool to monitor their websites' backlinks and even their competitors' backlinks. Simply plug in the domains of your site and your competitors and you can immediately check for all the backlinks with their corresponding metrics. The tool has the ability to run the reports for you — an ease if you've got multiple clients working with.
How Does Linkody Works?
Once you sign to Linkody, you can add your domain and your competitors' domains for analysis.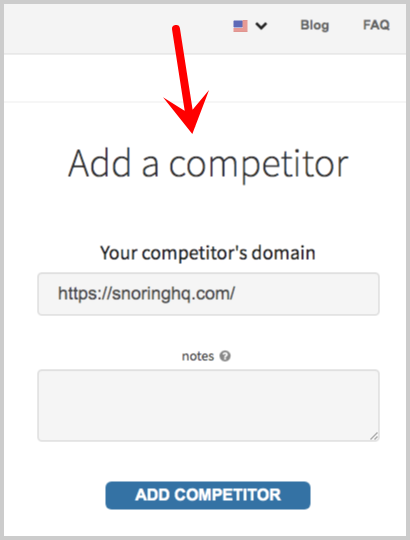 What I liked about Linkody is its ability to integrate with other tools such as Ahrefs. This gives the platform the capacity to get an appropriate metric for each backlink.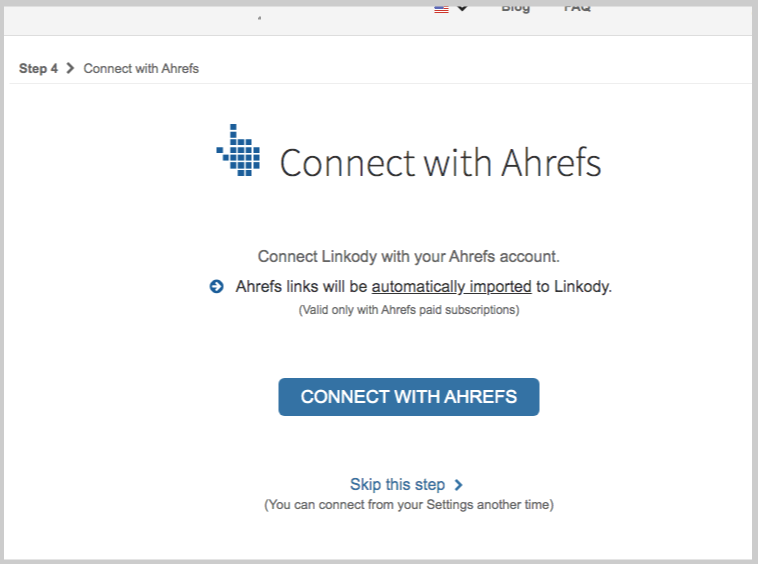 I'll be using a free account to see what the tool gives through its features.
Analyze backlinks with metrics
When you click on 'Links', it supplies with a list of all the backlinks of your site.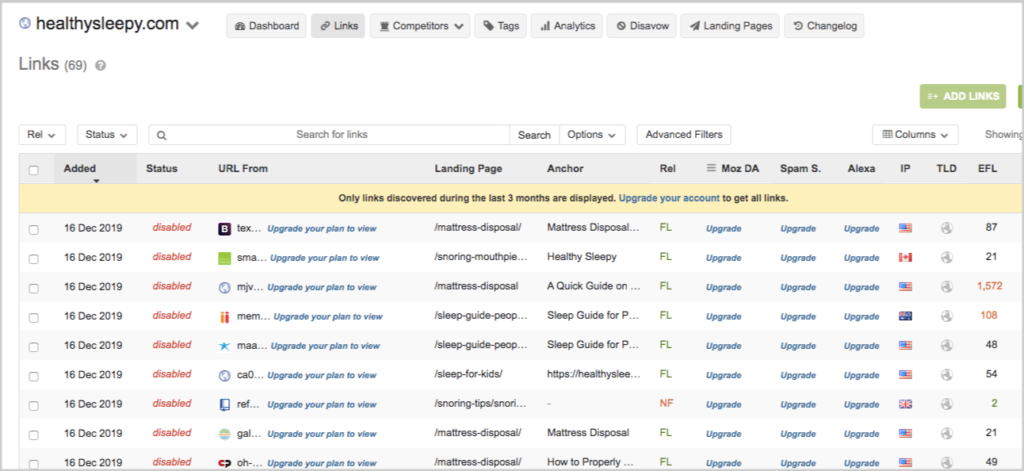 Now, Linkody only gives 3 months of data of all links if you're a free account. If you wish for an extension of let's say 6 months or 1 year, it would you to upgrade your account.
That being said, you can have details you need for links including:
Exact URL of the link

Landing page (page linked to by the backlink)

Anchor text

The date which links was discovered

No-follow or dofollow

Moz DA, Spam Score

TLD and IP
Like any other tool, there are advanced filters that you can use to only include links that meet certain criteria (last live from 1 month ago).

Landing page error is a quick feature to find out any landing pages of your site (where links are pointed to). You may create another page of the site and redirect that landing page error URL. Build new links to the new landing page.

You may also want to use tags for quick filtering in the future. You can add tags for type of backlink (comment, round-up, guest post, etc…), sites/domains you've reached out matching your existing list of outreach prospects, and other important filtering analysis for both link search and outreach initiatives.
Track and monitor backlinks 24/7
Performing many SEO tasks is crucial to a marketer. That said, one should find ways to automate significant reports and data.
Linkody notifies you of any new backlinks acquired by your site and any lost backlinks. This allows you to give updates on the progress of your link building campaign.
As a link building agency, that progress report of new links matters to SEOs as you can assess the time duration (days or weeks) it takes you to get a single link from the time you've started your blogger outreach campaign.
Giving alerts also helps in making tweaks of your content according to what specific linkers are receptive to. Either you'll add additional content formats to serve the linkable audience better or make more of the same content format that appeals to the link market.
From given reports, you can get insights and make decisions to further develop your content and achieve more success in general for your link building campaign.
Get insights from competitors' backlinks
Competitor backlink research is an essential SEO task, which gives you an overview of your linkable audience market and valuable insights to your current and next set of actions in terms of content creation and outreach.
Linkody allows provision for backlinks reports for your competitors' domains. Details of your site's backlinks (metrics, landing page, anchor text, etc..) are also the same thing Linkody offers for your competitors' backlinks.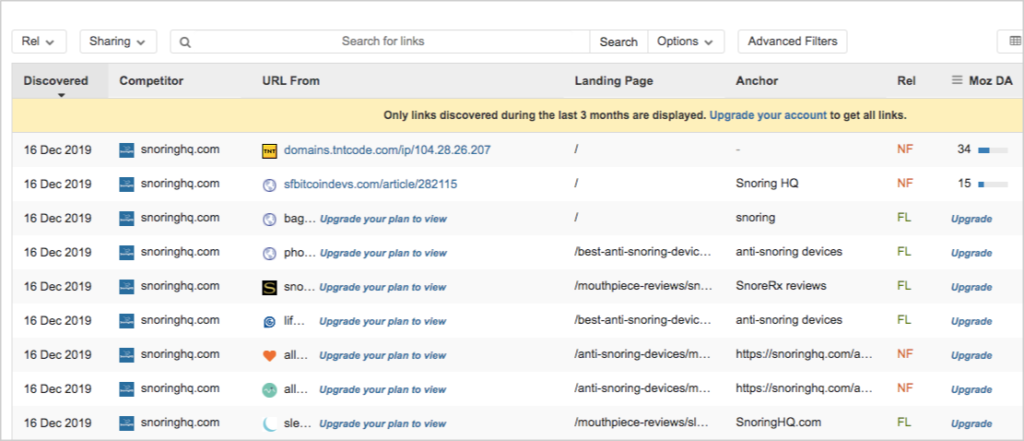 Given the list of links are sorted from the recent date the link was discovered (December 17, 2019 – since the time of this writing), you can learn insights as to the latest link building campaign your competitors are doing.
Those latest links could inform you of the type of relationships your competitor has built with its linkers — which will then provide additional insight as to the link acquisition strategy used.
For instance, if you've seen multiple links from the same website on high-quality guest articles, that itself forms a regular column for guest posting which you can tap as a guest blogging opportunity.
Identify low-value backlinks
In our guide about bad links, we've shared how to determine if a link is good or bad. Here are some of our considering factors:
Contextual relevance

Traffic

Traffic location

Link placement

Anchor text distribution

Metrics
You can have a few of those factors checked through Linkody (anchor text, metrics, etc…). By doing so, you can make a decision about which kinds of backlinks to avoid in your future link endeavors. 
Link Analysis Made Simple
While there are a lot more features needed to add to Linkody, its free access offers many considerations and insights where you can take action for the full development of your link building campaign.
Link analysis isn't easy but can be made simple by gathering data, filtering what's needed, and taking insights into action plans. Isn't it what continuous improvement for a campaign is all about? 
How our LINK BUILDING AGENCY builds 250 links/mo consistently using Predictable Link Building Methodology™…
Using a SIMPLE and PROVEN system

Using a SCALABLE strategy
No private blog networks
No creepy outreach emails
SHOW ME THE FULL LINK BUILDING STRATEGY