We've written a series of link building guides for different industries – from car rental, hotels, dentists, drug rehab centers, and even to a certain type of web properties like .edu websites.
Today, we look at how to get backlinks for moving companies. As you know, moving to a new place can be a stressful process, so individuals, families, and businesses today are hiring qualified movers to ensure their possessions are being handled properly.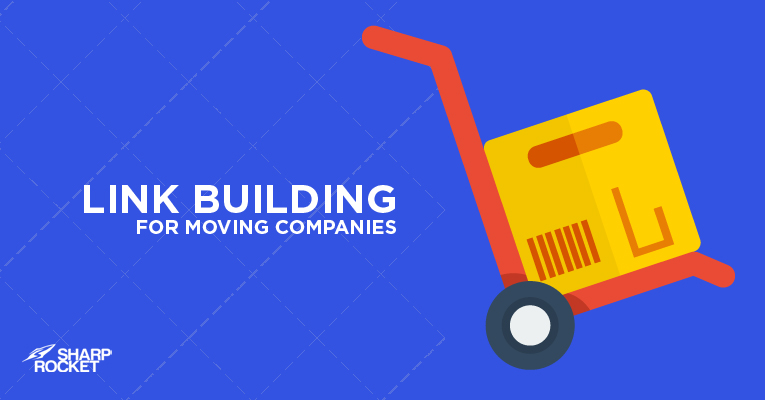 If you own a moving company or have a client with a moving comparison site, this guide will help you find targeted content creation and link building tips.
INVEST IN CONTENT FORMATS SPECIFIC FOR MOVING CUSTOMERS

  
Understanding what content formats will resonate a specific group of audience can help you initiate the content creation process without apprehension. There is a good probability of gaining traction from a targeted audience if the content format given to them fits their content consumption needs.
Let me give you some examples of content formats that resonate well in the moving industry.
A. Checklist
People can forget things. A nice format of content to give to your moving customers is a good moving checklist.
However, it should not be just another checklist, but rather a very specific one for your audience and their location. Depending on your services, you may create checklists for any of these readers:
People who are moving to a new house

People who are moving to a new business center

People who are moving house from CityA to CityB
For the latter, it is best to use some local city names if it is what your brand mostly targets. A Moving From Los Angeles to Seattle Checklist is a highly specific content. It may include tips and reminders that considers city location distance, best days and time to move (according to traffic), and other pertinent details for those two locations.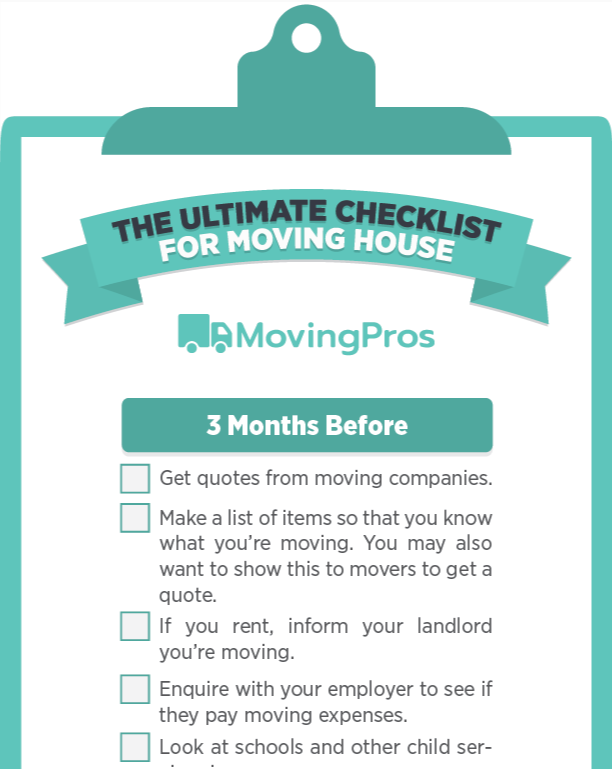 Most moving checklists you'll see that are published have preparation time frames at hand (8 weeks to go, 6 weeks to go…). The key point here is to ensure it is the most estimated week frame – does it actually take you 8 weeks to move from CityA to CityB? Having good research for these small details gives you an edge to how much value your content is to your target customers.
You can create a graphic design for the checklist so your readers can save it, bookmark, print, and bring it wherever they are.
B. 101 or Beginners'' Guide
In the search marketing community, there is a lot of beginners' guide content published everywhere. There are different versions of it such as Comprehensive, Definitive, Ultimate, or Complete guides. While you can do this similar approach on your moving blog, it may not resonate well in other industries.
In the moving niche, for example, you don't have to create your own guide that just curates all tips from different blogs on the topic – a Complete Guide on [TOPIC] will not make sense, as people have different needs and things to move. Complete Guides may be found to be incomplete by some people.
What resonates most is 101 type of content that gives information to people who are new to the scene. You will mostly find there's no advanced side of moving, unless an individual moves very frequently from one location to another, and then to another location.
You can create 101 guides or posts on any of these topics:
packing

moving across a COUNTRY
rules and regulations for CITY

taking furniture apart

loading a bed
Packing 101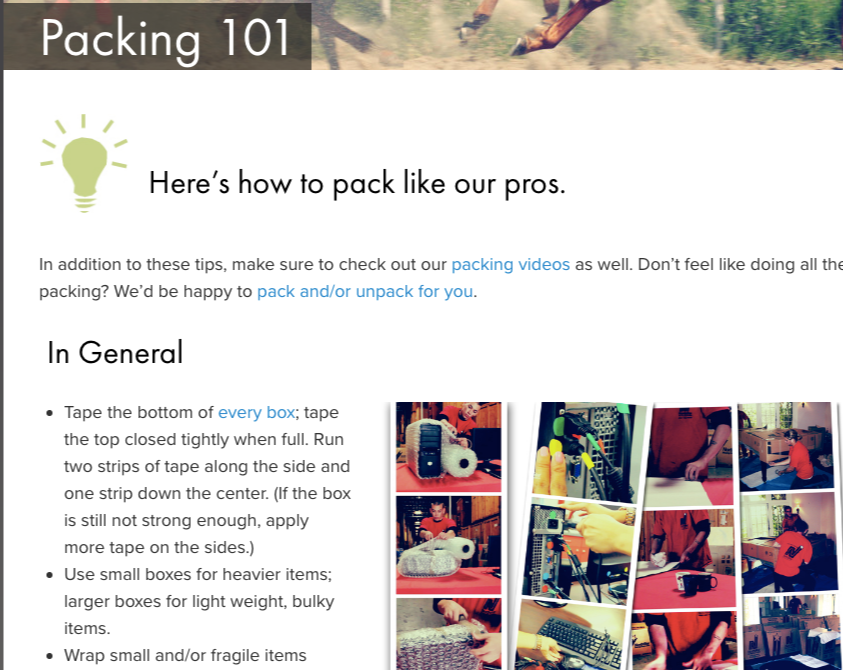 Move Calendar

C. Things to Do
You may tangentially create topics that can be of interest to your target audience. Examples of these are things to do topics. It may not be solely for moving customers, but for people who are interested in travel that might compose a portion of your customer audience in the future.
Here are a few things to do topics that can generate traffic to your blog:
things to do in [city]
things to do in [state]
things to do in [city] this weekend
things to do in [state] this weekend
fun things to do in [place]
free things to do in [place]
D. Questions
Another format to create in content is question kind that people are asking for. So, if you can determine popular queries that your demographical audience is looking for, you may not be running out of content opportunities.
Address these questions on your blog and get a good portion of traffic to your blog. Here are some topics you may find worth discussing:
where to buy moving boxes

what do I need for moving day?

what happens when a moving company breaks my furniture?

how do moving companies ensure that your stuff is safe?

how to pack for moving

how much does a moving company cost? (for moving comparison site)

how to pack clothes for moving

how to pack books for moving?

how to pack a tv for moving

how to stay in the same school after moving
To find more moving-related questions to write posts about, you can use Ahrefs' Keyword Explorer, search for any moving phrases. Then filter keyphrases to only Questions.
TAP LINKABLE AUDIENCES
I'm a big fan of Garett French's linkable audiences (there is no doubt with that). If you're not yet familiar with linkable audiences, basically these linkable audiences are proven to have the intent of linking to a website from their webpages. Therefore, creating content for them increases the probability that the content we produce can acquire high-quality links.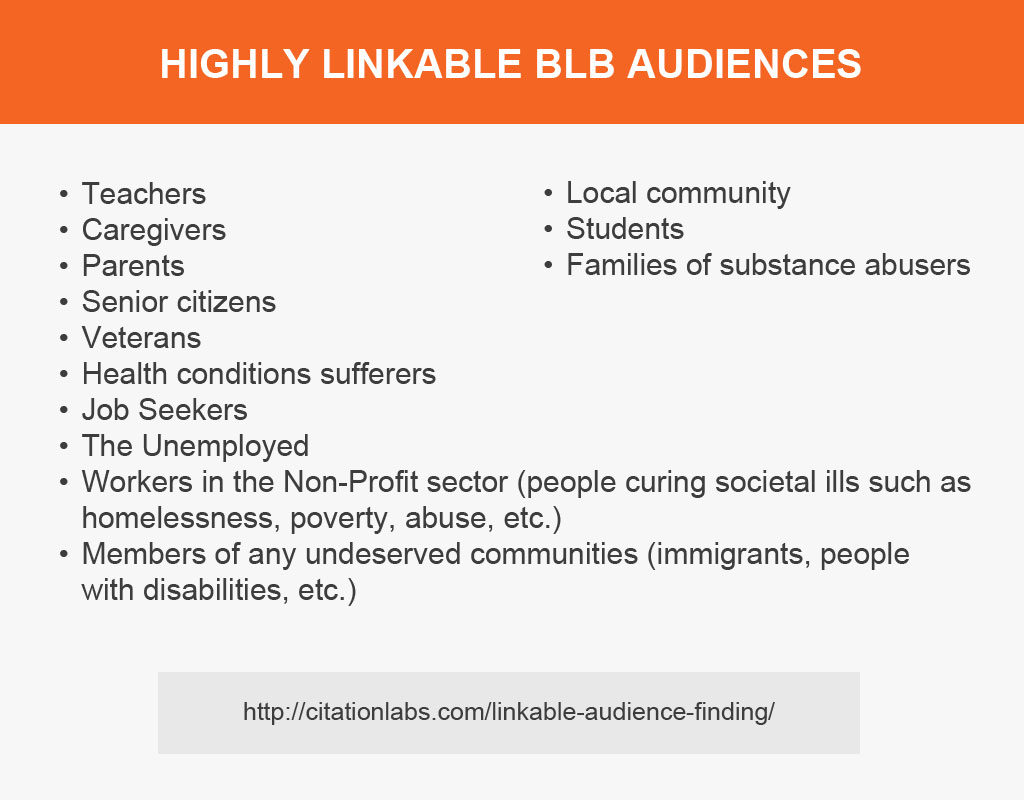 For example, you can tap job seekers who are working in a city or country you're targeting as a brand. Here is a good example of a moving comparison site doing well with this type of targeting.
Work in NZ: Jobs in the Fastest Growing Industries in New Zealand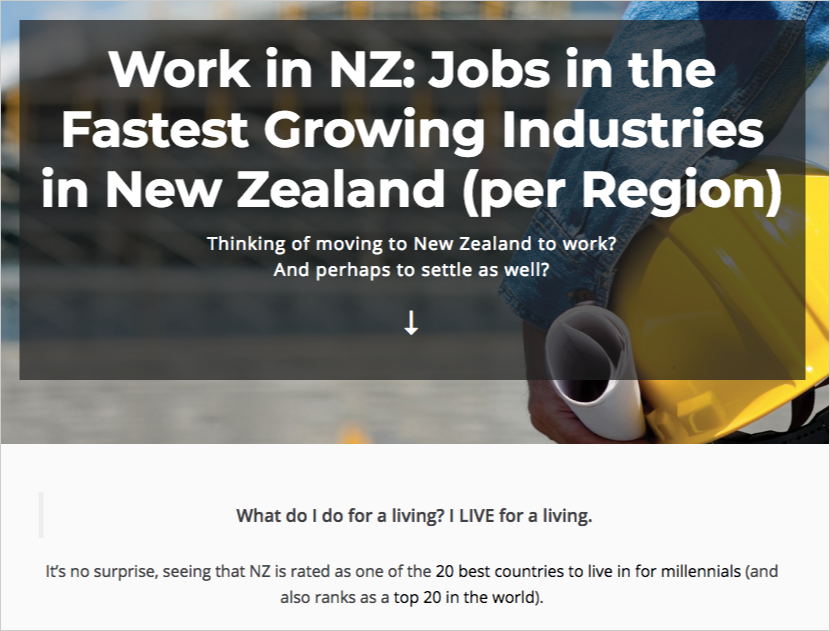 Another linkable audience that is receptive for linking are environmentalists or people in the nature space ("going green"). You can publish content assets that value green thinking.
Going Green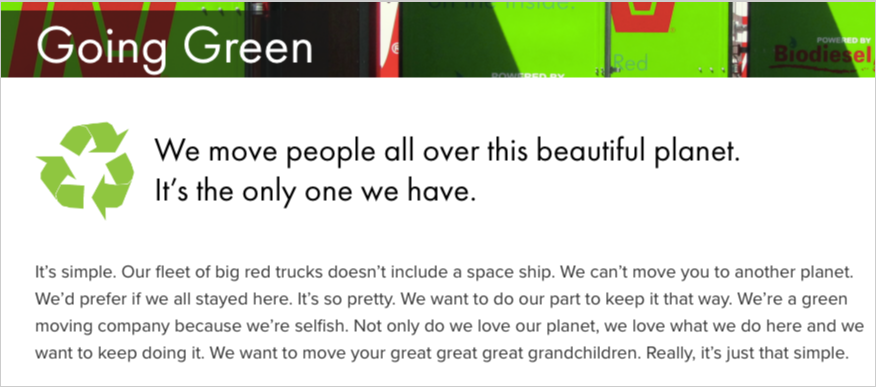 LINK BUILDING FOR MOVING COMPANIES
There are a lot of other ways to build high-quality backlinks for a moving site aside from what was mentioned in this post. Invest time in checking backlink profiles of top competitors and see where they get most of their inbound links.
Being listed on popular directories like Yelp and Merchant Circle still holds great weight in relevant inbound linking, but don't let your efforts stop there. Find other creative means to get the ball rolling in link building.
How our LINK BUILDING AGENCY builds 250 links/mo consistently using Predictable Link Building Methodology™…
Using a SIMPLE and PROVEN system

Using a SCALABLE strategy
No private blog networks
No creepy outreach emails
SHOW ME THE FULL LINK BUILDING STRATEGY