Identifying your strengths as a brand is critically important in securing backlinks for your website. There are under-utilized resources you have to see and maximize to get the optimal results for your link building campaign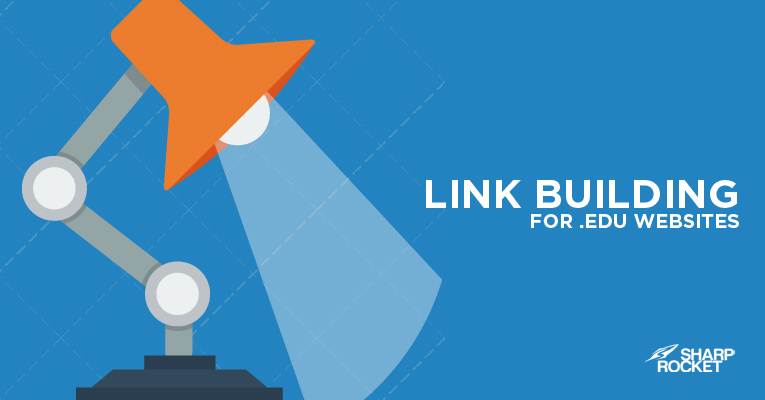 In doing link building for education entities, for example, there are pages that only such kind of website can create. These under-promoted web pages are only waiting to be amplified to its intended audience to gain some more links.
So the question is, "what are these solid pages and how you can best use them to get links to your .edu website?".
Before we reach into the nitty-gritty on how you can build links in the education space. Let's first answer the question.
Do universities hire link builders or do they really need link building for their marketing campaigns?
In our current experience working with a couple of educational institutions and colleges, we've found two reasons why outsourcing to a link building service provider is one of their options to execute a link building campaign for their website.
First, new course programs and offerings need immediate traction.
Though educational entities can resort to paid online marketing means to get eyeballs for their new course offerings, they always look for organic means that will result to long-term effect promotion for their new pages.
Second, educational entity or college produces a lot of link-worthy pages but aren't earning their deserved promotion.
With link building, it's not only pursuing backlinks for the .edu site, but goes beyond than that – additional branding opportunities and maximizing exposure for under-promoted assets.
With the help of new incoming links built from intentional manual link building efforts, it wouldn't be impossible for some pages to rank, earn some links, and receive more exposure.
Now let's discuss pages in an .edu website that are already or could possibly be link-worthy.
1. HOMEPAGE
The homepage of a .edu website is itself a linkable asset, given its nature of being linked to on quotes and mentions on different web sources such as blogs, news, and even curated listings like resource pages.
It is best to setup alerts to monitor regularly any mentions of your brand name. You can identify websites that have mentioned your brand but haven't credited you with links.
Reach out to webmasters of these sites and ask for an appropriate links for your page.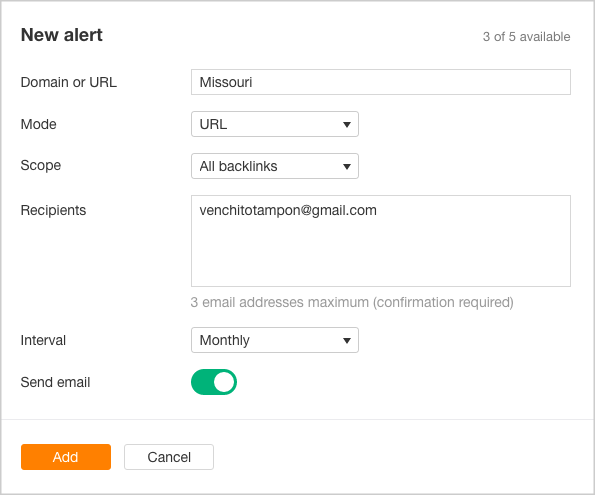 Another way to maximize the authority of a .edu homepage is to find specific resource pages that list down colleges or universities.
I recommend that you start with a macro view of lists pages (i.e. Australian colleges) before going to prospect for geo-specific links pages (e.g. Melbourne colleges).
Here are some key phrases you can use to search for relevant resource pages to get homepage links:
list [country/city] college

list [country/city] school

listing [country/city] i colleges

listing [country/city] school

list "[country/city] colleges"

[country/city] colleges list

listing [country/city] college

[country/city] school list

[country/city] school listing
Reach out to point persons of these curated listings and ask to be included on their pages.
2. SPECIALIZED ONLINE DEGREE PROGRAMS
While you can already build relevant links with the first asset, this second linkable page can give you a more category-specific link equity that can boost your educational degree programs.
The deeper the page is in its category, the more relevant a link should be acquired.
There are a lot of factors that come into play when we build links to online degree programs.
The first one is specialization. How unique your page is can impacts its linkability in outreach. For example, we've had a .edu client who recently offered a "Leadership Master's Degree online program". It is more specialized compared to masters degree programs we all know. That specialization in online degree program allows us to get valuable links from certain pages about a clearly defined topic – leadership in business.
Here are a few examples of niche-specific resource pages for degree programs: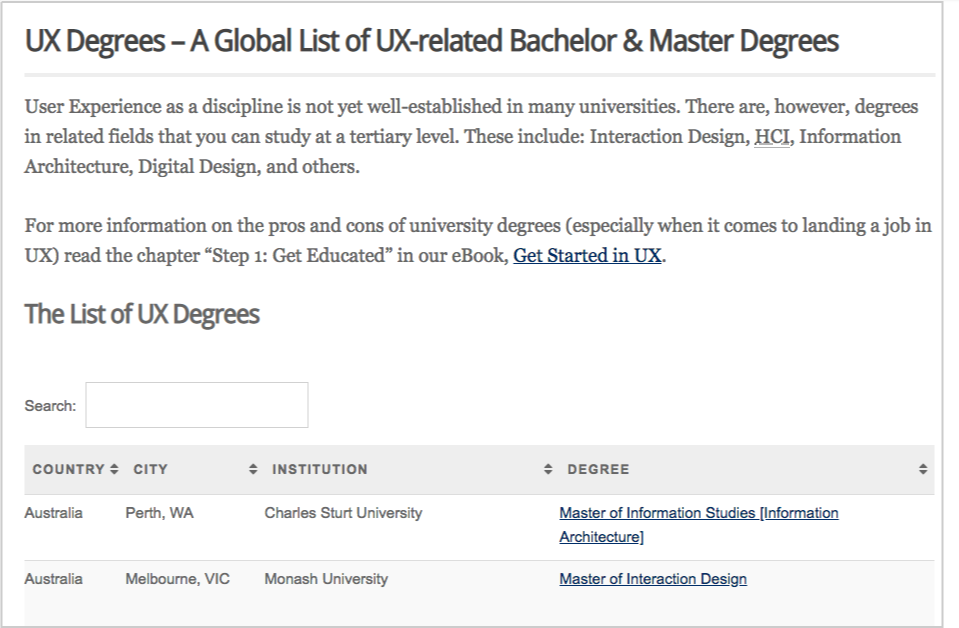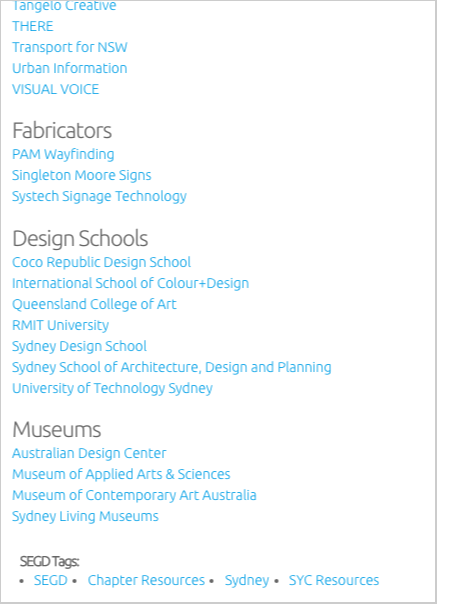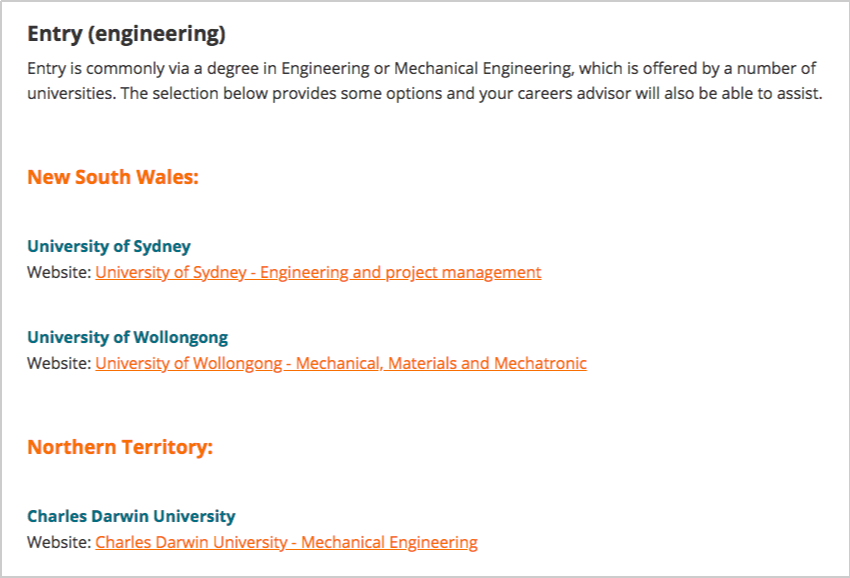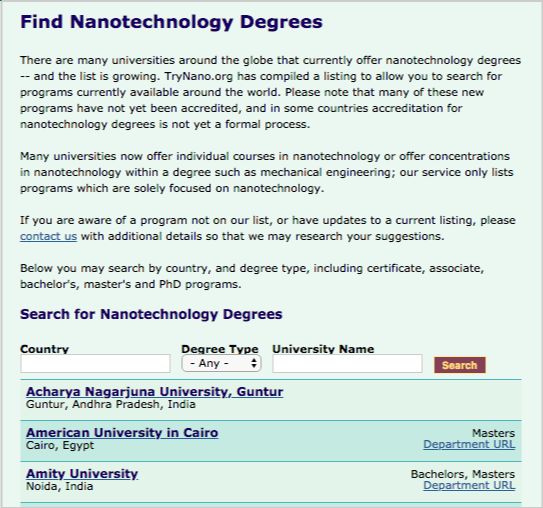 Chiropractic
You can find these pages by using any of the following keyphrases (for Google prospecting):
Engineering degrees in [country/city] list

listing of ux degrees [country/city]

inurl:links design degrees [country/city]
Replace niche degrees (engineering/ux/design degrees) with each of the specialized degree programs of your .edu website. By using them for Google search, you'll find a couple of prospects for one degree program and a few for the other pages.
The next step requires groundwork filtering resource pages that match relevance of your degree programs. You won't get hundreds of pages listing specialized online degree programs all the time, especially if you're targeting country or geo-specific pages. But those few prospects you've found for a specialized degree program are worth pursuing in outreach if you can get just a handful of high-quality links.
3. BLOG LINKS IN THE CAREER SPACE
One of the easiest verticals to gain advantage in link acquisition for .edu websites is career space.
With all of the career blogs publishing job searching articles, there is always a room for very-specific content.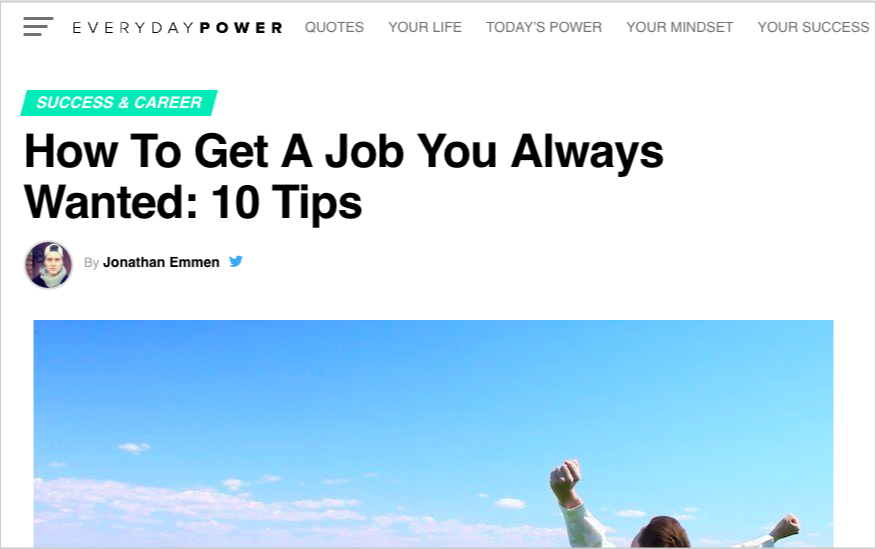 Instead of submitting generic guest post pitches to these career blogs, why not give them a very unique content they haven't published yet? A "how to get a job in [niche]" is a topic they won't hesitate to publish, especially if you have crafted an expert-oriented content on the topic.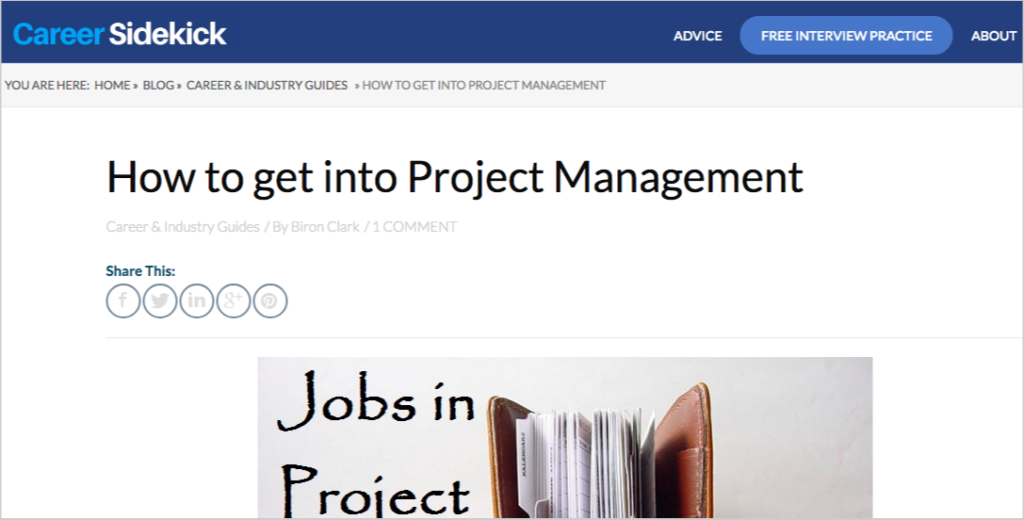 In addition, you can also maximize your guest content in career blogs to acquire contextual links to your sales pages – your online degree programs.
When appropriate in context, those sales external links can justifiably be inserted in guest articles.
Further Reading:
4. APPRENTICESHIPS
When maximizing link opportunities for a given website, you have to identify pages that aren't linkable at the first glance, as it doesn't have any much information to offer. By searching for Inurl:"resources" "TOPIC PAGE", you could be possibly find an opportunity that could result to 10s if not 100s of links.
One example of this type of opportunity are apprenticeship links.
When you have an "apprenticeship" page on your site, try to look for useful resources pages that links out to universities who offers apprenticeship, traineeship and even pre-apprenticeships programs.
A pre-apprenticeship program basically you basic skills in your interest area and readies you for an apprenticeship.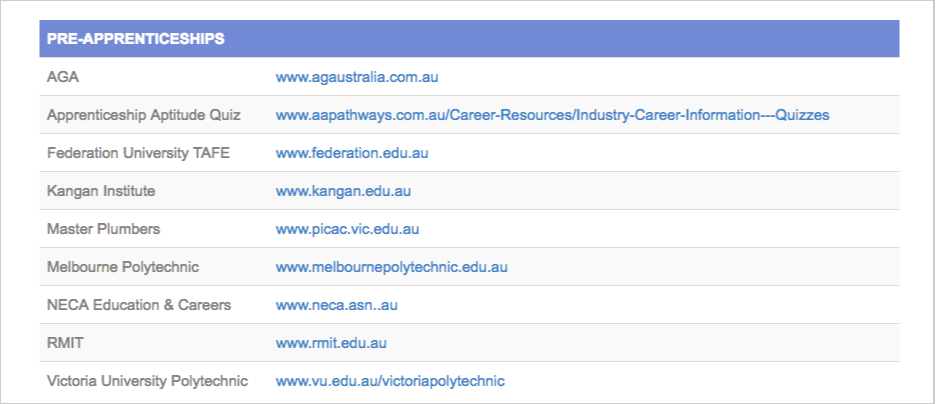 You can do a Google search using any of the following queries:
"apprenticeship" inurl:links

"traineeship" inurl:links

"pre-apprenticeship" inurl:links
Reach out to persons who manage those pages and get your site or apprenticeship page be included.
OTHER USEFUL LINKABLE ASSETS:
Here are just a few pages you could take advantage and explore more link opportunities. One could result to another linkable idea that will help you earn more links to your educational entity.
Newsworthy events (faculty changes, new building constructions, new program creation and development)

International and local awards and certifications of students and teachers

Literary and academic researches of professors, researchers and other knowledge workers

Speaking engagements and opportunities

Student blog section

Visual assets and how-to guides

Informative and comprehensive health and wellness, counseling and safety pages

Library guides sections

External works (involvement in charities, scholarship opportunities, local and community events, etc..)
Need help with your outreach campaigns? Check out our link building services here.
Hear about new posts as they happen. Build extraordinary links.