Consumers are becoming more sophisticated in choosing the right brand that will satisfy their needs and exceed their expectations.
Great content and catchy design are not enough to achieve business-related goals (profit, social, growth, etc..) Customers especially those first hand are seeking out for involvement and interaction with the brand (first two elements in the customer engagement cycle). Given that users/consumers are innate to engage with other people, brands should establish a humanized approach in their inbound marketing campaigns through the key principles that I will share later on.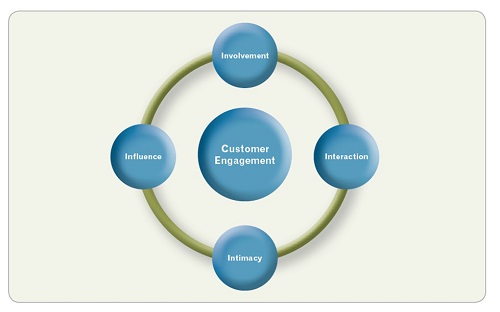 As Wikipedia says,
"Engagement marketing is a marketing strategy that directly engages consumers and invites and encourages consumers to participate in the evolution of a brand"
To better understand this definition, you have to consider the following elements that will increase your chances of engaging with your consumers.
Transparency
All brands have their own flaws and therefore, they can't provide 100% quality of service.
Consumers don't trust a brand if there is something they have to hide. Whether it's a failure on a product they sell, or on the system/process of their operations, authenticity or transparency should be a vital part of the brand's core values and principles.
Create a unique brand identity that focuses on how your consumers/users should be treated. Look at how Zappos attached the word "family" in its brand name and created a fun and engaging culture through music videos.
Immediacy
Brian Massey wrote a notable post about the correlation of engagement and conversion. He mentioned that an additional component (video, image, logo, etc…) can either be a distraction or engagement to a customer/user. It can be determined through the level of emphasis of the element in the site that is shown to the consumer.
The more emphasis on the component rather on the call-to-action can be a distraction and thus, decreasing the conversion rate of the site. If the user's intent is not satisfied by the hosted landing page, chances are they will go back to the search results to look for another site.
Emphasize your call to actions in your product/service landing page(s). Make it easy for your targeted customers to act intently as they visit your site. Remove any barriers that can hinder them to take their actions.
Resources:
Facilitation
Finding the right audience based on your brand's message, product/service and business-related goals can help you determine what form of content is best suited for your targeted customers.
In addition, the more you understand your customers' needs, the likelihood of engaging them with your content (and other important elements of your site) is higher.
Look at how Jon Cooper redesigned his blog to improve user's experience that is specifically targeted for both beginners and experts in link building.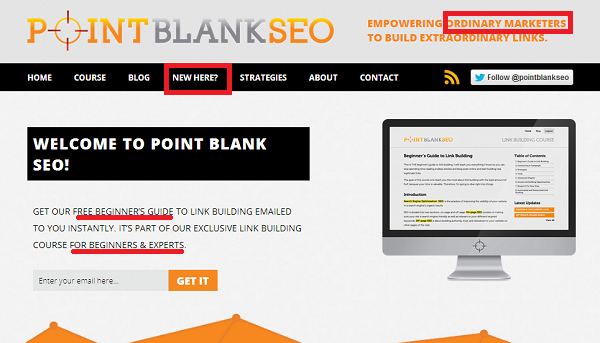 You can check out this post by Mark Acsay about the effect of design elements to user experience.
User Experience
All the three elements I mentioned earlier (transparency, immediacy and facilitation) comprise a brand experience that every customer would want to feel as they visit your site. And how customer's experience affects engagement and conversion?
When someone had an intention in mind even before he visits your site, it's easy for him to take an action (buy the product) as he lands on your page because of the needed elements for conversions (call-to-actions, sign up buttons, etc..) are all present in your site. Intended keywords (e.g. buy SEO book) should also match the content and design of your site.
For instance, if your targeted keyword is "SEO book reviews", there should be at least one content that covers all SEO books. It can be in a form of group interview (industry experts sharing their recommended SEO books) or a comprehensive blog posts featuring top rated SEO books.
Where is the engagement? As the site satisfies the need of the customer, immediate action from the user happens. He can directly buy the SEO book from your site or subscribe first on your blog (to learn more about the basics of SEO, and later convert).
The former is a case where your customer is ready to buy the product and since he is already satisfied with the content that you provide, conversion in this part is higher. The consumer jumps in the marketing funnel from consideration to purchase.
The latter is the usual process gone through by the consumer (Awareness-Opinion-Consideration-Preference-Purchase). The conversion is still high in here especially if you created a content that converts but takes a long process on the part of the buyer. The reason is that the potential customer may want first to know the different elements of the product (price, benefits, features, etc..) before he makes his decision to buy it.
Engagement starts when someone (brand or consumer) initiates the interaction. The best tip here is that the brand should be the initiator in the marketing process, given that it is the one that needs the conversion and exposure. If the consumer initiates (email, phone call, etc…), the brand must have a proper plan to immediately respond to the consumer's action.
The Content that Engages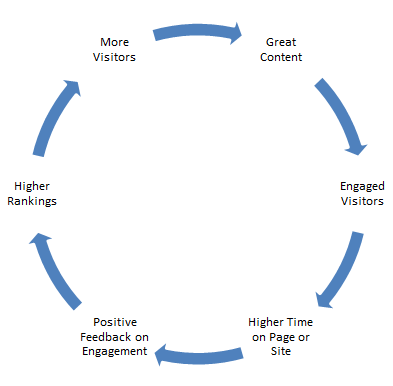 Content is not king if the context is not directed to the goals of the business.
The above image is a content cycle that can only happen if the content is specifically targeted to the right audience and users' needs. I shared some tips on my post on e-koncept on how engagement can be done in the content.
Look at how Kissmetrics targeted the behavior of its users/consumers through infographics, case studies and marketing guides.
Source: How Colors Affect Conversions – Infographic
Kelsey Libert gave strong key points in her post on how to go viral from content marketing campaigns:
Forrester allows content customization in their home page that is designed for users' preferences. It develops their brand experience and narrows the focus on even further details.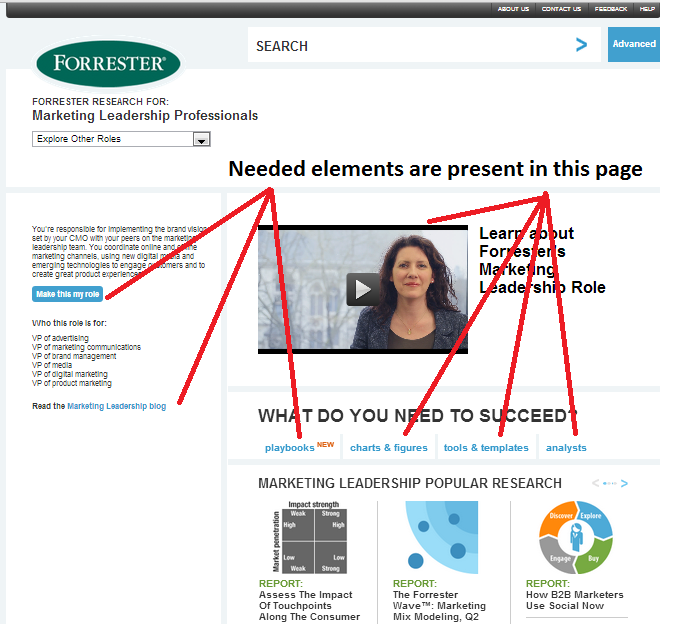 Use content-personalized tools like Smart Content and Gravity to define a specific audience and delivers an easy-to-use content for users.
Other Ways to Engage
Create relevant studies or research
Using surveys like Survey Monkey to get relevant information and create valuable studies/research can be your content marketing tools which are hard to replicate by your competitors. Sample Studies or Researches:
Leverage your players through interactive platforms
Relevant discussions are best sources of links and customers, seeing many of these highly-engaged platforms have high involvement of users and can be a competitive advantage of your brand to build its identity.
The continuous engagement in forums allows the brand to identify problems on services/products and develop improvements which may come from a single idea of an engaged customer.
Recognizing every user in the community through rewards or prizes (t-shirts, swag package, etc..) showcases the brand's social awareness.
Look at how Moz created a community page that garners tons of referral links and shares given that it establishes its identity to communicate to a specifically targeted audience.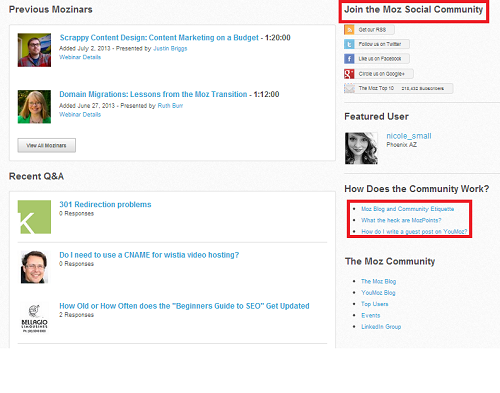 Community can earn editorial links with or without the need for email outreach. Satisfied and happy customers who were rewarded by your brand and have their own blogs could write a blog post about your company (stories, product reviews, etc..).See Community Building Ideas Cracking Moz Community by Moosa Hermina.
Increasing brand evangelists must be the aim of every company given that having a loyal customer, if he is satisfied, is more likely to share his experience through product reviews and/or word of mouth marketing.
Give more weight on social networks most commonly used by your users
Not all strategies fit in one brand. The same thing happens in the social community. A brand should know which social network is best suited to its marketing campaign based on the nature of the business, behavior of its audience and customers' needs.
Each industry has its own top social networks that will catch the interest of its users. Jayson Demers wrote a post on how to determine which social media platform  fits for your business.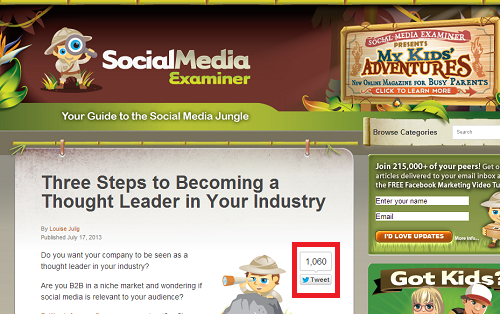 Manage the flow of conversion
Customers need the right path or flow in your site (from the landing page to the thank-you/confirmation page) to make their purchases easier.
Creating a smooth flow for your customer's purchase journey helps increase the engagement level even before he reaches the confirmation page. As he lands on your homepage, he will be interested on the content you're producing and so, he may subscribe on your blog and/or bookmark your site.
You can check out the following resources to understand deeply the consumer's flow and how to gauge its success using Google Analytics.
Develop rating platforms through incentivization and creativity
Integrating rating platforms on your site isn't enough. Pages bombarded with product reviews (ratings, comments, etc..) are best to serve its audience when they are highly moderated.
You can start by leaving lengthy reviews on products that have actually used your team (employees in your company). Set the tone of leaving useful and accurate reviews on every product or item listed in each page of your site.
To increase engagement in rating events, you can start by creating content that will incentivize those users who made a review on a particular product.
Partnering with other manufacturers or companies to get free or discounted product as a give way) can increase the chances of getting referrals and loyal users/readers/customers.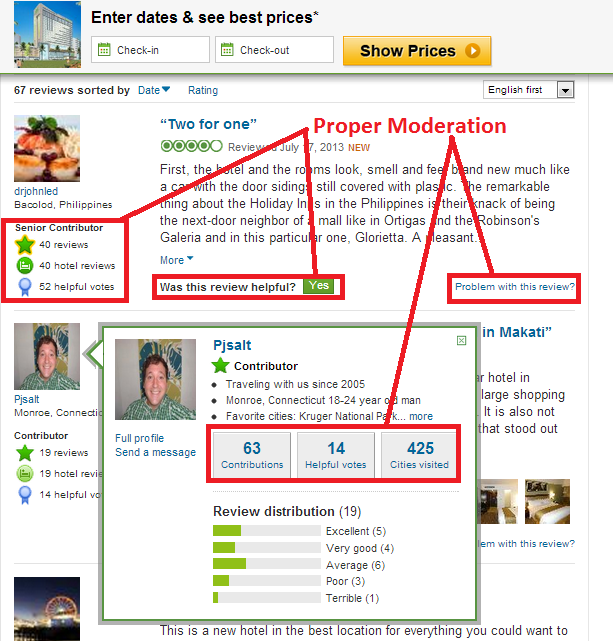 Be more creative on getting reviews for your product. Do more than just rating the product using stars as an element. Add some questions that are fit for the product. For instance, you can ask, "how did the product fit? or "Would you recommend this product to a friend who needed on as well?". These questions can give a boost in the usefulness of the product or service.
Thanks for Kane Jamison for this short tip.
Look at how Thumbtack made their site more credible by adding more questions relevant to the needs of its users.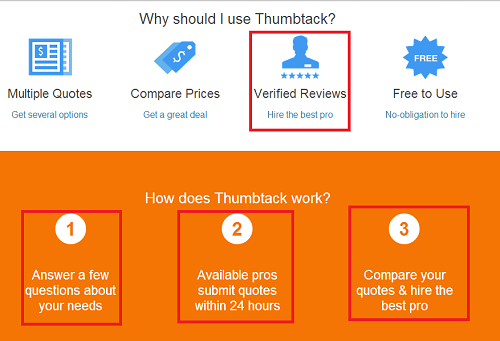 How to Measure Engagement in a Marketing Campaign
There is no exact tool to measure the engagement level of your marketing campaigns. However, identifying how your consumers/users behave as soon as they visit your site can help you improve your site's performance.
In-Page Analytics
You can use this tool to track your site's usage (average time on page, bounce rate, etc…)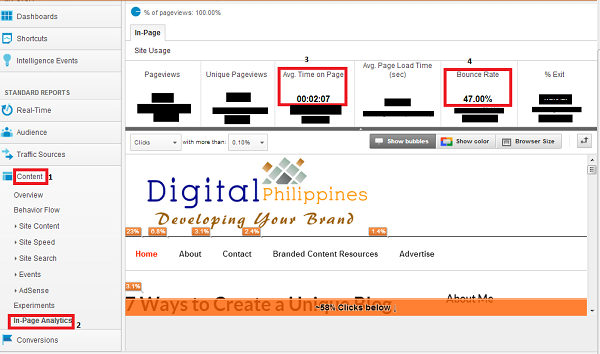 Understanding their needs will help you decide your next step in your marketing campaigns (content, design, conversion, etc..)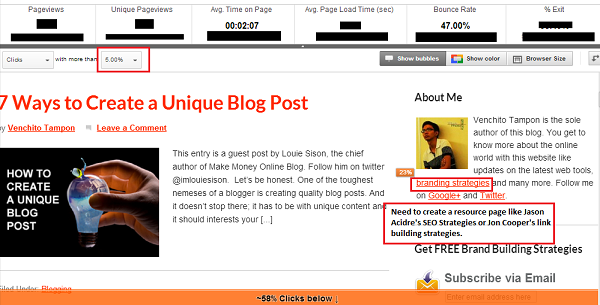 Pagination
By just looking at the metrics (average time on page and bounce rate), you'll identify whether or not you are providing engaging content. Lower bounce rate means search uses' need are addressed by your content and so, they're not bouncing back to the SERPs and search for another query. Other Resources:
Image Source: Link here
If you liked this post, kindly share it to your circles/networks, subscribe to my feed or follow me on twitter @venchito14.
Hear about new posts as they happen. Build extraordinary links.