What is influencer outreach?
Influencer outreach is a marketing discipline of identifying influencers in an industry, qualifying them based on relevance, clout, and engagement, and pursuing them by adding value to what they do.
It is a common practice in different outreach campaigns. The only difference is that you are reaching out to an influencer.
What is an influencer?
An influencer is an entity or a person with a massive reach (social, web or offline), who also serves your potential customers with content in their preferred platform.
When influencers endorse an offering from your site or a content asset you recently produce, you gain reach from their existing fanbase. You also have the chance of absorbing their followers if they've found your content useful to them – which is the primary win for any brand that engages in influencer outreach.
Besides that, there are many other benefits a brand can get aside from the absorption of their current following.
Value of Association
Trust is a glue and attractive force that makes people want to buy from you. It's common sense that when a trusted person or entity endorses what you offer to the market, it's possible that potential customers trust you more.
When you do influencer outreach, you actually take the risk of associating yourself with the influencer you're targeting. That's the reason why it's critically important to qualify influencers whom you would consider in a partnership.
The moment they introduce any of your page or content piece, you're letting them associate with yourself.
If the influencer has a good reputation and doesn't simply endorse any site/content, you're putting yourself in a respected position.
Though the influencer has limits as to when and how they would co-promote your offering/content, the value of association is priceless as it gives more authority and trust to your brand.
Content Marketing Opportunities
You never know how far your content will be able to reach once it's been part of the influencers' circle of content.
You might have a chance to get opportunities not only from the direct exposure of the influencer, but potential ones its (influencer's) followers might provide for you.
Future collaboration can take place when that happens.
While many marketers discuss virality as a guaranteed mark of a successful campaign, there still isn't a perfect formula to make content go viral.
With influencer outreach, you're increasing the probability of your content being more visible, rather than just guaranteeing its virality (though that might happen as well). The truth is virality comes from higher visibility of your content in different places.
Influencer outreach does that for you. It helps you increase your content's visibility in your target audience.
HOW TO DO INFLUENCER OUTREACH
There are many techniques you can find in several articles on this topic, but there are common initiatives you must be able to learn and execute well to effectively get results from this type of campaign.
I. SETTING YOUR CAMPAIGN'S GOALS
This is common sense, but I find marketers jump into outreach very quick without even knowing why they are reaching out to influencers in the first place
What is your goal? What are you trying to achieve in your partnership with the influencer? Is it to get a mention in one of his blogs with a contextual link to your site/page? Do you want exposure in his non-text content (podcast or Youtube vlog)? Do you want to collaborate for a solid content piece that can dominate a keyphrase with high search volume?
Go deeper into asking the purpose of your campaign. Get a piece of paper and write it down.
II. IDENTIFYING INFLUENCERS
This initiative is the first activity among all influencer outreach campaigns.
Next to knowing your goals, you discover who you are reaching out to. And this is the part where campaigns will vary.
There are tools to help you semi-automate the process of discovering influencers in your industry. Let's discuss a few of them.
A. Google Search
The basic methodology of discovering potential influencers for collaboration is by doing Google search.
Use any of these queries to find influencers in your space:
"top bloggers" INDUSTRY
"author" site:TOPINDUSTRYBLOG
"top influencers" INDUSTRY
You can also discover influencers who are contributors to a blog in your industry. See the search query I used below.
B. Ahrefs Content Explorer
Not only that you'll be able to find the most popular articles in your niche using Ahrefs' Content Explorer. You can also locate influencers who have tweeted those top content pieces.

After searching for the topic of your choice, you will see a list of the top pages for that topic. For each content piece, there is an available Details button which you can click on to see more information about the article.
Click on "Who Tweeted" and there you'll have a list of influencers who have tweeted the article.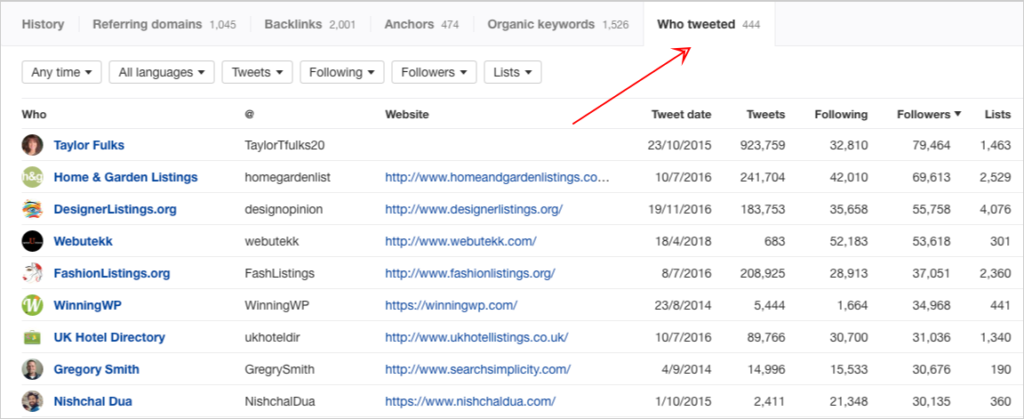 You can filter the list based on the recency of their tweets, the language they speak of, and the number of following/followers. Export it into a file for later use.
C. Buzzsumo
One of the most useful web-based products for influencer discovery is Buzzsumo. Its Influencers feature allows proper filtering.
You can filter the list by the type of influencers that you want to engage with: bloggers, influencers, companies, journalists, or regular people. This refining keeps your campaign more targeted to a specific group of influencers.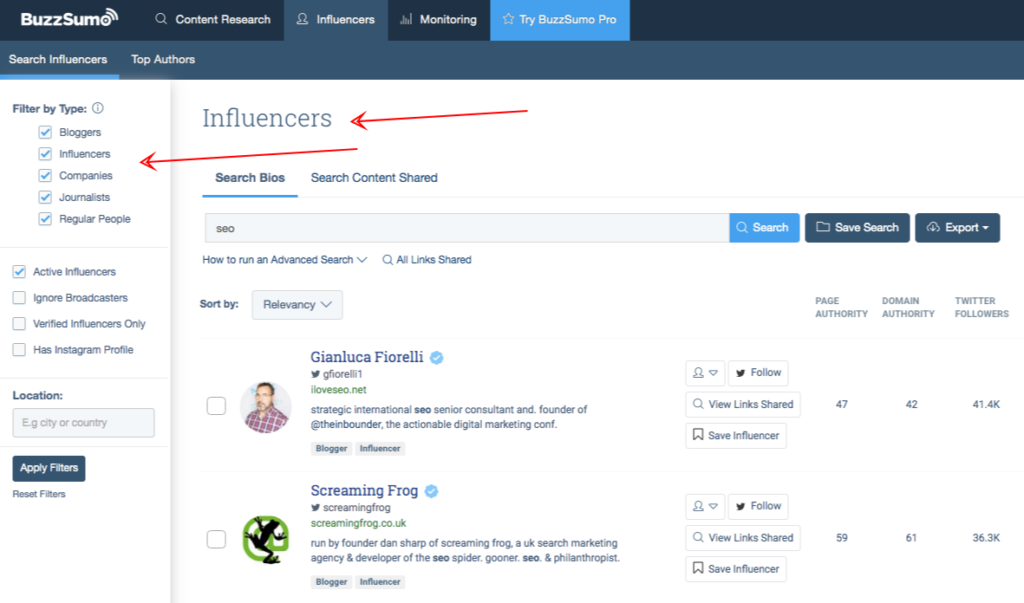 For local influencer outreach campaigns, you can filter influencers based on location.
Buzzsumo gives you options to sort the list of influencers from highest to lowest following Klout, retweet or reply ratio, and average tweets.
Maximize the use of those three tools: Google search, Ahrefs' Content Explorer, and Buzzsumo in order to make a solid list of influencers for your content marketing campaign.
After setting goals for your influencer outreach campaign and discovering suitable influencers, your next activity is to think of a strategy that makes the content more valuable for both parties – I call this valued partnership.
III. CONTENT PARTNERSHIP
You will not send emails to your target influencers without thinking of the value that you'll provide for them. With several priorities they have, they only respond to emails that are worth their time.
One value you can provide to them is content that both of you will benefit from.
Here are some examples of effective content partnerships you can consider to your campaign:
A. Twitter Chats
Twitter isn't only a place for ranting complaints, but a good platform for learning conversations.
For example, there are brands in the digital marketing industry that regularly hosts Twitter chats where they invite special guests (agency owners and consultants) to join their discussions for topics they specialize in.
If you have a substantial number of followers in your Twitter account, you can use Twitter chats as a value proposition in your influencer outreach pitches.
Invite influencers to join your weekly discussions.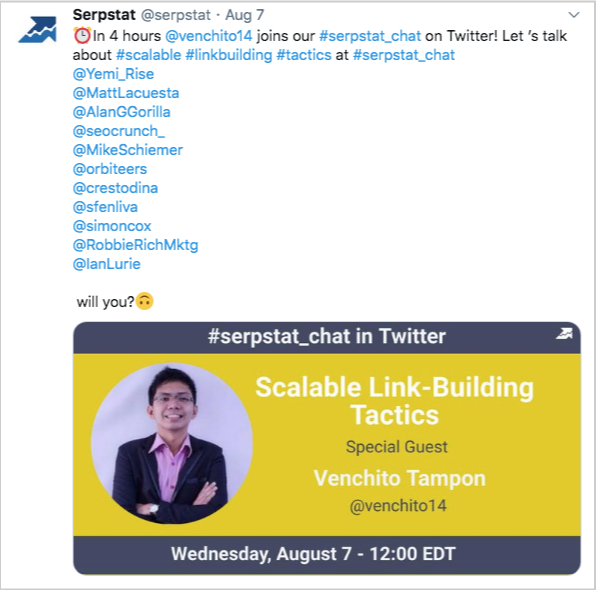 It's important to have a solid strategy for Twitter chats, and not just make it an ordinary discussion. One way to maximize it is to prepare questions related to the influencer's expertise. This would allow a more fruitful discussion with the community.
B. Video and Blog Interviews
Creating more useful content than what others have previously produced is now a challenge for content publishers. With much data and information published every day, a content piece must have a non-generic message people would actually consume at their best capacity.
This problem leads to content fatigue. It happens where there are excessive production and data of content that makes people become less and less receptive to the message that the brand is trying to send to its audience.
The solution to this problem is to collaborate with influencers for a solid content piece both parties will benefit from.
By doing influencer outreach campaigns, you can hit two birds with one stone– engage an influencer while at the same time providing unique content to your target audience.
Produce an interview-type of content where both parties are able to discuss different yet thematically-relevant subjects.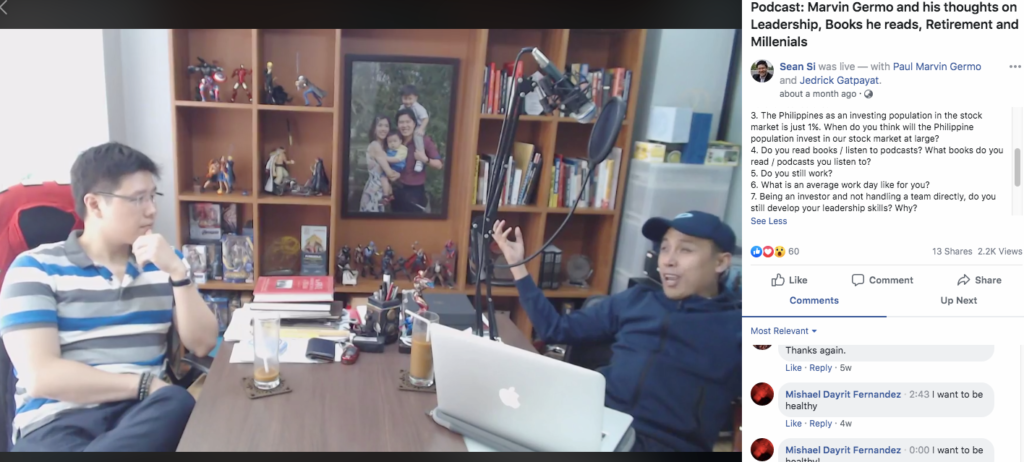 By doing so, both parties may absorb followers (subscribers) from each other.
C. Free Accounts
SaaS companies provide free accounts of their web-based products to publishers and influencers. While this should be an easy strategy for some, I've seen SaAs brands fail to get buy-ins from influencers to use and promote their products to their followers. One of the reasons why it happens is because they don't emphasize the value of their products.
The key in crafting your email pitches to influencers is to understand what makes your SaAs tool different from its contemporaries. There may be just 1 or 2 features that you need to highlight and focus on in your pitch.
D. Facebook ReShares 
Facebook is a great platform to absorb followers from different asset pages. If it's done well, you can gain a massive following in a short period of time.
One of the effective techniques I absorbed in the past years that worked really well in increasing the visibility of a brand page is collaborating with other pages that target your audience.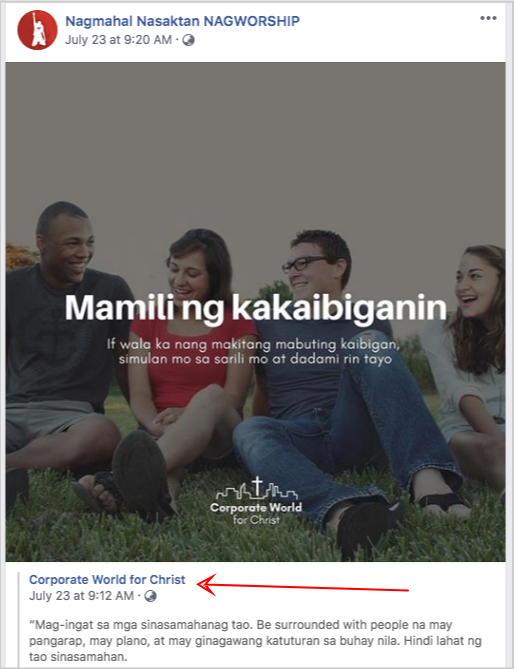 By developing partnerships through content supported by both entities, you'll be benefiting from each other's additional organic visibility and increase of influence and authority in your niche.
IV. MORE INFLUENCER OUTREACH TECHNIQUES
Content is definitely a valuable asset that you can offer to influencers. However, getting your pitches into their hands will require some additional techniques.
These influencers are getting several emails every day, so you have to make sure you do the necessary methods to get in front of their inbox.
A. Start with small-scale interaction
The ideal scenario is to pursue A-list personalities, but reality-wise, if your brand isn't well known and isn't that authoritative, the best recommendation is to start with a small-scale set of influencers.
As you develop relationships with low-tier to mid-tier personalities, you'll realize they would open more doors of opportunities for you – connections with other levels of influencers or a higher-tier network of friends they know.
That process allows you to step by step build your own networks of influencers. It surely takes time, but the methodology of small scale interaction gives you leverage over a wide variety of connections.
B. Do pre-outreach engagement
Learn to know more about your influencers. It's not enough to quickly pitch them with your products or content piece.
If they haven't seen you in their circles, they're likely to ignore your outreach email.
It's very basic, but one of the best ways to increase the effectiveness of your campaign is to engage with them before pitching.
Share what they've posted on Twitter – a retweet with a comment that actually reads the article they wrote.
A sign up to their webinar or email newsletter to get to know what they're up to – the interests and the value they're looking for.
Craft your emails in a way that it attends to your prospect's interests and needs. If you can write emails from scratch without any template, this will help hone your influencer outreach skills.
IDENTIFICATION BEFORE PERSONALIZATION
You can't personalize your email pitches without identifying interests and needs you have to provide to your prospect influencers. Do due diligence to profile them intently so you can write emails that best give value and not just want to get something from them.
How our LINK BUILDING AGENCY builds 250 links/mo consistently using Predictable Link Building Methodology™…
Using a SIMPLE and PROVEN system

Using a SCALABLE strategy
No private blog networks
No creepy outreach emails
SHOW ME THE FULL LINK BUILDING STRATEGY