Effective outreach is essential in the overall viewpoint of online marketers. Given that the power to receive inbound links and gaining the desired traffic is difficult to achieve, proper outreach made it possible to see not only link building opportunities but possibilities to setup and maintain long-term relationships with the targeted audience, which is more important than any other opportunities. (in my opinion).
Too much for the introduction. Let's move on to our main topic today, outreach! I"m glad to introduce to you, one of the cool guys in the search industry, Moosa Hemani.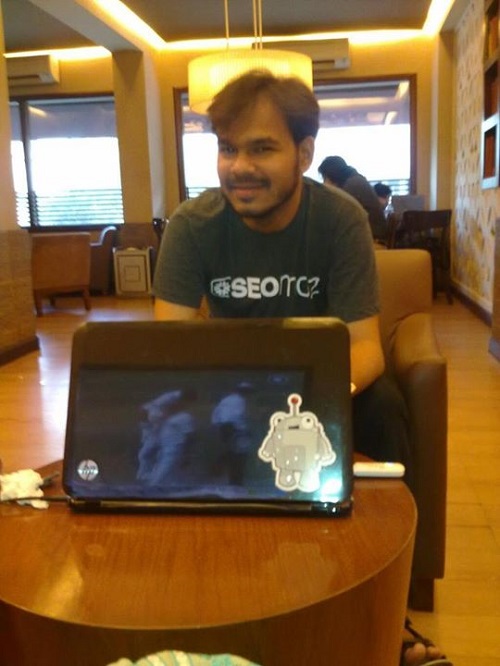 Who is Moosa Hemani? How did you get started working in the search industry?
After working under different agencies as an SEO Analyst and consultant, a year ago I, Moosa Hemani thought of starting my own blog called SEtalks.com where I would be able to talk about SEO, social and inbound marketing stuffs. As I had spent 2 years of my life learning how not to do SEO, so one of my aims from the blog was to provide up-to-the-minute information and knowledge about SEO and digital marketing instead of discussing all the lousy black hat tactics to rank the first page of Google.
My entry in the search industry was actually an answer of one of the logical questions I had pondered upon. I was doing an internship at relative's software agency where my job was to submit articles to different articles directories. After a few days I was bored due to the repetition of work and the monotonous nature of the job. I thought why somebody would pay me well for such a lousy job that requires mostly copy paste, so I started searching the internet to answer the questions which plagued me, and my research brought me to the whole new world of SEO.
If you have a new blog, what are your steps that you will take to reach out to your audience (mid-level bloggers and influencers)?
It is stupid to speak up in an empty room; you will only hear your own echo. I think the better idea is to gather some readership first and then get started with the blog. Before I even started my own blog, I was a guest blogger and wrote on multiple blog giants like Search Engine Journal, Daily SEO Tip, Moz.com, Famous Bloggers and more. Once I realized that the right time is here, I should get started with SEtalks.com.
In order to reach out to the targeted audience, I usually try to be on every single platform where my targeted audience can be expected and read as much about the topic as possible so that I can write something that can cater the attention of my audience towards me!
I prefer to continuously guest post on blogs where my targeted audience is already present, communicate heavily on social platforms (for SEO, Twitter is the key), join discussions on forums and be a known face on QnA platforms. It is also important to write kick ass content on your own blog so when audience shifts towards your blog, can stick with your content and keeps coming back to read more!
Consistency of actions will build audience and social shares on your blog, which will get your blog noticed by mid level bloggers and even influencers.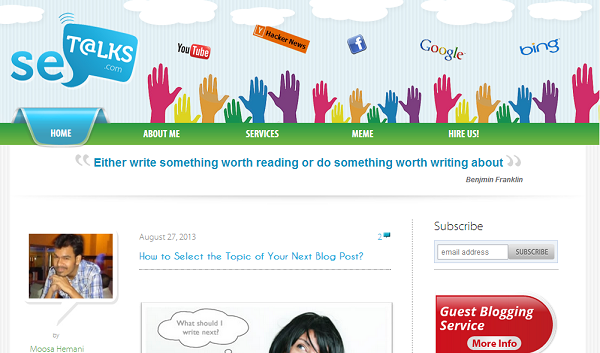 How important is relationship building in doing your outreach campaign?
Relationship is everything when it comes to outreaching. In my personal experience you can gain precious links and opportunities only through relationships.
Chris Dyson has an amazing blog called tripleseo.com, this is a blog where many people wish to write as a guest author but unless you have a personal connection with Chris, you probably have no luck.
Similarly, when you are launching a product or service and seek attraction from the industry, not everybody you are going to email will write or review it but people who you have connections with and who are in a close relationship with you will definitely help you spread the word.
In my personal opinion, if you can build relationships and maintain them, you are half won with the digital marketing battle.
I know that you're good at outreaching, but do you have any worse experience(s) in building connections with influencers?
I am not sure if I should call it a worst experience but it was indeed a fail for me. I was reaching out to one of the much known celebrities in the search industry for an interview. I started with tracking him on Twitter, the blogs he read, people he usually talked to and everything I was doing was right but I guess the moment I asked him for an interview was too early, the timing was off, I should have waited for some more time till I became a well-known face for him.
I regard that incident a fail but a lot of lessons were learnt from it.
What tools do you use both for identifying link prospects and for creating outreach campaigns?
There are multiple tools (some are free SEO tools) I use when finding link prospects and outreaching them! The tools I really like are:
Link Prospector – Citation Labs (One of the powerful tools for identifying link prospects)
Moz Bar (I usually use it to check DA and Moz Trust of websites i am planning to pitch)
Yesware (Indicates you when your targeted prospect opens an email)
Rapportive (This pulls out all the important information of the prospect you are trying to target)
Follower Wonk (This helps me find HQ link prospects)
Gmail Undo Send (Life Saver)
Excel Sheet (For maintaining the project status)
How does a content-based outreach differ from other types of outreach (blogger outreach, linker outreach, etc..) Or are they all the same?
In my experience, content based outreach offers better response rate than any other form of outreach campaign and the major reason is mainly because you are not directly talking about bartering or asking for links but here you are talking about promoting or endorsing a piece of content to the people who already have an interest about the subject.
If your email tone will be nice and humble you will see people will more likely take interest in your piece of content and you will get more links than usual. I would advise anyone to be humble and nice as much as possible to get better results of your content based outreach campaign.
Persona-type of outreach is vital for almost all types of business. What are the things you need to consider in developing such kind of outreach?
Whenever you are trying to work on a persona type of outreaching always keep in mind that your content is better than average and contains value to others instead of just begging for links because if you do so all your efforts might get wasted.
Justin Briggs did a very detailed post about this on Out Spoken Media. In my opinion, when going for persona type of outreach, here are the following things you should consider!
1. Know Your Linkerati
Whenever you are building content, try to brainstorm and understand the type of people who are going to link to your content. For instance, your content discusses about innovative technologies.I will be developing number of persona that includes tech bloggers, technology businesses, people who review innovative technologies and more.
2. Creating Content
I have seen people creating content for link building without knowing about who is going to link to it. In my personal opinion, having a well-defined targeted audience for a particular piece of content is the major success factor and this is where the persona comes in to play! Create the content keeping the audience in mind that possibly can link to it.
3. Collecting Prospects
There are multiple ways from where you can collect prospects that include Google Search (using advance search operators), leveraging data from Followerwonk, Open Site Explorer, Alltop, Topsy and more.
Once you have all the data now is the time to prioritize the prospects and start outreaching.
Give me at least five important things to consider when creating an outreach template.
A while back I did a post about how to write an email that offer a better rate of response on Moz that covers your question in detail but very quickly here are the 5 things I will consider when creating an outreach template:
Make your email as personalised as possible.
Write a catchy subject line that encourages the prospective reader to click and check the email.
Be concise and direct to the point!
Offer value or else you'll be ignored.
Draft follow up emails that should second your first outreach email.
Put enough time in creating a kick ass template because your whole campaign is based on the quality of emails that you are going to send to your prospects!
What do you think are the advantages and disadvantages of outsourcing the task of outreach to a person/agency?
In my opinion, outsourcing is not bad but one has to be very picky about it! Outsourcing the outreach work to other people or agencies will help you save time that you can invest in creating better content and on other areas.
But, if you pick the wrong person or agency you will end up wasting your time and money!
My advice would be to invest some time and pick an agency or a person who have a good track record or name in the market so that the risk can be minimized.
Where do you see yourself in the next 5 or 10 years?
In our industry 10 years is a big amount of time and I don't think planning that far is a good idea as things changed too quickly, but yes in the coming years on a personal level I am planning to move towards the management side.
As far as SEtalks.com is concerned we are planning a lot of new things for people who are looking for SEO and inbound marketing material and at the same time we will be offering new services for our potential clients in the near future.
Note: You can check out this guest post by Brian Dean on how to build an online brand using email outreach.
If you liked this interview, feel free to share it to your friends. Subscribe to my blog and follow me on  twitter @venchito14.
Hear about new posts as they happen. Build extraordinary links.