Hey readers! This is the last part of the "120 Marketing Tactics of New Blogs" series. If you missed the first and second part, you can check out these links: here and here.
I already included table of contents for this guide so you'll be able to choose and click only the topic(s) that you want to read.
75. Create a lead generation offer
76. Use Industy-related discussions
77. Default check in the subscribed button
78. User-generated content
79. Subscribe statement at the end of the posts
80. Use social networks to collect email addresses
81. Use videos to collect emails
82. Ask feedbacks from your customers/visitors
83. Email Marketing Frequency
84. Subject lines
85. Send them what they need
86. Schedule your emails using Boomerang
87. Avoid including several images in your email templates
88. Provide naked links to your customers/visitors
89. Give your users/audience a reason to sign up
90. Make it easy for your readers to unsubscribe on your blog
91. Integrate social profiles in your email copies
92. Choose your words
93. Reengage your inactive subscribers
94. Don't spam, only send emails if you have announcements
95. Stumbleupon
96. Promoted Tweets
97. Facebook advertising
98. Donation pages
99. Adwords (PPC)
100. Blog Contests
101. Linkedin Ads
102. Fiverr for outsourcing
103. Reddit self-service advertising
104. Pinterest Advertising
105. Analyze your referral sources
106. Understanding geographic location
107. Use internal search terms for content ideas
108. Locate your bounce pages
109. In-Page Analytics
110. Study engaged traffic
111. Real-Time Analytics
112. Thought Leadership Marketing
113. Online Training (Course/School)
114. Word of Mouth Marketing
115. Do a competitive research
116. Creative marketing
117. Real time marketing
118. Permission marketing
119. Corporate social responsibility
120. Buzz marketing



75. Create a lead generation offer
Adding an offer to your site that deals with your product/service helps your site not only to get huge number of emails, but also obtain potential customers or clients.
The use of a lead generation form in the above or below the fold isn't enough. You have to make your offer clear and attractive to your customers. You can add the word, "Free Quote" or "Start Here" in your lead generation form to get some interest from your customers. Use visual cues like arrows to emphasize the message of your offering for subscription or lead process.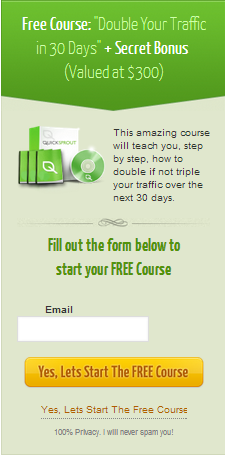 Credibility is essential in making your brand unique among your competitors. The way your customers perceived you as a company impacts your sales and thus, it helps you amplify your reach. In making an offer to your targeted consumers, you should add website properties that can get their intention and lend credibility to your site/brand. Here are some cool tips to follow to increase your brand credibility:
Include testimonials in your homepage and/or top landing pages that are specifically targeted to your customers (e.g. videos, images, text, etc..) that focuses on how efficient your services are).
Adding trust seals that you can get from product/company-review sites through product development, offline awards/events and outreach.
Give access to FAQS (common related discussions) on your site. (Customers can download/access it once they signed up in the lead generation form.)
Combine product offerings into one package deal or kit. (e.g. webinars, slide decks and top blog posts turn into a whitepaper).
Don't put all forms in one page. This could give your customers a poor site experience and thus, might reduce your conversions.
The key to a successful lead generation form is goal setting and testing. You should have an end in mind (goal) and go backwards to get things done in order.
Test everything (A/B testing) and see little changes in your conversion. The common notion in CRO today is "Whatever works for others may not works for you."
Note: Use Kissmetrics to measure success in conversion (landing) pages.
I list down two guides published by Neil Patel which you can apply in creating your lead generation forms:

76. Use Industy-related discussions
There are a handful of discussions on the web that can later turn into potential contracts/sales. One doesn't need to be in the form of writing. See the power of webinars. They have the capability to attract tons of emails in a matter of one week or so. It just needs some proper promotion before the scheduled time.
Webinars are used both for lead generations and sharing of one's expertise (people want to know who you are as a brand!).
The task of using webinars for your site/brand will give rise to the following benefits:
It can be used as a proof/testimonial for your services given that expertise/skills are shown in the discussion.
It allows urgent subscription/sign-up that can obtain hundreds even thousands of emails of potential customers.
It helps you engage with your audience and considered as a dot/connection to talk to them via email.
It can be integrated with other brand contents like ebook to maximize the urge of customer registration. (Including a webinar link in the ebook download page).
It can be followed by sharing of links pointing to a free content either the webinar itself or another asset (ebook, whitepaper, etc..)
The number one tip when you use webinars for your brand is to remove the barrier between you and your customers. You have to make sure that by the end of the discussion, customers are willing to interact/engage with you through Q&A portion or are now ready to buy your product (Interest Stage of the marketing funnel).

77. Default check in the subscribed button
The usual case in almost all business sites is that their customers are interested only to visit your site because they want to get a free content (app/too) from you. Without it, they are less likely to engage with your brand. So a good strategy to use is using a default check in the subscribed button when they signup in any offerings you have in your site.
The possibility of getting your customers' emails is higher when you let them signup automatically to your site/blog.

78. User-generated content
You can apply any strategy you found on the web to drive traffic to your site but building a brand community is a difficult one to implement. What works today are probably the most used user-generated contents – giveaways and contests.
Aside from receiving multiple emails from potential customers, running promotions can help you obtain several benefits including:
Increase brand visibility on targeted social platforms (getting tons of shares in a short period of time).
Generate buzz and attention from news sites that cover "top contests for the week" or "giveaways of the month". Find those pages by typing those keywords in Google search. Use this as your own advantage to build links to them.
Winners are more likely to promote your contest/giveaway in a form of blog post, video or news. (This strengthens your relationships with mid-level bloggers and industry influencers).
Easily gets feedbacks from specifically targeted audience about your brand and how good/bad you are in building a community through giveaways and contests.
Acquires free brand-related content such as images, videos and other visual devices from contest participants that talks about their experiences and disseminates those content on various web places.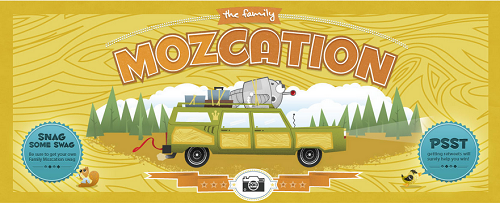 79. Subscribe statement at the end of the posts
This is an obvious tip but often neglected by many bloggers. Adding a statement that calls your readers to take an action – subscribe to your blog, can give a boost to your success in email marketing.
In addition, you can collect more emails by actually responding to every comment on your blog. Appreciate comments that add value to your blog posts as this can give your audience an impression on how responsive you are.  Look at how Neil Patel increased his site's traffic and email subscribers by just forming connections with his audience through blog commenting.

80. Use social networks to collect email addresses
Customers that are exposed on your social profiles may or may not convert into customers depending on several factors that may affect their behavior (brand preference, content initiative, etc..)  In this case, you need to make sure that you have something to offer to them before you can get their attention.
You can exchange your content to get their email addresses and engage with them when you have something to offer. This is one of the effective ways to tap onto their interest and get them to take any action for you, seeing that people are always looking for free content.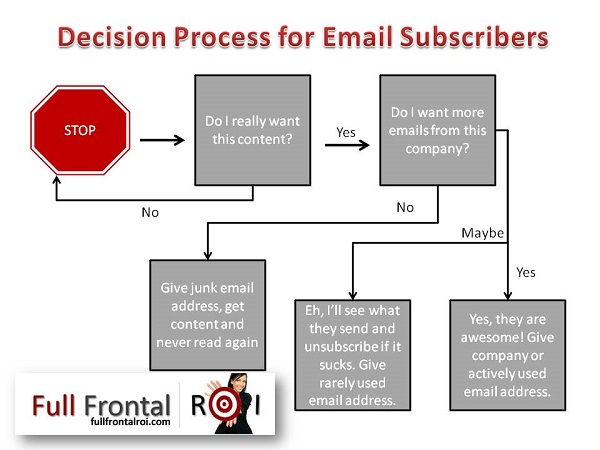 The illustration above shows how a potential customer drives through into your sales process, from consuming your content to actual sales. To bring your visitor into your wanted end point (sales), you have to identify and exactly deliver the value to them.
Here are some techniques that you can apply to integrate email marketing with social media arsenal:
Include social buttons in your email templates to increase the visibility of social pages (may it be at the header or below your email template).
Send emails that are solely focused on enticing your readers/subscribers to connect with you on social platforms.
Incentivize your customers/visitors (e.g. giveaways) that will help you to engage with them.
Use cross promotion (promote one channel on other channels such that, "Twitter page on Facebook page").
Strategically create an email opt-in form on Facebook page.
Integrated marketing has its several benefits and can further improve the results of your campaign given that integration extends the reach of your brand's message and actively connects your brand with your audience (customers and key influencers).

81. Use videos to collect emails
Video is a brand asset designed for specific promotions (new product/service, added features, events, brand extension, etc..) and gives a visual recognition about your brand's staff members. Also, video can be used to collect emails of your customers (e.g. opt-in form and a call to action button on top of the video).
This is made possible by Leadplayer, a tool used to integrate opt-in forms in the video content (you can choose the time to pop up your opt-in).
You can check out this product review (Leadplayer) by Pat Flynn to know how to use Leadplayer for your video campaigns.

82. Ask feedbacks from your customers/visitors
Brand development happens when an idea/concept is formed by the top management which is usually came from feedbacks/suggestions of different departments and obviously from customers who had already connected with the brand. Customers' feedbacks have the power to improve one's product/service in a way that it gives better quality to its targeted audience.
I covered in the part 1 of 120 Marketing Tactics for New Blogs the method of acquiring feedbacks from customers using survey tools like Survey Monkey.
But for this section, "email marketing", you have to learn that customer feedbacks are easily obtained from emails we usually send to them. You must believe that some customers give feedbacks about your product/service.
Pat Flynn regularly asks feedbacks from his readers/subscribers. This establishes connection with the brands' targeted audience given that they are being involved in the co-creation of the brand experience (improvement of product/service, active promotion via marketing channels, etc…)
Sending emails at the best time your audience is able to read affects your overall campaign's results.
GetResponse created an infographic about email marketing frequency.
The key points in the infographic are:
Top engagement times of the day are from 8 a.m. to 10 a.m. and 3 p.m. to 4p.m. that can increase emails' open rates by 6 percent.
Identify the time zone differences to determine your subscribers' daily routines and practice good email marketing.
Crafting an email requires a good choice of words. Without it, you'll find your response rates decrease more than the usual.
Subject lines are the first phrase your readers would see in their inbox. Using this as your cutting edge increases the response rates and CTR of your emails.
Follow these four "U" approaches suggested by CopyBlogger to maximize the potential of your email arsenal:
Useful: Does it give value to your readers? Ask yourself. When your customer reads it, does it push him/her to click the "trash button"?
Ultra-specific: Does the reader know what's being promised?
Unique: Is the message compelling and remarkable?
Urgent: Does the reader feel the need to read now?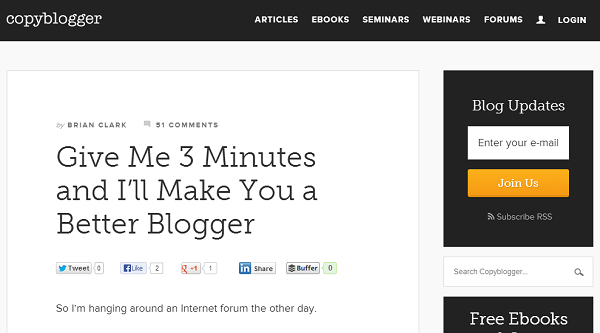 Good customer/user experience should be the aim of every brand. Without the right interaction/engagement with customers, chances are the brand loses its potential to increase brand loyalists or referring customers.
In email marketing, one should consider providing customers with their needs based on their actions/intentions. If they paid you for a product, you should give them the exact item as soon as you received the payment. Do testing first in your sales transaction to monitor if there would be any failure/fallback in your payment system.

86. Schedule your emails using Boomerang
Sending your emails at its optimal time can give better results than the usual (increase in CTR and response rates). You must identify first the time zone differences and the best time (i.e. the time where your customers will read your mail).  Then you can use Boomerang to schedule your emails.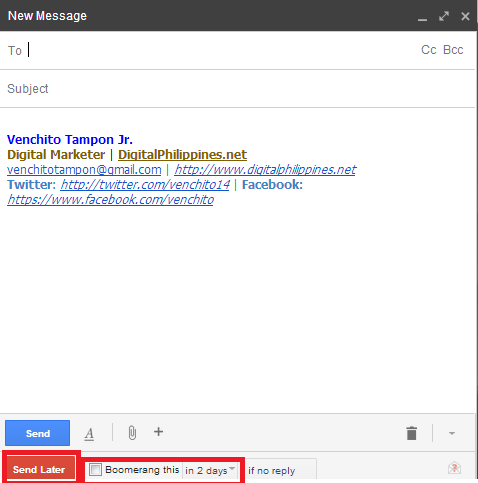 87. Avoid including several images in your email templates
Designing your email templates that looks like a webpage or print postal mailer is one of the top errors/mistakes in email marketing nowadays.
Appealing images are best to convert readers to customers only if they are properly displayed in an email. Embedding your graphics and images in your email can be your number one problem if your end-users don't see it because of some formatting problems. This, if worse, can lead to often getting your emails send to their spam folders.
Take a look at these simple guides to create result-driven email templates:

88. Provide naked links to your customers/visitors
Use email signature to include your social links in your email templates (for any purposes like personalized outreach). This adds credibility to your site/brand.

89. Give your users/audience a reason to sign up
"Customers want benefits, not solutions", says Neil Patel.
If you're selling a product/service, you have to keep in mind that your brand/site should solve a particular issue/problem. This is the main key to a successful marketing or branding. No matter how good you are, if you're not seeing the benefits a solving product can do to your business, you're only getting yourself left behind by your competitors.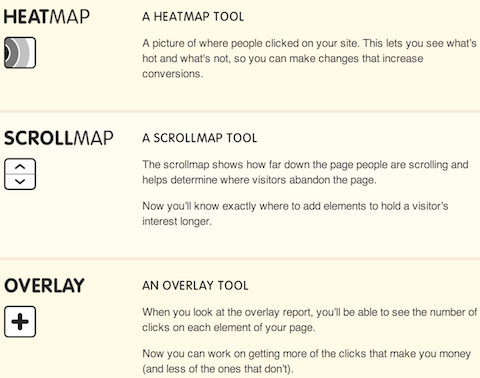 The more you show the features/benefits that your customers will obtain from your product, the likelihood of increasing your conversions is higher.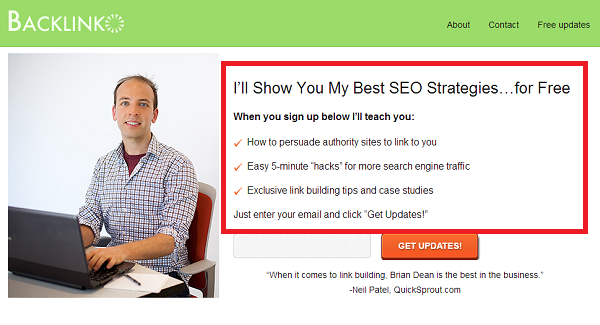 Use your brand asset (landing page, blog post, whitepapers, ebooks, etc..) to entice people to sign up in your newsletter/subscription.

90. Make it easy for your readers to unsubscribe on your blog
The following are some of the reasons why your reader would like to unsubscribe on your blog:
You miss uniqueness by just providing duplicate articles or blog posts with the same message over time.
Lack of quality that is caused by grammatical errors, illogical message, and poor formatting and design.
Infrequent publishing of articles that may result to losing the attention of your readers towards your blog.
No personal touch in your blog posts.
With any of these reasons, your readers are now willing to trash every email that comes from you.
Now, you have to directly ask them a question whether or not they still want to subscribe to your blog to get the feel of their behavior towards you.
You can read this set of email copies to give them room to unsubscribe on your blog or just simply make your unsubscribe button visible in your email copies and on your site as well.

91. Integrate social profiles in your email copies
Marketing will yield better results if you combine two powerful channels: social and email.
There are three ways to integrate your social media profiles in your email copies:
Include "share" buttons of your social profiles in your emails (either at the header or footer of your email) to encourage your readers to share the entire message with their friends and connect with you via social media. (You can embed the social media content in it to like or share it directly from the body of your email).
Mention a popular post/discussion in your email message to entice readers to click through your social links.
These methods are more powerful when you give something valuable before encouraging them to share your content in their emails.

92. Choose your words
Word choice is critical to email marketing success. Whatever message you're about to convey to your readers, it's a must to be careful with your words. People make a conclusion/point in mind after they've read your email – either they will read/share your content or delete it.
Don't mention "links."
Brian dean said that if you want to increase your response rates, you should give four times to your prospect before asking for anything. You can also check this post to understand some rules in email outreach.

93. Reengage your inactive subscribers
Possible reasons why subscribers won't like to take any action in response to your sent emails are busyness or they're just reluctant to respond to your cold email (An email does not have any value given to readers, in short, self-promotion!).
If you start experiencing this problem, you may want to start a reactivation/re-engage campaign. Your targets are those subscribers who haven't opened your email for over 6 months or so. You can give them a reason to at least open your email or share it.
You can check out this post on Aweber about reengaging your inactive subscribers.

94. Don't spam, only send emails if you have announcements.
Gmail released its inbox filter feature, separating primary, social and promotion emails. You can take advantage of it by standing out in the promotion inbox of your readers.
The best tip is to send emails only if you have something to announce (new product, new product feature, event, contest, etc..).
Stumbleupon ads is a cost-effective way to drive traffic back to your site. But there are some considerations one should take to include in his/her post/content to get the most out of its paid campaign:
Content that engages and is worthy of being shared and linked to.
Interactive and continuous information
Easily accessible and simple to navigate
Diversifiable content that has the potential to go viral
Eye-catching visuals
Integration of pages with publisher tools (badges, widgets, etc..)
You can read this article and learn the details about each consideration.
Other Resources:
Promoted tweets is a good way to obtain immediate traffic to deep pages of your site (product page, landing page, homepage, etc..). The advantage of using it is that it is ventured into a targeted market that can drive engagement and leverage real-time intent.
Here are some resources/guides you can read to start your promoted tweets campaign:
The platform in Facebook advertising is kind of an adventure trip one should visit to. It enables a marketer to place small ads in various places of the platform (e.g. sidebar, page post, profile).
Cue Blocks wrote a comprehensive guide to Facebook advertising. It's worth of your time to read it.

98. Donation pages
This is commonly referred to as "crowdfunding".
Donating to sites for the sake of links (that can improve rankings) should not be the "mindset" of an internet market or blogger. He/she must take into consideration other benefits one could get from donating a percentage of its investment to a site owner. These include:
Get visibility from top donation sites.
Build partnerships with site owners.
You can use search operators like: inurl:donation + "keyword" or inurl:contribute + "keyword" to get a list of donation pages where you can come across and contact for payment.

99. Adwords (PPC)
You already read a few articles on how investing on adword campaigns affects your rankings as well as sales in the online scene.
PPC as defined by Wikipedia, is an internet advertising model used to direct traffic to websites, in which advertisers pay the publisher (typically a website owner) when the ad is clicked.
This is only a definition. But let's move to some good resources to help you implement a successful PPC campaign:
Creating your own blog contest is an investment that can drive traffic, engagement as well as show authority in your niche. There are best times when you can start your own blog contest which includes but not limited to:
Promoting a new product. You can make your product as an award for winners who will write a review about your product.
Rewarding your present followers (social or blog) and obtain more brand loyalists.
Tapping onto the latest trends or holidays.
When you decided already that you want torun a blog contest, you can apply these tips to conduct a successful one:
Make your contest urgent and easy to join with.
Stick to the rules of your contest.
Do outreach to influencers or known personalities in your industry who might be interested to promote your blog contest.
Use Rafflecopter or join Blog Giveaways to get more traction in your community.
You can hire or get judges to increase the value of your contest. Look at how Allure did in their Beauty Blogger Awards.
You can use leader boards that will show your participants' statistics (number of points) they're earning for the contest.
One of the main differences of Linkedin from other social platforms is the focus on professional organizations/affiliations. This attribute allows many businesses to dive into the Linkedin community and form relationships with business owners and/or professionals. People connect in this platform because of the following reasons:
Find a new job.
Connect with professionals (business owners and employees)
Ask/answer questions related to their industry
If you can tap into these opportunities, you're more likely to receive recognition (visibility) from your Linkedin Ads campaign.
You can take time to read these guides:
Outsourcing is one of the time-efficient ways to create a quality content and market your blog across the web. There are three reasons why you should outsource task(s) to other people?
You don't have enough time to do the work.
You lack in skills/expertise to do it.
You want to train other people and include them into your team.
Fiverr should be one of your best options to choose when you outsource a task/work to other people. With a $5 investment (affordable price!), you can get an excellent work from talented freelancers for whatever type of work you want them to do (graphic design, content writing, technical help, etc..).
Additional tips:
Go back to your hired worker for your future services.
Look for skilled workers based on their feedbacks and ratings.
Give clear instructions (time duration, sources, references) to get a fast and efficient service.

103. Reddit self-service advertising
I discussed in the first part of this guide that Reddit has the ability to upvote or downvote links. This can give an opportunity for the users to build alliances and community in the Reddit platform.
Additionally, self-service advertising in Reddit gives you an opportunity to get all the benefits from it (traffic, engagement, community). The ease of discovery and use as well as the limit of spending will help you to achieve success in your social media campaigns.

104. Pinterest Advertising
The growth of Pinterest users quadrupled from 9 to 40 million in the year 2012 and it continuous to get the attention of marketers and business owners who are actively promoting their online tasks/campaigns online.
Advertising in Pinterest made this potential of drawing potential customers back to the site possible.
Marketing Land has its own blog category about the latest updates/news about Pinterest for business. And here's a cool infographic on how to start your advertising campaign on Pinterest. You can check all those articles if you want!



105. Analyze your referral sources
Referral sources can give you an idea on which site (from social or organic) has the highest number of visitors. You can decide whether or not you want to continue building traffic from those blogs/sites based on the gathered data.
You can find your referral sources on Google Analytics (Make sure you login your account): Traffic Sources > Sources > Referrals.
By clicking on each referral site, you'll see the pages from the domain that is sending the most traffic and how much time they are staying on the page.
If you find that the highest referral came from a blog/column site, you can reach out to the site owner and say thanks to him for giving you the highest visitors.
Pro tip: Do more work for regular columns as they can increase your referral traffic for a particular blog/site.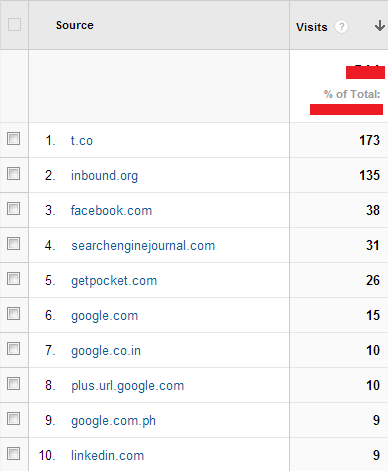 106. Understanding geographic location
Your site can attract visitors from different countries as well as rank for foreign terms or keywords. You can see the data by clicking: Audience > Demographics > Location.
The map displays the total number of visitors your site obtains from a specific country or location. Darker green color represents more visitors from a certain location.
Tip: You can translate your site's pages into different languages using this tool to maximize your site's potential to engage with foreign visitors.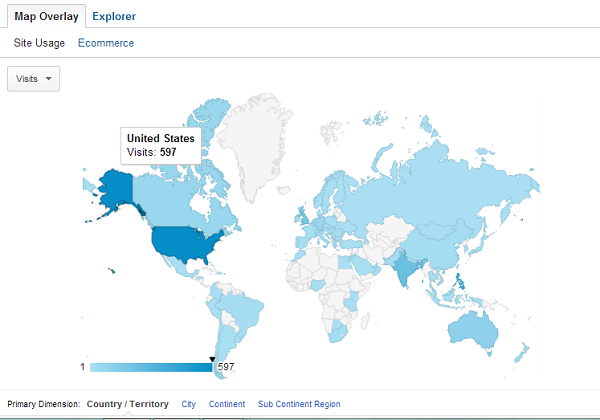 107. Use internal search terms for content ideas
As you start to take an effort to grow your blog, chances are you're getting visitors coming from the search engines (organic referral). Understanding what keywords they typed in the search bar that led them to your site/blog helps you to establish an effective content marketing campaign.
To look for internal search terms, go to Google Analytics tab: Traffic Sources > Sources > Search > Organic.
It provides you a list of keywords and number of visitors on your site. By analyzing their behavior and which keyword obtains the highest number of visits, you can now create a content (blog post, infographic, etc..) that target those keywords.
Identifying pages that aren't engaging to your audience and receive little-to-no results should also be given importance.
You can find this data here: Content > Site Content > Exit Pages
High bounce rates and high exit rates are implications of poor content and negative user experience. Turning it into a compelling and user-generated content can actually make a positive boost in your site's performance.
This feature of Google Analytics will provide you a flow layout, homepage layout and display tooltips (percentage of clicks of users) of your website.
Find this data at: Content > In-Page Analytics
This visual graphic gives you an idea of where you should place your web assets (subscription form, social sharing buttons, etc..)
Visitor engagement is essential in identifying the number of visitors staying on your website for a specific period of time. Visitors are grouped based on the duration (e.g. 0-10 seconds).
This information is available at: Audience > Behavior > Engagement.
Looking at the data can give you insights on whether or not the content/elements in your website is engaging. The most engaged visitors are more likely to visit a lot of pages in your site.
The table records unique visitors and their total number of pageviews based on the amount of time spent on your website.
Tracking real-time behavior of your visitors is one of the best features of Google Analytics given that it offers a detailed insight of your visitors' interactions. Using that feature, you can determine the best day and time your customers are coming to your site.
In addition, you can also study the patterns of your visitors and identify what problems they are encountering with. With the use of your best branding tools, you can increase the positive experience of your customers by changing some elements that are distractive and not important to your visitors.



112. Though Leadership Marketing
Though leadership is often discussed in business and marketing realm and this creates a momentum in every professional who wants to increase their personal branding and contribute something that s valuable to the community. But how can you show that you are a thought leader in your industry?
Engage with your supporters/followers in social media and blog community. The more interactions you made, the likelihood of increasing your personal branding is higher.
Launch an event. This is possible for big brands but for thought leaders, conducting a personal event is a good way to start revealing your brand identity to your target audience.
Become a co-author of a book. Seeking reviews/feedbacks from publications (printed and online pdfs) where you had been a co-author gives a boost in your thought leadership as it showcases your ability about a certain topic.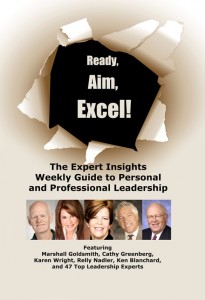 Resources:

113. Online Training (Course/School)
Online training reaches more people in different places in less time. It goes beyond the usual interactive discussions where people can only get insights from you when you provide answers to them.
So if you want to use this brand asset as your marketing tool, it's important that online training courses are well-planned and organized to provide real answers for real questions from your chosen type of audience.
To be successful in launching an online learning course/school, you have to be equipped with these marketing tips:
Identify opportunities to interact or create conversations with the students/trainees. Clearly define the benefits that they can obtain from your training through community discussions and interactive content (polls).
Research carefully for the price of your training. Consider the knowledge, resources and certification that they can receive from you.
Strategize your marketing campaigns both proactively and passively. (e.g. direct invitations, newsletters, landing pages, etc..)
Look at how Sean Patrick Si created his own school for beginner SEO practitioners.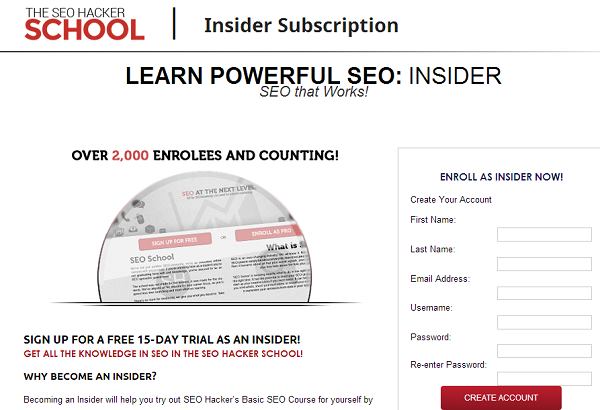 You can read this short guide to know how to start an online training program

114. Word of Mouth Marketing
Word of mouth is an oral, person-to-person communication between a receiver and a communicator whom the receiver perceives as non-commercial, regarding a brand, product or service.
This "free advertising" as it is termed, encourages customers/visitors to dive in to your brand through product/service testimonials and become part of the brand experience.
How to start:
Connect with influencers to spread your message further. You can ask them to host events for your brand/site, giving free coupons and samples to disseminate to their followers.
Build a customer community where members can share common interests and transmit ideas/experiences with one another.

115. Do a competitive research
Assessing the competitive landscape in your industry is a time-consuming and expensive process. As a matter of fact, big brands hire consultants and skilled marketers to do the task for them. Understanding how to position yourself in your community and being successful in your competitive research has a lot of things to consider including:
Valuable product/service that will best serve your customers.
Outreach to people (influencers, mid-level audience) to make them aware of your product/service.
Useful resources to run/start a business and to use as a cutting edge in the competition
For SEO practitioners, here are some guides that can help you start your competitive research:
There is no exact definition of "creative marketing" and "creativity". But one definition would be "a novel way" of doing things that is characterized by four components – fluency (generating many ideas), flexibility (shifting perspectives easily), originality (conceiving of something new) and elaboration (building on others' ideas).
Creative marketing is simply the "out of the box" thinking. The more you go beyond from what your competitors are already doing, the likelihood of earning shares/links/recognition from your marketing tactics is higher.
Here are some tips to start your creative marketing:
Find the inherent drama within your message/offering (Your catchy moments!)
Reveal the benefits of your offering to your audience with dramatic features.
Get your people's attention. Go beyond the traditional advertising (e.g. the viral "memes").
All you have to do is listen to your audience (customers/visitors) and identify their needs (what are they looking for) based on your conversations with them.

117. Real time marketing
Real-time marketing is defined as "on-the-fly" participation by brands in the events, topics, and ideas trending at that very moment among target audiences online.
The foundation of an effective real-time marketing taps in:
Timely publication
High quality content
Enthusiastic response from a brand's target audience
How to do it:
Look for social trends that can serve as a framework/idea for content creation and promotion (consider the longetivity and relevance of the trend).
Find a set of brand-specific tools that will be useful for identifying trends and comprehensive analytics in your community (e.g. Google Alerts).
Enable collaboration within the virtual team and help the team members integrate the highlight trends in their operational activities.
Make your brand community as lively as possible by giving them reasons to interact with each other (e.g. free product discounts)
Here's a recent post by Chris Dyson that talks about newsjacking: the real time linkbaiting.

118. Permission marketing
Permission Marketing is a coined term by Seth Godin, which is all about giving consumers the opportunity to say "yes" or "no" to being contacted by a certain company
The degree of intensity in permission marketing varies from the following models:
Direct relationship maintenance
Permission partnership
Ad market
Permission pool
How to do it:
Reveal the benefits of your product/service (how it can help your customers) through integration of free tools/books in your site.
Run social media contents to entice customers to like/share your page.
Choose the right email frequency when sending emails to increase response rates and to avoid interruption with your customers.
Increase blog/brand awareness through powerful incentives to gain opt-in subscribers. (The advantage of this is that they'll be the one to engage/request to you either through social platforms or email).
Enable opt-out or unsubscribe button in your email templates.

119. Corporate social responsibility
Corporate social responsibility is businesses' "decisions and actions taken for reasons at least partially beyond the firm's direct economic or technical interest."
In simpler terms, CSR is establishing a brand awareness within your community through news promotion, offline donation/charity and creating an online campaign (contests, advocacy, etc..)
Buzz marketing is the implementation of a planned action to advance the cause of mouth.
Here are two advantages of using buzz marketing in your marketing campaigns:
It can generate a large number of contacts on the first launch/initiative of the buzz.
Message transmission is easily done in the community, seeing that there is a high need to send the message to other people.
How to do it:
Create a unique, controversial or remarkable content (blog post, video, infographic, etc..) (Tip: Headline matters!)
Target your audience's emotions. Negative issues are commonly included in the top list. (E.g. SEO is dead)
Viral content marketing from kaiserthesage
Image Credit: Link here
If you liked this post, kindly share it to your circles/networks, subscribe to my feed or follow me on twitter @venchito14.
Hear about new posts as they happen. Build extraordinary links.