Link building is a fast-pacing game where every marketer competes with one another to achieve a certain goal, while still following the rules of the game.
Building links today doesn't require you to know every high quality link building strategy other marketers are aware of. What matters today are the result of the game and how you win it using your own strategy.
If you're wondering about the link building rules, then here's an infographic (created by Me and OSI Affiliate) that will show you the dos and don'ts' of link building (with actionable points below the image). Don't forget to share it to your followers.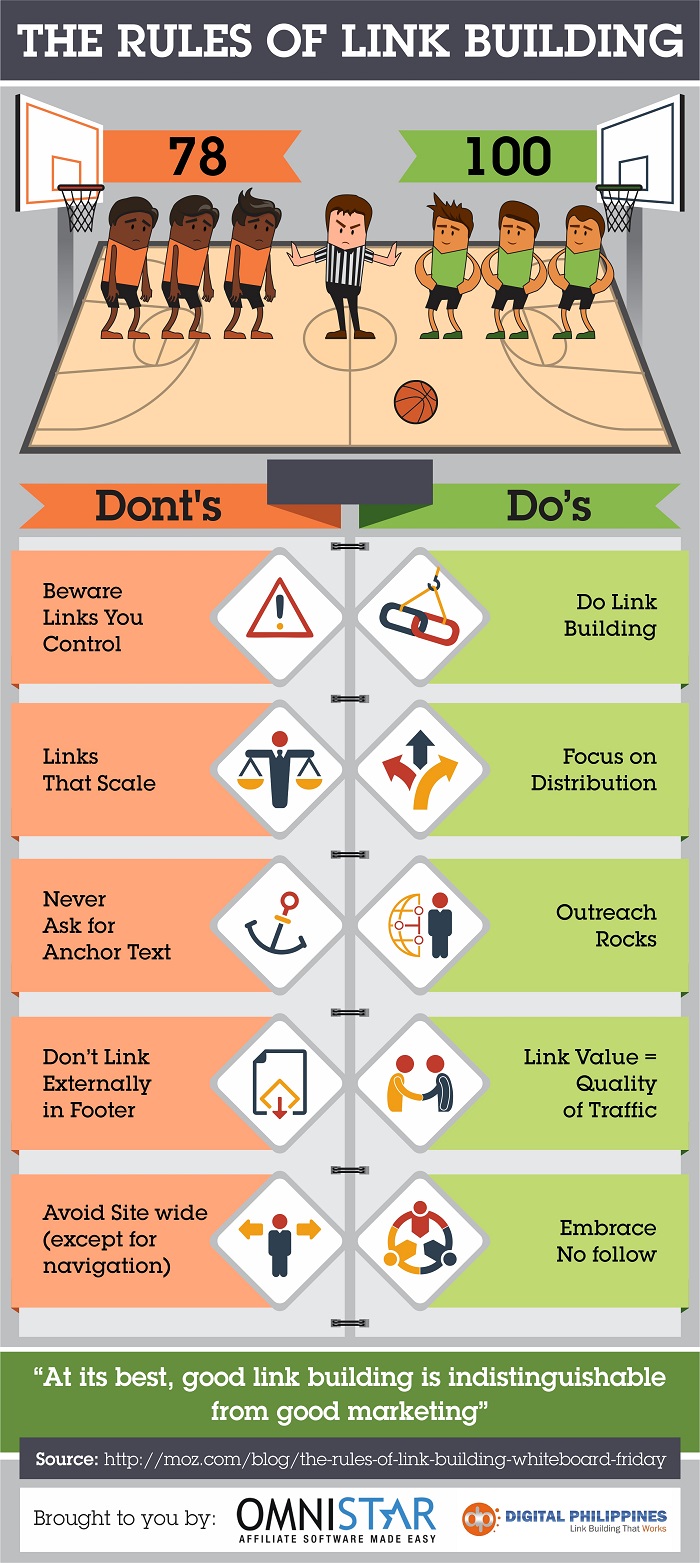 Share this Image On Your Site
Dont's of link building
Beware links you control
Controllable links can sometimes tempt you to abuse using your target keywords as preferred anchor texts for links that you're building from other websites.
Though exact match keyword-rich anchor texts are still valuable for your site's search visibility (as discussed by Rand Fishkin in his Whiteboard Friday at Moz), you need to be careful with how you use anchor texts for link building.
A few things to consider when building controllable links:
Balance your exact match anchor texts with partial match anchor texts.
Use other related phrases or synonyms of your primary keywords as your secondary anchor texts – e. g. white hat link marketing services for link building services.
Optimize your contributed content for search engines so even if you don't have keyword-rich anchor texts, you would still get value from the page because it ranks very well in SERPs and can give you recurring referral traffic back to your website. You might want to check out this comprehensive on page SEO guide by Cyrus Shepard on Moz to learn how to properly optimize your page.
Links that scale
Scalable link building may be harmful at times because it pushes you to just follow one process that repeatedly gets the same results for your website. If the process doesn't have any improvements over time, chances are your campaign would be ineffective after a few months or execution.
If you are a part of an SEO team or a link building agency, you deeply understand that having at least one tactic that can help you build links for any websites (regardless of their industries) ensures your team's capability to get results for your clients' campaigns.
The reality is there's no tactic that fits to all industries and all types of websites.
For instance, guest blogging won't be applicable to all niches unless you intersect your website's theme to other industries (i.e. linking to travel blogs from your running shoes store). But for a direct guest blogging approach (i.e. running shoes store – running shoe blogs), there are little chances that you can build several contextual links using content contribution approach.
Most of blogs in the finance niche requires payment of at least $50 in order to allow you to publish posts for their websites. This doesn't make sense for agency owners. They can simply hire someone to write a post for their client's blog that will also cost the same amount but will get more than just one link from relevant blogs.
Broken link building also has the same situation when it comes to scalable link building. Garett French shared a list of sub-niches where you can find profitable resources/links pages. These are specific sub-categories of main industries that you need to intersect with your brand's content theme in order to create a highly linkable content asset (given that the broader your content's target audience is, the probability of building more links to your page is higher).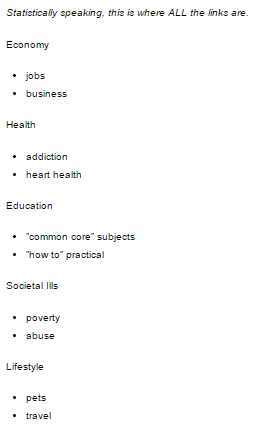 Never ask for anchor text       
A natural link profile has diverse types of anchor texts: exact match, partial match and branded anchor texts. See this example below.

If a website naturally earns links to its homepage and deep pages, you should be able to see a link portfolio with a variety of non-branded and branded anchor texts. This helps Google know that the site aren't manipulating its link building campaign, particularly asking for specific anchor texts when reaching out to bloggers or potential linkers.
Never ask for anchor text.
But again, there's still room for improvements here. You never ask someone a specific anchor text but you can nudge him what specific phrases they can use to link to your page.
Here are a few tips to apply this link psychological nudge:
If you're looking to build a new brand/site for your business, you can consider adding keywords to your brand name to easily help people identify your unique selling point and use your keywords as anchor texts for external linking. Classic examples of brands with keywords attached to their names are Linkarati, SkyrocketSEO and PointblankSEO.
Initiate using target keywords as anchor texts when building links from other documents/pages (if they are controllable links) to entice other readers/bloggers who read your page to link to your page with the same keyword(s) that you used.
Produce content assets discussing related phrases of keywords you want to rank for in order to make readers understand how important those keywords are for you and for your brand.
Use preferred anchor texts in voice-led discussions like webinars to make it known to your audience about words/phrases that must be associated to your business/website.
Add descriptive keywords to your link building conversations to nudge potential linkers to use your preferred anchor texts when they link to your documents or pages.
Don't link externally in footer
Links appear in the footers of pages carry less weight than links appearing within the main content areas of webpages (check out this reference on Moz). With that being said, if it is not necessary to link to your deep pages in the footers of your page, then don't do so.
If external footer link is needed in such cases that you want visitors to easily navigate your visitors without trying to influence page rank in your website (even though, page rank doesn't exists anymore), then doing it would be useful for your audience.
Avoid site wide (except for navigation)
Websites with site-wide links from other pages (whether relevant to the website or not) are prone to Penguin filters.
Though there are exceptions to this rule, this type of actions are what Penguin trying to look for in every website, so having a careful action with regards to this case can help you get away from some sort of link penalization.
Instead of focusing on getting site-wide links, why not exert your efforts on getting truly editorial links within the main body of other sites which can definitely impact your brand's ranking potential in search results.
Do's of link building
Do link building
Planning is good and creating a good link building strategy matters. But executing what you've planned is more important than any other phases in link building.
There are many old-school white hat techniques that can help you get big results today but improving some of the methods would be a better plan before executing your link development campaign.
Tips to improve your link development tactics:
Do blog commenting or sharing of other related brands' content on social networks to increase familiarity and to improve link acquisition rate when you start reaching out to them for regular content contribution.
If there are limited link opportunities within your niche, try intersecting your brand to other profitable niches so you can expand your link building territory and make it easy for you to build links for your pages.
Focus on 20 percent link attraction by creating uniquely useful content and consistently doing so until you build a solid community around your brand (and become known as an expertise in your industry).
Focus on distribution
Don't stop creating content for your blog. Make sure you invest in distributing it to your target audience, specifically to your potential linkers/bloggers.
One thing to keep in mind in content distribution is the value of relationships.
Instead of reaching out to hundreds of like-minded bloggers, why not invest your time building connections with a few ones and strengthen your relationships with them. Building alliances with groups of people having the same vision/mission will help you expand your influence, that you will need later on to get more brand exposure and social shares and links for your content.
Content distribution hacks you need to know:
Add social sharing buttons to pages/posts you want to get amplified to increase chances of attracting new visitors from social platforms where your posts have been shared.
Link to your content from your content distribution efforts like guest blogging, interviews and knowledge participation on other niche-specific blogs.
Utilize paid ads like Stumbleupon to put initial eyeballs to your content and earn some organic visits from that activity (check out this post on Siegemedia about stumbleupon marketing guide).
Automate tracking of press coverage or information request on social (e.g. Twitter) using IFTTT that you can leverage to build more exposure to your content and naturally earn links from top media outlets in your industry.
Outreach rocks
Outreach always has a goal. Whether it is for a link or assisted conversions, having a goal and mission in mind when working on your link execution can help you push yourself to the limit until you acquire desired highly valued links for your brand.
Tips for effective link building outreaches:
Make your pitch straightforward by using subject lines that defines your outreach purpose (e.g. Broken links found on [Site Name])
Use pictures as introductory sentence to add humor to your pitch and encourage positive response from your link prospects.
Always tell who you are and what you do in your pitch. If you're not an avid reader or follower of the brand, they won't care about your email so make sure you add some human nature to your outreach.
Must-read link building outreach resources:
Link value = Quality of Traffic
Traffic is still the quantifiable measurement of how valuable your links are. But you need to understand that it's not only about the quantity of traffic that matters, but quality of course.
If you are a real estate business and you're getting thousands of links from an SEO blog, then it won't convert much better than tens of links you earn from a real estate or niche-related sites like home improvement. One lead among tens of links is more valuable than 0 lead from thousands of links.
How to acquire high quality links with conversion-led traffic:
Identify where your audience resides. Don't limit yourself with direct relevancy (i.e. flower shops – flower blogs) but identify opportunities where leads could also be coming to your business. In the given example, wedding blogs and dating/relationship blogs should also be included in your list of link opportunities.
Create a sub-niche targeted content to earn high quality backlinks both from commercial and non-commercial websites. For instance, if you are local medical store, you can create a scholarship program for nursing students. If promoted heavily, you can get links from educational sites in the health niche that can help you can build more partnerships with local health institutions (potential leads).
Embrace no follow
There are still debates about whether or not a no-follow link still adds value to a certain page/site.
Though I will not discuss that topic in this post, you can just read these articles on Wordstream and Moz that will explain to you why you should still consider no-follow links in your link arsenal strategy.
Other Resources:
If you liked this post, you can subscribe to this blog or follow me on Twitter and Google+.
Whenever you're ready…here are 4 ways we can help you grow your client or business through performance-based link building:
Claim your Free Link Building Strategy Session. If you've achieved initial traction from Google, we can help you scale up to record-breaking search traffic and sales faster, claim your FREE Link Building Strategy Session. We'll brainstorm some ideas to increase your search traffic through ROI-driven backlinks, including practical solutions to add more content within the next 90 days.
If you'd like to learn the exact link building strategies we use for free, go to our blog or visit our resources section, where you can download guides, cheatsheets, and templates we use for our most successful clients.
If you know another marketer who'd enjoy reading this page, share it with them via email, Linkedin, Twitter, or Facebook.