Organic links are often termed as, "natural links" and are considered as votes for the site. These links are products of highly-targeted content or link bait pieces that aim to provide specific value/information to users (i.e. how-to guides).
Link baiting has long been discussed on many SEO blogs and probably because of its popularity and an easier process than creating viral content pieces. Popular link bait pieces is more than just a one-time strategy and if you're not lucky enough, you would need a year or two see the best results using this link building strategy.
However, unlike any viral content pieces, paid advertising and big budget won't be necessary in the first time frame of building your link bait assets. You would only need a proper execution of the process to get things done correctly and get you earn high quality organic links.
A lot of the tips that I'll be sharing below require content assets to execute organic link building effectively.
Link seeding
If you're doing link building for startups and newly-established blogs, this technique could land you various link opportunities that your competitors may haven't know about.
The process starts with identifying "long tail queries" that your target audience might be using to find your products, your brand and informational content in your industry.
I personally use KeywordTool.io for this technique for the following reasons (which are also present in the tool page):
It generates up to 750 suggestions for every keyword (which are mostly long tail queries).
Best alternative to common keyword research tools like Google Keyword Planner.
It's absolutely free.
To start with, you can create a list of keywords that your audience is using to find your unique selling point (service, product, blog, etc..). Then discover more topic ideas by grabbing those keywords in KeywordTool.io.
You can simply use your main keyword, e.g. "personal injury" or add words like, "when", "how" "what" "where" to your main keyword to yield more informational-based long tail queries.
Don't forget to select your country search when performing this in a local basis.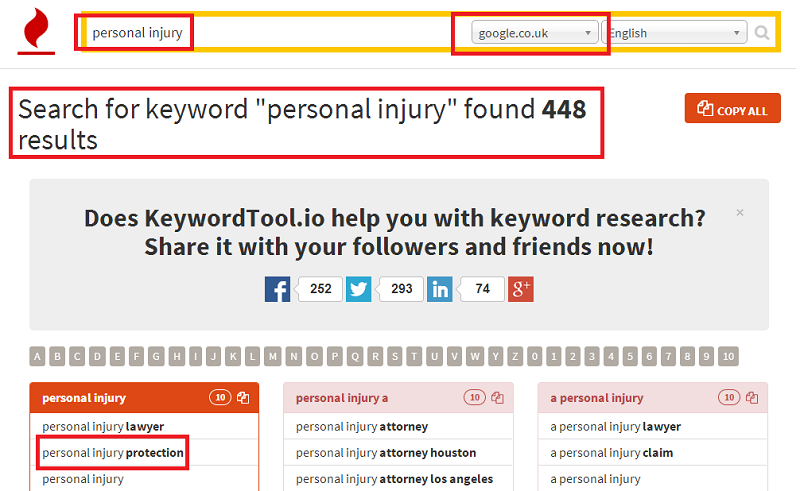 To populate the list, you can grab discovered phrases and do the same keyword research technique to discover more topics and search queries.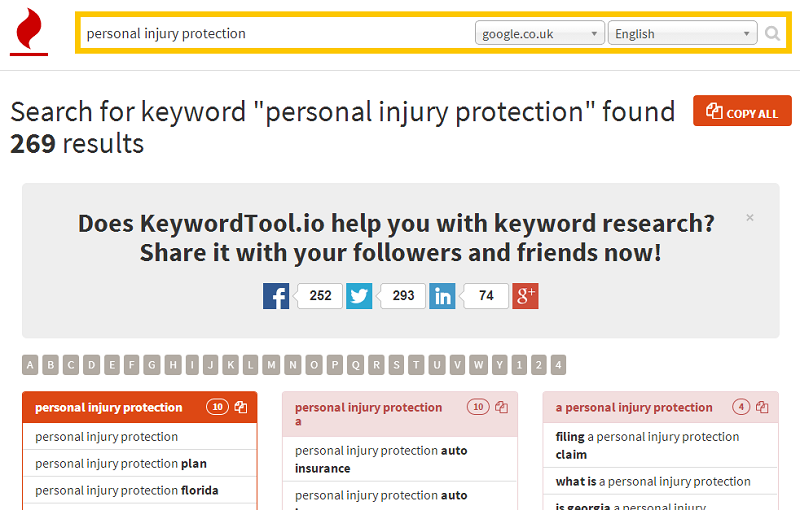 List down all the brand and industry-related keywords and search queries in a spreadsheet and choose only the informational-based keywords to look for link opportunities.
Do a Google search for each of the keyword but be careful when you do continuous search (follow tips in this post to scrape search engines without pissing them off).
Here is a list of link opportunities that can be generated using this keyword-based link strategy:
Ranking outdated resource pages that need additional information/data/diagrams.
Forum boards/threads that rank for long tail queries because of the continuous answers/question of members participating on those threads.
How-to guides that need visual content to better serve the users effectively.
These link targets could give you chances of generating new links for your page/content/site. The more organic links you earn from them, the more referral traffic they can bring to your website.
Conversion link building
Links that help achieve the brand's conversion goals are more valuable than ordinary referral links. Aside from the fact that they can generate leads/sales, most of this link type is evergreen. Evergreen links are links than tend to last and provide more value to the linking to page/site because those links are placed naturally and strategically and built with conversions intent.
For instance, you can link out to your informational pages from your content distribution pages (i.e. guest post) instead of directly using anchor texts to link to any page of your website. A good example of this is this guest post by Adam Connell at BoostBlogTraffic.
The author byline provides a link pointing to his free guide (ebook).

Linking out to information pages and conversion-captured pages (e.g. where users can stay and subscribe to your email list) could benefit your branding strategy given that you can target two birds with one stone (links and subscribers, links and followers or links and leads).
Make sure that the content you contribute on other authority blogs/sites are topics that are related to your business so that people who can see your informational link can convert into customers/followers/email subscribers.
Another organic link building technique that you can start trying is link building from pages that are highly visible on search results (targeting ready-to-buy queries or conversion-based keywords).
You can use the same keyword research tool earlier and find conversion-based keywords. Add phrase like, "where to buy" or simply add "where" to your main keyword. Identify if the resulted long tail queries can drive conversions to your brand and use them to search for more link opportunities.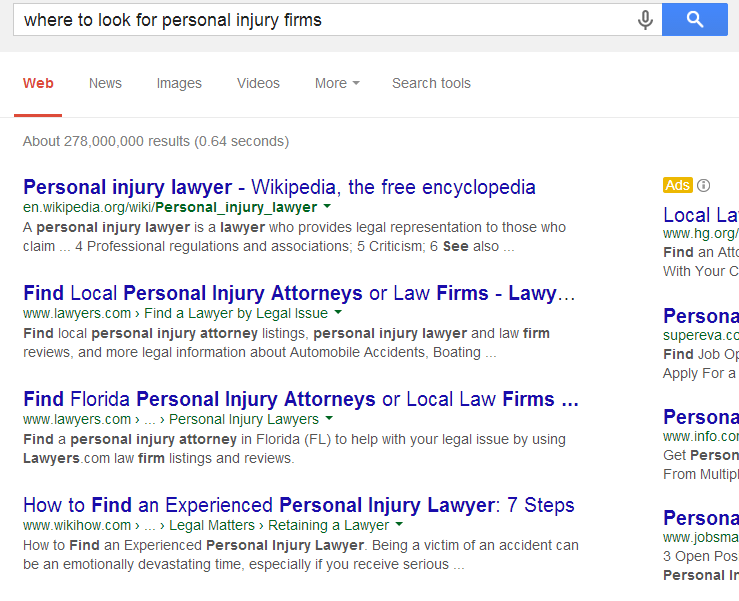 Given that the searchers are ready to purchase in this phase of search, earning links from these ranking pages can continuously drive conversions to your website.
Improve your site's linkability
Improving your site's linkability would need proper foundation on your website given that if you're able to fix your site's technical issues, your tendencies of ranking for industry-related keyword is higher, which can result to more linking opportunities (when bloggers start to reference your content from their sites).
Here are a few technical and content tips to enhance your website's linkability:
If you removed your old pages that are still sending traffic and links to your website, you can create new pages that contain the same information as your old pages have. Then redirect old URLs to your newly-created content. Share your new pages on social networks so you'll have tendency of earning fresh new links and shares.
Make your most important pages visible on your homepage by including a link to your linkable assets and/or most converting pages or adding image links pointing to those pages.
Create new resource pages that curate internal and external links (e.g. introducing a beginners' guide to…). Then build contextual links to these pages through community discussions, guest blogs and/or link outreach to resource pages that are related to your content.  You can check out this post on link building using content organization.
Add appropriate social sharing buttons that your audience is actively using (e.g. Pinterest for photo blogs). You can also add buttons that your target audience might be using to share your content (e.g. Inbound.org share button for online marketing blogs).
Content upgrade
Every content piece from every industry requires continuous improvement or update given that there are always new information/data/analyses that need to be added to provide more value to a particular group of users.
The best way to find pages that need upgrade/update is using link building tools like Outdated Content Finder, Screaming Frog and Open Site Explorer.
OSE has its new feature where you can filter the top pages by http status. This could give you provide you more information on which links are broken but are still sending relevant traffic to the site.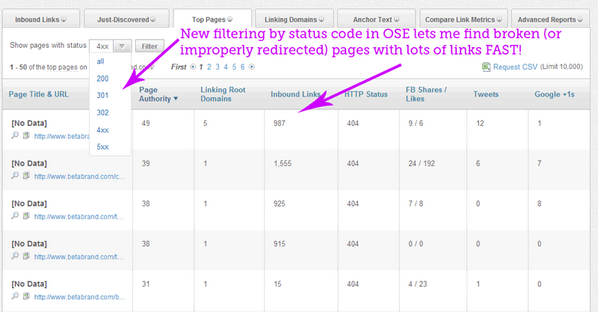 Do a reverse engineer to your competitors' websites and non-competing websites that have the same brand attributes. Grab one URL to OSE, filter the Top Pages by 4xx. Do the same to all of your competitors. Then create a list of all the broken links your competitors' sites have.
To see if those dead pages are good opportunities to upgrade, you can use Archive.org or any tools that can bring you back to the history of those pages. Identify if the lost information of those pages is relevant to your brand and can easily be your team's expertise.
Create a content that is comprehensive and engaging to the users, surpassing the old information found on the broken pages. Make it more interesting by investing design formats (images, slide decks, videos) to it.
Reach out to the people who linked to your competitors' dead pages and asked if they can mention your new content in replace for the broken link. Generate more organic backlinks by including your new content on community discussions/forums, Q&A sections and social media groups.
More Resources:
Creating and Developing Content Assets Like A Pro
Strategic content distribution
Distributing your content on other related blogs (i.e. guest posts) could provide you more than one link. Here are a few tips to maximize the value of your content distributed pieces:
Aim to provide unexpected hooks to your guest contributions given that the more people are consuming your content, the higher are the tendencies that your piece can attract more shares which will later on turn into organic links.
Exceed the expectations of your guest blog target by providing useful information that no one in your industry has published on. This could give you an opportunity to be featured in the top contributors page which is good not only to build more internal links to your distributed content but to brand you as an author within that specific niche. You can check out this post on how to guest post strategically on other relevant blogs.
Target content-focused websites that are authoritative in a very specific industry you're targeting. The more closely related the site is, the better, since you can easily drive conversions from those content distributing sites.
Use SEMRush to find guest blog targets that are content authority in your industry. When they increase their rankings/search traffic after the recent Panda update, it means that they have proven their content authority in a particular niche. If you target them for content distribution, you'll benefit more value from those sites in terms of link building, conversions, and social sharing.

Target long tail keywords in your content distribution pieces like in your slide presentations. If these pieces happen to rank for those keywords, it can generate new users to see, consume and even include your pieces from their blogs.
You can also track those followers who've shared your slide decks on their websites. Ask if they can also link to your website as the source of the information. You can even get higher conversion when you create a page designed for all the slide presentations, webinars and videos you've recorded/uploaded both on and offline.
Interaction Link Building
Building relationships with your customers/followers/brand loyalists could bring a long way to the branding of your website. It is also the easiest way to understand your audience' needs and let them contribute insights to your content creation.
Add a quick survey on the blog section of your website, asking which topics they would want to see on your site. You can also ask questions regarding the content format, length of content and other content elements to generate more feedbacks from them.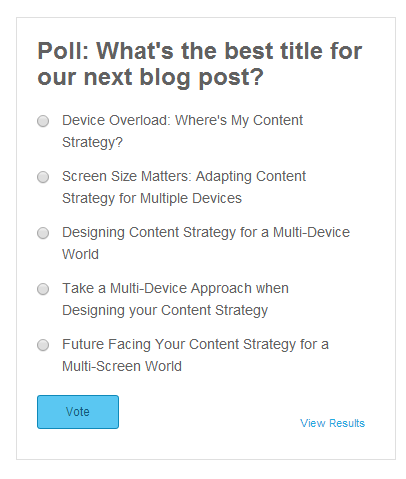 The more targeted and useful to a specific persona group, the higher is the likelihood of earning the trust of your target audience which eventually will bring organic backlinks to your website.
Email your customers using a personalized email copy to inform them about your new product features. A simple email template with no ads, images, videos and attached are more likely to convert to new feedbacks and sales.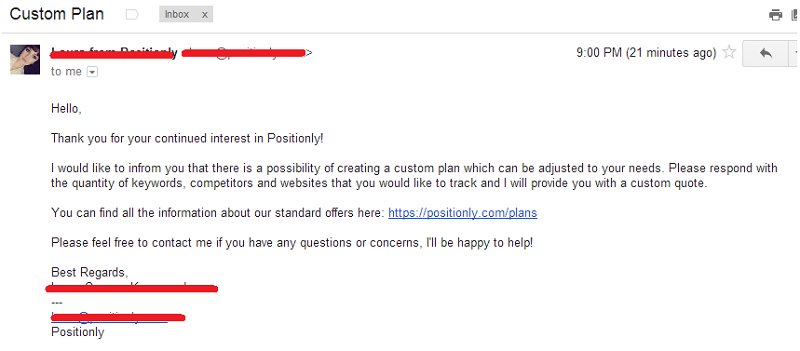 Email from Positionly
Create alerts from Q&A sites like Quora to get updated with timely questions that you can immediately answer in a daily/regular basis  (use IFTTT).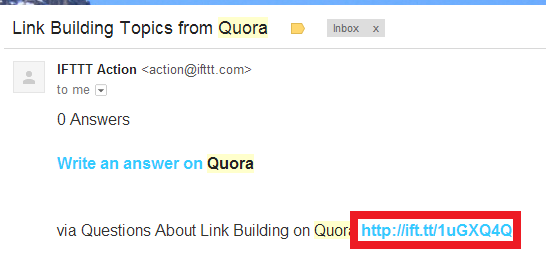 Those questions can also be the main topics of your content, which can help you rank for several long tail keywords given that the topics might be the exact keywords users are searching for in Google.
Final Thoughts:
Organic link building considers great content to  passively and actively acquire relevant and high quality links. By using the above actionable tips, you can generate fresh new content and links to your brand/site.
If you want to conduct an organic link building campaign, you can contact us for link building services quotes. 
Image Credit: 1
Whenever you're ready…here are 4 ways we can help you grow your client or business through performance-based link building:
Claim your Free Link Building Strategy Session. If you've achieved initial traction from Google, we can help you scale up to record-breaking search traffic and sales faster, claim your FREE Link Building Strategy Session. We'll brainstorm some ideas to increase your search traffic through ROI-driven backlinks, including practical solutions to add more content within the next 90 days.
If you'd like to learn the exact link building strategies we use for free, go to our blog or visit our resources section, where you can download guides, cheatsheets, and templates we use for our most successful clients.
If you know another marketer who'd enjoy reading this page, share it with them via email, Linkedin, Twitter, or Facebook.