A good link building strategy is one that's built on both getting links from multiple relevant referring domains and earning repeated links from the same websites.
It's not that difficult to get links from different websites, but one that's often a challenge for link builders is making sure you deserve to get backlinks from the same website.
In a small study conducted by Ahrefs, they've found out that 79.23% of referring domains link to the same website multiple times. This means that it's natural to have multiple links from the same website.
In fact, it's not only natural but beneficial for your brand to have recurring links. A few notable reasons shared by Ahrefs are:
Increase the authority of your webpages

Get links to more pages

Get more referral traffic

Build links more easily — as most SEOs are more focused on getting links from a number of unique websites than from a number of similar websites
This is a challenge for SEOs having conversations with their dear clients, as they're mostly getting paid (for link building agencies) for the number of links delivered each month.
For enterprise link builders, affiliate SEOs, and online entrepreneurs who own web properties, you can leverage your efforts on getting authority organic links from referring domains.
The end result may be as organic as it may seem, but the process of execution may require some manual labor for SEO teams.
In today's post, we'll cover ways to build more links from the same website.
How to Build More Links from the Same Website
1. Content Partnership in Building Mutual Trust
It's easy to dive into the next big link building strategy, but oftentimes what works in getting repeated traction is the same old link building techniques.
One, in particular, is guest blogging. Contributing content for other blogs must be high-authoritative blogs where your target audience engages in.
A more granular and effective approach to doing so is what we call content partnership.
Here, you're not just looking for a one-time contribution of your written article, but you're pursuing a mutual collaboration for a content asset both of you will benefit from.
This isn't something you can scale easily. In fact, you have to build mutual trust along the process of executing content partnerships.
Start by making sure you have the authority in place in your place. Do you have content pieces that have massively gained traction for the past months or years?
If the content creator or publisher you're reaching out to doesn't see any value in your content pieces published on your blog, he/she would likely hesitate on the collaboration.
There must be expertise seen in your created content pieces. Reach out to targeted linkers to gain links from different authoritative websites. Here are some resources you can check out to learn how to create content assets that get links:
Once you've established content authority on your website, reach out to a few but targeted publishers whom you think can collaborate with you for content assets.
It is best to look for any content gaps in someone's publishing works to quickly gain their attention once you pitch your request.
You can use Ahrefs' Content Gap feature to discover topics and keywords these publishers haven't targeted yet for their content.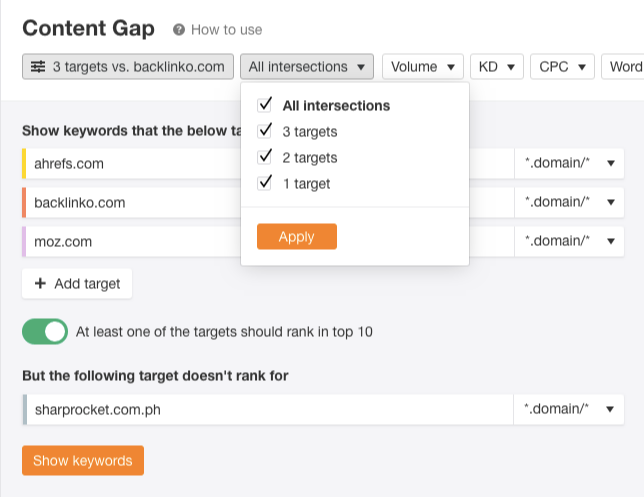 Assess if those topics from your content gap analysis are feasible on your end to create content around. Do you have enough resources to write up the content? Any practitioners in your team who can research and write the information? Or else, is there a way to hire industry practitioners who're are into writing for niche publications?
Another tip is to pursue a visual-driven approach in content partnership. If your target publisher has solid data with content, it would be beneficial for them to format it in such a way that people would visually consume the information in an instant.
This means you offer your graphic design capabilities to create a better version of the content.
Find ways to keep your content partnership strong. Offer resources from your team. Be engaged.
B. Brand Excellence in Getting Recognition
Another way to get links from the same domain is to put excellence as your top priority.
This may sound cliche, but there are publishers who have their annual awards for brands and personalities who performed well in their industries.
Metrics for awards vary depending on their industry, but this is a good opportunity to get multiple links consistently from the website.
Start with putting out content assets on your blog that get attention from your target audience.
One advisable way is to establish a brand ambassador for your website. He or she will serve as your content performer to different publications, answering questions on interviews, and making sure your brand is at top of your mind for specific brand topics.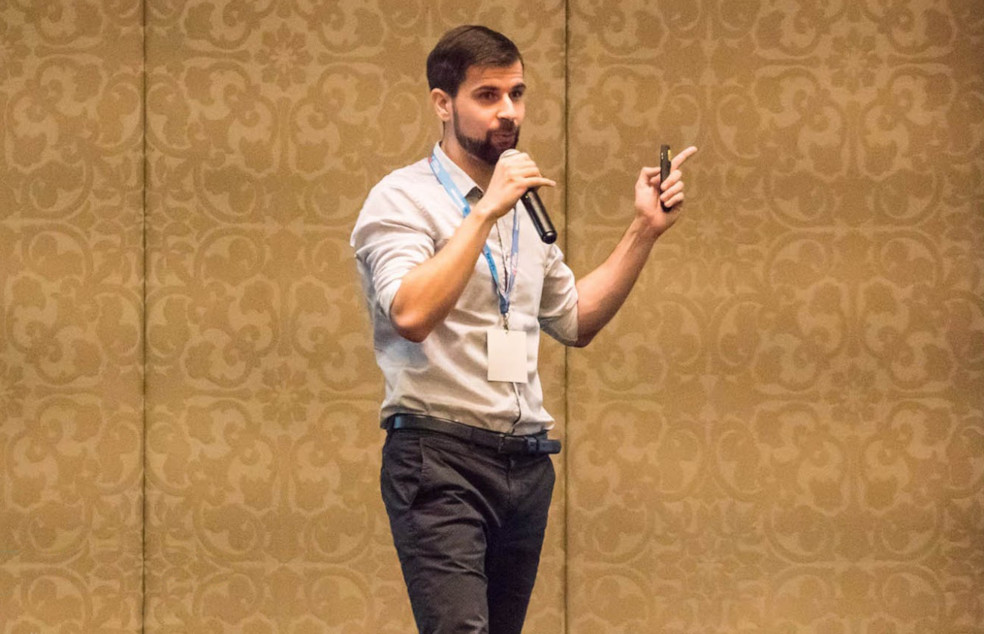 Essentially, it would require that the person should be a practitioner to craft better answers to interviews and to engage the community in question and answer sites (e.g. Quora) and niche forum discussions.
C. Linkable Asset Creation in Organic Link Building
Organic link acquisition requires your content to meet the needs of a targeted group of linkers.
We've covered so many times here in our link building blog this idea of targeting linkable audiences with content.
Yet I've seen many brands still struggling to intersect audiences with their brand's content themes. Oftentimes this happens for sites with very narrowed audiences. It's not surprising not to be able to find groups to target in our list of linkable audiences.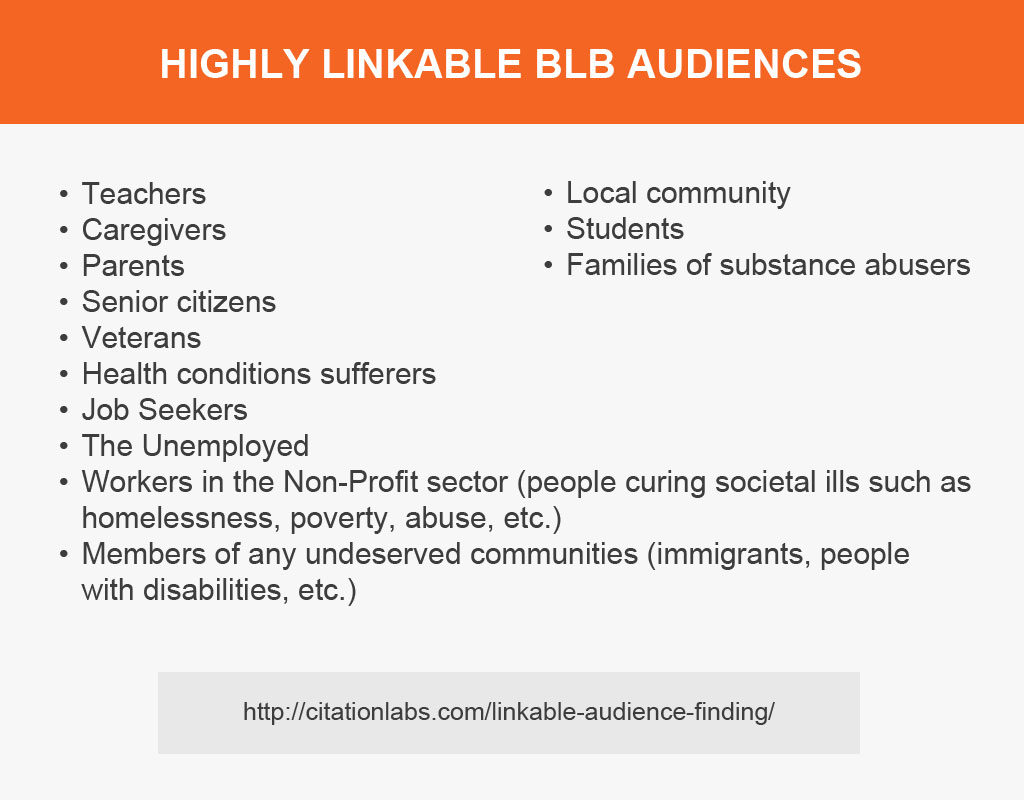 If this happens, you can check niche bloggers and publishers as your target linkable audiences.
Start surfacing your competitor's way of doing linkable asset creation. Are there any related audiences they've had success with content targeting that you can replicate to your blog?
Here are some resources you can check out on persona profiling for content creation:
Establish Authority for More Recurring Links
Just like anything else, there is no hit wonder in getting links from the same domain. Mutual trust, recognition, and an organic approach to content creation are key factors in making your link building successful.
Start with the resources you have right and build a flywheel effect on it over time.
How our LINK BUILDING AGENCY builds 250 links/mo consistently using Predictable Link Building Methodology™…
Using a SIMPLE and PROVEN system

Using a SCALABLE strategy
No private blog networks
No creepy outreach emails
SHOW ME THE FULL LINK BUILDING STRATEGY