A link request is an email sent to a prospect with the goal of earning a link back to the sender's website.
That phrase is now popularly termed as, "outreach email" or "outreach template", seeing that the value that this approach provides is far better than just earning a link. A single outreach email could also be translated to new relationships, partnerships, engagements and business sales and conversions.
So when we discuss about link request, you won't just get a link, you build connections.
That is why link request (outreach) when combined with content, is one of the most utilize link building tactics and many internet marketers still believe that it is the most effective link building method that you can still apply to build authority to your pages and to improve your site's search performance.
Now, the question is how you can write a link request email that will get you results for your website.
To answer this question, I took a few examples of emails that I received for the past three months to show you mistakes  that most link specialists/PR managers and the like online marketers are doing and how to make these link request emails effective in getting responses from targets.
Let's get started.
Example 1: Shopping cart abandonment email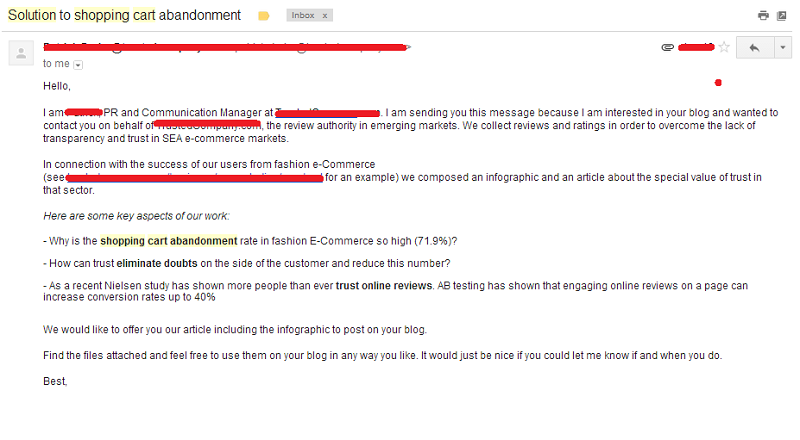 This PR email pitch is almost perfect for an outreach campaign but the sender forgot the first thing people would want to open an email and actually read it – interest.
Yes, I wrote a post about link building for ecommerce and blogs but it doesn't mean that I'm really looking forward for another post or even a visual content about the said topic. My site covers only link building and content marketing (which you may know already, if you've been a long time reader here).
How to improve this email copy?
Include a few personal details of the webmaster/blogger (e.g. name, blog/site name, etc..) to spark a little connection while the recipient is reading the first paragraph of the pitch.
Target tech, SEO and internet marketing blogs that primarily discuss ecommerce topics in their content. This is the first set of linkers that you might want to engage with in your content promotion.
Identify the value that your content is offering. If you go back to reading the pitch, you can think that CRO blogs would be a good fit to target with their approach.
Example 2: Hospitality trends email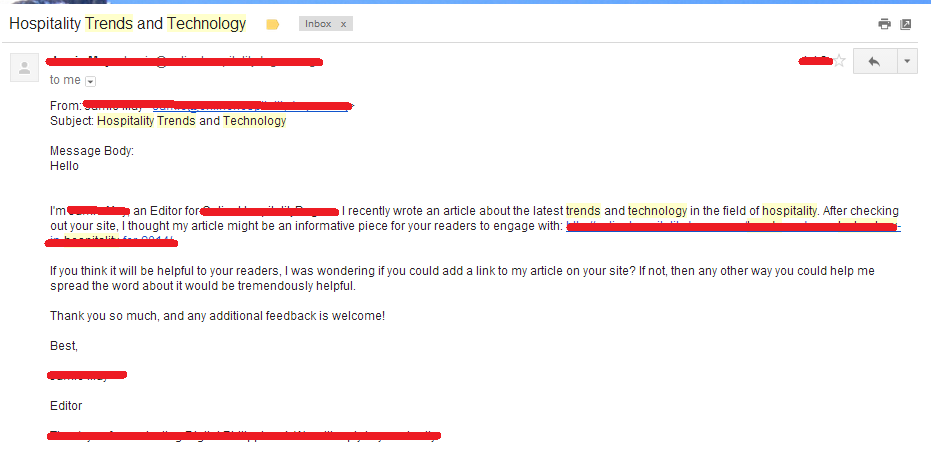 How to improve this email copy?
Subjects should be made catchy and is something that the recipient would be able to connect to. Since I'm only interested with SEO, internet marketing and business topics, I will not bother myself replying to this type of email.
Include personal details of the target (again). Take a quick look at the about me page and homepage, you'll definitely identify the author of this blog. J
Encourage to check out the content first before asking for a link. If I find it useful, I will spend one minute to login to my website, edit my post and link to you.
Example 3: For guest email

How to improve this email copy?
Support your information about your writing experience with proofs of work. If you're an experienced writer, then why don't you give me samples of your best articles?
Never ask for a link in your first pitch, it would only give the impression that you're sending an email to encourage me to link to you (where is the value of your pitch?).
Make sure you have a clear point in your pitch. If you're only asking the person to check out your content, then that should be clear from beginning to the ending paragraph of your message.
Example 4: Product review email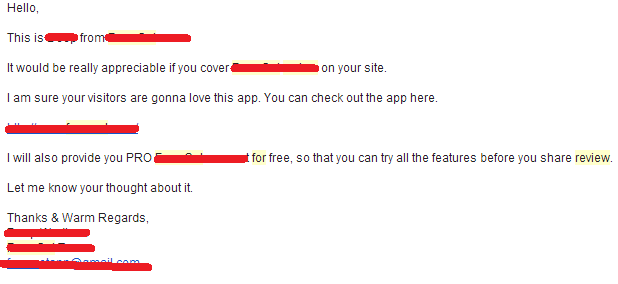 How to improve this email copy?
State your position in your company (even though people won't care about your career status, including your company position adds credibility to your pitch).
Provide details about your product (i.e. features and why should I care about it)
Don't ask for a review if you don't tell the person the value of your offering.
Examples of good link request emails
Example 1: More link links email from Wordstream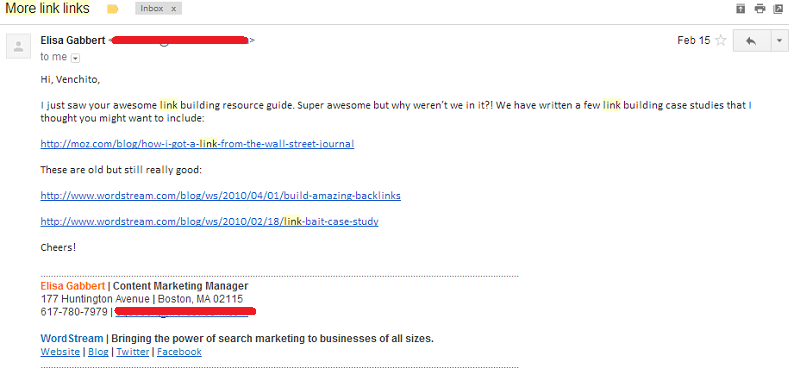 Why this email works?
First name first. Elisa stated my first name and that catches my attention (pretty basic but very important).
The pitch was straightforward and clear (by reading the first few words, I already know what to do).
The branded signature makes me want to check out the brand and personally connect with Elisa.
Example 2: Resource link building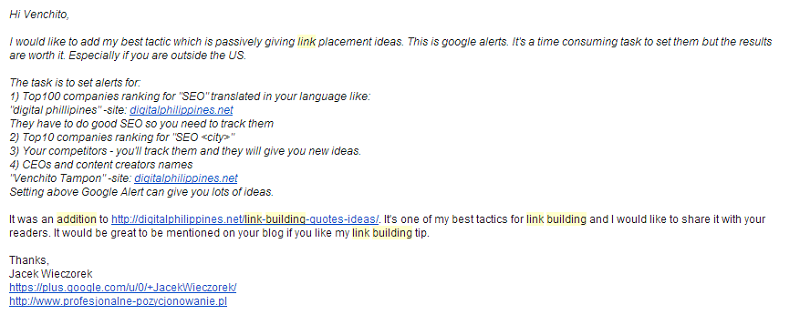 Why this email works?
The pitch is actually what I actually looking for (I stated in my recent post I that I want to receive actionable tips to add to my resource page).
It answers all my questions (what, how, why of the pitch).
Psychology 101 for linker outreach
Let's get straight. Psychology of persuasion and influence is what we, link builders need to further improve the way we approach link building and outreach today. Because with psychology in mind, we'll be able to tap into other people's interests, and get them take any action that we desire for our brand.
Given that we reach out to real people, we should also make our principles and methods real as well.
The Six Principles of Influence were created by Robert Cialdini, Regents' Professor Emeritus of Psychology and Marketing at Arizona State University. He identified the six principles of influence that we can apply to any content and link development campaigns that we're doing today.Here's how.
Reciprocation
Link building should benefit both parties (you as the person who wants a link and the person you want to get a link from).
With reciprocation, the first initiative should come from you. The same goes with link building, if you start linking to other relevant sites, people will eventually link to you as well.
Here are some ways to show reciprocation in link building:
Create a resource page for non-competitors' domains. If you own a service company website, why not publish a page that lists down all the best tools in your industry.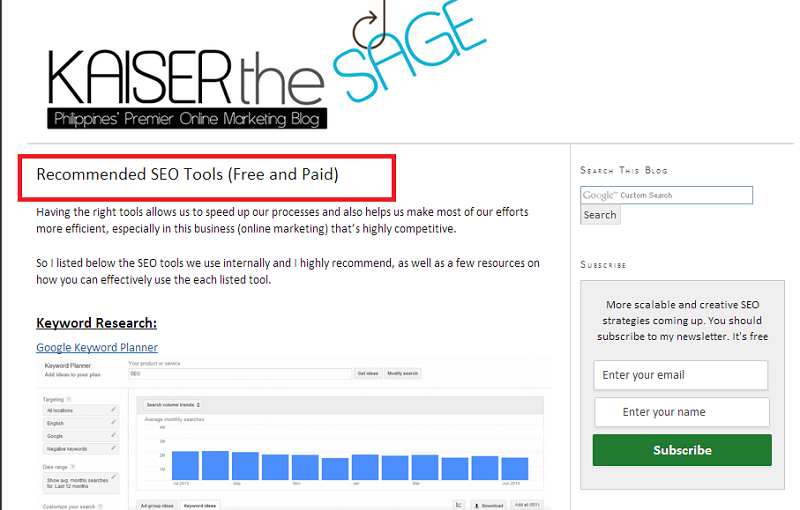 Link to other relevant content sources (e.g. influencers' recent posts) from your own blog's content. If your piece is relevant and almost has the value/information similar to your content source, you would have a chance to acquire a fresh link from your influencer's site.
Share other brands' content on social media platforms with a mention to the author's social profile. This would help your brand to tap into other brands/influencers/authors' radars and solidify the relationships you have with them. This will in turn, entice them to share or even link to your page once you start reaching out to them through blogger outreach and content promotion approaches.
Make other domains' visible on other blogs by linking to them from your third party content (e.g. guest posts). Reach out to them and tell them that you mentioned their posts in your guest articles. This approach will eventually provide you links in your second layer link building.
Initiating link building activities to relevant blogs/websites in your niche gives you more link opportunities than just simply reaching out to people and asking to view, share or link to your content.
Liking
Finding your common grounds with your outreach targets is one of best ways to get their attention instantly.
Here is how you can find your commonalities with your prospects:
Identify sources/links that they consistently share on social places and see what specific blogs they love to read and share to their followers.
Discover their interests by stalking to their websites, looking at how they respond to their community followers and finding what topic they usually publish on their sites.
See where they publish their content works. Use Reverse Image search and Google search to find pages/blogs where they had their posts published.
Spend 3 minutes finding their best links and analyze how do they get those links, (do they participate in industry-related communities?)
Include details in your pitch that will relate and/or connect you to your outreach prospect.
Commitment and consistency
Commitment is hard to express when you still don't have any consistent activities on your website. Reaching out to a prospect with the intent of committing yourself for collaboration/partnership activities would need first to show consistency on your content and link development efforts.
Here's how you can do it:
When pitching a content manager/blogger for regular content contribution, make sure that you include links to your other site's author profiles where your guest articles are visible. This approach would prove that you have previous commitments on other brands.
When performing broken link building method, you can include a personal commitment to your pitch, telling to the webmaster that you're willing to make aware of him of any error issues (dead links) that you might encounter on his website. This will show a little interest from your part to provide value to his website and to his site's targeted audience.
Social proof
One of the effective ways to capture the interests of your outreach prospect is to show social proofs in your email message. There are many implications of showing social proof in your link request pitch:
It exemplifies your authority as a brand/author/publisher.
It makes your recipient feel that you're capable of providing value for their website and for their readers (if in case, you want to use guest blogging approach).
It humanizes your pitch (impressing others that you're an engaging person in your industry).
Adds credibility to your content particularly when you show examples of influencers who'd shared your posts in the past.
Social proofs are commonly added to pitches to ask a webmaster to become part of his community (regular contributor), exclusive partner and/or requesting to become an affiliate marketer of his product/service.
Authority
Authority is what most brands would want to achieve in their respective industries, given that it provides them opportunities to easily inculcate their messages/intentions/stories to their communities who already trusted them  through the efforts that these brands made in the past (content, partnership, engagement, etc..).
It also makes outreach campaigns more effective in earning responses and mentions from people, seeing that they already know what the brand is all about and what the brand is capable of contributing to the community.
Authority is achieved through many content and link development efforts such as:
Consistently publishing linkable assets that people won't find from anyone else and are filling content gaps in the industry.
Participating in online communities where expertise and experience could be expressed (interviews/crowdsourcing, taking advantage of journalists asking for free tips/advices, answering questions on forums, Q&As and blogs, etc..)
Building a solid social community on social platforms such as Google+ and Twitter by actively answering  questions on social communities where you know you can add value to and consistently adding/following social people who're actively sharing relevant posts and participating on communities (you can use ManageFlitter for Twitter management and Circloscope for Google+)
Become the go-to brand in your industry by publishing guides, whitepapers, ebooks and podcasts/webinars that discuss questions/topics that are raised by people in your community.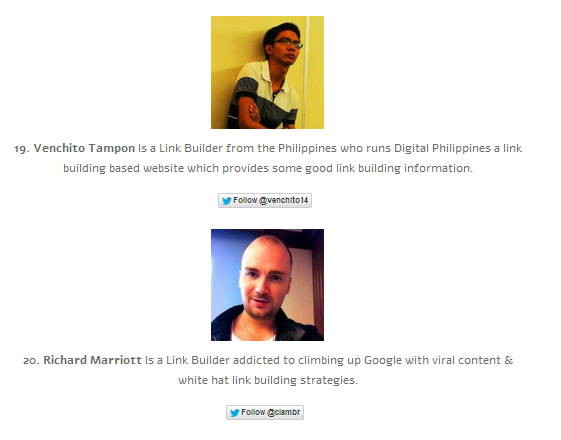 Other resources:
How to become an Influencer through Content and Relationship Marketing
How Being an Authority can Boost Your Online Sales
Scarcity and exclusivity
Taking advantage of the idea of scarcity and exclusivity when offering premium content to your users/subscribers/customers is one of the best ways to promote your offerings (products/services) as well as earn links from your outreach and content promotion campaigns.
Here are some methods where you can apply scarcity and exclusivity to your content creation and link development campaigns:
Provide an exclusive content only to your existing subscribers (e.g. free ebook). This will allow your brand community to give importance to your emails that have information/data that you haven't been published on your blog.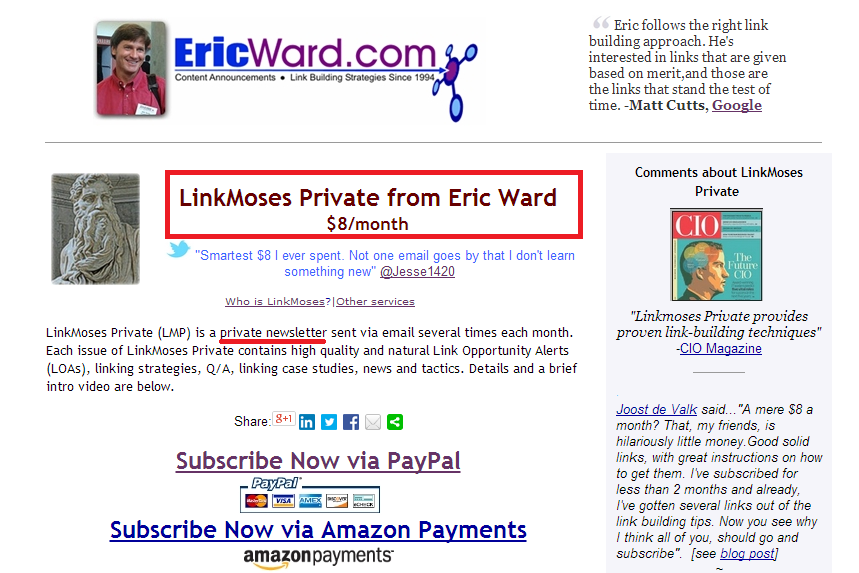 Send exclusive offers to active bloggers in your industry (i.e. sending them free access to your brand's new premium products). Allowing this to happen in the first few weeks before your launching campaign could give a boost to the traffic and link opportunities to your product's page once it goes live (bloggers would be excited to write reviews or add insights to their existing reviews given that they want to become the first few persons to cover your new tool/product).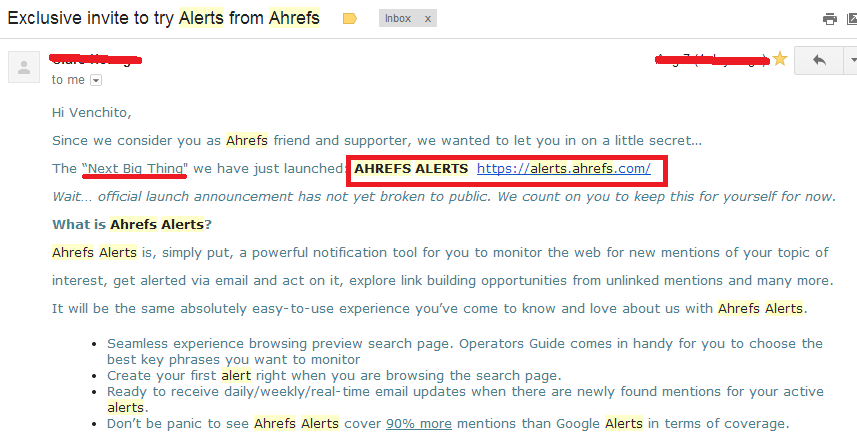 Actionable tips to improve your link request/outreach emails
Follow any link-request instructions indicated in the page where you want to get links from to have a higher chance of getting response from your target. Contact email, required subject line and name of the person to contact to are a few examples of details that may be added by your outreach target to his resource page.
Spend time writing your pitch to your link prospect. Making your email personalized and straightforward makes it easy for the recipient to understand your main intention/purpose of outreach. You can check out these resources from BuiltVisible and SEERInteractive about linker outreach.
Other resources:
http://moz.com/blog/how-to-write-email-to-get-a-better-response-rate
http://outspokenmedia.com/seo/content-based-outreach-for-link-building/
http://kaiserthesage.com/persona-link-building/
Source: 1
If you liked this post, you can subscribe to this blog or follow me on Twitter and Google+.
Whenever you're ready…here are 4 ways we can help you grow your client or business through performance-based link building:
Claim your Free Link Building Strategy Session. If you've achieved initial traction from Google, we can help you scale up to record-breaking search traffic and sales faster, claim your FREE Link Building Strategy Session. We'll brainstorm some ideas to increase your search traffic through ROI-driven backlinks, including practical solutions to add more content within the next 90 days.
If you'd like to learn the exact link building strategies we use for free, go to our blog or visit our resources section, where you can download guides, cheatsheets, and templates we use for our most successful clients.
If you know another marketer who'd enjoy reading this page, share it with them via email, Linkedin, Twitter, or Facebook.