For the past few years, the debate about quality versus quantity in link building has been subsiding as more SEOs and business owners have gained a deeper understanding that it's the quality of links that matters over quantity.
Given that, some link builders still find it difficult to consistently acquire relevant links on a monthly basis.
But it's certainly possible with the right approach and improvements in processes to provide solid high-quantitative link reports.
Agencies like Citation Labs, based on their 2015 slide presentation, can accommodate a total of 300 resource backlinks every month to their clients.
Our team at SharpRocket is able to supply links ranging from 6 to 30 in volume to each client on a monthly basis.
It may not be a big number to most readers, but using sweat-and-blood approaches in link building, it's the highest quantity that you can achieve with a handful of resources you have.
Scalable link building requires speeding up phases in the area of link qualification, link prospecting and targeted outreach. Subtle changes that you can make to each phase can tremendously impact your campaign's efficiency.
For the past several months, we've noticed and tested a few approaches that if done well, can create success for your next link building campaign.
1. SOURCING MICRO AND MARCO CONTENT FROM INDUSTRY INFLUENCERS
Content creation for external distribution (or guest blogging) is easy to scale if you've got a team of in-house writers or outsourced freelance writers to accommodate your content writing needs.
However, if you're in scarcity of resources, one approach that you can use to facilitate guest blogging is by interviewing industry influencers and using their Q&A content as external assets for distribution.
Initially we start sending outreach emails to productivity publishers who might be interested to accept any of these two content formats:
"How-to" [ topic ] interview content

Guest post on [ topic ] (that includes a few insights from productivity experts)
The key to make this pitch standout is to highlight that you'll be including insights from industry experts in your guest article. Given that publishers would normally ask for high-quality guest posts (as we always request for outside contributors for our blogs), the approach of emphasizing the credibility and value of your content up-front can improve your chances of getting a response and eventually increase your closing rate.
Then you can throw-in topics of content that they can choose from.

To generate a content idea, you can do a Google search for site:domain.com with any of your targeted keywords or topics (e.g. "personal kanban") and check if these are topics they haven't covered yet.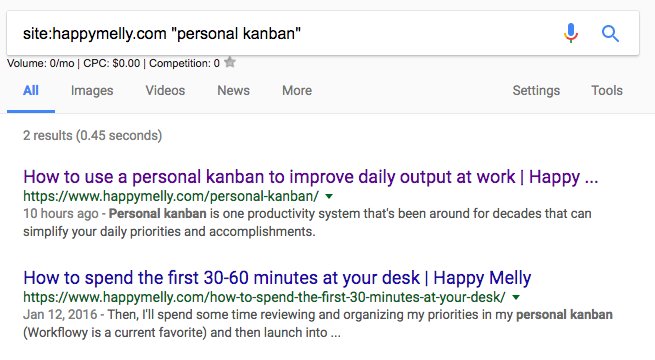 Providing unique content ideas can increase the chances of letting them buy-in on what you can offer.
Further reading: How to Improve Your Link Outreach Success Rate
When they've chosen a topic to write about, it's time to create the content.
There are two ways on how you can approach content creation: create content with validated insights from influencers or use Q&A content with an influencer and format it as an external asset.
A. Validation To Your Insights
Instead of providing one generic round-up question to your target influencers and compiling them into one big post (just like what you normally read see in most round-up posts), you can ask influencers for insights to questions being discussed in your article draft.
Statements from influencers can serve as a validation to your article points that adds credibility to the overall content.
As an example of this approach, we've looked for productivity bloggers/experts to get their expert opinions on different subjects of productivity.
In my earlier example, the topic that the publisher wanted us to write is "personal kanban" – a personal productivity system.
We had to look for industry bloggers who have personally experienced using such productivity tool in their professional lives.
To speed up the entire blog prospecting process, we chose an authority website that has outside content contributors and that interviews niche influencers on its podcast show (these influencers/contributors were then our target prospects for interviews).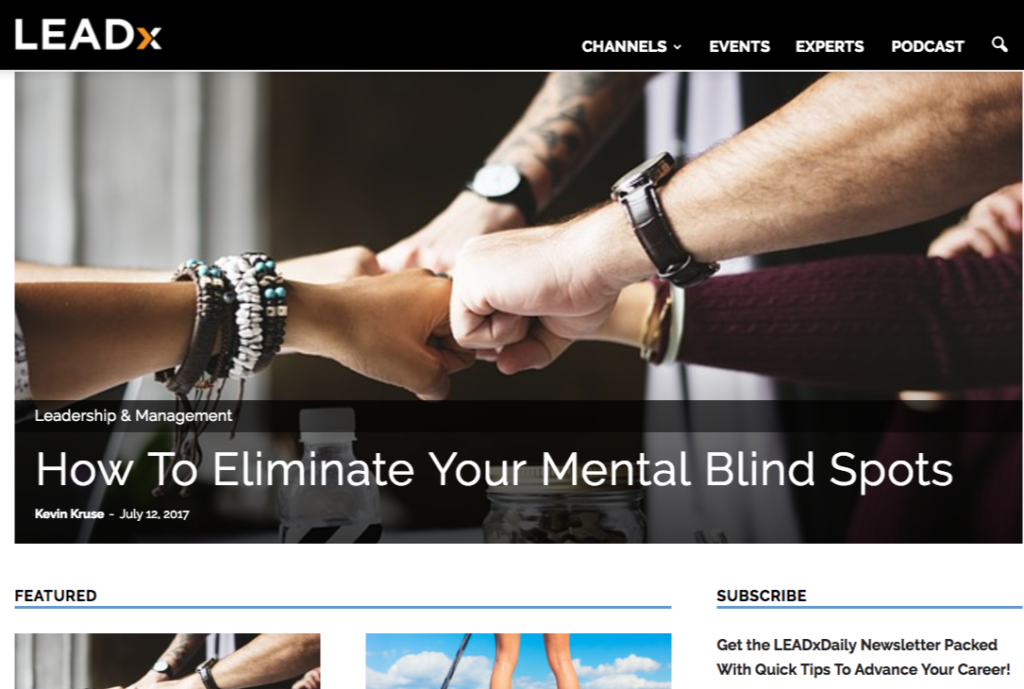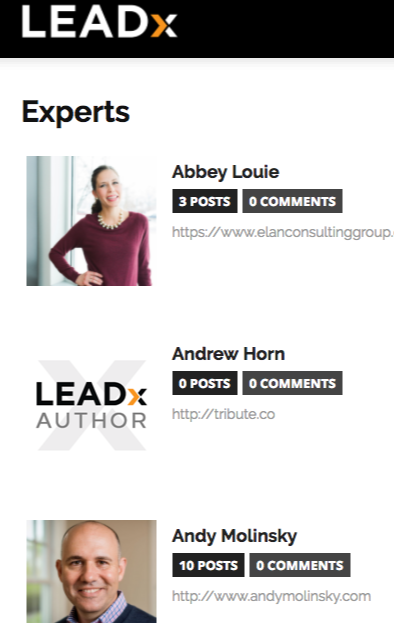 Using URL Profiler to scrape data from author and podcast pages, we've managed to create a list of 20 industry influencers (who are past and current contributors of LEADx.org's blog section and who became guests in their podcast show).
You can also do this process manually, if you're not a subscriber of URL Profiler.
In estimate, the manual approach will only take you 25 to 30 minutes.
Your next step is to gather contact details of your target interviewees to prepare for the outreach campaign.
As for the outreach, it's important to ensure that your authority bloggers will also benefit from the content partnership you're proposing. Reciprocation in a form of getting a link on a guest post written on a top-notch industry blog can increase the chances of getting positive responses from them.
Here's the exact email template we used for this kind of outreach:
Short interview with you [Name]
Hi [Name],
I'm [Your Name], a blogger and productivity enthusiast. I've found you on one of the podcast episodes of Kevin Kruse at LEADx.org and learned great insights from your conversation with Kevin.
I'm fascinated and wanted to conduct a short interview with you. I'll ask a few questions, compile your answers and use it as a guest content for a top-notch productivity site (not mine).
I greatly appreciate your response in advance.
Thanks,
– [Your Name]
From 20 authority bloggers we pitched for interviews, we managed to get 14 positive responses.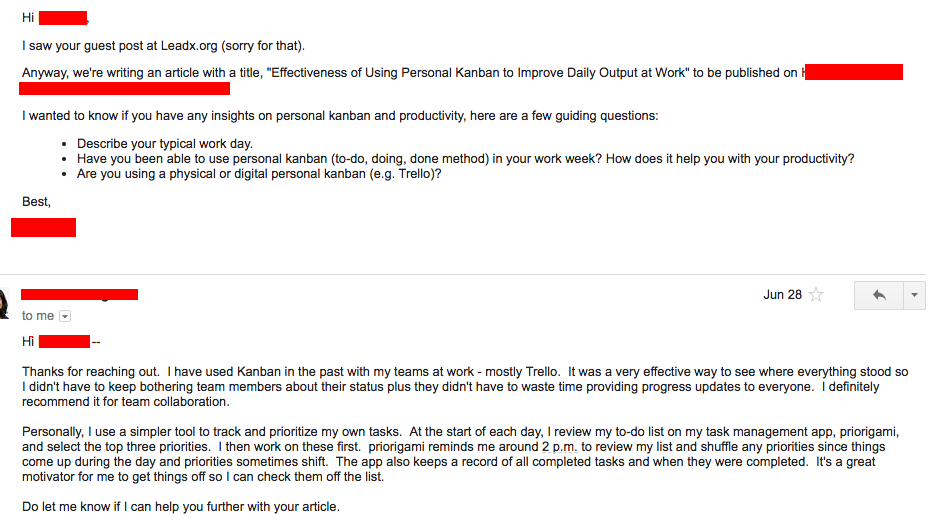 Here are some takeaways why the outreach campaign worked:
Used prospects' name and their websites' name.

Included the source where we've found them (I've found you one on of the podcast episodes …) – helps strikes a more personal approach on the email.
Stated the value proposition to easily catch the interest of the outreach prospect (use it as a guest content for a top-notch productivity site). It helps secure confidence that their answers to questions can reach more audience.

Straightforward subject line to get the message across.
You may want to check out this guide on blogger outreach to get more tips on how to effectively craft email copies specifically for blogger outreach campaigns.
Finally, you have to submit your finished content with great insights from niche influencers for content approval.
Then, acquire links:
A link to the influencer's website (for his contribution):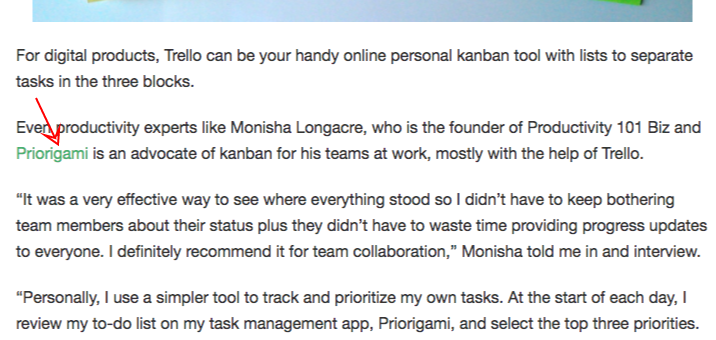 A link to our website:

B. How-to Interview Content
There is another way to maximize interview content besides using it as a validation to your article points – that is, utilizing the entire Q&A content as your guest post.
It is best to format it as a "how-to" article rather than just compiling expert's answers into a Q&A format and submit it directly to your target publisher.
You also have to structure the content in a way that is easy to scan and read, and that emphasizes the "specific topic" you're discussing about.
So the title can be something like, "How to [Topic] with [Influencer's Name]".

2. SCALE BLB PROSPECTING WITH CITATION LABS
For the past several months, I've been using Citation Labs heavily to scale prospecting for resources pages (or links pages) for our broken link building projects.
Disclaimer: I'm not an affiliate marketer of this tool.
Given that broken link building requires tedious work on prospecting especially if you're working on several BLB campaigns, using a tool to prospect thousands of relevant link opportunities is definitely a big help.
Using Citation Labs for a broken link building campaign, we've managed to create a list of 22,000+ job and career-specific link prospects with Domain Authority of 40 and above.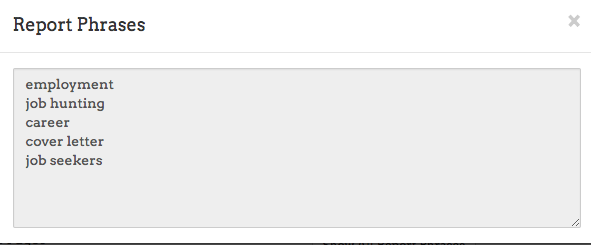 The list is further qualified to pass the relevance test, which resulted to 400 targeted prospects out of the first 10,000+ unqualified pages (4% qualification rate).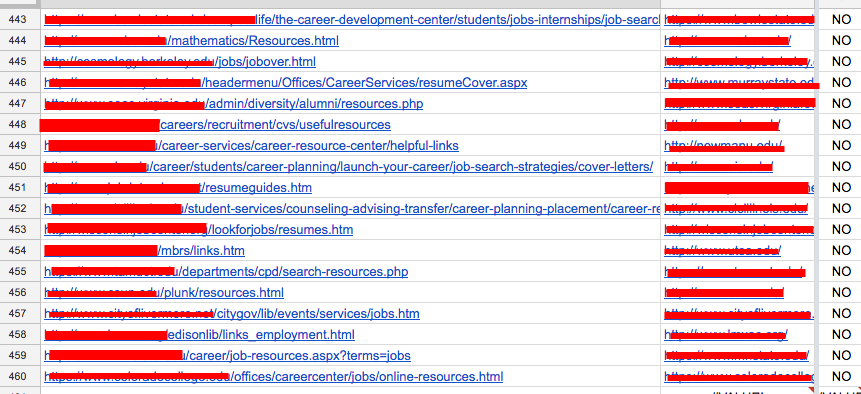 On average, we can qualify 1000 prospects based on relevance within 15 to 25 minutes. So the total time it took us to conduct relevance test for 10,000 pages was 2 1/2 hours to 5 hours.
Assuming you have a newbie link builder and he manually searches for link opportunities, it'd probably take him 3 to 4 hours to find 30 to 40 links pages qualified based on relevance and certain metrics like Domain Authority.
So for 400 qualified prospects, he would consume 40 hours equivalent to 1 week of work.
Notable advantages of utilizing Citation Labs for bulk link prospecting are:
Improved efficiency in prospecting – as it requires less hours to manually prospect for link opportunities, so time can be spent on qualifying link targets based on relevance and obtainability.

Expand link lists for untapped link opportunities – pages discovered by the tool aren't necessarily ranking for linker-based queries

 

(inurl:resources "topic").
Besides searching for links pages, Citation Labs can also help link builders to find other type of link opportunities such as review pages, forums and professional organization sites.

3. HIRE VIRTUAL ASSISTANTS FOR MENIAL TASKS
Apparently, outsourcing is a cost-effective strategy that can improve your link building campaign's efficiency. By giving menial tasks to freelancers, it helps you allocate more time on other important activities, which can help elevate individual and team's output and productivity.
Basically, the tasks that you'll be outsourcing are ones that'll only require basic knowledge and skills and can somehow be executed right away even without much deeper training.
Here are a few examples of link building tasks you can outsource to:
Contact finding (name, email address, contact forms and social profiles – if email address is not available).

Finding important page or site-level details (page tilte, article title)

Initial pitching (sending your outreach emails using an email template with only a few tags to replace details with)
As an example, we recently started hiring virtual assistants locally (freelancers who are based here in the Philippines) and from other countries like Bulgaria to help us with bulk link building activities.
Instead of posting online jobs to facilitate hiring, we use Linkedin as a platform to manually search for freelancers who had previously worked for a similar company (either a full SEO service agency or a link building company).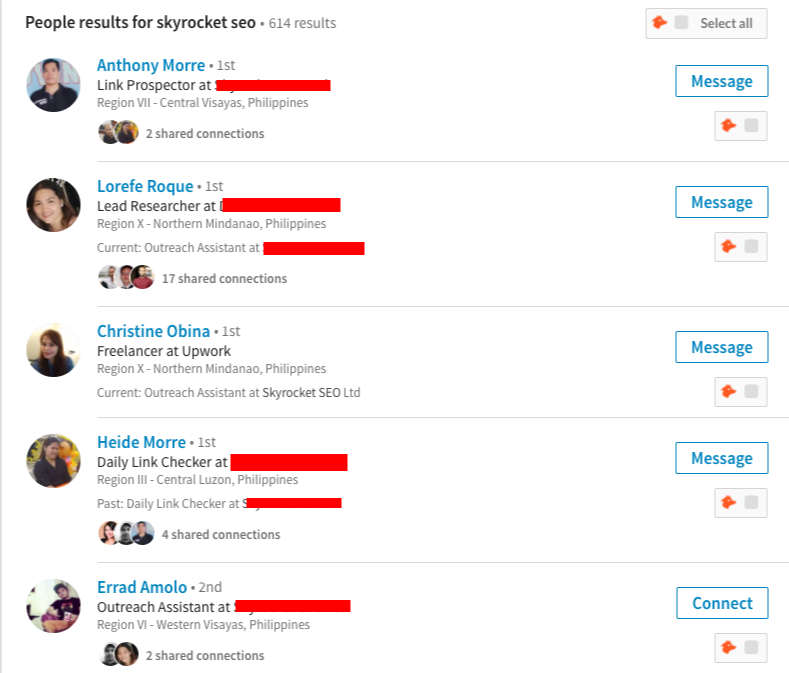 The advantage of doing so is we were able to hire freelancers who can deliver more output than someone who just undergo a training process.
We also checked their work histories if they handled previous link building campaigns or any associated tasks like contact finding and daily checking of emails.
Before jumping straight to outsourcing, we created simple step-by-step documents that walks them through the entire process of executing the task to avoid recurring questions we'll then received from them, as they work on each campaign.
We use GDocs to easily share documents to our freelancers.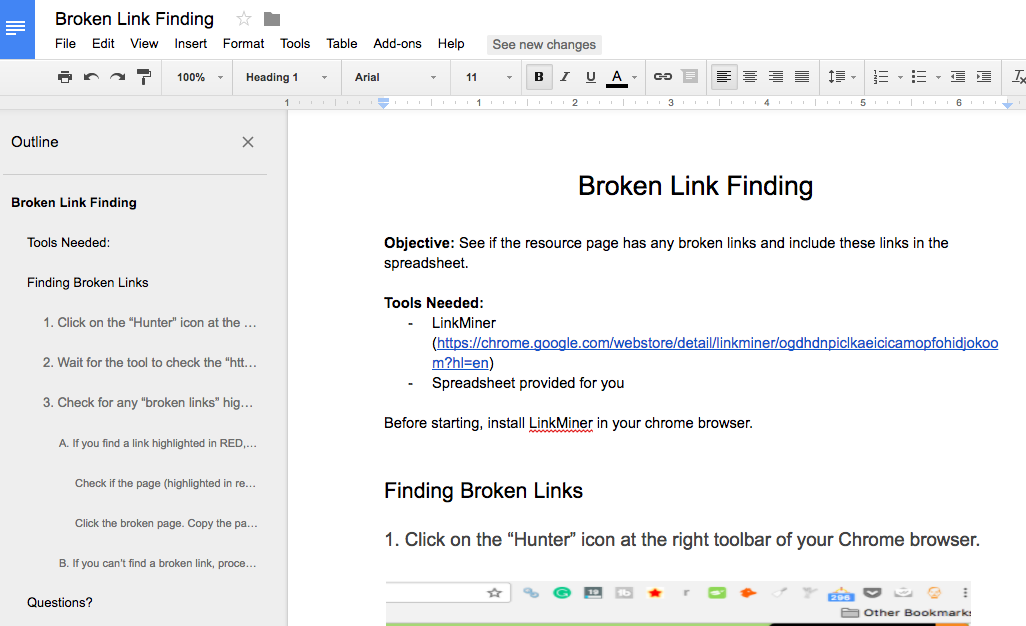 This outsourcing approach can certainly improve your campaign's efficiency with the right people and processes.
Further reading on outsourcing:
4. PERSONALIZED EMAIL MERGE
As quoted by Jason Acidre on his SEO blog, "Outreach is probably the most tedious component of our marketing discipline because the activity primarily intends to build relationships."
I couldn't agree more with this statement, as we've done hundreds of outreach campaigns and to only succeed is to put the hardest work in creating the best offer (value prop in emails), in prospecting for highly targeted publishers and in sending email copies that'll mutually benefit both parties.
There's one subtle approach we've tested to improve the efficiency of our outreach campaigns – that is using a personalized email merge tool.
We initially start by installing Yet Another Email Merge to Google Spreadsheet as an add-on tool. It allows us to send 50 emails in every outreach account for free (there's a premium price if you're sending 400 emails a day).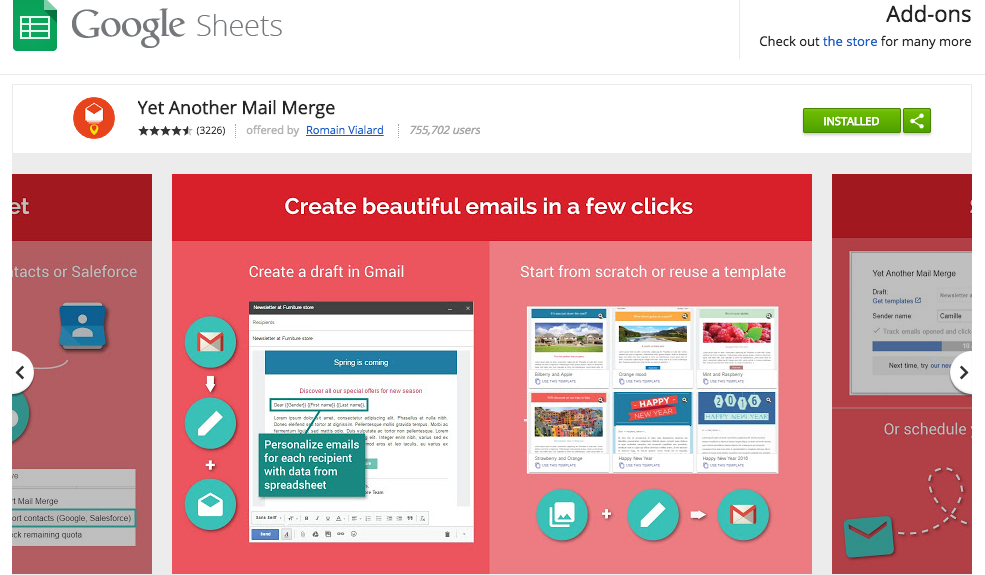 Unlike the typical mail merge system that blast off email spams to publishers, this email merge tool allows us to personalize email copies while semi-automating sending off emails and scheduling them at the right time when prospects will likely to open.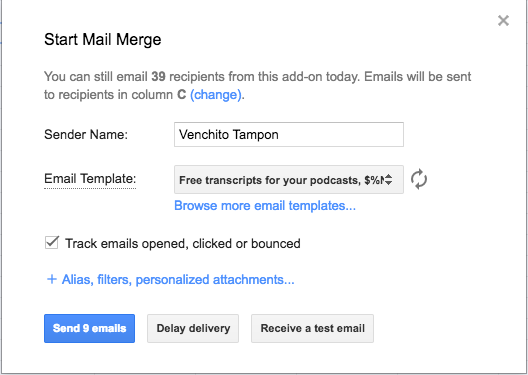 Note: When using this approach, it's extremely important to set intervals in outreach, not to trigger Gmail from spamming your account. Instead of sending 400 emails one-time off, you can divide them into 5 or 7 days with intervals if possible, and just send 40 emails a day.
Here are a few advantages that this tool can bring to your outreach campaign:
Enables scheduling features for different timezones.

Tracks open and response rates as well as how many emails were sent and bounced back (or had errors in sending).

Failed messages (bounced back emails or emails with technical errors) can be replaced immediately with secondary emails which streamlines your follow-up or second-pitch processes.

One-click away from Google spreadsheet to schedule emails.

The said outreach tool requires a draft email which serves as your outreach copy to send or schedule emails. Using tags ($/Name/$) in your draft email is important to extract data from your spreadsheet and produce personalize emails.
This outreach approach can benefit you in so many ways, such as:
Initial-pitching using successful outreach copies
If you've tested a couple of outreach templates and one of them has successfully earned the highest open, response and closing rates (or even just the highest closing rate), you can use your most effective outreach template as your email copy in Yet Another Email Merge function for your next outreach campaign.
Follow-Ups
It would be more efficient to send short and straightforward follow-up emails using Yet Another Email Merge tool, which only takes 10 to 20 minutes to complete, than manually sending/scheduling all follow-up emails using your outreach accounts.

Considerations When Using Yet Another Email Merge
As you get your hands on to this tool, you may experience a few mishaps that can be avoided if you've taken a note of them.
Semantic Breaks
Ross Hudgens discussed semantic breaks in his outreach best practices post that should be noted carefully if you want to secure positive responses in your outreach campaigns.
A good example of this is when you send an email to a person with a tag, "I saw your post on venchitotampon.com blog" and you're addressing it to the blogger himself, "Venchito Tampon". A normal person would rather say, "on your personal blog" instead of naming the whole domain.
When you start using the tool, you might create a column for Website/Blog Titles that includes all branded names of your target link sources.
If not carefully checked, you might put the whole domain (venchitotampon.com) instead of inserting "personal blog" or "personal website".
Leaving off blanks
The tool requires you to create columns for Names, Email Address and other tags such as, Blog Name and Asset Title to further personalize your email copies.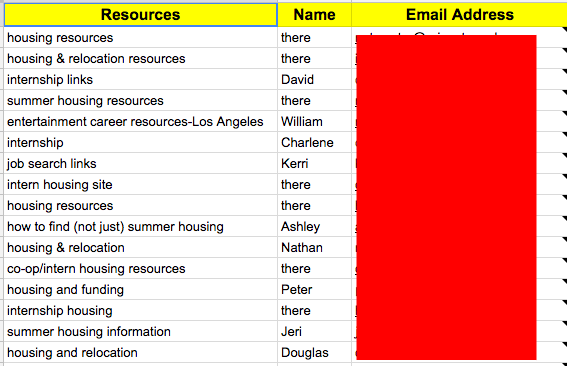 All columns should be filled out with necessary input. Otherwise, you might see an email sent that sounds like a spammy build blast.
My trick here is to input the word "there" to blank cells in the "Names" column for email addresses with no available and visible names.
The final email copy will look like this:

If you liked this post, subscribe to our newsletter and follow me on @venchito14.