What is link building?
Link building is the process of aqcuiring backlinks from other websites to your site. 
It is often termed as "Off-Page SEO" since both refer to the same thing – links. However, as the search algorithms evolve, link building should also complement other elements of off-page such as citations and sentiments, to improve the rankings of a specific webpage on search results.
Other Related Definitions
What is a link?
A link is a street between pages. When a visitor clicks a link on one page, he goes to another page. A link helps the visitor to go pages after page.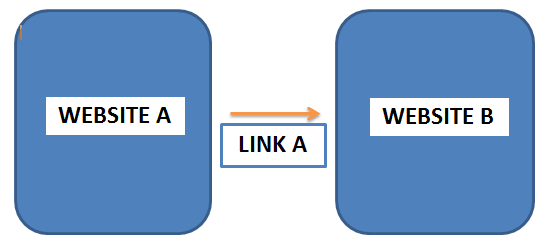 Importance Of Link Building 
Discovery
Search engines are using links to discover your pages. Newly built websites can be hard to find by search engines since there aren't links built to them.
If you can build more links to your website, the easier it will be for the search engines to discover your website. Users can also find your website easily if one of your pages is linked to a relevant webpage.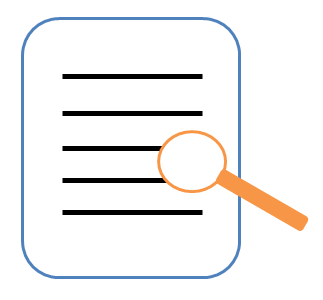 Trust
Sixty percent of web pages are spam. In order to filter out spammy websites from the high-quality ones, search engines are using Trust Rank, a metric to measure the trust of the site which can be seen in its link graph. The higher the site's Trust Rank score, the better.
To boost your website's Trust Rank score, you need to earn links from universities, government websites, and non-profit organizations. Reaching out to those websites would require some content resources for them to give you a link but definitely worth the effort.
Authority
Pages with more high-quality links are said to be more authoritative. The more linked pages you have, the more chances that your site will become an authority in your niche. But remember that relevancy is more important than quantity. Even if there are several pages linking to you, if they are not related to your website, then those links cannot contribute to your website's authority.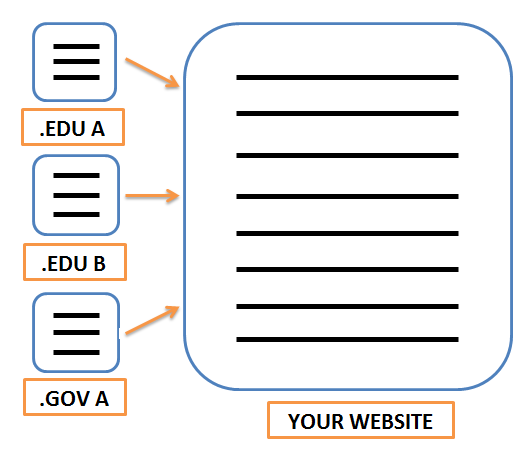 Rank
Pages with more links and are deemed authoritative tend to rank higher on search engine results than pages with a fewer high-quality links. The higher the site's ranking, the more traffic and potential customers it can earn.
Quality
A study shows that when a searcher clicks your page that is visible on a search result, he thinks that the page is relevant to what he is searching for. Search engines see this activity and bring pages with higher click-through rates on top of the search results (SERPs). Thus, if your page has a high *click-through rate (CTR), the likelihood of ranking your page on the top spots of SERPs is higher.
*Click-through rate is the percentage of people visiting a web page who access a hypertext link to a particular search result.
Conversion
Businesses do care most about sales and other conversion goals (i.e. increase in email subscribers, social followers, etc..). When the website's pages rank high on the search results for certain keywords, achieving conversions may be possible.
Thus, if you want to grow your business, then link building should be one of your top considerations.
Link Factors
There are different factors that contribute to the value that is attributed to a certain link. Let's discuss each of these important factors.
Anchor text
Anchor text is the visible, clickable text in a hyperlink. 
Below is an example.
<a href="http://www.domain.com">Anchor text</a>
Best Practices:
Use anchor text for users not for search engines.
Use the same anchor text only once in your post.
Surrounding Texts
These are the texts that are near to a certain link. Let's take one example.
"Learn about the key characteristics of animals including multicellularity, eukaryotic cells, sexual reproduction, movement, and more"
In the above sentence, the anchor text is multicellularity and surrounding texts are characteristics of animals, eukaryotic cells, sexual reproduction, movement, etc. This means all the phrases/words near multicellularity are considered as surrounding texts.
Google is now looking at the context of the page, the links, and all the surrounding texts near those links. This gives the search engines an idea of the theme/topic of the webpage.
If you're using several terms that are related to your industry (e.g. animals, mammals, plants), then search engines will understand that your website is a biology blog.
Best Practices:
Include industry terms that are useful to your post/page.
Use surrounding texts that will best describe your link and will encourage users to click on it.
Location Of A Link 
The location influences the value of a link. In this post written by Rand Fishkin about link valuation, he concluded based on his testings that links higher up in HTML Code cast more powerful votes. This means that a link from a higher location of the webpage is more valuable than a link from the lower portion.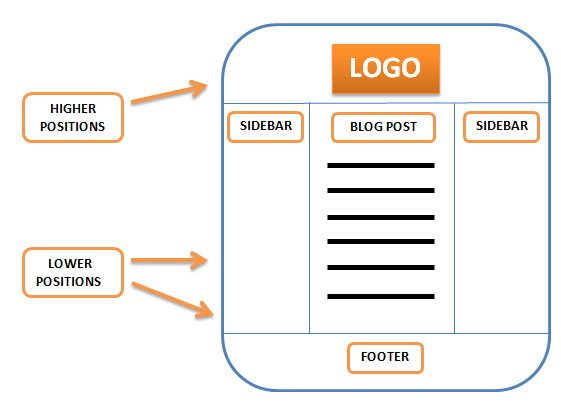 The *primary reason why that experiment resulted to that conclusion is the way the search engines crawls web pages.  Search engines crawl documents line-by-line, top-to-bottom. This is why they prefer links from higher page locations that those links from the lower spots.
*That reason is based on my experience/knowledge about search.
Risks associated with the location of a link
Before discussing the risks associated with different link locations, let's first define the two most popular kinds of links– contextual links and sitewide links.
Contextual links – are links usually found within the body of content and are in context with the idea surrounding the link. An example is a reference link within a post from another website.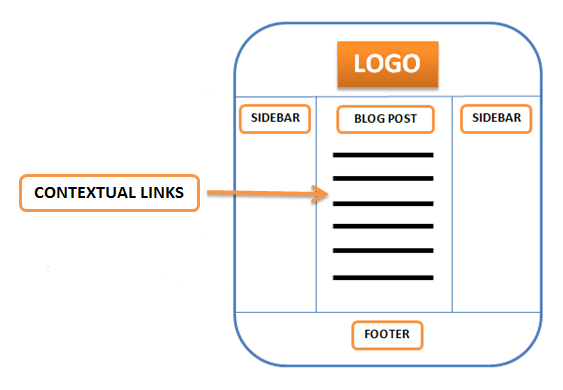 Sitewide links –  are links that are present on every page of a site. These links are often placed in the footer or sidebar of a site but they can be present anywhere. Examples are blogroll and footer links.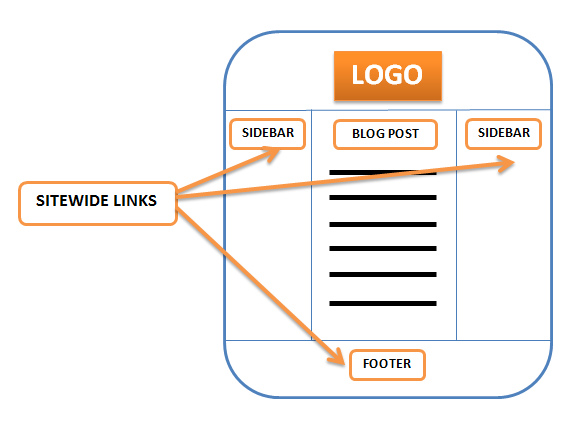 These two types of links have risks associated with them. Whether it is contextual or sitewide, you should be careful with every link that you build for your website.
Both types of links should come from a website that is relevant to yours. Otherwise, those links wouldn't add significant value to your website because of their lack of relevancy.
If you own a health insurance blog, then it is unnatural for you to get a link from a casino website. But let's say you get sitewide links from several casino blogs. Remember again that sitewide links are present on every page of a website which means that if you have 10 sitewide links, you can get 1000 actual links (i.e. if each website has 100 webpages). These irrelevant sitewide links could harm your website as you can get penalized by Google because of unnatural links (I will discuss this topic in detail in my next blog post).
Best Practices:
Aim only for relevant backlinks. Remember that relevancy is a big factor in link building.
Focus on getting contextual links more than sitewide links.
Build a contextual link placed within the higher spot of the page.
Domain Authority
Domain Authority is Moz's calculated metric for how well a given domain is likely to rank in Google's search results. The higher the DA (domain authority) of the linking website, the better.
When all other things are equal, getting a link from Wikipedia passes more authority than a link from DigitalPhilippines.net.
To identify the domain authority of a website, you can use the Mozbar tool.

Best Practices:
Use domain authority as one of your primary link metrics when looking for link opportunities.
Focus on getting links from websites with high domain authority (e.g. educational and government websites).
Page authority
Page Authority is Moz's calculated metric for how well a given webpage is likely to rank in Google.com's search results. The higher the PA (page authority) of the linking page, the better.
When all other things are equal, getting a link from PA 40+ resource page passes more authority than a link from a resource page that has PA 20+.
To identify the page authority of a website, you can use again the Mozbar tool.

Best Practices:
Use page authority as a quality indicator when looking for link opportunities from certain web pages.
Get links from resource pages with higher page authority and that are relevant to your content or to your website.
Methods Of Linking
There are two ways of linking web pages: internal linking and external linking.
Internal linking is linking a webpage to other web pages on the same website. This helps search robots to easily crawl your website and is good for user navigation. Internal links are considered self votes because you can control them and associate any links with your desired keywords.
External linking is linking a webpage of one website to another webpage of another website. These are made to get attention to your website and increase the position of your webpage in the search results. External links can be either controlled or not depending on the link acquisition method that you choose. For example, if you do guest blogging, then you can control the placement of your link and the term/phrase that you will use as your anchor text.
When doing internal linking and external linking, you can use the do-follow or no-follow attributes.
A do-follow link is a link that passes link juice to its destination page while no-follow doesn't pass any value which is sometimes called a non-counting vote.
The default attribute of a link is do-follow.
The HTML of a do-follow link looks like this:
<a href="http://www.domain.com/">anchor text</a>
while a no-follow link has this HTML code:
<a href="http://www.domain.com/" rel="nofollow">anchor text</a>
If you're using a WordPress blog, then click the insert link button in your post management section (WordPress – Post) to interlink to your web pages. When you click the button, it will look something like this: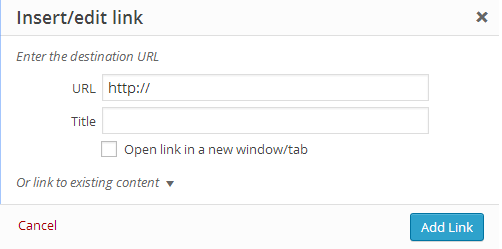 Insert the URL of your destination page in the URL box and put your desired anchor text in the Title box. Check the Open link in a new window/tab if you want the user to go to the destination page when he clicks on your link. Remember that the default scenario when the user clicks on your link is that he goes to the destination page, leaving the page he is currently visiting.
If you want to use the no-follow attribute when you interlink your webpages, you can install this plugin. The plugin adds another feature to your link button. It looks like this: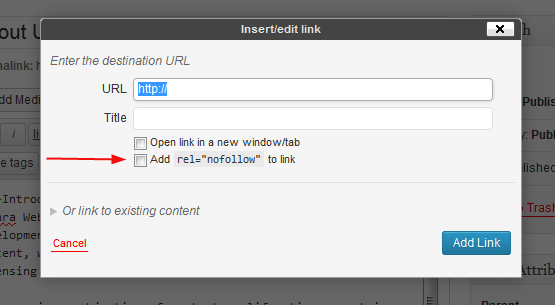 Just click add rel-"nofollow" to link if you want to attribute the link with no-follow.
Moving on, let's discuss a few basic link building concepts
Basic Link Building Concepts
Link Diversity
From the term itself, diversity, your links should be diversified into varied sources that relate to your content or pages. If your website only acquired one type of link (i.e. directory links), Google will see and notice that your link profile is manipulative or unnatural.
To keep your link portfolio from being manipulative, here are a few ways to help you diversify your link profile.
Different Types Of Links
Your link portfolio should consist of a variety of link types such that you will have links from at least one from each of the following sources:
Business-related directories
Guest posts
Press releases
Forum boards
Blog comments
Q&A
Remember to become natural with acquiring these types of links since Google is not only looking at link diversity but the approach you use to get those links.
Associate your links with generic and branded keywords
There are two kinds of keywords: generic/non-branded keywords and branded keywords.
Generic or non-branded keywords are keywords that you want to rank for in the search engines. These are the terms that you want your brand to associate with. For instance, if you have a sports insurance blog, then you want to associate your website with keywords like sports insurance resources and sports injuries.
Branded keywords are keywords associated with your brand. Normally these branded keywords occur late in the buying cycle, and are some of the highest value and highest converting keywords. So if you own the Wikipedia website, then your branded keywords may be Wikipedia.com, Wikipedia, Wikipedia articles.
If you want to have a diversified link profile, then those two kinds of keywords should appear in the anchor text section of your link portfolio.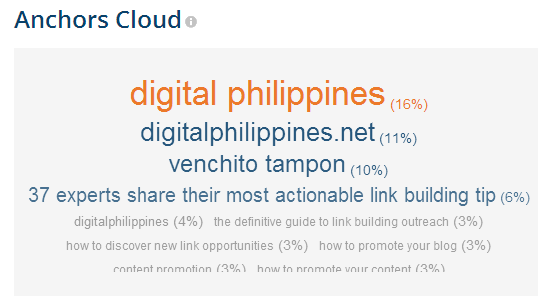 Build links to your homepage and deep pages
Google can notice if you are only building links to your homepage. And if you do so, it signals a red flag to Google since a natural link profile should have links pointing to the website's homepage and deep pages (blog posts, service pages, resources, etc..). If you're really providing useful content to your users, then you can earn links not only to your homepage but also to your deep pages.
Link velocity
Link velocity is the rate at which a specific website is gaining inbound links on a day to day basis. It is usually presented in a graph format by various link building tools like Ahrefs. And the link graph looks like this: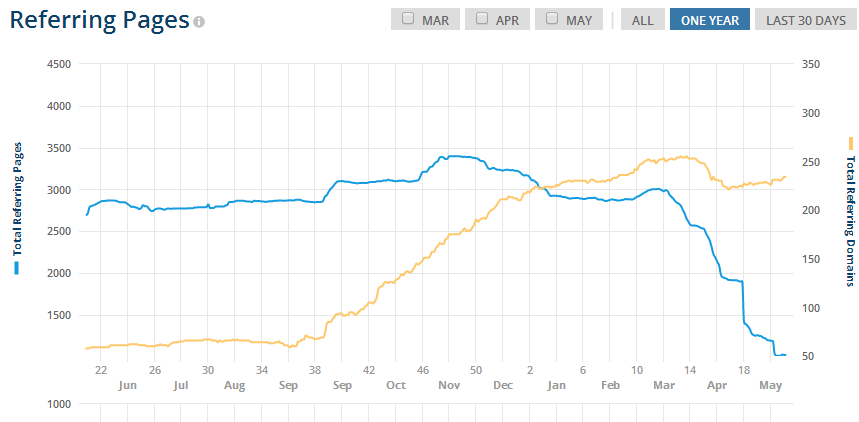 A normal link graph has several link spikes and drops. This means that there is no indication of massive links acquired within a day. If this happens several times, then your link portfolio may look unnatural or manipulative in Google's eyes.
Here is a link graph of an unnatural link profile: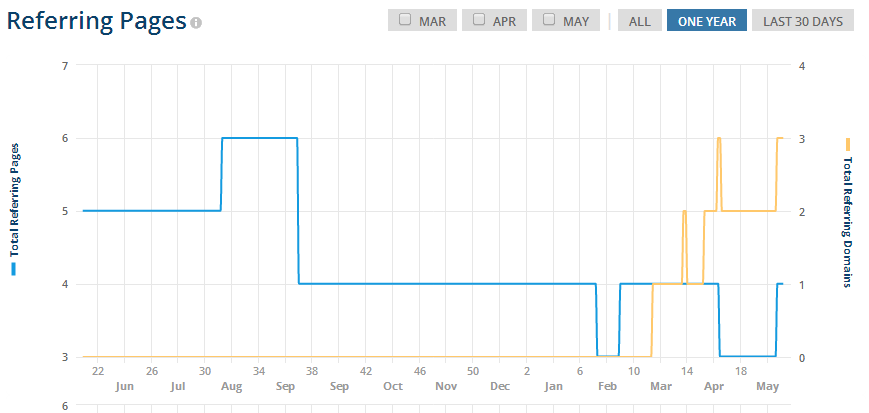 The only way to have a natural link graph is to be natural with your approach in link building. Never use automated tools that will help you build massive links at a single time.
Co-citation
Co-citation does not involve any outgoing links from one blog to another. Unlike the actual links that have anchor texts, co-citation doesn't need embedded words/phrases. To explain this further, here is a simple illustration by Haris Bacic.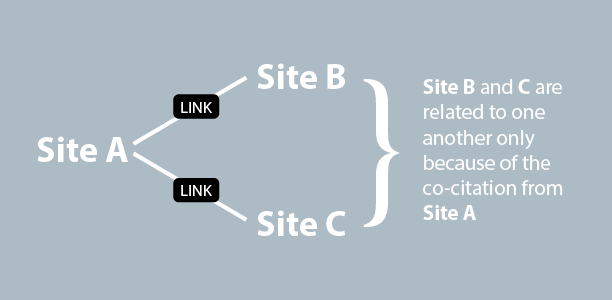 This process points out the similarities found between two web pages based on a third-party webpage that mentions those first two webpages. Through co-citations, Google identifies the relationships between those two websites (Site A) and (Site B).
Co-occurrence
Co-occurrence refers to the close proximity of two important keywords. Google understands the relationship and develops the association between those terms to determine the theme of your webpage.

Though co-occurrence doesn't have a massive impact on your website's performance on search results, it creates a significant value to your website or business since you will be associated with terms that best describe your brand.
Link-Based Penalties
Link-based penalties or unnatural link penalties happen when your website acquired links that seem to be manipulative in the eyes of Google. These penalties can decrease your pages' search performance which means that your pages will not be visible on search results. Thus, you will not receive any traffic from the search.
Google sends an unnatural link notification to your Google Webmasters Tool account if your website got penalized by Google.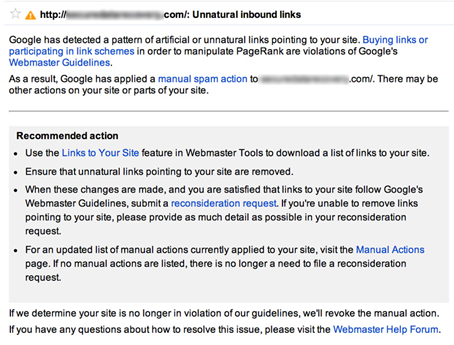 Once you received the link notification, it is time for you to take the necessary actions to recover from the link penalty. This involves removing unnatural links through outreach and using GWT's Disavow tool.
To warn us with links that are against Google's guidelines, they created a link schemes page on Google Webmasters website (link here). Here are a few examples of types of links that you shouldn't be building for your website:
Buying or selling links that pass PageRank.
Excessive link exchanges
Large-scale article marketing or guest posting campaigns with keyword-rich anchor text links
Using automated programs or services to create links to your site
Check out the link I gave earlier to see the complete list of link schemes.
How our LINK BUILDING AGENCY builds 250 links/mo consistently using Predictable Link Building Methodology™…
Using a SIMPLE and PROVEN system

Using a SCALABLE strategy
No private blog networks
No creepy outreach emails
SHOW ME THE FULL LINK BUILDING STRATEGY