Whether you're a newbie blogger, business owner, or a big brand, you'd always ask the question, "how can I drive (more) traffic to my website?"
There are lots of tricks and strategies scattered on the Internet on how to do that exactly, some aren't applicable in your industry, others are executable. However, if you've tried tweaking them to suit your needs, it might be one of your traffic generation strategies to look over this 2017.
Here are 21 ways on how to drive traffic to your website with steps to execute them right in order to grow your online business this year.
Let's get started.
1. USE PHOTO ALBUMS FOR FACEBOOK POSTS
I've been testing Facebook as one of my top referring sources for my career development blog (still under content development test).
There are tons of content you can actually create that can generate more followers to your page, which will drive a good amount of traffic to your blog/site. But what I've found out to be most effective are content types that are native in Facebook: videos (with transcripts), how-to album posts, and quotes with an unexpected hook.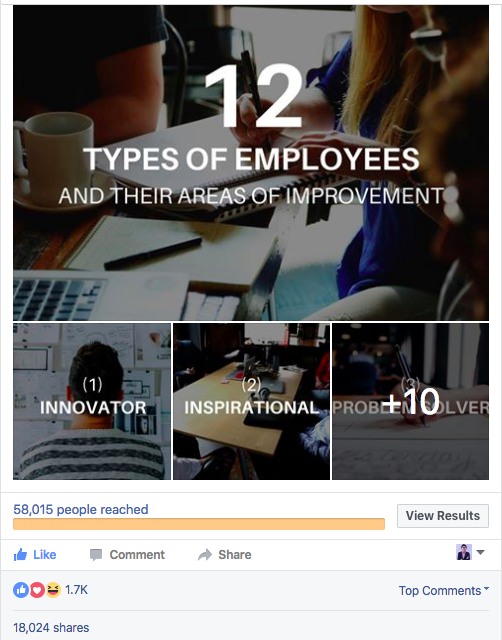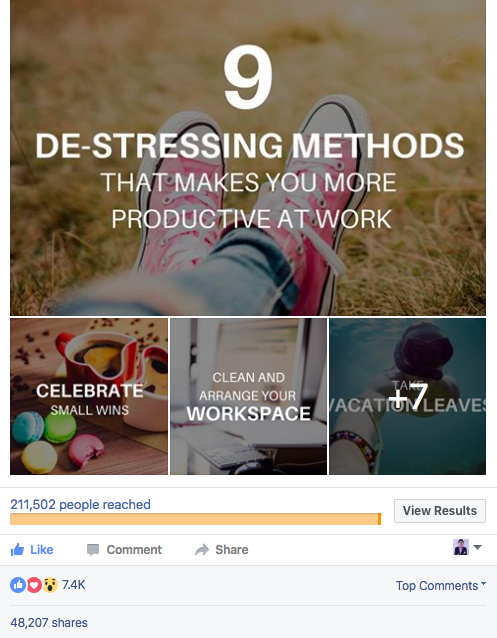 Check out how I increased my Facebook page from 2,500 likes to almost 26,000 followers in 2 months.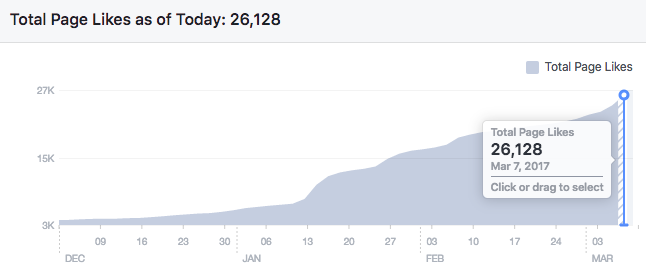 What's more amazing is the virality of these single pieces of content that only takes a few hours to create.
There is only one link displayed on the page, evenly placed it on the right side, which means people who'd been through my page, engaged with my content and wanted some more, clicked on the website and read the blog posts.
If you're not that photo-editing savvy, there is Canva that can help you scale your visual content creation process (20 minutes is what it takes).
Protip: Use Picjumbo.com and Google Image search (tools – usage rights – labeled with reuse for modification) to download non-copyright images, so you don't have to worry about this issue later on.
2. VIDEO OUTREACH WITH USELOOM
Some industry bloggers receive "guest blogging pitches" almost every day, especially if they've had a huge amount of followers/visitors and authority, that people want to absorb a portion of those followers and drive them to their own sites.
This made it a lot more difficult for your outreach emails to get opened and to receive a "go" for your guest post topic".
Standing out among these "guest blogging emails" by providing as much value as you can is the key to getting as much value in return for your brand.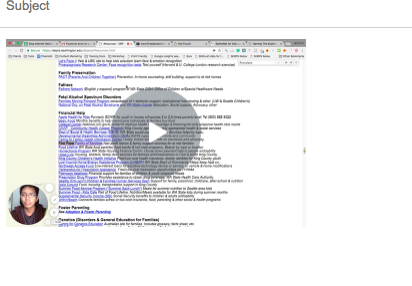 You can screen record yourself proposing three or four relevant blog topics customized for the guest blog. Scale the process of video outreach to 30 or 50 guest post prospects using UseLoom, which is a Chrome Extension tool.
3. PUT DESCRIPTION LINKS TO YOUR YOUTUBE VIDEOS
There are approximately 81 million videos uploaded currently on Youtube. That insane number of content is enough to get yourself into the Platform and start producing engaging and informational content.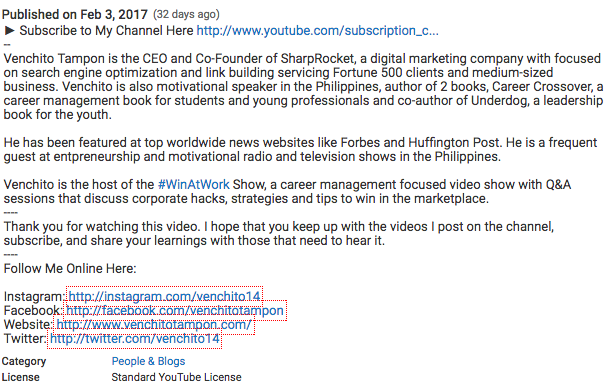 How can I drive website traffic from Youtube?
Put a link to your website in the description box of your videos. When someone watches your video and wants to know more about your brand, they can easily click on the link.
4. DO OUTREACH TO BE INCLUDED IN EMAIL ROUNDUPS
Basically, link roundups are pages that include external links to the latest useful resources and content curated by the blogger himself. Its value proposition is helping readers to get updated with the latest trends, tips, and strategies on a particular topic, without the need to scour every single blog and check their latest articles.
If you haven't got a link from a link roundup in your industry, you're missing a good opportunity to drive traffic to your website.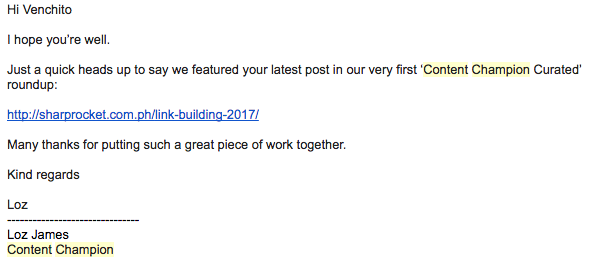 A simple outreach to these link roundup curators allows you not only to receive referral traffic from their link roundups (if your content has been featured), but also gives you the leverage to build relationships with them, that will soon propel your brand to other sets of targeted audiences.
5. CREATE A COMMUNITY-BUILT FACEBOOK GROUP
If you've got the audacity to create a community, creating Facebook groups is for you. Its culture of value exchange can help you generate a certain number of visits for every content you post.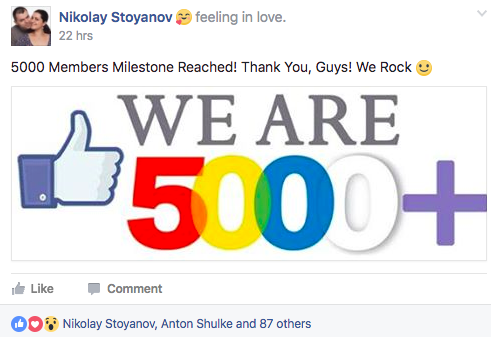 If you think it's not for you, then invest in spending 10 to 15 minutes of your day answering questions on a well-built community Facebook group. Here are some examples of answers I shared in the past few days.
You can put a link if it's something that's relevant (see example below) or just is direct with your answers.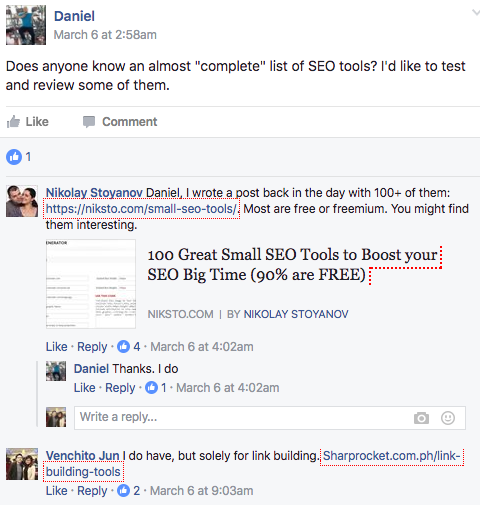 You won't get direct traffic instantly by doing so. But with consistent efforts to answer industry Q&As can help you build your brand as a go-to source of information on a particular topic theme.
6. NEWSJACK CONTENT CREATION
Any industry has its own updates and trends that you can leverage as new content for your blog.
Because of the luxury of a good amount of searches by people following those topics, you are able to give a boost of targeted traffic to your site.
Start by creating a list of industry influencers. This way, you'll be able to see what trends/topics people are watching out for.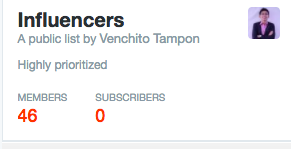 Then put in the work to create content that doesn't just announce an industry trend/update but delivers value by sharing your own insights to the topic (that would differentiate you from other content publishers in your space).
7. REPURPOSE EXISTING CONTENT TO OTHER CONTENT FORMATS
It's easy to dive into the new content ideas you're trying to come up with for your brand, but when you start looking in your content inventory, you'll start seeing "high-performing assets" that can be repurposed into other content formats.
If it's a how-to or list type of post, turn it into a slide presentation then upload it to Slideshare. Then, redistribute to other visual directories.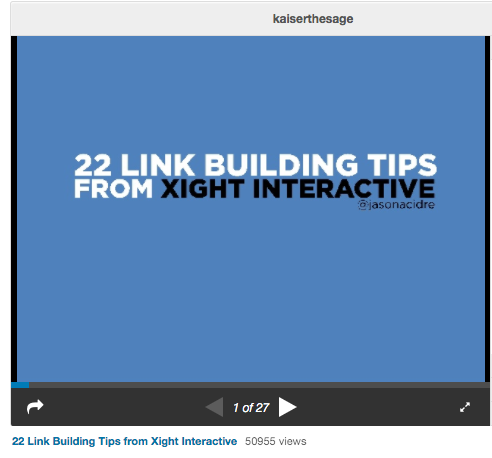 Video content can also be transcribed and published as an article, let your editor execute the proofreading. Publish it in Medium to gain some traction or use it as a guest post (if relevance fits) to absorb new targeted visitors to your blog.
8. TIME YOUR REDDIT SUBMISSION 
If you've got an army of co-Redditors, you're likely to get your content up in Reddit once you submitted a piece of content. Otherwise, the Reddit market will decide if your content is good enough for massive upvotes.
One trick to increase your content's organic search visibility is to time your posts when most active members of a specific sub-Reddit are online.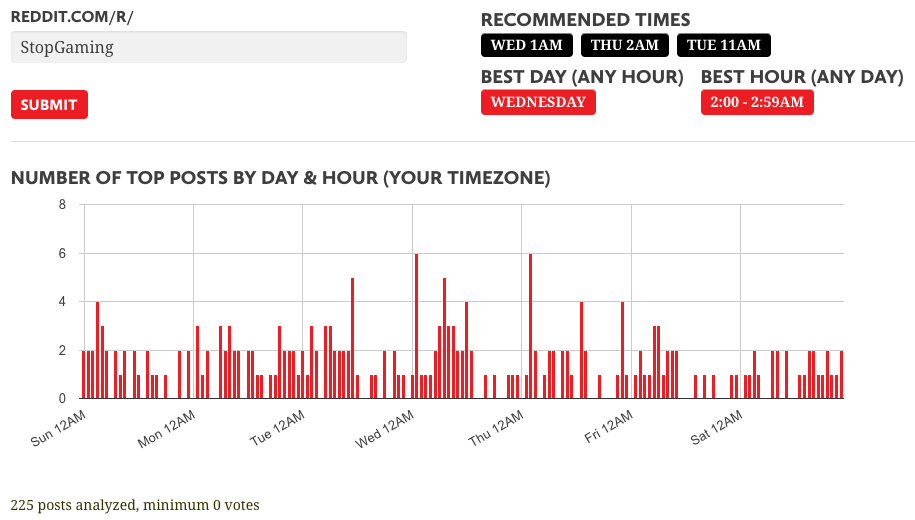 You can do it by checking what day and time are best to submit content to Reddit. SiegeMedia's creative Reddit tool allows you to do that and make sure you maximize that micro effort of submitting a post to the platform.
9. IMPROVE CONTENT WITH NEW RANKING KEYWORDS
If you're producing content that caters directly to the main topic, you've got chances of receiving other ranking opportunities for relevant keywords (within the same topic theme), aside from dominating your main keyword.
If you can find other keywords that are likely to give you a boost in organic search visibility, you are increasing your brand equity on main industry topics.
SEMRush allows you to find already ranking keywords of your page, as well as of your competitors, and see what they are up to (giving you an insight as to how you can better improve your own content by adding sections (subsections) to target relevant long-tail terms.
10. ENGAGE READERS WITH STOCK VISUALS
In this design-heavy generation, using stock photos is imperative to appeal to your target readers. The lazy common way of adding non-stock photos you've searched for in Google (worse if they're copyrighted and can't be reused) will do more harm than good for your content.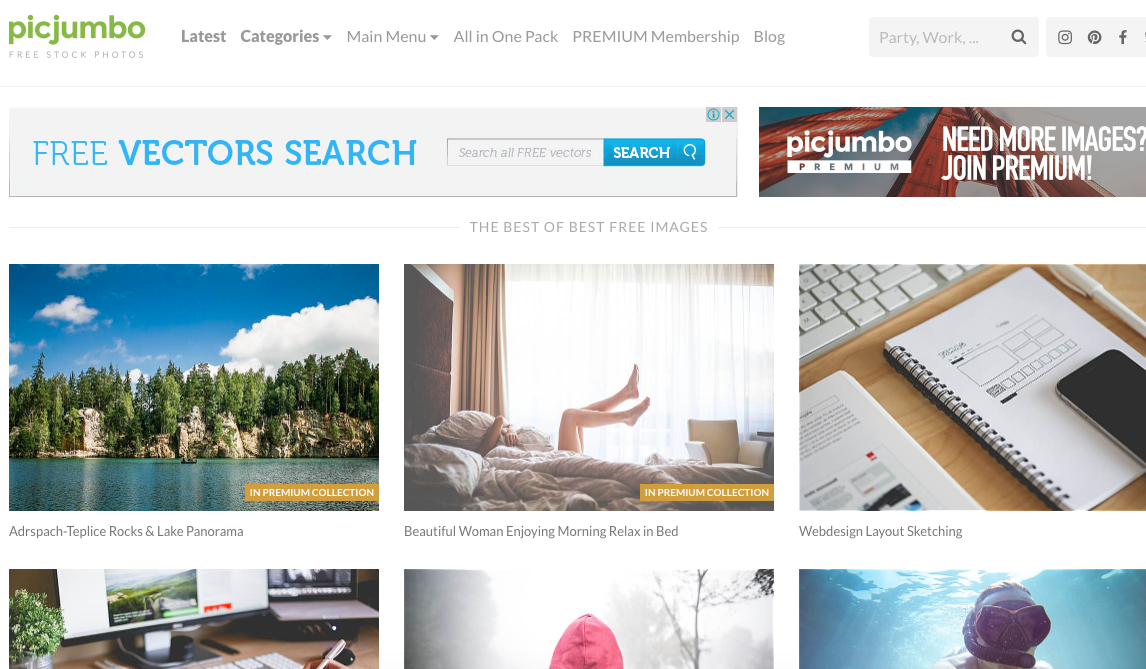 The truth is, you won't get additional traffic simply by adding stock photos (even designing it well if you have the audacity to do so), but letting your current visitors stay on your site allows you to acquire indirect benefits of additional social shares because the overall content is good. This translates to more targeted referral traffic.
I've been using the following sites to get stock photos and design them by myself thru Canva:
It only takes five minutes to have a well-designed featured image for one blog post.
Tip: Use the search tool function of Google to filter searched images that don't have any copyright issues (to ensure you're not passing over to one's property).
11. CONNECT TO INSTAGRAM INFLUENCERS
The power of Instagram to absorb new followers is insanely useful in this age where we can create micro-content every day.
Besides using 10 to 15 hashtags in the description of your photo, you can also tap the power of influencers to provide you with enough discovery for your brand/content.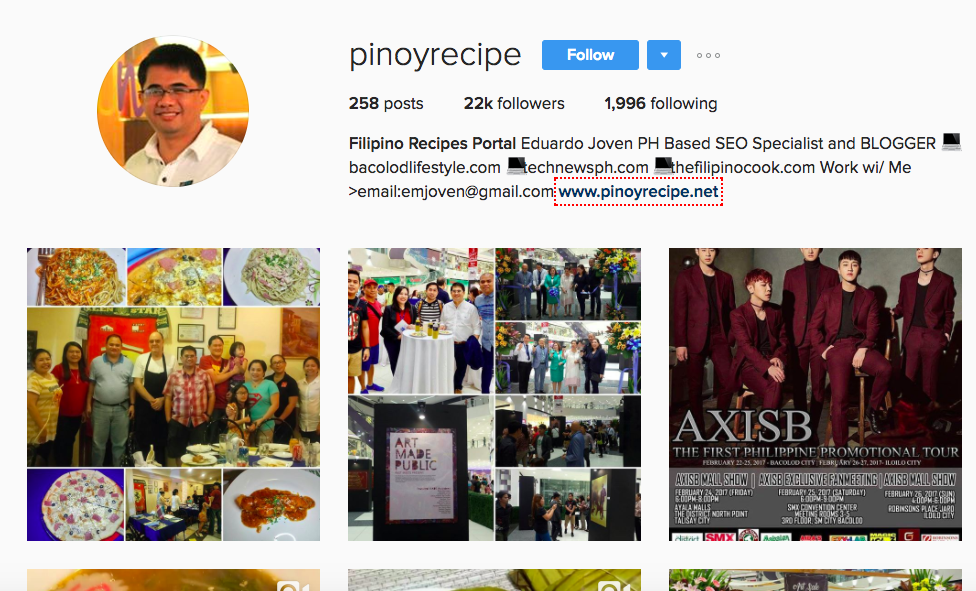 DM'ing people to build relationships and offer substantial value to let your brand be discovered on their Instagram profiles allows you to get social traffic straight to your profile and/or to your website.
12. DISTRIBUTE CONTENT TO YOUR EMAIL LIST
I've seen a lot of micro-content performing well on distribution nowadays since the more companies whether in B2B or B2C are publishing content on a daily basis, the higher the competition there is to consumers' attention.
If you're strategic enough with your content, you can maximize your own email list asset to drive consistent traffic to your website.
Though marketers ruin the email marketing platform with so many self-promotion ads, there's still room for engagement and direct traffic we can get from email alone.

Maximize your email distribution by providing enough value to them on a regular basis. Build brand equity over time.
You may want to test out this email tester tool to improve your emails' subject lines.
13. MAKE 11X CONTENT WITH ADDITIONAL CONTENT FORMATS
10x content has been a common term in the marketing space today. While this could be the era where a lot of publishers are producing long-form content, there would still be a few who don't see much results from their efforts.
Long-form doesn't mean depth of content. Even if you created a 10,000 words guide that others in your niche have also done, but if users are staying enough to consume your content (check your site's time on page), you still lack value.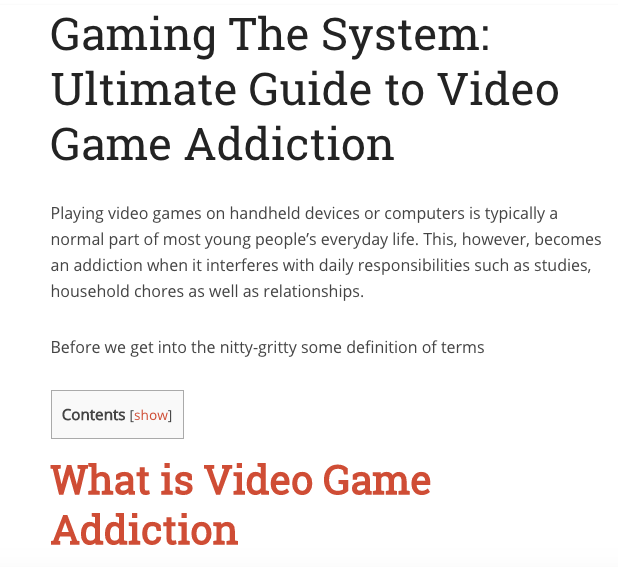 One way to better engage your users in your content is to add other content formats to make it interactive. Images, videos, slides, and other media formats that are relevant and cater to the same topic you're discussing shouldn't be hesitated to add to your content.
14. INCREASE SOCIAL REACH WITH PINTEREST
If you're in the mommy/parenting/health space, there's a huge opportunity waiting for you in the Pinterest platform.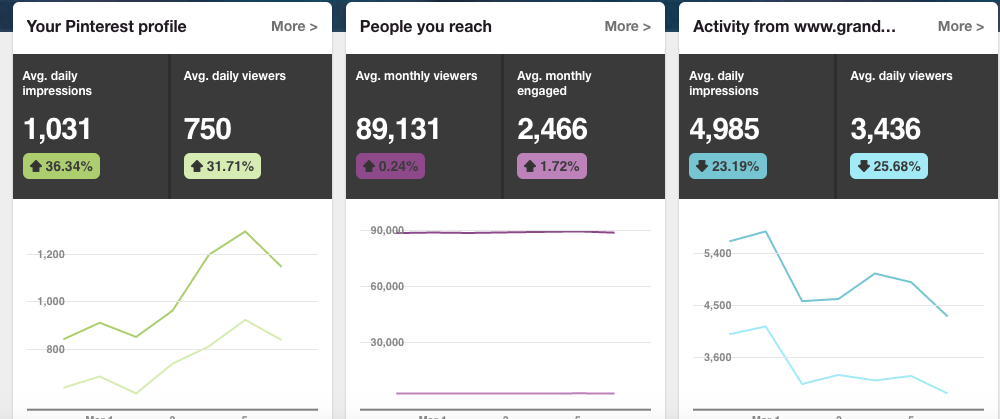 If you practice it right, you can see engaged visitors on Pinterest that can go to your website and start following you.
You can check your top Pin post impressions and find the common topic theme that you can start focusing on in a certain period of time (let's say for a week). This gives you more room for organic reach opportunities that'll eventually drive good social traffic to your website.
15. SCALE CONTENT CREATION WITH CONTENT TEMPLATES
If you're handling several accounts, whether you're in an agency or an affiliate marketer with many niche websites, you may be having difficulty in scaling your content creation process.
The truth is there's an easy way to scale the process simply by utilizing content templates (common content formats that have been successful in engaging consumers/users).
You can check out this post by Ross Hudgens on 15 content templates that you can use to successfully produce content in a scalable manner.
16. HACK UPVOTES IN REDDIT
Building your own tribe of content promoters who are ready to push your content up on specific platforms gives you the luxury to get initial traction for your content.
Though in most cases, you'll see this happening in the marketing space, other industries are also leveraging this strategy to build mutual value exchange with each other (using each profiles' social followers to promote mutual content).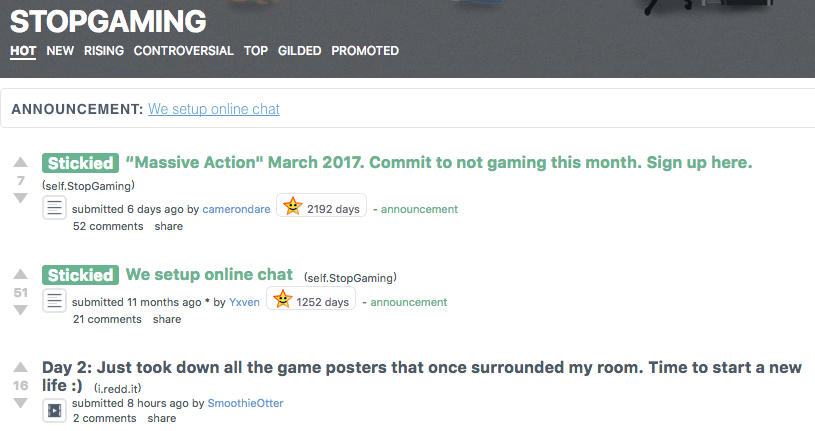 This requires the execution of reaching out to other industry bloggers who aren't competing with your offerings. Always provide value here as you don't want to look like an aggressive marketer trying to leverage others' ability to promote content pieces.

17. DOMINATE WITH QUORA
Building your brand (whether on a personal or business level) is executable in Quora. Like other Q&A sites, your goal is to answer relevant questions that received a substantial amount of views every week/month. This allows you to scale the process, as you are able to grow your profile answer views over time, particularly if the topic is most commonly asked for in Quora.
Check the question's potential reach by looking at the number of followers for that specific question and the top or even the average number of views of the top answer. This would give you an idea of whether the question is worthy of your effort to answer.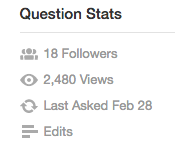 You can also check if the exact question is sitting on the first page of search results when you directly copy and paste it to SERPs. In most cases, this type of question is consistently attracting new visitors, thus, helps you answer to increase its potential reach.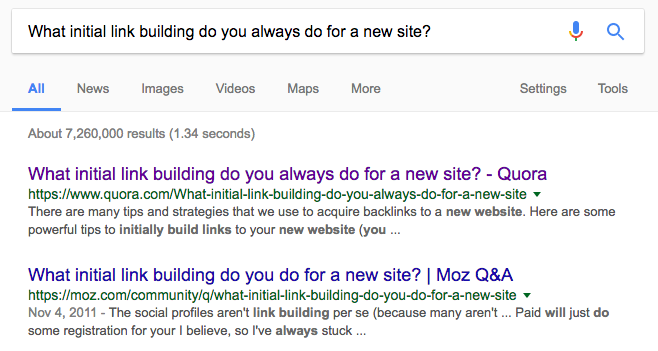 Execute this process daily (choose 3 to 5 recent questions) and become the top industry writer in Quora.


18. SWITCH YOUR CONTENT TO A NEW HIGH-VOLUME KEYWORD
David McSweeney of Ahrefs had a case study on how they were able to increase the blog's traffic by switching keywords to old-performing content.
The process is simple:
Analyze existing keywords of the content you're currently been ranking for.

If you haven't seen any main keywords you can potentially switch to potential ranking, conduct keyword research to find out if there are main phrases with higher search volume than your current one.

Optimize your content for new keywords by changing the page's URL, meta title, and other on-page factors.

Setup a 301 redirect of your old URL to your new URL (this is extremely important).

Use Fetch to Google in Console to force Google to crawl the page.
This works effectively if you've got pages that aren't performing well in search and be instead switch to other relevant keywords that have a high organic search count.
19. DO REVERSE GUEST POSTING STRATEGY
If you truly want to maximize your time to acquire high-quality backlinks to your site, you should look for ways to scale the link building process.
One powerful method to build links that require no outreach and that attract potential linkers to your website is to do a reverse guest posting strategy.
It's the counter tactic of the common guest blogging technique that allows you to receive pitches from potential guest bloggers.
To start with, you can create a "write for us" industry page that contains the following formats:
Guest blogging guidelines

Industry topic themes accepted

Sample approved guest posts (if you have accepted guest articles in the past)
Once done, build internal links to this page by linking to it from your other blog pages. This allows you to bump up the page's organic rankings. The goal is to dominate the industry key phrase "industry write for us" or industry guest post". This will then open opportunities to receive guest blogging pitches.
Interact with industry bloggers who pitch you for guest posts and see how you can maximize this opportunity. You can then offer mutual benefits, such as accepting his/her high-quality article to be published on the site while being a guest on his podcast show, if he occasionally does it.
Another value proposition that you can offer is to build a backlink to your other relevant website (Site C) from the guest blogger's site.
Here's the scenario: Guest blog (Site B) acquires a backlink from your first site (Site A) through a guest post. You offer to get a backlink from his site (Site B) to your other relevant blog (Site C).
This better works if you have two websites that are thematically relevant to each other (e.g. same health industry).
20. TAKE ADVANTAGE OF QUORA/PINTEREST RANKING PAGES
Top of the funnel keywords with low competition is goldmine opportunities. One way to find them is to use SEMRush to generate industry keywords where Quora and Pinterest pages are ranking in their search results.
Given that these pages of Quora and Pinterest dominate the search, you have the potential to rank on the first page if you've created good content to service the search users for that topic.
To start with, plugin quora.com and pinterest.com to SEMRush and search the industry/topic theme of your site in the search bar. This will reveal keywords you can potentially target to rank for your brand.
For example, the keyphrase "youtube addiction" has a good amount of search volume but a Quora page is ranking on the first top-five spots (as of date..).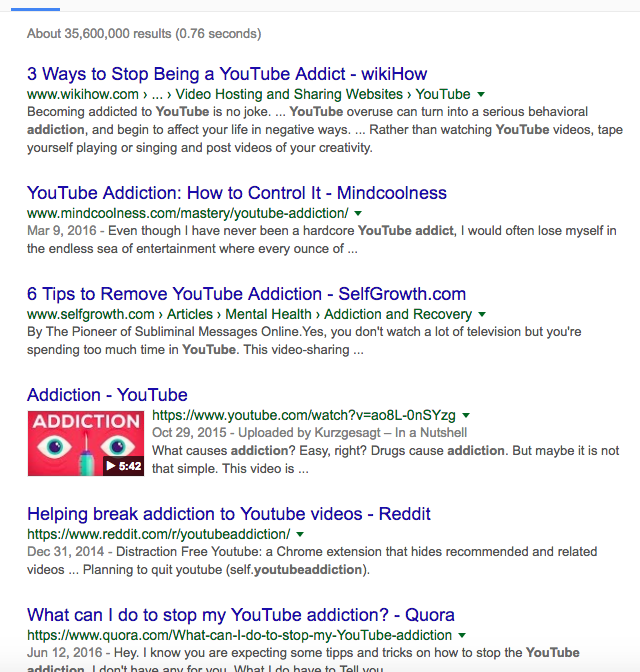 If you're in a counter-addiction space, this is one of the keywords that can give you some good traffic every month.
21. LEVERAGE BIZDEV PARTNERSHIPS IN EMAIL MARKETING
Targeted email newsletters are powerful sources of referral traffic that you can take advantage of in your space.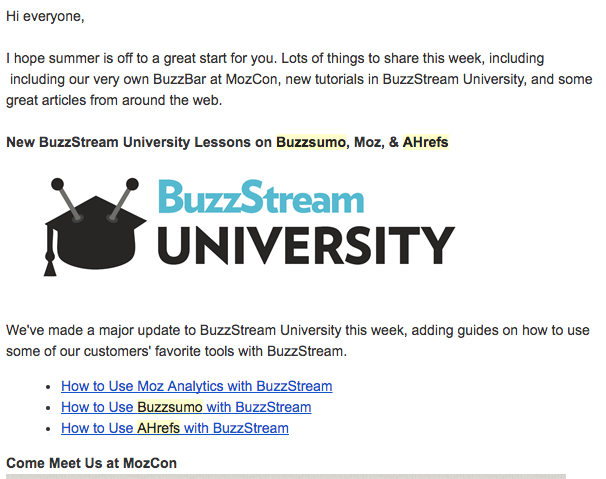 If you have established authority in your niche, you may want to maximize opportunities of getting in touch with bloggers who had a substantial email following, particularly those with high potential of linking out to relevant external blogs (e.g. regular round-ups).
A simple outreach of proposing an exchange value (interviewing the blogger on your blog while getting featured on his/her email release next week) can increase the probability of success of this marketing tactic.
Your Turn…
Do you have other ways to drive traffic to your website?
Leave a quick comment below.
I'll be more than happy to reply to comments and answer questions.
How our LINK BUILDING AGENCY builds 250 links/mo consistently using Predictable Link Building Methodology™…
Using a SIMPLE and PROVEN system

Using a SCALABLE strategy
No private blog networks
No creepy outreach emails
SHOW ME THE FULL LINK BUILDING STRATEGY