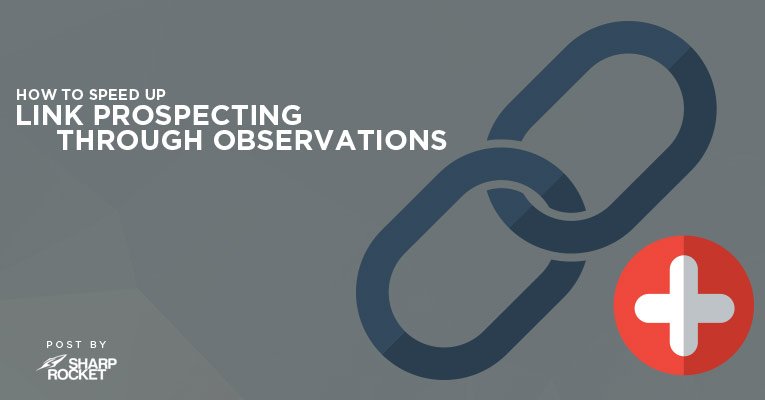 There are many viable guides and how-to's in link prospecting from different SEO experts. Some techniques are learned simply through your own observations from campaigns that you have handled. We, at SharpRocket, incorporate those observations from our own personal experiences which helped us be more productive in building links.
LISTING DOWN LINK SIMILARITIES
Most bloggers use the same terms in creating links for their pages. For example, in creating a resource page, the commonly used terms are domain.com/niche-resources; domain.com/resources.php; domain.com/links.html. Therefore, we can use google queries such as inurl:niche-resources or inurl:links.html. The search engine result will give us a list of resource pages according to the niche we are looking for.  Below are other search queries you can use to find additional prospects for your client which we personally use:
resources/links
resource-guide
useful-links
useful-resources
niche-resources
recommended-resources
Though not all search qeries such as resources.php, links.html, or useful-links, provide resources that are relevant to the client's industry, it is advisable to add a distinction which is based on the client's niche to narrow down the results in the Search Engine Results Page (SERP), e.g. inurl:useful-links "niche". Google will then provide you results based on the keyword you used which is more applicable to your campaign.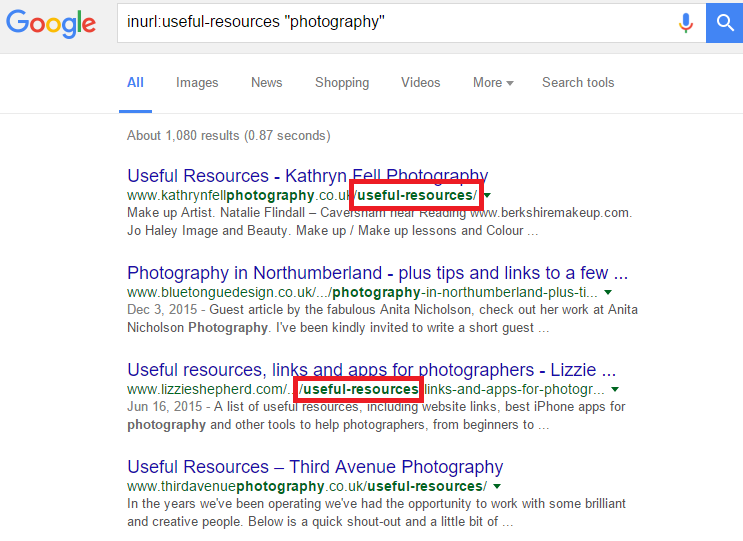 Pro Tip: Just be creative with the words you use along with being observant. If you have a hunch or an idea which you think can be helpful, it wouldn't hurt to try experimenting on it.  Who knows, you might even be able to discover other useful techniques you can use to further enhance your link building skills. Don't forget to check out the links on the resource page you found, for it may redirect you to a new prospect opportunity which you have not seen through the list that Google displayed.
UTILIZING COUNTRY DOMAIN EXTENSIONS
As you may have noticed, some domains do not always end in .com, .org, or .edu, and other web addresses use different domain extensions depending on the country in which their website is being hosted (e.g. ".au" which is hosted in Australia or ".ca" which is hosted in Canada). By using these domain extensions you can narrow down the results based on your preferred country or target audience. You can use the advance search operator "inurl" followed by the country domain extension that you want to focus on (e.g. inurl:.ca). You can also add a distinction to make the search query more precise. If you are looking for guides or resources you can use to enhance your skills in photography, you can use inurl:.ca/photography-resources. Google will then give you a list of photography resource pages with the country domain of Canada.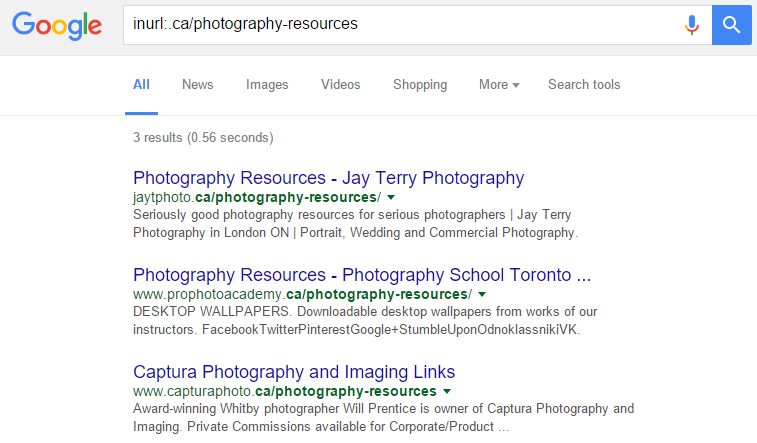 Pro Tip: You can use these techniques in any niche or industry you wish to do research on. However, if you don't have a specific country you would like to focus on, searching for link targets that end with .com first is most recommended because it is the most recognizable and highly used domain extension. You can then use the other country domain extension of your preference to gain new prospect opportunities.
You can visit this Webopedia guide for a complete list of countries and their domain extensions.
IDENTIFY COMPANY BLOGS THROUGH SERPS
By taking notice of the Search Engine Results Page (SERP), we can also pinpoint if the link is a company website or a personal blog. Though not all domain names and punctuation marks are 100% accurate, it can somehow lessen our time in checking each link just to see if  it is a company website. Here are some examples:

The above query will display links that have the key words "light" and "bulb" in the title of the article .  One result has the punctuation mark called pipe or vertical bar on the page title. It was followed by the domain name "1000Bulbs.com". Here, we can be quite sure that it is a company website because the page url was also mentioned in the title.

Clicking the link will redirect you to the webpage.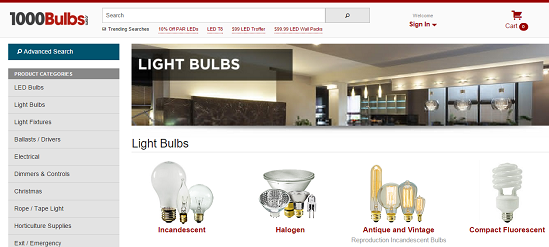 Another punctuation mark used in identifying a company website is hyphen or dash. As you can see, the domain name which is the brand name of the company is included in the page title after the hyphen. Most of the time, em dash or the long dash is used.

Lastly, the punctuation mark colon. The difference of this punctuation mark from the hyphen and vertical bar is that you can instantly notice it at the beginning of the page title. The brand name is cited first followed by the colon and page title of the article.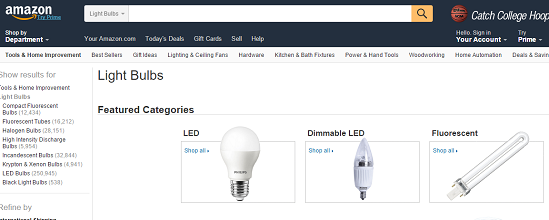 We can distinguish company websites through these punctuation marks located at the page title. Just a little note, not all sites that uses hyphen, vertical bar, and colon in the page title are companies. Some content creators tend to do that as well.
MORE OBSERVATIONS, FASTER PROSPECTING
Observational learning is a must in link prospecting. It helps us maximize the use of Google queries and lessen our time in clicking unnecessary links. Simple terms, domain names and symbols might have deeper meaning. This is why we have to keep our eyes open and our minds sharp. Noticing terms you don't usually use but is mentioned in the client's industry can be used as keywords for a broader research. Checking on how domain names are created by bloggers can give us a better chance at generating a higher number of results. We just have to be adamant about making observation a priority.  
Jordana Efa
Jordana Efa is a Content Marketing Specialist at SharpRocket. Writer, poet and a frustrated artist. Loves good food, sci-fi, playing chess, and recently became an anime & manga enthusiast.
Whenever you're ready…here are 4 ways we can help you grow your client or business through performance-based link building:
Claim your Free Link Building Strategy Session. If you've achieved initial traction from Google, we can help you scale up to record-breaking search traffic and sales faster, claim your FREE Link Building Strategy Session. We'll brainstorm some ideas to increase your search traffic through ROI-driven backlinks, including practical solutions to add more content within the next 90 days.
If you'd like to learn the exact link building strategies we use for free, go to our blog or visit our resources section, where you can download guides, cheatsheets, and templates we use for our most successful clients.
If you know another marketer who'd enjoy reading this page, share it with them via email, Linkedin, Twitter, or Facebook.