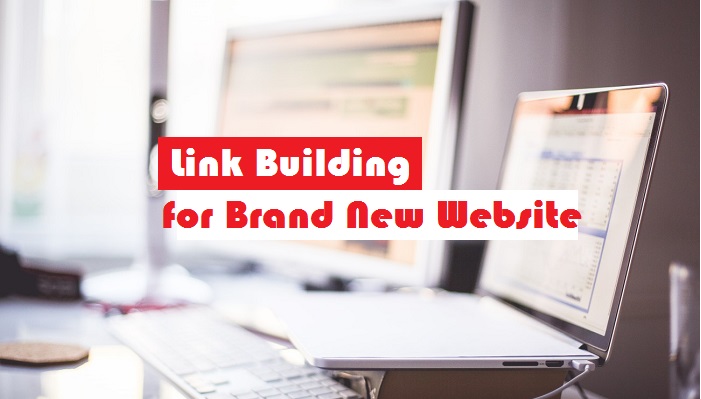 Links will always play a very important role in search aside from the fact that it is where most search engine algorithms depend on – it is an effective branding tool.
For companies that have been around for more than 5 or 10 years, it's easy for them to attract links and build a follower base because of the expertise they've shown during their existence (through content hosted in and outside of their websites).
But when you're still new in the industry, whether you own an affiliate blog or a corporate site, the challenge lies on the capacity of your brand to influence the community (in which content will be required)  and to create solid relationships with fellow business partners and customers.
Relationship building and creativity – that is the battle of link development today. Look at Brian Dean and Jon Cooper. Both of them managed to build an authority and influence in the search engine optimization and earn trust from their target audience within a short period of time because of what they've devoted in creating useful and visually-appealing content (creativity) and making it accessible to interested users (relationship building in outreach).
New brands can compete with old and bigger brands. It is a matter of consistency in applying the 80/20 link building principle, which is basically focusing on the most important processes, activities and tactics that will get maximum results with minimum amount of efforts.
That principle is what I've been practicing for my new client who has a brand new website (a 2-month old blog without pre-built blogger relationships and has only 5 posts when I started working on it). The campaign just started in November and within two months' time, we earned and built high quality contextual links to the website.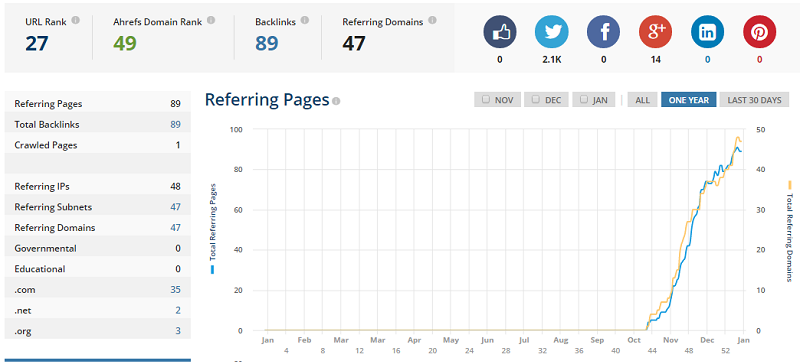 Here are a few methods that you can immediately apply to your brand new website to get tremendous results for your campaign with fewer resources required.
Simple content planning and production
In this age of digital marketing, we consider content as king because it is where most online marketing activities rely on (conversion rate optimization, email marketing and link building).
Link building and link earning depends on the quality of content produced by the brand. The more uniquely useful content is, the higher is the chance of attracting more valuable links to the site.
Get a good grasp of what's working already in your niche by analyzing your competitors' content assets. You can outperform their work by publishing a more updated and comprehensive resource.
Fill a specific need that hasn't been satisfied by your competitors through publication of new pages that is targeting any of the following evergreen topics: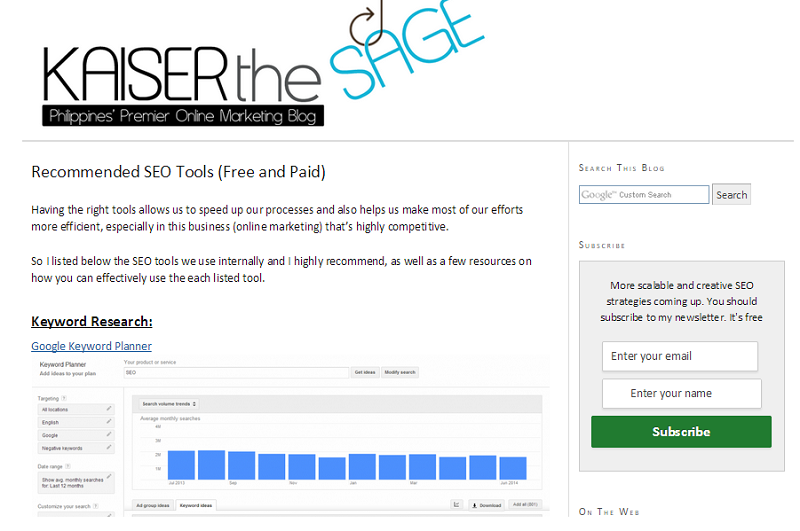 You can find more content ideas by seeking the top pages in your space, using social, authority and link-based metrics. Do a simple content analysis on other brands/industries using Buzzsumo.
Develop link building workflows
For tasks in link development that are repeatedly executed, it is important to develop a single workflow to each of those link building activities.
Having a good process to follow every single month can improve productivity and can help the brand to focus on the more crucial parts of the campaign.

As a consultant, it is essential to teach your clients on the basic principles of link building in order for them to understand your process, trust you even more and avoid conflicts, which commonly result from miscommunication and misunderstanding on certain aspects of the campaign.
Community engagement
Engagement matters in link building because this is where most highly valued links start with. Editorially-given citations are acquired through conversations that add value to both parties (sender and receiver/potential linker).
Links driven from community engagement doesn't only limit email outreach but in participating in relevant discussions on forums and Q&A sites.
Identify community threads that answer direct questions from customers. Penetrate and add a link back to your site – this engagement can drive conversion-oriented visitors to your brand over time (where to buy [product/service], I want [product/service] inurl:forum).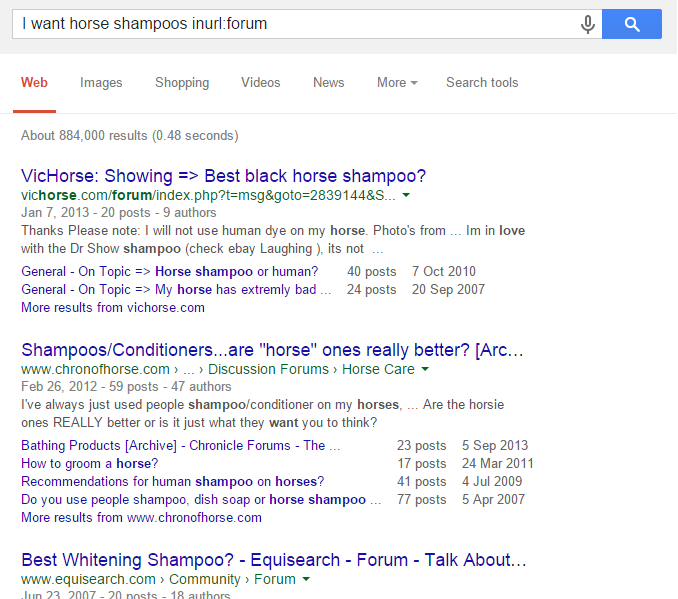 It is also important to understand how community users interact with each other given that this is where your engagement approach will be based on.
Eli Overbey recently published a post on his blog about the 10 lessons he learned from analyzing the top 1300 submissions to inbound.org last year. These lessons are mainly factors that can make one submission the best pick of the day/week in Inbound:
Best day to submit (Monday)
Great month to submit (January)
The higher the word count, the better (2000 words and above).
Title length is 56 characters in average.
Top categories (SEO, content and social)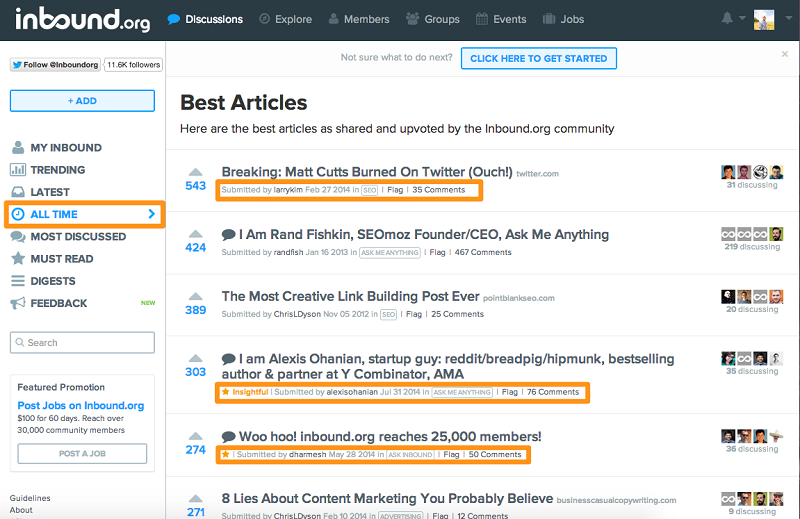 Discussions that are discovered by thousands of community visitors have same elements that make them stand out from the rest of other threads. Whether it is the day/month of submission or keywords that people are commonly searching for, users are looking for the same thing.
Identify those unique elements in your industry's community platform, start your own valuable discussion and let others participate in it.
Linker outreach
Nowadays, linker outreach is still one of the best content promotion tactics given that it doesn't require tons of money to execute (it's purely time-intensive).
Aside from being a cost-efficient technique, linker outreach provides great results in terms of acquiring editorial links through search and social that is mainly dependent on how the brand is perceived by the users and the quality of content being promoted to the community.
An editorial link is one of the most powerful links because they are given voluntarily by potential linkers and are often clicked through by users, seeing that this type of link is placed within the body of the content.
For newly launched websites, earning editorial links through linker outreach is a great start to build a natural link profile from scratch. This kind of approach is what Google wants because in-content links from blogs, columns and news sites are mostly value-driven (either a content being shared to industry bloggers is worth getting attention or the approaching brand is starting to build its authority and expertise in the industry).
There are many ways to improve your linker outreach process this year in order to earn more editorial links to your site or its contents, such as:
Create a comprehensive content on the most discussed topics in the industry. Consider seasonal content ideas (g. best tips for 2015) and topics that are backed up with data (e.g. how we got these XXX customers in 2014) given that these types of content themes have high chances of being referenced by active bloggers, columnists and even competitor brands who're planning to publish the same content as yours.
Publish monthly roundup posts on your blog with picks of the best articles in your industry. This type of content can tap other bloggers and influencers, especially if mentions to their articles or sites are credited with links. You can use this as an angle when pitching to influencers (those that you've mentioned in your posts). This can increase your link acquisition rate since you've added value to them first before requesting for any specific mention/link to their blogs.
Check out contextual external links of your competitors and identify sites that can potentially link to your brand. Reach out to those blogs and ask if they're interested to link to your content or even share it on their own social profiles.
Adding linker outreach to your daily workflows and executing the process regularly could help you see new link opportunities that your brand new website haven't been discovered yet, when if pursued can bring tremendous results for your website (building new editorial links to your website or contents over time).
Brand monitoring
Brand signals are one of the most important factors for Google in determining which page/site deserves to rank in search results.
As search engines constantly replicate the behavior of offline marketing, wherein customers are becoming brand-bias when it comes to purchasing products/services, link developers should start to apply essential branding principles to each link building campaign they're handling (whether it is the brand they're representing or clients they're working with) in order to build their own authority and expertise in the field (this activity is very important to brand new sites).
One vital aspect of branding is monitoring branded mentions on the web (whether they're in social or search). Tracking new citations and mentions (whether linked or unlinked) could provide great insights for your brand and help you execute a more strategic approach in the latter parts of your campaign.
You can use Buzzsumo, Ahrefs or Mentions to track new mentions of your brand pointing to your homepage, products (categories or specific product pages) and blog's contents.
Create a list of new link opportunities you've discovered for the past few months to see the growth of your link profile and perform necessary actions to add consistent number of links to your site every month.
Engage with new and upcoming bloggers that have potentials of getting authority signals, basing on the content they produced on their blogs. They can become your potential brand evangelists, who can multiply incoming links and mentions to your brand.
If you're looking for a high quality link building service, then you can contact our team to help you create a link strategy that fits your brand and industry.
Whenever you're ready…here are 4 ways we can help you grow your client or business through performance-based link building:
Claim your Free Link Building Strategy Session. If you've achieved initial traction from Google, we can help you scale up to record-breaking search traffic and sales faster, claim your FREE Link Building Strategy Session. We'll brainstorm some ideas to increase your search traffic through ROI-driven backlinks, including practical solutions to add more content within the next 90 days.
If you'd like to learn the exact link building strategies we use for free, go to our blog or visit our resources section, where you can download guides, cheatsheets, and templates we use for our most successful clients.
If you know another marketer who'd enjoy reading this page, share it with them via email, Linkedin, Twitter, or Facebook.