How to acquire hundreds of links by banking on a "dead page"
If you have never heard broken link building before, it's basically a strategy wherein the steps are:
Step 1: Create a resource page for a linkable audience.
Linkable audiences could be students, parents, or job seekers.
Step 2: Find resource pages on the topic of your choice.
So if you have a resource guide for students, "How to Sleep Better for Students", you wanna look for resource pages that can link to that page, either the page covers any "as a student tips or hacks."
Step 3: Look for broken links on a page.
And see if there are links pointing to those broken links or pages.
Step 4: Get those existing links to broken pages.
And consider them as your backlink prospects.
Step 5: Reach out to the website owners.
Or people managing those broken pages and suggest your resource guide as a replacement to their broken links.
These five steps are what you normally do when you execute a typical broken link building strategy.
But let me show you a more effective way to do this – and this may be an advanced technique but it works pretty well if you want to maximize your efforts, time, and energy.
So here are the five steps.
How to Do Inverted Broken Link Building (SEO) Strategy
Step 1: Find broken pages you can recreate.
If a broken page has tons of links, you know for sure that you will get links. You actually find proof first before you invest in creating content. So many times, people would start with creating the content without really thinking if the topic of the content or the content itself has the potential to earn links as they promote it. 
You can use Ahrefs' Content Explorer to find content in your industry with backlinks to it. 
Filter these pages by their http status, so you can only find 404 or broken pages.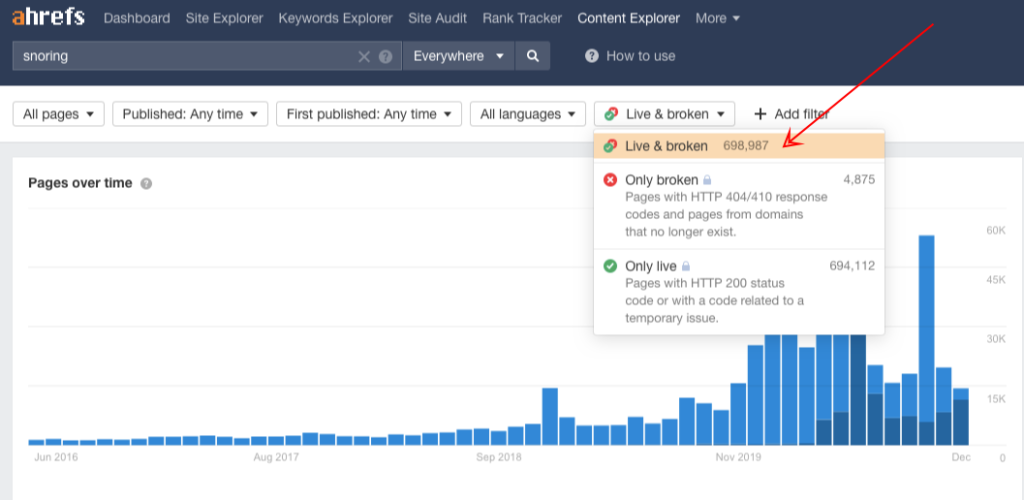 That leads us to step two, which is:
Step 2: Check the page's linking domains.
Again, you want to make sure that the page that you want to recreate has proof of links. So go check it out using Link Explorer, again using Ahrefs, and see how man referring domains are linking to that broken page.
Step 3: Check the page's original version using Wayback Machine.
You can use archive.org for this one.
So when you plugin the page into Wayback machine, you'll then see its different versions. What you want to look at is its latest version (maybe broken at the moment you're checking it, but the latest version when it was still live). 
Now, you have the assurance that the topic or content you'll be creating has the potential to get backlinks, the next thing to do is to create an improved version of that broken page.
Step 4: Create an improved version of the broken page. 
So go again and check the old version of the page and see how you can recreate it in such a way that the information is more updated, with more graphics and videos if you can add those things. Just make sure that the new page is a more comprehensive one than its old broken version.
The last is to reach out to the linkers of the old page. Given that you know there are existing links to the broken page, what you can just do now is to list them down in a spreadsheet. 
So send them outreach emails suggesting your new content as a replacement to the broken link on their page. 
Whenever you're ready…here are 4 ways we can help you grow your client or business through performance-based link building:
Claim your Free Link Building Strategy Session. If you've achieved initial traction from Google, we can help you scale up to record-breaking search traffic and sales faster, claim your FREE Link Building Strategy Session. We'll brainstorm some ideas to increase your search traffic through ROI-driven backlinks, including practical solutions to add more content within the next 90 days.
If you'd like to learn the exact link building strategies we use for free, go to our blog or visit our resources section, where you can download guides, cheatsheets, and templates we use for our most successful clients.
If you know another marketer who'd enjoy reading this page, share it with them via email, Linkedin, Twitter, or Facebook.